The best of the barrios: Sol
The district with the most tourists per square metre, and home to 'El Oso y el Madroño'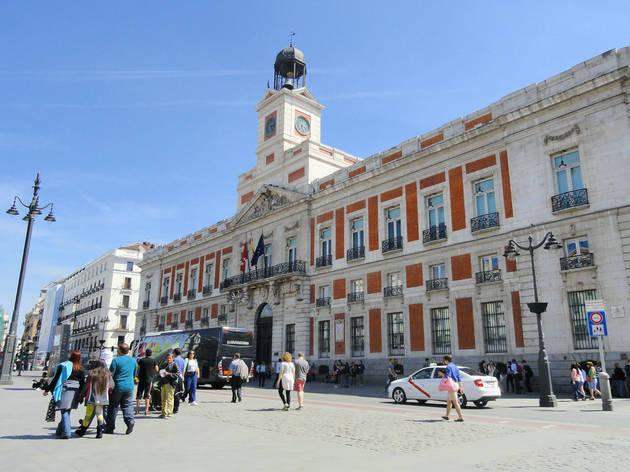 The area that surrounds Puerta del Sol is the biggest attraction for tourists coming to visit Madrid and the heart of its city centre. It's also one of the biggest areas for shopping, and its bars and terraces serve up snacks, beers and other refreshments non-stop. And it's home to the famous statue of 'El Oso y el Madroño' (The Bear and the Strawberry Tree), the symbol of Spain's capital city.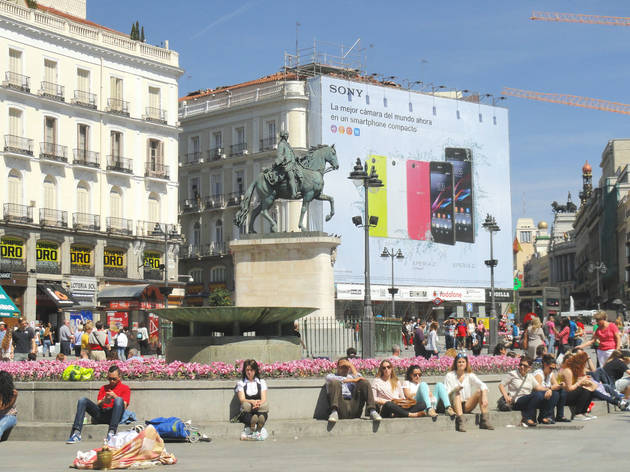 Puerta del Sol
Even though it isn't a barrio in itself, Sol is the epicentre of Madrid, and the Puerta de Sol is the starting point of all roads in Spain. It's a meeting place for locals and tourists for every situation and a connection for all types of public transport. The oldest building is the Casa de Correos, the current seat of the Presidencia de la Comunidad de Madrid with the clock tower in front of it that brings hundreds of people together to ring in the New Year with 12 strokes of the bell. There are also many popular streets that lead out from this central square, including Calle Mayor, Calle de Alcalá, Caerretas, Arenal, Carrera de San Jerónimo and more.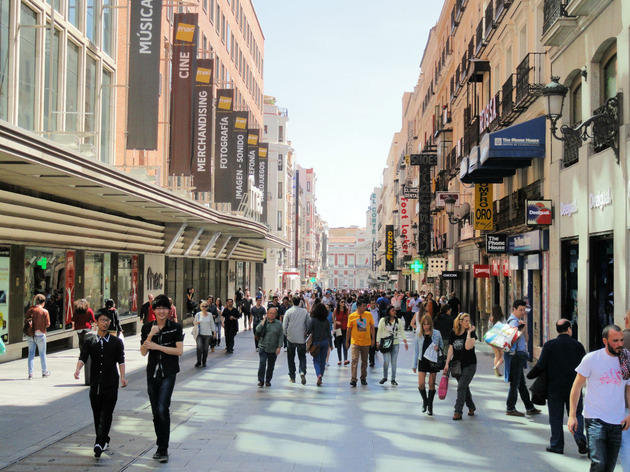 Calle Preciados
This street is a shopaholic's dream. It connects the Puerta de Sol to Callao, even though it officially ends a little farther up at the Plaza de Santo Domingo. It was one of the first streets to be pedestrianised in Madrid, along with Calle del Carmen, a few metres away. For decades it was home to the famous Galerías Preciados, named in honour of the street itself. Every year more and more of the local shops on this street are replaced by big stores like FNAC and El Corte Inglés, as well as brand-name clothing stores.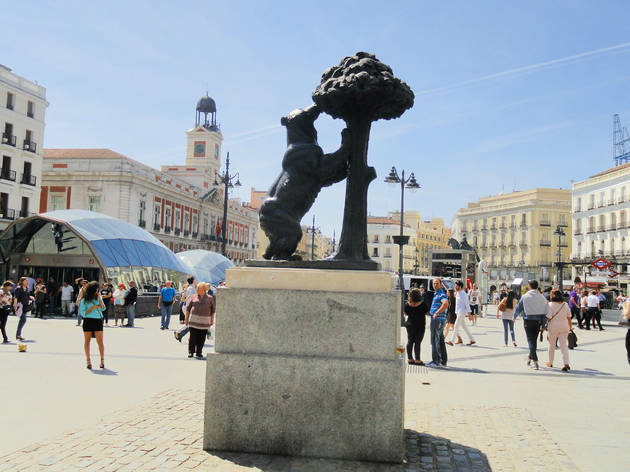 El Oso y el Madroño
This is the most symbolic sculpture in the city. It stands four metres high, weighs 20 tonnes and is located in the Puerta del Sol at the start of Calle Alcalá and Carrera de San Jerónimo, although for years it was it front of Calle del Carmen. You'll almost always find statue surrounded by tourists taking pictures or people waiting to meet up with their friends. The Oso y el Madroño (The Bear and the Strawberry Tree) also appears on Madrid's shield.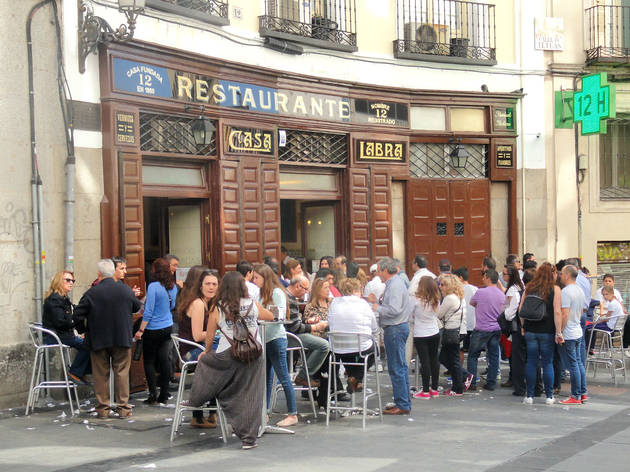 Tapas
There are a lot of tapas bars in the area around Sol. Among the more traditional is Casa Labra, famous for their 'bacalao' (cod) croquettes that are so tasty you'll find long queues of fans waiting to get theirs. La Mallorquina is famous for their pastries, especially their 'roscón de reyes' (special ring-shaped cake for King's Day), and C/Cádiz and C/Barcelona are filled with terraces in summertime. On the way to Plaza Mayor you'll also find many authentic taverns where you can try a typical fried-calamari sandwich as well as many other more modern dishes. You'll also see the renovated Mercado de San Miguel, which has kept its original iron structure from the early 20th century and serves the most exquisite cuisine inside.