The 15 best art galleries in Manchester
From multi-million-pound venues to a DIY scene featuring great street art, here are the best art galleries in Manchester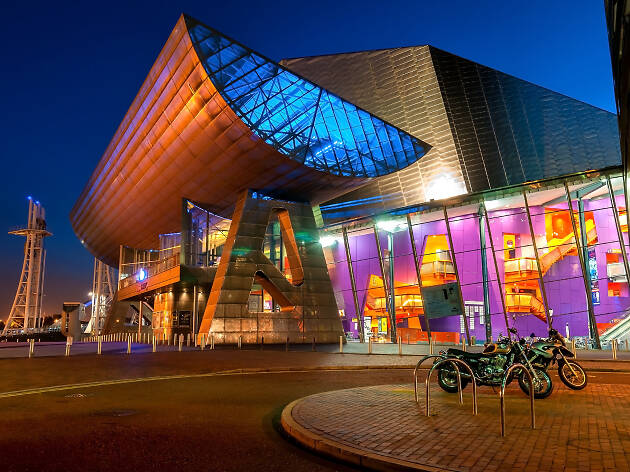 The best art galleries in Manchester are as varied, vibrant and distinctively unique as the work you'll find within them.
On the one hand, you'll be amused by the multi-million-pound venues that draw world premiers from globally admired artists. On the other hand, you'll find yourself fascinated by the more grassroots, DIY art scene fueled by up-and-coming artists (Rob Bailey! Mariel Osborn! Caroline Dowsett!) who operate out of renovated red-brick mills and hidden studios that occasionally open up treasure chests to the public, letting them peek inside the cutting edge work that makes the city a top-rated artist destination.
This list of ours is a mash-up of the two frontiers but if you want to go further off piste, you might want to turn your attention to the locally-loved street artists who adorn neglected walls all across town with incredible works of art. These artists' pieces are ever-changing so it is best to follow them on social media (pro tip: start with graffiti guru Akse and visit the Out House in the Northern Quarter) to locate all the masterpieces.
And if you're still feeling that culture itch after all this art, worry not! Manchester is home to loads of beautiful museums, theatres and pubs so ancient that they're packed with the sort of personalities that make up the bone structure of the city's cultural character.
RECOMMENDED: Full guide to the best things to do in Manchester
Best art galleries in Manchester
"Gathering of strangers" reads the neon lights above the Whitworth Art Gallery, and it's this ethereal, sublime atmosphere that carries throughout the venue. Following a major refurbishment and extending throughout its existing space and into Whitworth Park itself, walls are replaced with floor-to-ceiling windows, while the café now seemingly levitates among the trees. It all helps to frame the artwork, varied and inclusive. We're particularly looking forward to "Beyond Faith: Muslim Women Artists Today" (June 14 - October 2019), an exhibition that will showcase five contemporary artists exploring key questions about inclusion in the art world.
Smack dab in the middle of the city centre sits on oasis of calm in the grand shape of Manchester's main art gallery, housing a superb collection alongside temporary exhibitions. There's always a stellar line up, but this year in particular we're excited about the free Leonardo da Vinci exhibition, part of a nationwide project seeking to commemorate the 500th anniversary of his death. You've got until May 6 to get an eyeful of the Renaissance genius' work.
3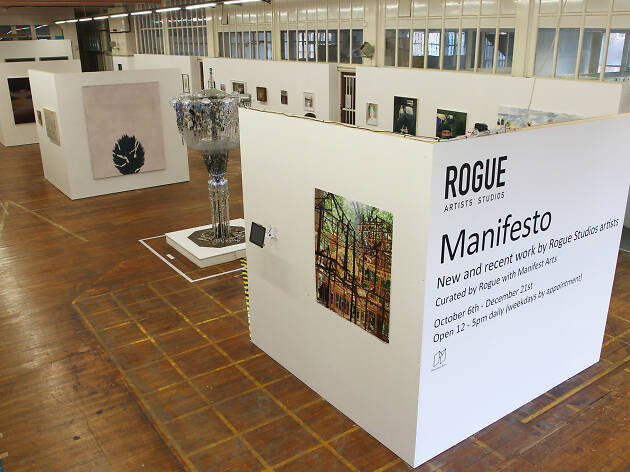 Photograph: Shutterstock
Rogue Studios are heroes on the Manchester arts scene, and the city was shocked when they were forced to move from their old city centre premises following its purchasing by developers. Worry not: with the help of City Council and Arts Council England, the art fiends set up a new home within a school no longer in operation since 2017. During open studio events, guests get to see the artists at work. Also keep an eye out for various art sales, where you'll be able to get your paws on affordable art.
This small but perfectly formed gallery showcases the best of Chinese visual art and culture to the Northern Quarter. The concept and the space have been evolving since 1986, turning the venue into a fascinating destination for the art-hungry visitor. In addition to being home to a roster of boundary-pushing work, the centre hosts experimental, hands-on workshops regularly (check out the 3D nail design salon) and a series of engaging talks after hours. The best part? The centre is in the middle of the Northern Quarter, surrounded by hipster bars and cafés that you'd be remiss not to step into after your walkthrough.
Like a huge glass and steel ship rising out of the once derelict docks of Salford Quays, The Lowry opened in April 2000 as the Millennium Project for the Arts and has gone from strength to strength, recently announcing a £1 million private donation that has secured plans for further development. The venue – named after the great English artist L.S Lowry, who spent much of his life in Manchester and Salford – is home to the largest collection of paintings and drawings by its namesake. The gallery spaces present a changing collection of his art right alongside the work of other talented artists, from Maggi Hambling to Spencer Tunick.
HOME merges two former cultural institutions, Cornerhouse and the Library Theatre Company, under one multi-million pound roof. Visitors could happily get lost in here for days as the space is home (pun intended) to two theatres, five cinemas, lots of places to eat, drink, shop and hang out. Art-wise, it's got a large and flexible gallery space which is always free to enter and exciting talks from the artists themselves.
Close to Salford University and in the grounds of Peel Park lies Salford Museum & Art Gallery, opened in 1850 as the very first "unconditionally free" public library in the UK. Now, you can wander its rooms and marvel at the fantastic collection of artworks on display, a real celebration of Victorian paintings. Current exhibitions tend to be rooted in the space's surroundings. The upcoming "Transformations: Reveal Printmakers" (May 11 - Sep 10), for example, will showcase prints that react to the changing Salford landscape.
8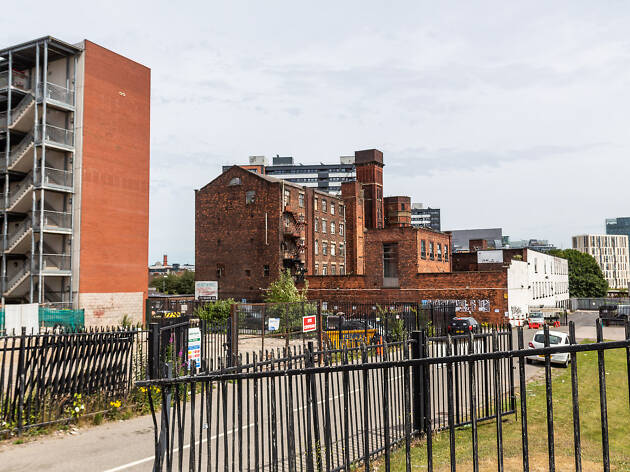 Photograph: Courtesy CC/Flickr/travelmag.com
Based in an old cotton spinning mill, this multi-purpose arts venue in Salford is an ever-evolving arts space and community hub that's dedicated to a DIY ethos. More than 50 businesses and 100 artists call Islington Mill home, which occasionally hosts events focusing on the city's up-and-coming artistic talents. Also watch out for club nights, interactive exhibitions and more.
9
Photograph: Helena Hunt
The Manchester School of Art is one of the most respected art universities in the country and the Holden Gallery is its exhibition space, where a fully curated selection of pieces showcases the best in contemporary visual work. There's also a neat shop where you can buy limited-edition zines and artwork press. Don't miss out on the "Degree Show" (June 8 - 19), a raucous, must-see celebration of the work of all final year students at the Manchester School of Art.
Tucked away down a side street and easily missed, Castlefield Gallery is devoted to the development of emerging talent within contemporary art. The gallery was threatened with closure for a while but relaunched in 2012 with a strong programme and renewed vigour, making it a vibrant hub for contemporary artists and gallery goers seeking something unusual. There are regular events and some of the shows are commercial, so you could snap up a bargain if you've got an eye for talent.
Like Rogue Studios but on a much smaller scale, Bankley Studios was founded in 1992 and is now the working space of over 30 Manchester artists. Again, it's a working practise space first and foremost, but it does fling its doors open to the public during open studios events, which are not to be missed. Sometimes, individual artists will hold their own exhibitions, too.
12
Photograph: Courtesy TripAdvisor.com
How did a café end up on this list? Although your eyes are likely to be drawn away from the artwork by the tempting line-up of doughnuts and cakes on sale, Siop Shop does host exhibitions by top folk in the Manchester art scene. Recently, "Pour Form" was spotlighted, a selection of acrylic vases, pots and portraits by Rob Bailey.
Gallery Oldham is a combination of many things: expect a gallery, museum and archive all in one space. Photography, geology, decorative art, specimens and artefacts from all over the world are on offer here, while kids can get involved with free workshops like family lantern-making classes and craft sessions every first Saturday of the month. All of this makes Gallery Oldham one of the best family-friendly destinations outside the city centre.
This hip gallery hosts contemporary exhibitions by new and established artists while selling limited edition prints, rare vinyl and film posters. As such, the Thomas Street site is the perfect place to find an unusual gift, something special that won't break the bank. Its position in the Northern Quarter – surrounded by craft beer bars and indie cafés – also makes it the perfect culture pit-stop on an otherwise hedonistic day.
Artzu is a commercial gallery but you will not feel awkward or under any obligation to buy anything once welcomed by the friendly staff. You can go in and browse, you can ask questions about work you don't understand and you can enjoy the venue without having to panic about buying a £1,000 watercolour the size of a postcard.
Looking for more activities?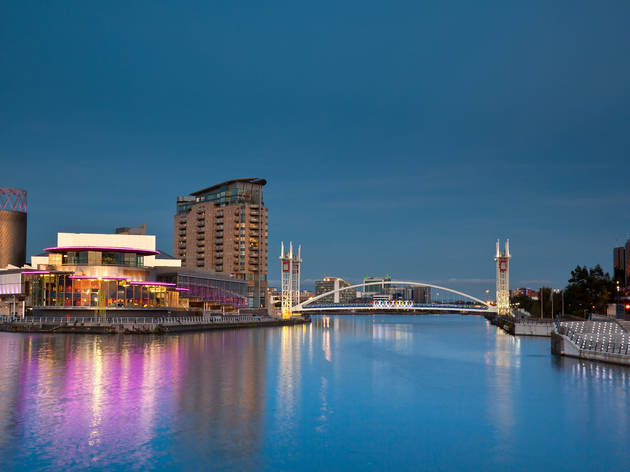 The city's history proves there's a cheeky, independent streak that runs through it, and that can still be felt today. Creative new cooks are transforming forgotten areas of the city into thriving food hubs and dynamic multi-storey music venues are providing a platform for the next big thing.