Heads up! We're working hard to be accurate – but these are unusual times, so please always check before heading out.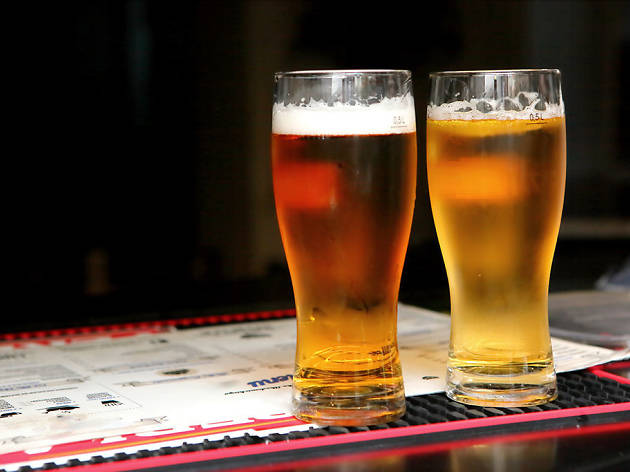 Best Maui breweries: Where to drink craft beer on the island
Although there are only two Maui breweries, the island is filled with local venues offering top-notch craft beers
Stroll around your favorite beaches in Maui and you're bound to find locals savoring craft beers, most made by the two best Maui breweries out there.
It may be surprising to learn that there are actually only two full-on breweries on the island: Koholā Brewery, a relative newcomer on the scene, and Maui Brewing Co., which has established itself on and off the island with two restaurants, famous interactive brewery tours and mainland distribution.
Day and night, you'll find goodies made by these breweries in the hands of locals and visitors alike, as the craft beer scene in Maui is small but mighty—and growing: rumor has it a third local brewery may soon land on the market.
Until then, join the bustling line to get into one of these craft breweries or stop by one of the top local venues for sampling craft beer, which we list below and is certainly one of the best things to do in town.
You'll find local flavors like pineapple and passion fruit seasonals and coffee stouts with a broad range of pale ales, pilsners and even bitters. If you're craving more, you might want to visit during the annual Maui Brewers Festival, which usually happens in May.
Maui breweries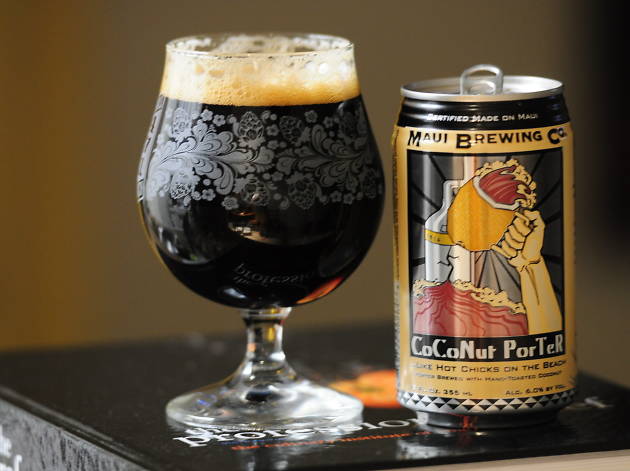 Photograph: Courtesy Flickr/CC/Adam Barhan
It's pleasantly overwhelming to first step into the headquarters of Maui Brewing Co. in Kihei. What began in 2005 as a tiny local brewpub has grown into a multi-million dollar brewery that serves its goodies well beyond the islands. Now, visitors can expect brewery tours, a tasting room, a full-service restaurant and bar, a retail nook and an outdoor patio with barbeque service. Everyone—visitors and locals—flocks here for the beer, of course, but what do you try? Order a beer flight with four samples of MBC's favorite drafts. You'll find half a dozen beers available year-round with more than twenty seasonal drafts to savor. The lilikoi seasonal is the perfect island refreshment with fruity undertones, while those who prefer a tart taste should go for the Valley Isle extra special bitter. Found your favorite? Fill a growler or keg on your way out.
It's amazing to think Koholā Brewery began just a few years ago as a teensy tiny homebrew operation. Still considered the young kid on the block, the Lahaina-based brewery opened the popular taproom to the public in 2016. With a focus on craft beers and serving Maui first and foremost, you'll find six year-round drafts at Koholā, in addition to two seasonal limited releases. Talk Story Pale Ale and Red Sand Amber Ale are two of the most popular beers, though the Lokahi Pilsner is a recent award-winner. This is a microbrewery, so you'll have to try their offerings when visiting the island, either at area restaurants or at the taproom. Sample the flavors with a beer flight or join happy hour for savings on full pints. Note that the brewery focuses on beer and not food, though you're welcome to bring your own fare to minimize the effects of that hangover you're sure going to have to deal with.
Where to drink craft beer in Maui
1. Barefoot Bar at Hula Grill
You won't find a better seaside view than at Hula Grill's Barefoot Bar in Kaanapali. Feel sugar sand under foot as waves lap along the beachfront while you savor the exclusive house draft, Barefoot Brew, a honey amber ale crafted by Maui Brewing Co. Also try the coconut porter with tandoori roasted shrimp during "aloha hour" for a sweet and spicy pairing. Settle in for serious beach vibes as live music and hula dance take over the stage under palm trees.
Most visitors stumble upon Pa'ia Town on the way to Hana, but this little beach village is definitely worth a stop even if just for its vintage vibes and stellar draft lineup at Rock & Brews. On tap, Rock & Brews boasts nearly fifty different drafts ranging from regional beers to mainland musts. Try a hoppy IPA from Aloha Beer Company or give your taste buds a flavor punch with the Waikiki Jalapeno Mouth amber ale from Waikiki Brewing Co. Happy hour features discounted brews, featured apps and live music.
3. Maui Brewing Co., Lahaina
While you won't get the full brewery experience here in Lahaina, MBC's casual brewpub in West Maui is a perfect draft date without the lengthy commute. The venue is massive and perfect for a group outing, especially popular among sports fans. Grab a seat at the bar or slide into a picnic table for shared plates. Tater tots are the local fave here, loaded with beer cheese sauce, onion, jalapeno and aioli, with an option to add bacon. You'll find your favorite drafts from Bikini Blonde lager to Pineapple Mana wheat ale.
The Dirty Monkey may at first be thought of as a whisky joint but this Lahaina sports pub has a serious craft beer list that is certainly worth exploring. The rotating taps mean you'll find something different every week, but you'll always see local brews on offer in addition to mainland features. Sample a pint from Ola Brew Company from the Big Island or a pineapple blonde from local Koholā Brewery. You'll find an animated sports crowd on football Sundays, while breezy island nights feature DJs and dancing.
5. Leilani's on the Beach
Leilani's boasts an upscale casual vibe but your flip flops will fit in just fine at the Beachside Grill, just steps from the surf at Kaanapali Beach. Drop in for happy hour to take advantage of $5 draft beers like Duke's Blonde Ale or Longboard Lager from Kona Brewing, and pair them with discounted apps like kalua pork street tacos. You might also want to settle in and enjoy the sunset view with a Talk Story Pale Ale from Koholā Brewing Co. in hand (paired with beachside nachos, of course).
Photograph: What Ales You
After a full day of beach fun in Kihei, head into What Ales You for a rotating tap list of twenty brews. This tiny taproom is low-key, with several screens broadcasting the games of the day, and the outdoor patio is a cozy retreat for conversationalists. The house brew is the What Ales You Blonde, which perfectly complements orders of onion rings, jalapeno poppers or wings. In addition to featured state drafts, you'll find stouts, porters and pilsners from California.
Finding an awesome brewpub in a plaza may not be the first thing that comes to mind during your search for great beer, but The Pint & Cork is a welcome addition to The Shops at Wailea for locals and visitors alike. This spacious gastropub features local drafts on tap from Honolulu Beerworks, Big Island Brewhaus and Koholā Brewery, alongside mainland selections from the west coast. Burgers are a favorite here as well, along with garlic parmesan fries. You can also pop in for brunch, in which case you should taste the chicken and waffles with bourbon-maple syrup.
While Monkeypod is known as a favorite restaurant among chef Peter Merriman's devotees, the amazing variety of over 30 draft beers on tap makes it a go-to on the island among visitors and locals alike. In addition to lagers, ales and porters from across the Hawaiian Islands, there's a nice sampling of international brews from Austria, Belgium and Germany available. For a local flavor, opt for a pint from Big Island Brewhaus, Honolulu Beerworks or Kona Brewing, or try a cider from Paradise Ciders in Honolulu. Drop in during happy hour to shave a few bucks off each draft.
This little outdoor pub may be tucked away from traffic on Lahaina's Front Street, but it's been a top local pick year after year. On tap, you'll find Koholā Brewery, Maui Brewing Co. and Kona Brewing classics alongside mainland favorites. Down the Hatch boasts the longest running happy hour on Maui, 2-6pm daily, so pair your drink of choice with a discounted app like crispy coconut shrimp.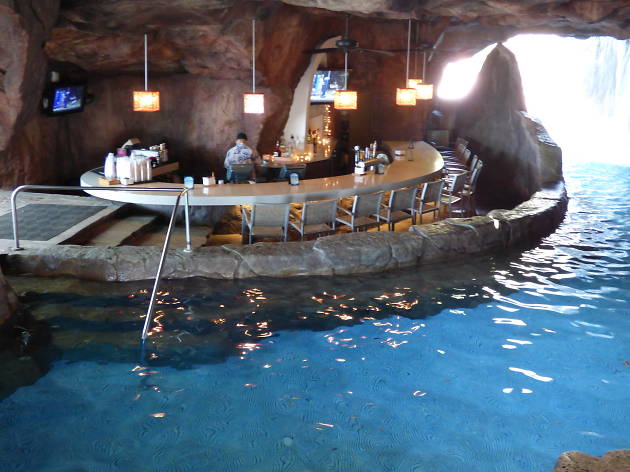 Photograph: Courtesy Flickr/CC/Forest Starr and Kim Starr
By far one of the coolest venues you can find to sip on a beer is the Grotto Bar at Hyatt Regency Maui Resort and Spa. Not staying here? No problem. All are welcome, so settle in at the bar and order up. Grotto Bar is tucked inside a lava rock cave attached to free-flowing pools—but you needn't swim up. Enter from the Kaanapali Beachwalk and savor a craft beer in the shade while mesmerized by surrounding waterfalls. This secluded spot is the perfect venue for a midday rendezvous.