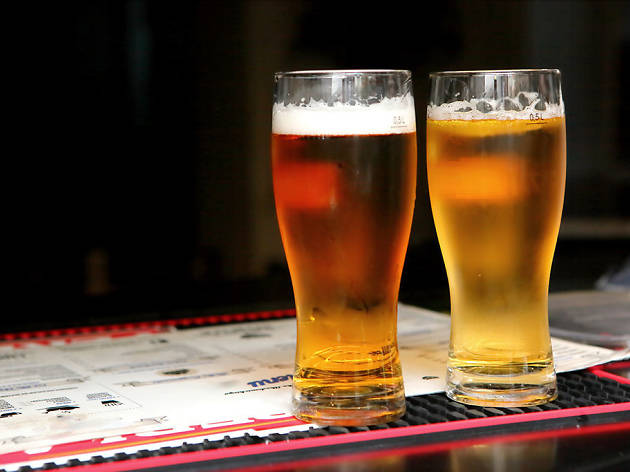 The best Maui breweries and craft beer bars for a cold one on the island
Visit the best Maui breweries to sip top-notch craft beers from around the state
The best Maui breweries produce the kind of fine craft beers that lure label chasers from the mainland. Nothing goes better with the island's world-class beaches like some ice cold brews, which explains why you're bound to find locals savoring craft beers made by Maui's breweries.
While there are just a few full-on breweries on the island, they have made an impact with high-quality beers often made with local ingredients like pineapple, passion fruit and coffee. Maui Brewing Co. is well-established on the island and around the state with restaurants, interactive brewery tours and mainland distribution, while relative newcomer Koholā is making strides. You'll find brews from these two in bars and restaurants around the island, and with a strong craft beer scene on Maui, it's only a matter of time before more breweries will stake their claim.
To dive into the craft beer scene in Maui, you can visit these breweries or stop by one of the top local bars to sample craft beers from across Hawaii, the rest of the US and overseas. Beyond the beer, there are lots of inviting extras, from tasty snacks and cool soundtracks to friendly regulars, that will make you forget about all of the postcard-worthy scenes just outside the bar. For serious beer enthusiasts, consider visiting during the Maui Brewers Festival in May.
RECOMMENDED: The best things to do in Maui
Best Maui breweries
It's pleasantly overwhelming to first step into the headquarters of Maui Brewing Co. in Kihei. What began in 2005 as a tiny local brewpub has grown into a multi-million dollar brewery that serves its goodies well beyond the islands. Now, visitors can expect brewery tours, a tasting room, a full-service restaurant and bar, a retail nook and an outdoor patio with barbeque service. Everyone—visitors and locals—flocks here for the beer, of course, but what do you try? Order a beer flight with four samples of MBC's favorite drafts. You'll find half a dozen beers available year-round with more than twenty seasonal drafts to savor. The lilikoi seasonal is the perfect island refreshment with fruity undertones, while those who prefer a tart taste should go for the Valley Isle extra special bitter. Found your favorite? Fill a growler or keg on your way out.
It's amazing to think Koholā Brewery began just a few years ago as a teensy tiny homebrew operation. Still considered the young kid on the block, the Lahaina-based brewery opened the popular taproom to the public in 2016. With a focus on craft beers and serving Maui first and foremost, you'll find six year-round drafts at Koholā, in addition to two seasonal limited releases. Talk Story Pale Ale and Red Sand Amber Ale are two of the most popular beers, though the Lokahi Pilsner is a recent award-winner. This is a microbrewery, so you'll have to try their offerings when visiting the island, either at area restaurants or at the taproom. Sample the flavors with a beer flight or join happy hour for savings on full pints. Note that the brewery focuses on beer and not food, though you're welcome to bring your own fare to minimize the effects of that hangover you're sure going to have to deal with.
Where to drink craft beer in Maui
Best selling Time Out Offers