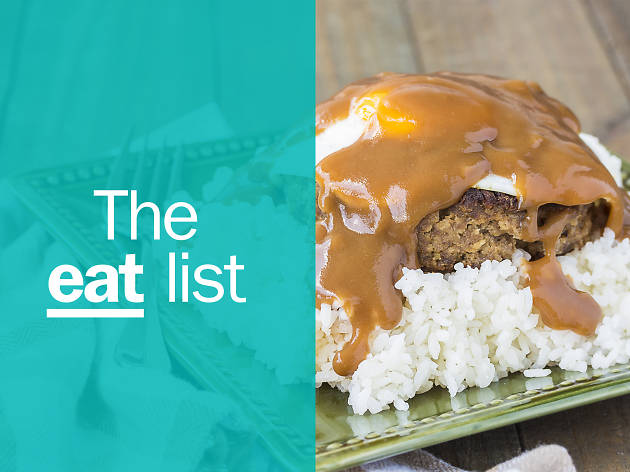 The 15 best Maui restaurants
Fresh island flavors dominate menus at the best Maui restaurants, serving loco moco and more to locals and tourists
Given that agriculture is the second largest local industry, you can bet you'll taste exceptional homegrown flavors at the best Maui restaurants.
Pro local tip: in addition to visiting awesome breweries and beaches, some of the best things to do in Maui involve exploring the agriculture that gives rise to the food you'll be consuming on your stay here. Take a drive through Upcountry and notice farms and ranches spread along Mount Haleakala's volcanic slopes. Visit local produce stands to sample papaya and watermelon grown just outside of bustling tourist towns.
From pupu (appetizers) to shared plates and family-style dinners, Maui is known as a culinary destination and its vibrant heritage is showcased within food trucks and fine dining establishments alike. Frequently used ingredients include coconut and macadamia nut, lime and pineapple, taro and sweet potato.
Also take some time to celebrate notable island chefs like Abby Ferrer and Ed Morita, who are usually part of the annual Hawaii Food & Wine Festival.
Maui restaurants
The Mill House at the Maui Tropical Plantation rightfully frequents best-of lists, but take a step deeper into its culinary world to experience the rare Maui Chef's Table. Apart from occasional holiday dining, this interactive food experience is exclusive to Saturday evenings and reservations are required. During the communal meal, guests are encouraged to chat with chefs, mingle with others and snap photos of the kitchen in action. No two menus are the same, so you're guaranteed to sample the freshest ingredients that the island has to offer.
Hula Grill serves a fresh catch every day, also spotlighting different farmers daily. That means guests will always taste the freshest selections available to them while getting acquainted with the island's bountiful produce and seafood selection. Plus, the venue is beautiful: the Kaanapali beachfront is just steps from the tables, providing a dreamy combination of lapping waves and sunset colors as a view.
Find this vibrant red food truck and you'll discover award-winning plates served by chef Kyle Kawakami. The Maui-born chef grew up surrounded by the farms of Upcountry, so it's no surprise his menu highlights only the best local ingredients. Think fresh-baked focaccia sandwiches, calamari salads with a delightful papaya twist and seared ahi tuna on a bed of local organic greens.
Settle in for chef Joey Macadangdang's creative comfort food at this Hawaiian-Filipino fusion eatery. Opt for a bountiful breakfast burrito or classic loco moco (white rice topped with a hamburger, a fried egg and brown gravy) to indulge in island favorites. For dinner, fill up on mouthwatering butter garlic shrimp or beef short ribs. Plates are artfully presented but the vibe is casual and family-oriented. Vegetarian and gluten-free options are readily available as well.
Photograph: Courtesy Yelp/Ann S.
Reserve a table at this family-oriented restaurant that's achieved legendary status over 40 years. The Polynesian decor will welcome you into the romantic oasis along the oceanfront and the service will ensure you feel like a valued guest. Share a crispy whole fish with your dinner mates or savor a decadent bowl of bouillabaisse packed with fresh island flavour. Not to be missed is the house-made ice cream and a signature cocktail with guava, lime and ginger.
Photograph: Courtesy Yelp/Kihei Caffe
Reward yourself after a morning yoga session on the beach by strolling over to Kihei Caffe for a satisfying plate of all-day breakfast. Power up with a papaya filled with yogurt and granola or dig into a handsome serving of homemade corned beef hash. To cool down, opt for fresh squeezed juices or a blended frozen coffee. Your flip flops are more than welcome at this walk-up service eatery, perfect for refueling in-between beach vacay activities.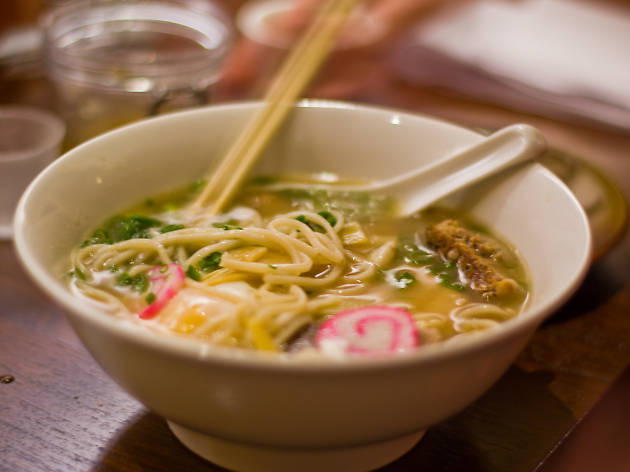 Photograph: Courtesy Flickr/cc/Petey
If you're going to miss the Hawaii Food & Wine Festival, make sure to stop by the Lahaina-based Star Noodle to sample chef Abby Ferrer's creations year-round. This cozy eatery fuses Filipino, French and Asian flavors, giving birth to a gorgeous menu featuring house-made noodles and surprising sauces. Bring your besties to sample shared plates like scallop shots or steamed pork buns, then tempt your taste buds with fried soup or Singapore noodles. Pair your selections with sake or a lychee martini.
8. Leilani's on the Beach
Follow the sweet sounds of ukulele and guitar and you'll come upon the casual island vibe at Leilani's on the Beach. Start with a Maui fresh salad featuring island greens and toasted macadamia nuts with a drizzle of white balsamic vinaigrette, then sample a fresh catch of sustainable seafood or opt for prime rib or pork ribs sourced from Maui farms. Leilani's is a popular spot where locals gather for special events, but you'll find just as many visitors embracing "aloha hour" food and drink specials.
Photograph: Courtesy Yelp/Ann S.
9. Leoda's Kitchen and Pie Shop
Life is simply better with pie and chef Ed Morita delivers both sweet and savory temptations at Leoda's Kitchen & Pie Shop. Sure, you can pick up a juicy burger or bountiful salad here but, when the pies run out, you know there's a reason this venue remains a hot spot for locals and visitors alike. You could go for classics like an apple crumble, but there's nothing like the macadamia nut chocolate praline pie. Want something tart and sweet? Dig into pineapple lemon pie for the best of both worlds.
Photograph: Courtesy Yelp/Lon H.
You've heard of chef Masaharu Morimoto for good reason: his iconic Japanese sensations are crowd pleasers. Want to sample the very best? Opt for the the chef's choice tasting menu, where each item is carefully selected. You can also go for the à la carte menu, showcasing food from the raw bar, apps like savory rock shrimp tempura, and surf and turf entrées. Reservations are recommended as this open-air beachfront dining room is extremely popular, especially during sunset hours.
Photgraph: Courtesy Flickr/CC/Brian Lauer
Head to the Maui Brewing Co. headquarters in Kihei to experience brewery-to-table dining paired with 36 craft and specialty beers on tap. First, take a brewery tour to acquaint yourself with this indie venue, then dig into classic pub fare, island-style. Think lager infused artisan pizzas, fish tacos featuring the latest catch and veggie burgers with macadamia nuts and avocado. Like any great pub, you'll find live entertainment and happy hour specials aplenty.
Get into the beach vibe at this open-air patio eatery in Lahaina. Sip on a floral topped Mai Tai as outrigger canoes sail past and dig your teeth into a juicy papaya sprinkled with lime. Share coconut crusted prawns with your pal and slurp steamed clams as you prepare for the main course. From marinated chicken to fried noodles or teriyaki beef and fresh fish with pineapple salsa, the menu here surely satisfies.
The road to Hana is an amazing scenic drive along the coastline and, upon arrival, you'll want to seek out a great spot to refuel. While you won't find Huli Huli listed in the phone book and the venue doesn't have a website, follow locals' lead and get in line. You'll find this modest eatery at Koki Beach Park for as long as ingredients are on hand: if it's a busy beach day, you'll want to get here pretty early. This is a cash only establishment, so bring bills to pick up a freshly made plate of Hawaiian barbeque.
Photograph: Courtesy Yelp/Joe G.
Craving the feast found at a luau but it's midday? Head to Poi by the Pound in Kahului for a filling Hawaiian plate of Kalua pork, pork laulau, rice, poi and mac salad. It's a hefty serving, so you can share it with a pal or keep leftovers for later. If you'd rather devour everything in one sitting, opt for a solo pork plate and close your eyes. You'll practically hear the luau music in the background.
15. Ulupalakua Ranch Store & Grill
You've driven through scenic Upcountry and enjoyed a tasting at Maui Wine. When hunger strikes, you need only cross the road to Ulupalakua Ranch Store & Grill for a surprising meal consumed while tucked into hills. Sure, it looks like a small shop with souvenirs and soda machines, but you'll soon pick up the aroma of burgers on a grill. The open air venue focuses on only using Maui-grown produce alongside local ranch beef. Pull up a patio chair and enjoy one of the island's hidden gems.
Want to explore Maui like a local?
We've got awesome beaches, hikes, road trips, snorkeling expeditions, sailing adventures and much more. At every turn, expect a combination of island escapades and cultural immersions, backed by famous rainbows and starry skies.
Best selling Time Out Offers