Hyatt Regency Coral Gables in Miami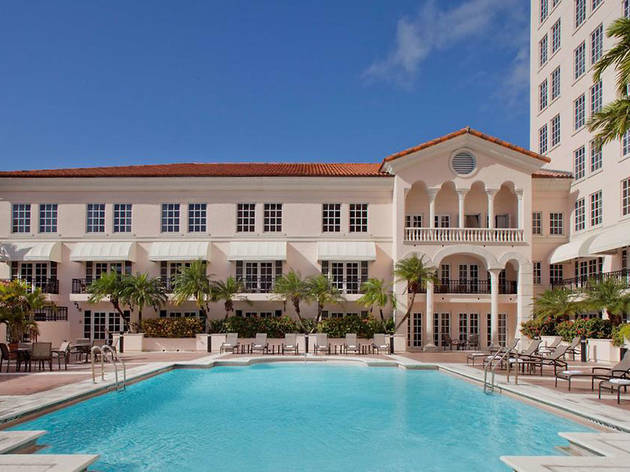 Time Out says
Old-world Spanish decor meets modern amenities in this charming Coral Gables hotel
Once you hear that the Hyatt Regency Coral Gables took its inspiration from the architecture of Alhambra Palace, it's hard not to see the Spanish influence everywhere you look. Step inside the hotel's creamy exterior accented by terra cotta roof to discover the two-story marble lobby and antique candle chandeliers. Arched hallways, wooden screens and Spanish-style windows only add to the old-world charm. Swim a few laps in the heated outdoor pool, soak up the sun on the wraparound deck or follow a yoga workout from Hyatt's YogaAway program on your room's TV. A restaurant, cafe, bar and market inside the hotel ensure you won't go hungry, either.
Neighborhood: Coral Gables was actually founded as a stand-alone planned community in 1925 before being absorbed into Miami proper. Since the tiny nabe adopted a Historic Preservation Ordinance in 1975, most of its landmark buildings are still intact. Stroll the pedestrian-friendly streets to discover upscale shopping, fine dining and some of the most expensive homes in town.
Nearby:
Actors' Playhouse: For acclaimed stage productions ranging from children's theater to adult dramas
Eating House: For inventive brunch fare like Cap'n Crunch pancakes and Tang mimosas
Books & Books: For a lovely afternoon searching the stacks at Miami's finest independent bookstore
Time Out tip: No shade to the pool at the Hyatt Regency, but it just can't compare to the crystal clear waters of the nearby Venetian Pool. The most gorgeous swimming hole in Coral Gables (if not the world) was once a coral rock quarry before it was turned into a full-service pool in the 1920s. Fed by a subterranean aquifer and flanked by palm trees, the freshwater pool looks impossibly idyllic. Since tourists descend on the pool over the weekend, you'll want to visit on a weekday for a more serene swimming experience.
Details
Users say