If you've had the pleasure of sitting for brunch at Rosie's, then you already know: There's a whole lot of love baked into this burgeoning Little River restaurant.
It's the type of passion you'd expect from a decorated chef like Akino West, who's previously worked for the three-Michelin-starred restaurant Noma in Copenhagen and James Beard Award-winning chef Michael Schwartz in Miami. But this is far from a one-man show.
Rosie's is the bountiful collaboration between Akino and his life partner, creative and hospitality director, Jamila West. An accomplished chef in her own right, Jamila worked for James Beard Award-winning chef José Andrés at SLS Hotels in L.A. and South Beach before transitioning to front-of-house management, opening multiple outposts of the acclaimed Japanese concept Katsuya in the Middle East.
The two met at Johnson & Wales University in 2013 but didn't become a couple until 2017 when they first combined their talents to open the Copper Door B&B, a boutique hotel concept in Historic Overtown noted for its chef-driven amenities.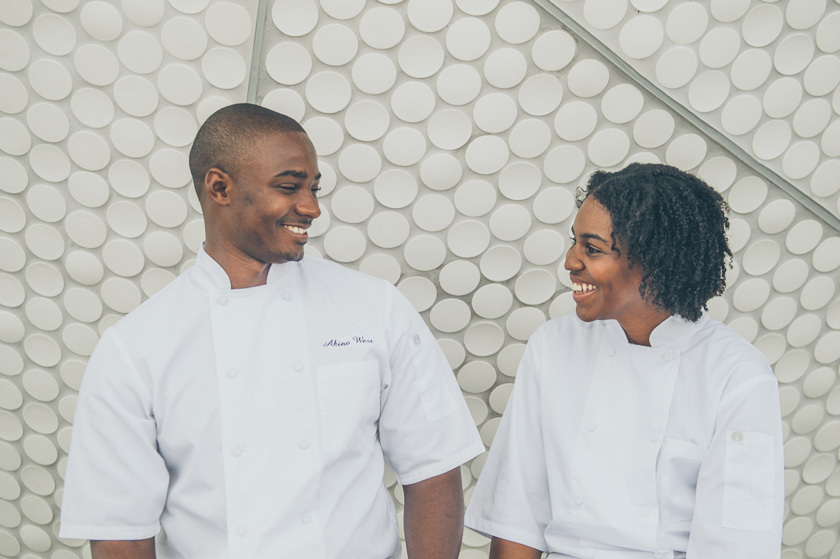 Rosie's came along in 2020 when, like the rest of the world, Miami was shutting down. "Our hospitality brand was largely based on tourism," says the couple. "We decided to pivot the concept into a pop-up that we named Rosie's in order to stay afloat that year."
Since then, the pop-up has progressed to Rosie's: The Backyard, a full-service brunch garden in Little River serving Southern-inspired dishes with hints of Italian flavors and techniques Friday through Sunday. Just over the fence, a historic home is currently being converted into what will soon become Rosie's next iteration with expanded dinner service throughout the week.
In the meantime, we asked the husband and wife (who married last spring) to share some insight into their relationship as partners in business and love, along with some of their favorite romantic Miami spots. Read on for their wisdom.
I don't think we've mastered the idea of balance quite yet.
What are the best and worst parts about working together?
The best part is that we can be very productive since we are always around one another. The worst is the challenge of shutting off the business to enjoy our personal lives.
How do you balance your work life and personal life?
We have to be very intentional about not speaking about the business. I don't think we've mastered the idea of balance quite yet.
What are some of your favorite restaurants for a date in Miami?
It changes. We love trying out new concepts and being excited about the experience. There aren't many restaurants that we dine at consistently apart from B Side and Itamae—they have been favorites of ours for a long time.
How about your favorite romantic spots in Miami that aren't restaurants?
The bayfront at PAMM, our backyard, Virginia Key Beach.
Do you have a piece of advice for all the lovers out there?
Taking the time to understand your partner as an individual, as opposed to solely viewing them as who they are as your partner, will lead to more active communication and an easier time practicing their love language.