Lots has changed since III Points came on the scene nearly seven years ago, including the date—which seems to always be up in the air. Now taking place in spring, the Miami-born music, art and tech festival takes over Wynwood May 1st and 2nd for a packed weekend of immersive installations, trippy activations and live shows. This year's cutting-edge lineup includes some of the music industry's top acts, including Disclosure and the Strokes.
Still thinking about attending this year? Considering a single-day ticket over a weekend pass? We've got something that might help you pull the trigger: III Points 2020's full list of performances. We've listed them by day alphabetically below, and bumped up and bolded the headliners for you folks only interested in the main event. Tickets are on sale now and going fast!
FRIDAY
Disclosure
The Strokes
(Sandy) Alex G
Acid Pauli
Ackdaddy
Adam at the Door
Amon Tobin Presents Two Fingers
Andres Line
Ariel Pink
Avalon Emerson
Basti
Bedouin
Bort
Byrd
Danny Daze B2B Mall Grab
Danyelino
Discosexo
Djembe
Eartheater
Ghostflower
Haute Tension
Jacques Greene (Live)
Jaialai
Jason Rault***
Jimmy Edgar
Jonny From Space (live)
Kerala Dust
Kike Roldan
Laura (of Miami)
Le Poodle
Maribou State (DJ)
Moses Sumney
Mustard Service
Palomino Blond
Patrick Walsh
Plastic Pinks
Rick Guerre
Rick Moon
Santiago Caballero
Sevdaliza
Sister System
Sohn Jamal
Soulsdeparted
Stereolab
Terence Tabeau
Thunderpony
TIDUR.
True Vine
Will Buck B2B Felipe Gordon
Will Renuart
Yves Tumor and Its Band
박혜진 PARK HYE JIN

SATURDAY
Robyn
Wu-Tang Clan
100 Gecs
Apache
Ashley Venom
Bakke
Bear
Bed Scene
Bitter Babe
Brother Dan
Butterfly Snapple
Caribou
Chris Lake
Coffintexts
Diego Andres
Donzii
Dude Skywalker
Ennio Skoto
Erol Alkan
Fiin
GAD
Gami b2b Get Face
Gerd Janson
Green Velvet
Homeshake
INVT (Live)
JBZ
Kaytranada
Las Nubes
Lazaro Casanova
Lilith
Loka
M.O.N.R.O.E.
Maccabi
Mano Le Tough
MAYE
Monterrey
Ms. Mada
Nicholas G. Padilla
Nick León
Nicola Cruz (Live A/V)
Omar Apollo
Pirate Stereo
Poorgrrrl
Radar
Rat Bastard
Richie Hell (Live)
Sel.6
Shyboi
Taimur
Tama Gucci
Tycho
Virgo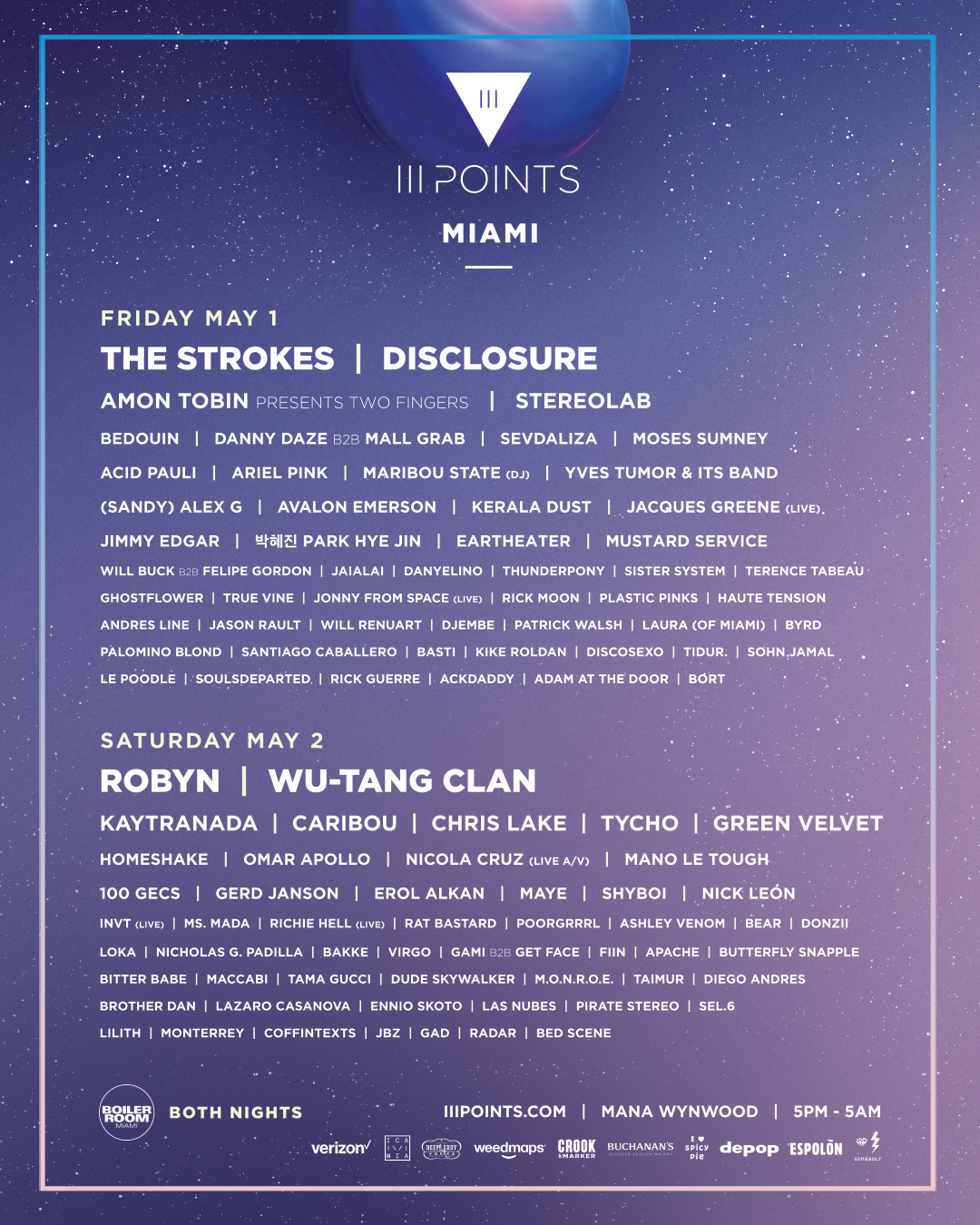 Want more? Sign up here to stay in the know.