It's a collective listening experience unlike anything Miami—and maybe the world—has experienced before. As music director at Dante's HiFi, the intimate Wynwood speakeasy where the soundtrack (and the system it plays from) reigns supreme, DJ Rich Medina culls from more than 40 years behind the decks and a personal record collection hovering somewhere around 40,000. But it's not just about setting the mood or making people move here.
"I've been collecting records since I was nine years old," says Medina, who came up in Philadelphia during the height of hip hop's golden era and the birth of neo-soul. Overall, he estimates about a third of his personal record collection lives at Dante's now, lining the walls behind the bar all the way up to the ceiling. "It's a smattering of the cream of the crop of just about every genre in my possession," he says.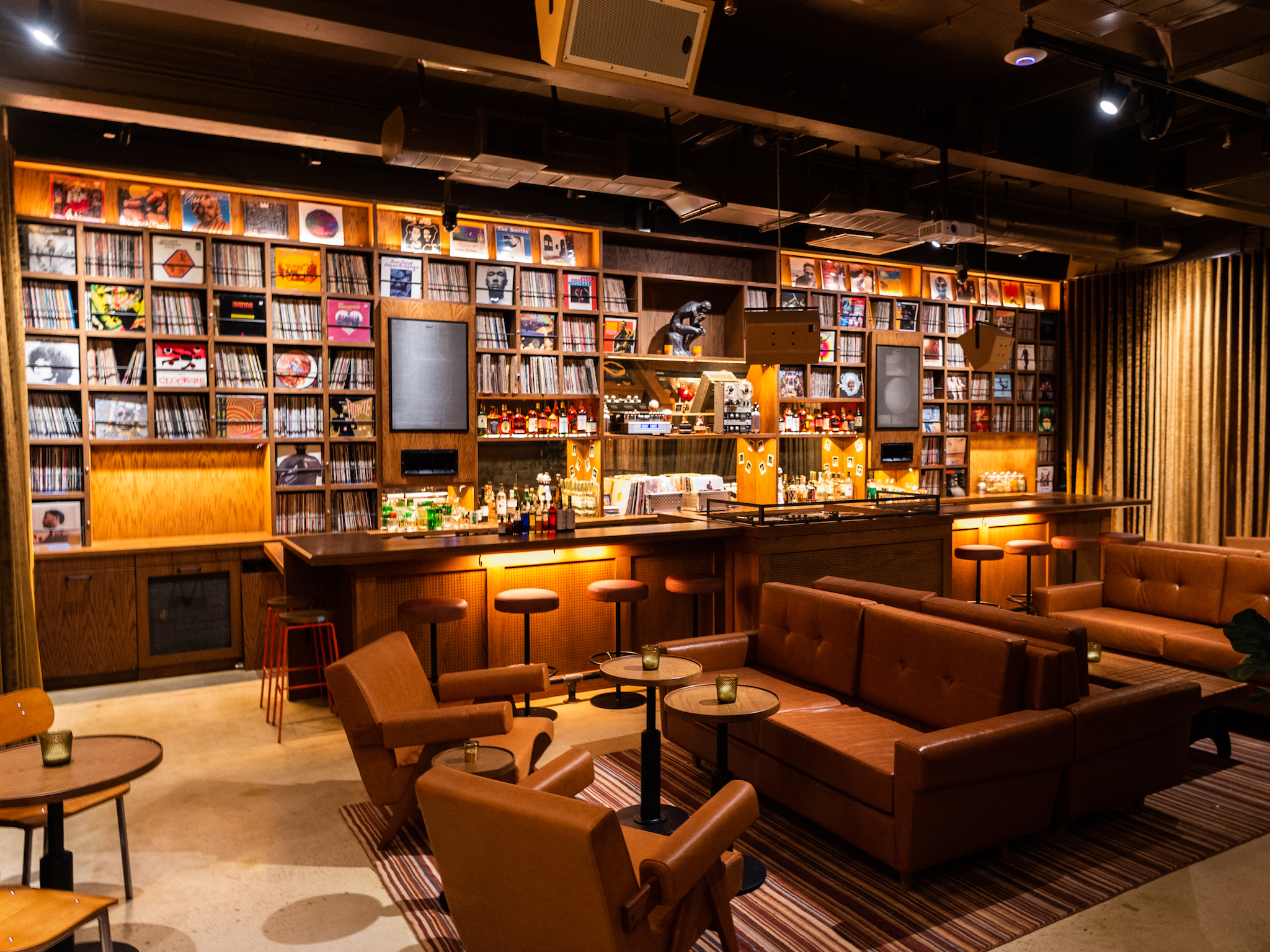 Inspired by the hidden away listening bars of Tokyo, this 50-seat venue caters to an audiophile crowd, folks who crave spine tingles that only the perfectly warm crackle of a vinyl record can induce. Unlike traditional high-fidelity listening bars, where the selector lets a record spin from beginning to end and conversation in the room keeps hushed, Dante's plays it a bit more off the cuff.
When Medina is in the booth, tracks from different records talk to each other and, in between, guests get treated to a trove of knowledge on each selection. From where and when it came from to how it was made and how it came into Medina's possession, Medina takes us to school in the best way possible, sprinkling gems of musical knowledge throughout his sets, polished by the deep, velvety baritone of his voice over the PA.
"I think it's fair to say that when anyone goes out to experience a DJ, one of your biggest curiosities, whether you understand it or not, is What's going on in that person's head?," says Medina. "For me, I wanted to be sure that there is a component of academic muster that applies to what we do."
Medina's trajectory from a mobile DJ playing the Black Greek circuit in the early '90s to landing as a partner on the operations side of a Miami bar opening is a storied one. In 1996, he helped open Footwork, a cornerstone spot for Philly and New York's indie hip-hop communities. "It was an opportunity to dig into a space in the culture that wasn't being occupied, presenting the culture with a brick-and-mortar that sold records and sold style at the same time," says Medina.
The opening of Footwork coincided with Medina's decision to abandon corporate America, where he had been working for a handful of Fortune 500 companies, to hone his art as a DJ and a poet full-time. Thirty years later, in 2021, the Ivy League graduate (he attended Cornell University), hip-hop educator and DJ was rewarded for his decision in the form of a Pew Fellowship for exceptional artists, a win that will further cement his legacy with a book, lectures and more on the horizon.
As an Afrobeat DJ, Medina's specialty is fusing elements of West African musical styles and American jazz, soul and funk. Pioneered by Nigerian multi-instrumentalist and bandleader Fela Kuti in the 1960s, Afrobeat was informed by the Black Power movement, James Brown and many of the contemporary artists of the day who were speaking to Black pride and creating the music of the Civil Rights era. "Since the '90s, I've been notorious for being a ravenous Fela Kuti fan," Medina says. "Ever since I discovered his music, it was always a point for me to incorporate into any set that I was playing."
Not to be confused with Afrobeats, a sort of umbrella term used to describe the contemporary fusion of pop sounds coming out of Nigeria since the 2000s, Afrobeat (especially the deep cuts proffered by Medina) isn't exactly what you'd expect to hear on a night out in Wynwood—in the heart of what's become one of the most mainstream commercial districts in Miami. Yet these are the tunes you'll hear flowing from a speaker mounted above the nondescript door as you approach Dante's Hi-Fi on any given evening. Tables at the cozy spot are to be reserved well in advance, and you'll often find a throng of people milling around outside or chatting on a bench in the courtyard awaiting their spot. There's even a membership for the die-hards (which is already at capacity since the venue opened last year).
"Every DJ on earth who's been collecting records for years would love to have a venue call them up, ask them to get involved, and then have the venue wrap themselves around them and protect them and their ideas and let them present it to the public as a protocol for how this should be done," Medina says of his first venture into the operations side of nightlife. "It's wet dream stuff."