Considering Miami Beach's rich queer history, it's hard to believe its annual Pride celebration is only just hitting puberty. Still, in its short, 12-year existence, the festival has grown from a neighborhood gathering of 15,000 in 2009 to an international extravaganza that draws more than 170,000 attendees. In fact, its overwhelming success spurred, in 2019, a brand-new celebration on the mainland: Wynwood Pride, which is slated to return in June. Miami Beach Pride shows no signs of slowing down in 2020, so buckle up and prepare for a wild ride.
What's the deal?
Kicking off on March 28, Miami Beach Pride culminates the following weekend with an action-packed festival and parade. Pride-sponsored events go down all week from the beach to the mainland, including a rainbow-flag–raising ceremony (Miami Beach City Hall, Mar 30 at 6pm; free), an annual VIP gala (Apr 3; location, time and price TBA), an official Pride pool party (The Clevelander, Miami Beach, Apr 5 at noon; $29–$79) and the fierce Ultimate Drag Queen competition (Magic City Casino, Miami, March 28 at 8pm; $30–$100).
Once a humble street fair, Miami Beach Pride now takes over the oceanside Lummus Park for an entire weekend (Apr 4, 5) with a Festival Village that boasts more than 125 LGBTQ-friendly vendors, businesses and celebrity guests as well as musical performances, food, cocktails and more. Past performers have included Emily Estefan, Adam Lambert, Icona Pop and Tito Puente Jr.; the 2020 slate includes pop singer Teraj and Grammy-winning DJ Tracy Young. Admission to the parade and festival is totally gratis, but VIP tickets (including complimentary food, drinks and special event access) are available starting at $100 for a single-day pass or $300 for the weekend.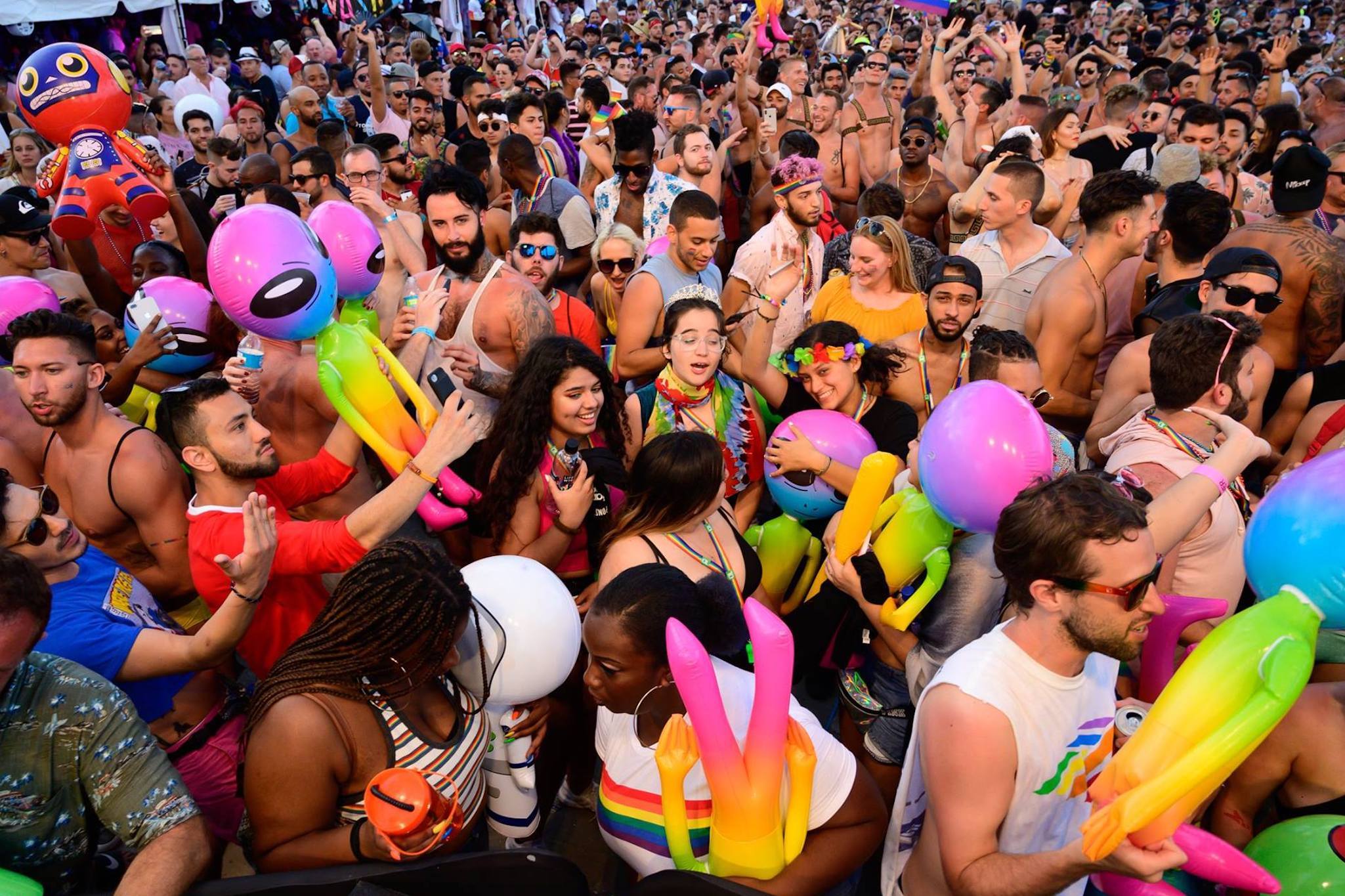 What's new in 2020?
For the first time ever, Pride is expanding from a week to nine full days of programming. Setting up 2020's Let's Have a Ball theme, Jason Rodriguez from FX's Pose headlines Miami Beach Pride's inaugural voguing ball (location TBA, April 2; $30). Bring your most sickening dips, spins and drops to the catwalk competition or show up to support your faves.
Also new to the program this year, a Queer Art Pop-Up Showcase off Lincoln Road gives local artists the opportunity to share their perspective through various mediums. For its opening party (Anthropologie rooftop, Miami Beach, Mar 30 at 8pm; free), revelers can enjoy a fashion show and get inked by queer tattoo artists. Note: the showcase is open to the public through April 5.
What about the parade?
The parade takes place from noon to 2pm on Sunday, April 5, and runs the length of the Art Deco district along Ocean Drive, which will be closed off to traffic. You'll see floats from local queer institutions and crowds holding up signs proclaiming LOVE WINS, among other proud sights.
Where's the best place to park?
Miami Beach Pride has partnered with the SpotHero app to offer reduced parking rates on advanced reservations at select garages near the parade and festival. Limited street parking is available throughout South Beach—just watch out for those pesky residential parking-zone signs, and don't forget to pay the meter.
Want more? Sign up here to stay in the know.