Leaving the house every day feels like you're walking into a sauna. It's hot, muggy and the humidity is akin to receiving an unwelcomed, sweaty hug from a great aunt you haven't seen in decades (or whenever it was that hugging was still allowed). The only way to combat the oppressive heat is with booze, preferably of the frozen variety that you can take home. Slushies spiked with rum, rosé blended into a sweet, icy concoction and a classic piña colada are the way we'll be keeping cool this summer. Below, some of our favorite frozen drinks currently available to-go.
This Downtown bar had a flash-in-the-pan opening but it's still hanging tough with a solid selection of honest bar bites and cocktails to-go. Whether you're ordering the cheeseburger to enjoy on a handful of lawn chairs near the entrance or queuing up a fried chicken dinner for the weekend takeout, make sure a frozen Paloma is part of the plan. Served in a plastic, branded cup, the boozy drink doubles as an Over Under souvenir.
You waited long and fought hard for your sourdough pie, now you deserve a treat: a spiked slushie. You'll have the option of a frozen negroni or an O.G. margarita, both featuring a generous pour of Ilegal mezcal, in either a 10-ounce serving for $8 to enjoy while you wait for your pie or a 16-ounce container to-go for $15. Feeling really thirsty? Get a 32-ounce pitcher for $29.
A frozen cocktail classic, the piña colada is the only adult beverage that'll make you feel as though you're on vacation (even if your drink is traveling with you back to your home office). Grab one of Monty's signature coladas made with dark and light rums—which is priced at just $6 during weekday happy hour!—and good luck trying to get Jimmy Buffet out of our head.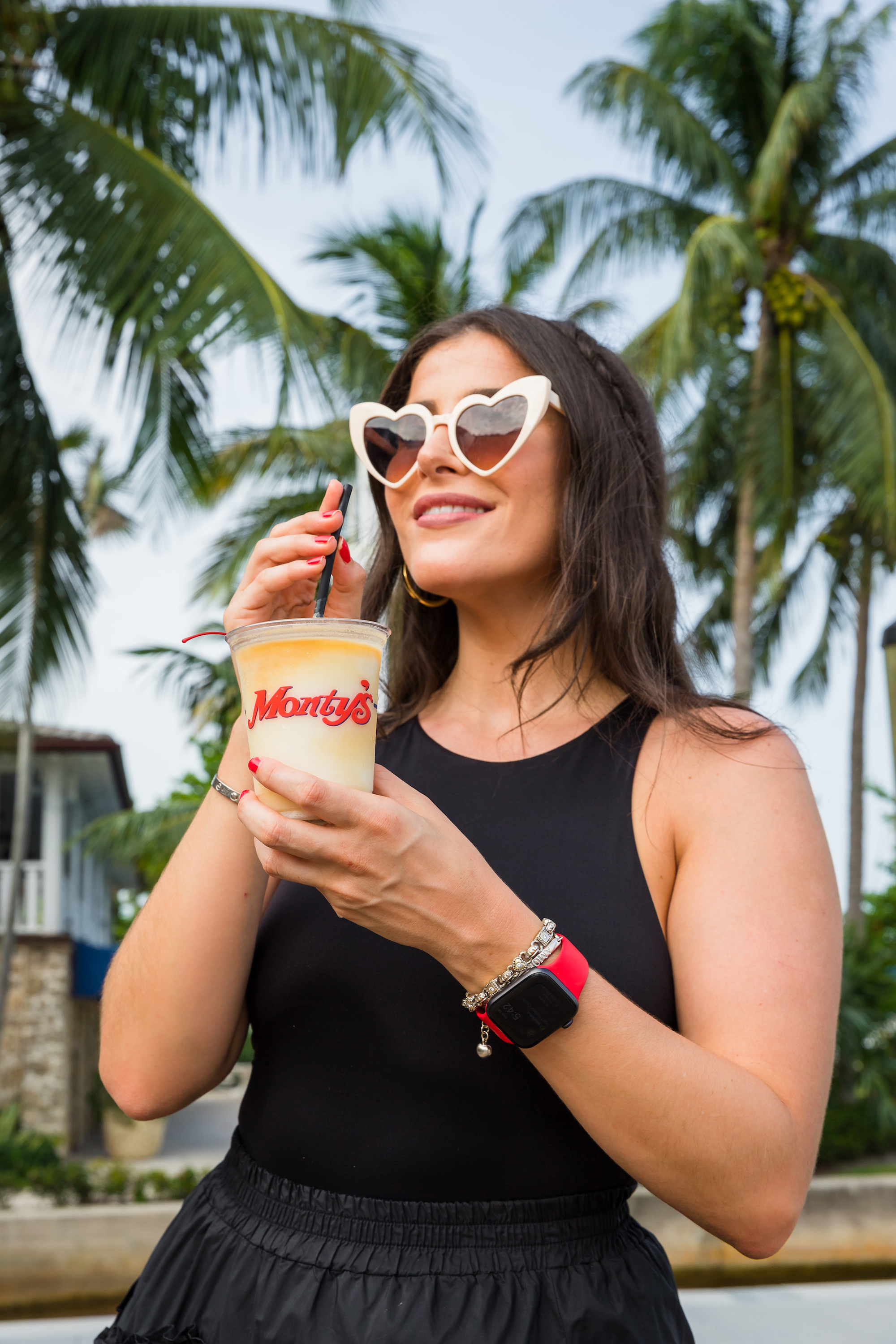 Red Bull margarita at Coyo Taco
The Mexican restaurant's signature frozen 'rita is there for you when you need to chill out but also need to rev up. It's not too sweet and, thanks to its Red Bull mixer, is balanced in tartness and strength. There's no hard crash coming after a couple of these potent slushies.
Wynwood's ventanita for all things Mexican serves up not one but seven different types of fruit-flavored margaritas. Try the mango or passion fruit if you're feeling tropical or the avocado for something different and far less sweet. Happy hour is available daily from 4 to 8pm, when all 'ritas are priced 50-percent off.
Feeling something fruity and refreshing? Try this berry-forward cocktail from Jaguar in Coconut Grove. Made with St. Germain, gin, agave, lemon and sparkling rosé, the drink may be on the sweeter side but it's certainly boozy.
Your favorite fried chicken spot in Wynwood also does a mean frosé. Get the unofficial drink of the summer, a delicious rosé-spiked slushie, for takeout and delivery.
Most popular on Time Out
–The Museum of Graffiti's new exhibit is the most fashionable protest you'll see all summer
–This award-winning restaurant brings back its crave-worthy sandwiches
–5 excellent Miami restaurant pop-ups you should check out right now
–This new online film festival spotlights the realities of lockdown life in Miami
–Staying in? Get your Miami Spice meals delivered or to-go from these top restaurants.