The biscuits—or rather biskits as they're spelled on the menu—at Viet-Cajun restaurant Phuc Yea are the best you'll ever have. This isn't hyperbole either. Back when they were first introduced at The Federal (Phuc Yea's predecessor, which was also owned by Ani Meinhold and chef Cesar Zapata), Food and Wine magazine named them the best biscuits in the country. They were so popular that Williams Sonoma even sold them in-stores for a hot minute in 2015.
Fast forward to now, Meinhold and Zapata have brought back their famous buttermilk biskits as a weekend special. The sought-after baked goods (which come with spiced bourbon maple and Chinese sausage butter on the side) are available by the dozen and half-dozen exclusively on Saturday nights.
It's not unusual for people to stock up when they learn of the item's limited run but not everyone finishes their box of biscuits. Before you think about tossing them or feeding them to the dog, why not repurpose them?
We asked chef Zapata for a little help remixing his famous biscuits into something we can eat beyond brunch, and he shared this easy and delicious recipe for a berry trifle. Feel free to swap the strawberries for raspberries or blueberries and skimp on fresh mint if you don't have any in the house.
Berry Biskit Trifle
Ingredients
-2 leftover buttermilk biskits
For the berries:
1 pint raspberries or strawberries (if using strawberries take of the stems and slice into slices)
1 teaspoon of sugar
1 teaspoon of balsamic vinegar (aged balsamic works best)
2 sprigs of mint or basil (torn or chiffonade)
1 pinch of salt
For the whipped cream:
2 tablespoons powder sugar
1 cup heavy whipping cream
1/2 teaspoon vanilla extract
Instructions
Prepare the berries:
1. In a mixing bowl combine the berries, sugar and salt. Allow macerating for about 10 minutes. Add rest of ingredients, mix and let sit for another 10 minutes.
Whipped Cream
2. In a medium-size mixing bowl add some ice, take another empty mixing bowl and place on top of ice. Add heavy cream, sugar and vanilla extract. With a whisk, whisk the mixture vigorously until cream starts to thicken. Keep whisking until it reaches stiff peaks consistency.
Prepare the biscuits:
1. Preheat oven to 350 f. Take the biscuits and crumble them into medium size pieces, place in a baking sheet and bake at 350 f fro approximately 7 to 10 minutes until crumbs are crunchy. Remove from oven, set aside and allow to cool off.
To assemble:
1. In a tall dessert glass, start by adding some of the berry mixture until 1/4 of the glass, top with whipped cream, then biscuit crumbs. Continue adding layers until you reach the top. Garnish with more whipped cream, a bit of the biscuit crumbs and some mint or basil leaves.
Yields 1 to 2 servings.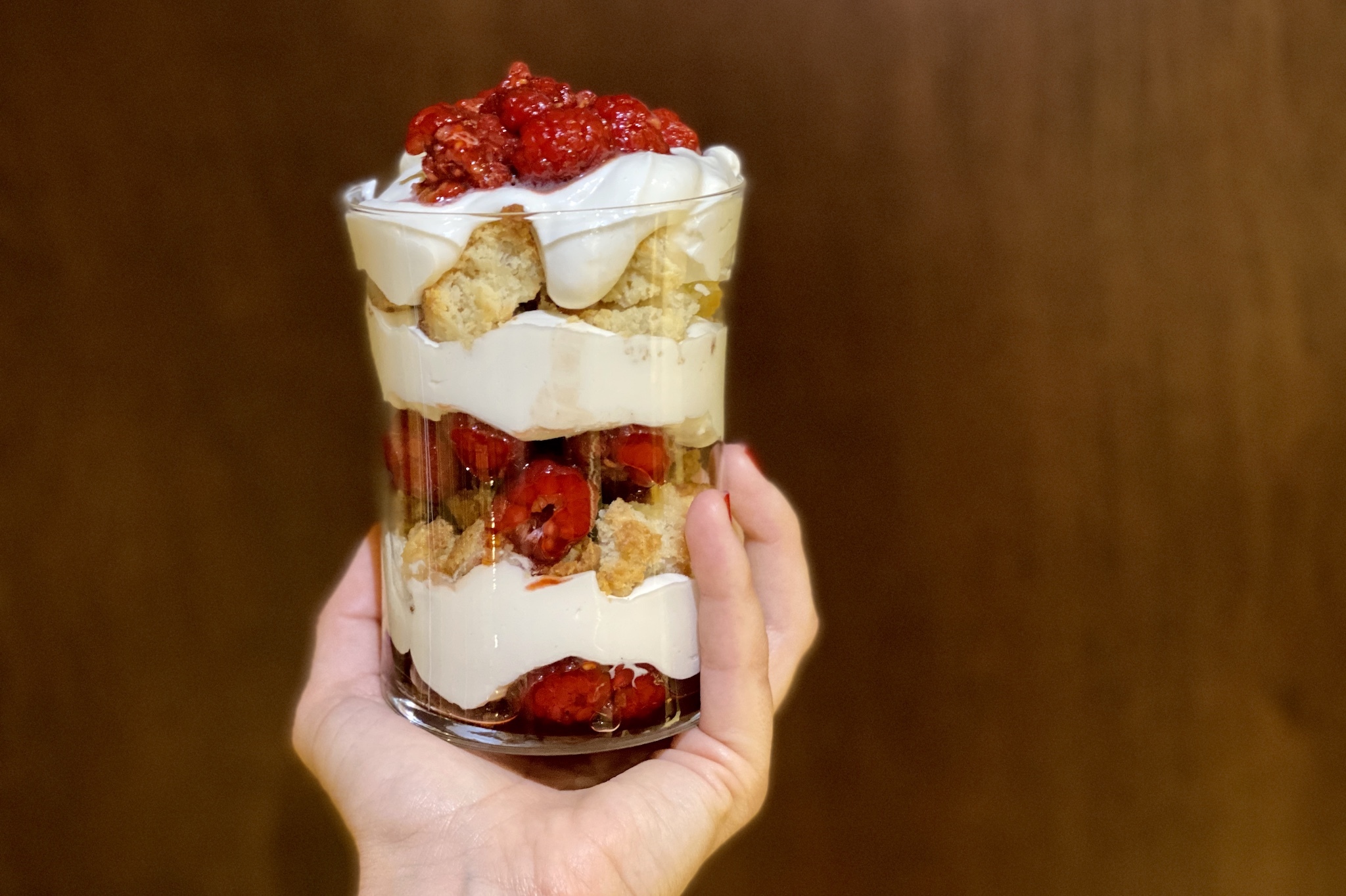 Most popular on Time Out
Want more? Sign up here to stay in the know.