For some restaurants, it's all about the views, or the historic vibes, or the fact that you're in the middle of Coconut Grove. At MaryGold's, you go for the chef.
It's not that Brad Kilgore is a celebrity, at least not as defined in this era of chefs who get famous beating Bobby Flay or trading f-bombs with that potty-mouthed British guy. Kilgore is famous for cooking and, mostly, for doing things on a plate that nobody else would dare try. And that's exactly what he's trying again at MaryGold's.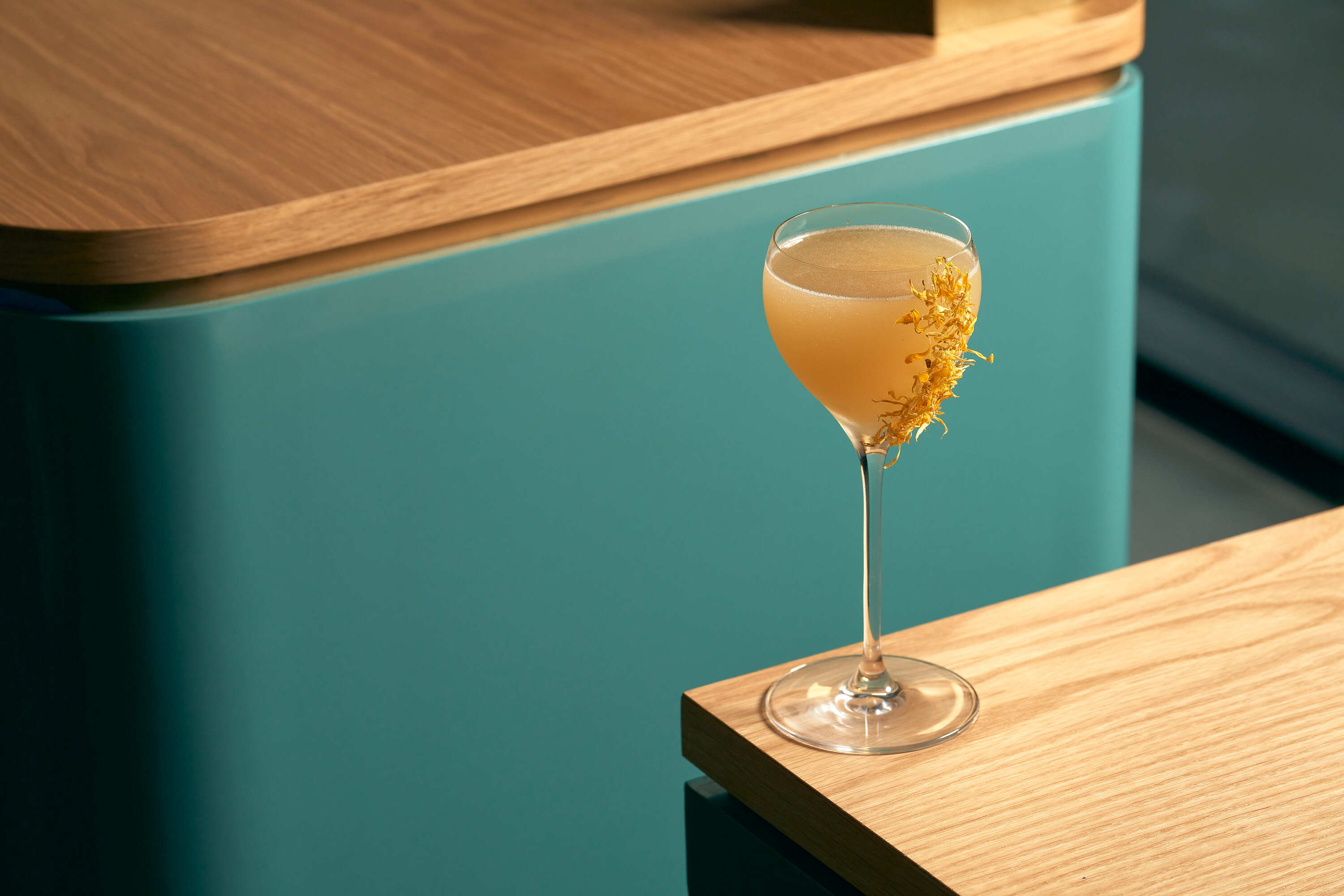 Headlining the new Arlo Hotel in Wynwood, MaryGold's is a stunning space to behold, serving a few dishes that are downright memorable, and it's almost certainly going to become a favorite of many people. It's not all perfect, but, and stick with us here, that might be part of its magic.
Before MaryGold's, Kilgore made a name for himself as head chef of Alter, the Wynwood fine-dining spot that got so much attention before the pandemic murdered it. At MaryGold's, he's teamed up with Bar Lab, the folks who have served stellar cocktails for years at the Broken Shaker, among other spots.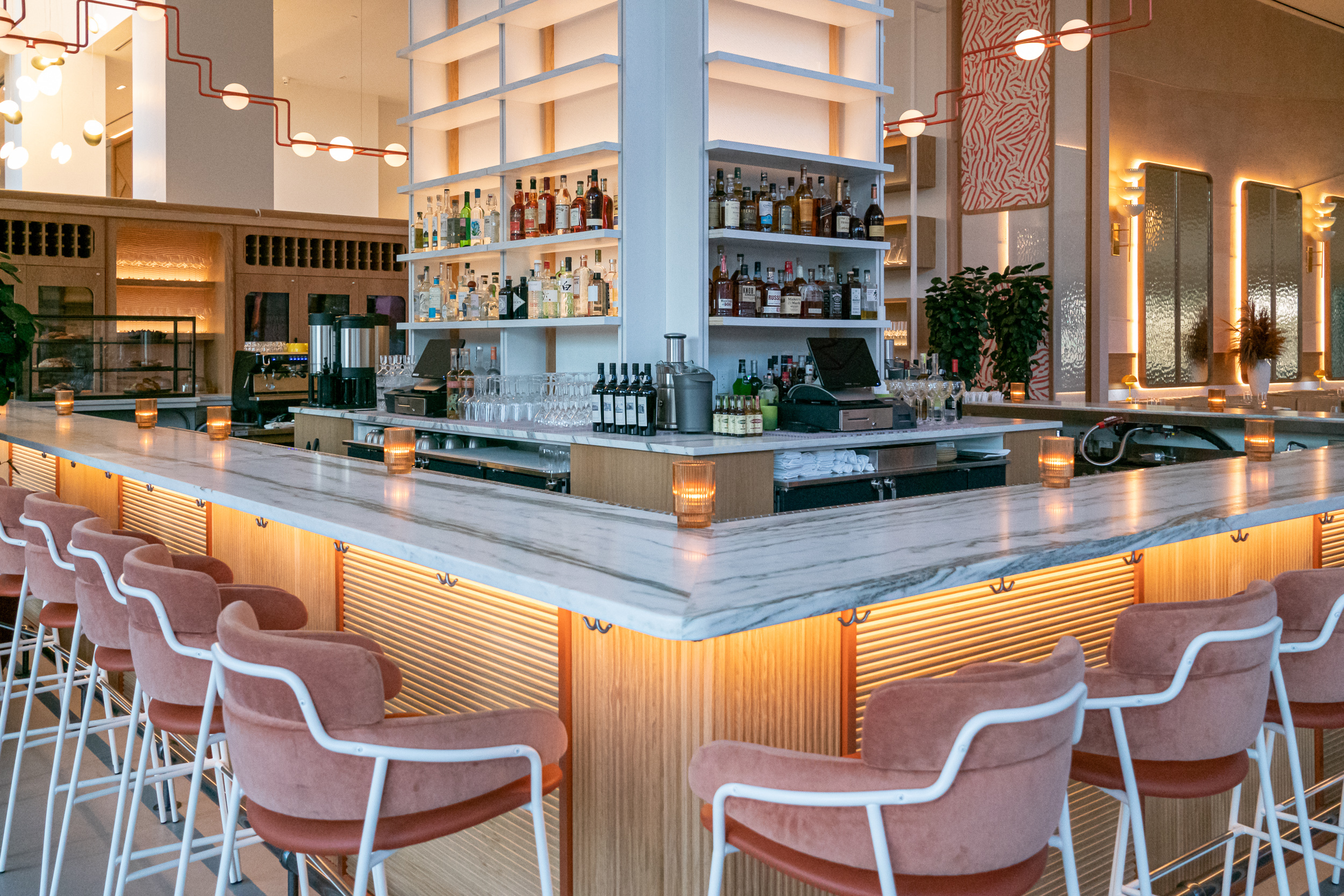 The space they created at the Arlo is so pretty it's already earned the place accolades. Designed by Meyer Davis and MaD Artistic, it's got an old-school Florida peachy vibe with a massive, gorgeous Calacatta marble bar. Big leafy plants hang down between hourglass and geometric-shaped light fixtures, and all those things hanging down from the high ceilings give everything an airy, grand feel.
Like the dishes coming out of Kilgore's kitchen, the cocktails here take risks. A skewer of pucker-producing caper berries and a punch-in-the-mouth anchovy hang above a martini made savory with an umami brine. There's a kumquat number with coconut-fat-washed bourbon, and there's a drink with strawberry and tomato soda (we didn't dare on that one). Ingredients on the drink menu run from seldom-found to new to most everyone: soursop, pink peppercorn shrub, Myris, Ambrato and a whole lot of other things we had to Google.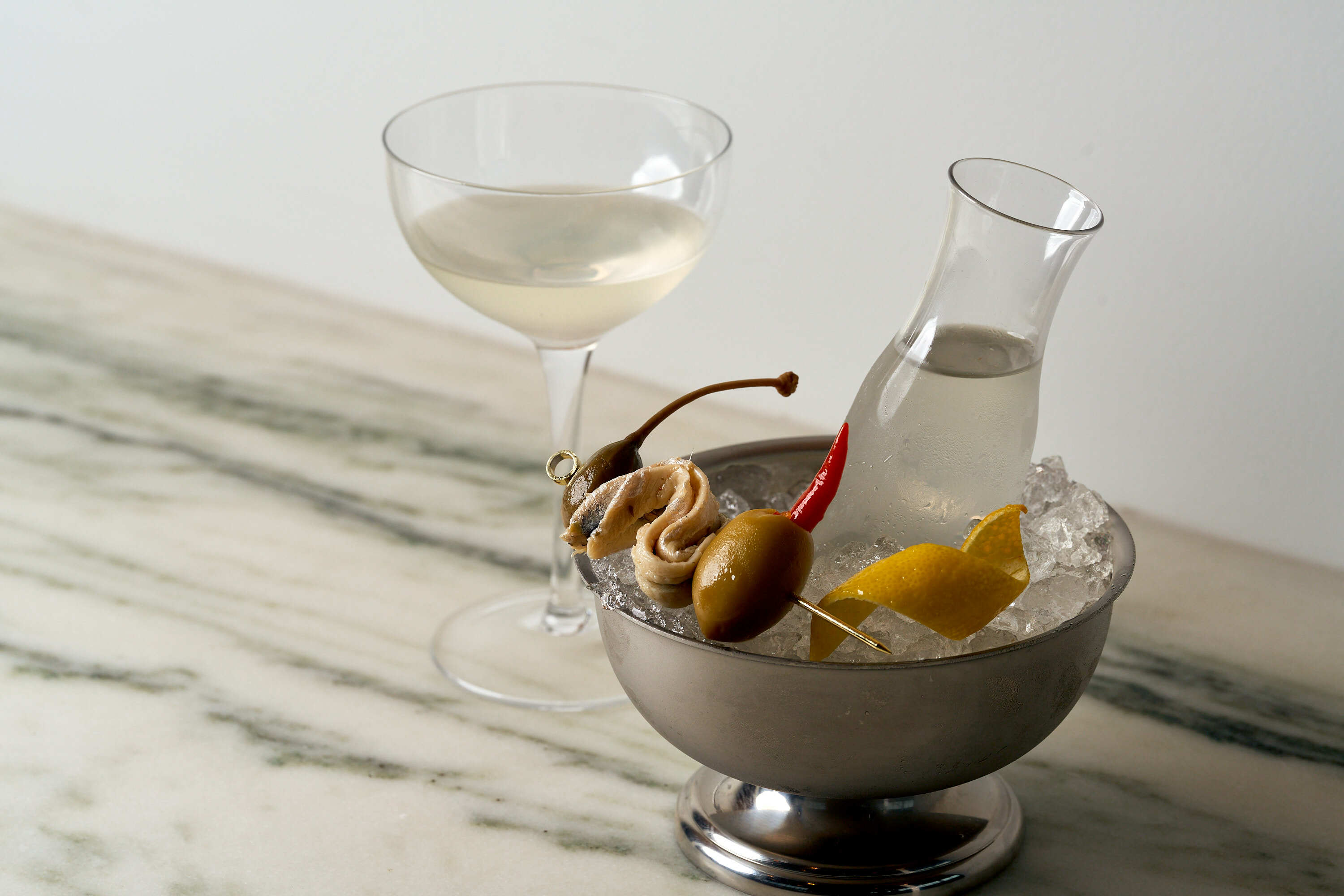 It's like that pretty much all the way through the menu too, with dishes that are just different, sometimes to wild success and, occasionally, not so much. The oyster is a riff on Rockefeller, with its braised greens and rye breadcrumbs, but a dollop of nduja sabayon adds a texture that, combined with the oyster, kind of messes with your head.
Beignets come topped with jerk-spiced oxtail and a coconut gouda that, when you pop that thing, you're sort of left thinking, yeah, maybe, perhaps. The sashimi, while quite tasty, looks like an experiment in some new kind of plating, with dots of super-thin radish dropped here and there, slices of fish just wherever, two sauces kind of spilled in the middle, yellow and green—almost like the goal was to reject the notion of arrangement by messily arranging it. These are dishes that are new, different, unlike anything else—and maybe they work? You might love them, but perhaps you'll just not get them.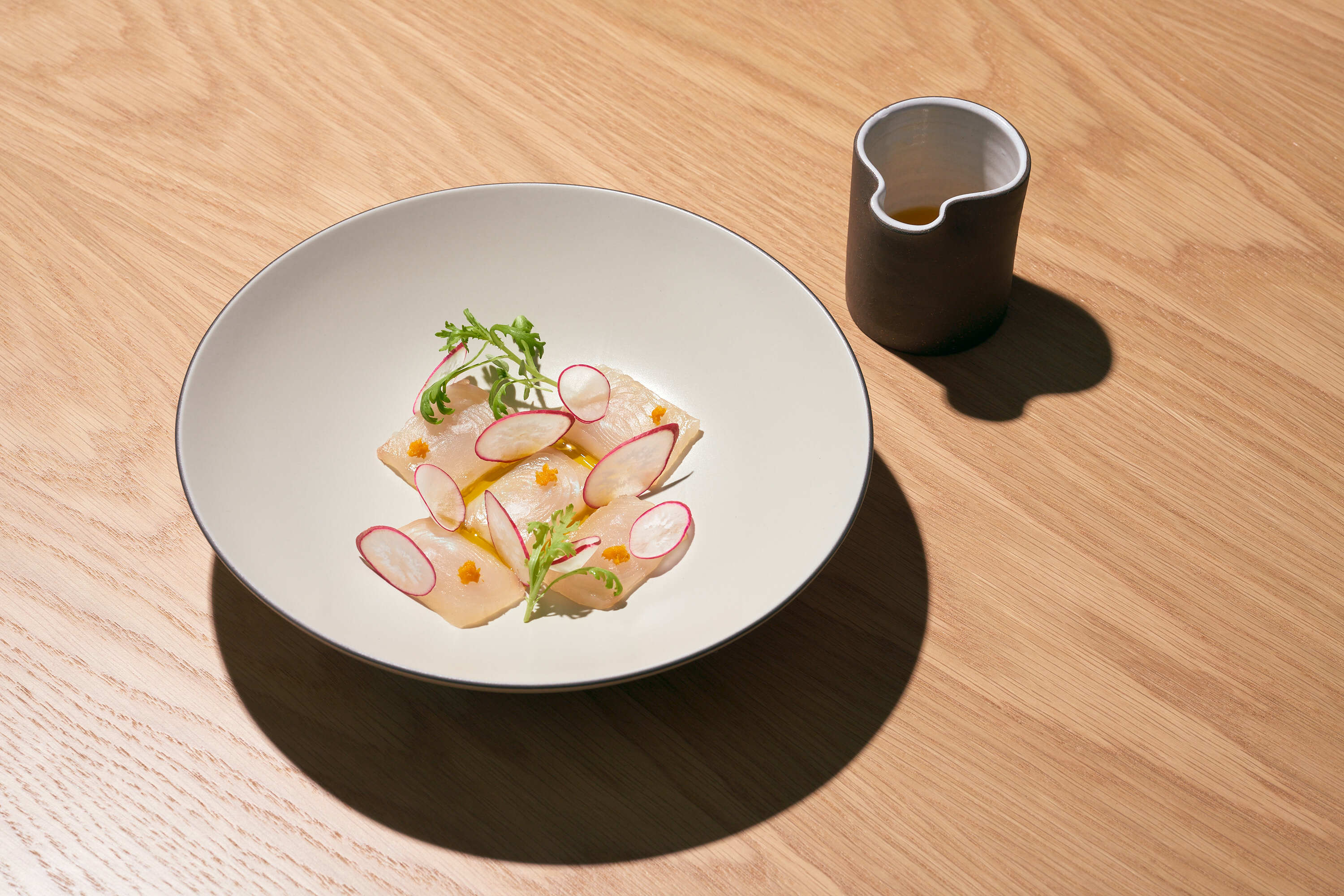 There are also dishes that are hugely successful. The pull-apart brioche with sourdough butter is like the monkey bread of your dreams. The sweet potato waffle with parmesan aged creme fraiche is a little marvel of a bite. The honeynut squash, itself a rare find, gets topped with smoked pecan praline, pumpkin seeds and duqqa, like a Middle Eastern crumble. The fresh catch comes below a leafy blanket of pea tendril salad, good on its own but then so flavorful with the relish of pepper, olive and grapefruit.
Then there's the hand-cut tagliatelle, a strong reminder of the fact that Brad Kilgore is a chef of wide acclaim. It comes with a sweet crab Pomodoro above a caramel-textured cream made with a Norwegian cheese called gjetost, a dusting on top of an aged scallop that takes the place of parmesan. It's a truly original creation—familiar for sure, but surely like nothing else that's ever been served, anywhere.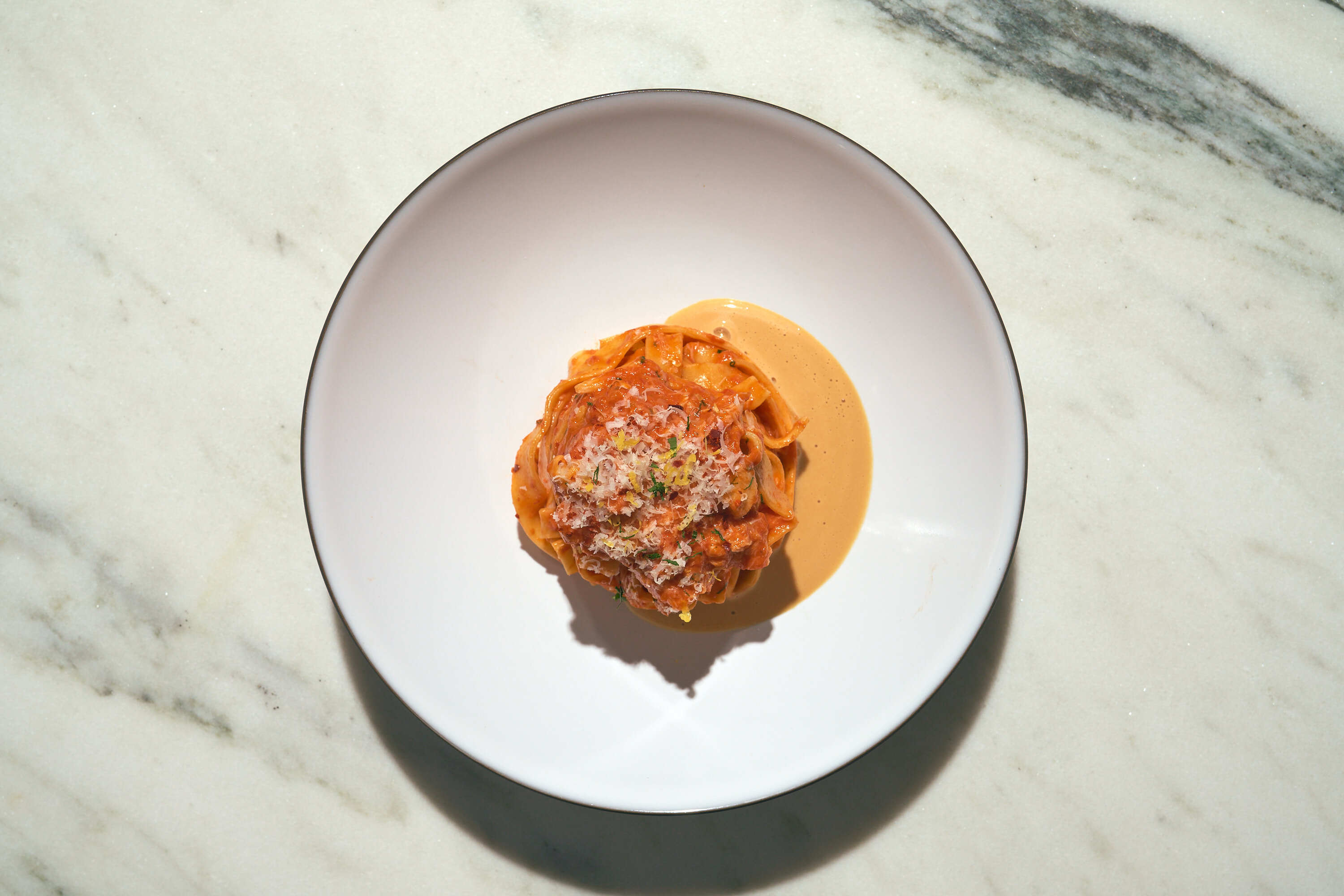 Desserts here also are entirely original. The Key Lime pie is as cute as something you'd see in a Parisian bakehouse window, pressed into a flower. And then, a dish that's deserving of all the times you'll likely see it on Instagram: the "Baked Florida," a sculpted tropical fruit semifreddo that's lit on fire at the table.
In the end, you'll come to some conclusions. MaryGold's is a beautiful space that remains comfortable for the three hours you'll likely be there. The cocktails are creative and well done, albeit a bit weird sometimes. It's expensive (26 bucks for that tiny waffle!), but never overly so, considering the care that's needed for everything. Sometimes, the dishes miss, while some, like that pasta, you'll want to come back and eat again and again to endlessly dissect the ingredients. But this is a place where a talented chef is trying things nobody has done before. And for that, we'll come back to see whatever he's trying next.