Within a short drive from any neighborhood in the 305, you'll find inexpensive Spanish sandwiches at 100 Montaditos, traditional tapas at Barceloneta, creatively reinvented classics at NIU Kitchen and fine-dining versions of Basque dishes at Leku. There's even an acclaimed Spanish restaurant inside a gas station with a name that you should not say in front of your abuelita: El Carajo.
Despite their abundance, though, only two Spanish spots currently rank on our list of the 39 best restaurants in Miami—and none crack the top 10. Next time we work on that list, though, we just might have to change that.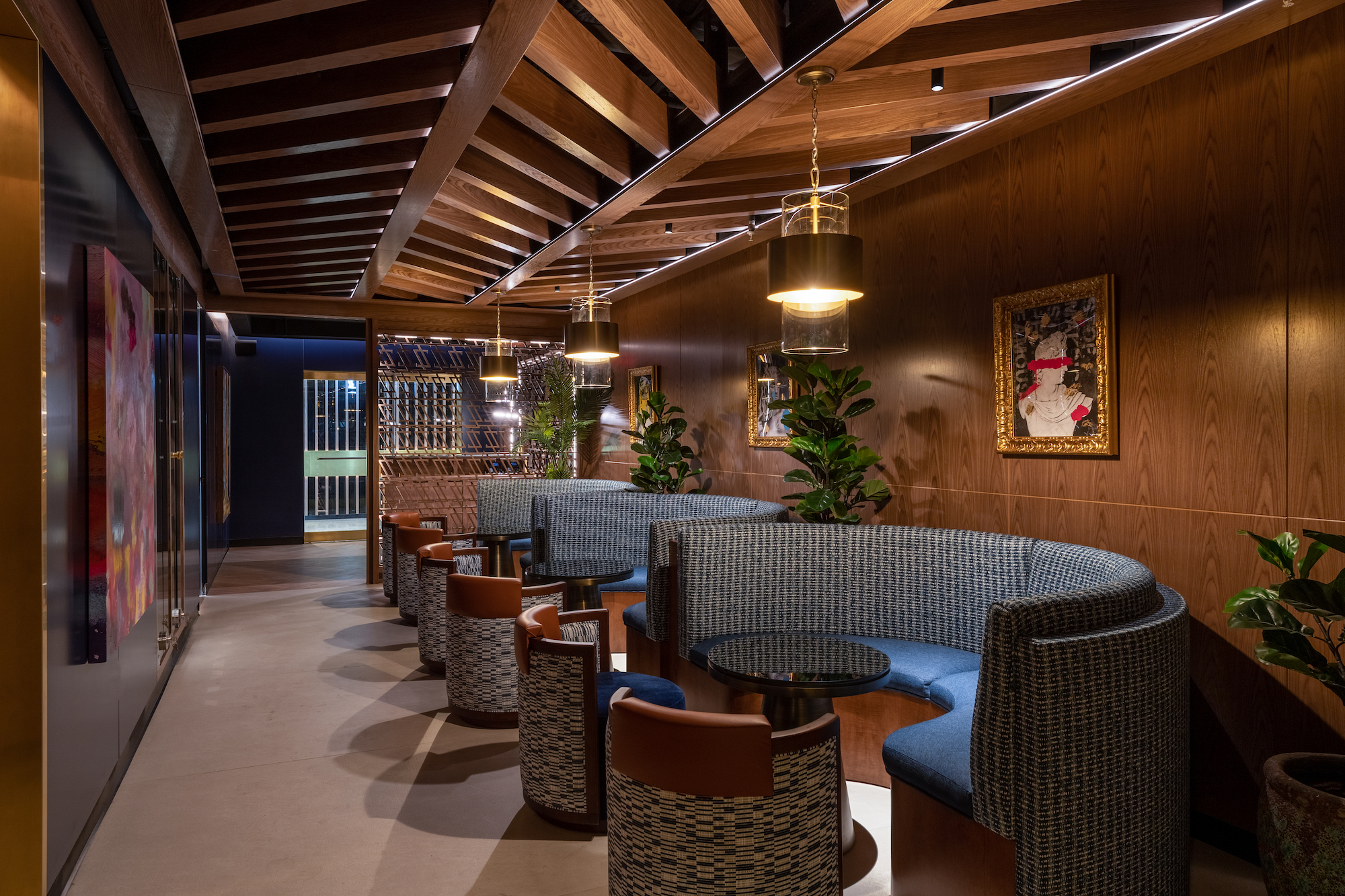 The new Brickell restaurant Zeru, meaning "sky" or "the heavens" in Basque, has instantly become our favorite Spanish restaurant in Miami, a testament to the Spaniards' ability to elevate simple ingredients and transform them into very special dishes.
The concept arrives via Mexico City, where its two locations have landed on multiple best restaurant lists—in a town with one of the world's best dining scenes. Here, corporate chef and partner Israel Aretxiga tapped Gabriela Guitrón Ramírez to run the kitchen and, very soon, we suspect she'll be a finalist for the Beards, the Michelins and, hopefully, your shortlist of favorite restaurants.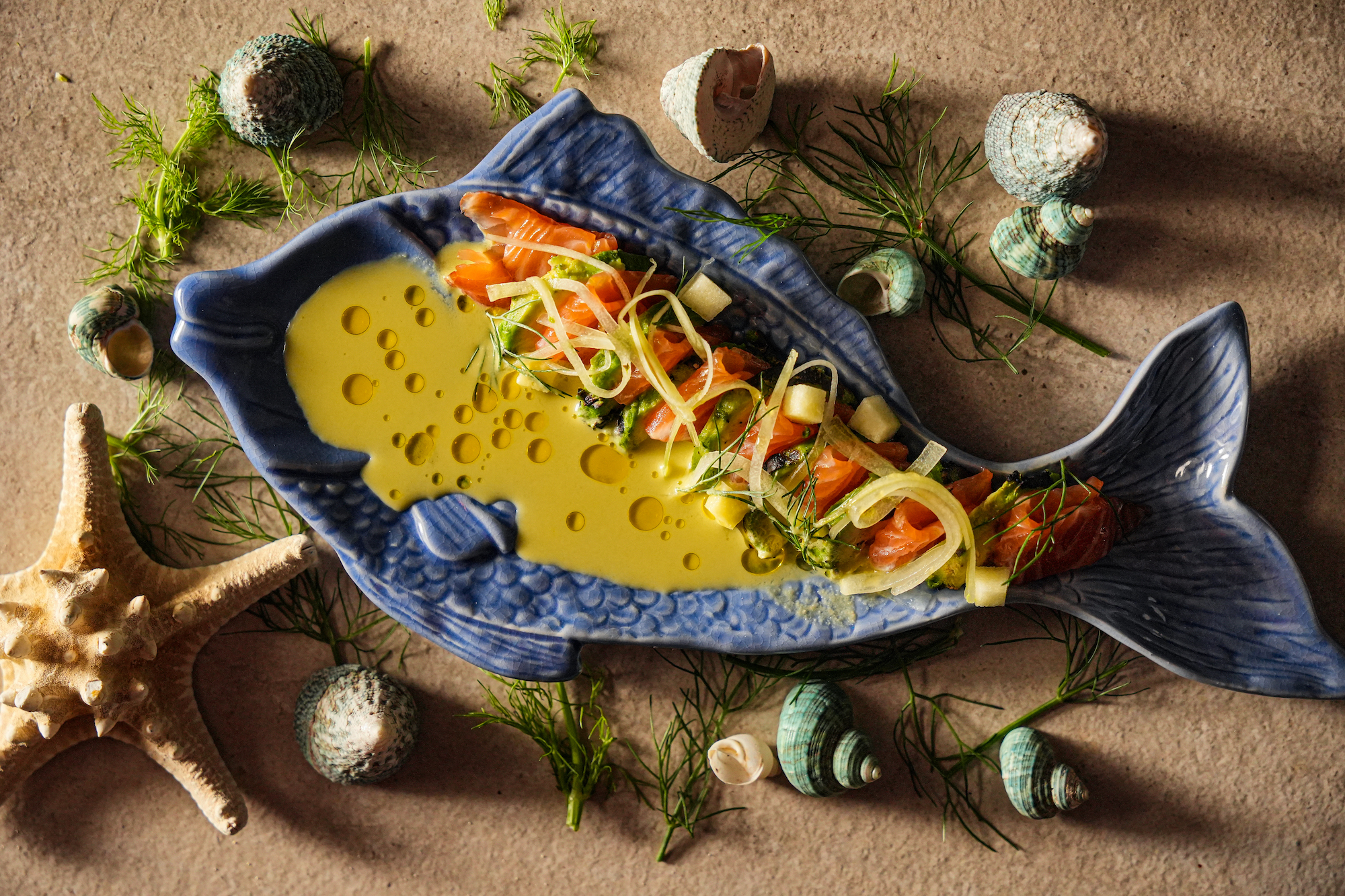 Occupying the ground floor of the AKA Hotel, Zeru's style skews corporate-chic, full of wood paneling, dramatic natural stone, plush banquettes and a beautiful bookshelf wall in the back anchored by a graffiti-tagged print of Las Meninas by Diego Valazquez. The blue velvet armchairs are comfy enough to settle in for a meal as long as the ones they eat in Mexico City, meaning nobody's jonesing to turn your table tonight. A piano-black bar curves its way into the back of the restaurant, a fine spot to tapas your way into a weekend.
The menu is mostly Basque, but several of the dishes will test your knowledge of Spanish regions, like the Andalusian gazpacho jar, the Navarran asparagus and Tudelan artichokes. Similar to a night out in the coastal paradise of San Sebastian, we begin with pintxos that are generally simple, nothing more than an excellent skewered ingredient or two.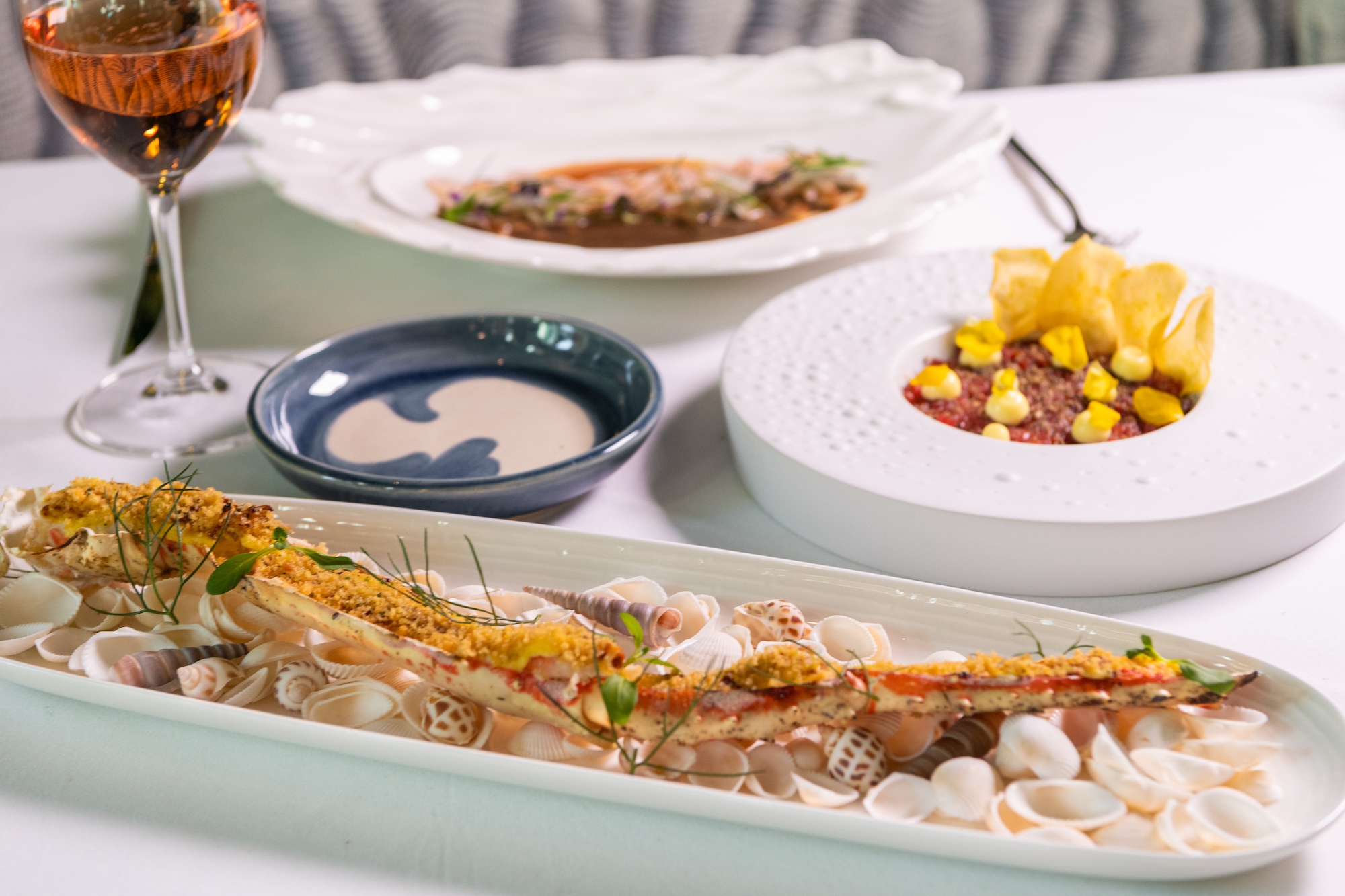 Crostinis of bonito tuna with avocado and a salty anchovy draped over top were followed by croquettes, one capped with a confit mussel and the other with a slice of pata negra ham and a shaving of manchego. The octopus is Galecian in style, though here it's presented like no other we've seen, with paprika sauce clinging to a single tentacle and dainty mushrooms sprinkled over the top.
As is traditional in Basque Country, many of the dishes begin on the wood-burning Josper, imparting a hefty smoke flavor to things like the meaty artichokes tucked under a blanket of Iberico pork and manchego. The whole fish options exemplify this more than maybe anything else on the menu, like the branzino, butterflied and served in a lemon-butter sauce that highlights the exceptional freshness and gentle smokiness of the fish.
Vegetables and meats cooked over that grill also end up atop what will surely be a favorite here, the socarrats. Essentially, they're what's best about a paella, the sticky, succulent crust of rice on the bottom. These crunchy bits are served in a smoking-hot cast iron pan that cauterizes the arborio until it's beautifully blackened below. Our seafood socarrat came with mussels and crab grilled still in the shell, the whole thing polka-dotted with rich aioli that's best swirled through the umami-heavy rice.
Desserts here stray from the traditional into Spanish-inspired creations. There's an egg served in a handsome white ceramic donut of a dish. When cracked, it reveals a creamy mango "yolk." And then there's the manchego fondant, a cheese tart of sorts, with a semi-creamy center and just a slightly flaky exterior. It's original, not too sweet, like a cheese plate married with a pie, and despite our best efforts to acquire the recipe, we left with the next best thing: plans to return as soon as possible.
The best restaurants do that, get us thinking just as we're finishing the meal about when we can make it back. Zeru is certainly on that list, a restaurant we'll be visiting regularly if only to make our way through the entire socarrat menu—and then, no doubt, finishing with that manchego fondant.