The absolute best restaurants in Miami you have to try
There's no shortage of fantastic food in this city, but these Miami restaurants made our short list of top eats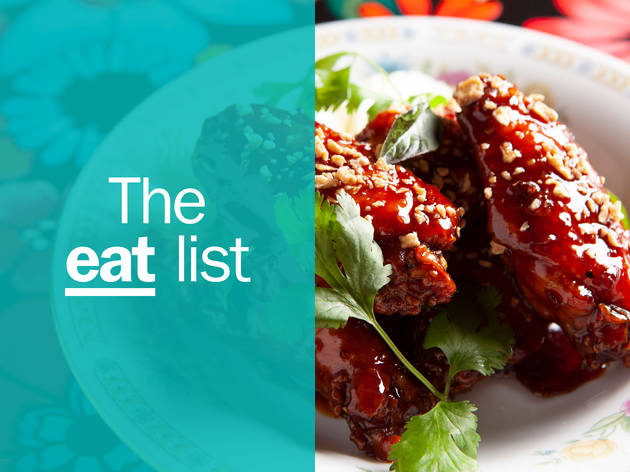 March 2020: As spring nears and the city prepares to welcome a new season (on paper at least because we all know this is the land of forever summers), we're taking this opportunity to freshen up our list of the best restaurants in Miami. The local food scene is blooming as we welcome newcomer Balloo to the list—the small, neighborhood spot may have recently opened but it is already making a ton of noise. Looking for something fancier? We've also introduced The Surf Club by Thomas Keller—because no one does fine-dining as well as the award-winning chef. Hungry or not, you'll want to keep this list handy: Our EAT List covers the city's places to feast right now.
Miami's culinary scene is so hot right now. Popping up everywhere are chef-run establishments pioneering new concepts (think Vietnamese fusion or farm-to-table Indian) and tourist-approved eateries in Little Havana that even discerning locals can get behind—and the good news doesn't stop there. Craving the best of the best? Check out our EAT List, a compact guide to the top restaurants in Miami. Some offer expensive tasting menus in Wynwood, some serve giant, delicious Cubanos on the cheap, and some are the quaint mom-and-pop cafés that we just can't quit.
Time Out's local experts scour the city every day for great eats, great value and insider info (like a certain Italian place's discounted pasta night). We value fun, flavor, freshness—and value at every price point. We update the EAT List quarterly, plus whenever there's a truly spectacular new opening. It could be a mega-hyped destination restaurant or a pop-up-turned-permanent spot: if it's on the list we think it's awesome and think you will too.
We should also note that a number of the best chefs, restaurants and concepts in the city have been welcomed into the Time Out Market Miami. Because that is the highest honor we can award, and we now have a tighter relationship with them, establishments related to market vendors have all been included in the EAT List but not ranked alongside other great establishments in the city. You can find those amazing places here.
Eaten somewhere on this list and loved it? Share it with the hashtag #TimeOutEatList
Find out more about how we eat through the city to make the list.
We hope you're hungry, Miami.
Best restaurants in Miami
Local chefs, restaurants and concepts we love so much that we welcomed them into Time Out Market