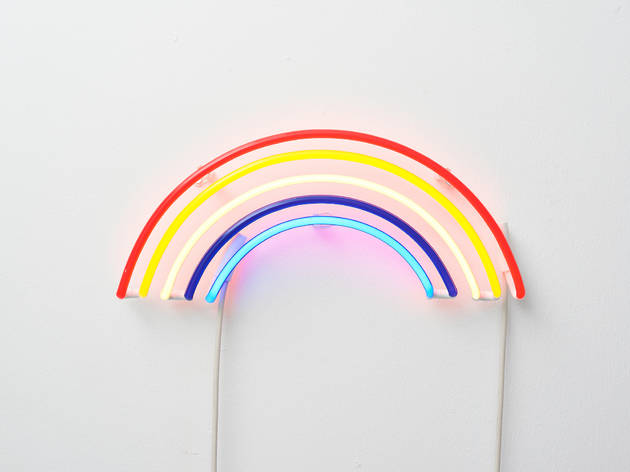 Your curated guide to the best Miami Art Week / Art Basel Miami events 2020
Secure your tickets and lock in those RSVPs. These are the 2020 Miami Art Week / Art Basel Miami events
Art Basel Miami Beach technically isn't canceled (it'll be virtual and called OVR: Miami Beach instead), but the calendar of Miami Art Week / 2020 Art Basel Miami events won't be what you've seen in previous years. Don't expect an esoteric rager at a South Beach club or a surprise performance from a big-time celebrity at one Miami's music venues. We're still social distancing and the throngs of out-of-towners who frequent the annual Miami Art Week are likely sheltering in place in this go-around. Art Basel Miami 2020 will be the first time in a long time that you may only see locals roaming about, popping into local museums for specially timed exhibitions and exploring galleries, many off which will be organizing small shows to align with Miami Art Week. The in-person experiences we've included below will have limited capacity and most require advance ticket purchase or pre-registration to gain access. As always, masks will be required. We understand that many of you are still not ready to venture into an Art Basel Miami event and that's ok—some of what you'll see here is available virtually as well. No matter your stance, we want you to use this list to help guide you through Miami Art Week and Art Basel Miami 2020's best things to do. Choose wisely and check back frequently, since we'll be adding to this list throughout the month.
RECOMMENDED: Your guide to Art Basel Miami Beach 2020
Miami Art Week / Art Basel Miami events 2020
Not even a global health crisis can stop the Faena Miami Beach from its big, splashy outdoor installation. This year, the hotel commissioned Cuban artist Alexandre Arrechea to create Dreaming with Lions, an enormous rotunda on the sand that resembles a forum-style library. The existential piece is illustrated with phrases culled from Ernerst Hemingway's The Old Man and the Sea, such as "but man is not made for defeat. A man can be destroyed but not defeated." Like this and other poignant quotes suggest, Dreaming With Lions is a direct response to our current state of affairs, asking viewers to confront their destiny while maintaining integrity and grandeur. Nov 29–Dec 6 10am–6pm
Spanish-born, contemporary artist Manolo Valdés presents his largest exhibition outdoors at Doral Central Park. Made position by the Doral Contemporary Art Museum (DORCAM), gigantic sculptures will be on display across 12 locations for folks to browse and admire while social distancing. Tours, workshops and educational programming is expected to take place during the exhibition's six-month period but, for now, it's something nice to look at. Dec 5–June 2021
What does sustainability and environmentalism look like? Mexican artist Abraham Cruzvillegas attempts to define it with Agua Dulce, a landscape installation debuting on the Bass' front lawn during Miami. Cruzvillegas worked with the Sun Keeper Environmental Solutions firm to source thousands of plants (dozens are native Floridian species) he'll use to create a relaxing, symmetrically shaped oasis. There will be seating in the garden made from locally sourced and found materials for folks looking to take a break and admire the art. Agua Dulce debuts during Miami Art Week as part of the ongoing public exhibition, Art Outside, an initiative of the Bass in collaboration with the City of Miami Beach. Nov 29–Apr 18, 2021
Part Miami Art Week exhibition and part locals' market, "Materialize," by visual arts nonprofit Oolite Arts presents shoppable works by Miami-based artists. From photographs and prints to sculptures and clothes, everything on display will be for sale and range from $1 to $250, with select works priced above $1,000. The idea is two-fold: support local creatives and give folks an affordable and meaningful alternative to holiday shopping. 928 Lincoln Rd. Nov 28–Dec 6 noon–8pm.
From the people who brought you a party in a police impound lot and last year's sensory explosion, the Art Plug Power House, comes "The Real Surreal," a fantastical display of Salvador Dali's rarely seen works on paper and bronze sculptures. Local art dealer Marcel Katz partnered with NYC-based art consultant and Dalí expert Bertrand Epaud for the two-month exhibition, which features an iconic 10-foot, 1,000-pound sculpture, Saint George and the Dragon. (One of the sculpture's editions belongs to the Vatican, so it's kind of a big deal.) In conjunction with the exhibition, though not related, the Confidante will highlight its own selection of surreal works—curated by Katz and featuring local artists. Visits will be timed and advance ticket purchase is required. Nov 20–Jan 17
To the uninformed eye, Catastrophe is adorable rugs created entirely out of second-hand stuffed animals. And they are, but they're also handmade pieces that tell a deeper story about the importance of sustainability and the role that art plays in underserved communities. The five quilts on display form part of the Animal Rug Company (ARC), a novel initiative by artist and designer Augustina Woodgate that endeavors to seed an equitable micro-economy in Miami's Allapattah neighborhood with art. The exhibition, on view now, was created in collaboration with El Espacio and Goodwill South Florida. Dec 1–6, 10am–5pm.
Unlike the rest of Miami Art Week's fairs, Design Miami/ is not going virtual this year. The popular, design-centric event is, however, scaling back in size and returning to the venue that launched it all 15 years ago, the Moore Building. More than 139 pieces will be on display throughout the week, including 57 of which make up the fair's new Podium section—featuring historic and contemporary objects handpicked by Design Miami/'s curatorial director, Aric Chen, to align with this year's theme: America(s). Folks not comfortable participating in person can do so online, where there'll be lots of programming and the opportunity to shop as well. Nov 27–Dec 6
Aqueous, the latest immersive installation from ARTECHOUSE, examines the calming qualities of Pantone 2020's Classic Blue and its connection to water. Step inside the South Beach museum and prepare to chill out staring at trippy ocean vistas, listening to the sounds of falling rain and experiencing other aquatic-themed moments. The piece is part of ARTECHOUSE's newest series, Submerge, spanning other cities with different elemental installations relating to earth, water and air. Dec 3–6 2–8pm; $17–$24.
One of Miami Art Week's most anticipated satellite fairs is going to be virtual this year. SCOPE Immersive II concludes the two-part digital event, giving access to the very best new contemporary works—a genre that, according to the fair, stands as a critical contribution to both global politics and local community engagement. SCOPE's online viewing room are curated, interactive spaces that can be accessed from any device anywhere in the world. More than 30 exhibitors are expected to participate in Part II. Dec 1–6, 8am–8pm.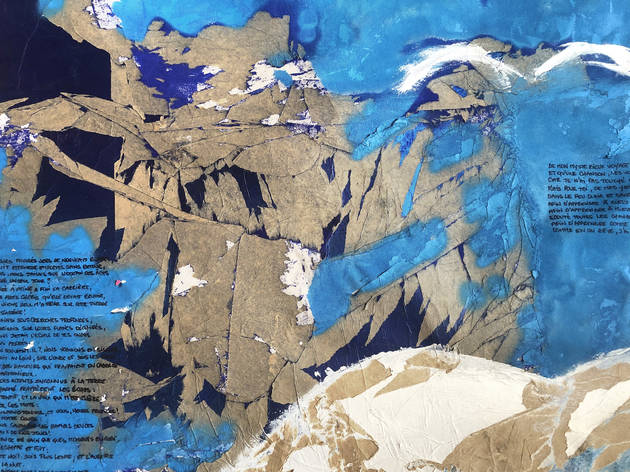 Photograph: Courtesy Aidan Marak
10. Aidan Marak: "Art is Never Canceled"
There's no canceling Aidan Marak's show. Produced during lockdown and named in defiance of the closures it gave rise to, the Morrocan-born examine themes of capitalism, religious conservatism and standards of beauty via large-scale paintings and evocative collages comprising words and abstract imagery. 235 NE 29th St. Dec 3–17. Thu–Sat noon–9pm.
"Witness: Afro Perspectives from the Jorge M. Pérez Collection"
El Espacio's celebrates its one-year anniversary with a multigenerational look at the challenges and inherited trauma associated with systemic oppression. "Witness: Afro Perspectives," curated by Zimbabwean curator Tandazani Dhlakama of Zeitz MOCAA, in collaboration with Pérez Collection curators Patricia M. Hanna and Anelys Alvarez, presents more than 100 words by African and African Diaspora artists in what promises to be the timeliest exhibition of Miami Art Week. Dec 1–6, 10am–5pm.
One of Miami's artiest hotels continues its long-standing tradition of lobby exhibitions and culturally focused events, capping off with its highly regarded weekend brunch on the penultimate day of Art Basel Miami Beach week. The public is invited to roam the Sagamore lobby at any time (social-distancing rules apply), but both Wednesday night's A.F.F.M. (Art, Fashion, Food, Music) party at the Sagamore Supper Club and Saturday morning's brunch will be ticketed. Dec 2–6. At various times and prices.
Street art prodigy and frequent Keith Haring collaborator Angel Ortiz unveils a new piece at the museum during Miami Art Week, marking his first solo exhibit in South Florida. Known as LA II, Ortiz's work is known for its bold use of lettering, colors and pop icons. His career spans four decades and includes exhibitions in some of the country's top museums and galleries— and now the Museum of Graffiti, which traces the history of tagging, from its genesis in 1970s New York to its ascendance as a respected global art form. Date TBA.
The Museum of Contemporary Art is making it easy to participate in Miami Art Week both in person and at home. It's extending its hours for folks interested in checking out the latest exhibits, as well as hosting a number of virtual conversations with artists, including Raul de Nieves and Risa Puleo on December 3 and Edouard Duval-Carrie on December 5 (both on Zoom). Over the weekend, tune in to watch MOCA's Facebook Live, featuring workshops and storytimes for kids. Dec 3–6 at various times.
Fresh off a showing at the Museum of Graffiti, Gustavo Oviedo brings "Symbiosis" to the Shelborne South Beach for a special one-night appearance. While other graffiti artists turned toward urban decay, Oviedo chose to depict life beneath the ocean's surface via large, seemingly abstract paintings that resemble sea creatures, collages and more. Pieces will be on display in the hotel's lobby and Oviedo will be around to say hello and sign copies of the exhibition's eponymous book. Dec 2 6–8pm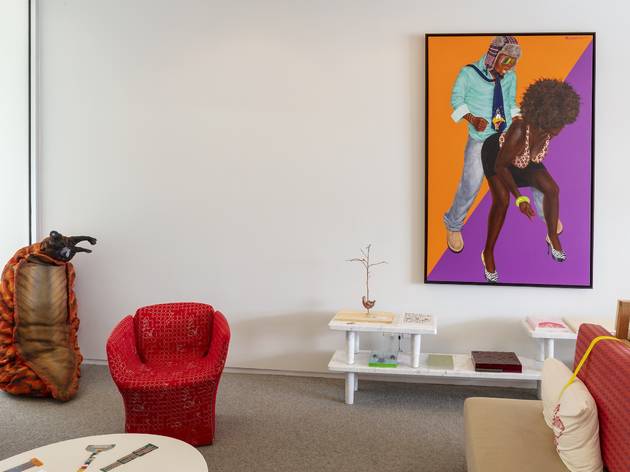 Photograph: Jill Peters
16. The Craig Robins Collection
Craig Robins' enviable art collection will be on display for a limited time in the Dacra headquarters, giving folks the opportunity to gawk in person. Expect to see a range of works, from paintings and sculptures to photography, from the likes of Rick Owens, John Outterbridge, Simone Leigh and other seminal artists of the 20th and 21st centuries. Visits will be limited to groups of 10 and must be booked in advance via email. Nov 27–Dec 9.
Need to fuel up?
These are the top spots in Miami that you absolutely have to try.
Best selling Time Out Offers