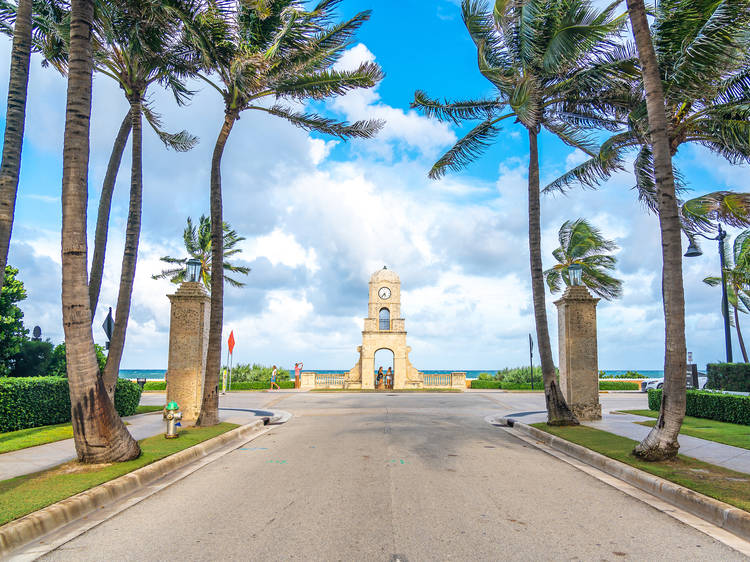 Photograph: Shutterstock
Distance and drive time: 70mi, 1hr
Travel north from Miami the same distance you would south to the Keys and you'll arrive in the epicenter of privilege and luxury. Palm Beach's riches are there for the taking—so long as you have a high tolerance for lunching ladies, pastels and general clichés of wealth.
Eat: The Breakers (1 S County Rd; 561-655-6611, thebreakers.com) is a Palm Beach institution, and so is Sunday brunch at its restaurant The Circle. If the dramatic dining room and its 30-foot vaulted fresco ceiling don't convince you, perhaps the extravagant buffet—complete with a raw bar, carving stations and a lavish dessert spread—will. A strict resort-wear policy is enforced (no jeans, tees or hats, please). This is Palm Beach, after all.
Drink: The bar inside The Brazilian Court Hotel (301 Australian Ave; 561-655-7740, thebraziliancourt.com) looks like the backdrop of a Great Gatsby party, full of deeply cushy leather couches, Sausalito tiles and a wooden tray ceiling that some poor sap must have to oil regularly. Chef Daniel Boulud is behind the happy hour menu (4-6pm), with high-brow items like Crispy Duck Pastilla. The cocktail menu is as upscale as the surroundings: We'd suggest the white cosmopolitan, with elderflower and white cranberry, cooled off with an ice sphere holding an orchid.
Stay: A Nantucket socialite named Elizabeth T. Ludwig opened the first White Elephant in the 1920s, establishing a chic spot for vacationing industrialists. The hotel's bougie style was exported to Palm Beach in 2018, with White Elephant Palm Beach (280 Sunset Ave; 561-832-7050, whiteelephantpalmbeach.com) occupying a rehabbed historic property that now exudes all the marbled glamor you expect on this island of multiple billionaires.