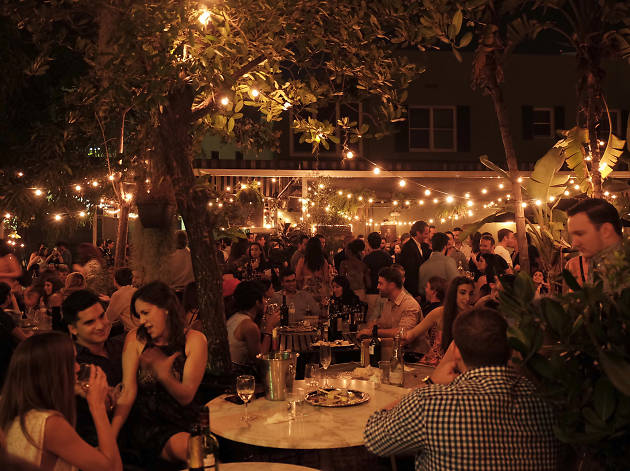 Where to meet singles in Miami far away from dating apps
When you finally get tired of Tinder, drop the phone and head to these places to meet singles in Miami
Finding good places to meet singles in Miami is tough. One wrong move and suddenly you're surrounded by everyone you've ever swiped left on in Tinder. Yikes. Some people might think it's easy enough to find love in Miami. Just go to the best clubs in Miami or the best bars in Miami and surely love is just a few drinks away, right? Us single folk know better than that. It ain't easy out here for us. One must pick the right club or the right bar—and sometimes steer clear of the nightlife scene altogether. It really depends on what kind of single person you are. No matter the answer to that question, though, we suspect you'll have luck at one of these places.
Where to meet singles in Miami
What is it? The cozy bar inside the Freehand, a trendy Miami Beach hostel. Weekend nights are when the Shaker really goes off, but during the day there's usually always some people lounging by the pool and sipping drinks.
Why go? Not only do single locals love this place, but here you'll have the chance to meet someone from out of town. Don't forget this place is a hostel. There's plenty of solo travelers looking to make friends.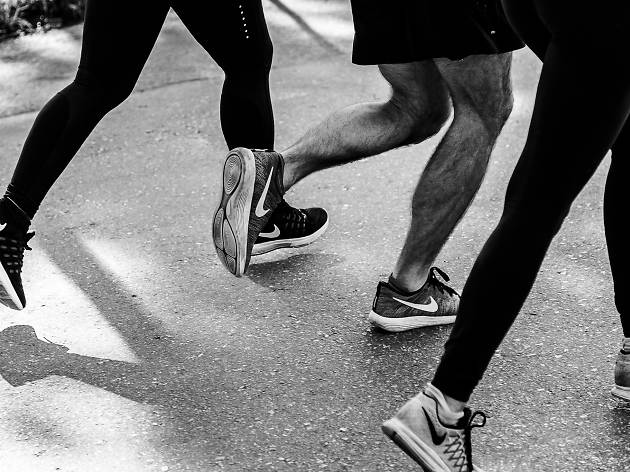 Photograph: Unsplash/aquachara
What is it? A free weekly run club that meets in Brickell (at 1300 Brickell Avenue) every Tuesday at 7pm. The runs usually go about three miles and are very well attended with over 300 runners each week.
Why go? Because out of 300 sweaty folks high on endorphins, you're bound to meet someone. And even if you don't, at least you got your workout in for the day.
What is it? This charming wine bar is almost too romantic to handle. The string lights out back, the delicious wine and jazz inside—it all has us checking the door to see if a soaking wet Ryan Gosling is about to come bursting in.
Why go? Lagniappe is a quintessential first date spot, but where there are first dates, surely there are singles and third and fifth wheels all waiting for their own Notebook moment.
What is it? A cooking class led by Three chef Norman Van Aken and his very capable team. Classes take on everything from Cuban food to barbecue and tequila.
Why go? You can take this class solo or with a friend. Chances are, you'll meet some other curious cooks. Class size is limited to 16 people, so you should get to know pretty much everyone.
What is it? A fancy rooftop bar in Brickell where folks like to get all dressed up and schmooze. The cocktails ain't cheap but the views are just lovely.
Why go? On a weekend night, Sugar is usually pretty packed with young single folk looking for that special someone to pay for their $15 cocktail. Brickell seems to be the epicenter of young professionals looking to swipe right on an actual human being—and Sugar is ground zero.
What is it? The preferred charging station for Miami's cool, rich and stylish. The Standard has a waterfront restaurant, beautiful spa and sexy pool (which costs $75 to access unless you're a member).
Why go? The Standard throws some free events too that are open to the public. Check out the "happenings" section of its website to see when the next barbecue, bingo night or speed dating event is going down.
What is it? A weekly farmers' market-inspired dinner that takes place at the Downtown location of Books & Books each Monday. The five-course plant-based meal is a great place to meet a like-minded foodie.
Why go? This is a rare meal you can actually attend by yourself (or with a hungry wing-man/wing-woman). Everyone sits at a big table as the chef walks you through your courses, so it should be easy to chat with your (hopefully) single neighbors.
What is it? A popular outdoor Latin bar in Wynwood. People come here to dance, drink and repeat.
Why go? El Patio is just one of those bars where everyone seems to be in a good mood. The tight space and lack of a defined dance floor make it pretty easy to mingle from group to group.
What is it? On a nice weekend day, anyone with a boat (or anything that floats, really) grabs a 12-pack of Corona and goes to the Haulover Sandbar, where hundreds of people swim, drink and party.
Why go? Everyone's a little friendlier on a boat. At Haulover, it's not abnormal to hop from boat to boat, meeting people and exchanging drinks. It's a boozy party atmosphere, for sure, but at least a few great love stories have started with booze and saltwater.
What is it? The coolest farmers' market in Coconut Grove. Homestead's Glaser Organic Farms make the trip to the Grove every week to sell local goods and fresh treats.
Why go? People love to linger at this market, which provides ample opportunity to strike up a chat with a like-minded stranger eyeing the same organic soap as you.
What is it? A weekly drag party that takes over Wynwood's Gramps every Thursday. Double Stubble is inclusive, racy and—above all—a freaking blast.
Why go? Double Stubble is a great queer party but the crowd is inclusive and no matter your orientation, you should be able to meet some fun people here. Plus, you'll already have one thing in common: an appreciation of fierce drag.
What is it? A day drinking mecca in the 305 that lures youngsters looking for some cold rosé and a new Instagram post. The waterfront bar is never not crowded and has a surprisingly eclectic crowd.
Why go? The Wharf is tight enough to mingle but open enough to find a seat and have a conversation. The DJ keeps people dancing and the bar keeps them happy.
What is it? An outdoor space with music, food and plenty of great, free programming. The Wynwood Marketplace is also one of the most family-friendly spots in Wynwood.
Why go? The space is great for single parents since it offers so much room for kids to roam free. Let them run around while you chat up that cute lookin' thing over by the bar.
Looking for a great ladies' night?
We found almost 50 ladies nights right here in Miami.
Best selling Time Out Offers