The best things to do in the Design District, Miami's most stylish 'hood
Yes, there are plenty of things to do in the Design District besides shopping—and we've found them all for you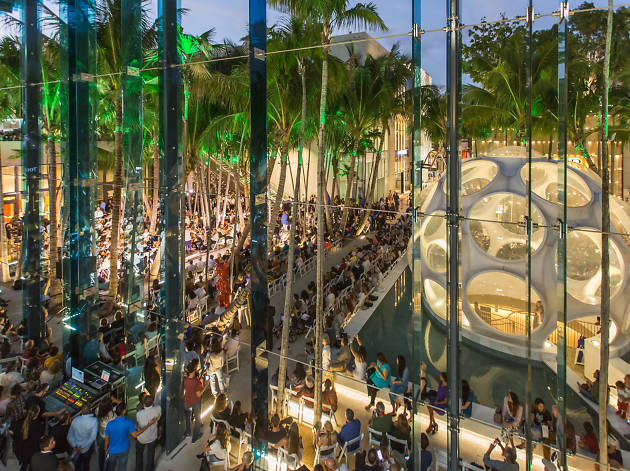 Your choice of things to do in the Design District seems to be growing each week. The compact Miami retail district is no longer simply a spot for one to come and gawk at designer labels (although you can and should still do that if you're into brands like Balenciaga and Hermès, which has a flagship here). These days, the Design District feels more inclusive of different budgets and there's plenty to do and see if you're into food, art or music. Hungry? Eat your way through the best restaurants in the Design District. Feeling cultured? The Design District is home to one of the best museums in Miami and one of the most beautiful buildings in Miami (in our opinion). This place is nothing if not a visual feast, sprouting new limbs quicker than we can keep up with. Forget what you think you know about the Design District and go see for yourself. This list is curated, as always, but isn't ranked—we just couldn't choose favorites.
RECOMMENDED: Full guide to Design District, Miami
Things to do in the Design District
Restaurants, Ice cream parlors
What is it? An ice cream shop selling sweets with a twist: the ice cream has booze in it. Yup, order flavors infused with scotch, tequila and more creations. And, yes, you must be 21 or older to eat.
Why go? It may sound a tad odd to your taste buds but the flavor pairings are actually pretty damn good. Once you find your flavor, you'll eat this stuff up quick. But go easy. Remember, there is alcohol in it.
2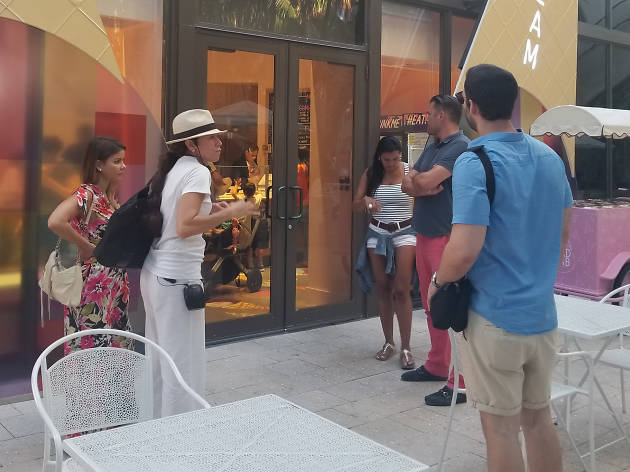 Photograph: Virginia Gil
Design District Art and Food Tour
What is it? A great way to taste your way through the Design District, learning (and eating) a bunch along the way. This tour stops by St. Roch Market, Abaco Wines, Estefan Kitchen, La Pollita and MadLab Creamery.
Why go? Whether you're visiting or just haven't had a chance to check out the Design District yet, this tour will cover just about everything you need to know and taste in the area. It's great if you want to be a tourist or just play one for a delicious afternoon.
Things to do, Cultural centers
What is it? The ICA (as you're more likely to hear people call it) is a sparkling new museum housing some magnificent exhibits of contemporary art. Here you'll see big names alongside criminally underrated and daring artists.
Why go? The ICA just opened its new space and the three-floor museum would certainly be worth every cent of your admission if it wasn't free. But since it cost $0 to enter, there really is no excuse for not checking it out. Don't leave without seeing the sculptures in the back patio.
What is it? Trendy locals love this aesthetically pleasing shop, which offers a selection of off-the-beaten-path labels as well as small plates and coffee from a café in the front.
Why go? Mrs. Mandolin is a great choice for shoppers who feel a tad intimidated by the huge, high-fashion brands dotting the Design District. This place is a little more chill (and affordable) than your average Gucci store.
What is it? The Miami Design District Performance Series is a free live music series taking place in Palm Court. The concerts are produced by Emilio Estefan and revolve around the Miami Symphony Orchestra.
Why go? These concerts don't happen year round—they usually take a break during the summer. Check the calendar at the Design District's website to see if one is coming up. If it is, arrive early for a good view and enjoy some really nice sounds in a gorgeous outdoor setting.
6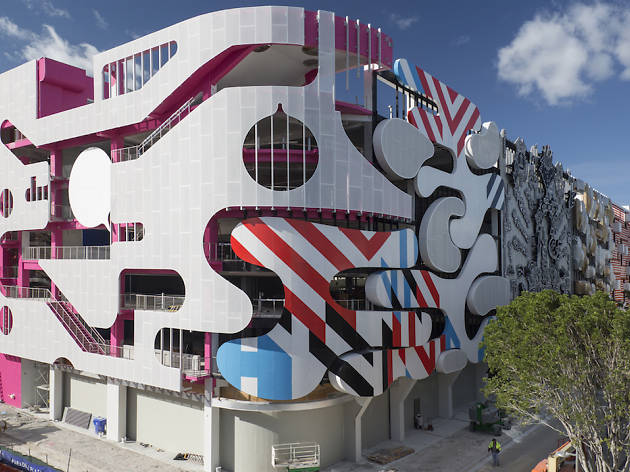 Photograph: Robin Hill
Design District art tours
What is it? Twice a month, the Design District leads art tours, guiding curious folk around their many outdoor works and pointing out new things too. The tours take place on the third Wednesday of the month.
Why go? The tour is free so…why not go? Most people don't realize just how much awesome public art there is in the Design District. After this tour, you won't be one of them.
What is it? A New Orleans-inspired food hall slinging out a diverse selection of meals. Your options range from fried chicken to oysters to vegan cupcakes.
Why go? St. Roch is a tasty spot to refuel between shopping. The options should ensure your picky friends all find something to satisfy.
Things to do, Exhibitions
What is it? Although not as big as the ICA, de la Cruz offers another selection of art to peruse—for free. The gallery also hosts lectures and summer workshops for kids.
Why go? The de la Cruz collection is certainly nothing to sneeze at. Artists in the 2018 exhibition include classics such as Dalí as well as groundbreaking modern artists like Kathryn Andrews.
Sports and fitness, Cross-training
What is it? Fitness freaks may want to see if they can nab a training session at this sought-after gym.
Why go? The owner and head trainer, David Alexander, is a legend who has trained the literal best athletes in the world. He's the go-to guy for LeBron, Wade and every other athlete and celebrity who rolls through Miami in search of a killer workout.
Restaurants, Coffee shops
What is it? A San Francisco imported coffee spot serving really great java in a trendy atmosphere. The Design District is short on caffeine options, so this place can be a godsend.
Why go? Shockingly, Blue Bottle doesn't have Wi-Fi. That's because they encourage socializing and don't want everyone in their shop glued to a device. If that sounds pretty cool to you, stop by and take part (or just get a cup to-go and flee to the nearest Wi-Fi network).
What is it? The food at this Estefan family-run Cuban restaurant is really good. And you can expect some live music at night to accompany your meal.
Why go? Aside from the chance to see Gloria or Emilio shaking hands and making the rounds, Estefan Kitchen is a fun only-in-Miami experience, where the staff sings, dances and things can go from zero to 60 real quick.
More to explore