What to eat, see and do on the way from Miami to Key West
Hungry? Thirsty? Nature calling? We've got your essential list of pit stops for your road trip from Miami to Key West.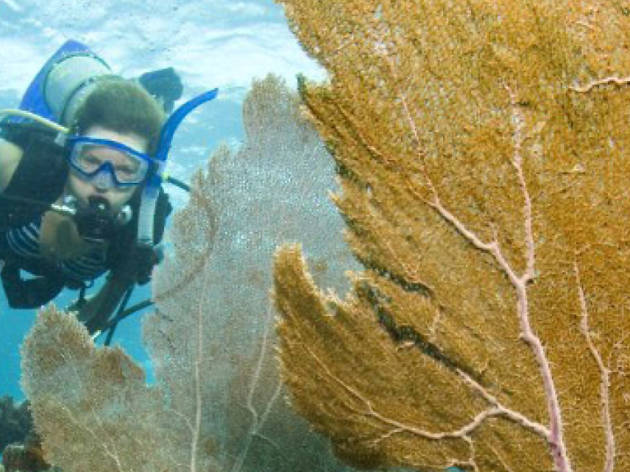 Your list of things to do on the way from Miami to Key West is longer than one might think. Maybe that's because the drive is a bit longer than most people think it is. It'll take you just under four hours (with light traffic) to get to Key West from Miami. When you hit Key Largo, the road begins to narrow and your trip will become slower—though undeniably more beautiful. Luckily, your drive is lined with some of the best attractions in Miami, some of the best tacos in Miami and much, much more. If there was ever a trip worth taking your time and making a couple pit stops, Miami to Key West is it.
Things to do on the way from Miami to Key West
What is it? A pretty insane collection of outdoor sculptures and structures all allegedly carved in the '20s by a heartbroken Latvian fellow named Ed.
Why go? Because Ed worked awfully hard on all these carvings and his story is actually quite incredible and slightly unbelievable. You can learn all about it at the museum for an admission of $18 for adults.
Things to do, Markets and fairs
What is it? An immensely popular farm and bakery selling tasty, local and fresh treats. You can pick your own strawberries to snack on during the trip too.
Why go? Though the farm is only open for part of the year (roughly November through April) Knaus Berry's cinnamon rolls are the stuff of legend. People talk about those rolls like the apostles talked about Jesus. Pro tip: it's cash-only!
What is it? A local winery (with a restaurant and brewery also on the property) making some pretty unorthodox wines from local fruits like avocados and lychees. Schnebly is also huge—with lush walkable grounds perfect for sipping and strolling.
Why go? Because you've never had wines like this before. And, if you like what you try, you can take home a few bottles for your collection.
What is it? A very worthy member of Homestead's legendary repertoire of Mexican food. Taqueria Morelia often finds itself in the conversation of the area's best Mexican joints.
Why go? Authentic, delicious and cheap—Taqueria Morelia is a perfect place to fuel up before strapping in for the last couple hours of your drive.
What is it? A throwback Florida fruit stand where you can buy fresh-as-it-gets produce as well as other local products and treats.
Why go? The milkshakes! If you go here and don't get one of the thick, famous shakes (made with fresh fruit and soft-serve) then we are officially no longer friends. But if you bring us a strawberry Key lime pie shake then we are officially best friends again.
What is it? A state park that draws in hundreds per day with its gorgeous reefs, which you can see via snorkel, scuba or glass-bottom boat.
Why go? The daily snorkeling tours are one of Pennekamp's most popular attractions. You'll get about an hour and a half in the water and the chance to observe wildlife and the famous underwater Christ of the Deep statue.
What is it? Beloved seafood joint with all the salty Florida kitsch you could hope for. They do the classics here and they do them damn well.
Why go? The smoked fish dip, the fried conch, the snapper and especially the Key lime pie, which is an essential dessert here. You should probably get one to-go too. You know, just in case.
What is it? The best dive bar in all of Key Largo, featuring a lively cast of all the lovable misfits who find themselves down in this area of South Florida. It'll put you in the Keys mood for sure.
Why go? Because you're a dive bar connoisseur. If you prefer your bar with a little more elegance, maybe this ain't for you.
Photograph: Courtesy Yelp/Gene H.
What is it? The original vessel from the Humphrey Bogart and Katherine Hepburn film of the same name. This vintage piece of movie history was built in 1912 and is a registered National Historic site.
Why go? Because not only can you look at it, but the African Queen is available for private cruises. Do some sight-seeing or take a dinner cruise to the Pilot House Marina. 99701 Overseas Hwy, Key Largo.
What is it? This tiny animal park will put you up close with dolphins, sea lions, sea turtles and more fish and marine mammals.
Why go? Theater of the Sea's animal interaction packages give you a good chance to get much closer to the wildlife than you'd expect. Swim with dolphins, chill with a sea lion or pet a ray.
Photograph: Courtesy Yelp/Jeff K.
What is it? A very pretty beach/park in Marathon. There are bathrooms, picnic tables and volleyball courts there as well.
Why go? Because you need to stretch your legs, use the restroom and maybe your four-legged friend does too (Sombrero Beach is pet-friendly). Get a little beach time in before you head into the final half of your Key West trip. Located at Sombrero Beach Rd and Corte Del Brisas.
What is it? An Islamorada tap room full of Keys charm. The patio/beer garden—with blue and pink furniture—is a lovely place to spend an hour working your way through a flight of beer.
Why go? Because you need to fill up on beer for your trip and you might as well drink local. Sample a few, pick one you like and throw a 12-pack in the car.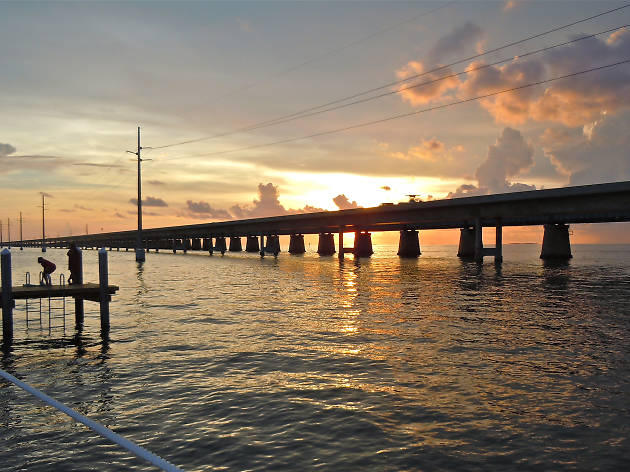 Photograph: Flickr ccdcwriterdawn
What is it? An impressively large bridge linking Marathon Key to Key West. It was first completed in 1912 but has—thankfully—been updated since.
Why go? Well, it's not like you can avoid it. It's the only way you're getting to Key West via car. But you should still take a moment to appreciate it and soak in the view. This is when it pays to be a passenger.