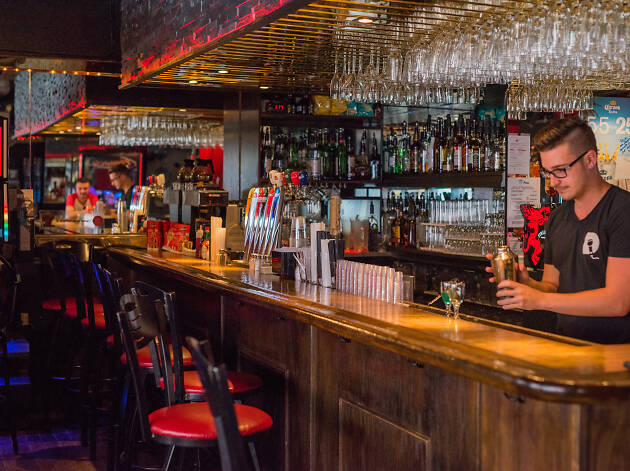 The best Montreal gay bars and LGBTQ clubs in Montreal for drinks, drag and dancing
Grab a drink, relax, and live it up at these gay bars, LGBTQ hangouts, star-studded drag shows and music venues
Montreal is known as an LGBTQ capital of the world, and its best gay bars and clubs form a major pillar of the nightlife here. With one of the largest Gay Villages in North America, a progressively-minded population and an infamous scene, this city's got plenty to be proud of. Back in the 80s and 90s, Montreal's own Village was the focal point of the LGBTQ (especially gay male) crowd, but more places have since opened up to join the selection of rooftop bars, karaoke bars, drag shows and more.
RECOMMENDED: Full guide to the best bars in Montreal
Best gay bars in Montreal
Photograph: Courtesy Yelp/Warren M.
Infamous local drag queen Mado Lamotte has become such a prominent figure in Montreal nightlife that they made a sculpture of her at the Grévin wax museum in town. That fame's helped make Cabaret Mado the go-to venue for gender-bending drag-queen shows and sketch comedy for over a decade. Prominent queens from across Canada start off evenings with performances at the bar, followed by nightly DJs for dancing after the cabaret. If you're hungry, Lamotte has opened her Dinette next door, serving gourmet diner grub until the wee hours.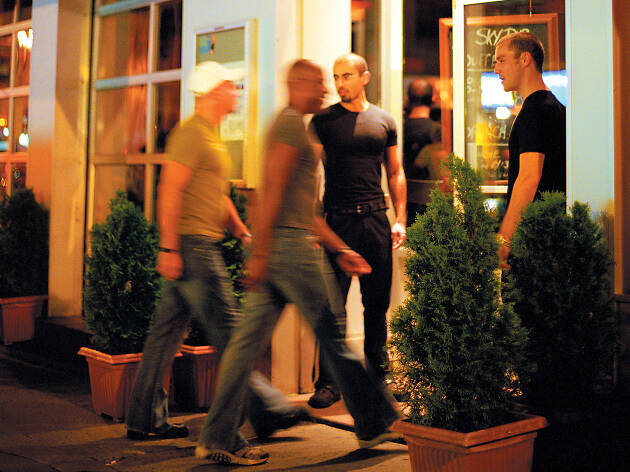 Photograph: Tourisme Montréal, Stéphan Poulin
Complexe Sky is one of the biggest gay clubs in Canada, with three floors of entertainment on offer, topped by a rooftop terrace equipped with a pool and spa. On the ground floor you can find a restaurant and several bars, while on the upper floors are three club areas, each with different DJs; generally, the most happening is for Top 40 while the other two supply more underground sounds. While it's a gay male-focused address, Complexe Sky is a great place for anyone to hang out, especially on a hot summer night when you can alternate between the dancefloor and the roof. Sky also has some of the cheapest drinks in town.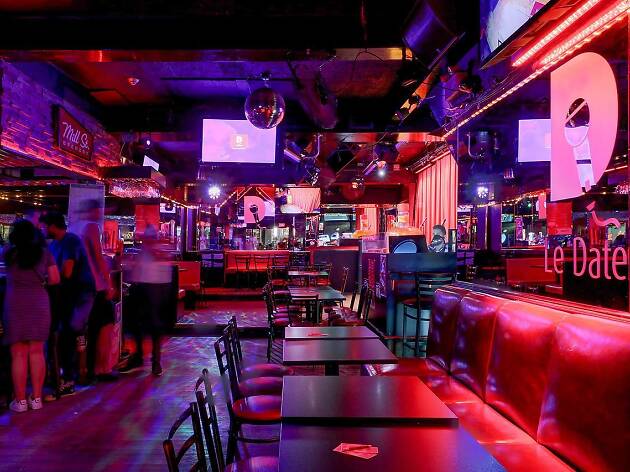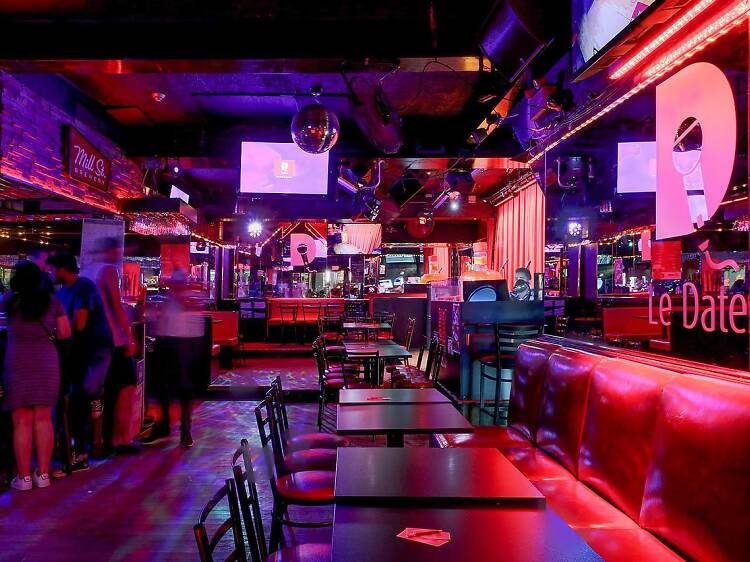 Photograph: Courtesy Le Date Karaoke
Club Date is the Village karaoke spot that goes way beyond expectations. The regular customers have serious aspirations and you'll be impressed by what their pipes are capable of. Expect a mix of cheesy but fun Elvis tunes, 80s ballads and Quebecois classics. Arrive early if you've got your heart set on singing, because the lineup for songs is liable to fill up quickly! If you're there earlier in the day, they also have 5 à 7 specials and a sidewalk patio in summer.
Photograph: Courtesy Yelp/Jack D.
4. Bar Notre-Dame-Des-Quilles
NDQ is a Rosemont neighbourhood bar with a twist: It has a miniature bowling alley and has Pizza Bouquet, a counter with some of the best New York-style pizza in town. This place quickly built up a reputation as a legendary LGBTQ hangout spot; from their bi-monthly Lesbian Speed Dating (LSD) nights to regular queer-friendly events like QPOC Shakur, NDQ goes out of its way to be an inclusive and safe space for all. The bar's got affordable prices and a strong cocktail programme as well. It's a great place to grab a quick drink after work or to party all night to the eclectic sound of resident DJs Awwful and Jeffany.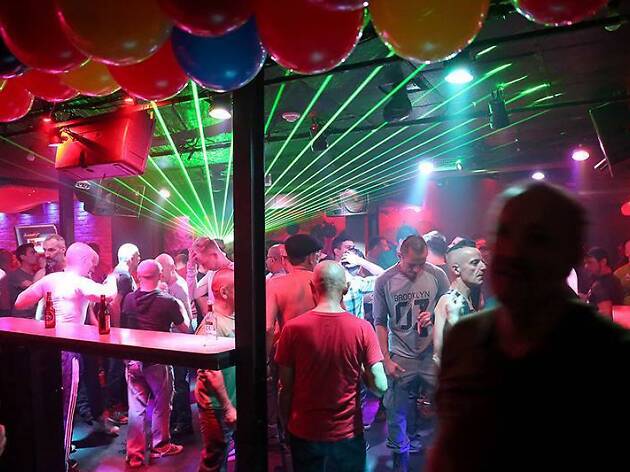 Photograph: Bar Le Stud/Nyx Mancell
Bar le Stud is a classic leather-daddy bar on the Eastern edge of the Village. It's got several bars and rooms to choose from: At the front, there's a small bar room with karaoke all night every night, followed by a larger area with pool tables and seating, plus a sizeable dancefloor. Nightly DJs in the club section play a mix of Top 40 and electro, with theme events ranging from blacklight body painting to bear nights and leather kink. Drinks are inexpensive and there are regular specials to enjoy.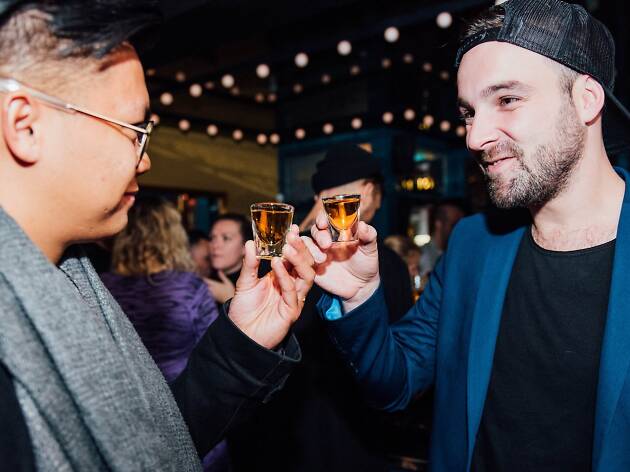 Photograph: Courtesy Bar Renard
This is hands down one of the classiest bars downtown. When Bar Renard opened in 2018, it brought a breath of fresh air to the Gay Village with its cocktail bar and lounging vibes that offer a more upscale space than other bars in the area. Its beautiful decor (make sure you check out the bathrooms) and selection of fine spirits are rounded out nicely by a menu of light gourmet meals. Evenings here feature eclectic DJ sets, and tables get pushed aside for dancing and mingling.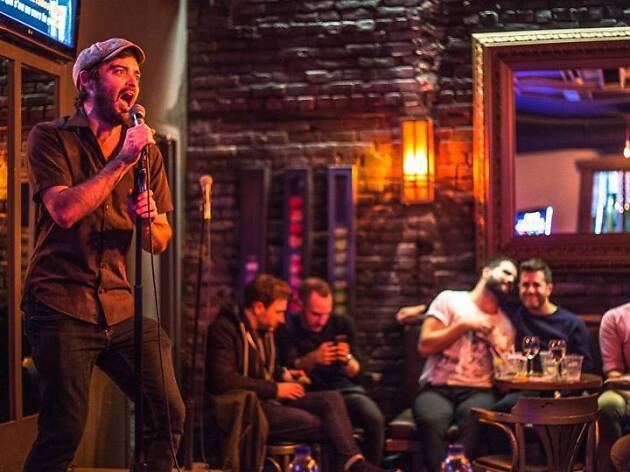 Photograph: Taverne Normandie
Normandie started out as a neighbourhood tavern back when the Gay Village was in its infancy. Since then, it's become one of the most popular karaoke bars in town. Despite its location, the clientèle here is a mix of all genders and sexual orientations. Options includes beers and spirits indoors, or hanging out on the bar's large courtyard térasse. Whether you're inside or out, the ambiance is a party, so expect to hear the bar staff and regular clients team up to sing classic Charles Aznavour ballads or duets in perfect harmony.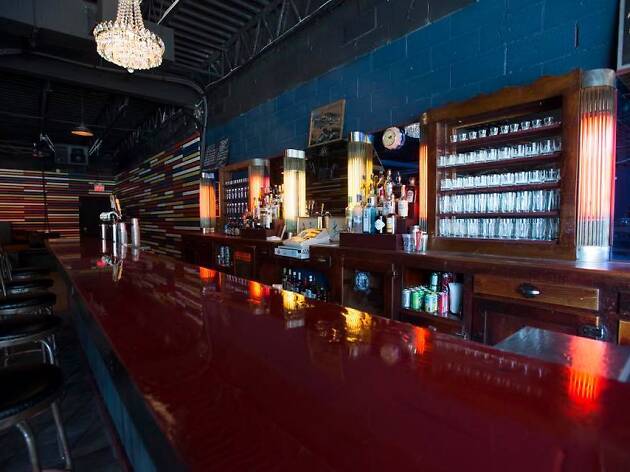 Photograph: Bar Le Ritz PDB
Bar Le Ritz PDB rose up from the ashes of reputed Montreal indie scene music venue Il Motore a few years back, and has since become one of the pillars of the live music scene in town since. Le Ritz regularly books high quality local and out of town hip hop, indie and electropop acts; it's also known for its excellent LGBTQ-themed DJ nights. Check their event schedule for regular queer dance party Glitter Bomb, as well as their retro throwback nights.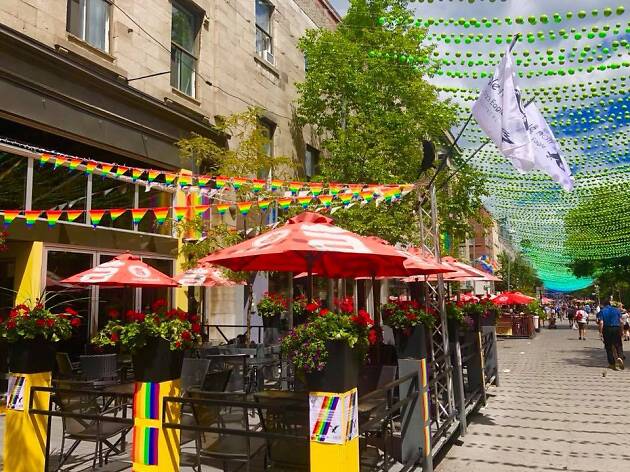 Photograph: Aigle Noir / Black Eagle
9. Aigle Noir / Black Eagle
Aigle Noir is the perfect example of an old school neighbourhood gay bar in the heart of the Village. During the day, it's a relaxed environment with a mix of young and old clientele, the latter having come here since the heyday of the Village. It has a sidewalk patio in the summer, cheap drinks and happy hour specials. At night, there's more of a club feel with a fun mix of electro and pop DJs.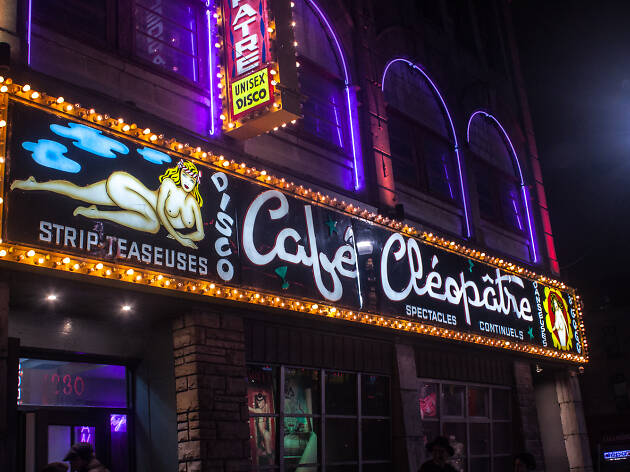 Photograph: Yan Bellerose/Secret Montréal
Café Cléo is one of the last remaining venues of Montreal's old Red Light District at the corner of St-Laurent and St-Catherine, having survived two rounds of demolition and expropriation of the neighbouring block. From the outside, it looks like a conventional straight strip club, but don't be fooled: Head upstairs to the cabaret on the second floor, where nightly drag shows by local groups House of Laureen, Candyass Cabaret and Glam Glam keep the spirit of the old Red Light alive.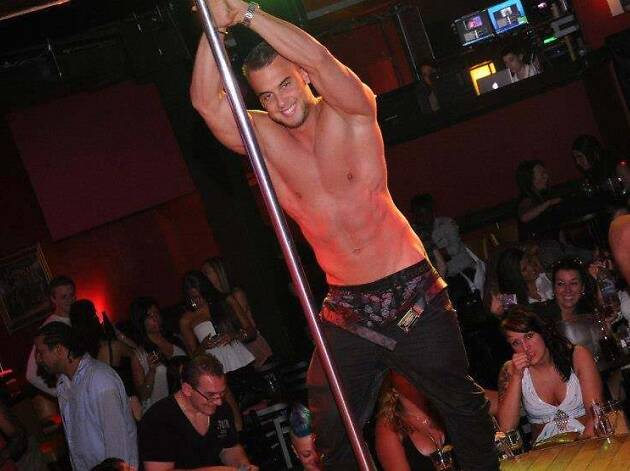 Photograph: Courtesy Yelp/Stock Bar
Montreal has been known as a strip club and cabaret destination since prohibition days, with American and Anglo-Canadian tourists as well as locals delighting in the great variety of easily accessible erotic entertainment. When it comes to male strippers, Stock Bar has built a reputation as one the best spots in town. You don't need to shell out the big bucks to hang out here, and the atmosphere is casual but classy. You may have heard rumours that Stock is a male-only space, but their regular ladies' night events prove otherwise. All are welcome for a small cover charge.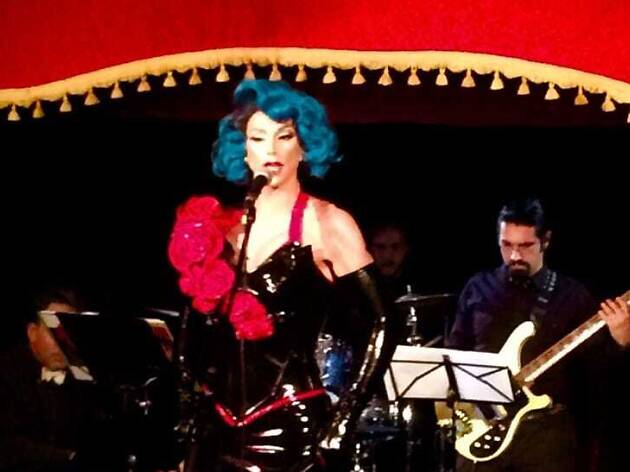 Photograph: Courtesy Yelp/Jazz 'n' Fuzy G.
The Wiggle Room is a Lower Plateau newcomer to Montreal's cabaret scene, focused on a mix of traditional burlesque with drag queen and king shows. The elegant décor and cocktail menu of this upstairs venue is inspired by Prohibition era speakeasy cabarets. A stable of regular performers keep the Wiggle Room hopping on a daily basis, while invited guest performers from across the continent keep it fresh. They play host to Montreal's only all-king drag show, Manspread, as well as regular old-school Vaudeville-themed nights.
Photograph: Sean Vadaru
Le Belmont is a long-standing Plateau nightclub, live music venue and event space that books a range of local and international touring bands and DJs, but it's their monthly Mec Plus Ultra night that will appeal most to those seeking LGBTQ entertainment. The main room's lit up by resident DJs Franz and Diskommander playing until close on the club's huge dancefloor, while a well-decorated back room has more of a pub feel if you need to sit down. MPU nights regularly have burlesque dancers (female and male), themes and activities as well like kissing booths and match-making games to boot.
Sing it out loud and proud in Montreal
Here are the best Montreal karaoke bars for your next singsong night out on the town, from private rooms to dive bars. We've minced our way around the microphone cords, paid our dues in the rotation and boiled down what's the best in the city.