Heads up! We're working hard to be accurate – but these are unusual times, so please always check before heading out.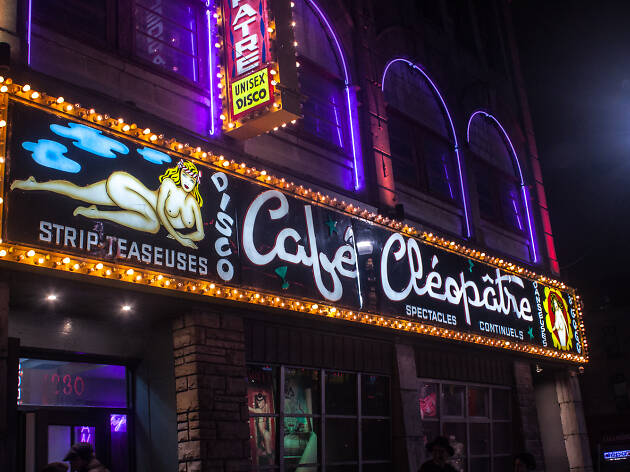 The best strip clubs in Montreal
Take in the hottest shows with class and swank at the best strip clubs in Montreal for ladies and gentlemen alike
Known for erotic entertainment for decades, the best strip clubs in Montreal have ranged from the cabarets of the roaring 20s to the heyday of Sainte-Catherine street in the 1980s. Today, there's affordable full-contact lap dances and an overall respectful attitude of establishments, all part of the top nightlife in town. Montreal's a very open-minded city and you'll find 18+ shows for every gender and sexual orientation here, whether it's at the best gay bars or the best bars overall for mind-blowing erotic shows for men and women.
RECOMMENDED: Full guide to the best things to do in Montreal
Where to find the best strip clubs in Montreal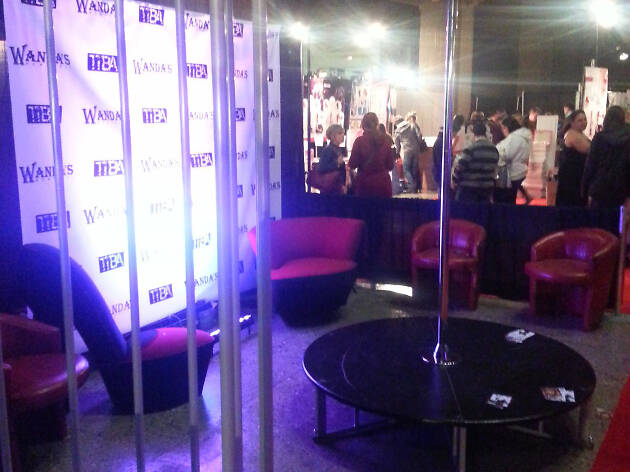 Photograph: Wanda's
Located at the corner of de la Montagne and de Maisonneuve, this two-storey strip club is one of the classiest joints in town. It's in the heart of the action during major events like the Formula 1 Canadian Grand Prix and offers the full array of Montreal strip club services, from table dances to private contact lap dances. This place is such a classic, having survived expropriation for the construction of the neighbouring Four Seasons Hotel.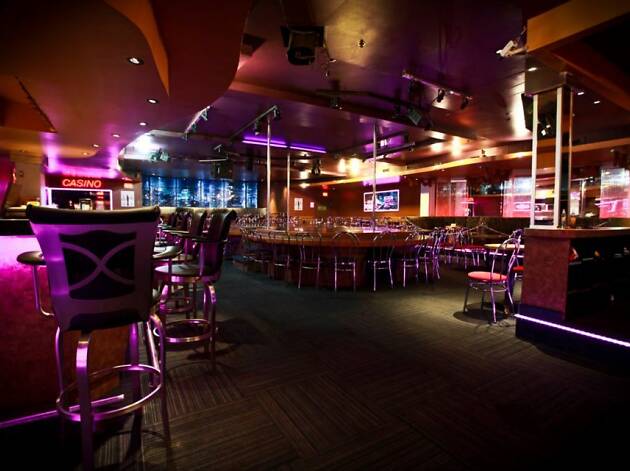 Photograph: Chez Parée
This high-end downtown classic has been in the game for over three decades. The plush and luxurious interior and VIP table dance section make it stand out from the rest. If you want the full experience, talk to the dancers about a full-contact lap dance. If you're looking for a more relaxed experience, the Chez Parée Club section has a classier show with no contact dances.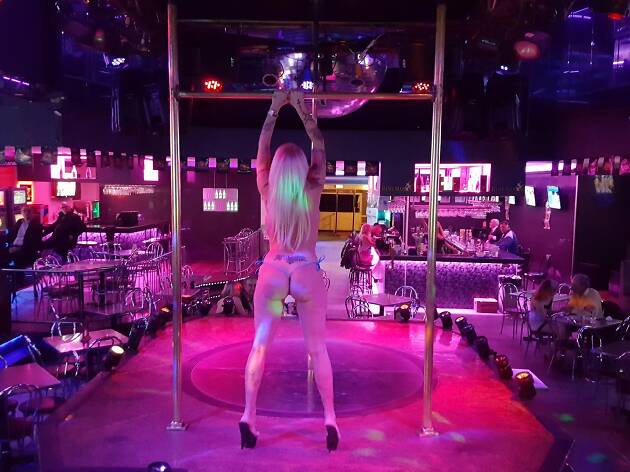 Photograph: Solid Gold Show Bar
Don't let its off-the-beaten-path location fool you, Solid Gold is definitely one of the best in town. On any given night, you'll find up to 50 girls dancing in the cavernous two-floor erotic hub. The décor features giant disco balls, excellent stage lighting and comfortable leather upholstery. Make sure to check out their slot machines or the VIP lounge before getting a contact dance. They also have a full-service restaurant on the premises.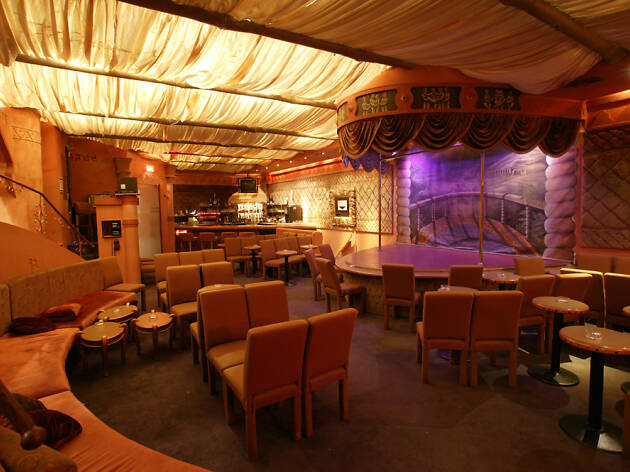 Photograph: Kamasutra Club
Tucked away on Sainte-Dominique behind the bar and club action of Saint-Laurent Boulevard, this discreet spot is the perfect addition to your weekend out. As one of the smaller establishments in Montreal it provides a particularly intimate experience with some of the most talented pole dancers in the city. Keep an eye out for their special events around New Year's Eve, and don't forget the option of reserving a VIP section in advance alongside ordering bottle service.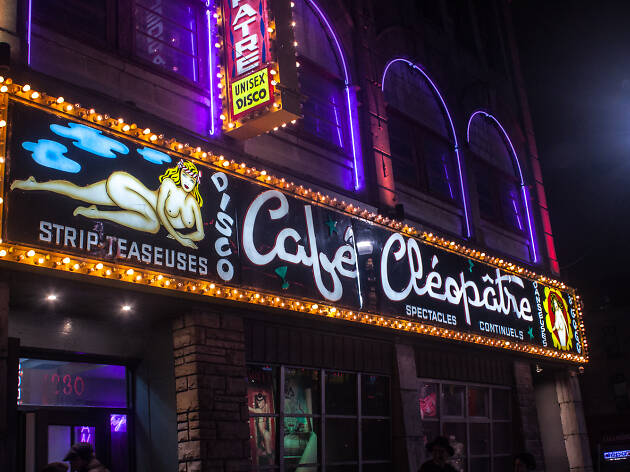 Photograph: Yan Bellerose/Secret Montréal
The last bastion of Montreal's storied red-light district at the corner of Saint-Laurent and Sainte-Catherine, it's survived multiple rounds of expropriation and demolition in the area. Today, Café Cléopatra provides you with one of the most interesting erotic shows in town. On the ground floor you'll find a great variety of female performers, while one of Montreal's premier drag-queen cabarets upstairs.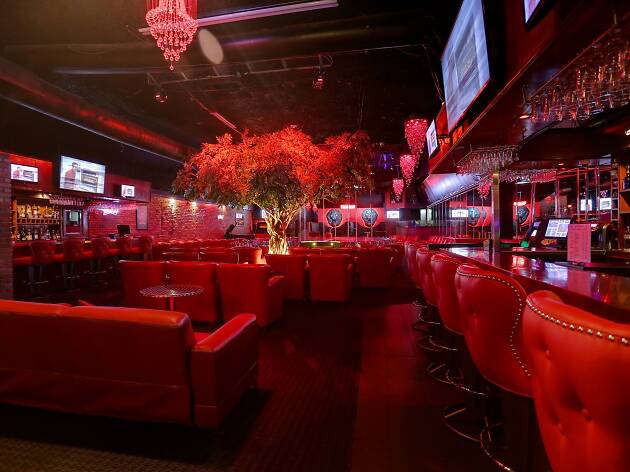 Photograph: Cabaret Kingdom
From the lion reigning over its street entrance to the tropical décor inside, everything about this club tries to entice you to come inside and take in the show. It features a wide selection of top shelf drinks, roaming shooter girls, a private champagne room, a giant stage with six poles and a VIP section. After a night spent here, you'll feel like royalty.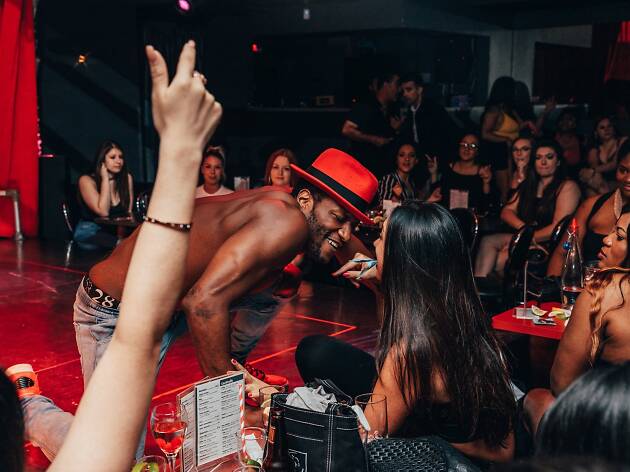 Photograph: Le 281
Women should feel welcome at all the clubs on this list, but Le 281 is Canada's premier strip club that's specifically for females—men are allowed, but only when accompanied by women. The perfect place for a girl's night out, birthdays or bachelorette parties, this place also offers special packages including a dancer at your table and a souvenir photo with your camera. You can even book your favourite dancer for a performance at your home.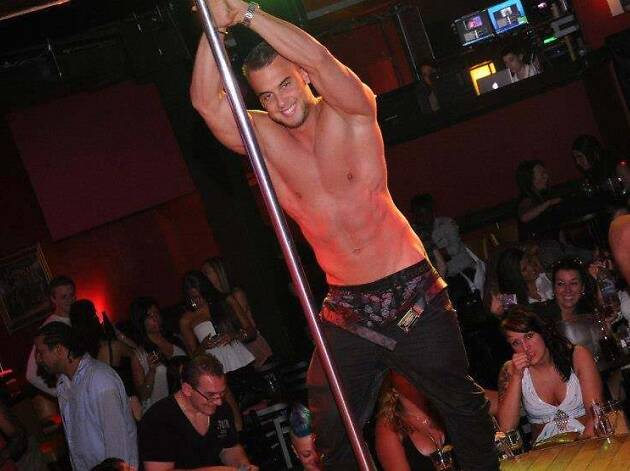 Photograph: Courtesy Yelp/Stock Bar
Located in the heart of the Village, this place is one of the best gay male entertainment venues in town. They have whole stable of the hottest performers in town, as well as ladies' nights on Wednesdays. They also claim to be the only gay strip club in the world that streams every performance live on the Internet for their members, so you can take it in from the comfort of your home. That's service.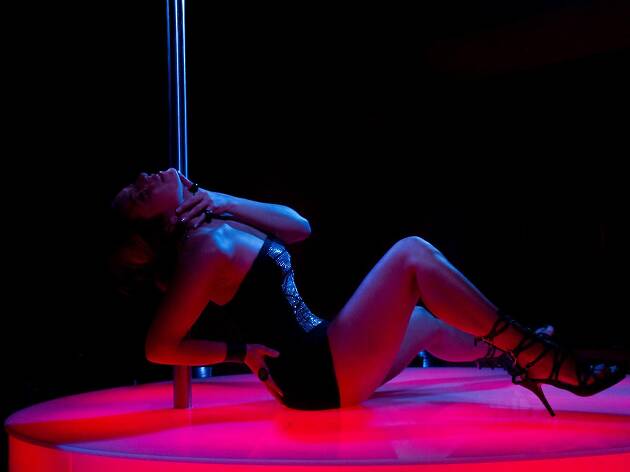 Photograph: Cabaret Les Amazones
This establishment on the edge of the Notre-Dame-de-Grâce area offers way more than your average club. Recently renovated, its spacious interior has multiple stages, bachelor parties, a private contact dance section and a new kitchen that serves food until 1 a.m. Keep an eye out for their UFC events too. All of this makes it worth the trip.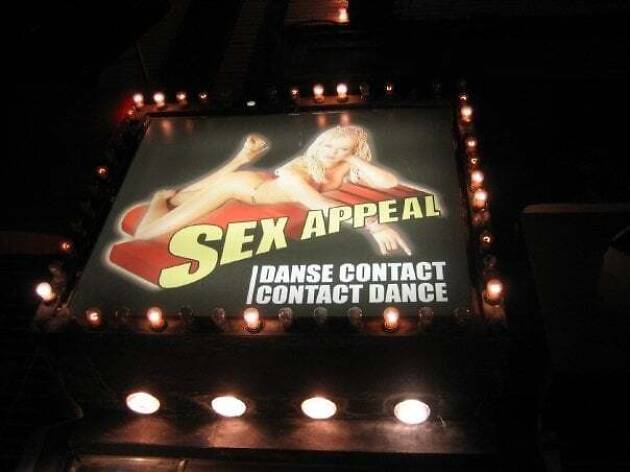 Photograph: Courtesy Yelp/Mike W.
One of the more laid-back options in town, this place has nonetheless all the regular perks of the usual Montreal strip club: Continuous stage performances, private contact dances and VIP table dances. A great place to go if you don't want to break the bank, they also offer two-for-one drink specials before 11 p.m.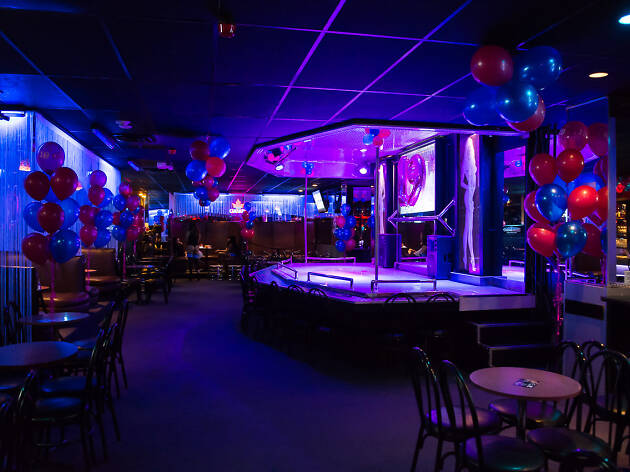 Photograph: Bar Downtown
This no-nonsense spot is one of the best locations for planning a bachelor party. With four VIP sections, 19 private booths and four erotic beds where you can take in couples shows alone or as a group, when the Grand Prix is in town, they bring in over 50 showgirls from around the world. This is also a popular spot to watch Canadiens games during the hockey season.
Photograph: Bar Exxxotica
Located in the trendy Mile End area, this club is a great place to go if you want a more laid-back experience outside of the bustle of downtown. Their talented pole-dancers are a mix of neighbourhood girls and women from all over the globe. They also organize special evenings for birthdays, bachelor parties or—when applicable—divorce parties.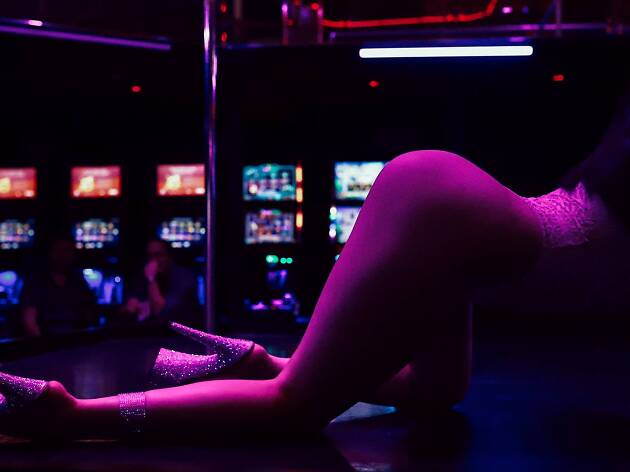 Photograph: Pink Paradise
Don't let its suburban address fool you: This place has one of the most elaborate setups in the surrounding Montreal area with a 15-foot main stage and upstairs stage, champagne room, lesbian shows on private erotic beds and more. Regulars should register for their VIP membership, which gives access to an executive lounge with a private bar. Keep an eye out for their professional porn star events.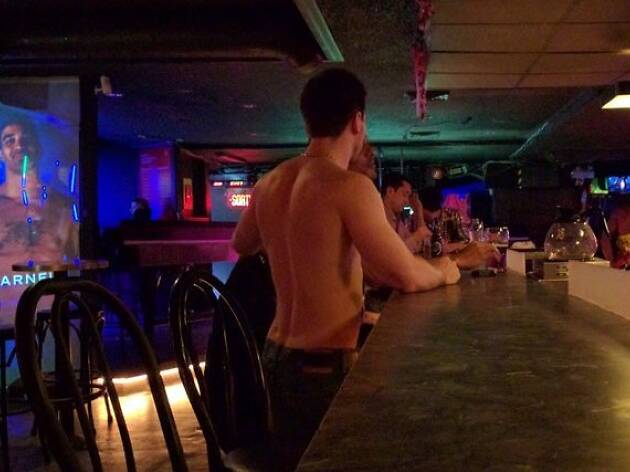 Photograph: Courtesy Yelp/Bravo R.
This gay male strip club in the Village is open seven days a week. During the daytime, their performers are more laid-back, natural and friendly, while in the evening dances are known to be performed by bodybuilders. Take note that ladies' nights here are exclusively on Sundays. The club also has poker machines, pool tables and a shooter bar.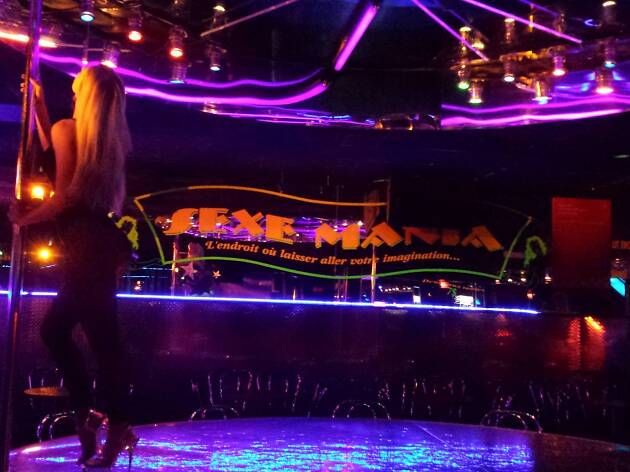 Photograph: Bar Mania Bar Mania
Most tourists will head to the big names downtown, but if you want the authentic Québec danseuses experience, head to this neighbourhood strip club in the Hochelaga-Maisonneuve borough. It has a small town feel locals have come to associate with a province reputed for its erotic establishments. You'll also get particularly good deals on drinks and dances here when compared to some of the pricier options in Montreal.
More of the best bars in Montreal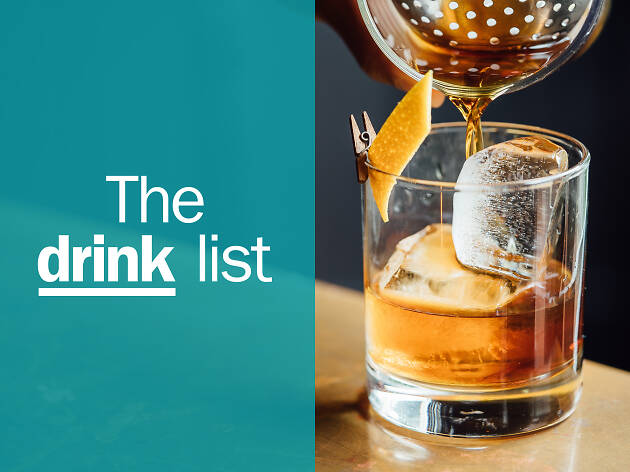 Welcome to the Time Out DRINK List, where you'll find our carefully chosen 'best of' Montreal's libational landscape.