The 11 best restaurants in Montreal
Expect James Beard award-winning chefs helming traditional and modern spots at the best restaurants in Montreal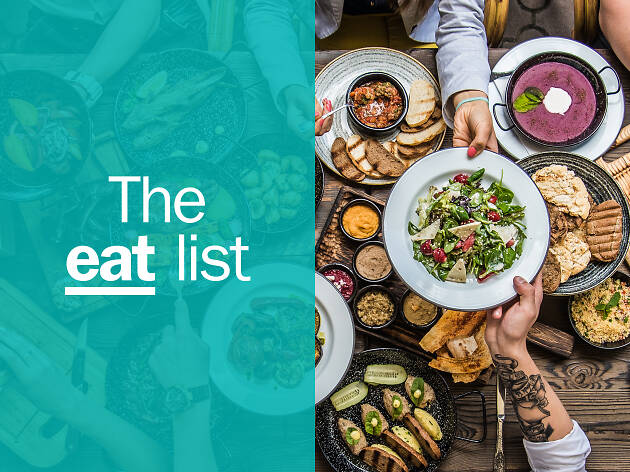 Sure, Montreal's bourgeoning arts and culture scene is as diverse as its people are. But to get the full experience of the city, all you really need are a few dinner reservations. Take it from acclaimed food writer and 16-time James Beard award winner Alan Richman, who once called Montreal the best restaurant city in America. And it's not hard to see why: on a single street, you could chow down on both David MacMillan's lobster spaghetti at Joe Beef and, if you're feeling peckish, bite into English poutine with prime rib roast beef at British watering hole Burgundy Lion.
From inventive brunch dishes to celebrity chefs helming both traditional and daring menus and a revamping of all sorts of worldly cuisines and flavors, the best restaurants in Montreal will turn just about any sort of eater into a foodie.
Best restaurants in Montreal
1
Photograph: Courtesy Yelp/Amy S.
What is it: Paying special attention to locally sourced produce and freshly caught fish and seafood, one of David MacMillan's three establishments is a museum exhibit for your taste buds. The low-key British pub-like atmosphere enhances—and never distracts—from the dining experience.
Why go: Executive chef Ari Schor's rotating menu highlights seasonal produce, but one thing remains the same: a daring use of flavor. The venison tartare topped with cured egg yolk puts your standard beef to shame and the candied pecan Brussels sprouts will convert even the most devout carnivores into veggie lovers.
Price: Pricey
2
Photograph: Courtesy Yelp/Christine W.
What is it: Owner, head chef and James Beard award winner Normad Laprise rightfully earned a spot on the list of Canada's top 100 restaurants by imaginatively fusing his Quebecois heritage with French cuisine. Each bite of sea urchin and duck magret will have you shutting your eyes in a moment of sensory bliss.
Why go: The seven-course tasting menu (with seven French wine pairings) is one of those meals you'll remember on your death bed. Come for the foie gras and sea urchin, stay for the post-meal conversation with your brilliant sommelier.
Price: Blowout
3
Photograph: Courtesy Yelp/Pema J.
What is it: It's hard to believe you're not dining in nonna's living room, what with all the antiques straight from Tuscany lining the perimeter of the room. Dimly lit and quiet enough to hear your date's voice, Chez Ennio is a down-to-earth rendition of upscale Italian dining.
Why go: Patience—and a hearty appetite—are virtues you'll need to survive the long and drawn out table d'hôte at this establishment. Bring your own wine to sip between courses of homemade bruschetta, spinach ravioli and succulent veal scaloppini.
Price: Average
4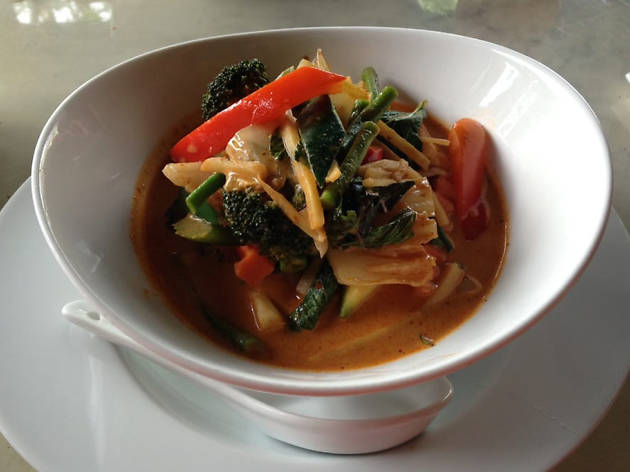 Photograph: Courtesy Yelp/Ani J.
What is it: Vegan Asian food was once considered heresy, but executed with the masterful attention to detail that chef Lily Sirikittikul employs renders Chu Chai a must-visit.
Why go: Mock chicken, beef, fish, seafood and duck taste even more fragrant than their original counterparts smothered in tangy peanut butter sauce, incorporated into inventive curries and even enjoyed alone. If you can't be bothered to share, the table d'hôte offers a satisfying taste of the extensive menu. Beware: the drinks are strong.
Price: Average
5
Photograph: Courtesy Yelp/Aron G.
What is it: The west end's best-kept secret is a relatively secluded middle Eastern-style joint right off the highway that is totally worth the detour. A bite of the vegan kubbeh or sabich is the closest you'll get to Tel Aviv without the plane ticket.
Why go: The Tunisian ciabatta oozes with a tangy blend of spicy tuna, eggs, olives and fried eggplants. The vegan general Tao chicken and drumsticks fly off the shelves thanks to the genius use of fried shiitake mushrooms.
Price: Bargain
6
Photograph: Courtesy Yelp/Victoria X.
What is it: From the outside, the "public house" is perched diagonally on a street corner as casually as a depanneur. At Jamie Oliver's first North American venture, business partner and former sous-chef Derek Dammann serves artful British fare in a lax setting.
Why go: Try to catch the rotating menu when it includes oven-baked oysters and Algerian-inspired deer tartare with charmoula and lavash.
Price: Blowout
7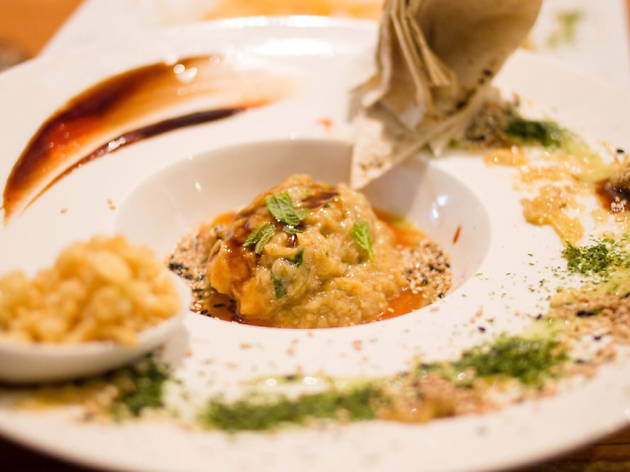 Photograph: Courtesy Yelp/Chan V.
What is it: Blink and you might miss the opening hours. The quaint Japanese pub brought fresh black tiger shrimp burgers to Montreal, forever cementing a loyal and out-the-door fanbase.
Why go: In terms of Japanese fare, there's an entire world outside of sushi, and Kazu delivers (well, not literally—sitting in-house amongst hand-drawn cartoons splayed against the walls adds to the culinary experience). Don't miss the chirashi-zushi with vinegar rice loaded with greens and freshly caught tuna and salmon sashimi. And bring cash.
Price: Average
8
Photograph: Courtesy Yelp/Charles N.
What is it: Even in a blizzard, you can't miss the great big orange circle in the sky known for its frothy orange julep. Word is founder Hermas Gibeau took the details of the recipe to his grave.
Why go: Every Wednesday evening for the last 50 years, the parking lot turns into a game of vintage car show-and-tell. Watch as car fanatics devour pogos, steamés (not hot dogs!), soft-serve and poutine in their limited-edition Ferraris while old-time jazz blares in the background.
Price: Bargain
9
Photograph: Courtesy Yelp/Carol L.
What is it: Eating a steak in Montreal anywhere other than Moishe's is utter blasphemy. The institution pays homage to founder Moishe Lighter's Romanian roots, catering to messy carnivorous cravings in a white tablecloth setting.
Why go: Every meal begins with Moishe's dill pickles, rye bread and coleslaw—a definite bonus given that your mains ride solo on your plate. If you're not sure what to order, walk in Montreal native Leonard Cohen's footsteps and get the lamb chops and Bordeaux wine. The "after 9pm" deal is a great way to have your steak and eat it, too. Wash it all down with a pickle juice and vodka shot. Don't knock it 'till you try it.
Price: Blowout
10
Photograph: Courtesy Yelp/Andi S.
Schwartz's Hebrew Delicatessen
What is it: The menu hasn't changed in years, and for a good reason: if it's not broke, don't kill it. The deli has withstood the test of time for its masterful formula of smoked meat sandwiches on rye slathered in mustard, golden greasy fries, coleslaw, cherry Coke and a pickle.
Why go: To command your server's respect, ask for your smoked meat sandwich with a little extra fat. If your hanger can't bare the out-the-door line, The Main serves arguably on-par cured meats just down the street.
Price: Bargain
11
Photograph: Courtesy Yelp/Ceasar C.
What is it: If it seems as though Montreal has become synonymous with poutine, well, you're not wrong. Everyone is here for the same reason: to devour a heaping plate of French fries topped with melted cheese curds, Quebec gravy and everything but the kitchen sink.
Why go: This iconic late-night joint drives the poutine theme home to a gluttonous degree in a communal setting. Think of French fries as a base for nacho or pizza toppings. There are really no boundaries to how far they will go.
Price: Average