The 77 best restaurants in Montreal dishing out top quality
You'll find a full range of local legends, groundbreakers and under-the-radar ops with the best restaurants in Montreal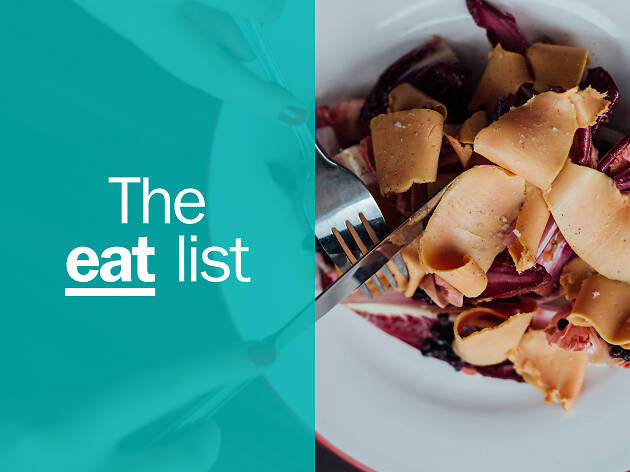 Welcome to the Time Out EAT list, our handpicked selection of Montreal's best restaurants. These are the hottest tables in town, delivering the most delicious delights that aren't just flashes in the pan. We're talking about breaths of fresh air as much as the essential must-eats, no matter the cuisine.
Montreal's got a lot going for it, but dining out reigns supreme as one of the best things to do here. However, it's got the most restaurants per capita in Canada—second only to New York for the most in North America—and that can make it difficult to decide. That's why local experts from Time Out explore the whole island, searching for what's worthy of an empty stomach hungry for quality. Every culture and price point's covered here, curated (not ranked!) into this handy-dandy list. We use the same approach for everything, whether it's the best brunch or excellent cheap eats, and especially when it's worth a Michelin star.
If you've eaten somewhere on this list and loved it—or you've eaten elsewhere and think it should be on the list—shout it out with the hashtag #TimeOutEatList and let us know.
Best restaurants in Montreal
1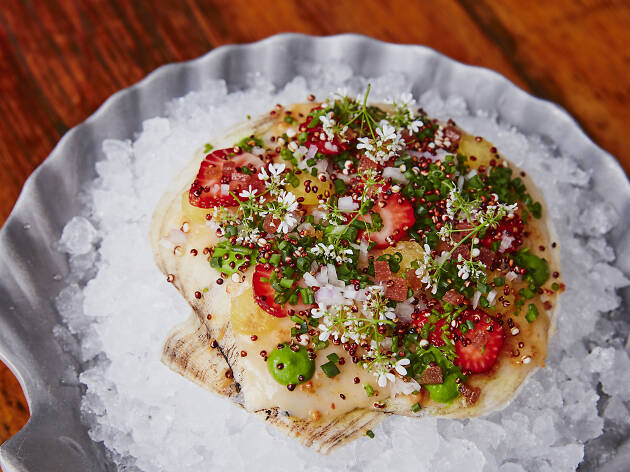 Photograph: Dominique Lafond
What is it: Unpredictability is the name of the game at Charles-Antoine Crête and Cheryl Johnson's restaurant, whether it's the interior décor or what goes on a plate. It didn't take long after opening in 2015 for this spot to achieve high laudations for the mad science it brought to its food. Free from the trappings of being either conventional or overbearingly experimental, Montréal Plaza strikes the iron hot to find the perfect balance between the two. Stake a claim, order the menu to share for two, and hold on tight.
Why go: To be confused by a restaurant experience in the most endearing ways
2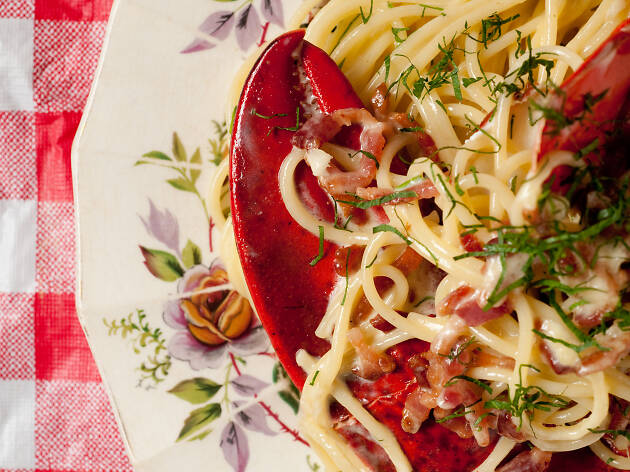 Photograph: Jennifer May
What is it: If there's one address locals and tourists speak of in starry-eyed terms, it's Joe Beef. David McMillan and Fred Morin's restaurant is commonly looked to at the premier dining location in the city. That is, if you can grab a table; many find themselves lucky to book a Tuesday night spot three months in advance. From the perennial dishes of lobster spaghetti and expertly grilled steaks to creations like a foie gras Double Down and Montreal smoked meat croquettes, if anyone's looking for the source of the city's culinary humble brag, it's here.
Why go: While managing to secure a reservation feels like a success, a bring-me-one-of-everything mandate will feel like a triumph.
3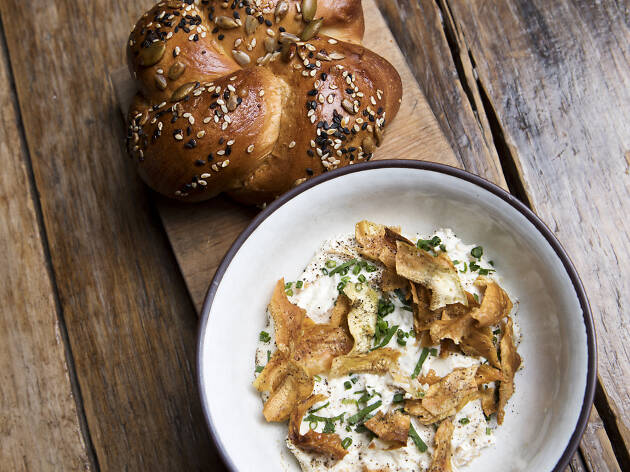 Photograph: Thierry Baril Laliberté
What is it: What happens when you combine the rigor of classic training with youthful vitality? You get this jewel of restaurant making a statement in the eastern neighbourhood of Hochelaga-Maisonneuve. The triple threat team of chef David Ollu, pastry chef Mélodie Perez-Mousseau and sommelier Youri Bussières Fournel—all alumni of Boullion Bilk—are delivering service and top-notch quality food at modest prices in both their main operation and the modest café Hélico next door.
Why go: Highly developed texture and flavour play going for a song
4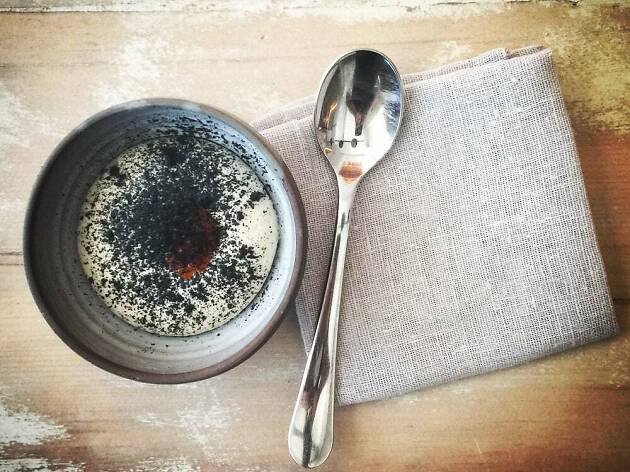 Photograph: Courtesy Yelp/Antonin M.
What is it: Antonin Mousseau-Rivard and Katerine Mousseau turned a lot of heads for two reasons when they boldly embarked on this tasting menu restaurant in early 2015. First, it seemed risqué to put every egg in that basket, with the second being that it worked. Mousseau-Rivard's been called a prodigy and an artist for developing creations that evoke both comfort and originality, dishes at once familiar while breaking new ground. This is a prime example of where to eat when looking for a mash-up of Nordic stylings with a Québécois palette.
Why go: The full tasting experience which averages at 12 courses, but if you're wary of palate fatigue, try the à la carte neighbor Le Petit Mousso
5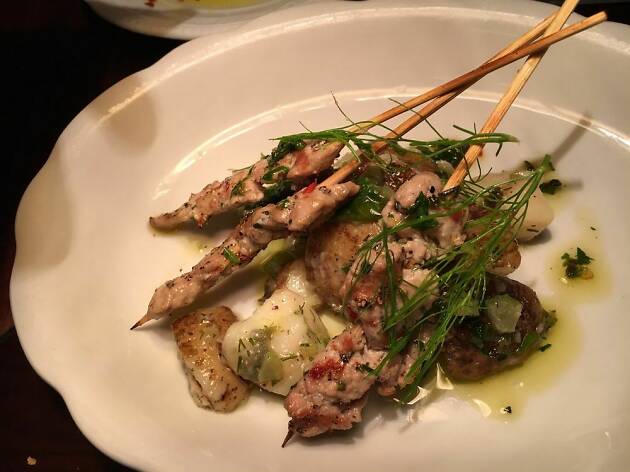 Photograph: Courtesy Yelp/Maggie H.
What is it: Not to knock the rich traditional offerings of Little Italy, but when it comes to where to try the best pasta in town, it's Ryan Gray and Emma Cardarelli's ode to South Italy Nora Gray. An intimate restaurant and bar since opening in 2011, a careful eye is paid just as much to the menu as it is to cocktails both classic and playful and a wine list that's longer than your arm.
Why go: For the modern Italian experience that excels in all, from antipasti until dolci
6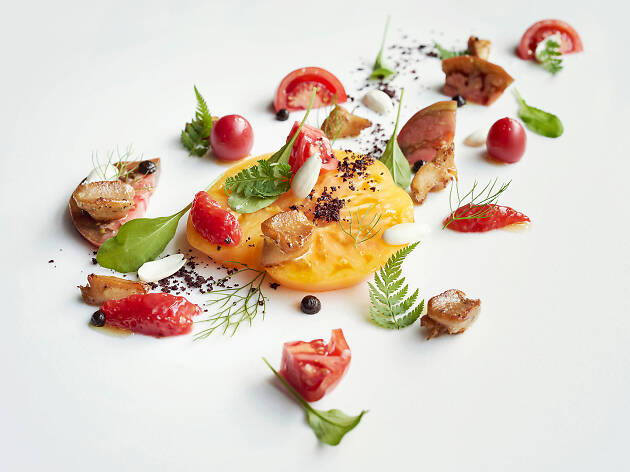 Photograph: Hans Laurendeau
What is it: Were there one restaurant and chef to look to as a paternal figure of contemporary Québécois cuisine, look no further than Normand Laprise's restaurant Toqué! and its application of French techniques to local and traceable ingredients. Be it the lunch offerings that exhibit modesty in their excellence or wines and cheese paired with stellar and artfully plated dishes, there's an incredible amount of appreciable qualities in this soigné treatment of farm-to-table directives which glide through the seasons.
Why go: The seven-course tasting menu at $142 should always be accompanied by (albeit optional) foie gras. Always foie gras.
7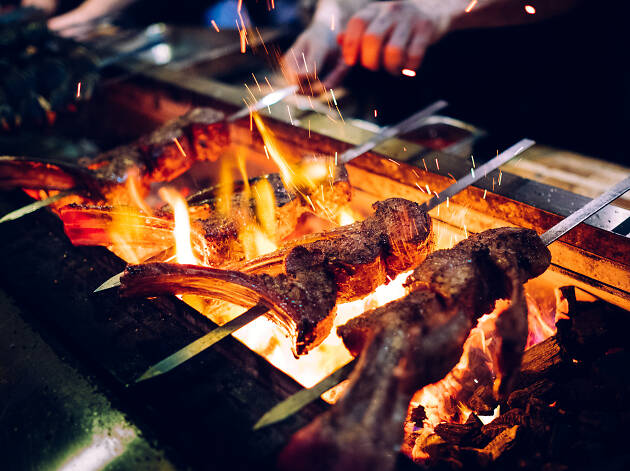 Photograph: Vesia Photography
What is it: Chef-owner Fuad Alnirabie has accrued a more-than-loyal following with this Middle Eastern restaurant, a love song written in notes of pistachio, sumac, pomegranate and Aleppo pepper. In a dining climate that demands what's new and innovative, there's plenty to be said for those that pull off what's traditional stupendously. A full spread on the table here can be costly, but a full belly and a cool and milky glass of arak will reassure.
Why go: From mezzes to what's hot off the grill, it's the best Syrian food in town
8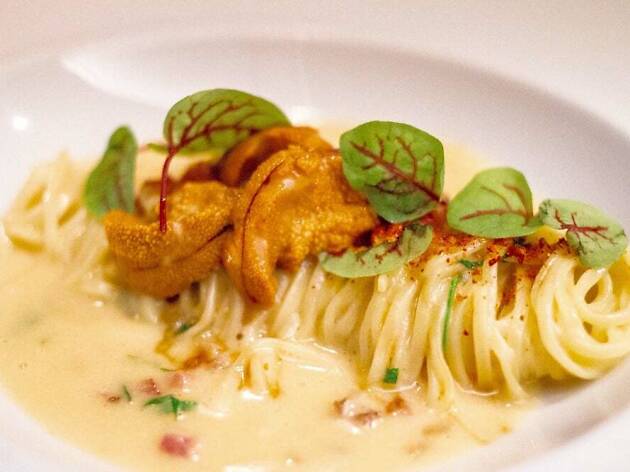 Photograph: Courtesy Yelp/Chan V.
What is it: One of the few bastions of pristine dining experiences in Montreal with its white tablecloths and polished everything, Boullion Bilk is commonly looked to for its flawless executions of modern French fare. Served in a setting that's minimalist without being too stark, François Nadon and Mélanie Blanchette's austere operation is valuable for special occasions, if not making a more casual evening feel like one. Break out the check book, because a full service with private import wines here is worth it.
Why go: The lunches here serve a totally different menu at about half the price without skimping on quality
9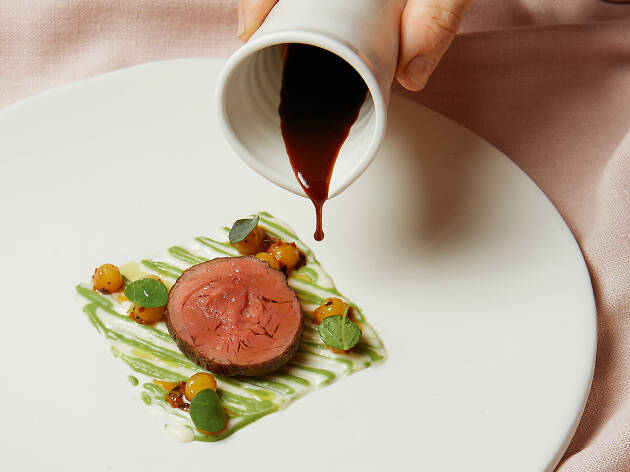 Photograph: Mickaël A. Bandassak
What is it: Jason Morris and Kabir Kapoor made a solid name for themselves with their flagship enterprise Le Fantôme, and doubled down on that reputation with this restaurant. A bright and colourful counterpart to their first spot, this is the restaurant where Morris leans more experimental with his menu planning, much to the delight of anyone dining there. Enjoy the airy interior while watching cooks hustling around their completely open kitchen producing flavours both classic and playful.
Why go: For some of the best in combining avant-garde plating with unforgettable flavour in fine dining
10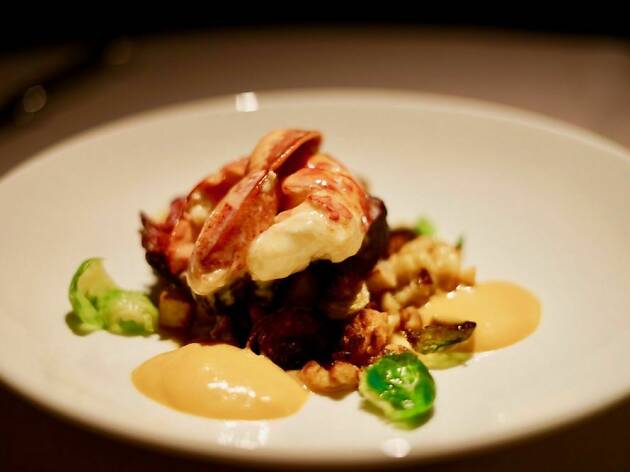 Photograph: Courtesy Yelp/Changtian Z.
What is it: There's always restaurants vying to be the hot new thing on the scene, but restaurants like Le Club Chasse et Pêche prove expertise wins in the end. Founders chef Claude Pelletier and maitre d' Hubert Marsolais didn't take long to earn solid stature for their choice skills in knowledgeable service, food and drink. Situated in the historic Château de Ramezay in Old Montreal, the entire ambiance of this space exudes Montreal fine dining at its best.
Why go: Dining on its garden terrasse in the summer is the real cherry-on-top experience here
11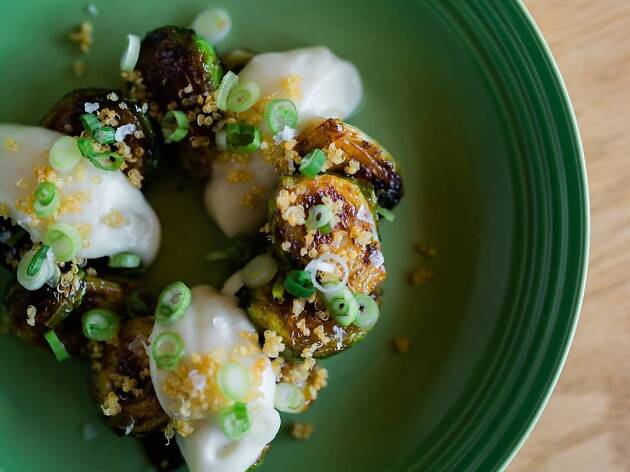 Courtesy Le Diplomate
What is it: Chef Aaron Langille's operation located far from the prying eyes on main strips may currently bill itself as a wine bar, but it's first and foremost a personable restaurant. On any given night at this 22-seater there's no more than three cooks, all playing the part of bartender, server, dishwasher and sommelier together with seamless fluidity. Just as valid for wine and snacks as it is for a drawn-out evening of dinner and drinks, the bill here goes as high as you want it to.
Why go: No visit's the same with their à la carte menu which changes often with delicious twists and turns
12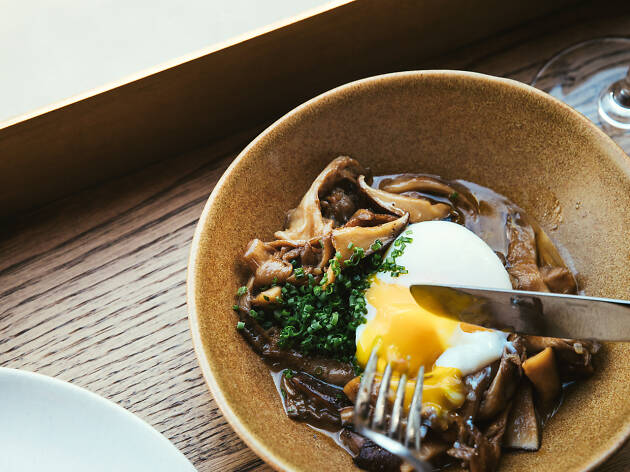 Photograph: Virginie Gosselin
What is it: Montreal diners and admirers have enjoyed a revitalizing spat of modern bistros as of late, and Marconi was among those at the forefront of that push. Chef Mehdi Brunet-Benkritly and head of house Molly Superfine-Rivera first began this restaurant carved out an old convenience store in 2016 and haven't looked back since. Not that they need to; their menu may be grounded in small plates, but what they perceivably lack in size they make up in flavour.
Why go: Enjoy the buzzing energy of this neighbourhood spot that's got a tasting menu experience with none of the time investment
13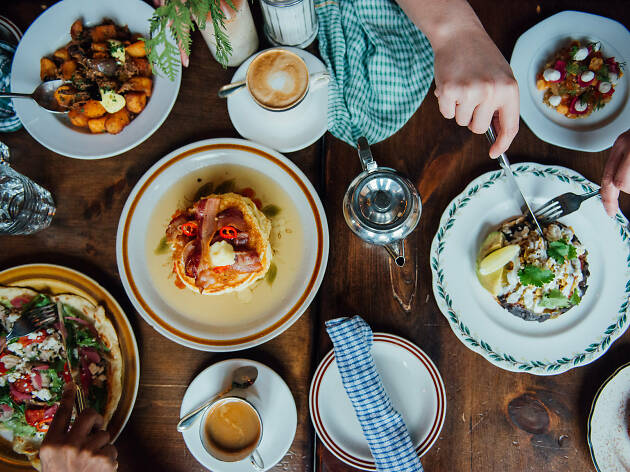 Photograph: Alison Slattery
What is it: Being in Québec, restaurants often look to their home turf for inspiration. Derek Dammann's Maison Publique, on the other hand, takes a pan-Canadian approach with its product and ambiance. With a space that looks like an English gastropub and a menu built from generous and comforting dishes, Damann is taking the country's historic preference for meat and potatoes and elevating it to new and dizzyingly good heights.
Why go: Chowing down on a Welsh rarebit on a cold winter's night, or just about anything involving seafood that's fresh from coast to coast to coast
14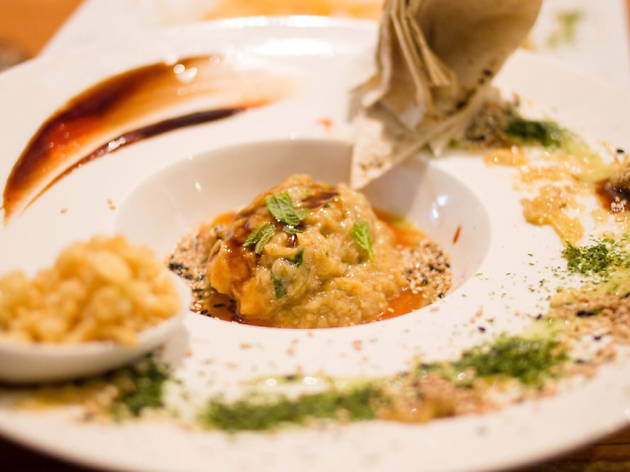 Photograph: Courtesy Yelp/Chan V.
What is it: Were you to ask a Montrealer where the best Japanese can be found, they'll tell you it's Kazu. They'll also tell you it's best to arrive early, as there's a regular line up the block. That's due in part to this restaurant's no-reservations policy, but also because of popularity. It's a close-cornered dining space that excels in honest cooking with fusion-y touches, like shrimp burgers or a Japanese-style bibimbap. And as good as it is for dinner, try it for lunch when ramen's available. It's one of the best we've had here.
Why go: Any of one of the chef's specials for the night, located on a wall of shifting items written on 8 x 11' sheets of paper with doodles, gets an A+ from us
15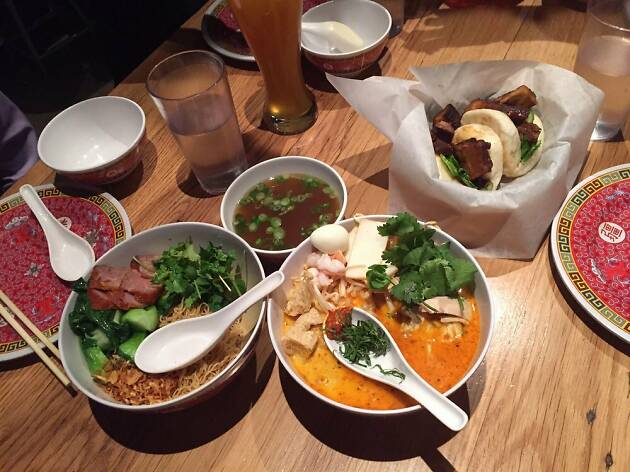 Photograph: Courtesy Yelp/Toffee C.
What is it: Chef Matt Winnicki and frontman-brother Alex started this Singaporean street food joint with love, and it's the kind of love that keeps on giving. Their high octane services dish out just as many delicious classics like pork buns, laksa soup and chicken satays as they do inventive creations that meld Filipino, Chinese, Indonesian and Malay roots together. Singapore treats eating as a national pastime, and Satay Brothers is doing them justice at breakneck speeds.
Why go: Come for the menu's standbys, stay for seasonal specials like lobster chow mein and softshell crab with black pepper sauce
16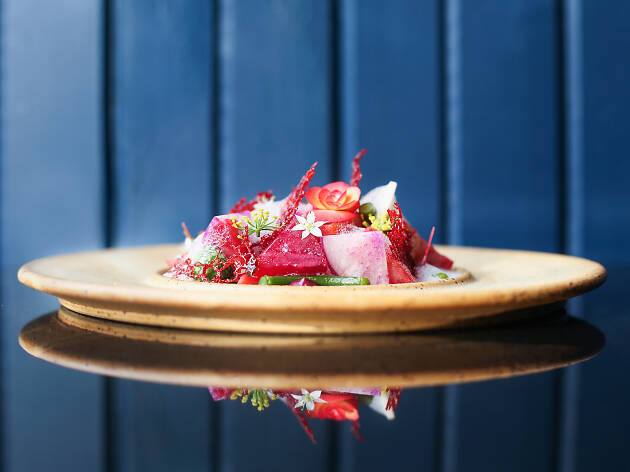 Courtesy Île Flottante
What is it: This restaurant, formerly known as Les Deux Singes de Montarvie, first gained notoriety in how it climbed to the top of the charts on TripAdvisor. Its owners, Nada Abou Younes and chef Sean Murray Smith, have since taken off that mantle and begun anew as Île Flottante. The new concept? A tasting menu-driven concept that places a particular focus on vegetables that would make Alain Passard smile for its innovations and delectability.
Why go: A three-course tasting goes for a little as $45, but the seven-course at $85 is where the best times are to be had
17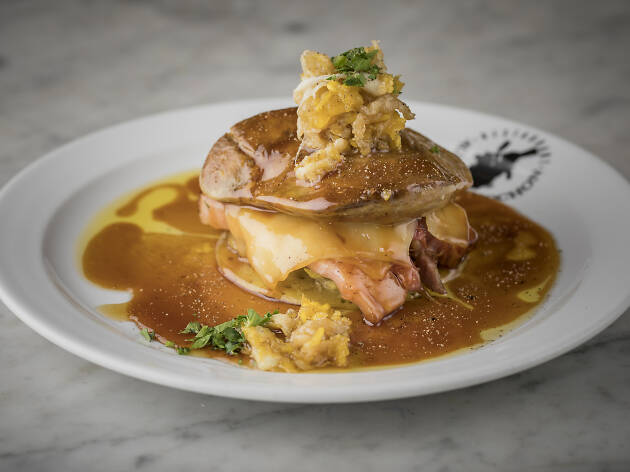 Photograph: André-Olivier Lyra
What is it: Montreal's dining scene was once a wide selection of fine dining options, and it's that scene which trained chefs like Martin Picard. However, Picard is among the new breed which took those techniques and turned them on their heads, giving working class food an upscaled treatment. The result is food with bombast like copious foie gras shavings and oozing maple syrup, and revels in luxury of excess.
Why go: Two dishes in particular, the foie gras poutine and duck in a can, stand out as some of the richest things available here
18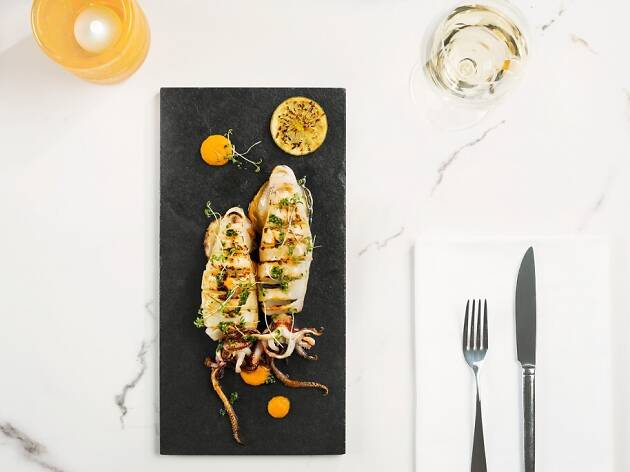 Photograph: Ferreira Café
What is it: Make no mistake when we say that if you're aiming to dine on the best Portuguese classics in this city, you go to Carlos Ferreira's eponymous restaurant. What was intended to be a humble taverna in 1996 has long since ballooned into an exceedingly accomplished restaurant that's been the training grounds for many of Montreal's best chefs. Whoever's cooking, it's always compliments to the chef; the finesse they bring to the plate in both taste and personal touch is of some serious gravity.
Why go: To get a taste of the city's best fine dining option for Portuguese cuisine, especially for fresh surf and bloody turf
19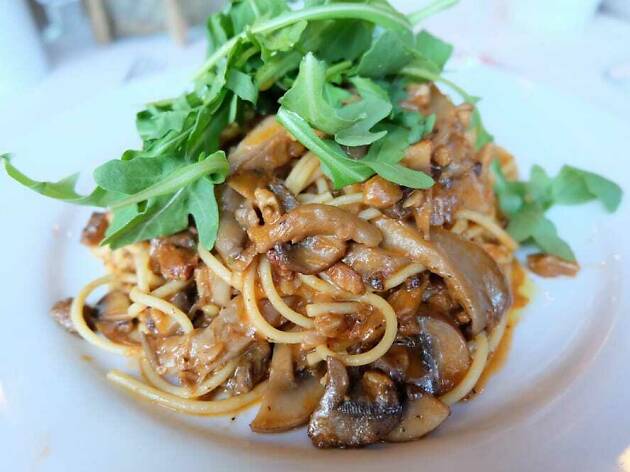 Photograph: Courtesy Yelp/Mos W.
What is it: One of the old-school standbys of Montreal, the French restaurant L'Express has been in action for over three decades. Their penchant for precise service and culinary offerings delivers a classic bistro experience that's largely unparalleled in this city. Diners can't go wrong with anything on its menu, but particular favoritism is paid to their dishes of bone marrow and foie gras torchon. The prices are excellent, and that goes for the wine lists too.
Why go: This is the stomping for locals by day and evening, and a reliable address for industry workers by night with a kitchen that closes at 1 a.m.
20
Photograph: Mickaël A. Bandassak
***currently closed***
What is it: Discreetly tucked away on an off-street of Griffintown is this dark and brooding restaurant from Kabir Kapoor and Jason Morris. That darkness has more to do with its ambiance than the experiences it provides, however. Combining Kapoor's developed chops in hospitality with Morris' propensity towards creating ever-shifting menu items, the two have a created quite the polished gem. It's served at quite the steal too, as few can beat their $55 tasting menu in terms of a quality-to-price ratio.
Why go: While the menu items are flipped regularly, order up their stalwart PBJFG (a peanut butter and foie gras sandwich)
21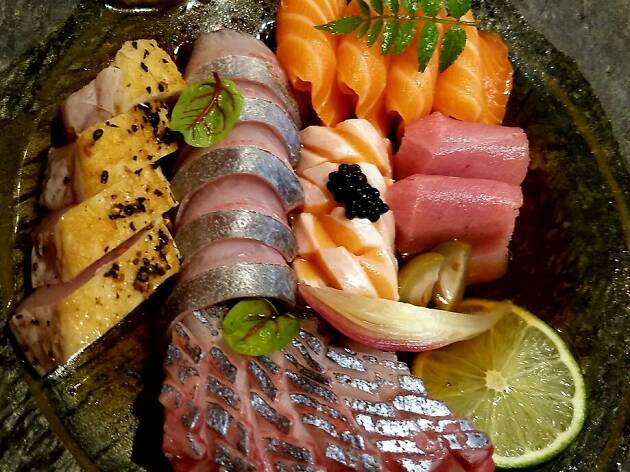 Photograph: Courtesy Yelp/Wil S.
What is it: Among the pantheon of Montreal chefs who achieved celebrity status stands Antonio Park and his eponymous restaurant. Focusing on Park's experience under master chefs in Japan in conjunction with his Korean and Argentinian roots, this restaurant's menu combines elements of all three. That means the sushi here is at the top of its class, alongside Korean classics and choice grillwork. Whether it's surf or turf, Park excels at anything he and his restaurant delivers.
Why go: This is one of the few places to offer an omakase tasting menu, if not the best sushi
22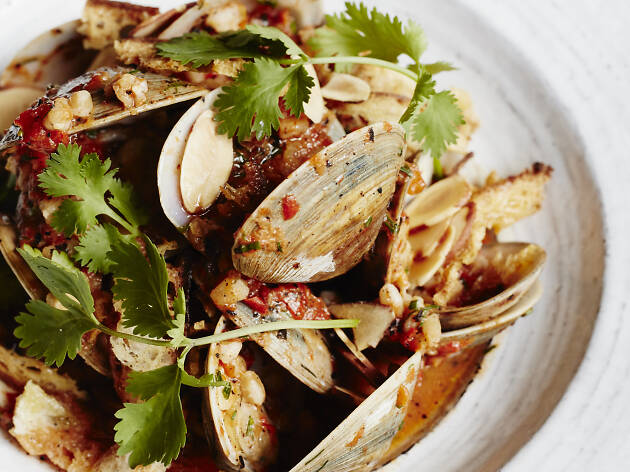 Photograph: Dominique Lafond
What is it: Opened in 2015, chefs Leigh Roper and Vincent Russel's sleekly designed restaurant is commonly looked to for its focus on delivering dishes with an open-fire element. That means surf, turf, and a selection of hot flatbreads make for a full-bodied selection good for any season. Everything from feta to sausages are made in-house, and with the efforts of pastry chef Vanessa Laberge and baker Marc-André Cyr, that means each meal is sweetly rounded out.
Why go: Grilled meats on the menu here are some of the best in town, from rotisserie chicken to hangar steaks
23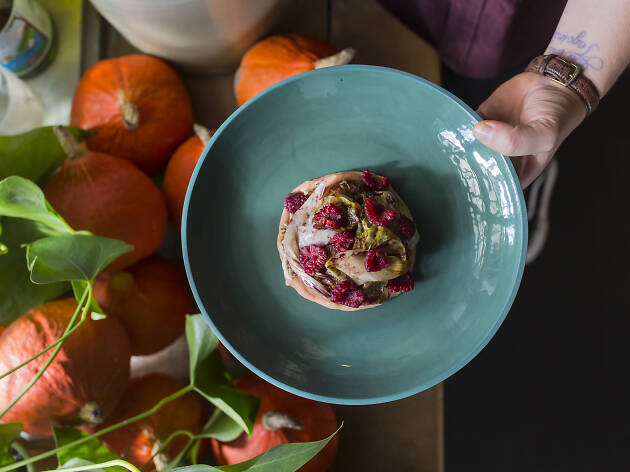 Photograph: Edouard Plante-Frechette
What is it: There's no doubt that many restaurants in Montreal pride themselves on having menus that move with the seasons, but few adhere to that policy as strictly as chef John Winter Russell and his restaurant Candide. Locally-sourced, the menu shifts every month and is commonly regarded as a premier destination for market-driven cuisine. These elements, served as a tasting menu priced at $55 for four courses, make for a classy package when considering the precise service provided in this former rectory and Sunday school.
Why go: With its menus' seasonal bent, the best time to visit is in the summer when choice crops are available
24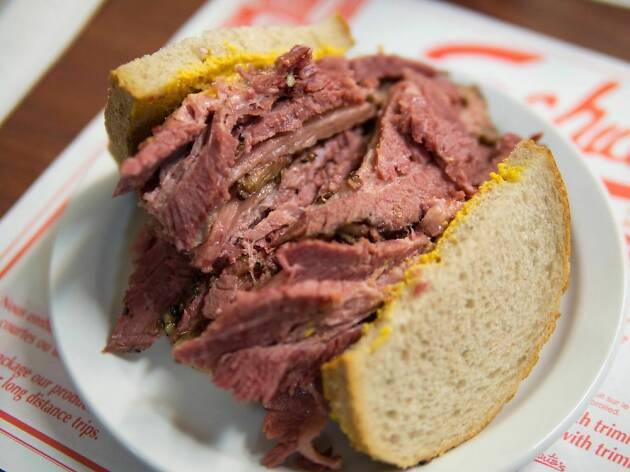 Photograph: Courtesy Yelp/Randy F.
What is it: Long regarded as Montreal's best destination for a classic Montreal smoked meat sandwich, Schwartz's is the oldest deli in Canada with an original recipe that spans back to 1928. What Katz's Delicatessen is to New York, Schwartz's is to Montreal, a world-famous institution whose long lines have seen the likes of locals, tourists and celebrities. More amazing still is that this deli's quality has never faltered, even after singer Celine Dion came on as a co-owner.
Why go: Go whole hog and order a 'fatty' sandwich with a pickle, fries and a black cherry soda
25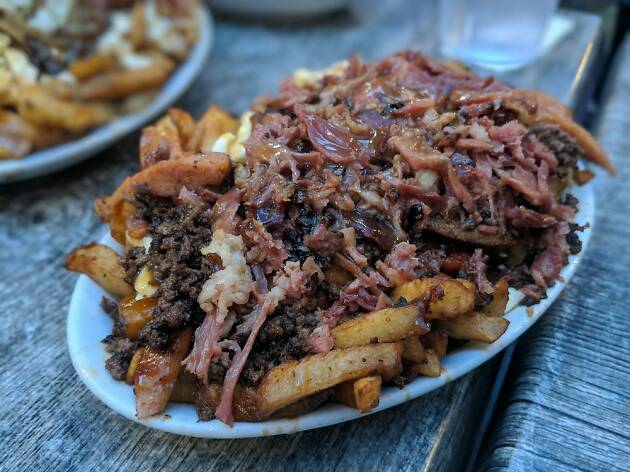 Photograph: Courtesy Yelp/Saeed D.
What is it: Constantly running at full steam every hour of every day, La Banquise is one of Montreal's claims to fame with its quality poutine. Part of that popularity is how well they sling the classic mix of fries, cheese curds and gravy, but the other half comes from the dozens of concoctions that go from guacamole, sour cream and pulled pork to chopped pogos and onion rings as toppings. It'll be the nearest and dearest thing to your arteries.
Why go: Knowing that you get grab a choice poutine at any time of day, or experiencing the late night weekend crowds to get a real understanding of its popularity
26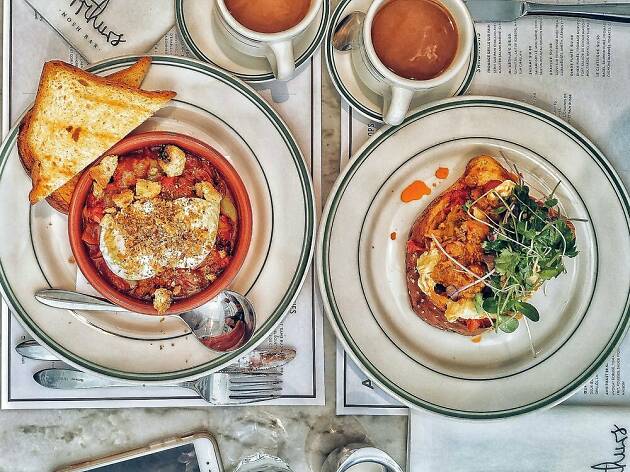 Photograph: Courtesy Yelp/Cheryl Y.
What is it: The neighbourhood of Saint-Henri may have a lot of good restaurants, but its brunch was lacking up until Arthurs arrived. Serving Ashkenazi and Sephardic soul food, Arthurs' menu is built off of Jewish classics like latkes, schnitzel, perogies and matze ball soups. Prior to opening this spot in 2016, owners Raegan Steinberg and Alex Cohen accrued a ton of experience working with the best restaurants in town, and that experience all coalesces here.
Why go: One of the best hubs for Jewish bites (and breakfast!) in town
27
Photograph: Courtesy Yelp/Julien F.
What is it: It might seem odd to see a salad bar on this list—or any list of best restaurants for that matter—but Foodchain will singlehandedly make you fall back in love with veggies. The idea from a supergroup of Montreal chefs and restaurateurs is simple and yet refined with lightning-quick service; food processors are set to cut ingredients in ways that maintain consistency and are paired with a selection of sauces and ground nut and seed toppings that give a new meaning to eating your greens.
Why go: Salads in the warmer months are best paired with their "magic bread", a flaky pastry with caramelized onions and cheese, and the new addition of hot curries in the winter
28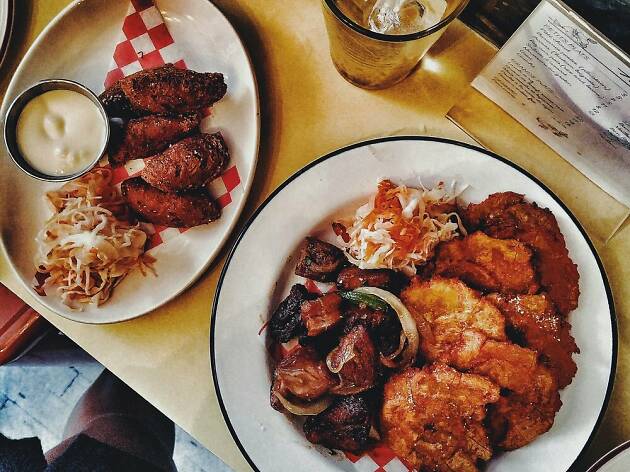 Photograph: Courtesy Yelp/Cheryl Y.
What is it: This Haitian rum bar garnered a lot of attention when folks found out the highly acclaimed restaurateur Jen Agg would be teaming up with members of Arcade Fire to start it. These days Agg isn't part of the operation, but its blossoming legacy is carried on by chef Paul Henry Toussaint and his ability to dish out some of the best Caribbean eats in the city. That means savoury accras, sizzling griot with pikliz, and saucy oxtail every day of the week.
Why go: It's always bumping at this restaurant, as well as its accompanying bar Ti'Agrikol where Win Butler's been known to spin some awesome records from time to time
29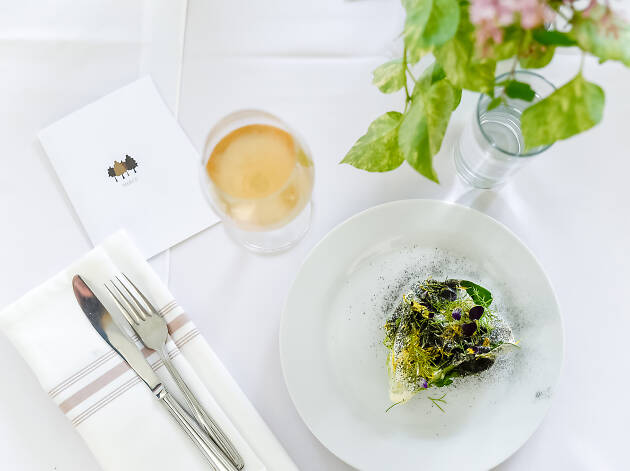 Courtesy Manitoba
What is it: A lot of restaurants pride themselves on providing what's fresh from the markets, but Manitoba's where you go when you're looking for more raw and wild taste of Canada. With an interior that's meant to evoke Canadian wilderness, the food and bar menu's just as emblematic with its raw presentations and incorporation of local berries, plants and herbs to dress up both booze and bites. Always go for the less common options here like seal meat or venison.
Why go: Going for the tasting menu at $55 with an optional wine pairing of $45 is the best way to experience some unique flavours and flair
30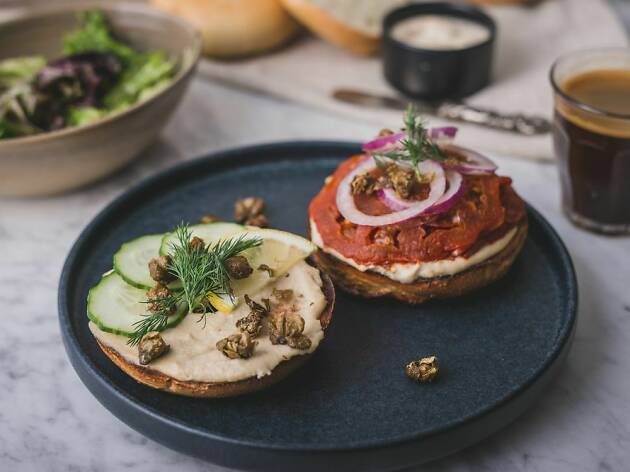 Photograph: Courtesy Yelp/LOV de la Montagne
What is it: Vegan eats need not be mired in a constant image of granola-crunching informalities. There's proof of that when looking at restaurants like Stéphanie Audet's LOV, where vegan eats are at the forefront of the entire menu. That goes from BBQ jackfruit burgers to poutine with miso gravy and cheese platters with the likes of tofu blue and almond-based feta. Lastly, each LOV location is designed and decorated like they were flawlessly pulled straight from #hygge results on Instagram.
Why go: Either of this brand's locations is delivering the best upscaled vegan eats in town
31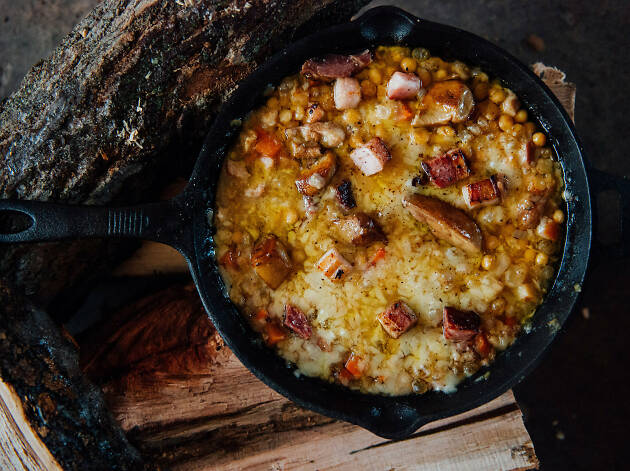 Photograph: Alison Slattery
What is it: While it's not precisely located in Montreal, La Cabane is an essential establishment on two fronts. The first is that it comes from the inimitable Martin Picard of Au Pied de Cochon, and alongside co-owners Marc Beaudin and chef Vincent Dion Lavallée, they're delivering some seriously awesome rustic food. The second is that this is a prime location to experience the look and feel of a sugar shack, a Québécois rite of passage. Together, these two elements make for an experience unlike any other found in or around Montreal.
Why go: Provided there's transportation available, this is a perfect place to escape the city in both mind and stomach
32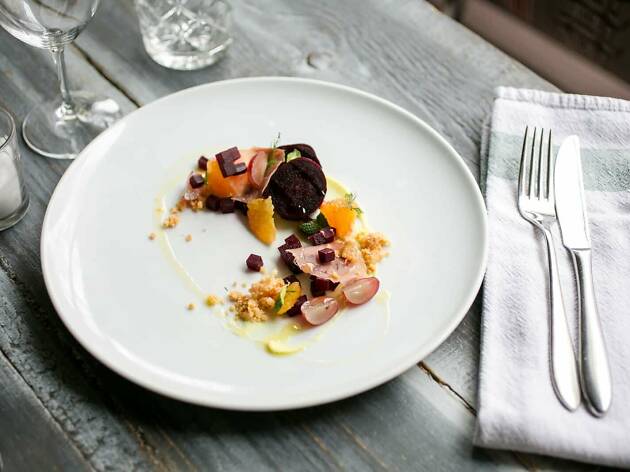 Courtesy Provisions
What is it: If a pure and unbridled market cuisine experience is something you're looking for, this is the right place. Chefs Hakim Rahal and Pablo Rojas' beautiful concept is simple, where a changing chalkboard of ingredients is the only clue as to what you'll get on a given night. All you need to bring is an appetite, though even if you're lacking in that department, the chefs' skills with plating is more than enough to tempt.
Why go: How this restaurant gives a new meaning to the idea of a "blind tasting menu"
33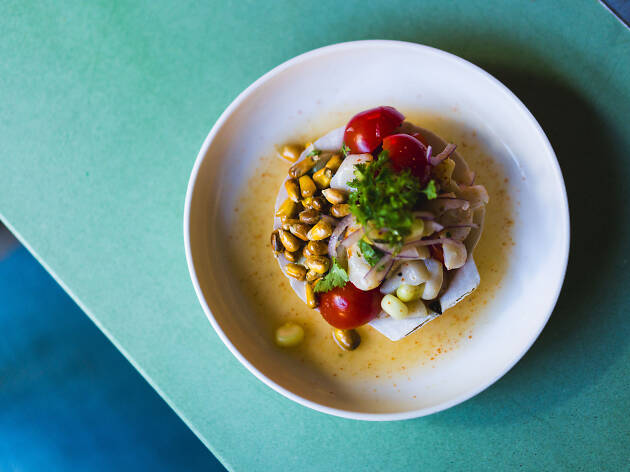 Photograph: Influencr Agency
What is it: In a restaurant that runs so sleek it feels like a high-end dining club, Tiradito is the spot which put Japanese-Peruvian Nikkei cuisine on the map in Montreal. In a high-ceilinged space where diners sit at one long winding bar, they'll find Chef Marcel Larrea's creations are more than true to that diasporic cuisine, combining the finesse of Japanese cuisine with traditional flavours of Peruvian dishes. Everything on the menu's worth a bite, from anticucho and frito plates to diabolically good cocktails.
Why go: Among its many visit-worthy qualities, it's got the best ceviches and pisco sours in town hands down
34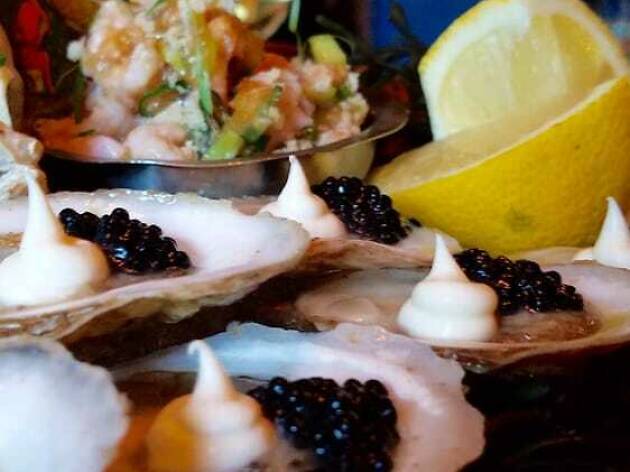 Photograph: Courtesy Yelp/Wil S.
What is it: Come for the service, stay for the insanity. Chuck Hughes' eatery is known for being one of the more raucous experiences to be had in Old Montreal, a jackknife turn away from the ambiance of most in that area. Anyone will tell you it gets busy at Garde Manger, and with good reason. The towers of fresh seafood, or familiar dishes spiked with savoury additions like jerk crab or lobster poutine make this a briny gem where good times are regular.
Why go: For the loud, crazy party experience a restaurant can be with extravagance
35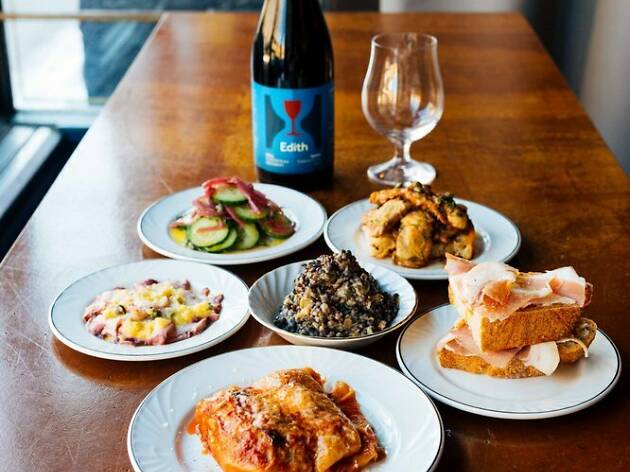 Photograph: Courtesy Yelp/Bri G.
What is it: Larrys may be a fresh face to its Mile End hood but carries itself like it's always been there. Just as serviceable as a breakfast joint as it is for late snacks and wine for nighthawks, this restaurant does a little bit of everything a good restaurant should provide. When considering that their full selection—encompassing options that range from charcuterie, tartars and ceviches to substantial dinners—what's truly amazing is how it all doesn't feel like a messy jigsaw of options, but carefully curated.
Why go: With the way the menu is structured, diners can truly pace themselves at their discretion with as much or as little as they please
36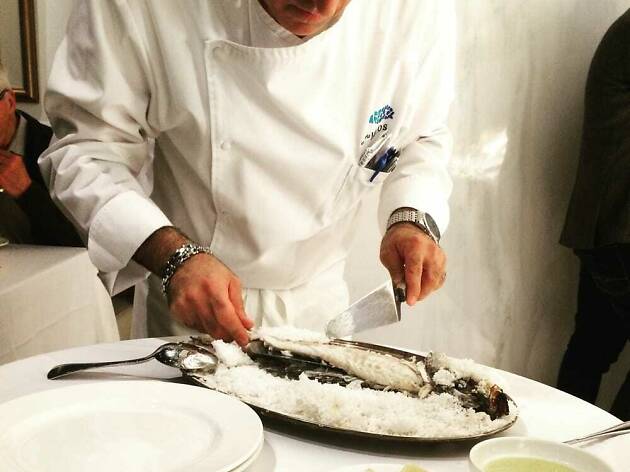 Photograph: Courtesy Yelp/Victoria X.
What is it: Montreal enjoys a strong connection to the deep-blue roots of Greece with a strong community presence, but for the best Greek food, this city's outpost of Milos is just as top-notch as any other found in North America or abroad. Delivering some of the freshest seafood around with culinary mastery makes this an indelible fine dining spot for Mediterranean fare. Folks will tell you the prices are high, but don't fail to mention how unbeatable the food is.
Why go: Going dressed to the nines for a full experience at night is great, but the fixed price menus here give a taste at a fraction of the price with no less quality
37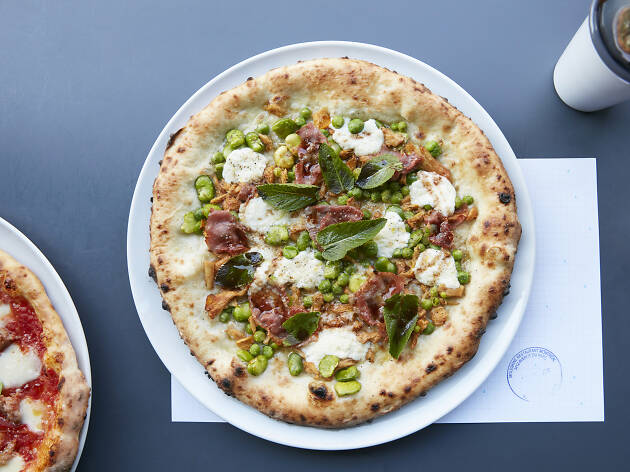 Photograph: Dominique Lafond
What is it: The casual pizza offerings in Montreal are something that locals often begrudgingly admit aren't the best, and that's driven places like Moleskine to pop up. With a wood-fired oven at its back, the Neapolitan-style pies stepped up the game in the downtown core. That same oven at Moleskine powers a formidably delicious menu upstairs with offerings that only an open fire could provide. All that, and there's a stellar wine selection and irresistible desserts too.
Why go: Two reasons to visit with its no-fills focus on pizza below and a more elaborate dining experience upstairs
38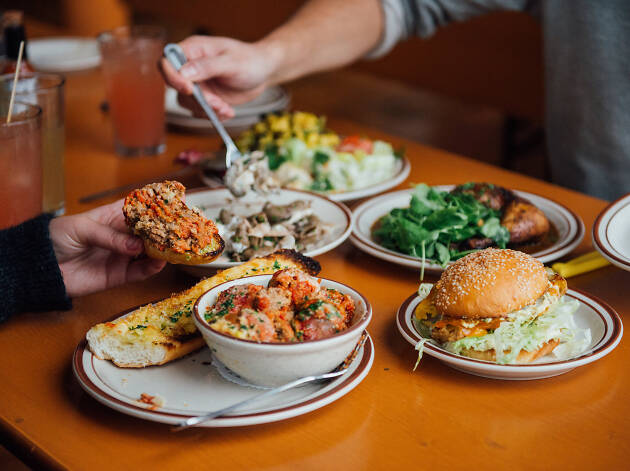 Photograph: Two Food Photographers
What is it: Supergroups in the dining world have gained their fair share of traction in the last half-decade, but we guarantee that few compare to this one: Joe Beef and Maison Publique, two eminently famous restaurants, teamed up to create this food hall-style eatery that serves breakfast, lunch and dinner with the all the skill and deliciousness that makes you swoon at the OG addresses. If you're the sort who gives ho-humming flak to soups, salads and sandwiches, our money's on that changing once you chow down here.
Why go: To experience what it's like to get invited into a chef's home kitchen and have them make you a life-changing sandwich
39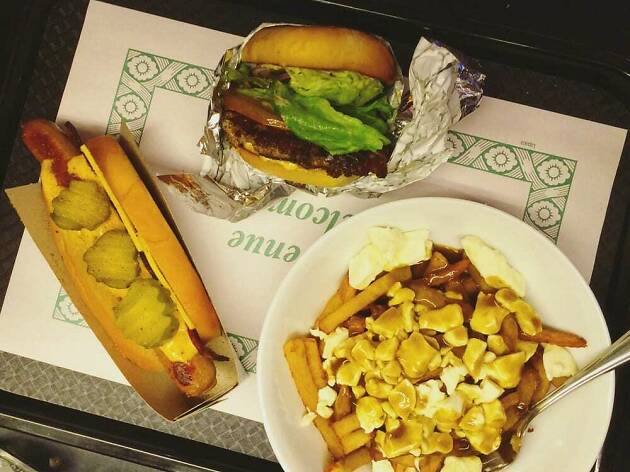 Photograph: Courtesy Yelp/Audrey Rose R.
What is it: There's a rich tradition of greasy spoons in Québec—known as casse-croûtes in these parts—and they're all endearingly celebrated as much as they're a chagrin to waistlines. If there was ever a question about what a premium case-croûte would be like, Chez Tousignant is the answer. Classic but with the quality seems the common mantra here, as chefs Yann Turcotte and Michele Forgione used their skills with tremendous focus to create quality elements, from hamburger and hotdog buns to fries, patties, and gravy.
Why go: The Tousignant hotdog's undoubtedly one of the best to be eaten in Montreal
40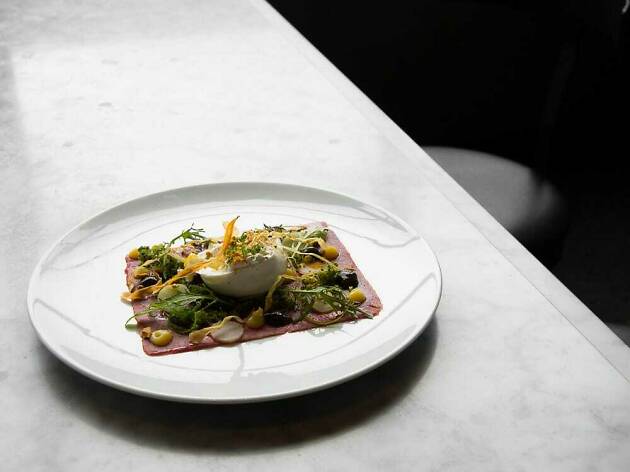 Photograph: Courtesy Yelp/Matthew B.
What is it: Another stellar restaurant from chef Claude Pelletier, Le Serpent comes out swinging with an Italian bent to its menu. From its raw and cooked appetizers to a heavy emphasis on pastas, risottos, surf and turf. Quite possibly the inspiration behind the more informal—and no less delicious—Il Miglio pasta bar located uptown, Le Serpent delivers one wow after another with impressive in-house ingredients. The beautiful interior here's a definite plus to boot.
Why go: Another prime example of one of the city's hottest restaurant groups, plus desserts from pastry chef Masami Waki
41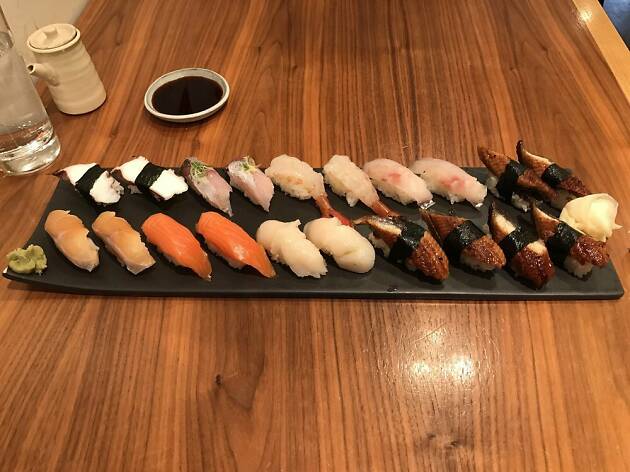 Photograph: Courtesy Yelp/Vincent N.
What is it: For some of the best sushi in the city, look to chef Junichi Ikematsu's pseudo-eponymous spot. And yet, while all manner of sushi, maki and sashimi are of a best-in-class quality, so too are the zenzai entrées that play with flavours beyond the traditional. No matter the choice off the menu, every morsel of seafood is treated with an expert hand and edge of a knife.
Why go: This is as real of a deal as it can get for the best sushi in Montreal
42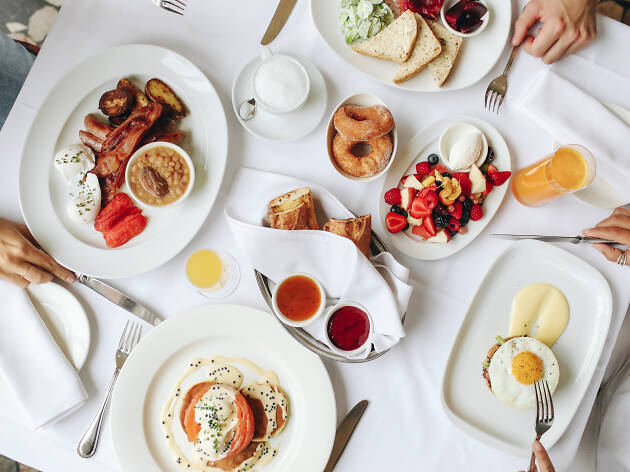 Photograph: Evelyne Pellerin
What is it: The menu at this bistro has barely changed in the decade and change it's been open, but with good reason. Leméac is looked to for the most classic of experiences, and unflinchingly faces the crowd of trendsetters and younger blood around them. Its chefs Maxim Vadnais and Olivier Belzile deliver fine food in a setting that's framed in swanky—not swaggering—surroundings of stone and wood. Enjoy a glass of red alongside some stellar steak frites.
Why go: Preceding a night out in the oh-so-hip Plateau with a taste of their cheaper late-night menu
43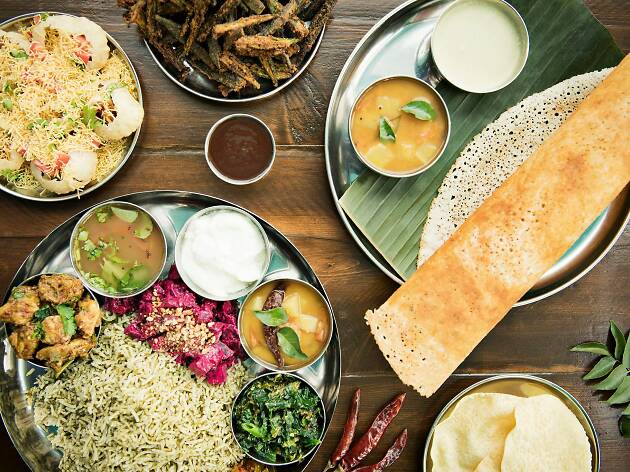 Courtesy Le Super Qualité
What is it: Montreal's Little India is surefire bet for all manner of delicacies from across the subcontinent, but it's Le Super Qualité which repackages those classic restaurants while still staying true to traditional cuisines. Designed around the idea of an Indian street food cart and spurred by its original catering business serving tasty tiffin boxes, this spot ups the game with inventive cocktails, a particularly savory sourdough dosa recipe and full spread thalis.
Why go: Modest pricing, and a structure to the menu that supports as much light snacking as it does full-fledged outings
44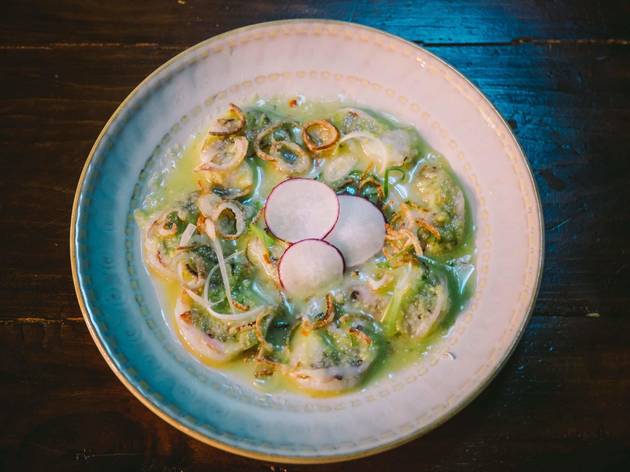 Courtesy Les Street Monkeys
What is it: Before Les Street Monkeys came along, Cambodian food didn't have much of a presence in Montreal. Chef Tota Oung changed that by bringing in this hotspot fashioned after an alleyway in Phnom Penh. The full flavour profile is there, each dish brimming in notes of lemongrass, galangal, garlic and ginger with as much spice as you like. There's no shortage of eye-popping dishes straight from the homeland, from fried papaya salad to amok fish.
Why go: A wasabi shrimp ceviche and stuffed chicken wings, paired with a sweet-sour cocktail, are more than enough to convert you
45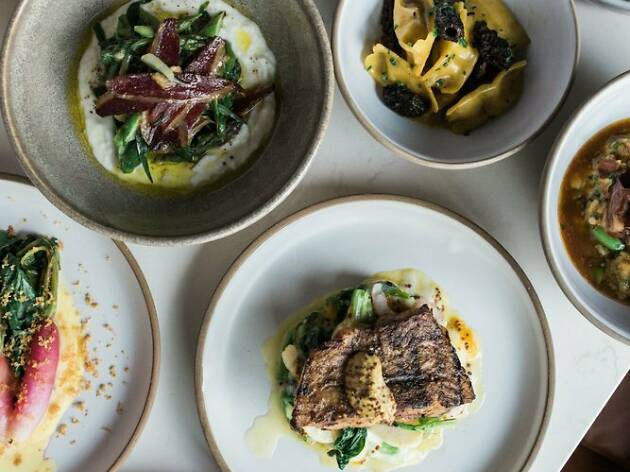 Photograph: Courtesy Yelp/Lawrence
What is it: Before restaurants like this one came out swinging in Montreal, few believed that any UK-inspired cuisine would hold its own in the culinary tapestry of the city. Chef Marc Cohen changed that, having earned his stripes in spots across London, and put Lawrence on the horizon for many. The restaurant has since restructured itself with a new creative identity that isn't constricted to any one inspiration, but that's made it all the better, fueled by its neighbouring butcher.
Why go: With the restaurant doing its own butchery, baking and charcuterie-making, this is some of the best in town for expertly sourced food
46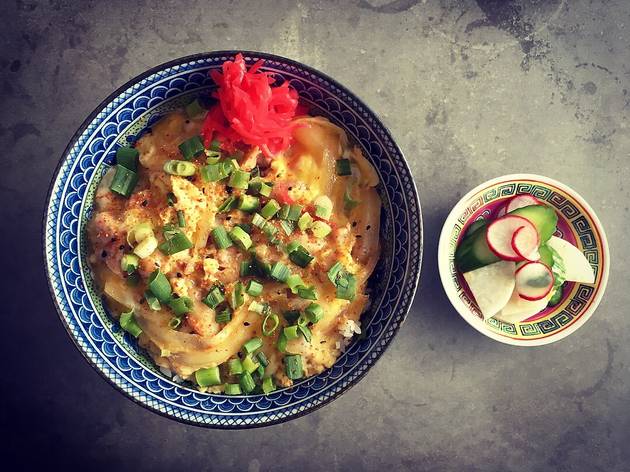 Courtesy Jiep Jiep
What is it: When considering how many pan-Asian restaurants fail to mix and match a selection of cultures in one menu, but Jiep Jiep's chef Shammy Chan is changing that. Her mix of Japanese, Chinese and Korean cuisines, plus some fusion flair with dishes like kimchi perogies are all executed in a down-to-earth manner. Nothing feels carelessly thrown into the mix here, even when it's a brand-new experiment from the kitchen.
Why go: Sampling something from each section of the menu's a taste of Pan-Asian done right
47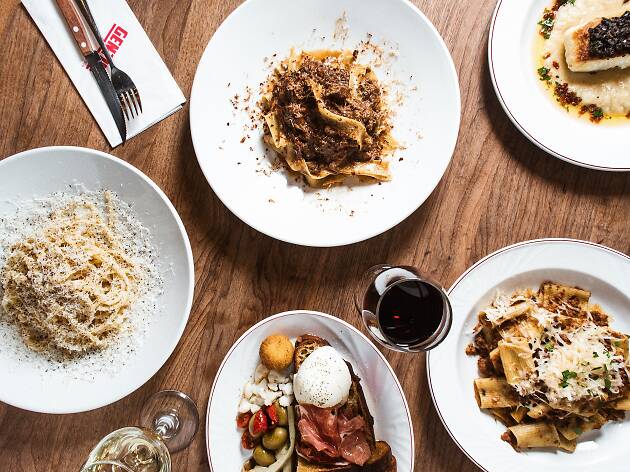 Photograph: Ève Bastien-Rouleau
What is it: An OG Italian spot first opened in 1959 as a coffee shop and sandwich slinger, it's grown to include a newer Westmount location in 2016 where the kitchen could continue to strut its stuff. While the classic deli-style menu items haven't changed—and trust us, that's a good thing—that new location is flexing hard with a strong dinner menu of Italian food both traditional and inspired. It's also got a damn fine colazione to boot with boozy options.
Why go: For an honest trattoria serving up casual lunches as delicious as their night menu
48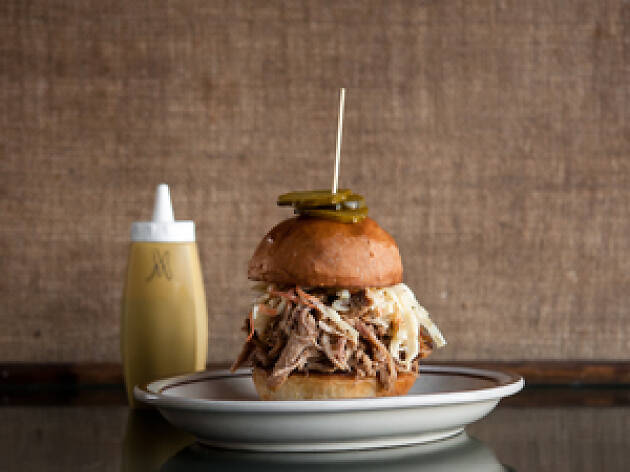 Courtesy Dinette Triple Crown
What is it: Good ol' fashion Kentucky-style plates are on point at this ode to Southern cuisine. That's saying a lot, since Montreal didn't have a lot going for it in that department before spots like one opened up. Chef Colin Perry's got everything you need to feel like you're getting a true bluegrass-by-the-Mississippi spread of chow, from hushpuppies and brisket to cornbread and mac 'n' cheese. Loosen your belt and order up a "meat & three".
Why go: The quality of the fried chicken here bears repeating, but their new brunch service is also worth a trip
49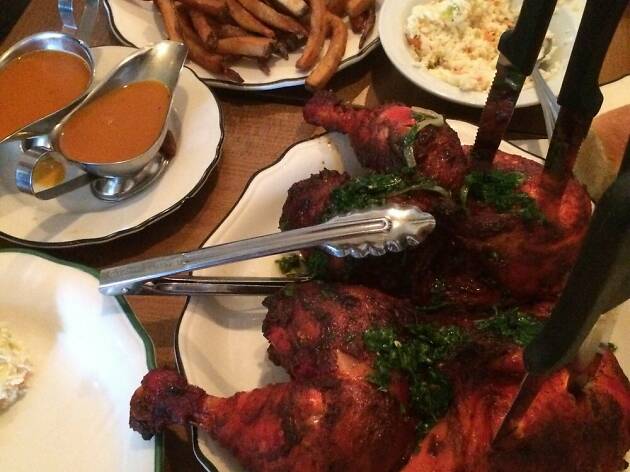 Photograph: Courtesy Yelp/Feifei L.
Le Coq de L'Est 2015 Inc.
What is it: Rotissiere chicken's a locally lauded dish in Montreal, but none can hold a candle to what Omar Zabuair and Vanessa Beeching are serving up in this reappropriated Québécois restaurant that used to employ naked waitresses. Zabuair's Pakistani roots enhance that ubiquitous dish with a touch of tandoori, making this one of the best birds in town. Ribs and poutine are no joke either, given as much TLC as the chicken, as are Beeching's abilities behind the bar and structuring the wine list. To that we say "hot damn that's good."
Why go: Located far enough east to feel like an escape from the city core, this restaurant's nightly specials are as astounding as its mainstay items
50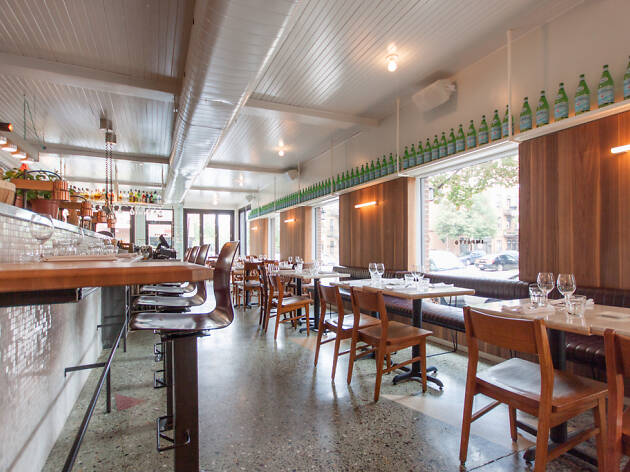 Photograph: Julie Perreault
What is it: Stefano Faita and Michele Forgione got their foot in our door with this address in Little Italy, delivering the best of its honest-to-goodness cuisine in the form of fresh pastas, charcuterie and belt-busting tasting menus. It's chef Aicia Colacci in the kitchen, and with her at the steering wheel, it's only getting better and better here. If Italian cuisine is excellent in its simplicity, then this is simplicity at its finest.
Why go: A masterful Italian restaurant experience delivering la dolce vita through superb food and drink
51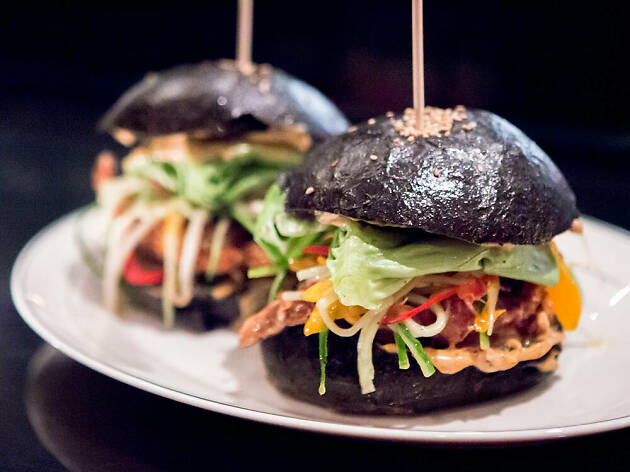 Courtesy Orange Rouge
What is it: Out of a heap of good grub to grab in Chinatown, from classic Cantonese and Szechuan specialities, chef Minh Phat's work at the woks stands tallest. While not strictly a Chinese restaurant—incorporating touches of Japanese and Korean in the menu—this is a spot which takes what's common and spins it in unique ways. The self-described moniker of "Chinatown's best-kept secret" is well-deserved, from a crisp chrysanthemum salad to steam buns stuffed with foie gras and whole roasted ducks.
Why go: For a dim and dark getaway to enjoy some sleek Asian bites plus banging cocktails
52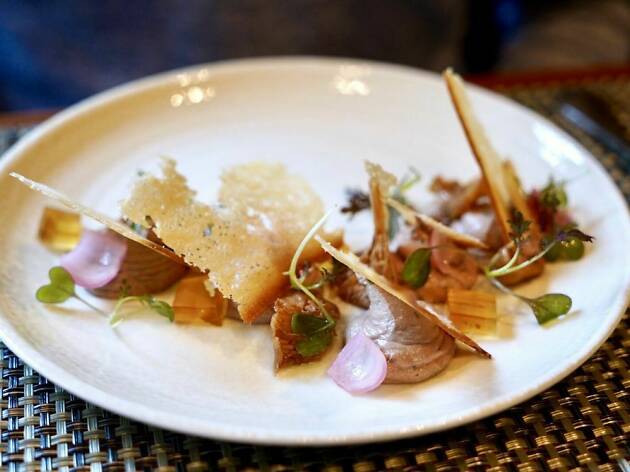 Photograph: Courtesy Yelp/Ting Y.
What is it: Located inside of Montreal Ritz-Carleton hotel, Maison Boulud is, well, ritzy. One could expect nothing less from the chef, restaurateur and French national treasure Daniel Boulud. Every inch of this restaurant is polished and proper, from the glass, steel and wood interior to the rigor of the cooks at work. While a bit of a trophy eatery for the monied classes of the city (few places charge $50 and up for mains like they do), it's undoubtedly one of the finer destinations for food replete with glitz and glamour either as a tasting menu or plucked from the à la carte.
Why go: Where you go to eat with your pinky out, the expertise here is hands-down undeniable
53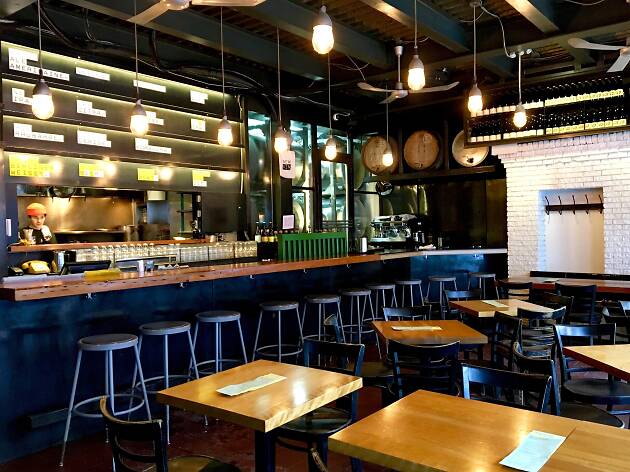 Courtesy Réservoir
What is it: Few expect to find some of the best eats in town at a bar beyond some decent pub eats. Le Réservoir's chef Marc-Alexandre Mercier turns that assumption on its head. There's no doubt that this spot's among the few that have the most inventive beers to be had in town, but with Mercier's food, the whole experience is enhanced. Few corners are left unexplored by the kitchen, with options ranging from accras and tataki sandwiches to frog legs (and it's true, they do taste like chicken).
Why go: With the added benefit of stellar eats, this restaurant's a double act of beer and bites seldom found elsewhere in Montreal
54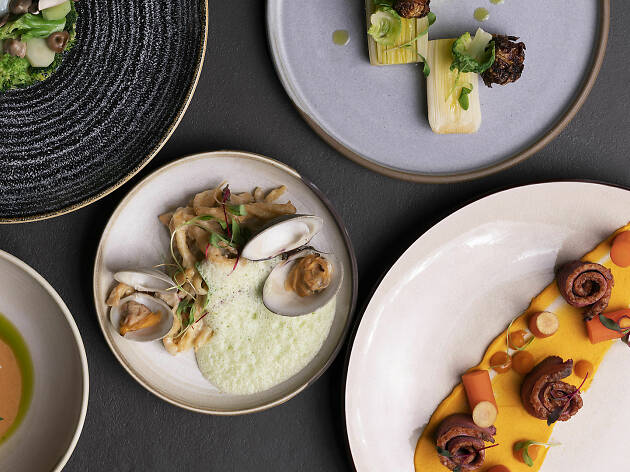 Courtesy Perles et Paddock
What is it: Built out of a repurposed garage, this restaurant impresses on multiple fronts. From décor and design replete with a skylight and tree growing from the middle of its dining space, it's among the prettiest places to dine out in town. That gives plenty to gape at while waiting on the food, and whatever's on the menu from their chef Paddy Cheang impresses with its accomplished palate.
Why go: The trick is to roll through after 10 p.m. to enjoy a separate late-night menu alongside choice ales and cocktails
55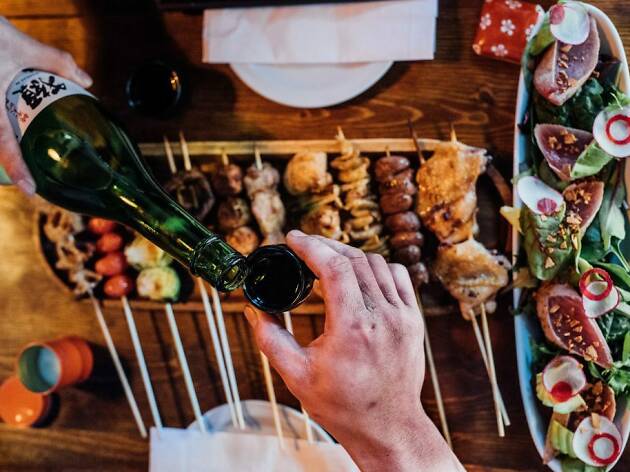 Photograph: Alison Slattery
What is it: After sushi had its day in the sun in Montreal, the next trend in line was izakayas, but few brought their A-game as much as Otto. A popular spot among students in Concordia University's downtown campus for its late hours, this yakitori-focused izakaya from Hanhak Kim and Hiroshi Kitano gives a healthy mix of Japanese and Korean eats to pair up with selections of sake, beer and soju. While there's a lot to pick from, few can contest this restaurant's ability at the grill.
Why go: Few izakayas in town excel at balancing out the informal pub setting with good grub that goes beyond the same old takoyaki and okonomiyaki plates
56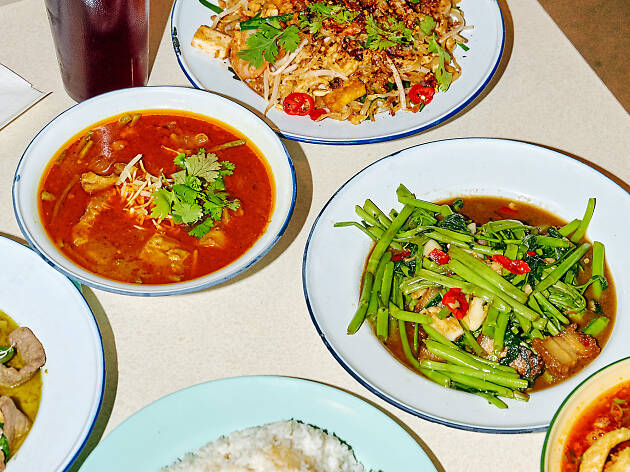 Photograph: Alex Blouin
What is it: Locals knew Jesse Mulder long before he opened up this brick-and-mortar outpost to truly strut his stuff in his own kitchen, serving up a highly desired Thai delivery service through the now-defunct Chak Wow. And before that? Montreal wasn't exactly brimming with a lot of options for Thai food, let alone one that would offer a bit more than a semi-spicy pad thai dish. Having trained at restaurants in Thailand, Mulder brings the best to Pumpui with five-alarm curries, fried chicken, and morning glory salad. It's a breath of fresh—and spicy—air.
Why go: Food's certainly one reason to visit Pumpui, but it also offers a small curated set of groceries sourced straight from Thailand
57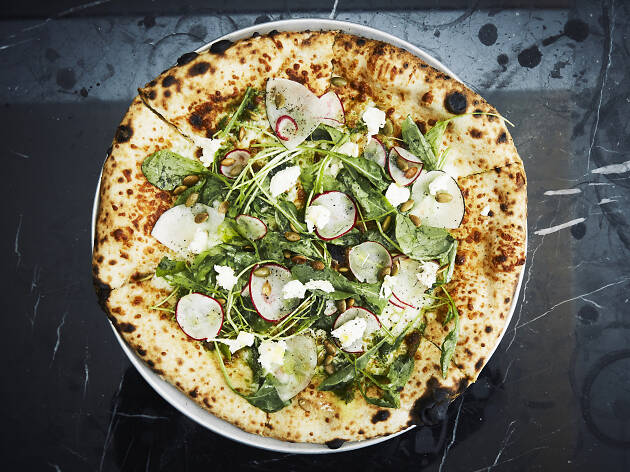 Photograph: Dominique Lafond
What is it: This youthful arrival to the pizza game from the folks behind Nora Gray—plus co-owner Marley Sniatowsky—recently stole the show in Montreal. With accolades from across the country for its wood-fired menu based on researching dishes in Italy, that means there's excellent pizza to be had alongside a lot of superb sharing plates and charcuterie. All that praise is well-deserved when considering how the quality of the food stacks with classic cocktails, all served in a chic modernist Italian design.
Why go: Grabbing a Neapolitan pie is a big reason to drop in, but so is their wine bar and take-out counter Club Social P.S. attached to its back
58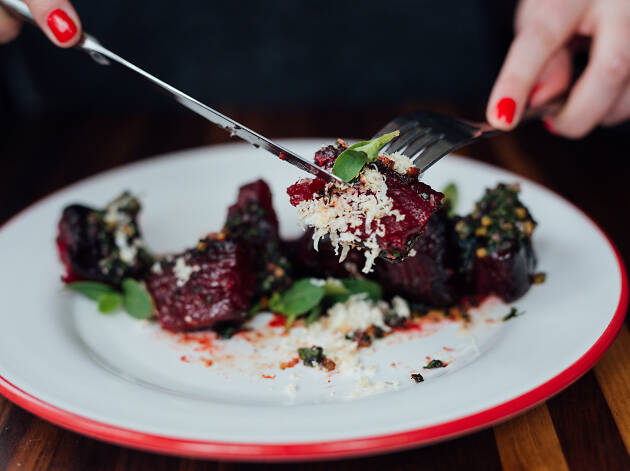 Photograph: Alison Slattery
What is it: That old adage about good things coming in small packages is all too true when considering this tiny-yet-formidable wine bar from the minds behind Joe Beef. It may only be able to hold 25 people in total with a no-reservation policy, but with prodigies Marc-Olivier Frappier and Jessica Noël spinning gold out of the kitchen while the top sommelier Vanya Filipovic keeps the wine flowing, there's seldom a seat left empty here.
Why go: Seasonally driven market cuisine on smaller plates dictates that this is a whole new side to what the Joe Beef team is capable of
59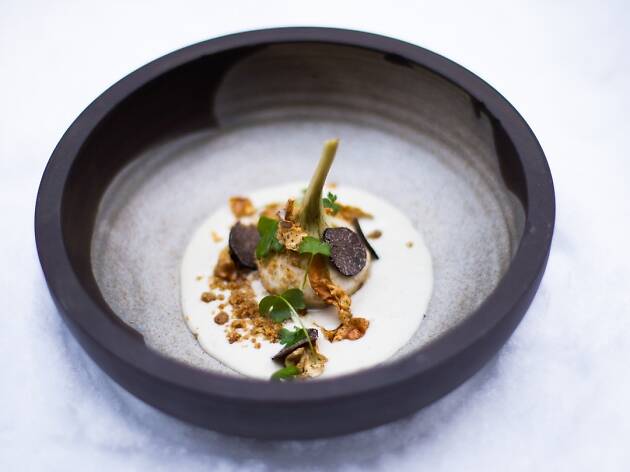 Courtesy Chasse-Galerie
What is it: Named after the French-Canadian folktale about a bewitched canoe that could fly through the air, the Plateau's Chasse-Galerie keeps it Québécois with its ingredient sourcing and jovial ways of handling a busy night. Big laughs and big flavour play heavily into every ounce of service and food packed into this 50-seater sub-basement spot. Chef Alexandre St-Amand does new French cuisine plenty of justice with plating finesse that double-up as delicious
Why go: The long-form meals here, with as many as 10 courses, prove how one can plan a whole night around one location
60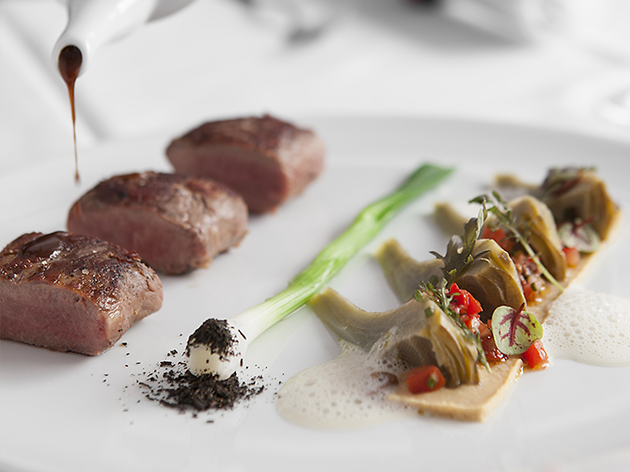 Courtesy La Chronique
What is it: Opened in 1995, this restaurant from Olivier de Montigny, sommelier Jonathan Sitaras and chef-owner Marc De Canck delivers all the heights of French cuisine. Located in a fresh address of a white, minimalist interior and private dining mezzanine, there isn't a single dish that disappoints within these four walls. That extends from late afternoons of simple but no less exquisite pared-down choices to evenings of full wine glasses and plates of duck foie gras or guinea fowl. It's resplendent French fare at its best.
Why go: Visiting for a tasting menu inspired by what's freshest, it's a French must in Montreal
61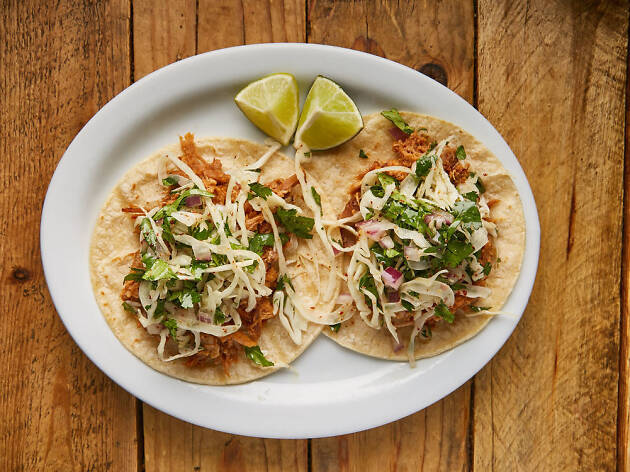 Photograph: Mickaël A. Bandassak
What is it: What started with their mascot of a chartreuse green taco food truck in 2011 quickly accrued its current day cult following, all found dining and laughing it up at their Saint-Henri HQ. Situated in a refurbished garage, owners Gaëlle Cerf and Hilary McGown with chef Sébastien Harrison Cloutier are cooking up Mexican-inspired fare—think tacos, tostadas, jicama salads and more—that always keeps us on our toes. The latest guilty pleasures include smoked meat tacos, fried chicken with mole and masa waffles for dessert.
Why go: For folks who love Mexican food, but want to see it taken in some bold fusion directions.
62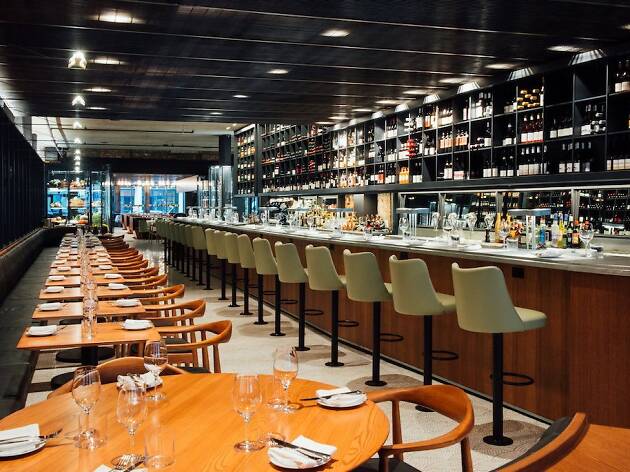 Photograph: Two Food Photographers
What is it: Announcements for the opening of this fine dining brasserie in Old Montreal seem to be delayed for so long we almost gave up, but man, was it worth the wait. One step into its space, one drink from its cellar, one bite of its menu and we were hooked on Jérémie and Richard Bastien's project. It's all immaculate at this sleek address, especially when it's French standards of Niçoise salad, bouillabaisse, half a Cornish hen or ratatouille that've had cosmopolitan—even unconventional—flavours sewn into them.
Why go: First to rest on your laurels of dining at the new mover and shaker in town, second to luxuriate in some high-class eating
63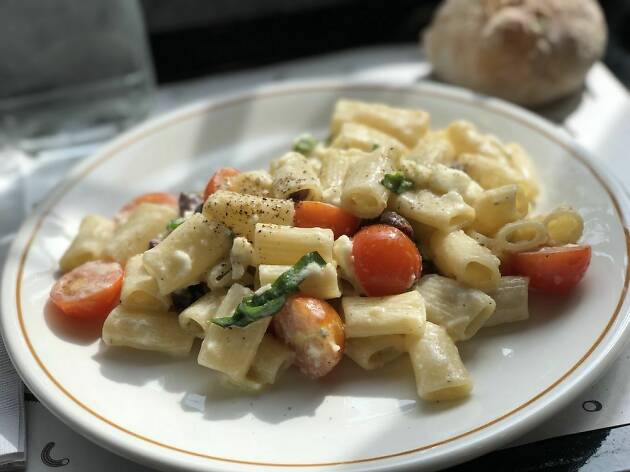 Photograph: Courtesy Yelp/Yen Q.
What is it: The speedy output of a casual launch counter needn't be something that cheapens the dining experience, especially when considering this pasta counter from the chef behind the Club Chasse et Pêche restaurant group Claude Pelletier. Top-notch fresh pasta making and cooking in an informal setting makes this spot a valuable member of the Saint-Laurent stretch in the Mile End, but the sheer quality of the product at low prices easily makes this a must-eat.
Why go: As good as the pasta is, there are enough fixtures on its menu to make this a Little Italy home away from home
64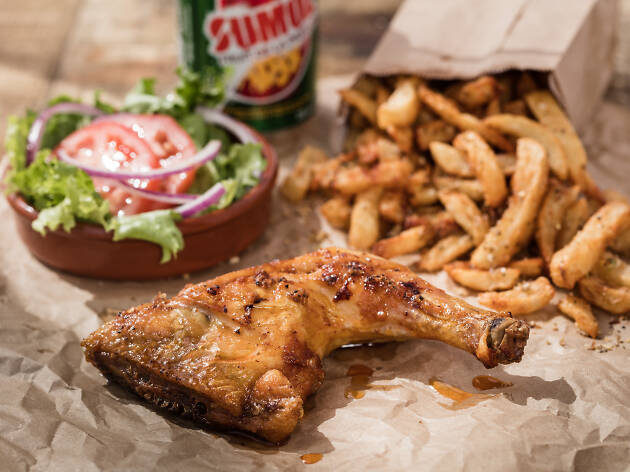 Courtesy Romados
What is it: Having been in Portuguese chicken game for decades, Romados is generally the first and foremost in locals' minds for where to get a Styrofoam container brimming with spicy chicken, fries, and a side salad. Set up primarily as a takeout spot, the lines run long at this classic spot whether the sun's shining or it's miserably cold out. Come summer, most like to drop in and run their meals up to Parc Jeanne-Mance to chow down under the shade of a tree.
Why go: Visiting a local legend in Portuguese chicken rotisserie history
65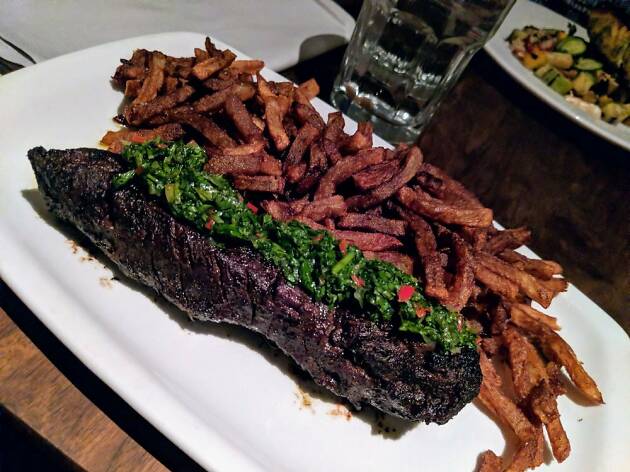 Photograph: Courtesy Yelp/Role X.
What is it: A classic tale of young chefs and restaurant front men coming together to develop a place of their own, Tuck Shop was among the OG operators to make the neighbourhood of Saint-Henri a destination. The mission to create an honest eatery with a seasonal menu in 2010 has since amassed a loyal following and a constant customer base for their catering service. They do good work while keeping folks guessing; keep an eye on their Twitter page to stay updated on what's being served.
Why go: A beautiful back terrasse built into a garden makes for a nicely secluded service, if not their brand spanking new raw bar to slurp back oysters
66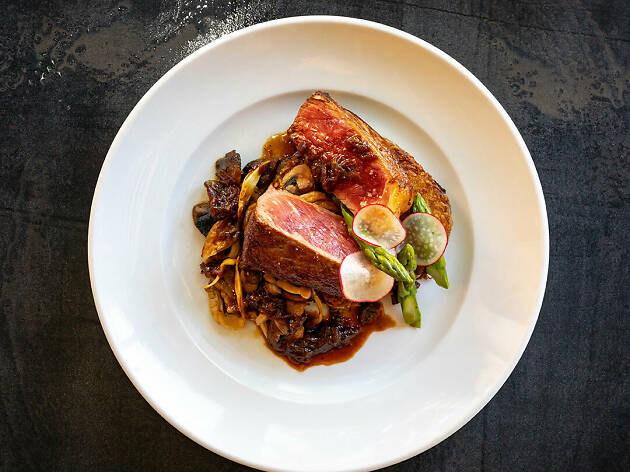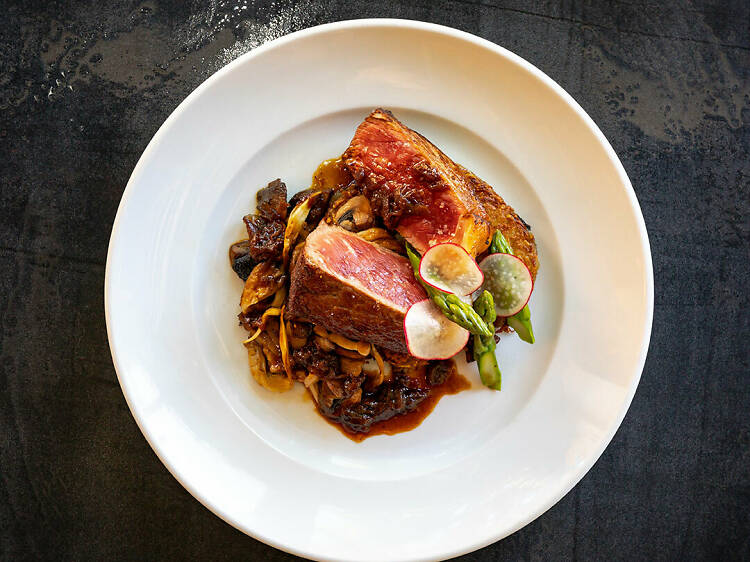 Photograph: Charles Mercier
What is it: Take it from us, the BYOB in Montreal is an art form. Among the many, many restaurants to choose from which offer customers the liberty of picking their own libations at the expense of a slightly higher mark-up on food, there's a few that stand out. Your cheat sheet to them need only have two names on it, Vincent Chatelais and Dominic Laflamme, who've turned the BYOB into an art form and Le Quartier Général is one of the finest.
Why go: Stupendous menus for both lunch or dinner, and few can argue with picking your own booze to accompany either
67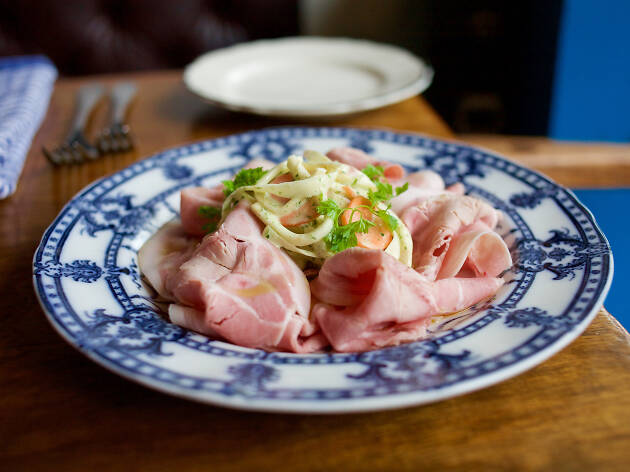 Courtesy Liverpool House
What is it: We know how hard it can be to grab a table at Joe Beef, and Liverpool House is commonly looked to on shorter notice. It's no less spectacular though, offering many of the same great dishes Joe Beef is known for, plus its own charm. The space is known for having the feel of a spectacular dinner party each night it's up and running, filling guests to the brim with amazing seafood offerings, shucked oysters, and bottle after bottle of great wine. An unparalleled dining experience awaits.
Why go: Fans of politics can enjoy requesting the table where the Liverpool House Summit took place, a famous dinner between Barack Obama and Justin Trudeau
68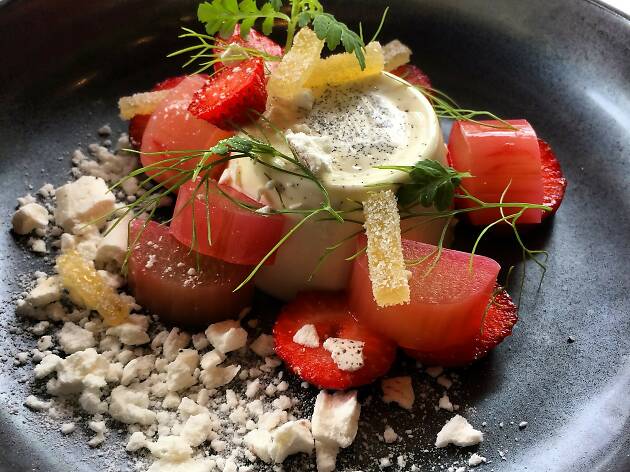 Courtesy Le St-Urbain
What is it: Given the breadth of the Island of Montreal, not every choice restaurant is located close to the city's core. The Ahuntsic-based Le St-Urbain from Marc-André Royal and Adam Ganten continues to stand tall and is one of the best to be had in the more eastern reaches of town. A top-of-the-line bistro delivering inspired French fare, the menus for both lunch and dinner here regularly incorporate tantalizing items based on both land and sea, and it's definitely worth the trip.
Why go: For choice French-inspired fare
69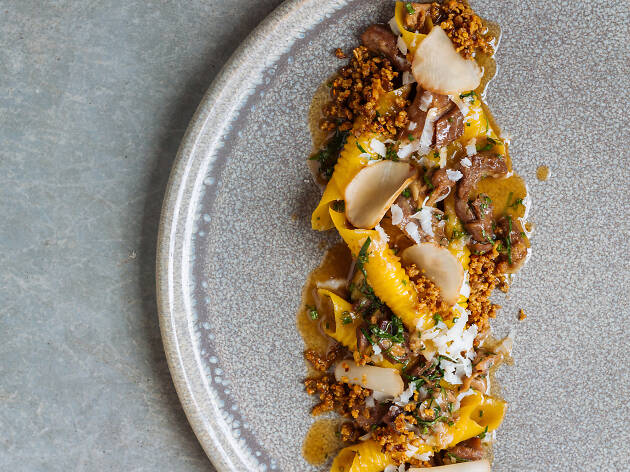 Photograph: Mickaël A. Bandassak
What is it: Chef Marc-André Jetté and William Saulnier's Rosemont restaurant based on open-fire cooking combines rusticity with refinement in a menu that excels in what's charred, carmelized, roasted and smoking. The taste of a hot fire's not the most difficult thing to find in Montreal, but finding one that's as good as Hoogan et Beaufort is. Grabbing a seat at the central bar of its space and watching the open kitchen at work as imported wine and beers are knocked back complete the splendorous experience this place provides.
Why go: One of the best spots for inventive open-fire cuisine
70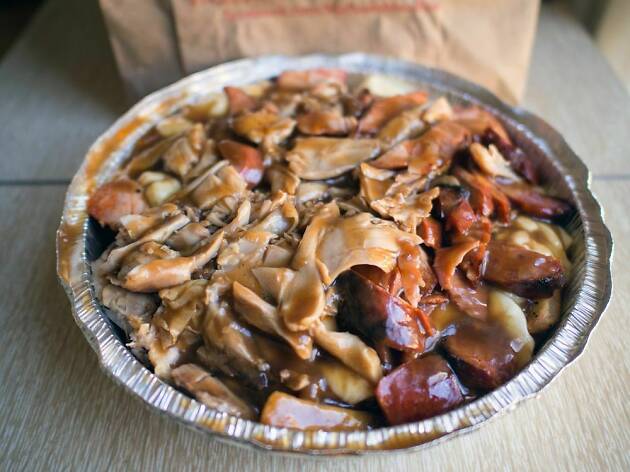 Photograph: Courtesy Yelp/Randy F.
What is it: While rotisserie's a popular repast in Québec with popular French-Canadian chains, the best can be found with Portuguese piri piri spots like this one. As for those that are commonly regarded as being at the top of their game, Ma Poule Mouillée vies for the top spot in town. Folks flocks for everything on their menu, whether it's the chicken coming in as hot as you like it, or the stack chicken poutines. They recently experienced a disabling fire in January 2019, but they're back and busier than ever.
Why go: Have fun trying out this one out and weighing it against its unspoken rival Romados
71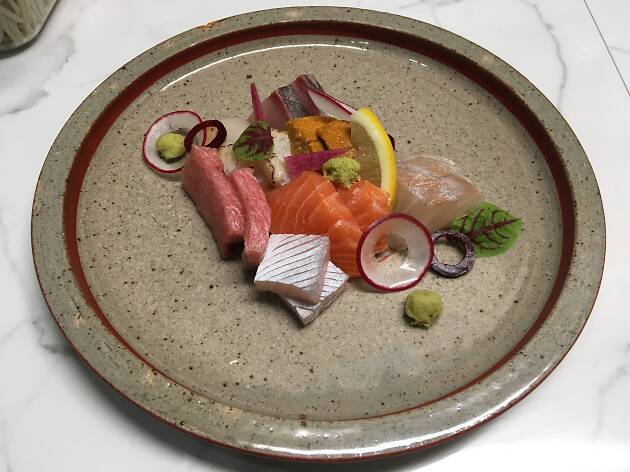 Courtesy Otto Bistro
What is it: There's undoubtedly a lot of excellent traditional Japanese food to be had in Montreal. That means there's a solid bevy of sushi and ramen, but few took the techniques of Japanese cuisine to new places until the owners behind Otto Yakitori opened up this place. Chef Hiroshi Kitano takes the techniques and flavours he knows best and applies in a bistro concept that creates entirely new dishes totally unique to the city. Where most lean towards fusing Japanese to their own cuisine, this restaurant instead takes food found in French and Italian restaurants and twists it.
Why go: The most unique Japanese address in town
72
Photograph: Courtesy Yelp/Jonny M.
What is it: We'll understand if any Montrealer gets a bit bitter over us bringing up this restaurant, but we can't hold it in any longer: Cadet is good, and it's a sin to not eat here. Most focus on its parental establishment Bouillon Bilk—and who could blame them when considering its accolades—and many more overlook it because of its nondescript location. If you're one of them? Sucks to be you: Anything from this place's menu comes at a steal when considering the price-to-precision ratio, its kitchen bringing a solid A-game to any given plate.
Why go: An uber-convenient downtown restaurant that delivers high class menus in a casual setting
73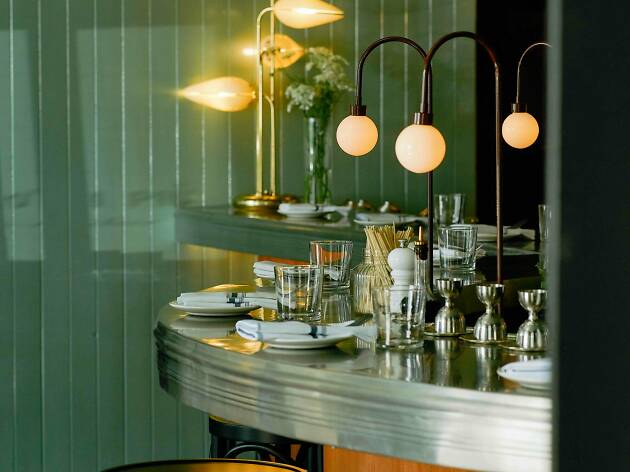 Photograph: Mickaël A. Bandassak
What is it: It seems there's no end to new restaurants that are upping the Italian game in Montreal, but there's only so much room for champions. While a fresh arrival from the group behind Foxy and the popular breakfast-lunch spot Olive et Gourmando, Un Po' di Più carries itself like a classic trattoria with its circa-1970s modernist look and feel. Chef Nick Siambattisto's menu focuses on snacks and small plates that are traditional—think burrata, pasta, sandwiches—and of an incomparable quality. Charcuterie towers, oysters, and fresh focaccia round this out to be a shoe-in for what's best in the Old Port.
Why go: One of the hottest tickets in town for easy-going Italian lunches, dinners, and colazione
74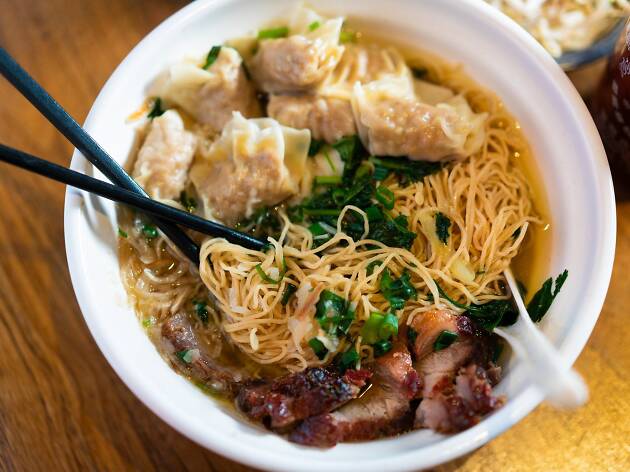 Photograph: Le Red Tiger
What is it: Pho is one of those things every Montrealer enjoys no matter the time of year. Cheap Vietnamese soups and rolls are the baseline, however; it took a restaurant like this one from Asian eatery baron Dan Pham and the creative flourishes of chef Thach Phong to really up their cuisine's game in town. Combining a drop-in diner by day and a neon-soaked bar by night, the drinks and bites here pay a good homage to their source material while keeping it fresh. Try a papaya salad with beef jerky, anything off their grill, a piping hot bowl of broth and noodles, or get adventurous and suck back some balut.
Why go: For Vietnamese food expressed in ways both classic and inventive
75
Photograph: Courtesy Yelp/Fa R.
What is it: Montrealers were enamored with Sophie Duchastel and chef Jérémy Daniel-Six's original restaurant Ma'tine in the Gay Village, and experienced collective grief when it shuttered. That was relieved when they opened this new address opened up, where the chef took his technical know-how in the kitchen to new heights with experimentation at the fore. Diners enjoy this place's constantly shifting menu that highlights new territories for the chef, if not how they're the only place in the city to have adopted a no-tipping policy.
Why go: For some of the most surprising flavour combinations in town from a chef-driven venture
76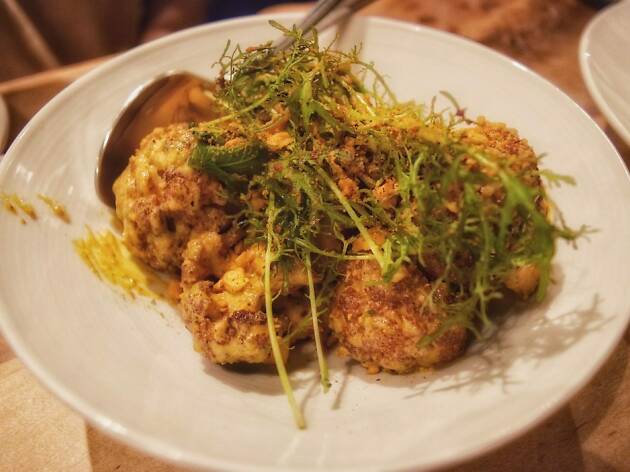 Photograph: Courtesy Yelp/Julia WeiYi Z.
What is it: Among the top names for chefs in Montreal, Martin Juneau stands tall. His restaurant, focused on acting as both a natural wine bar and restaurant that focuses on small plates, simply divides its menu into hot and cold plates that are at once recognizable while employing ingredients that shake things up. Locally-sourced cheese plates, a tasting menu built from their most popular dishes, and an inventive (and cheap) dessert menu easily places this in the top rankings of restaurants to eat at.
Why go: For skillfully French-inspired fare that breaks the glass ceilings on classic
77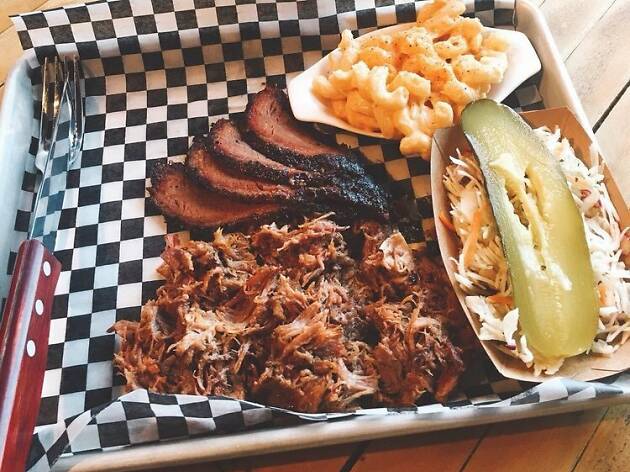 Photograph: Courtesy Yelp/Carolyn Seungyoun M.
What is it: There isn't overwhelming competition in Montreal pitmaster department, what is found here is thankfully well-prepared. Chef John Lattuca's an award-winning pitmaster and is serving up recipes culled from travels across the United States, culminating in a product that's succulent and highly lauded. The only issue here is that it's almost too true to Texas in its limited batches of brisket, pulled pork and brisket, so everyone advised to get it while it's hot and no later.
Why go: Where to grab the freshest and finest in Texas-style barbecue
Contest alert!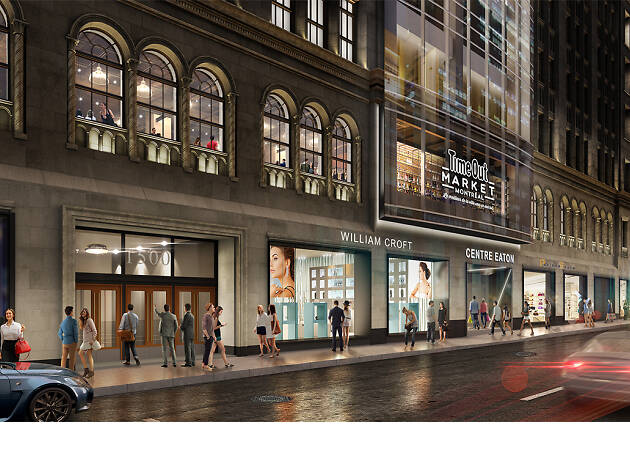 Enjoy a two-night stay in a beautiful room at The Westin Hotel plus red carpet treatment at Time Out Market Montreal.
Discover Time Out Market: the best of the city under one roof
Best restaurants by specialty
Best restaurants by cuisine
Best restaurants by neighbourhood