The best hotels in Montreal
Relax, dine and luxuriate in style with the best hotels in Montreal, all equipped with the finest amenities in town.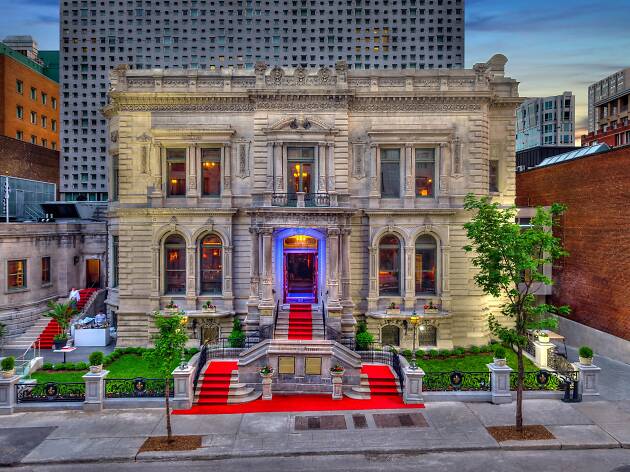 Whether it's a vacation or a pampered staycation in this city, look no further than the plush fineries and impeccable service of the best hotels in Montreal. Many of these addresses are local legends for their hospitality and accommodations, at times doubling in quality for coming equipped with some of Montreal's best restaurants and best bars, if not located somewhere close to superb food and drink. Granted, these places are where you go to spoil yourself, so if you'd rather look into the best cheap hotels in Montreal? We won't judge.
RECOMMENDED: Full guide on where to stay in Montreal
Where to find the best hotels in Montreal
1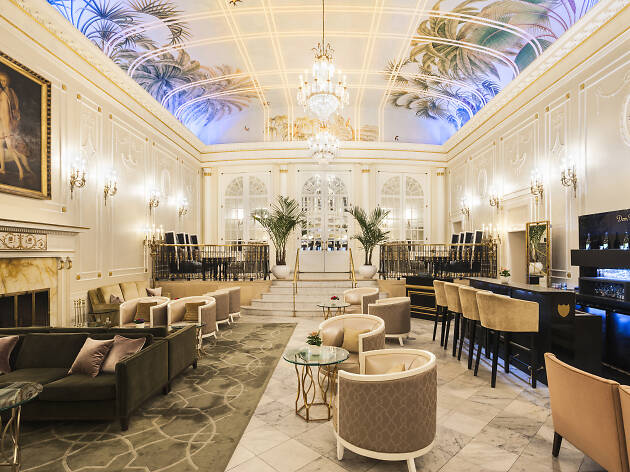 Photograph: Ritz-Carlton Montréal/Franois LeClair
A legacy hotel of the city's Downtown core, the Ritz has been around since 1912. Lucky you, they've recently given it a $200-million facelift that slimmed down its total square footage while either applying new fixtures—more built-in tech and modern décor—or enhancing the old ones, like its saltwater rooftop pool, private garden, luxury spa or Moroccan baths. Food and drink are a huge highlight here with the Michelin star-worthy Maison Boulud, afternoon tea services and North America's only Dom Pérignon Bar.
2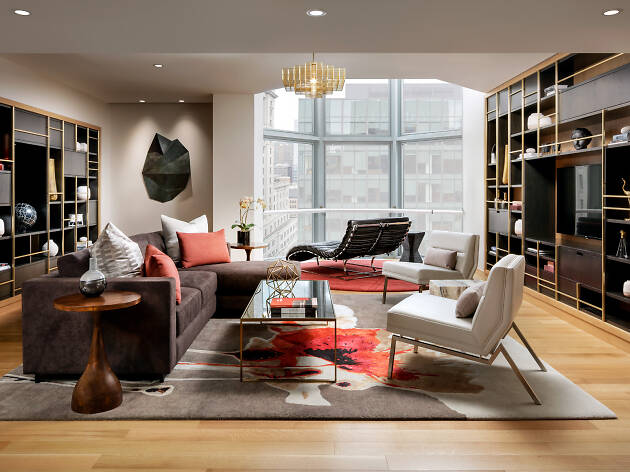 Photograph: Fairmont The Queen Elizabeth
Fairmont The Queen Elizabeth
It was deemed an innovator of the hotel scene when it opened in 1958 and—with its current renovations that include the signature bar Nacarat, restaurant Rosélys and urban market Marché Artisans for gourmet shopping—it continues to be an innovator today. We could also gush over their indoor pool or the mani-pedi services of their spa, but the rooms really are one of this hotel's top attractions, a full spectrum that reaches from humongous suites to simple-yet-effective singles. Music history buffs will especially appreciate staying at the John Lennon & Yoko Ono Suite, where they stayed in town on a hunger strike.
3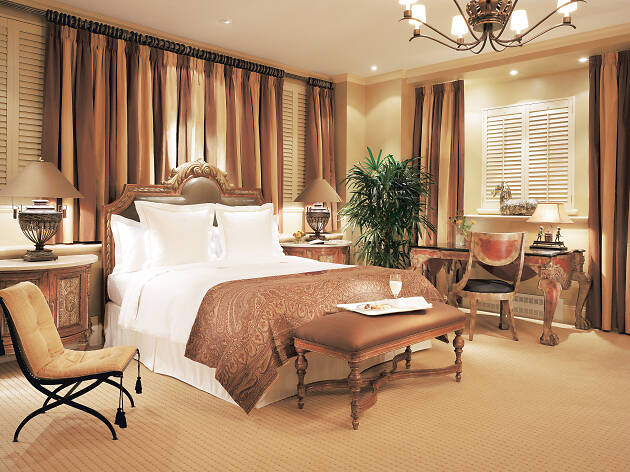 Photograph: David & Goliath
Until 2018 rolled around, we were quietly enjoying this hotel as a quality address hiding in plain sight, whether it was for its fin de siècle splendor, its Michelin-studded chef, the luxuriant room or its top-shelf bar. Then the laudations came, and with them, the reservation book was regularly filled. There's little to find fault in with this Old Montreal institution, from the deft hands of their masseuse to the embroidery of their bathrobes. For some real swanky feels, ask if one of their Heritage suites are free during your dates.
4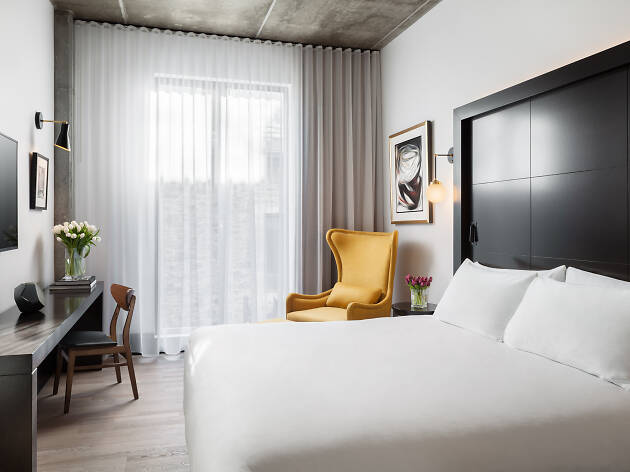 Photograph: Hôtel William Gray/Charles Lanteigne
This one goes out to all 21st-century creatives and blossoming luddites: A boutique hotel set in Old Montreal, this location is fitted with the Living Room—a lounge equipped with a bar, billiards, books and a vinyl collection—in addition to two rooftop bars and a restaurant heavy on charcuterie and surf and turf. All of this might scream the ideal gentlemen's club, but when you consider how locals like to pop in for a photoshoot now and then, there's nothing exclusive about this one in the slightest.
5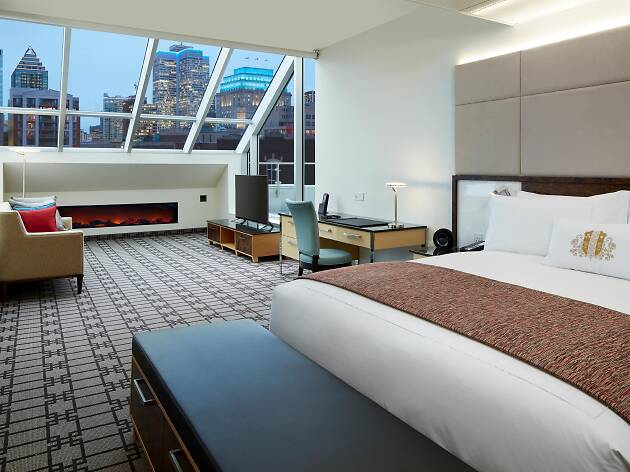 Photograph: Hôtel Le Mount Stephen
Set in a 1920s-era social club with all its classic opulent fixtures and façade intact, this space has been revamped with modern touches like chromotherapy showerheads, a body treatment spa, and the occasional private terrasse with your room—the truly adventurous should request their two-floor Sky Loft suites with features like fireplaces panoramic views of the city. It's a good hotel to meet Montrealers and travelers alike as well, as the hotel sports Bar George, one of the hotter spots in town for brunch and British fare.
6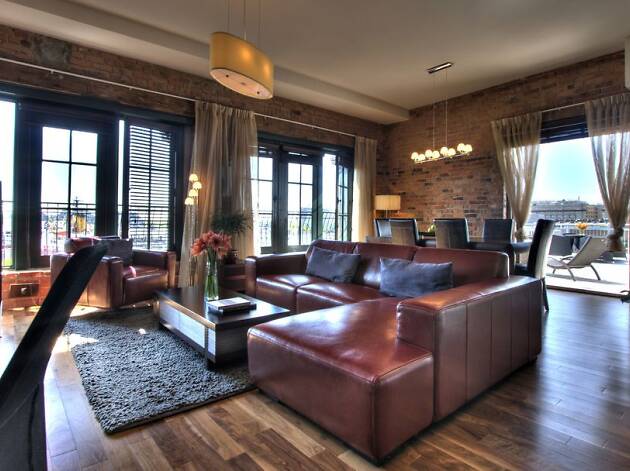 Photograph: Hôtel Nelligan
Enjoy a surprising level of privacy from the rooms of this hotel, equipped with features like exposed brick façades, plush down beds and bathrooms with walk-in showers or jacuzzies. We say 'surprising' because of how quiet rooms can be in relation to this hotel's central location in the heart of Old Montreal. It's smack dab on the restaurant and bar-riddled Saint-Paul Street, and topped with one of the hottest rooftop bars in town, Terrasse Nelligan. Once the International Fireworks Festival gets started, it'll only sound like someone's hitting a speedbump two streets over.
7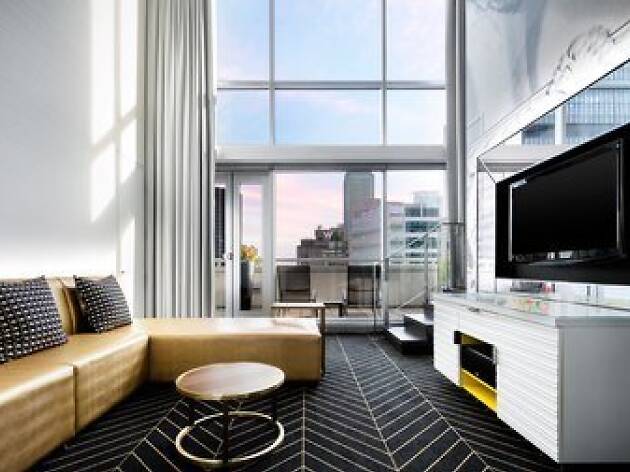 Photograph: Courtesy Yelp/W Montréal
Party-goers look to the W for their limo services and noshing opportunities at its gin-heavy bar and French/pan-Asian restaurant, if not the rollaway bed options for friends at only $40 a pop. That said, it's got that sleek look a lot of younger travelers like in the hotel industry's nouvelle vague, but this hotel's got just as much going for it in the family department as well. Cribs and play yards for the kids, pet-friendly rooms, babysitting services and memory foam pillows for tired parents. Whichever route you're taking, their package offerings are on point.
8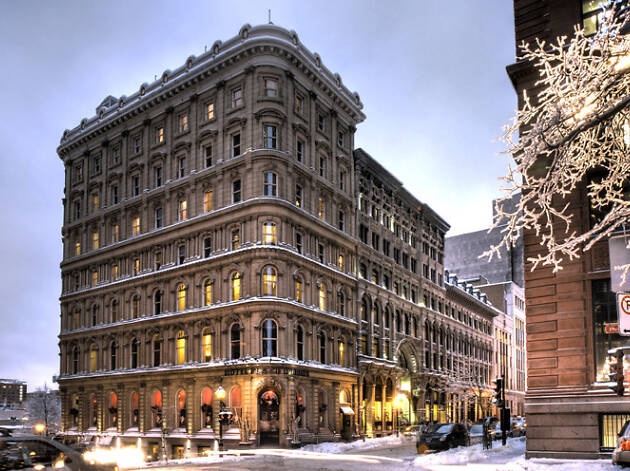 Photograph: Le Place d'Armes Hôtel & Suites
Spread out over four 19th-century buildings of masonry and carvings on the outside and a more-than-accommodating range of rooms and services on the inside, it's easy not to leave this hotel once you start your stay. You could close the curtains and kick back in your room, sure, but there's a lot more to enjoy: Some of the city's best sushi and sake pairings at its izakaya Kyo, sweating it out in its hammam, or drinks at its bar Terrasse Place d'Armes, one of the finer elevated establishments in Montreal.
9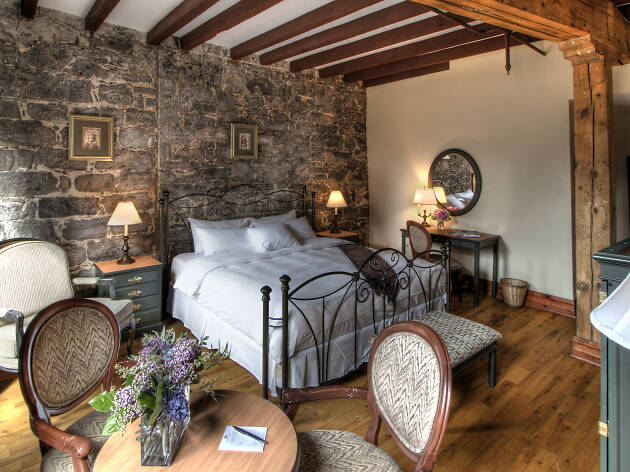 Photograph: Auberge du Vieux-Port
It's got all of the old-world charm you want in its Old Montreal neighbourhood, from its refurbished 19th-centruy warehouse exterior to the picture-perfect views it offers. At 45 rooms, it's one of the more plainspoken boutique hotels in the city in terms of size, but that doesn't mean it's lacking; while the deluxe and signature accommodations feature sheik pairings of antique furnishings with modern touches of hospitality, their most luxurious rooms will come with electric fireplaces and expansive bathrooms for the best romantic getaways.
10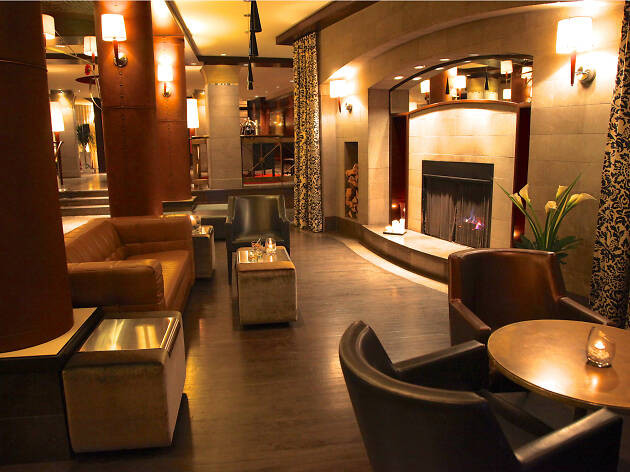 Photograph: Hôtel Le Saint-Sulpice
For one of those quintessential Old Montreal experiences, you book at this hotel that combines the cobblestoned charm of its neighbourhood with deluxe touches: Knowledgeable concierges, in-room massages and spa packages. Either relax in a suite with your French doors thrown open, out in the hotel's courtyard or head out for a night on the town; the prime location here puts it within walking distance of hotspots like Place des Arts and Downtown.
11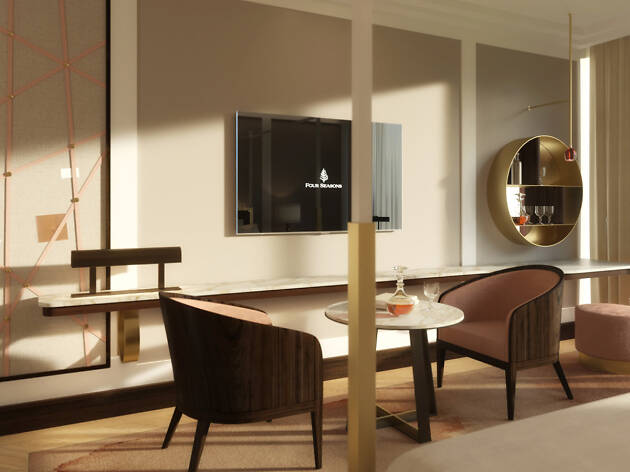 Photograph: Four Seasons Hotel Montreal
Four Seasons Hotel Montreal
Vying for a spot in the pantheon of luxury hotels in Montreal's Golden Square Mile, this property includes a heavy amount of detail in its design and décor, its all-day lounge and bar MARCUS headed by chef Marcus Samuelsson, and its hydrotherapy spa. Guest rooms and suites here are only the tip of the hospitality and entertainment iceberg; just wait until you check out events in the Palais des Possibles ballroom or its Presidential Suite where the word 'spacious' doesn't begin to cut it.
12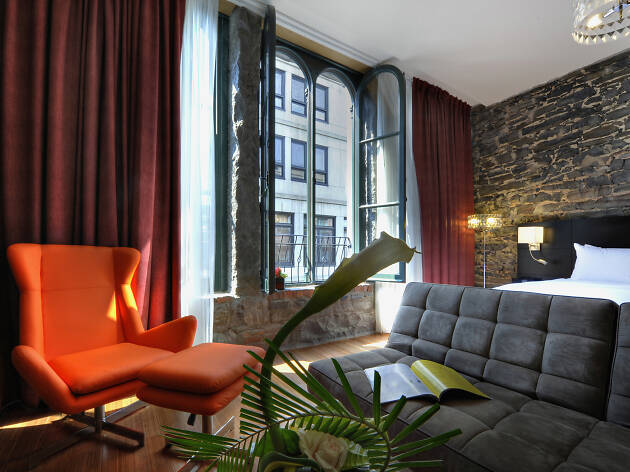 Photograph: Le Petit Hôtel
A little establishment with a big heart, this is an Old Montreal classic that sports both a strong minimalistic aesthetic and a lot of substance. This one comes strongly recommended for anyone looking for more urban glamour in their hotel experience. You can either lounge window-side in your pristine room with its custom furniture after the continental buffet or get caffeinated while consulting their concierge-baristas on what's happening in the area that day.
13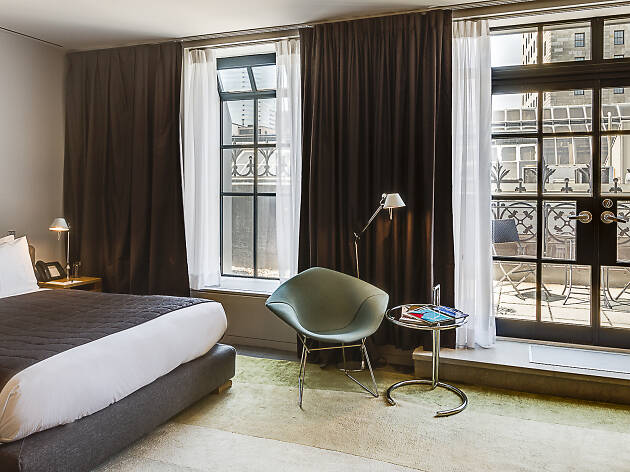 Photograph: Hôtel Gault
Luxury needn't always be overwhelming and splendiferous. That's why we hold a special place in our hearts for this boutique establishment and its wide range of chic apartment-like arrangements. Keep it simple with a light breakfast or lunch by day and follow it up with a trip across the surrounding cobblestones of Old Montreal in the evening, or take in the night air from your room's private terrace over an ordered bottle of bubbly. Extra points go to the heated floors of their bathrooms.
14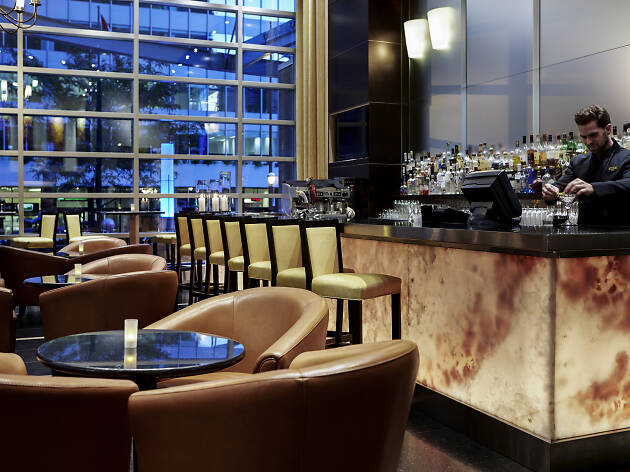 Photograph: Sofitel Montréal Le Carré Doré/ABACApress/Gilles Lauzon
Sofitel Montréal Le Carré Doré
Were there one luxury-level hotel to claim the spot for being the most geographically central in the city, this one's it. Down the hill from Mount Royal, a stone's throw from attractions like the Musée des Beaux-Arts and up the street from prime nightlife, booking here just makes visiting Montreal easier. That is, if you want to leave: Check out their romance packages with bubbly and breakfast brought to the room, or meet some strangers in their restaurant and bar that act as the crossroads for many of the city's business crowds.
15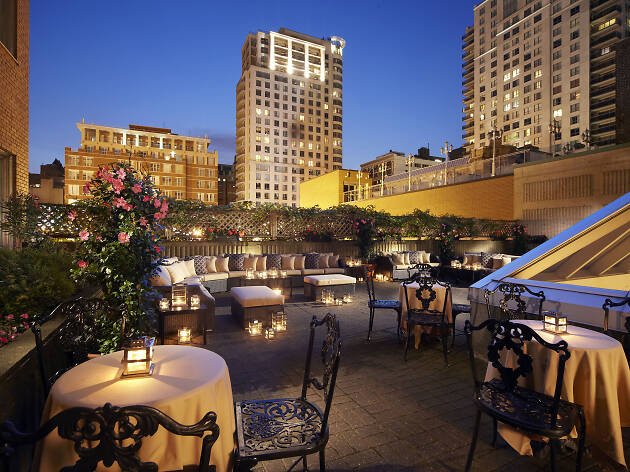 Photograph: Loews Hôtel Vogue
Utility with style is the name of the game at this downtown hotel that best caters to the international jet set and anyone looking for easy access to nightlife hotspots. It's particularly perfect for anyone passing through town, especially when considering the 24-hour fitness center to get pumped before that meeting or accumulating dining credits applied to your account with every passing day. Come summer, look into their golfing hookups; in the winter, go for the skiing.
More great hotels in Montreal
Staying at the best cheap hotels in Montreal means more to spend on the things that matter, like drinks and dining.
Dog parks, open-air venues, vintage shops—find your perfect neighborhood with this guide to Montreal's best enclaves.