As restaurants shift to takeout and delivery in Montreal, new dining and ordering formats are taking place. Enter the pop-up Baby Duck—a group made up of sommelier Renée Deschenes and the chefs Marc Villanueva, Louie Deligianis and Blake Hickerson—running a small bakery of fresh breads (with the occasional pastry or dessert) and feel-good food at September Café in Saint-Henri.
Currently on the menu: A selection of hand-mixed, small-batch baguettes, sourdough, and sprouted spelt loaves; ham and cheese sandwiches; ready-to-bake garlic bread; gooey butter tarts for dessert; and specials of pork belly cubes with chili sauce on Fridays, plus sourdough-based crust, Margharita-style pizzas on Saturdays for the next two weeks. And when that crust is brushed with oil and a touch of salt? Amazing; get it while it's hot.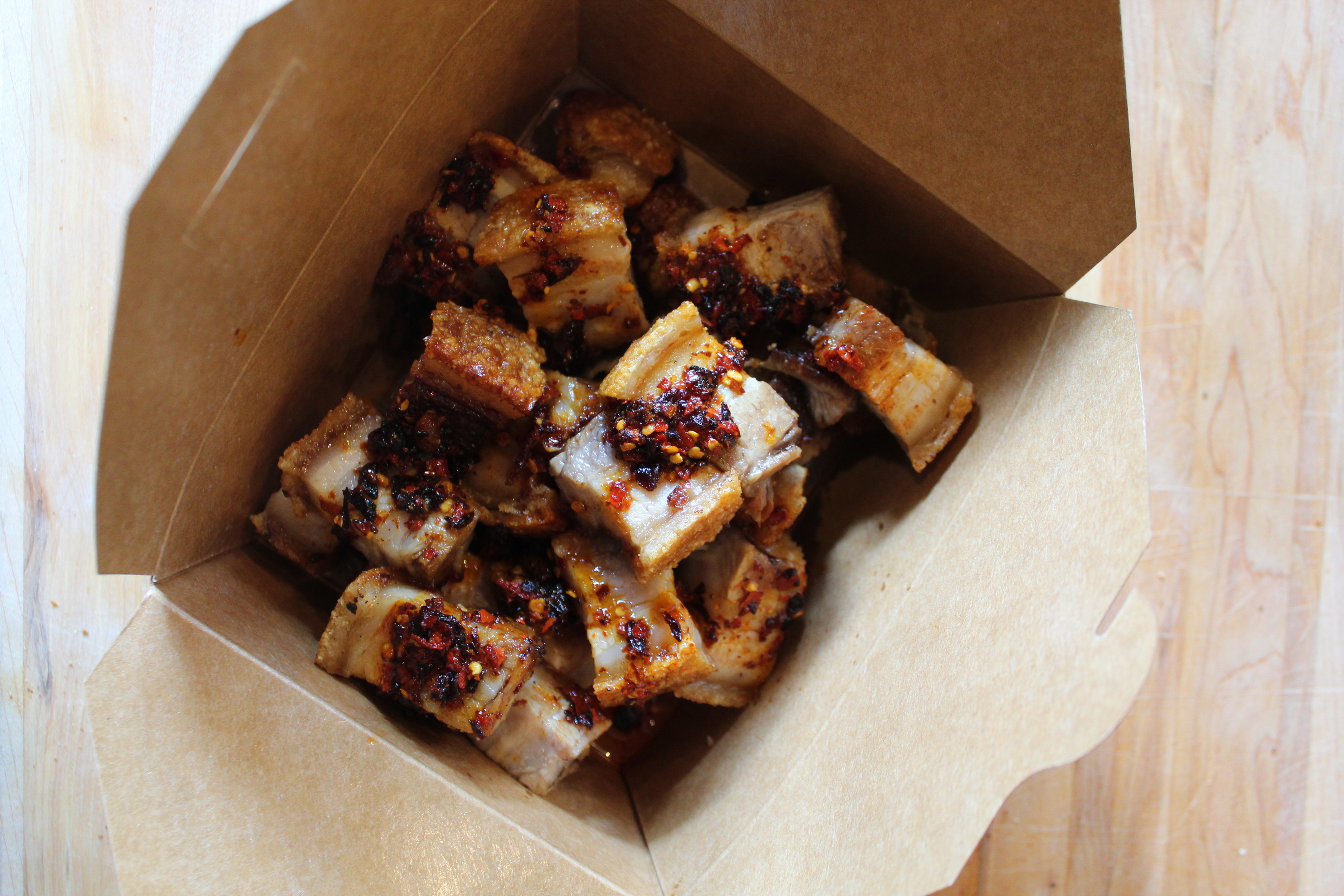 As September Café's made its menu available, the beer and wine they sell is also up for grabs, so Deschenes suggests grabbing their Rosato 2018 from Ottomani if you're picking up some ham & cheese sandwiches, or the Catavela 2018 from Denavolo if you're grabbing a pizza. Given the proximity of the Lachine Canal close by, the operation becomes a one-stop shop for an afternoon or warm evening outside.
Three days before the Quebec government's order to shut down businesses across the province, Baby Duck had plans to steal the show at the Toronto restaurant Ten and planned for possibly opening its own place. That—heck, along with everything going on in the restaurant world right now—is up in the air.
For now, the efforts from Baby Duck in terms of comfort food and baking is a solid reflection of how the industry's shifting gears. "We dodged a bullet," says Deligianis on the previous plans to open. "I'm not accountable for a service (at September), but I can still make tasty things… Before, everyone was paying two rents, 18 people on staff, go, go, go… but now it's down to bare bones and it's running more efficiently. In some ways it's better."
Once things calm down, the team expects to be able to begin hosting private dinners like it originally started with. "This team (first) gathered around 12-seat dinners, four times a year," Deschenes told Time Out. Operating out of Villanueva's apartment, "we fashioned it into a makeshift restaurant where we'd do ten courses with wine pairings, Chemex coffee services, madelines."
"Just nerdy," Deligianis adds.
View this post on Instagram
It's a format that will likely be more commonplace than ever in the face of reduced capacity for time-honored restaurants. "The problem with restaurants before (the pandemic) happened," Deligianis explains, is that "they were all reaching past what they could deliver, which is why you can go to restaurant and not be satisfied with their experience because this guy didn't train this or that person properly," saying that a smaller team like a pop-up or personalized dinner services means more exactitude with no sacrifice in flavour.
Until then, the pop-up forges forward at September until further notice, but don't expect the same small menu every week when it comes to the bakery's hot side. Deligianis suggested hand-pulled soba noodles fried with chili, ginger, scallions, and a couple different kinds of mushrooms both fresh and fermented down the road, plus teasing the possibility of donairs beyond that.
Baby Duck operates out of September Café from Wednesday to Sunday, 9am to 3pm. Orders for baked goods can be placed via September's website, and Baby Duck can be followed on Instagram here.
Most popular on Time Out
- "Give us permission to save ourselves": Inside the struggle of Montreal's wine bars

- Where to buy face masks in Montreal
- When will schools reopen in Montreal?
- The Montreal Botanical Garden will now grow vegetables for food banks and offer gardening classes