Heads up! We're working hard to be accurate – but these are unusual times, so please always check before heading out.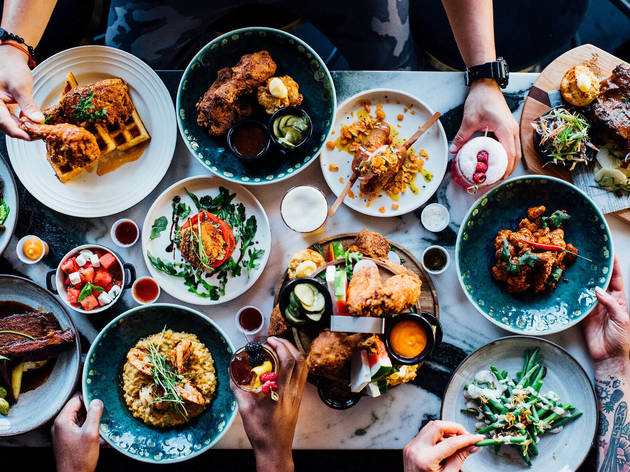 The ultimate guide to the best delivery and takeout in Montreal
Here are all the chart toppers for breakfast, lunch, dinner and dessert with the best delivery and takeout in Montreal
Many restaurants, bars, and cafés pouring out the best coffee have been either flipping into or upping their game as the best delivery and best takeout in Montreal, and we're all for spreading some of our Love Local spirit by sharing our research. Montrealers are in part defined by our enjoyment of going out and eating; our relationship with eating exceptional food means that while we can't enjoy one another's company in a sit-down setting right now, we'll still stay hungry for the best. Fortunately, many of the city's top names for stuff like the best pizza, best ramen and more (including access to some of the best wine cellars in town) are still serving to make our time spent behind closed doors feel a bit more civilized. If you really want to mix things up, try any one of the restaurants with the best new delivery and takeout in Montreal.
RECOMMENDED: Full guide to the best restaurants in Montreal
BREAKFAST AND BRUNCH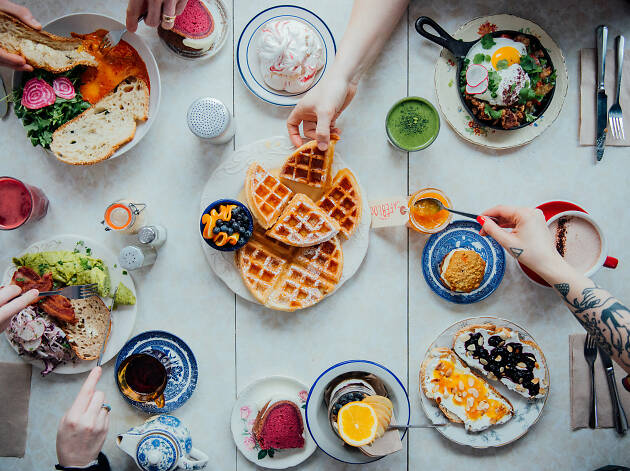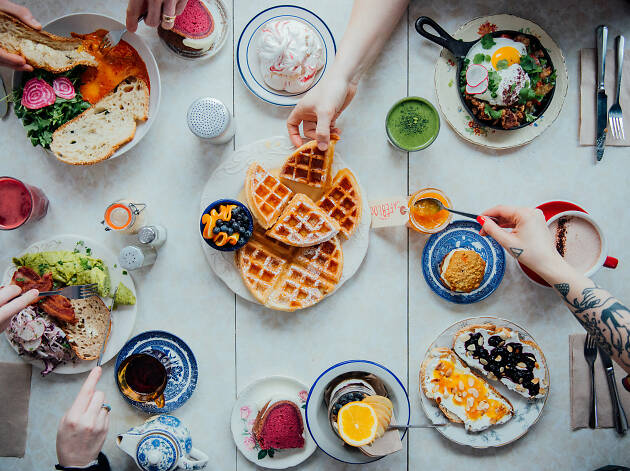 Photograph: Two Food Photographers
The most important meal of the day, here's where you can find the best delivery and takeout for breakfast in Montreal.
Breakfast and brunch delivery and takeout in Montreal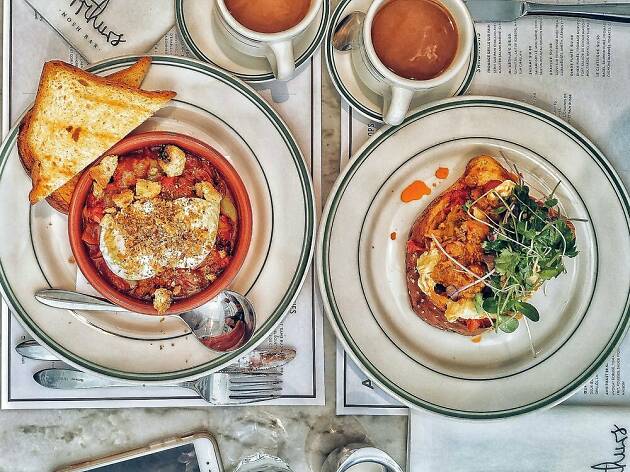 Photograph: Courtesy Yelp/Cheryl Y.
Since May 15th, Montreal's premiere Jewish style nosh bar is up and at it again with breakfast and lunch, plus weekly brunch specials. Finally, we can all dig into McArthurs sandwiches again or luxuriate in one of the best brunches in town. Available for takeout or delivery via Uber Eats or Skip The Dishes, Wednesday to Sunday, 9am to 4pm.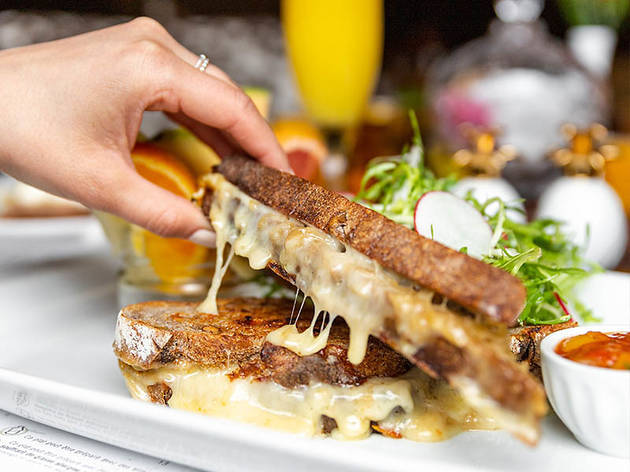 Photograph: Café Regine / reginecafe.ca
The unforgettable breakfast and brunch experiences we'd gladly line up for in Montreal are back—both of them. The combined forces of Regine and Janine have both the north and south sides of the city covered Wednesdays through Sundays with orders beginning at 7am, takeout between 9am and 2pm. Bonus: Get a 10% discount on your order when it's placed on their website (link below) with the code SPRING10.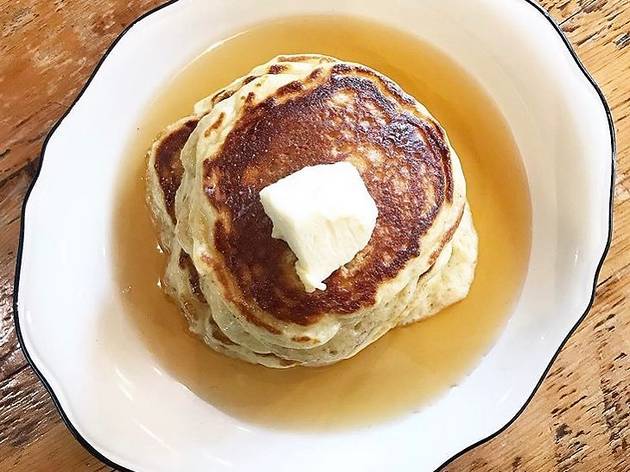 Photograph: September Surf Café / @september_surf
Now open with a takeout counter, order up a bunch of coffees and pancakes or breakfast sammies for you and your beau/roommates/that post office worker who's bringing you your retail therapy every week. They've also got lunch options for later in the day which can be paired with some beers to go.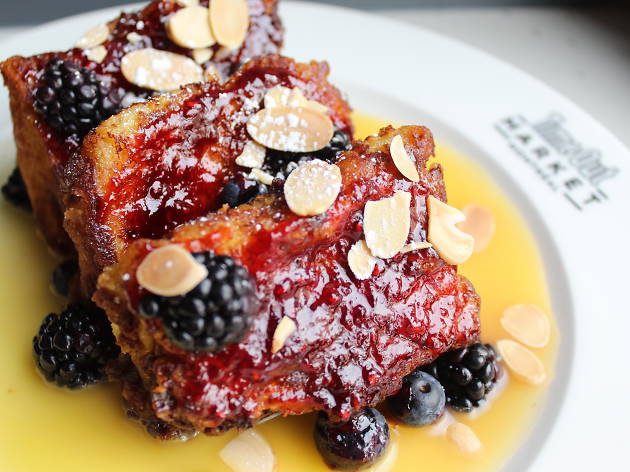 Photograph: JP Karwacki
Hof Kelsten rides again with meal kits, freshly-baked breads, desserts and a range of groceries that are all available for pick up or delivery for $8 (if you live within 8km of their Mile End location). Grab some snacks, plan for dinner and get equipped to do some baking of your own here.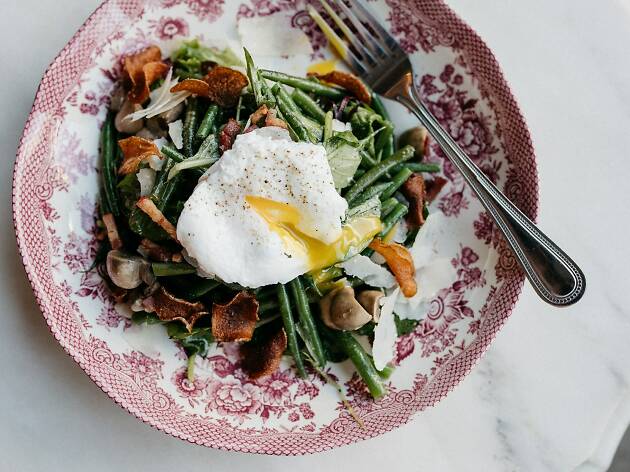 Photograph: Laurie-Anne Thuot
It's important to draw attention to this restaurant for its brunches, pastries, ready-to-go meals for families and a sturdy selection of wines to pick from. Open from Wednesday to Saturday from 9am to 4pm, takeout only.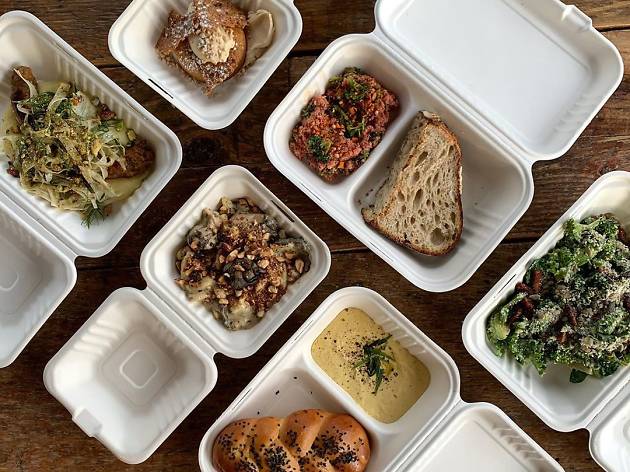 Photograph: Hélico / @helico.mtl
The Hochelaga café is still serving the neighbourhood's best coffee in addition to offering its full menu for takeout.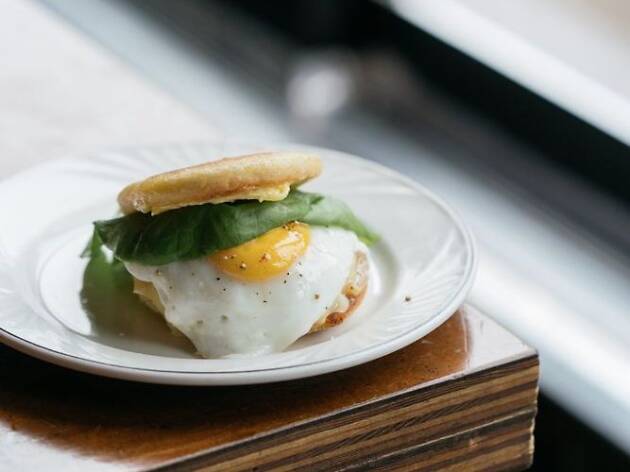 Photograph: Courtesy Yelp/Larrys
Take one of the infamously good breakfast sandwiches to go, or really anything from the extensive menu. Takeout only for now, but delivery is in the works.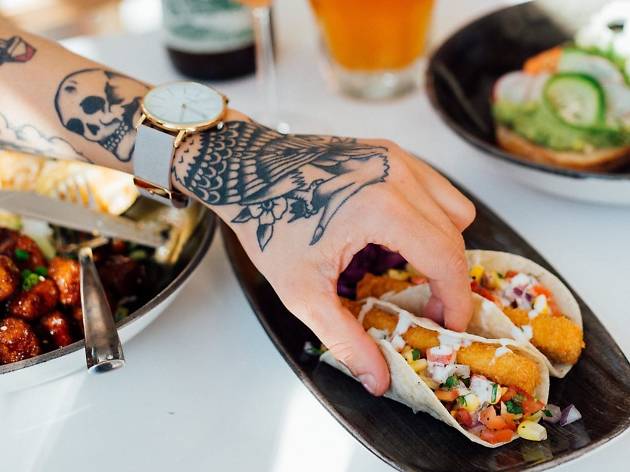 Photograph: Courtesy Tendresse
Enjoy their takeout menus for any time of day, but the brunch is among their best offerings available for takeout and delivery via Uber Eats and DoorDash.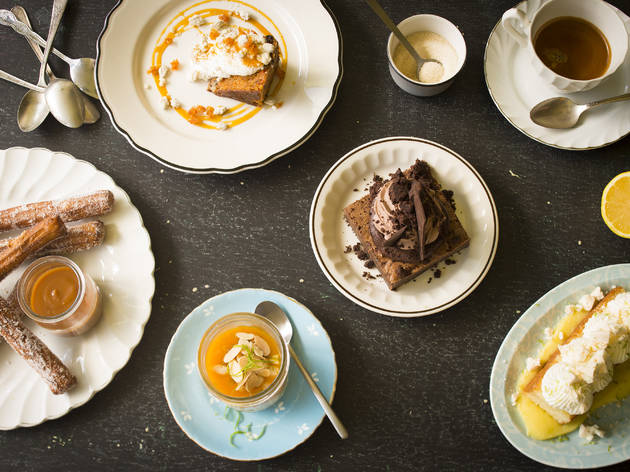 Photograph: Hans Laurendeau
We'll recommend these guys for dinner any day of the week, but the brunch can be ordered as well; just be sure to order up for pick-up a day in advance and note that delivery's only available onSaturday evenings.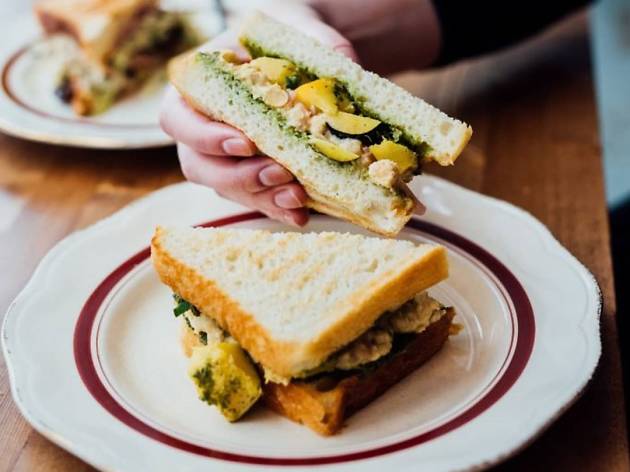 Photograph: Comptoire Sainte Cécile / @comptoirsaintececile
The gourmet takeout counter is still operating at full scale, with the exception that no eating is permitted on premises (obviously).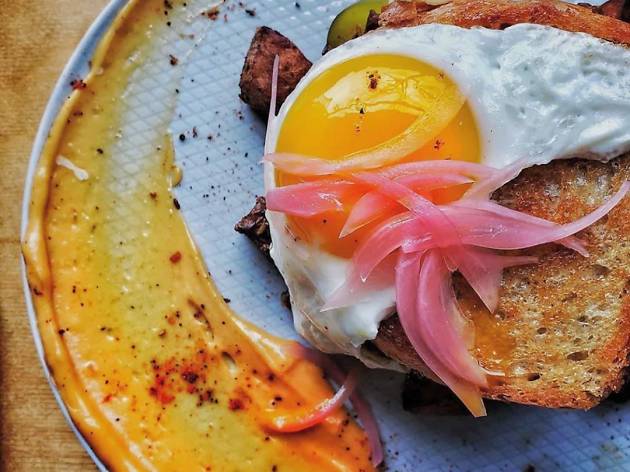 Photograph: Well / @restaurantwell
Feeling brunchy in Verdun? Brunch mecca Well is offering their full menu for takeout or—if you live in the neighbourhood—for delivery too.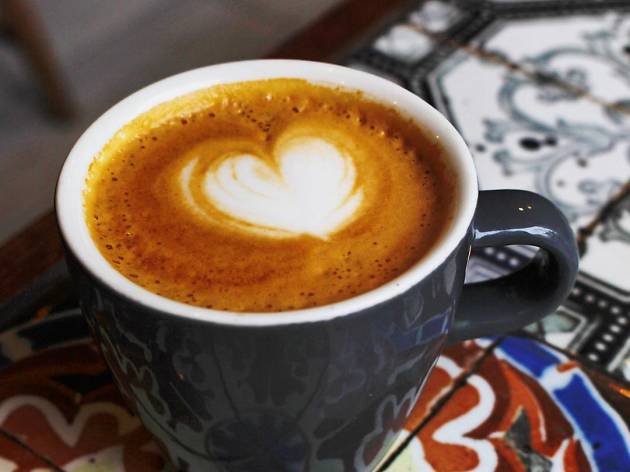 Photograph: Cordova / @cordova.st.henri
They're offering take out coffee as well as stocking your provisions for coffee beans and alt-milks. They're also offering free coffee for cooks, bartenders, servers, and anyone else that works in the restaurant industry that is currently out of work.
LUNCH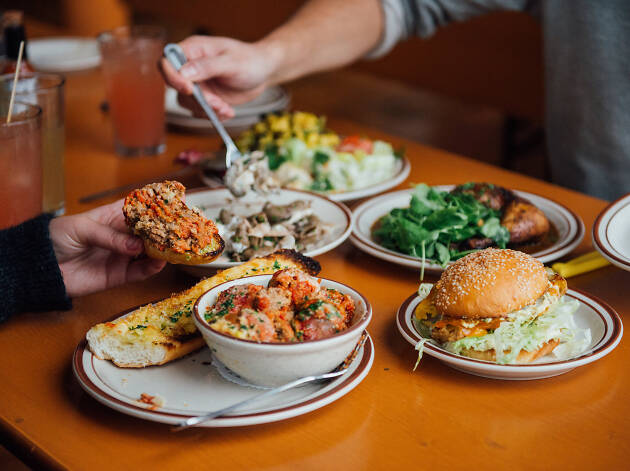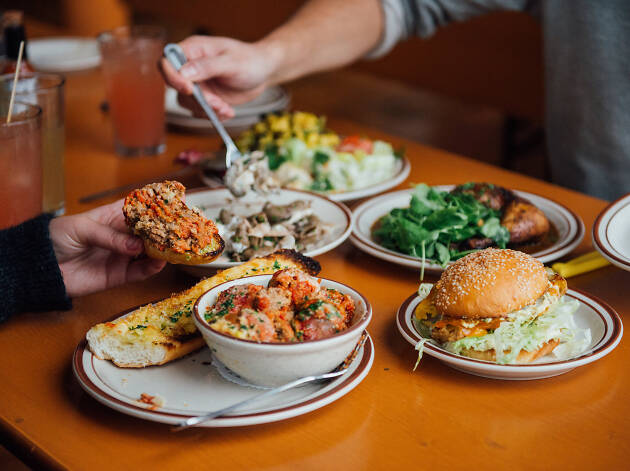 Photograph: Two Food Photographers
Hitting a midday slump? Use these options to get your hands on some of the best delivery and takeout for lunch in Montreal.
Lunch delivery and takeout in Montreal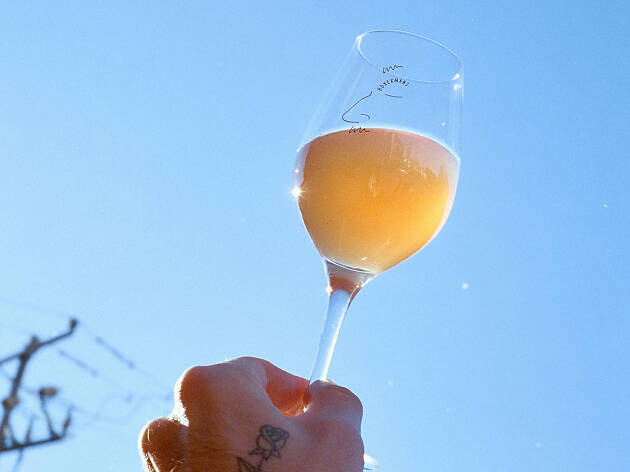 Photograph: Courtesy Boxermans
This snack-and-sip destination in Outremont has found itself retooling until further, but it's to more than a welcome effect: Sandwiches and supple wines to go during the day, ready-to-eat menus fit for kings during the evenings. Order up between Fridays and Sundays, 11am to 3pm, for takeout or delivery.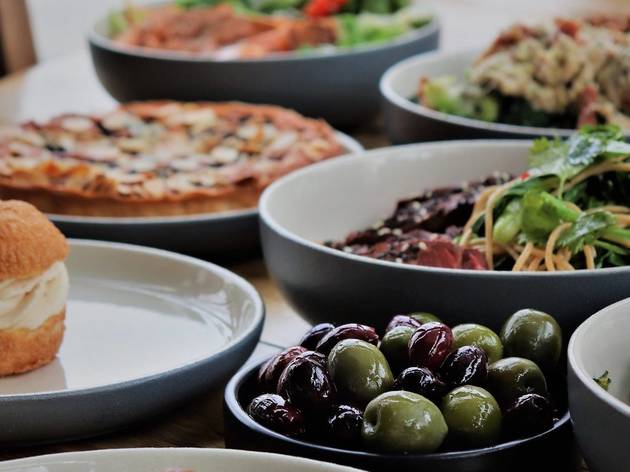 Photograph: Le Blumenthal / @leblumenthal
Up and open from their downtown location, this brasserie has a lot of light and easy snacking on offer from tartelettes and tartares to grilled vegetable dishes and canapé boxes (for when you have difficulty choosing). Place your order from Monday to Friday, 9am to 1pm, for takeout the next day.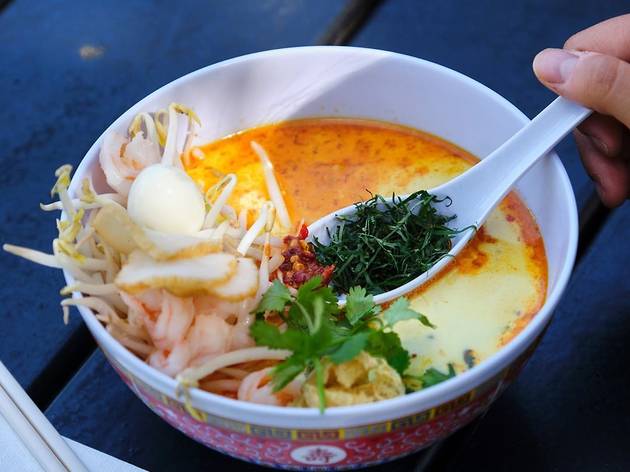 Photograph: Satay Brothers / @sataybrothers
Open for takeout, Satay Brothers is making the menu of irresistible steamed pork buns, fried noodle dishes, papaya salads, spicy laksa soup (extra sambal plz) and more now available.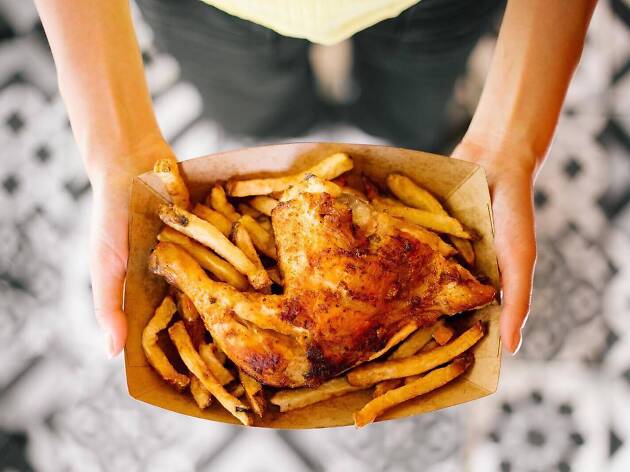 Photograph: Campo
Portuguese chicken to the front: The Ferreira Café-associated operation on Maisonneuve Boulevard is open and ready for your takeout and delivery orders.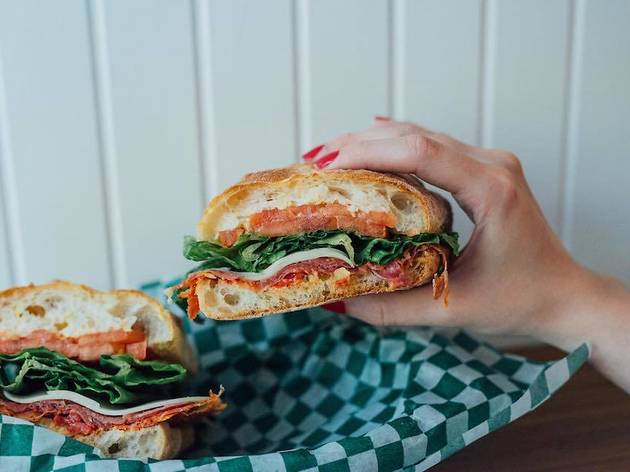 Photograph: Clark Café
Available for pickup by phone or delivery through Uber Eats, Clarke Café's sandwiches and sides of arancini are up for grabs right now—oh, and they have stellar coffee if you need a midday pick-me-up too.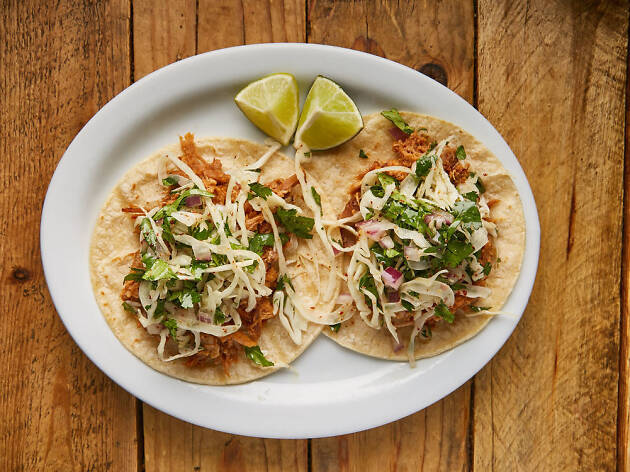 Photograph: Mickaël A. Bandassak
The southwest taco hub is offering pre-assembled meals kits for takeout, and they've made their wine cellar available for takeout as well.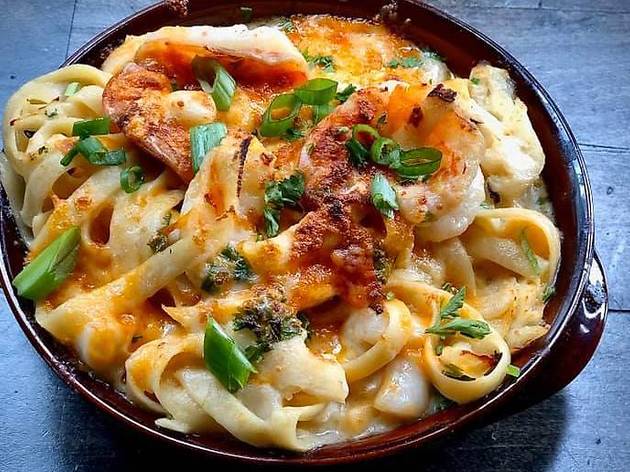 Photograph: Lord William / @LordWilliamPub
Pub grub gets a serious upgrade at this Griffintown-based operation. Available all week long from noon to 9pm, a full selection of classics—burgers, tacos, poutine, fried chicken, brisket platters—are on offer. Beer and wine can also arrive with your order; you know, the kind of stuff you can't get at the dep and won't wait in lines at the SAQ for.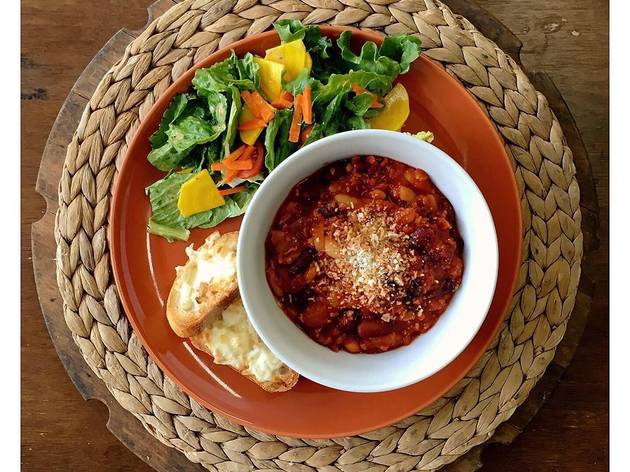 Photograph: Centrale Culinaire / @centraleculinaire
Ready-to-eat meals are constantly shifting at this co-op kitchen in the Mile End, and that helps to keep things interesting—all going for a song. Grab fresh vegetables, spreads and meals at their website, as well as some local preserves and products to snack at all week long.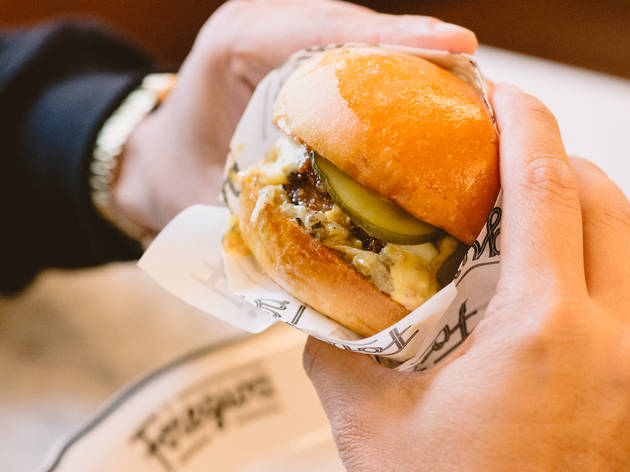 Photograph: Elizabeth Gartside
With Foiegwa hunkering down at its restaurant group's newest pizza joint in Pointe Saint Charles, they and Fugazzi are making their menu full of Italian eats (plus those awesome burgers) up for takeout or delivery through Door Dash or Uber Eats.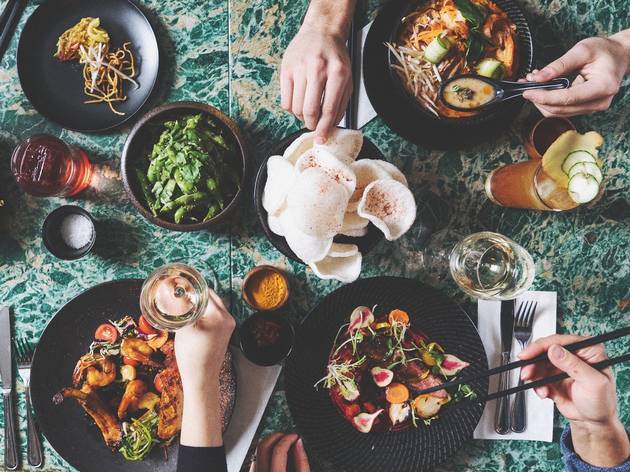 Photograph: Restaurant HÀ / @RestaurantHa
The Thai-forward restaurant with its two locations in the Plateau and Old Montreal's back in the saddle for delivery and takeout from Wednesday to Sunday, 5pm to 9pm. A mixture of pho, pad thai, fried chicken burgers and a couple bottles of wine never hurts—especially when it's this good.
Photograph: Poincaré / poincarechinatown.com
Interestingly—alongside some beer and wine offerings—Poincaré in Chinatown is doing canned delicacies that don't require more that popping the top and chowing down.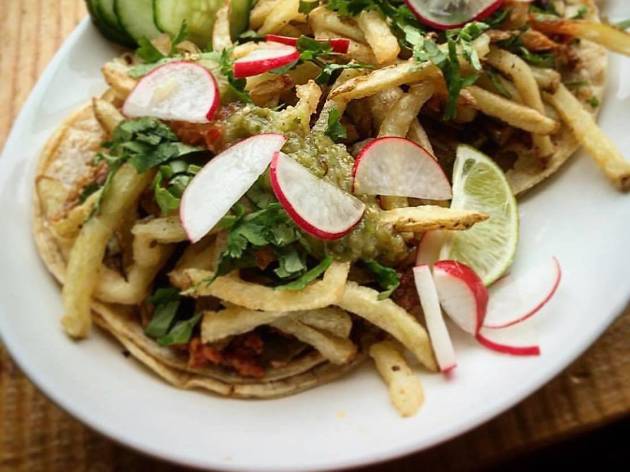 Photograph: @_martinwagner_ gracias
One of Saint-Henri's biggest claims to taco fame is ready to dish our their singature fry-covered tacos to the masses via delivery or takeout. Few spots get as cheap, filling and as delicious as this when it comes to best Mexican restaurants—or just the best tacos period—in Montreal. Just be sure to ask for extra hot sauce if you want it with a couple Jarritos.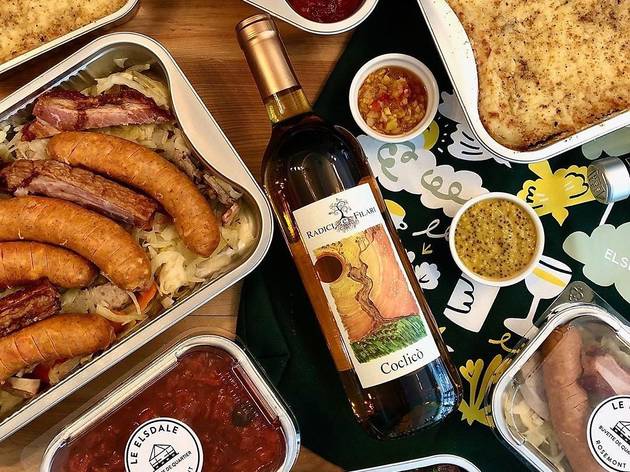 Photograph: Café Elsdale / @le_elsdale
Offering delivery from Wednesday to Saturday (so long as you place your order before midnight the day before), ready-made dinners, brunches and pastries are on offer from this Villeray favourite. Oh, and wine and a foodie boutique are up for grabs here too.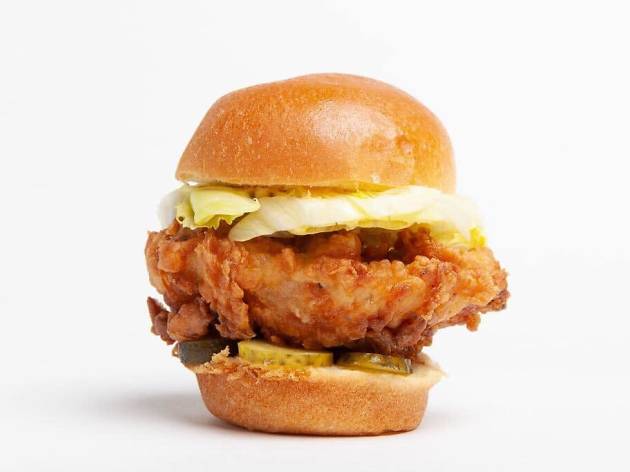 Photograph: Xavier Havitov
The Van Horne newcomer's super-crispy fried chicken is available for takeout and for delivery.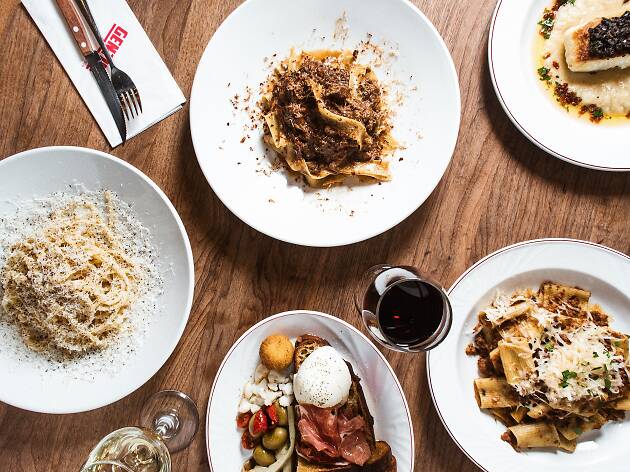 Photograph: Ève Bastien-Rouleau
Italian eats to the front with one of the best places for pasta in Westmount: Café Gentile. Open for delivery and takeout with catering and groceries available, a substantial amount of their menu is up for grabs: Breakfast, sandwiches, pasta and house creations given you more than a dozen reasons to order up. If you're going by to pick something up yourself, be sure to grab coffees and/or the house ice tea; Westmounters go crazy for it.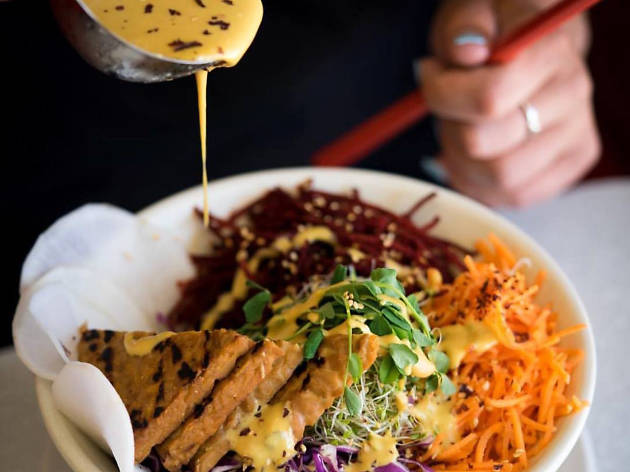 Photograph: @auxvivresplateau
Montreal's vegan claim to fame has its grocer side up and running, but its range of sandwiches, soups and more are available for order as well.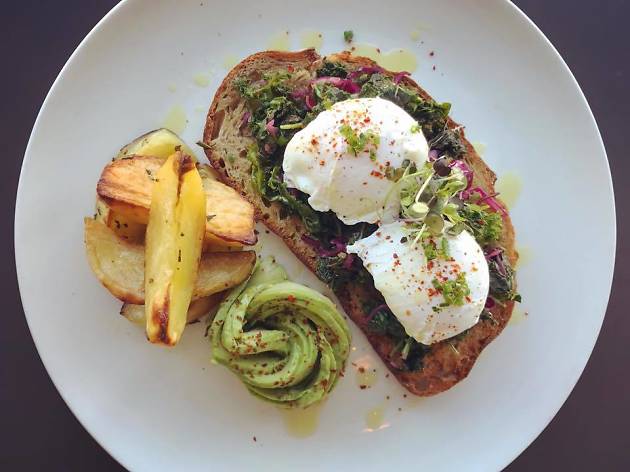 Photograph: Restaurant Santa Barbara / @restaurantsantabarbara
A refreshing salad, filling plates of pirogies, labneh on sourdough toast and more are available for takeout and delivery alongside a range of beers and wines.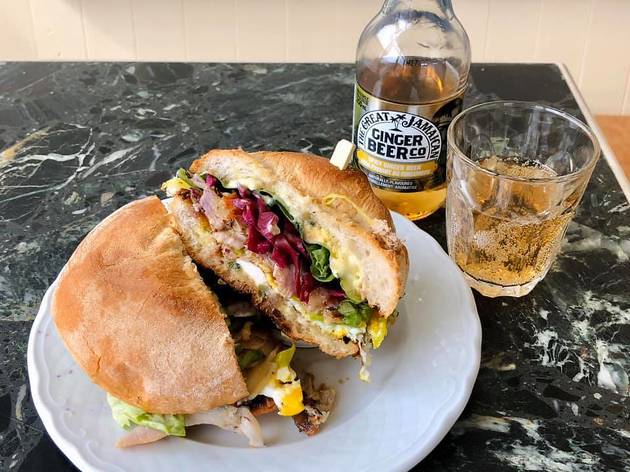 Photograph: Lundis au Soleil / @Lundisausoleil
Available for takeout, take a look at their range of soups, salads and sandwiches or opt for something heartier like the plancha-cooked chicken.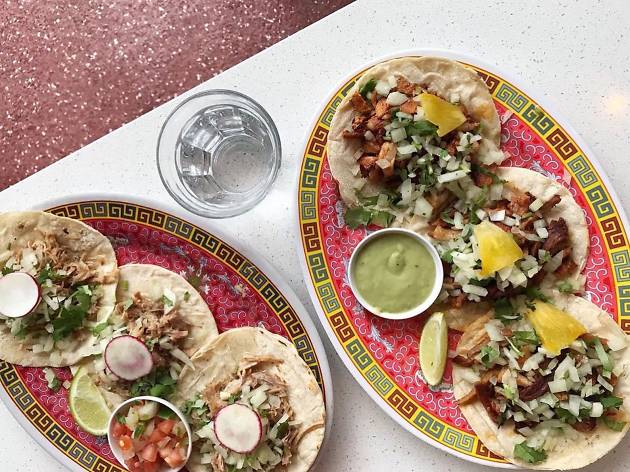 Photograph: La Capital Tacos/@montrealtacos
Pickup or order for delivery via Uber Eats some tacos for a change; take note that there's a special menu at a reduced price for families of four or more.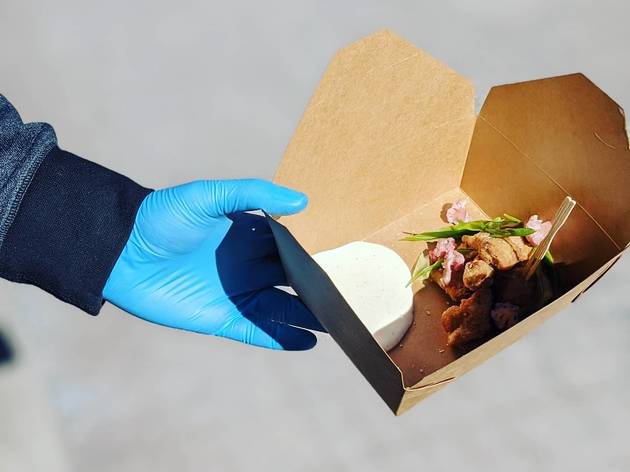 Photograph: La Prunelle / @RestaurantLaPrunelle
Suitable for both lunch and dinner, La Prunelle is making street food versions of their food with takeout options like grilled octopus and pancetta-mushroom on sweet potato bread for cheaper than usual.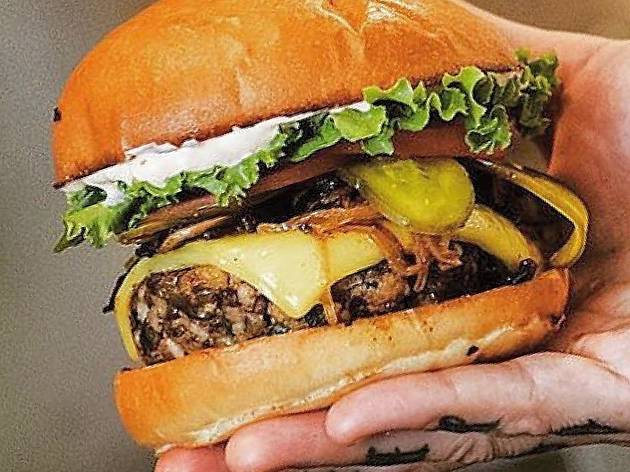 Photograph: Mimi & Jones / @mimiandjonesdiner
Sometimes lunch brings on some snack bar cravings; why not get it while it's hot AND vegan? Fries, burgers, milkshakes—you name it. Uber Eats gets it to your doors in little time.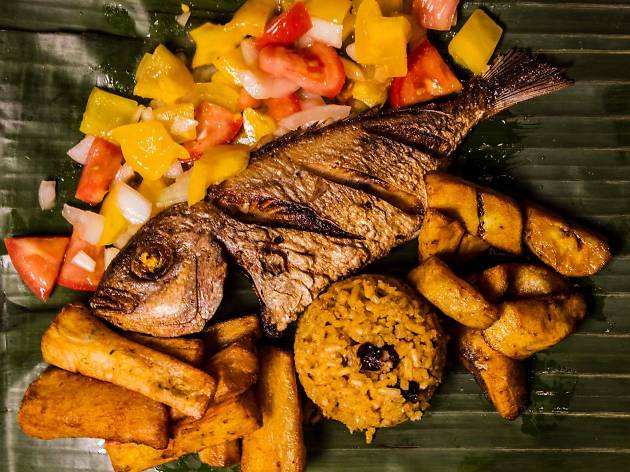 Photograph: Maquis Yasolo / @MaquisYasolo
Caribbean eats from one of the freshest names on Saint-Henri's restaurant scene are set up for delivery via Uber Eats. Make sure to look into the wraps and donuts, stuff's divine.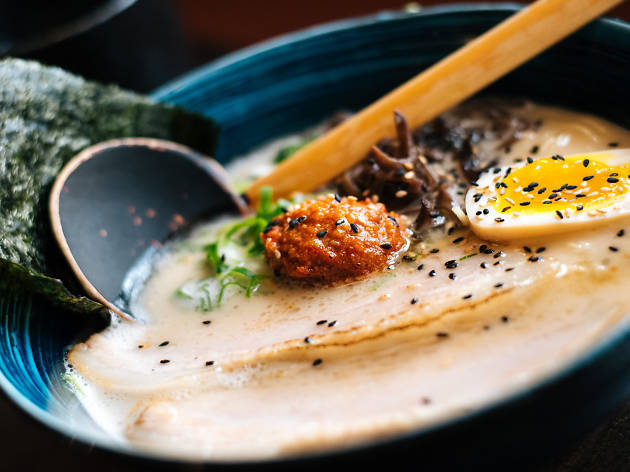 Photograph: Yokato Yokobai / http://www.yoka.ca
Ramen and karaage is available for pick-up or delivered right to your door via Skip the Dishes (remember to look up Ichiho Ichie to find them).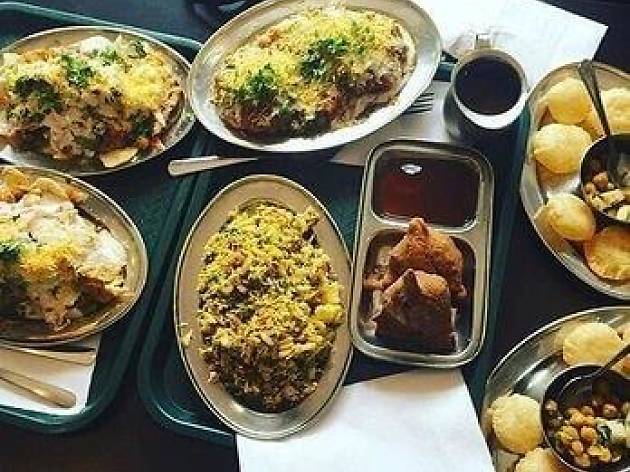 Photograph: Thali / @ThaliCuisineIndienne
The Downtown Montreal lunch counter is operating as usual with counter service to go with some of the best cheap eats in Montreal, but their delicious curries and excellent samosas are all available for delivery via Uber Eats.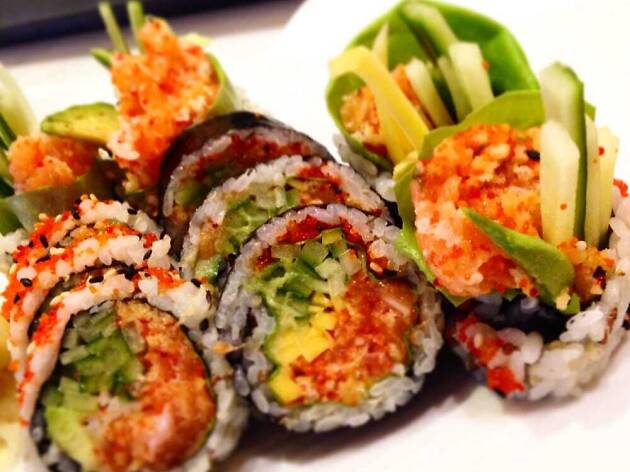 Photograph: Courtesy Yelp/Liz L.
The east Plateau darling sushi spot is offering their entire menu for takeout. We especially like the scallop tartare and new-style sashimi.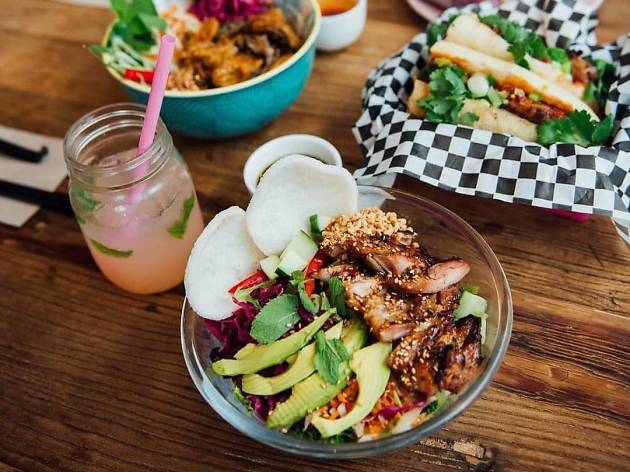 Photograph: Two Food Photographers
Delicious bun, pho, and bahn mi are available for takeout at all Petit Sao locations and for delivery via DoorDash, Golo and Uber Eats.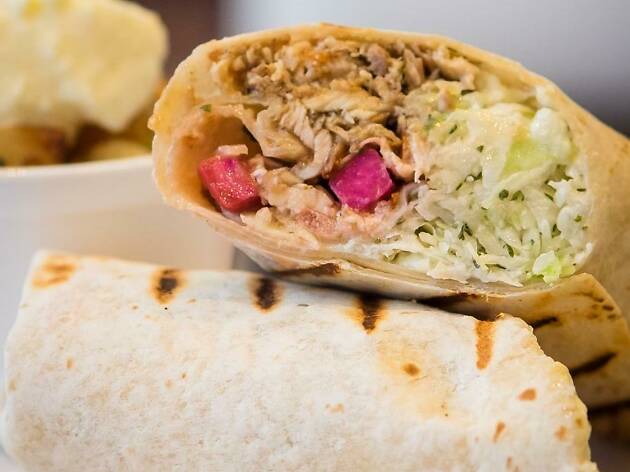 Photograph: Courtesy Boustan
One of the best names for shawarma and falafel in town is offering its Lebanese delicacies for takeout at all of its locations and delivery to most areas of the city.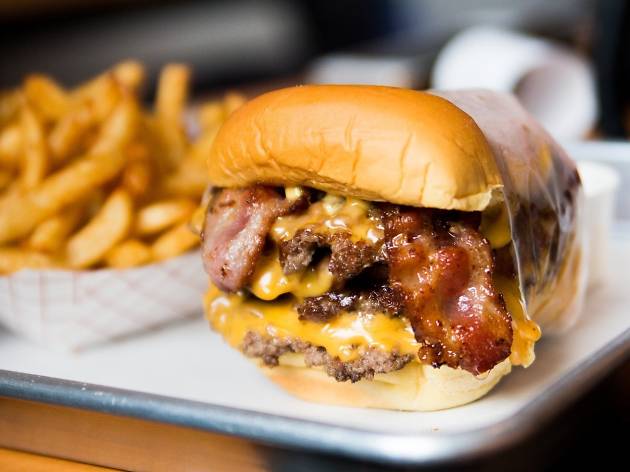 Photograph: Uniburger / uniburger.com
Sometimes nothing but a burger will do, and few burgers get better than a Uniburger burger. Burgs, fries and shakes are all available for takeout.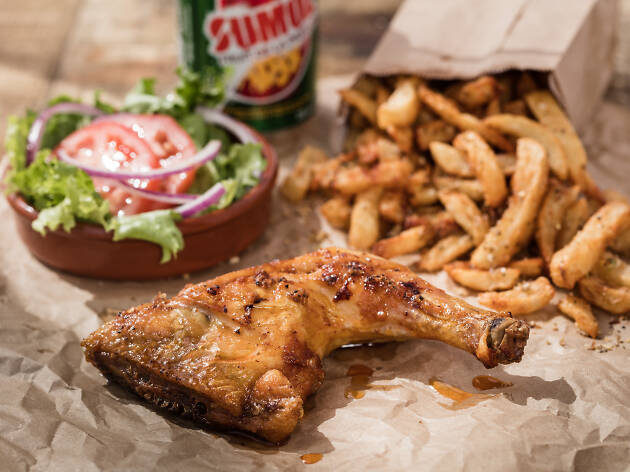 Courtesy Romados
The undisputed champ of the Portuguese chicken in Montreal game is as always offering its charcoal roasted birds and addictively seasoned fries for takeout and delivery.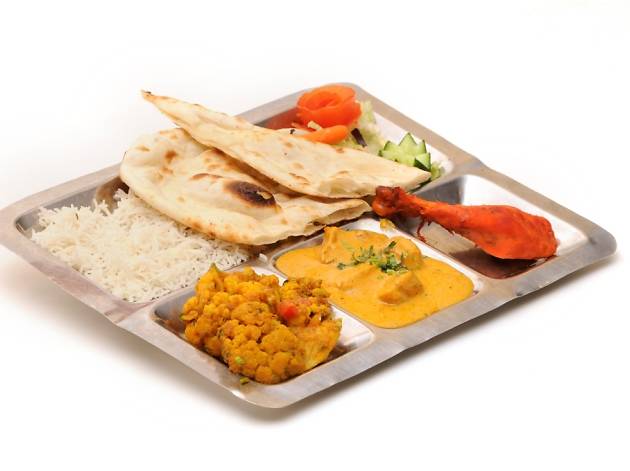 Photograph: Bombay Mahal
Little India's pride and joy has their whole menu available for takeout and delivery, from a sumputous sag paneer to creamy butter chicken. If you want the full package, order up a thali.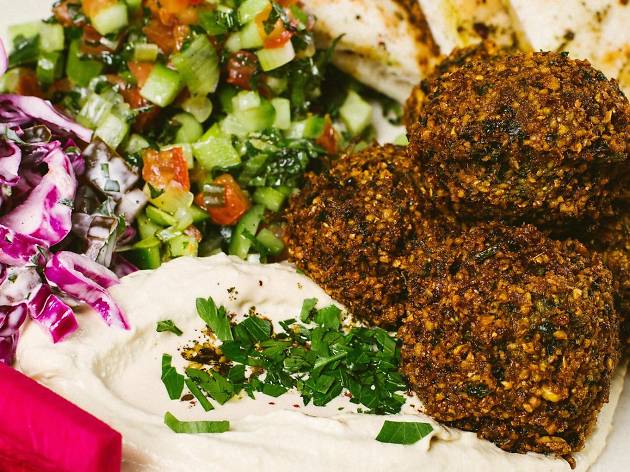 Photograph: Sumac / sumacrestaurant.com
St Henri's finest Middle Eastern eatery is serving their incredible eats like falafels (and just-as-good-if-not-better hummus) for takeout and delivery.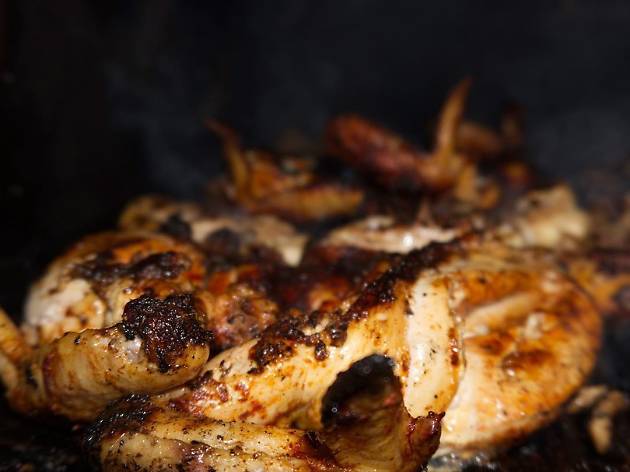 Photograph: DJ Poulet / @djpouletmontreal
Congolese roast chicken, attieké (fermented cassava) and alloco (fried plantains with chile) can be delivered to your door via Uber Eats.
DINNER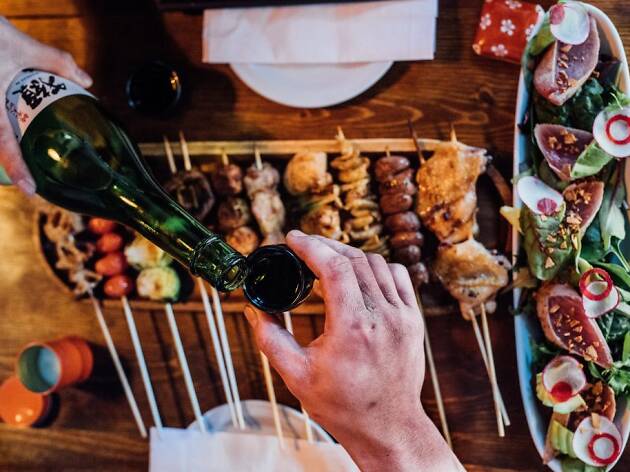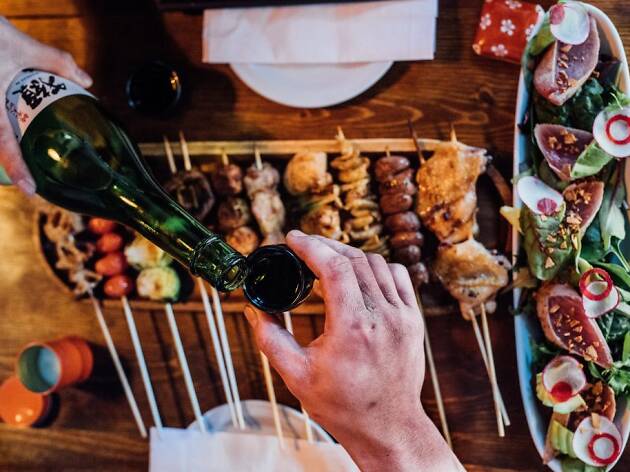 Photograph: Alison Slattery
End the day with delicacies from the top options for dinner delivery and takeout in Montreal.
Dinner delivery and takeout in Montreal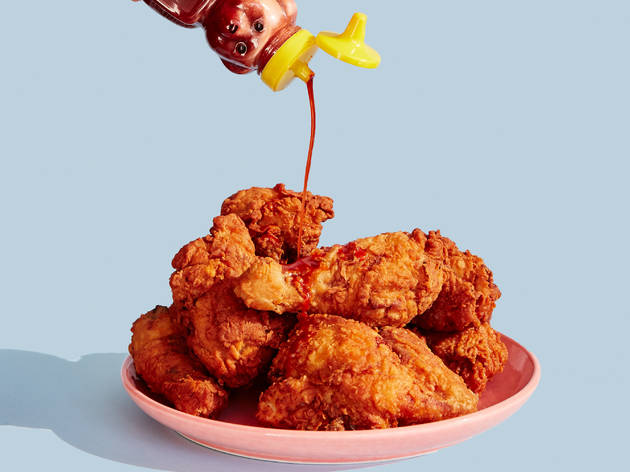 Photograph: Dominique Lafond
ICYMI, the big news is that Mon Lapin in Little Italy has shifted into a BBQ operation where sourdough fried chicken, seasonal veg dishes and luscious desserts like rhubarb-sesame ice cream sandwiches are available. Orders needs to be placed a day in advance, and it's pickup only from Tuesday to Saturday 5pm to 9:30pm.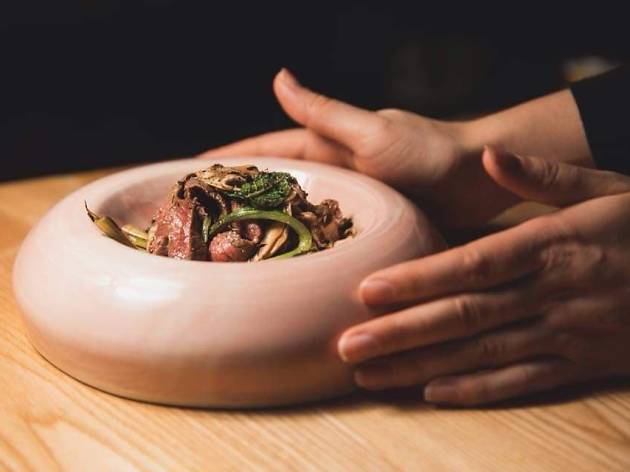 Photograph: Mélanie Dusseault
Constant demand for takeout has caused this fine dining destination in Hochelaga-Maisonneuve to develop meal boxes that keep things interesting. While it's been available for some time now, the new innovations bear some serious need for attention: Ricotta cavatelli, tandoori octopus, chicken tajines and a lot more. Beer and wine and cocktail kits are also available, plus a selection of groceries. Just make sure to order by Wednesday afternoon at the latest to pick up your order from the restaurant, Thursday and Saturday between 3pm and 7pm.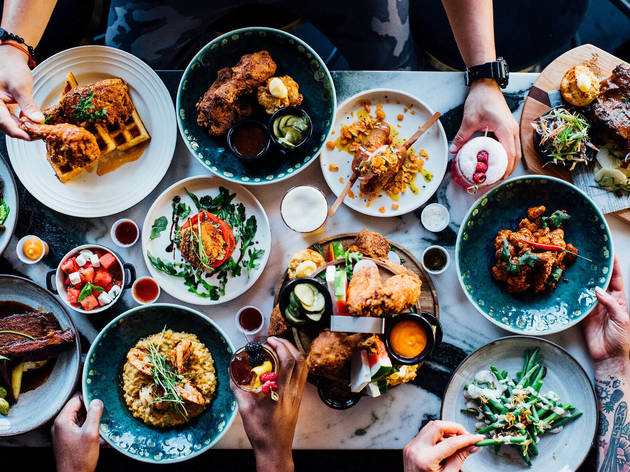 Photograph: Le Bird Bar / lebirdbar.com
Griffintown is seriously clucked up with the fried chicken and the accompanying attache of other comfort food at Bird Bar. Every Wednesday to Sunday—pickup from 2pm to 8pm, delivery from 4pm to 8pm—you can get your hands on poutine, truffled mac'n'cheese, burgers, popcorn chicken both meaty and vegan, and yes, that crispy and juicy fried chicken.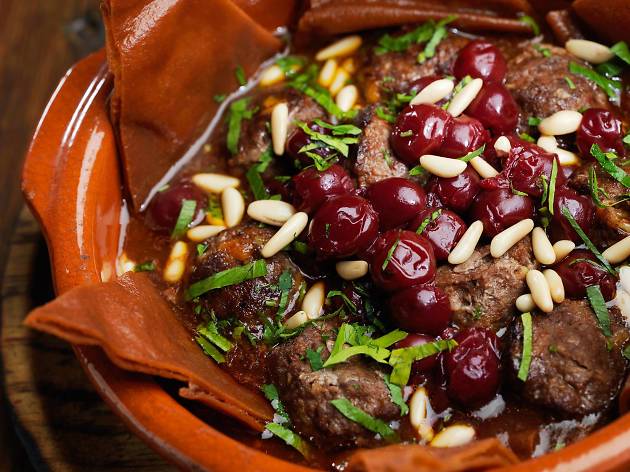 Photograph: Vadim Daniel Photography
Middle Eastern eats are on point at this fantastic restaurant near the corner of Parc Avenue and Mont-Royal in the Plateau. Cold and hot mezzes galore are available, but strong recommendations go to the crispy croquette-ish kibbeh, layered plates of fattet makdous (meat, sauce and pita), and the beef kabab served in a sweet cherry sauce.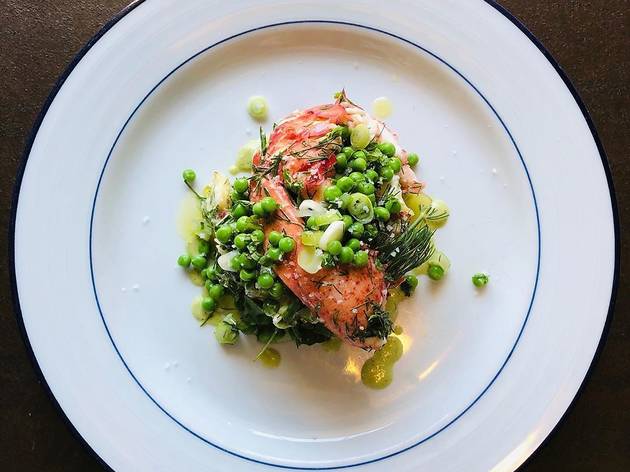 Photograph: Monkland Tavern / @monklandtaverne
One of NDG's favourite dining destinations is fighting the good fight by feeding Montrealers once more. Food and wine is available on Tuesdays, Thursday and Saturdays for pickup if the order is being places 24 hours in advance between 3pm and 7:30pm. Enjoy ready-to-go Caesars or exceedingly cheap wines with classic bistro eats like lobster salad, ready-to-grill marinated bavettes, or a blueberry-honey-rosemary bread pudding we'll always order seconds of.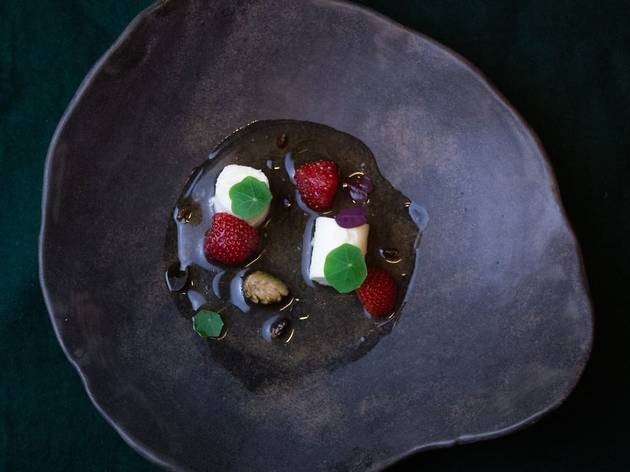 Photograph: H4C Par Dany Bolduc / @h4c_pardanybolduc
Delicious dinners for two, anyone? This Saint-Henri fine dining destination is offering selections of dishes that will shift week by week, the option of adding on some higher-end groceries and—of course—some expertly chosen wines to pair with your takeout order.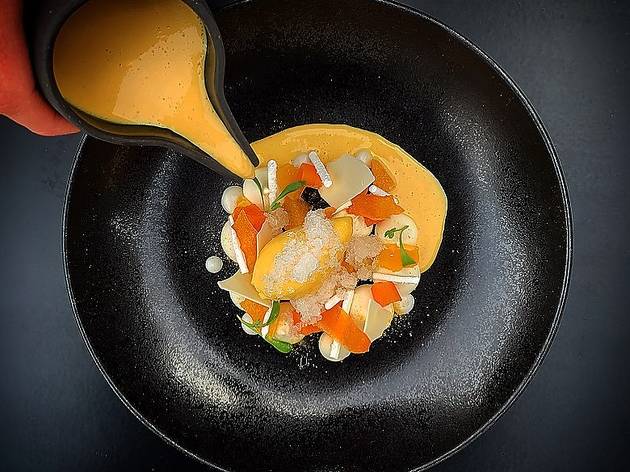 Photograph: Boullion Bilk / @bouillon_bilk_
Rhinocéros (Cadet & Bouillion Bilk)
Thankfully these fine dining destinations in Montreal have made their menus available through a new operation called Rhinocéros. The menu can be found here, a small but exceedingly creative menu of things like a crab salad with raddichio or grilled oyster mushrooms with a grilled poblano sauce.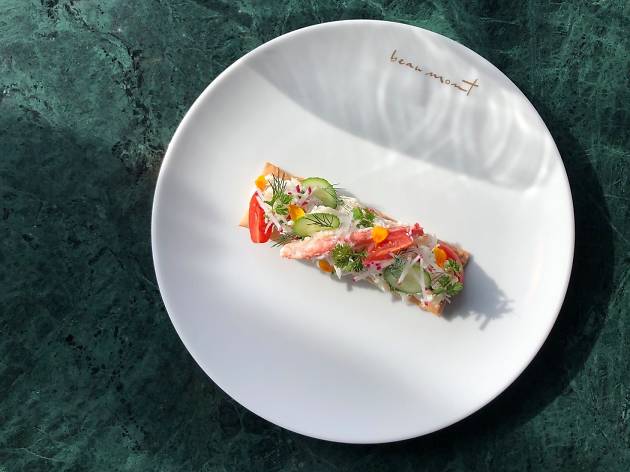 Photograph: Beau Mont / @beaumontrestaurant
Normand Laprise and his team have turned their latest restaurant Beau Mont into a prêt-à-manger location that culls together a lot of homey eats like pies and roasted meats with a chef's touch.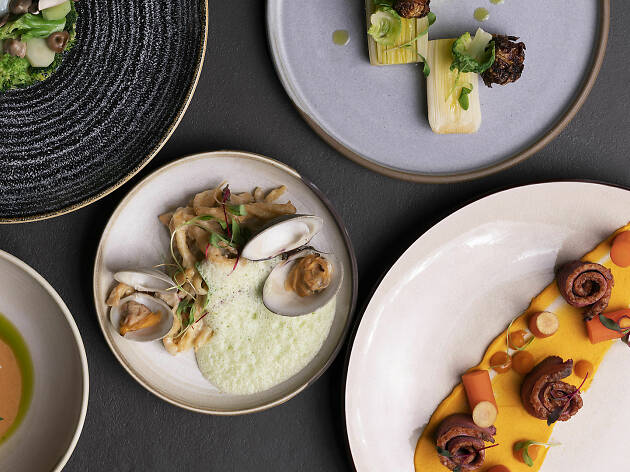 Courtesy Perles et Paddock
The emminently fancy Griffintown restaurant is up and flying with menus that would make any couchbound Montrealer blush. Ordering here makes it easy to turn an average weekday into something special. Menus for two—or three, or four—run from ribs to pasta to elegant fish dishes. Place your order online from Monday to Friday by 4pm with 24-hour notice, pickup's from Thursday to Sunday 3pm to 5pm, delivery between 3pm and 6pm at $15 extra on orders of $75 and up.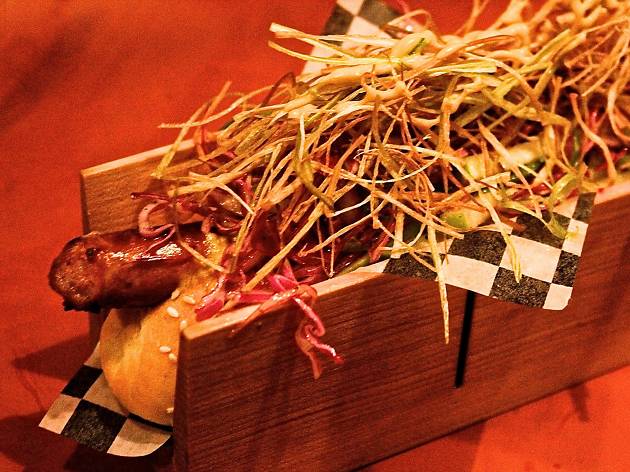 Photograph: Thomas Csano
This wine bar with knock-your-socks-off food is up and operational with takeout menus coming out of the preeminent hip café Le Darling from Thursday to Sunday, 5pm to 9pm. Currently there's a range of seafood dishes, ready-to-go soups, salads and—yes—one of the best hot dogs in Montreal on offer.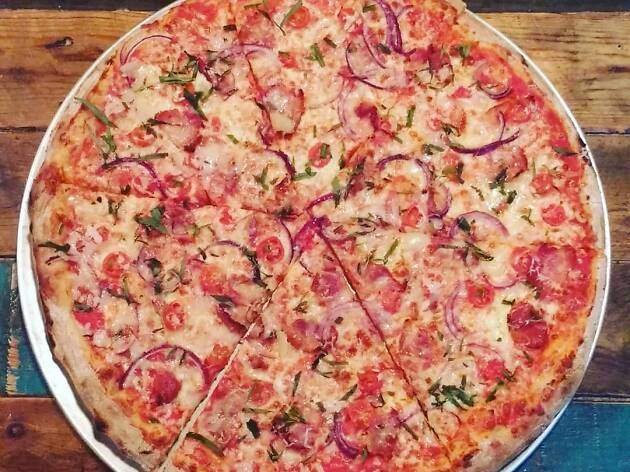 Photograph: Courtesy Pizza Bouquet
OK, Montreal. We're solidly of the opinion at Time Out that this place is serving up some of the best pizza in the city, so if you're as excited as we are? One request: Go easy on these guys. From Tuesday to Sunday, 4pm to 10pm with online orders only (and payments online necessary), it looks like Bouquet's going to give it a go. Be kind, it's a small operation.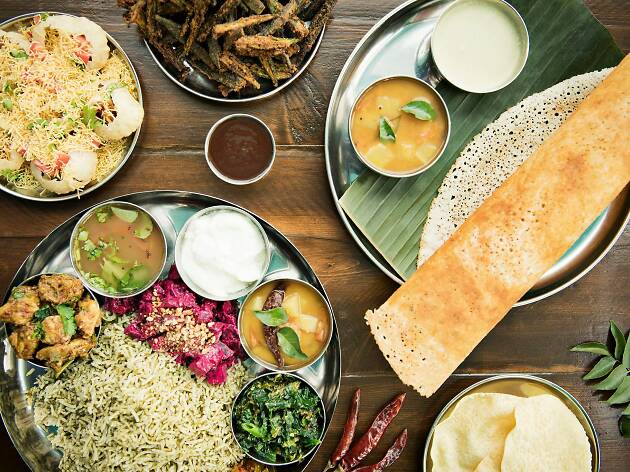 Courtesy Le Super Qualité
This pan-Indian snack bar is among our favourite places to snack when you're up in Villeray, and now they're back at with either pickup from their location on Belanger or delivery through UberEats, Thursday to Sunday 5pm to 9pm.
Photograph: Resto Palme / @restopalme
Caribbean food's the name of the game at this restaurant, but with a twist: Griot salad, Creole Imperial rolls, fried chicken and seafood mac 'n' cheese, a rhum foie gras, johnny cakes and djondjon rice... It's hearty, it's filling, and they'll make it as spicy as you like it.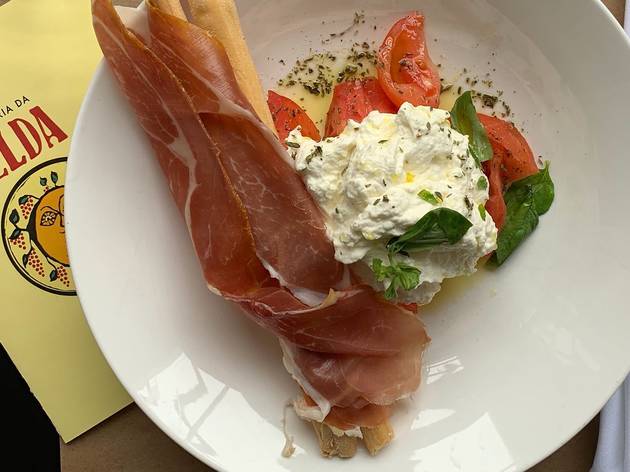 Photograph: Vittoria Zorfini
Few things can get more comforting than Italian eats, and that's what Osteria da Elda's all about. A selection of hot and ready classics—lasagna, arancini, osso buco and more—and available alongside ready-to-eat meals that require little more than an oven. Wine and beer is available as well when you're ordering online, going daily from 5pm to 9pm.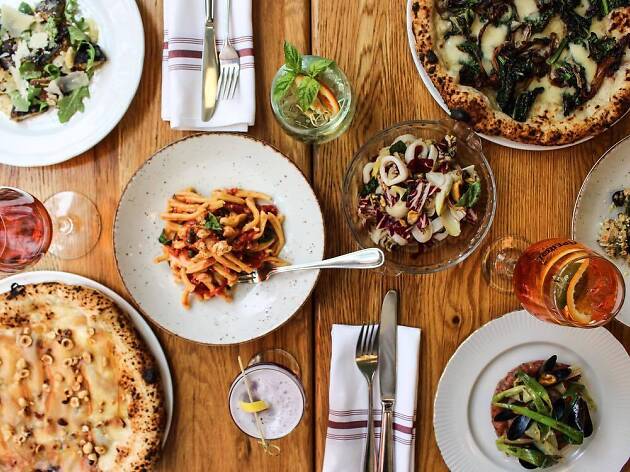 Photograph: Courtesy Fiorellino
One of the places with the best pizza in Montreal is open for takeout at their Outremont location, as well as fresh pastas you can make at home and pizza starter kits.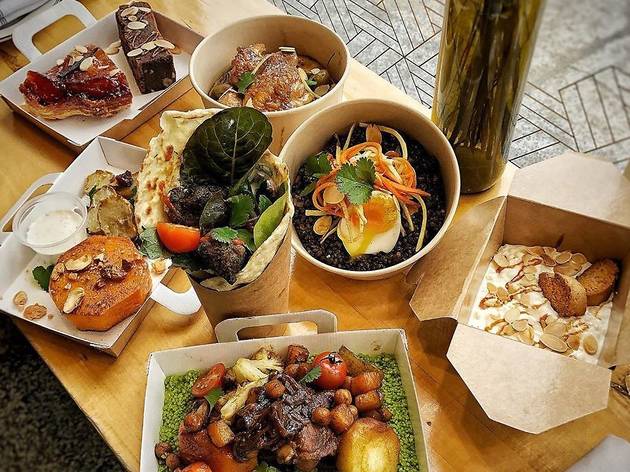 Photograph: Darna Bistroquet / @darnabistroquet
Placing an order for takeout or delivery ($2 more) through CHK PLZ gets you access to their menu of brunch boxes, kefta sandwiches, couscous dishes and a LOT of delicious desserts.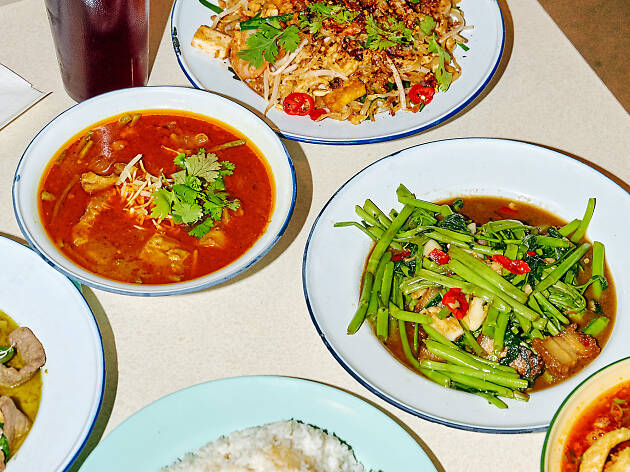 Courtesy Épicerie Pumpui
One of top names in Thai food in town, Little Italy's Pumpui is back up and running and dishing it out as spicy as you like it. Doing it daily, the cut-off time for order is 4pm, so think a day ahead if you want any of Jesse Mulder's notorious eats: Meal sets, fried chicken, bottles of sparkling wine or cider—try out their collab beer with Ma Brasserie as well.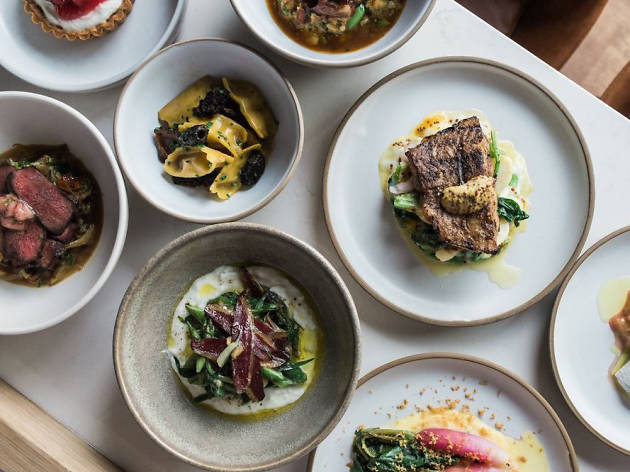 Photograph: Courtesy Yelp/Lawrence
Lawrence's kitchen and dining room are currently closed, but takeout and delivery systems are up and running with the full menu made available; now and then they do take a break, but their work at the neighbouring Boucherie Lawrence are always available.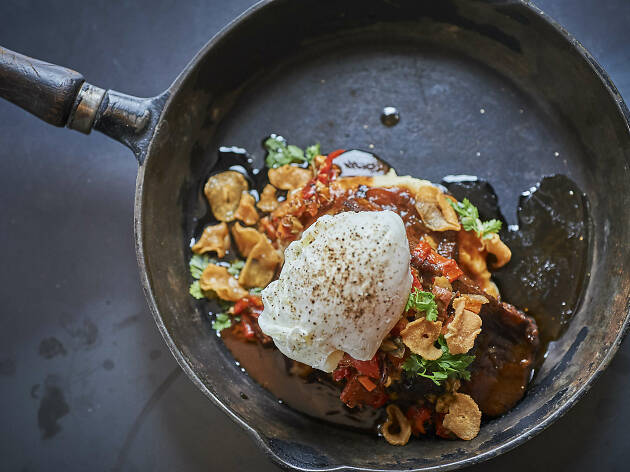 Photograph: Courtesy Le Chien Fumant
For upscale comfort food, look no further. Chien Fumant's food—ranging from highly finessed to hearty, stick-to-your-ribs options—is available for takeout.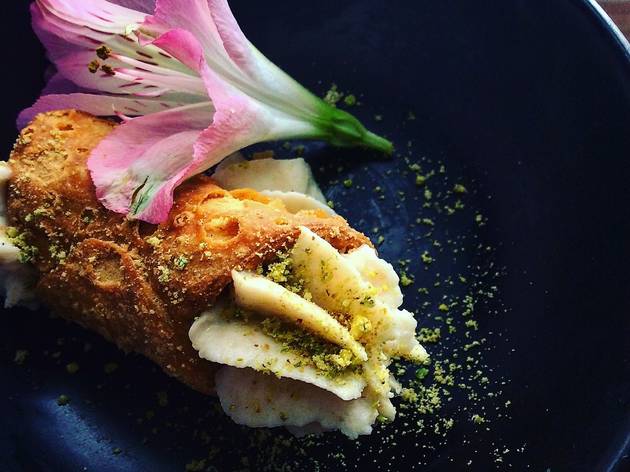 Photograph: Radis / restaurantradis.com
Vegan eats and wine; what more could you want? Dip into their dinner menu for a lot of Italian dishes and sweets.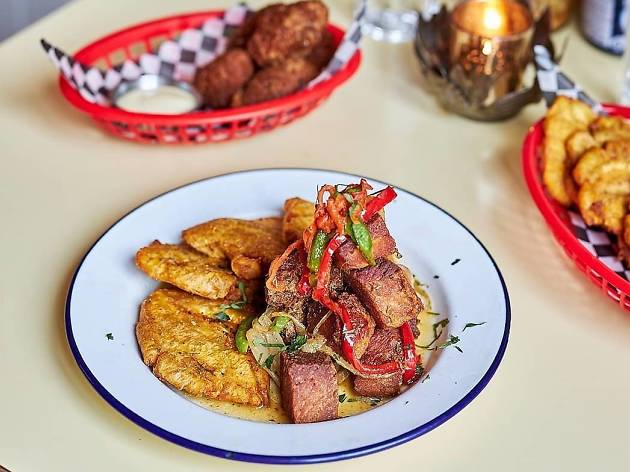 Photograph: Darwin Doleyres Photography
Starting at 3pm from Wednesday to Sunday, chef Paul Toussaint and his team are making griot, plantains, jerk chicken and more for takeout.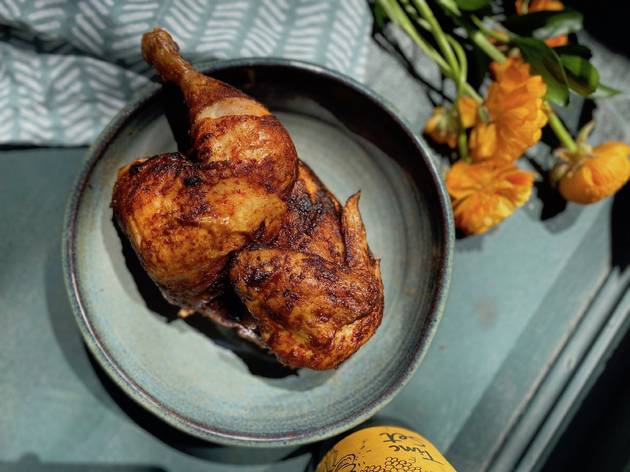 Photograph: Courtesy Tinc Set
The power duo behind the Mediterranean-focused wine bar-restaurant Alma recently opened up Tinc Set, a back alley joint for natural wines and rotisserie chicken takeout. Grab some juicy birds, debate over which wines to pick up until you settle on two bottles (per person) and enjoy the weekend. Open from Friday to Sunday, 5pm to 9pm, so we advise ordering ahead of time.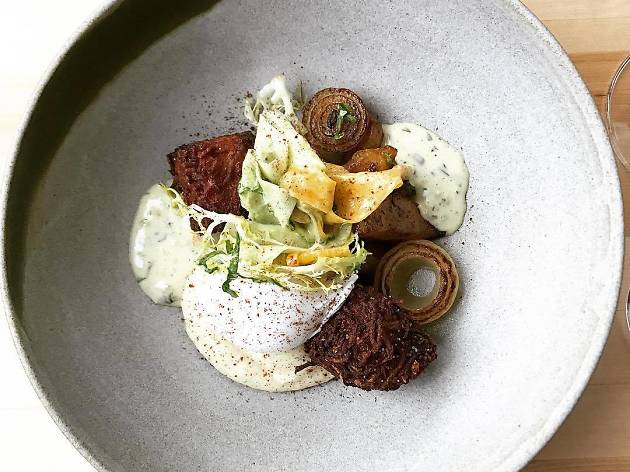 Photograph: @othymmtl
This BYOB restaurant's flipped to a takeout menu that uses a lot of delicious local ingredients. Grab it at any point from Tuesday to Friday, 3pm to 6pm, so long as you order in advance.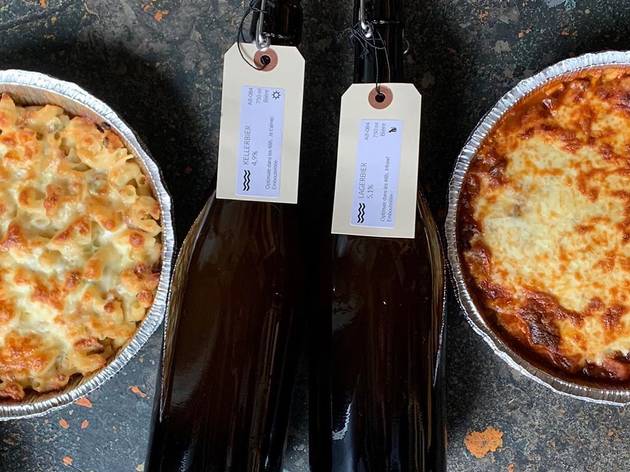 Photograph: Isle de Garde / @isledegarde
This brewery (offering up their beers, of course) has a range of frozen menus to bring home and pop in the oven: Risotto, pastas and more, on Thursdays and Friday bewteen 3pm and 7pm and Saturdays between 1pm and 5pm.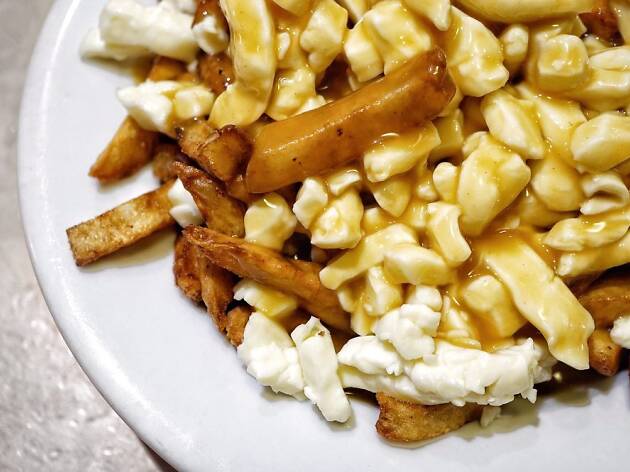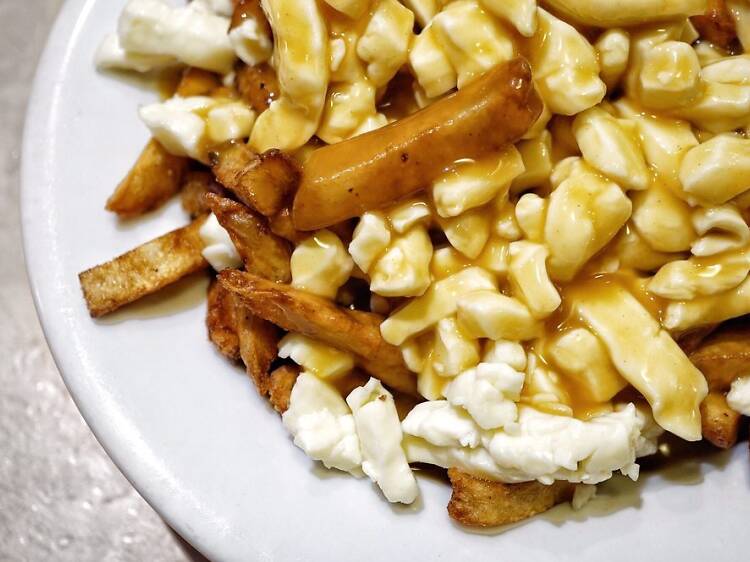 Photograph: Courtesy Yelp/Min C.
Everyone's favourite poutine joint is available for pickup and delivery via Foodora.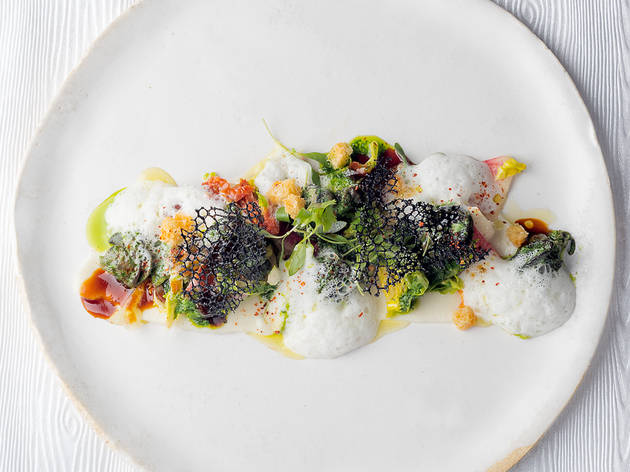 Photograph: Sue Vo-Ho Photographe
If you order no later than 11am and pick up from 4pm onwards, you can grab yourself a nice meal to enjoy with wine at a 25% discount.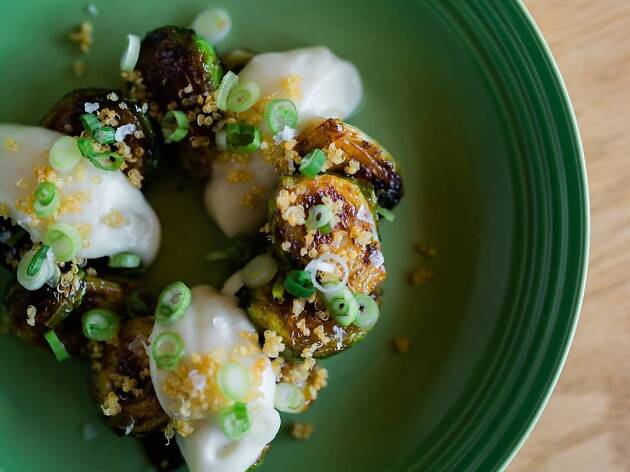 Courtesy Le Diplomate
Le Diplomate has special take out menus and full access to their wine list, with every week yielding new and delicious discoveries that run the gamut, from fried bread sandwiches to fancy finger foods. Something for everyone here.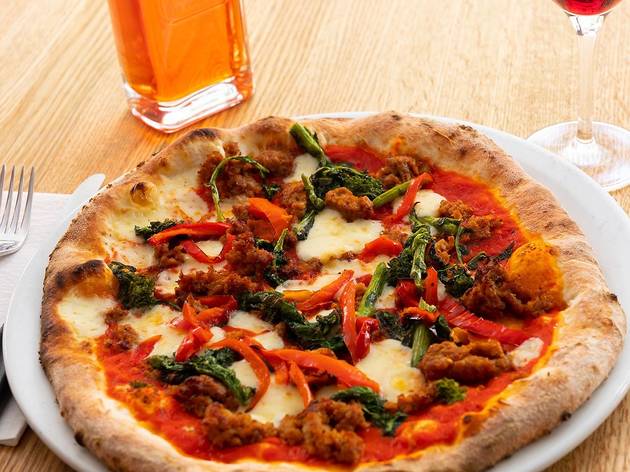 Photograph: Heirloom / pizzeriaheirloom.ca
Good wines and pizza plus fresh pasta are available for pickup and delivery.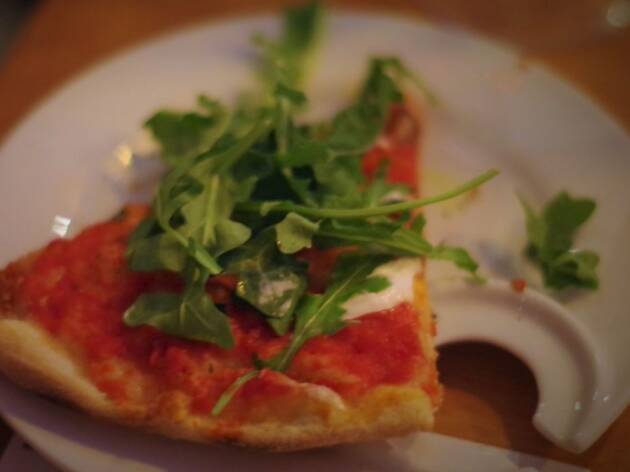 Photograph: Courtesy Yelp/Joanie M.
Remaining open for takeout and deliveries, make sure you call ahead of time and ask about the bottles of wine they have available here.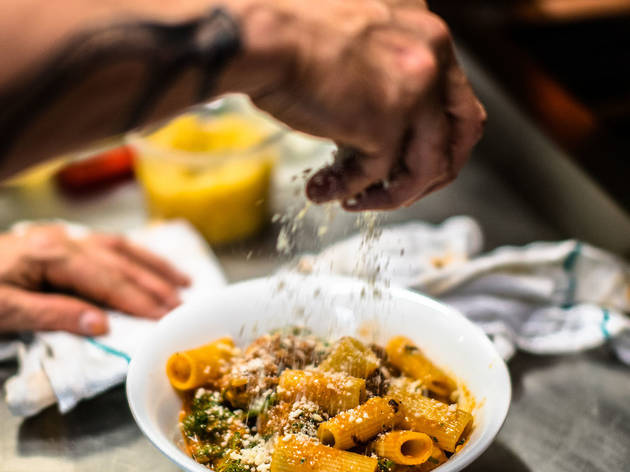 Photograph: Le Petit Italien / Flourish Creative
A menu of takeout options come from this Outremont Italian joint like fresh pastas and sauces that are ready to cook when you get home. Available on Uber Eats, DoorDash, Foodora or Skip the Dishes.
Photograph: Restaurant Su / @RestaurantSu
A menu from the Turkish chef Fisun Ecran is available for pickup on Wednesdays to Fridays between 4pm and 5pm if ordered in advance, full of amazing choices like braised Jerusalem artichokes, mezzes and beef or vegetarian manti served with fresh grilled pita.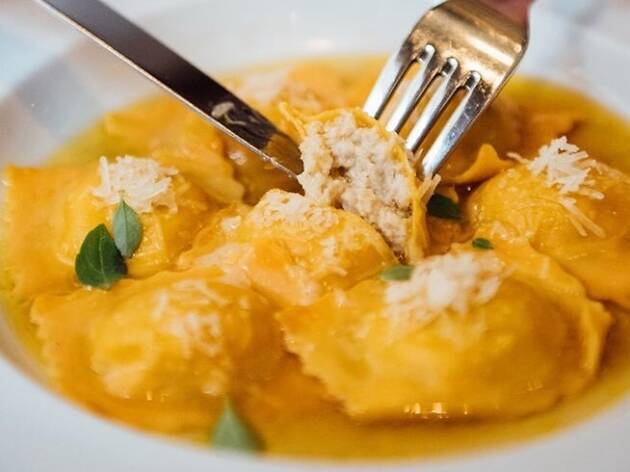 Photograph: Courtesy Restaurant Graziella
If you order over the phone ahead of time, you can dine on some of the best Italian food in town.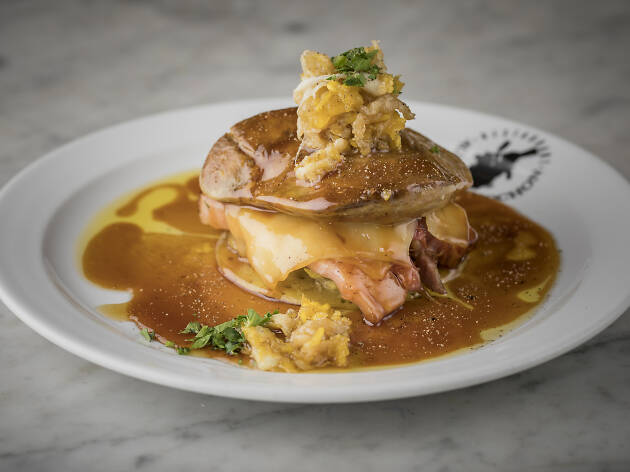 Photograph: André-Olivier Lyra
It might be easier than ever to taste some of Martin Picard's world renowned cuisine as PDC makes its entire menu (plus the sucrées menu of Cabane PDC and Cabane d'à Côté) available for takeout.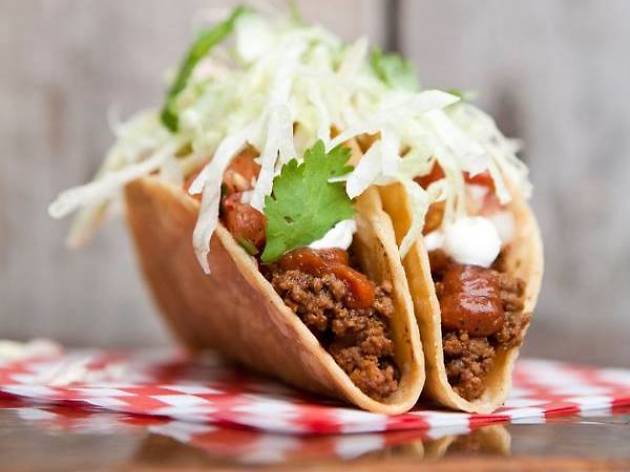 Photograph: Icehouse
Pulled pork tacos, BBQ ribs,and lobster burritos available for pick-up. Need we say more?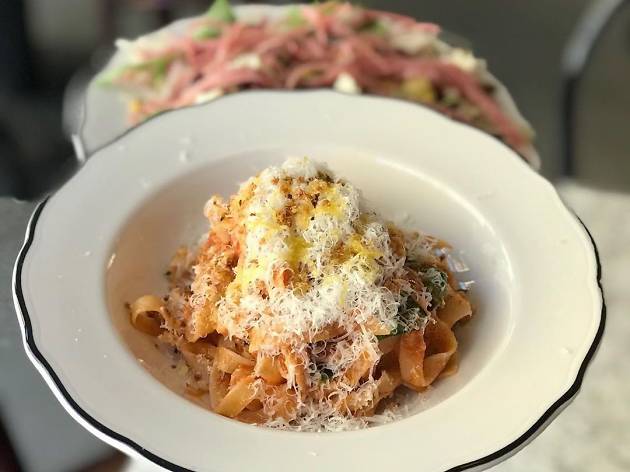 Photograph: Mano Cornuto / @manocornutomtl
The Griffintown aperitivo spot has delicious focaccia, pastas, and salads ready for takeout.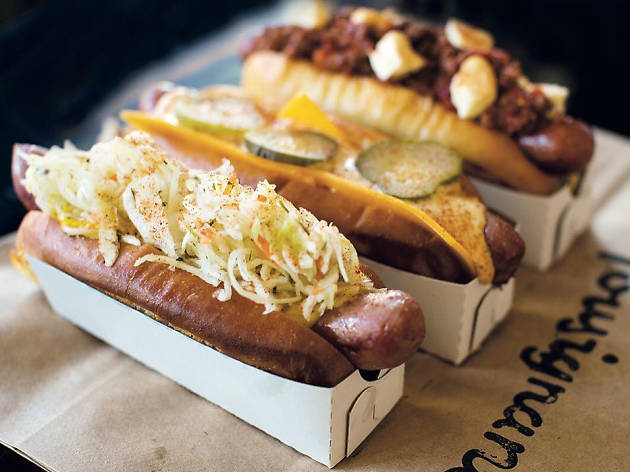 Photograph: Chez Tousignant / @cheztousignant
Une casse-croûte chez vous. Cheeseburgers, poutine, and hotdogs all made in house and delivered to your house via Uber Eats.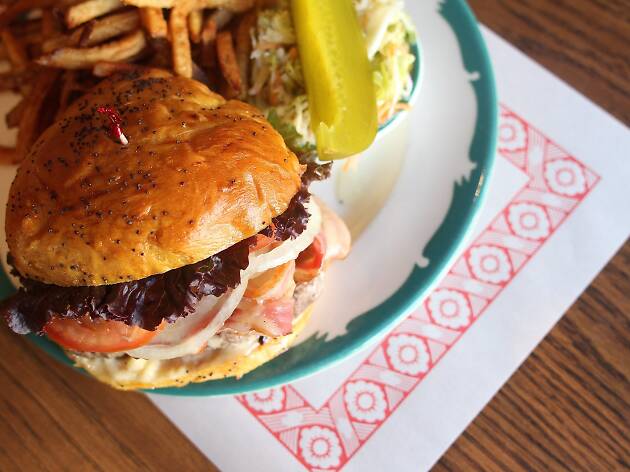 Photograph: Courtesy Nouveau Palais
Burgers, fries, chicken and salads made at the Palace and delivered to yours (via Foodora).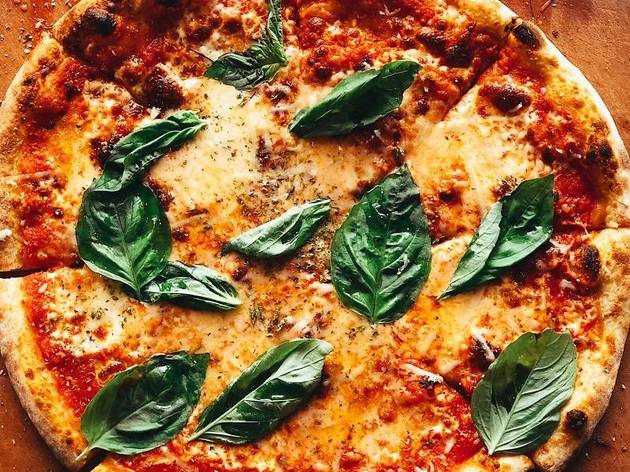 Photograph: Vesta / vestamtl.com
Newcomer to the pizza scene, Vesta's entire menu (featuring some of Montreal's best NYC style pizza) is available for takeout and delivery.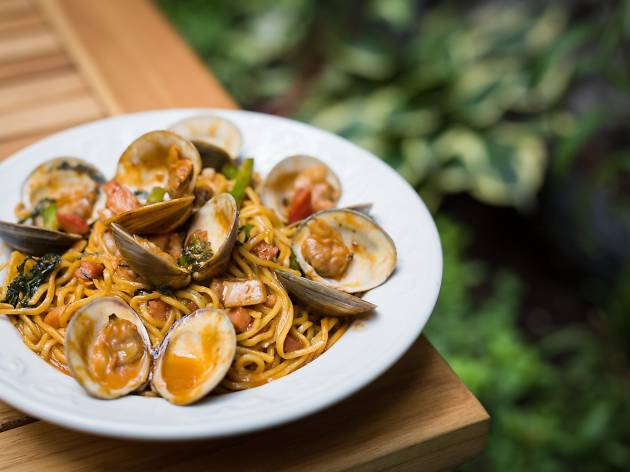 Photograph: Wolf & Workman / @wolfandworkman
The gastropub Wolf and Workman in Old Montreal is open to do delivery and takeout from Wednesday to Sunday, noon to 8pm. Juicy burgers, salads, a chicken tikki masala, fresh cavatelli and a bunch of beer and wine's on offer. Bonus: Picking up your order gets you 10% off.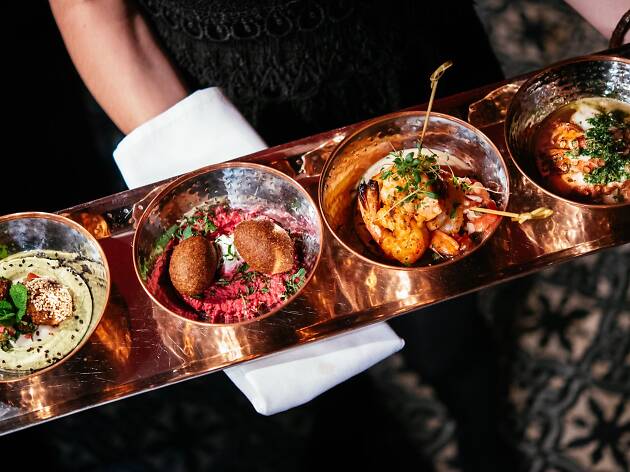 Photograph: Vesia Photography
Our favourite Syrian restaurant has put together a special takeout and delivery menu that is basically just a greatest hits list of hot and cold mezzes, some grilled dishes and a few braises too.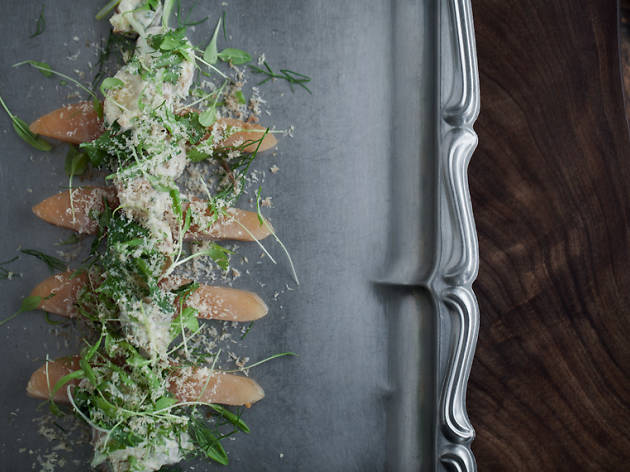 Photograph: Pastaga
Martin Juneau's flagship spot is offering a small menu of prepared dishes ready to heat up at home.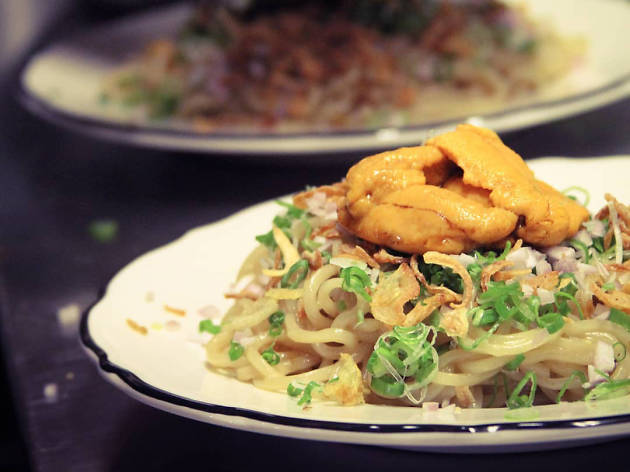 Photograph: Otto Bistro / @BistroOtto.Montreal
The full menu (including drinks) is available for takeout and delivery (via Ubereats). That means crispy and savory chicken yakitori, salads and the occasional special menu items is up for grabs.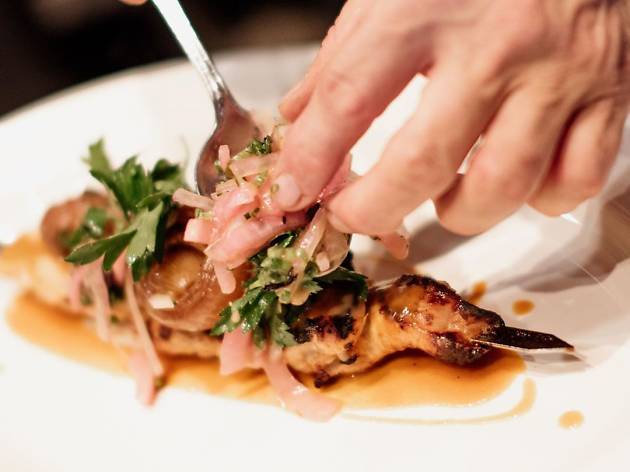 Photograph: Boucherie Bar à Vin Provisions / @boucherie_bar_a_vin
Boucherie Bar à Vin Provisions
The OG restaurant is closed, but the butcher shop-cum-restaurant remains open to serve meals as well as a few prepared dishes and wines to go. If you're in the area, stop by for a bottle and two—heck, make it three—of their cut-to-order sandwiches and thank us later.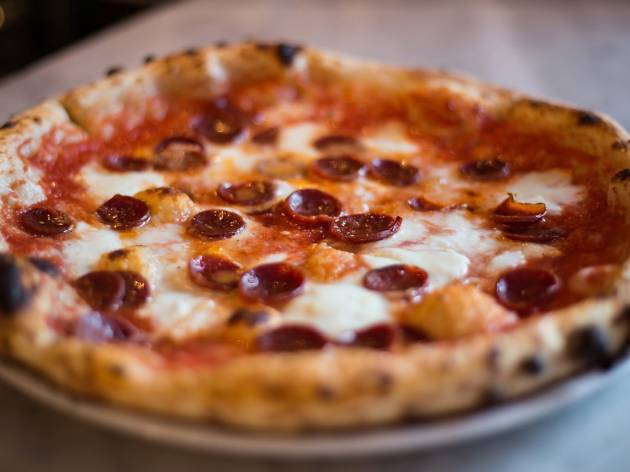 Photograph: Gema Pizzeria
Michel Forgione's little Italy pizzeria will offer its full menu for takeout and delivery.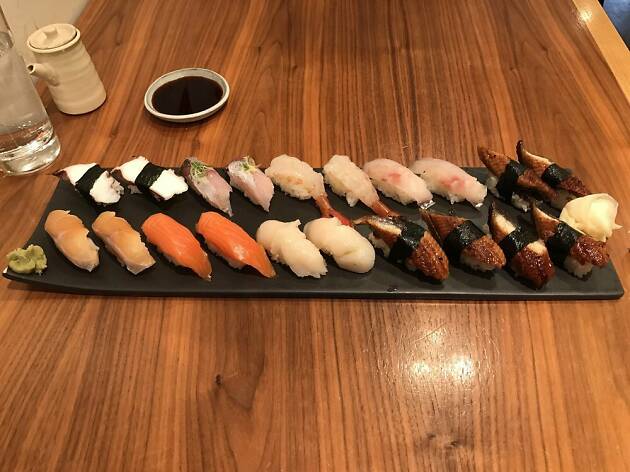 Photograph: Courtesy Yelp/Vincent N.
The famous Jun I is closed, but its sister restaurant Okini will still be serving ready-to-eat sushi platters, as well as pastries for takeout.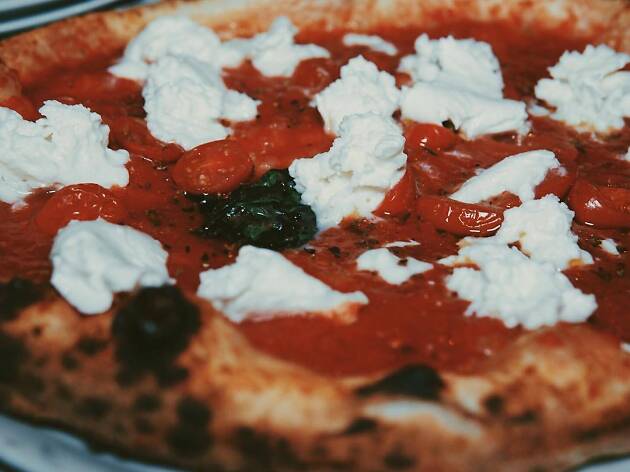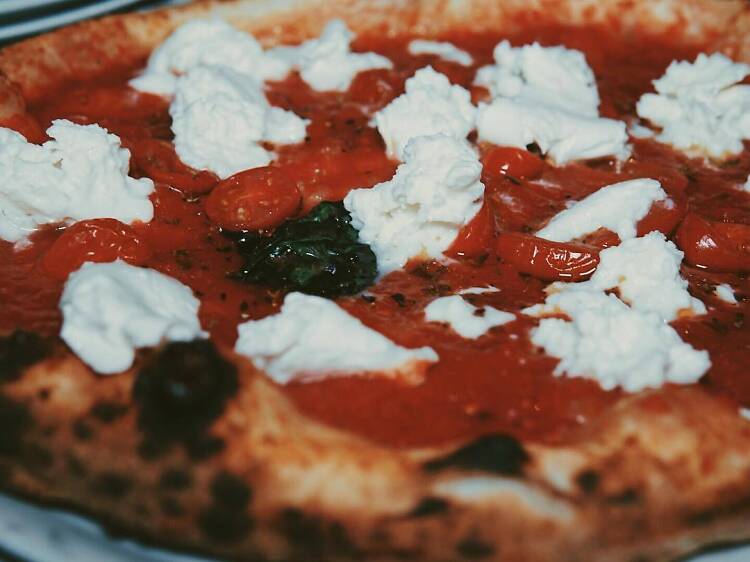 Photograph: Courtesy Bottega
The king of the margherita will be offering its menu and wine list for takeout only.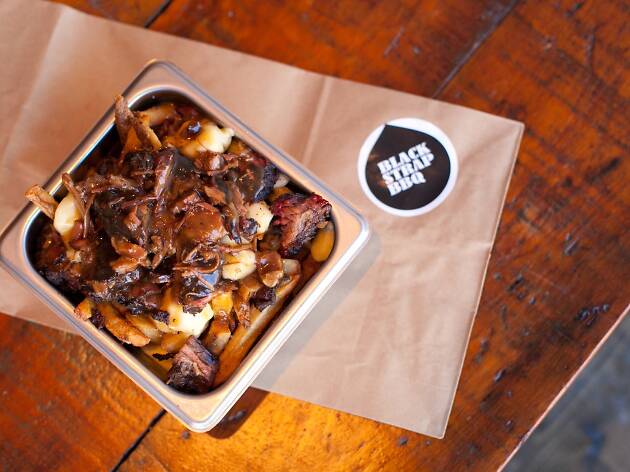 Photograph: Courtesy Blackstrap BBQ
The legendary Black Strap BBQ has made all its award-winning barbecue—mouthwatering stuff like ribs, pulled pork, and brisket—available for delivery and takeout. Don't forget the Mac & Cheese.
DESSERT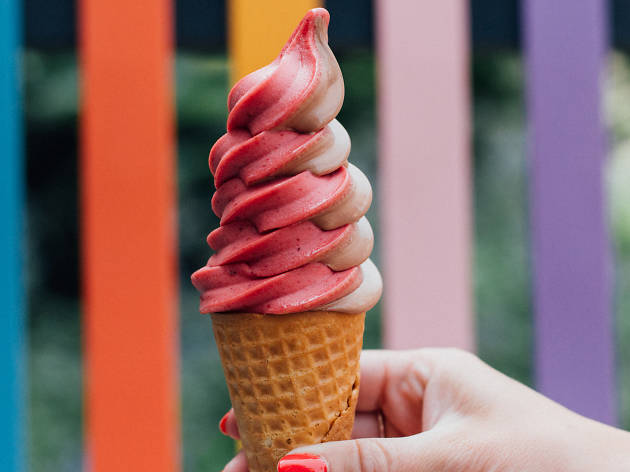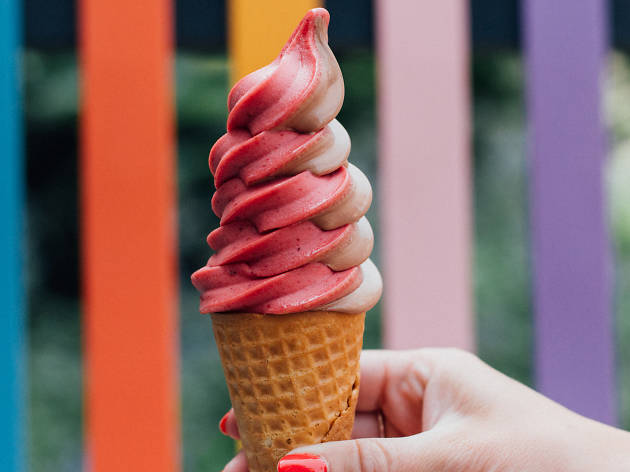 Photograph: Alison Slattery
Everyone knows what it's like to crave something sweet, but when it comes to Montreal, there's no shortage of satisfied cravings (and wanting more after a single bite).
Dessert delivery and takeout in Montreal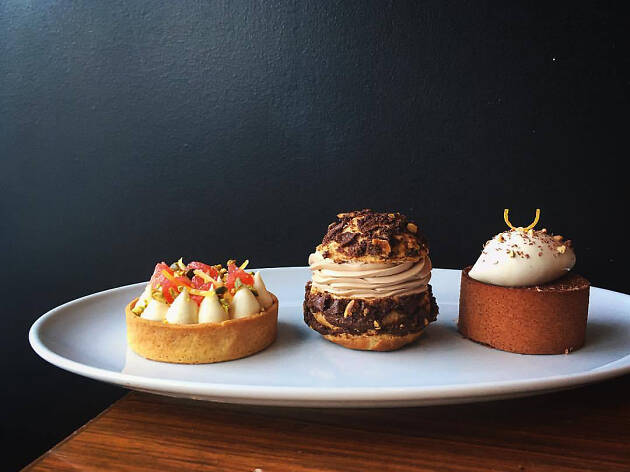 Photograph: Courtesy Patrice Pâtissier
Nothing like a bunch of pastries from one of the best in town to start your day—provided you place order ahead of time. A little bit of forethought and a visit to their online boutique will put all manner of kouign amann, croissants and a bunch of specialties on your table.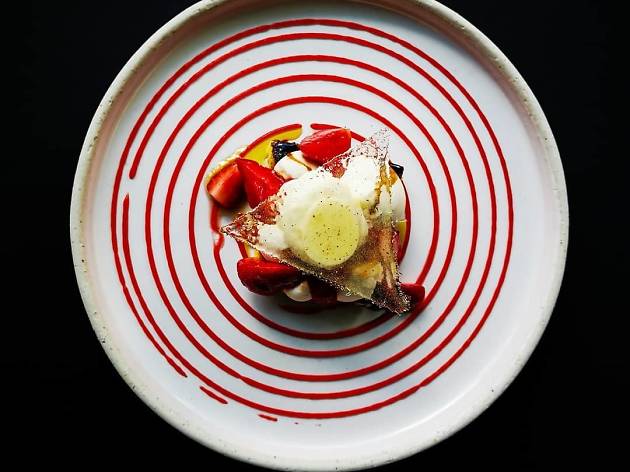 Photograph: @ratafiamontreal
It ain't takeout, it's cake-out: This dessert bar has been hard at work since the closures hit, but that hasn't affected the abolsute quality and masterful work they do. Classic and conceptual, there's a sturdy selection of cakes and doughnuts to pick from, and they're always—and we mean always—worth it. Place an order from Sunday to Friday from noon onwards and pick it up from the dessert bar between 4pm and 8pm on Friday or Saturday.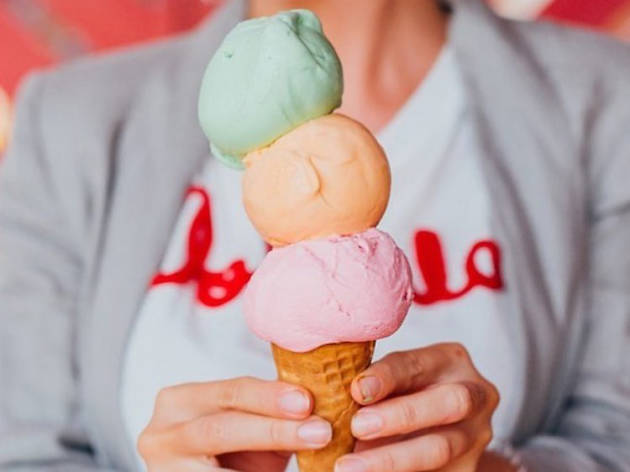 Photograph: Two Food Photographers
Warmer weather can only mean one thing: It's officially acceptable to eat ice cream. Opt for some of the best from either the NDG or Plateau locations of this keep-you-on-your-toes ice cream joint and its flavors like roasted marshmallow, Oreo-coconut, blood orange sorbet, cotton candy and more. Buy it buy the swirl, scoops or pints and while away an afternoon in some gorgeous summer weather.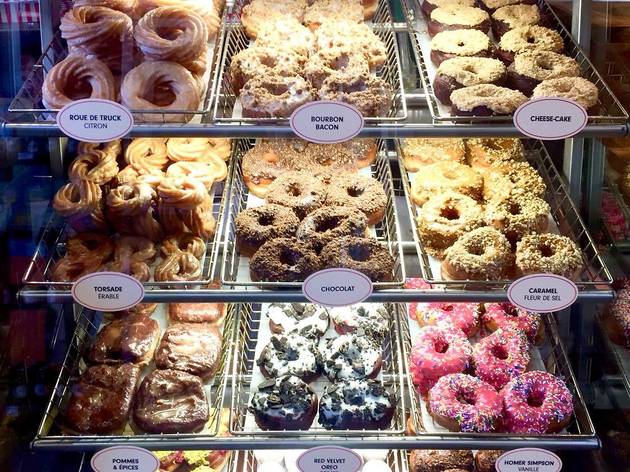 Photograph: Crémy Pâtisserie
Cakes, pies, those scrumptious donuts, cookies and whole range of confectionaires are available for the sweeter side of Montreal's food scene (or just a snack).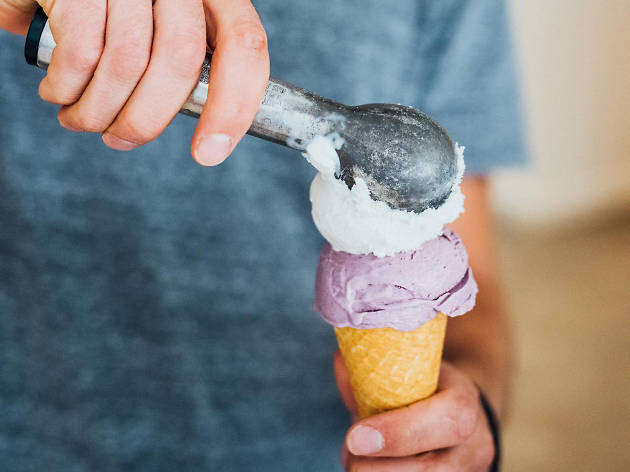 Photograph: Two Food Photographers
While you're looking around for something to eat for lunch, you might as well stock up on some of the best ice cream in Montreal too. Helps with those quarantine blues.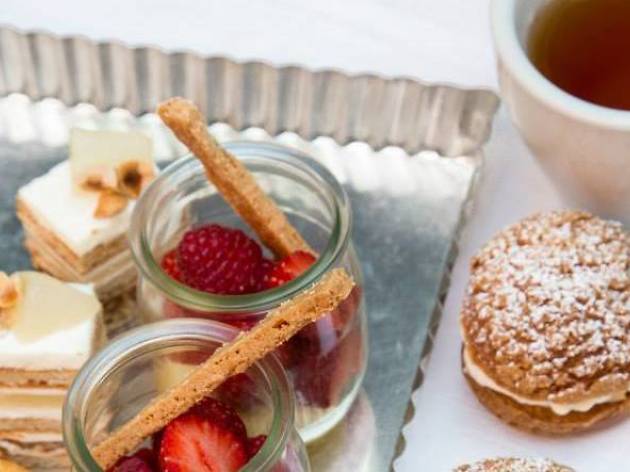 Photograph: Pâtisserie Rhubarbe / @patisserierhubarbe
Find the masterful work of pastry chef Stephanie Labelle on offer inside of the OG pastry shop in the Plateau, and—while you're at it—grab some ready-made meals and pastries to be reheated at home from Comptoir Rhubarbe that's only a hop, skip and jump away.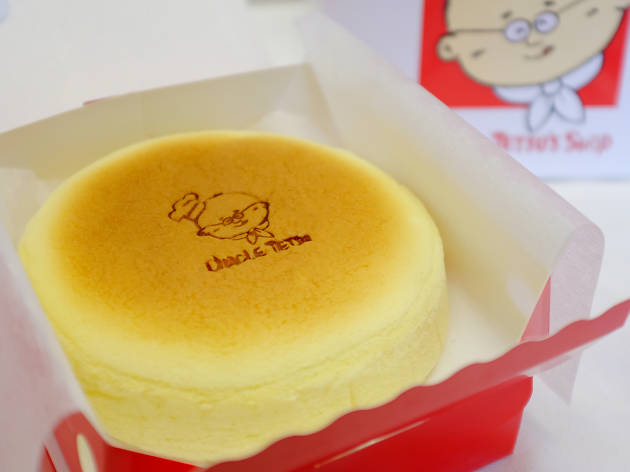 Photograph: Courtesy of Uncle Tetsu
Pleasing news in the dessert department comes from Uncle Tetsu in Chinatown West, a stone's throw away from the downtown Concordia University campus: The Japanese cheesecake to end all Japanese cheesecakes is up for grabs if orders are placed in advance (maximum of 10), available for pickup from Wednesday to Sunday, noon to 7pm.
Looking for the latest in delivery and takeout in Montreal?
Every week, we're collecting the best new delivery and takeout in Montreal that's now open and ready for action.