Last week, the City of Montreal unveiled the winning design for turning a central artery in its downtown core into an urban forest and pedestrian-centric public square, one that will promote creating more greenspace and the reduction of the heat island effect in Montreal.
The design heavily features trees and bodies of water on a street that offers a northward view onto McGill University campus and the city's central Mount Royal mountain beyond that. These are initial renditions, with the final concept being presented in the spring of 2021 and work to begin between 2023 and 2024.
"I am dazzled by the quality of the selected project and I am convinced that Montrealers will take ownership of it," wrote Montreal mayor Valérie Plante wrote in a French tweet (translated) that shared the winning design renditions online.
The winning design comes from a combination of Canadian and Swedish design firms, including the urban and landscaping firm civiliti, the multidisciplinary design studio Mandaworks, and the engineering and construction company SNC Lavalin in addition to Lasalle-NHC, the lighting design firm UDO Design, Biodiversité Conseil, Lamontagne Consultants and the architectural firm EVOQ.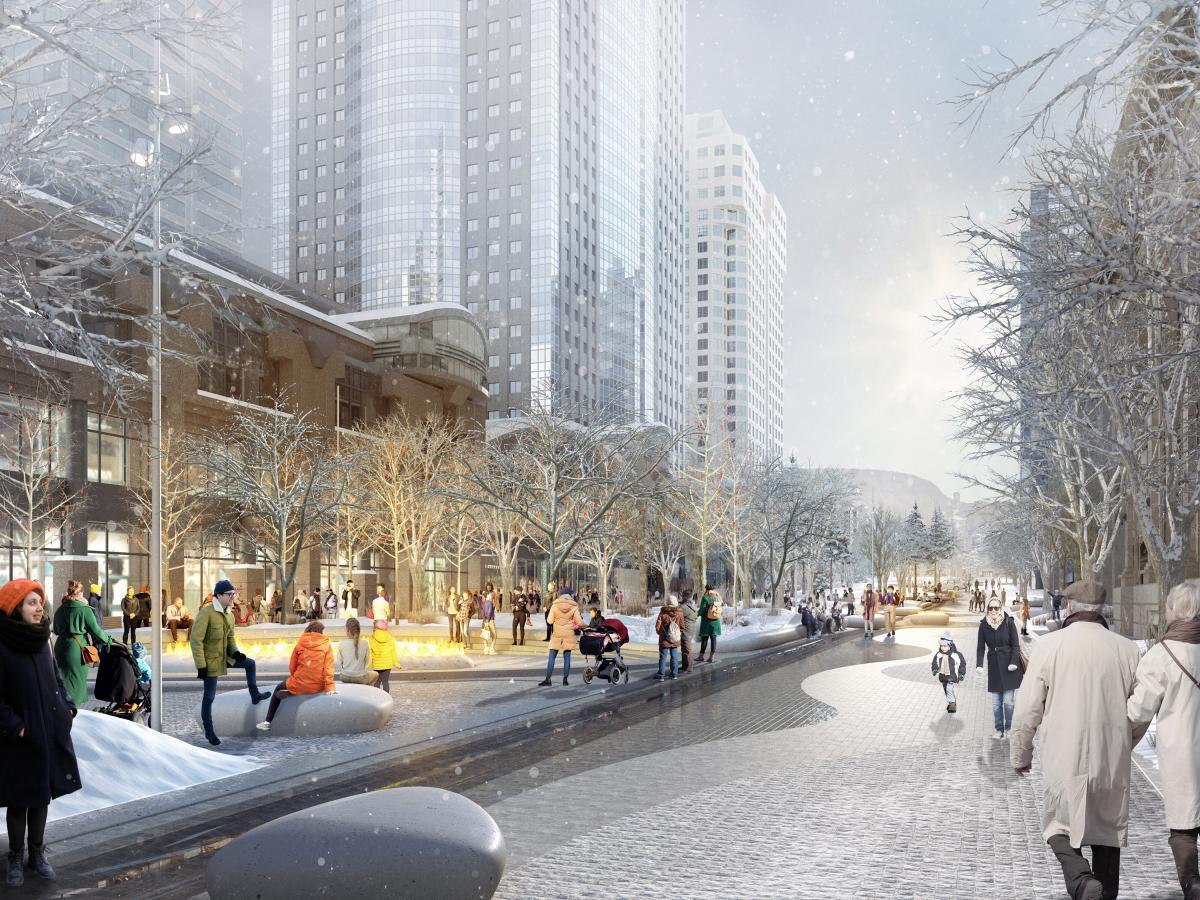 Along with the winning design, the collaborating companies described the project as creating a "a long bench-border along the wooded beaches... (incorporating) water and nature in an authentic and diverse urban environment".
The overall project has five objectives: To deploy vegetation, maintain historical and heritage aspects of the street while not obstructing the view of the mountain, creating a relaxing atmosphere for the public, create a public space that works in harmony with traffic and cyclists, and to use quality material that's sustainable.
Right now, McGill College is being completely redeveloped for the arrival of the Metropolitan Express Network (REM), a slew of construction and revitalization projects that will see major changes for Place Ville-Marie, its esplanade and the renovation of the Eaton Center.
After tearing up McGill College, Montrealers can think of the street as not being rebuilt, but terra-formed with this new project.
Most popular on Time Out
- The US-Canada border will remain closed to non-essential travel until November 21

- The Plateau's New Lebanese Café Chez Téta is Firing Up Manakish in an Imported 1.5-Ton Oven

- This map tracks which areas of Quebec are hitting a fall foliage peak

- Famed Montreal taco truck and restaurant Grumman '78 is closing its doors

- Is Halloween trick-or-treating happening this year? Yes, but with restrictions, says Legault