Nothing says summer like spending time on a terrasse. Starting today, Montrealers can now take the menus of Time Out Market Montréal outside and dine al fresco with the meals they pick. If ordered in advance (say, like, 10 to 15 minutes max), your meal can be ready and waiting for you to take and enjoy on a big terrasse with free entertainments, rickshaw rides 'round the downtown core, and more.
Following the creation of five new terrasses across downtown by XP_MTL, Phillips Square—the gathering place located just outside the Bay department store on Sainte-Catherine West—marks one more place to enjoy meals from the best chefs in the city; and no worries, all the tables are socially-distanced from one another.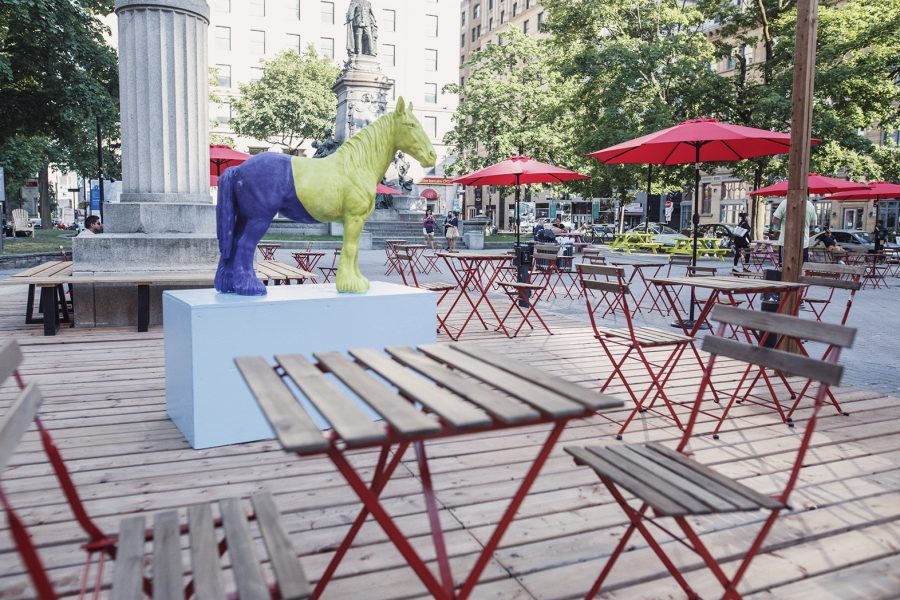 Start by downloading the Time Out Market app that's available for Apple and Android smartphones: Search for 'Time Out Market' via the App Store or Google Play to download the app for free, then select Time Out Market Montréal and check out the selection of eateries to order from. The only you can't order from the app are the knock-your-socks-off mocktails the Market is currently slinging as well as coffee both hot and on ice from the Market's new coffee program with Tunnel Espresso, but those can easily ordered and brought out with your meal.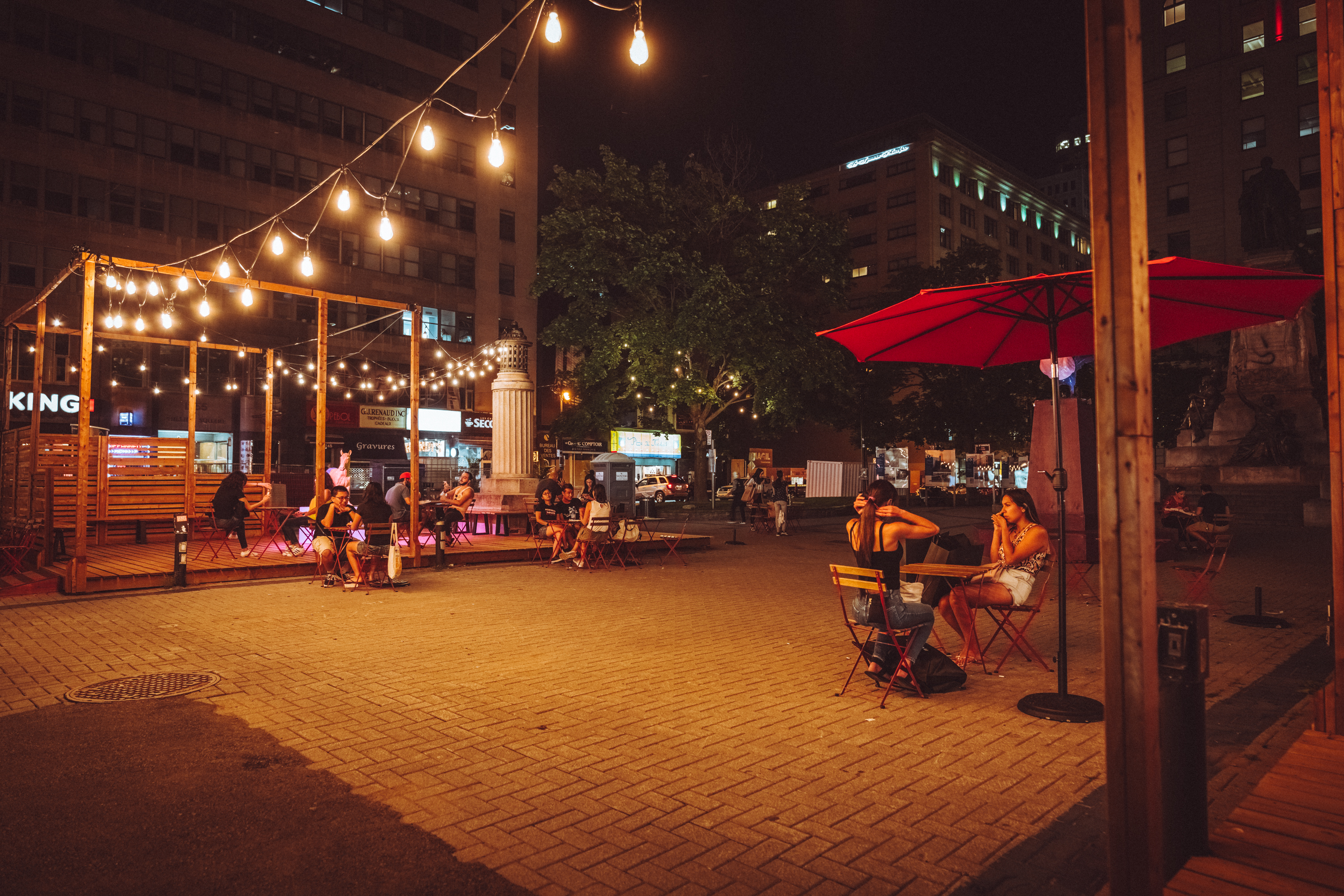 Every restaurant in town's got a specialty, but we've got six of them to choose from: The outstanding Caribbean menu of chef Paul Toussaint; umami bombs of ramen and Japanese curry from Marusan; fresh takes on traditional Vietnamese street food from Le Red Tiger; comforting and classic Italian pasta of Il Miglio; pie after delicious pizza pie from Moleskine; and the Portuguese chicken champions of Romados.
After getting your hands on your order, enjoy it in the open air surrounded by architecture dating back to the late 17th and early 18th centuries alongside the occasional pop-up show put on by dancers, musicians and athletes. It's dinner (or lunch) with a show, people!
View this post on Instagram
The new reality we're all facing these days calls for new innovations. After overhauling the Market with new measures for its guests' health and safety, implementing a new reservation system for anyone who wants to set aside a space for romantic dinners and bigger bashes alike, creating a new app for both iPhone and Android for contactless ordering and offering delivery through DoorDash, the terrasse is yet another step in a reinvigorated direction for the city's culinary star attraction.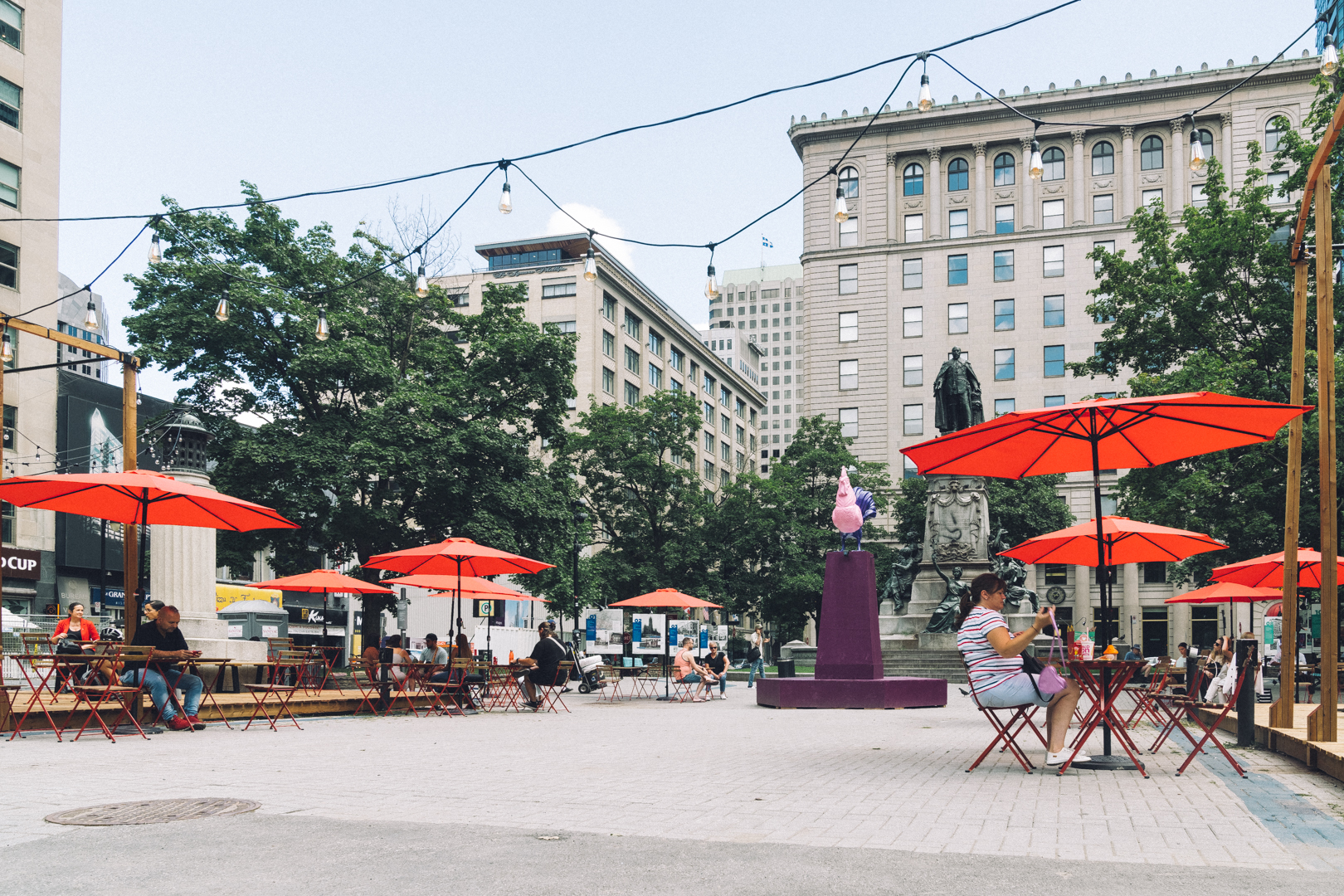 While you're dining there, the City of Montreal's creative programmers at XP_MTL are hooking up the terrasse with playlists from locally-grown acts from Quebec, making that wait time for your order go by in no time. On top of that, weekend visits downtown also have free rickshaw transportation as part of the Run for Your Cause program—raising funds for charity through stamps you give to them, with the option of tipping further—as well as the big furry mascot RÉAL for any kids coming through the downtown stretch of Sainte-Catherine. If that's not enough, drop in during Friday evenings and Saturdays from noon to 3pm for live music at the Market.
Let's make the most of summer while it lasts.
Most popular on Time Out
- Dinner and dessert pop-ups begin tomorrow at Montreal's snazzy cocktail shop and bar Alambika

- Get to know Cabaret l'Enfer, Montreal's most promising new restaurant of 2021

- Here are our top picks with the best of this summer's Happening Gourmand

- Missing live music? Check out DJs, bands and drinks at Time Out Market Montréal

- YES! Place Bell's Mario Kart-themed go-karting ice track is back this month