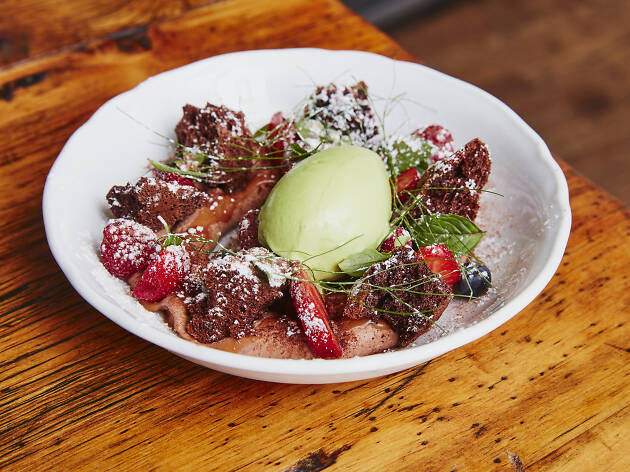 The very best dessert in Montreal
The best desserts in Montreal are found in the work from masterful pastry chefs and bakers to ice cream and donut shops
With stellar restaurants sporting skilled pastry chefs, the old-school bakeries serving up the same beloved goodies for the past 50 years, and all homegrown talents in between? It's clear: Montreal loves its pastries as much as it loves its poutine. There's one of Montreal's best desserts found in every corner of the island, from the kinds we split at romantic restaurants to guilty personal pleasures. Need something to do to burn off the resulting sugar rush? Check out our best things to do in Montreal for locals and tourists alike.
RECOMMENDED: Full guide to the best restaurants in Montreal
Best dessert in Montreal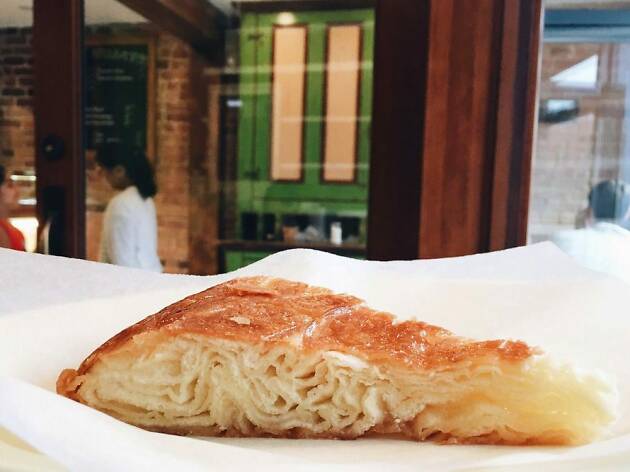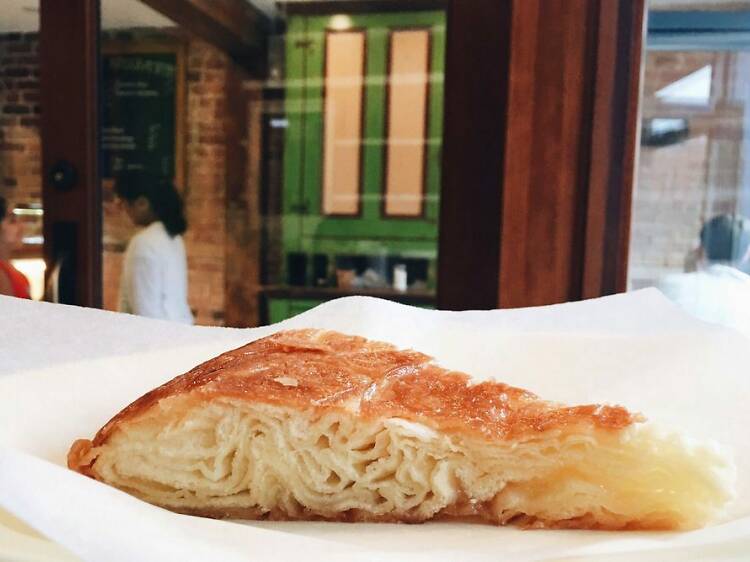 Photograph: Courtesy Yelp/Echo Z.
1. Kouign-amann at Pâtisserie Au Kouign Amann
Au Kouign-Amann's namesake kouign-amann is best described as a sweet upgrade to a croissant for those who prefer a more saccharine pastry option. Layers of laminated dough are folded with butter and sugar which caramelizes as it bakes, causing the final product to have an outer layer shattering almost like glass upon consumption and an interior that's soft, flaky, sweet and incomparably delicious. The best part is that it's available by the slice or the whole pie, but if you want the latter, order ahead of time. Don't be that jerk who buys up the whole thing on the fly.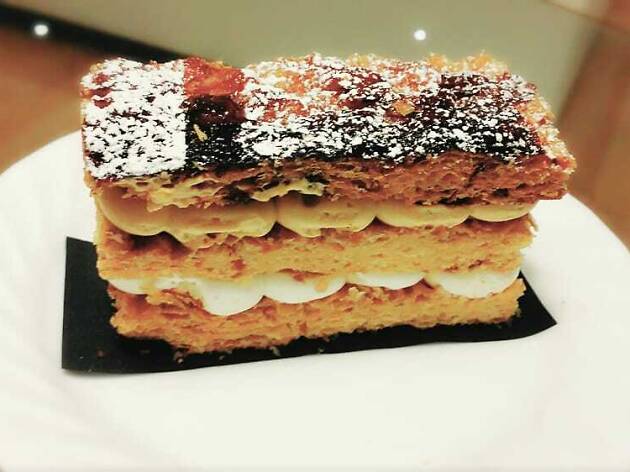 Photograph: Courtesy Yelp/Fiona W.
2. Mille-feuille at Pâtisserie Rhubarbe
Pastry chef Stéphanie Labelle has a definite knack for whimsical pastries, putting a refreshed spin on classics like lemon tart and éclair. However, if forced to narrow it down to a single option, her mille-feuille is the way to go. Crisp layers of puff pastry encase layers of both vanilla and caramel whipped creams, combining delicacy with decadence. Still, that doesn't mean your visit to this pastry shop can't include eating a little bit of everything you see. We won't judge.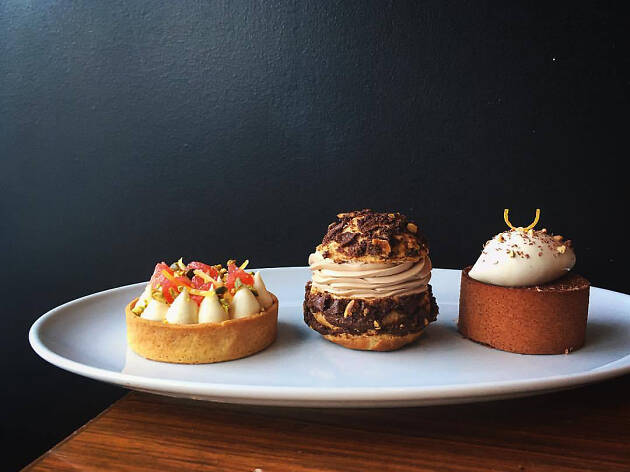 Photograph: Courtesy Patrice Pâtissier
3. Cannelé at Patrice Pâtissier
Cannelé, a Bordeaux pastry made predominantly from eggs, sugar and flour may appear simple at first glance, but getting the technique down is harder than it looks. Pastry chef Patrice Demers has perfected his recipe, achieving the perfect balance of crunchy exterior to custardy centre. Plus, the incorporated flecks of vanilla bean take this cannelé to the next level.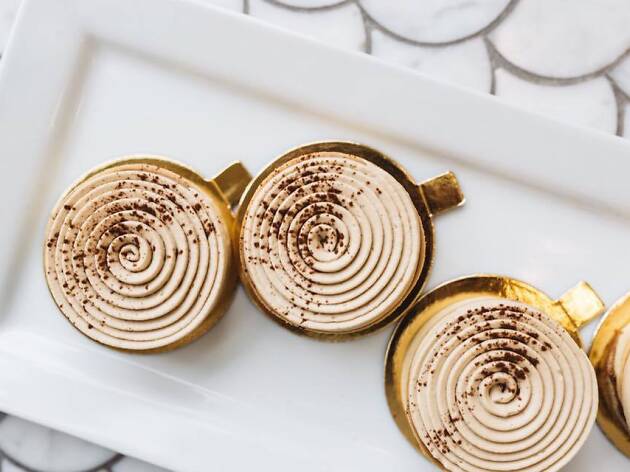 Photograph: Courtesy Café Bazin
4. Chocolate coffee tartelette at Café Bazin
The highly accomplished pastry chef Bertrand Bazin turned a lot of head when he teamed up with chef Antonio Park to open this café, which offers a variety of sweet and savoury eats that are all oh-so-finessed. Be sure to get a picture of Bazin's chocolate coffee tartelette before digging in, with immaculately piped Chantilly cream adorning the chocolate ganache underneath. We could give bonus points for the technical artistry of this delicious treat, but hey, it was made to be destroyed.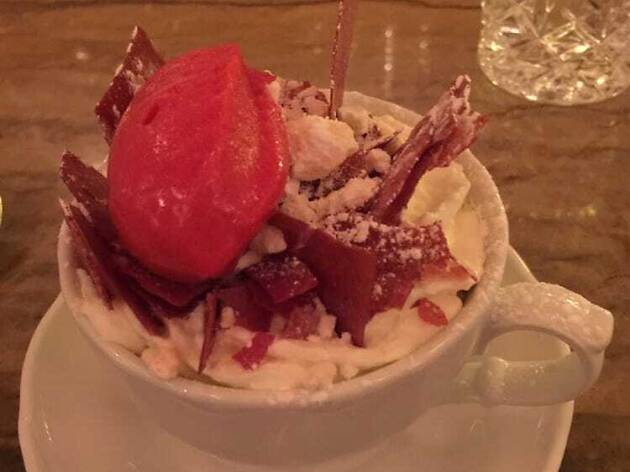 Photograph: Courtesy Yelp/Jason M.
5. Crispy Fruits at Montréal Plaza
Originally developed from the idea of a 'dry salad' by chefs Charles-Antoine Crête and Cheryl Johnson, this regular installment on the whacky restaurant's dessert menu is a stupendous achievement in eating pure fun. A deep coffee mug is filled with marinated blackberries and white chocolate mousse before being covered with fragments of dried fruit purée, topped with a quenelle of berry sorbet and finished with a dusting of powdered sugar. It's a combination of flavour, temperature and texture that's unparalleled among restaurants here. Enjoy.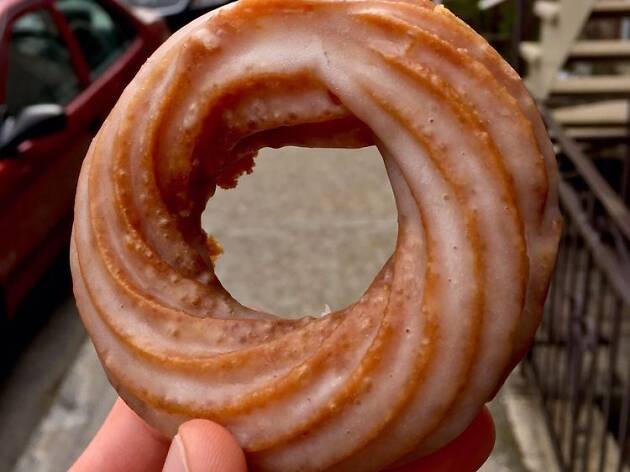 Photograph: Courtesy Yelp/Spencer C.
6. Lemon crueller at Crémy Pâtisserie
When looking into options for good doughnuts in Montreal, the pastry-cum-doughnut shop is offering some of the best. It's easy to get distracted by decadent options like their giant Boston cream or salted caramel doughnuts, but the real winner is their lemon crueller. Almost like a churro in its egginess, the kicker is the zippy lemon glaze it's enrobed in.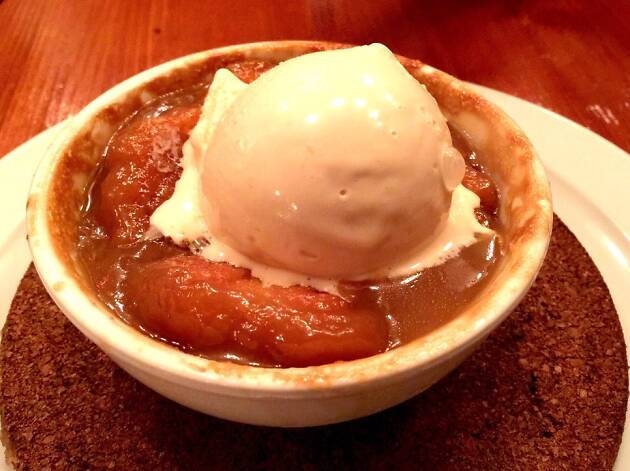 Photograph: Courtesy Yelp/Don N.
7. Pouding chômeur at Au Pied de Cochon
After a bombastic meal at Au Pied de Cochon that's been coated in foie gras shavings, it's difficult to still find the room for—or generally want—dessert. Their pouding chômeur, however, is definitely worth saving room for. It may not look like much, but when you take cake, soak it in brown sugar and cream and top it with a melting scoop of ice cream, it's hard to say no. It doubles as a Québecois classic as well, so consider eating one to be a civil service of patriotic duty.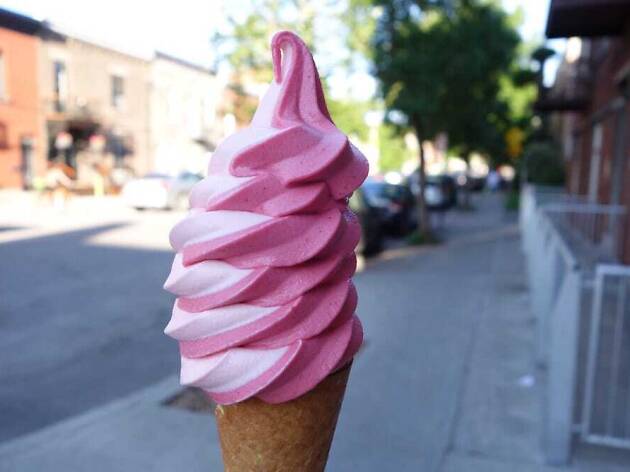 Photograph: Courtesy Yelp/Kevin L.
8. Seasonal swirl cones at KemCoba
If the line-ups here on a hot summer day are any indication, they've got something going with their ice cream, period. That being said, their seasonal swirl cones are the money maker. Changing every few weeks from combos like sour cherry and almond to blueberry and honey, the best summer challenge is to try and eat them all. Pro-tip: Check their Twitter feed for updates on their lines so you can have a sense of how long you'll need to wait.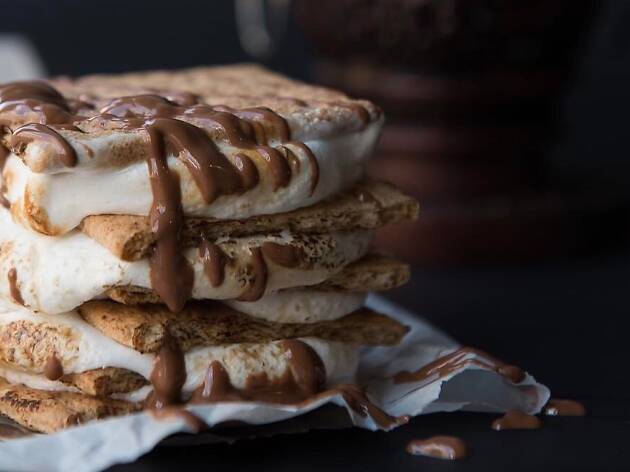 Photograph: Courtesy Cacao 70 Factory
9. Cornflake cookies at Cacao 70 Factory
Cacao 70 might be better known as a mediocre dessert chain, but their Pointe-Saint-Charles factory is pumping out bean-to-bar chocolate and better yet, an assortment of treats made with their homemade chocolate. Top of the list are their cornflake cookies, laden with maple-dark chocolate and mini marshmallows, as well as crunchy bits of cornflakes. They're perfectly under-baked while retaining a crispy exterior. The s'mores (pictured) receive honorable mention.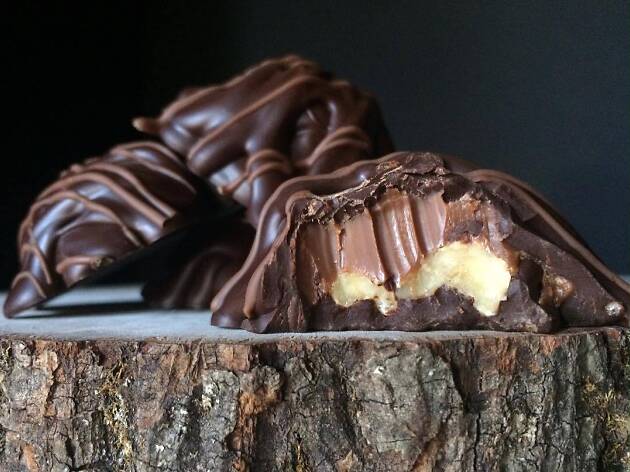 Photograph: Courtesy Noir Chocolat
10. Croque-mous at Noir Chocolat
A bit off the radar, Noir Chocolat is tucked away down a side street just off of Mont-Royal in the Plateau. Once inside, it's a bit like Willy Wonka's shop for grown-ups with elegant takes on childhood treats. Out of everything you can sink your teeth into, their croque-mous are a a necessity. A homemade take on Turtles, with generous amounts of caramel and walnuts coated in either milk or dark chocolate, we dare you to try stopping at just one.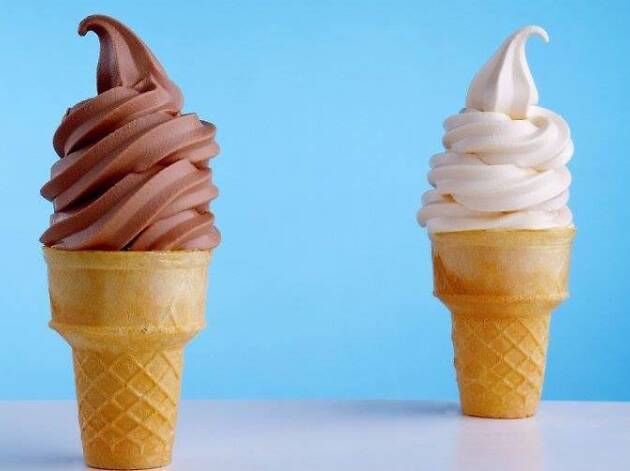 Photograph: Courtesy Pizzeria Gema
11. Frozen custard at Pizzeria Gema
Come for the pizza and stay for dessert at Pizzeria Gema all year round, or just hit up the service window around the corner from the front entrance in the summer. Their frozen custard might not be fancy, but it's everything you want in a frozen dessert: Cold and creamy without being excessively icy in the slightest.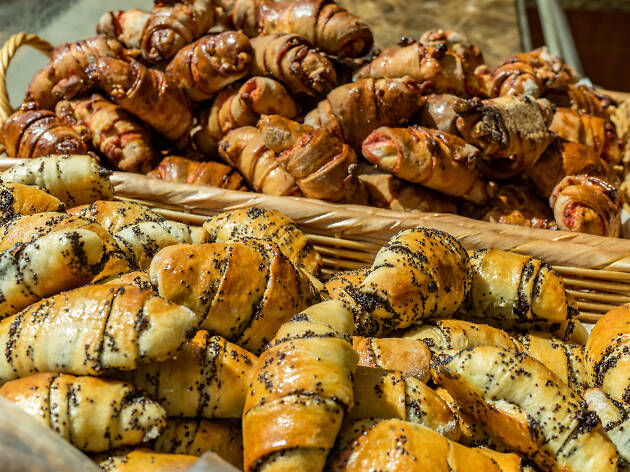 Photograph: Paul Shio
12. Chocolate babka at Cheskie's
The shelves at Cheskie's are adorned with Jewish pastries of all shapes and sizes and between all the flavours of rugelach that are available here, what you really want to opt for is their chocolate babka. Imagine a cinnamon roll, but instead of cinnamon and sugar, it's filled with a chocolate paste so rich that it's almost like eating brownie wrapped up in bread dough.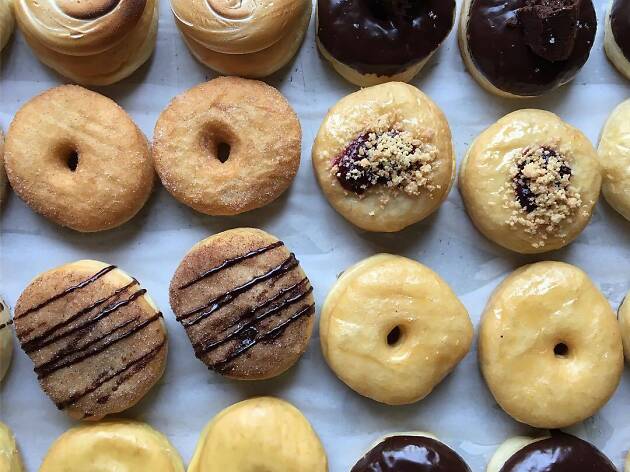 Photograph: Courtesy Léché Desserts
13. Passion Fruit Glaze Donuts at Léché Desserts
Canadians can be pretty picky about their doughnuts, especially when considering how Tim Hortons is steadily becoming a major national export. That said, one of the Montreal versions that easily holds a candle to—it not overshadow—our preference for fat, squishy, chewy rings of fried dough is found here, and it's a vegan one to boot. Léché makes a lot of stellar options, but our favourite's the passion fruit glaze which brings a refreshing kick to an otherwise heavy repast. Bonus: Sign up for one of their donut-making classes to figure out how it's done.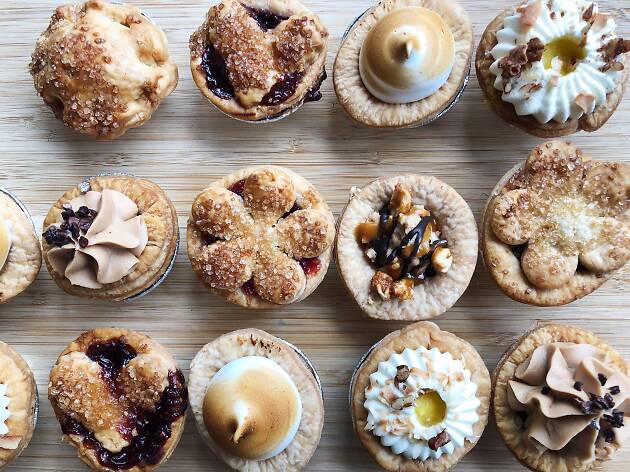 Photograph: Courtesy Rustique Pie Kitchen
14. Tartelettes at Rustique Pie Kitchen
This Saint-Henri establishment made a name for itself first as one of its neighbourhood's premier pastry shops, a small shop with a heavy focus on country-style pies with crumbling crusts and fruit-heavy fillings. They unfortunately don't sell by the slice, instead opting to serve mini two-bite pies whose flavours range from classics like key lime and blueberry to the bonfire, a take on smores that's topped with a torched marshmallow. Come to try one and leave with a box of six.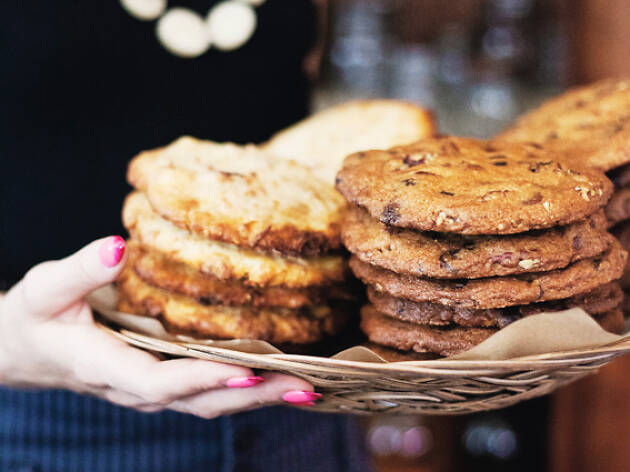 Photograph: Olive et Gourmando
15. Chocolate cookies at Olive & Gourmando
This happening lunch spot in the heart of Old Montreal serves up sandwiches and salads galore, but their ever-impressive pastry counter is worth its weight in gold for its cartloads of cookies, croissants, brownies, brioche, and more. Chocoholics are encouraged to try their killer chocolate cookies; the dough itself has dark chocolate melted into it, to which bittersweet, milk, and white chocolate chips are then stirred in.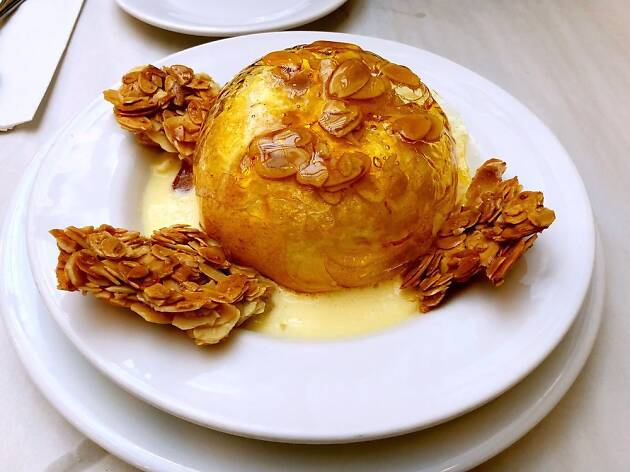 Photograph: Courtesy Yelp/Crystal Y.
16. Île flottante at L'Express
This Montreal institution and the city's culinary ambassador to France has a dessert menu with all of the French bistro classics you'd expect, from chocolate tart to baba au rhum. But it's their île flottante, "floating islands" of soft meringue nestled in rich custard, that are a hot-ticket item. So much so, they're often selling out mid-way through dinner service. Don't be afraid to order dessert first to make sure you get to try one.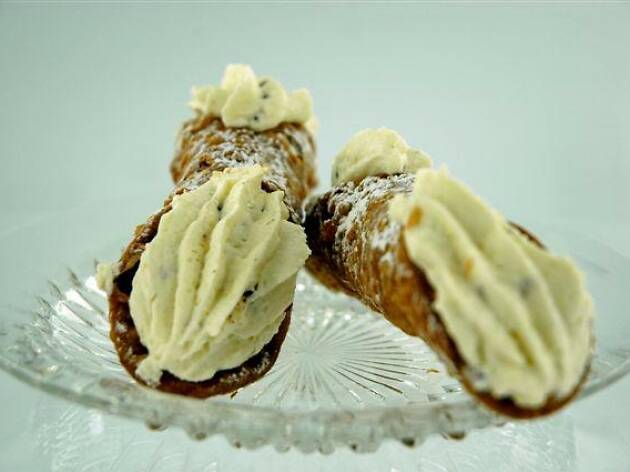 Photograph: Courtesy Alati-Caserta
17. Cannoli at Alati Caserta
Montreal's pastry options are vast with its regular injections of young guns contributing to the scene. As a result, sometimes the more old-school, traditional options are easy to forget about. Eating cannoli at Little Italy's Alati Caserta can rectify that problem though: They are far from forgettable. Serving their ricotta-filled bites for over 50 years, they've expanded to include flavours like tiramisu and pistachio. Honorable mention goes to their zeppola.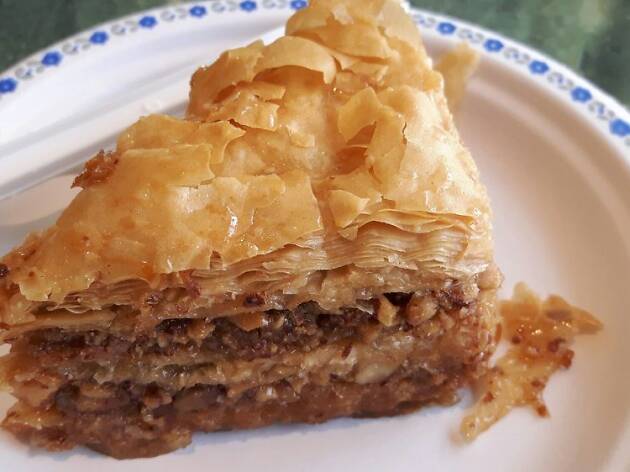 Photograph: Courtesy Yelp/Dessi V.
A Montreal staple since 1971, Afroditi is a Greek bakery specializing in elaborately decorated cakes for all occasions while staying true to their heritage with a variety of different baklava options. Whether you prefer your baklava filled with walnuts, almonds, or pistachios, this bakery has you covered with the best in town, bar none.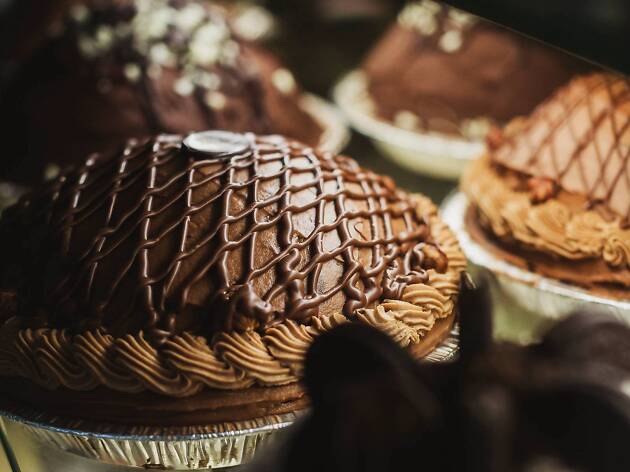 Photograph: Courtesy Rockaberry
19. Rockabrownie Pie at Rockaberry
Truth be told, there isn't exactly the richest of traditions for pies in Montreal; a surprising feature of the food here when considering how much we love our diners. That means that when pies are done right, we flock to it, and that includes this chain of local pie shops. Their mile high takes that could easily pass as slices of cake are irresistible, the most irresistible of which is the Rockabrownie and its stratigraphy of chocolate, cream and cake.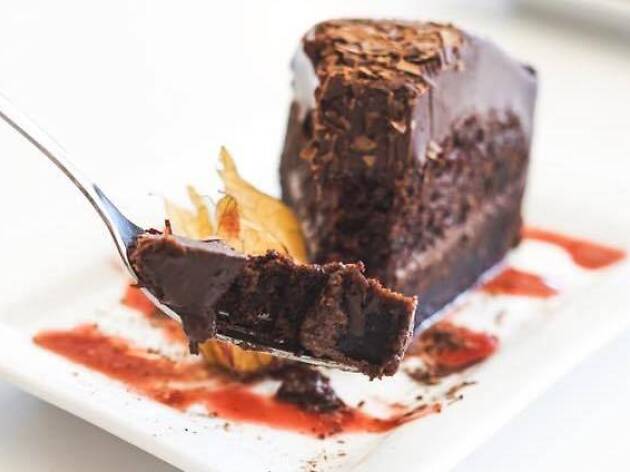 Photograph: Courtesy Aux Vivres, Westmount
20. Chocolate Apple Cake at Aux Vivres
This vegan version of an American diner does an animal-free version of anything you could find at a greasy original, and that includes classic homestyle desserts. Folks might argue with us that the carrot cake is the superior option on their dessert menu, but we're not talking about how well a dessert could fool a carnivore. We're talking about how this chocolate-rich cake full of hints of apple, both dense and soft in its consistency, is stupidly addictive and a better crowd pleaser. Sorry not sorry.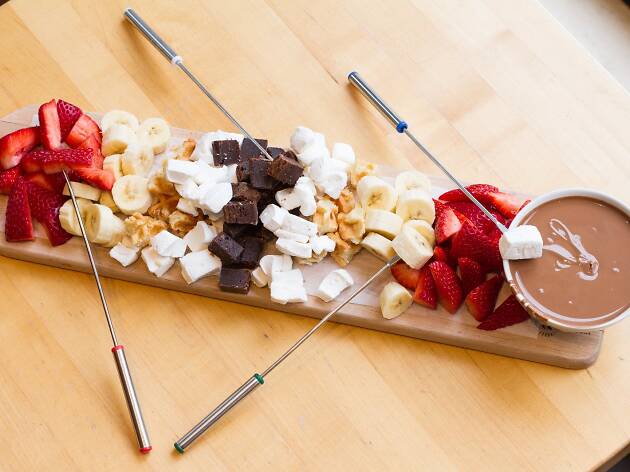 Photograph: Courtesy Juliette et Chocolat
21. Chocolate Fondue at Juliette et Chocolat
A Montreal-bred chain of dessert bars that was a first in the province, their fleet of red chef hat-topped staff serving sweet and savory crêpes, rich brownies and melted chocolate by the mugful is exceedingly popular. Despite that heavy branding, rest assured, it's popular for a reason. Among the options folks flock to them for, a flowing pot of chocolate fondue—served with dipping options that range from fresh fruit to waffles and marshmallows—is just about as good as it gets.
Craving more baked goods?
Whether it's pastries, croissants or fresh bread you're after, it's all on the menu at the best bakeries in Montreal.