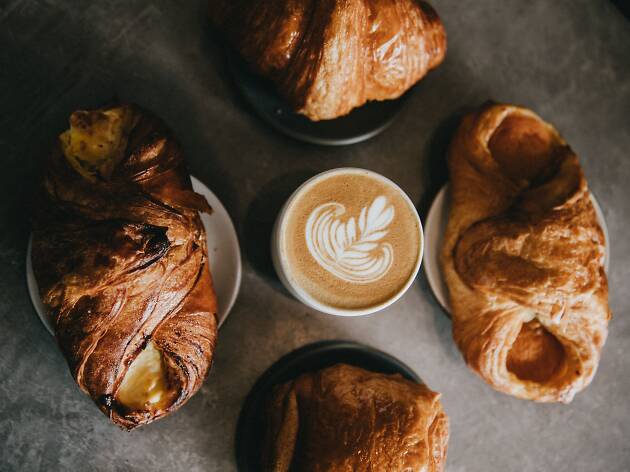 The best bakeries in Montreal for sweet and savory goods
Whether it's pastries, croissants or fresh bread you're after, it's all on the menu at the best bakeries in Montreal
Montreal is sometimes described as the perfect combination of Paris and New York, and while locals may see that as wishful thinking, it's true in the realm of baked goods. Bakeries here combine the best of French and Jewish traditions, from patisseries whose best desserts have new, innovative combinations of flour, butter and eggs to tons of time-honoured recipes. Hungry for something sweet? Want to line your stomach with carbs before checking out one of the city's best bars? The best bakeries in Montreal will satisfy every craving.
RECOMMENDED: Full guide to the best restaurants in Montreal
A bakery we love so much that we welcomed them into Time Out Market
You're going to want to break bread here: Local pastry wunderkind Jeffrey Finkelstein's masterful chemistry of flour and water at Hof Kelsten has permeated just about every café's and restaurant's menu. While his Mile End bakery has long been known as the essential stop on a carb crawl in the city, this new concept created with pastry chef and associate Suyin Wong promises a whole new sugary avenue: Gear up for options like babka ribboned with chocolate, brownies with a caramel drizzle or ingenious creations like the All-Dressed Croissant.
Best bakeries in Montreal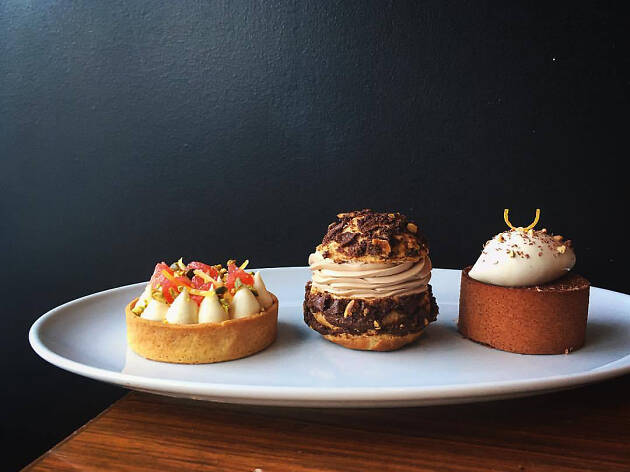 Photograph: Courtesy Patrice Pâtissier
Pastry chef Patrice Demers is among the best in the biz in Montreal with creations that are as masterfully constructed as they are innovative. Sweets reign supreme at his eponymous bakery and pastry shop, where kouign-amann, financiers, lemon tarts and banana bread are perennial faves. Really, it's impossible to go wrong with whatever you pick from the counter of its stylish Little Burgundy locale. Also deals out an amazing lunch and Sunday brunch service, as well as baking classes and wine tasting courses—geez, what can't they do?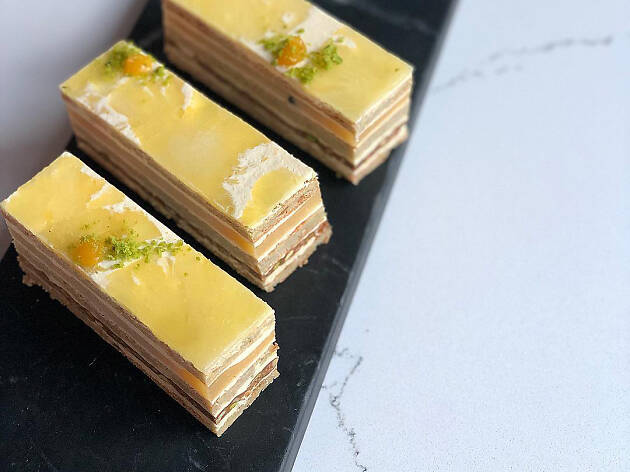 Photograph: Courtesy Pâtisserie Rhubarbe
Pâtisserie Rhubarbe's pastries and desserts are almost too gorgeous to eat, but you'd be doing a disservice to yourself if you left a single crumb behind. Pastry chef Stephanie Labelle and her team have mastered French classics like millefeuille, macarons and the bakery's fruity cheesecakes that change seasonally. It can't be stressed enough: Everything ordered at their contemporary bakery's absolutely divine.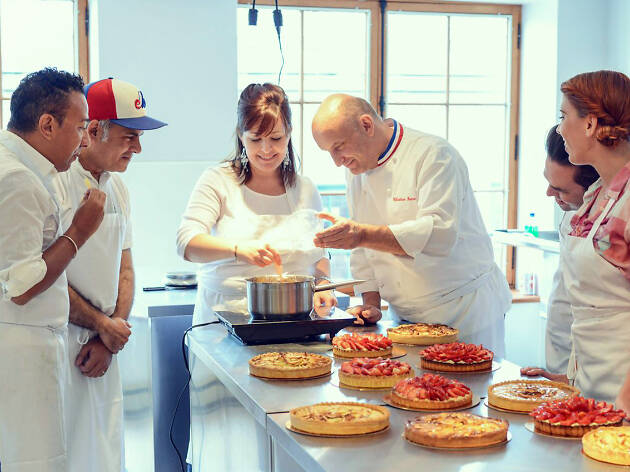 Photograph: Maison Christian Faure
3. Maison Christian Faure
Maison Christian Faure's posh boutiques in Old Montreal and downtown do delicate French pastries that include croissants, tarts and macarons. These baked goods taste as good as they look, and they all look pretty damn good. These are the pastries you bring to a dinner party when you really want to impress your host, show off in front of them, or both.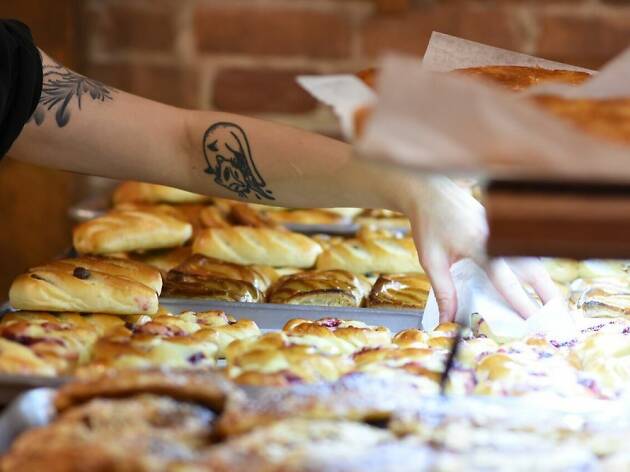 Photograph: Courtesy Yelp/Louise K.
4. Pâtisserie Au Kouign Amann
Once a cult favourite, Au Kouign Amann is now widely recognized for its charms both here and abroad. It takes its name with the pastry it specializes in: A doughy Breton cake full of sugar and butter—you know, as all the best things are. The tiny, simple patisserie's perfectly flaky croissants are also worth the visit, if not their simple tartlettes filled with custard and a handful of berries.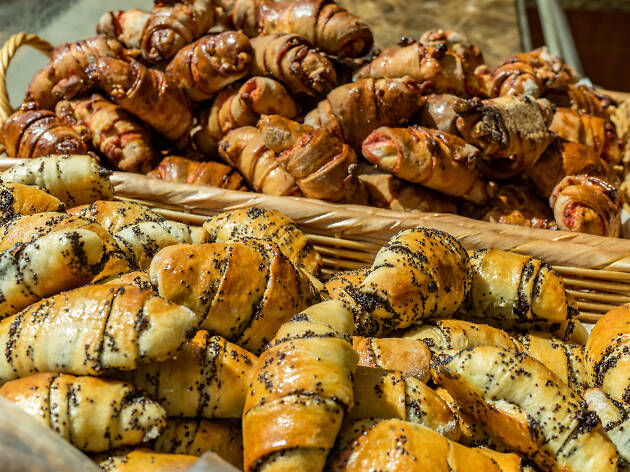 Photograph: Paul Shio
This tiny, no-frills boulangerie is widely known for the full range of Jewish classics it doles out, from black and white cookies to challah bread. Everything the team at Cheskie's makes is delicious—shout out to their mini cheesecakes and cheese crowns—but the real star of the show is the chocolate babka, a sweet yeast bread featuring dense, chocolate-filled layers. If you think that sounds incredible, rest assured: It's better than you're probably imagining.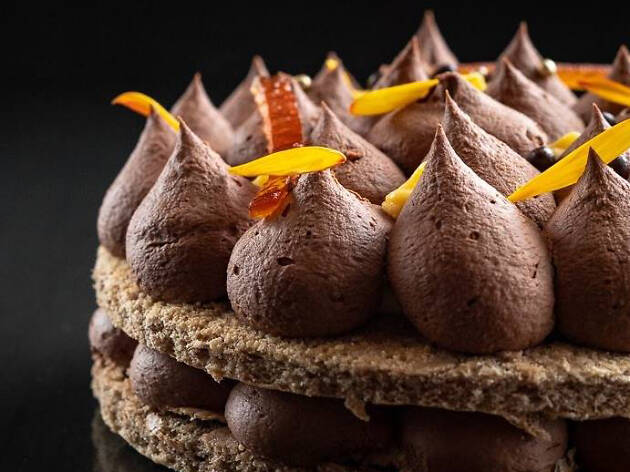 Photograph: Courtesy La Bête à Pain
This French boulangerie's two (soon to be three) locations in Ahuntsic, Griffintown and Laval serve up some of the best sandwiches in the city on fresh and delicious bread. Don't ask us twice and don't fight us on this one: The baguette is perfection. You'll want to take a loaf (or loaves) away after your first taste. Just make sure to grab a few of their pastries while you're at it.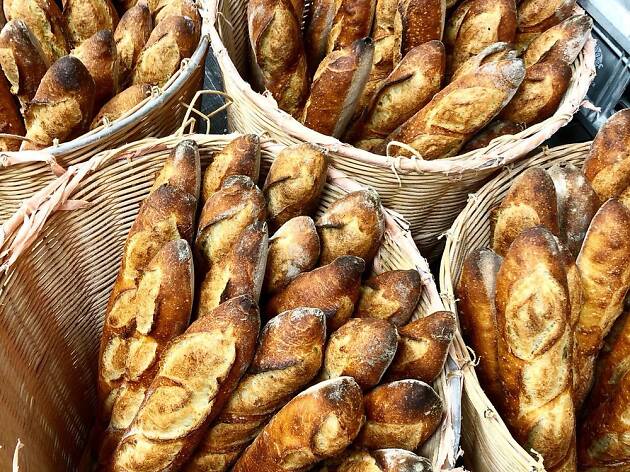 Photograph: Courtesy Yelp/Automne Boulangerie
A relative newcomer to the Montreal bread and pastry scene, Automne Boulangerie opened in 2016 to a hell of a lot of fanfare, and for good reason: The duo behind Automne—baker Julien Roy and chef Seth Gabrielse—favour simple, seasonal, quality ingredients and it shows. In a city chock-full of boulangeries, the simplest of Automne's offerings still manage to stand out, whether it's baguettes or croissants.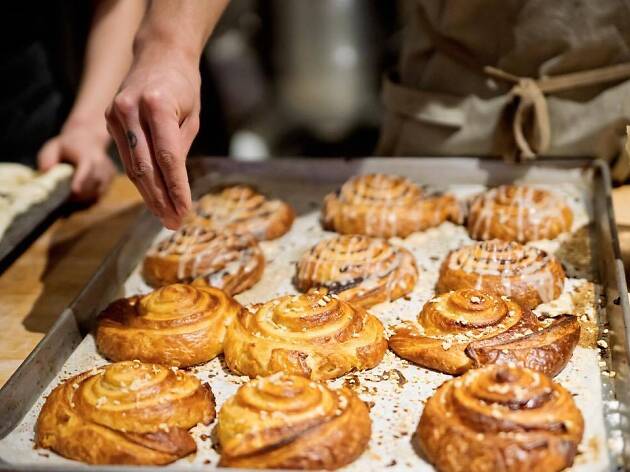 Photograph: Farine et Vanille
This bakery's Mexican influence—evident in items like the concha, a sweet bread roll with a crunchy shell—sets it apart from the traditionally European bakeries that dominate the scene in Montreal. That's not to say that they don't also do European classics however, as their baguettes, brioche, croissants and more are all executed exceptionally well.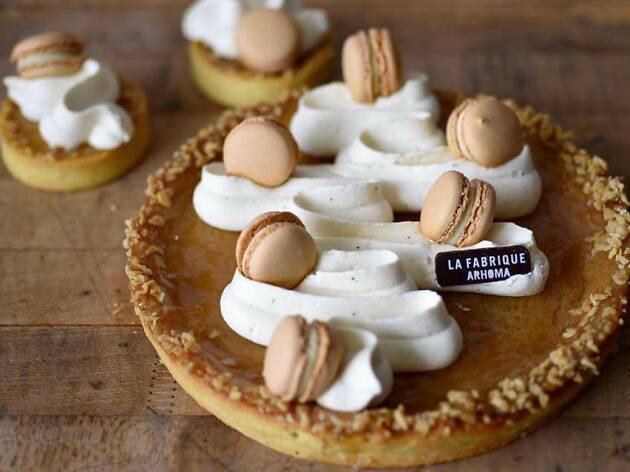 Photograph: Courtesy La Fabrique Arhoma
9. ArHoMa / La Fabrique Arhoma
ArHoMa's Hochelaga boutique would be a gem in its own right thanks to the decadent desserts created on site, but the shop has the added bonus of being stocked with additional pastries and breads from La Fabrique Arhoma, 'the factory' which also supplies bread to grocery stores around Montreal. Some of ArHoMa's best desserts are the richest; the team favours seasonal ingredients, but lucky for us, chocolate never goes out of style.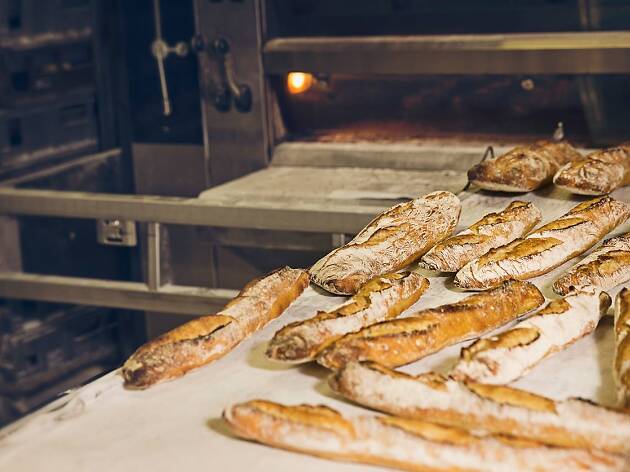 Photograph: Courtesy Le Pain dans les Voiles
10. Le Pain dans les Voiles
Bread is the raison d'être at Le Pain dans les Voiles, but don't skip on their sturdy selection of pastries on any given visit. Like a few bakeries around town, this Villeray spot—an outpost of a treasured Mont-Saint-Hilaire bakery—is in contention for the best baguette in Montreal. Look for breads incorporating flavours like choco-sesame or sesame and tamari.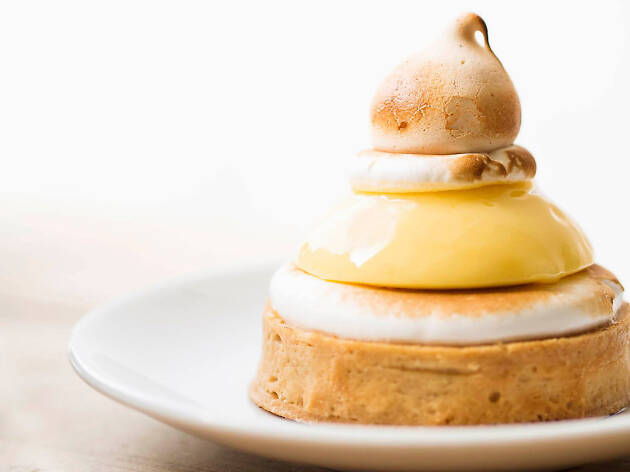 Photograph: Courtesy Fous Desserts
Another sweet spot in the Plateau, Fous Desserts is primarily known for its French pastries—the croissants, plain and almond, are stellar—but the bakery keeps things interesting with a slight Japanese influence like its delectable matcha cake. If a taste of pastry isn't enough to staisy your sweet tooth, Fous also produces its own chocolate on site.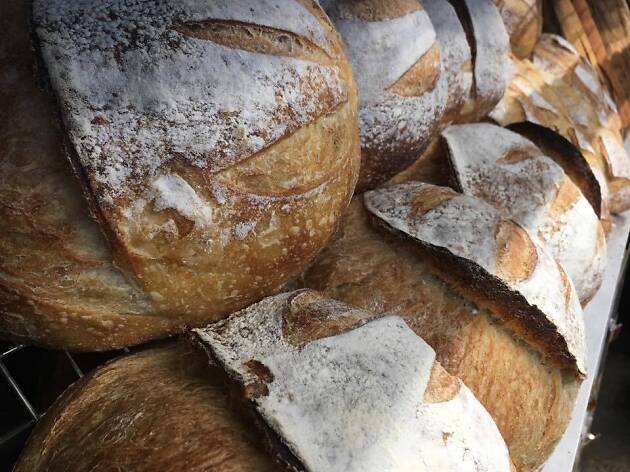 Photograph: Courtesy Boulangerie Guillaume
12. Boulangerie Guillaume
With its industrial vibe, the Mile End bakery Guillaume feels like bread lab, which makes sense; creating such consistently flawless bread requires scientific precision. The bakery's savoury and sweet offerings are all delicious enough to be serve as meals unto themselves, but if you're feeling a little more creative, their brioche cubes make for the best homemade French toast—if you can to avoid wolfing the whole thing down before you make it home, that is.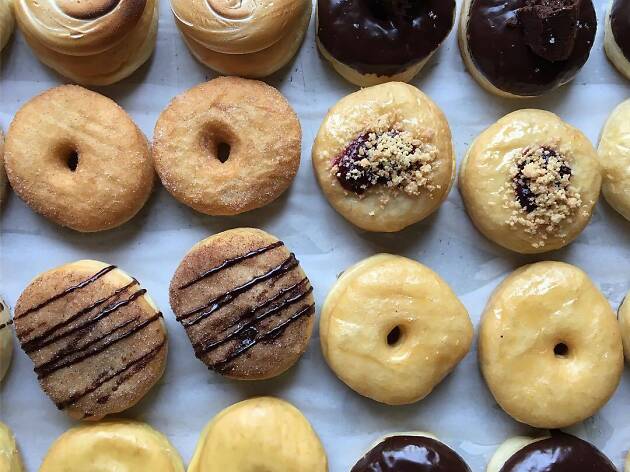 Photograph: Courtesy Léché Desserts
If you need a break from the delicate, flaky layers of butter-laden pastry, Léché Desserts' gourmet donuts offer a tasty, deep-fried alternative: Light-as-a-cloud donuts that come in fun flavours like peppermint buttermilk, spiced ginger glazed and white chocolate mousse. They're also nice to look at, but it's unlikely that you'll have time to snap a photo before you gobble yours up.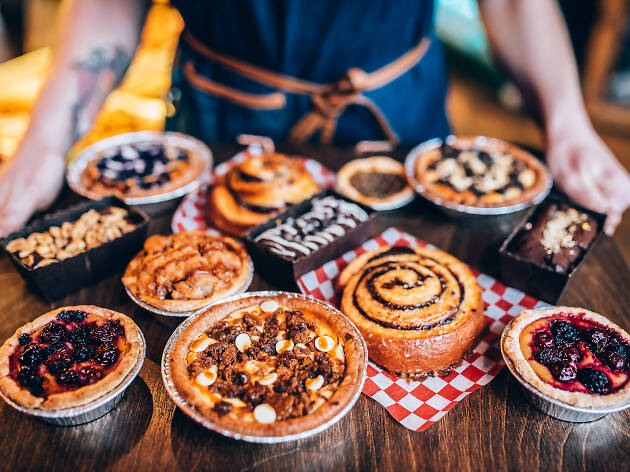 Photograph: Caroline Perron
14. Sweet Lee's Rustic Bakery
Sweet Lee's homestyle desserts all look something that would win first prize in a county fair baking contest, with both the Verdun-based bakery's space and the treats it serves are the definition of cozy. Think gooey, barely-contained pie or tart fillings alongside fat and sticky cinnamon rolls. We'd go on, but we've got drool to mop up.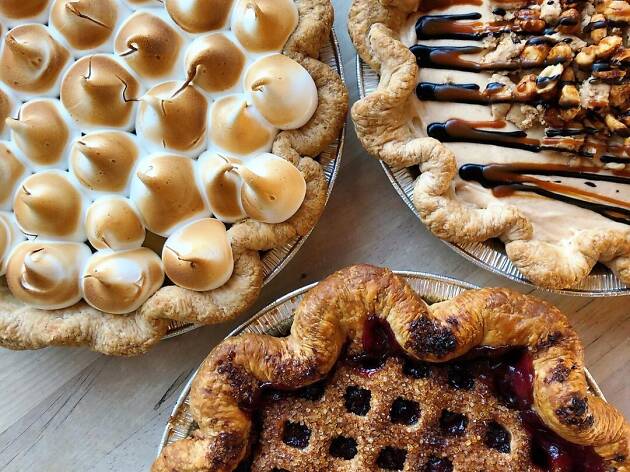 Photograph: Courtesy Rustique Pie Kitchen
For a city that loves sweets (and carbs) as much as Montreal does, there's a relative lack of quality sweet pies on offer. Rustique fills that void with pies in a range of flavours, including classics like lemon meringue, key lime and apple. Billed as a "country pie stand in the city," Rustique offers full pies and minis, as well as cakes, which are also delicious (and highly aesthetically pleasing).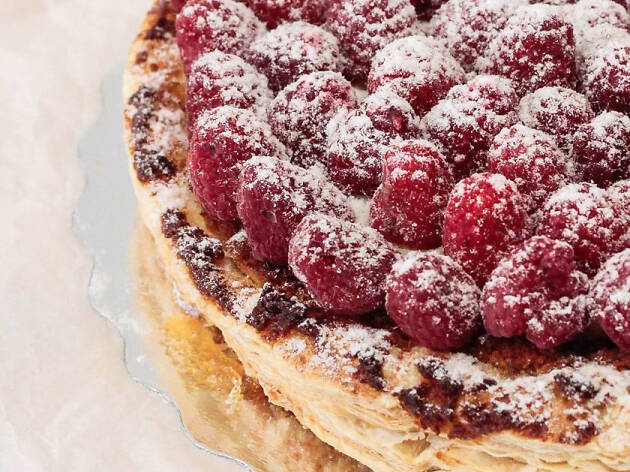 Photograph: Courtesy Mamie Clafoutis
This homegrown chain is chiefly adored for its melt-in-your-mouth croissants, but its bakery locations also double down as hangouts. The owners have aimed to recreate a grandma's-kitchen-on-Sunday vibe, which is exactly what you'll find in any of Mamie's addresses. Sit down for a quick meal or pick up their fresh-from-the-oven bread, pastries and other sweets to go.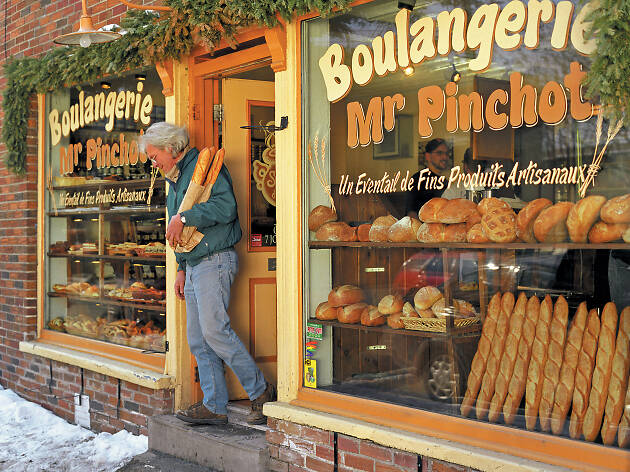 Photograph: Tourisme Montréal, Stéphan Poulin
17. Boulangerie Mr Pinchot
This homey Plateau bakery does French staples in a quaint, plucked-from-a-postcard setting with pastry-filled displays and retro window decals that feel quintessentially Montreal. In addition to an assortment of sweets and breads, this bakery also stocks a selection of cheeses and sandwiches, making this is the only stop you'll need to make on the way to your impromptu picnic in the nearby Parc La Fontaine (aside from the SAQ, of course).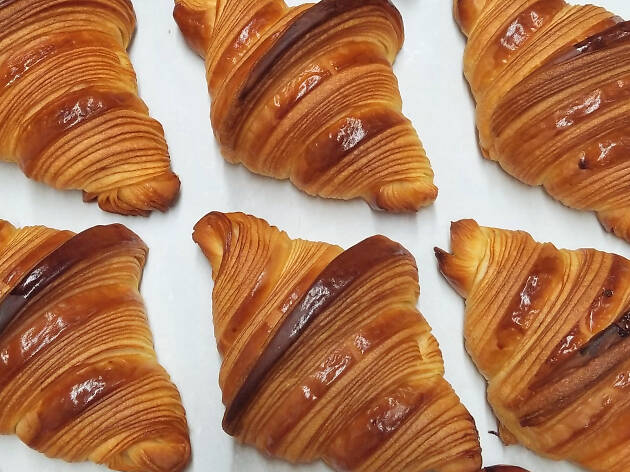 Photograph: Éric Goeury
The butter-heavy offerings at this friendly chain of bakeries with locations on Mont Royal, Rachel and Masson include Breton pastries and croissants. They also do other sweets—macarons, panettone and rich, decadent tarts—and great bread, and all three locations serve up simple sandwiches, pizzas and quiches that make them ideal for a quick lunch break stop.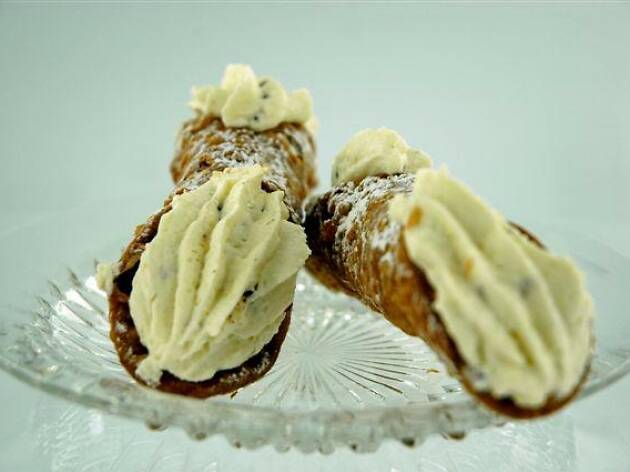 Photograph: Courtesy Alati-Caserta
This Little Italy pasticceria has been a Montreal institution since 1968. This Dante Street mainstay offers a range of delicious cakes and cookies and amazing Italian pastries like sfogliatelle and zeppola, but really, it's all about the cannoli. If someone tells you there's better cannoli for sale anywhere outside of Italy, they're either lying or delusional, and we'll take that to the bank.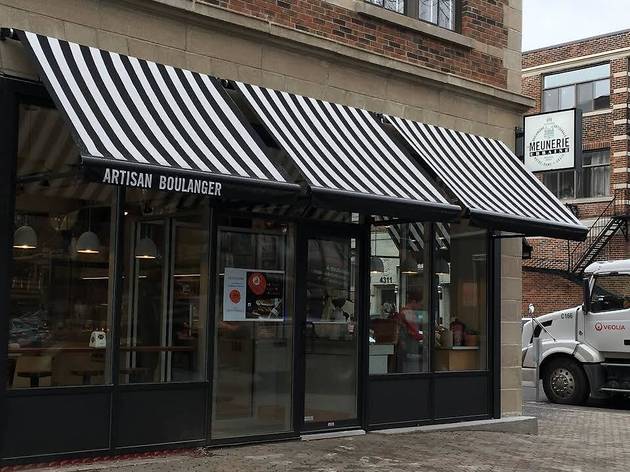 Photograph: Courtesy La Meunerie Urbaine
There's more going on at this NDG bakery than its baguettes, although those loaves are what gets a lot of the fanfare. La Meunerie Urbaine's wide selection of rustic breads is all excellent, with an irresistible consistency that's both soft and perfectly crusty. They also do pastries, our most recommended of which are the canelés and croissants.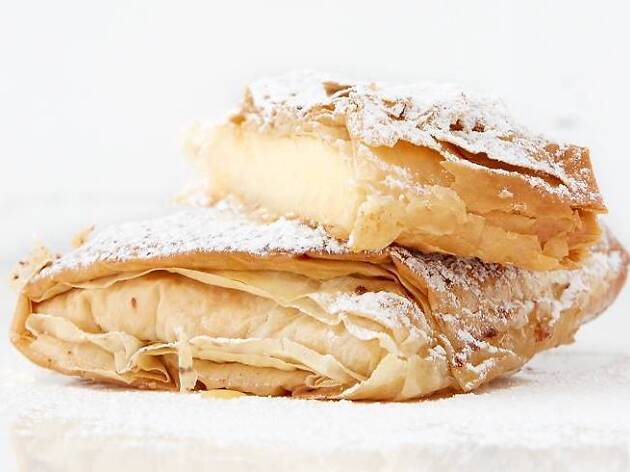 Photograph: Courtesy Afroditi
Get your phyllo fill at Afroditi, the classic Park-Ex Greek bakery that's long been a neighbourhood favourite. This is the essential place for baklava and spanakopita in Montreal, but they're far from a limited selection with breads and non-Greek pastries that are additionally worth ordering up. Special occasions call for their fondant-covered personalized cakes they dish out at a quick turnover rate.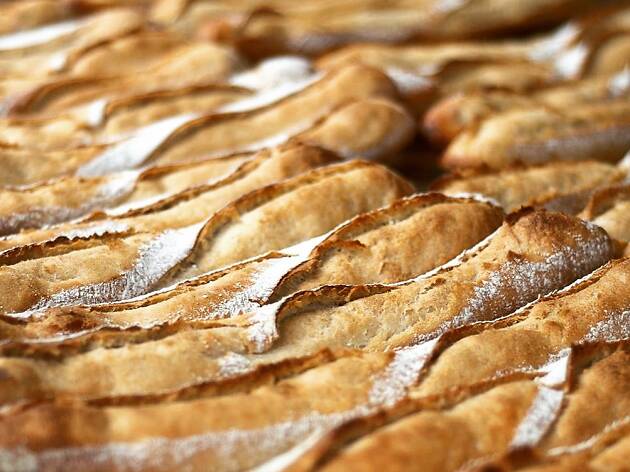 Photograph: Courtesy Chez Fred
Oozing classic French charm, Chez Fred is a little slice of Paris on this side of the Atlantic. If you don't have croissant fatigue yet, Fred's are worth all the praise they receive from its regulars in NDG and beyond. Chez Fred also does bread, among which is an magnificantly crusty and chewy baguette.
Cafés with the best coffee in Montreal
Uptown to downtown, filter to lattes, these are the top-tier roasters and grinders of the best coffee in Montreal.