Heads up! We're working hard to be accurate – but these are unusual times, so please always check before heading out.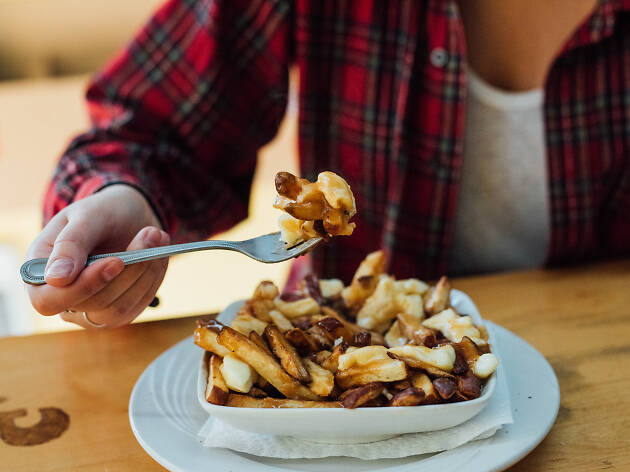 The best poutine in Montreal you need to eat right now
We dove into plates upon plates of fries, cheese curds and gravy to bring you the best poutine in Montreal right now
Bagels and smoked meat are among the things Montreal is best known for, but poutine? That's the city's most popular dish, bar none. One of the best cheap eats in town and the perfect remedy to a night out at the city's best bars, a great poutine is a balancing act between crispy and delicious fries, fresh cheese curds that are warm yet squeaky, and a gravy that's flavorful but not overpowering. This list is for those in search of the best poutine in Montreal. Eat it and weep.
RECOMMENDED: Full guide to the best restaurants in Montreal
Best poutine in Montreal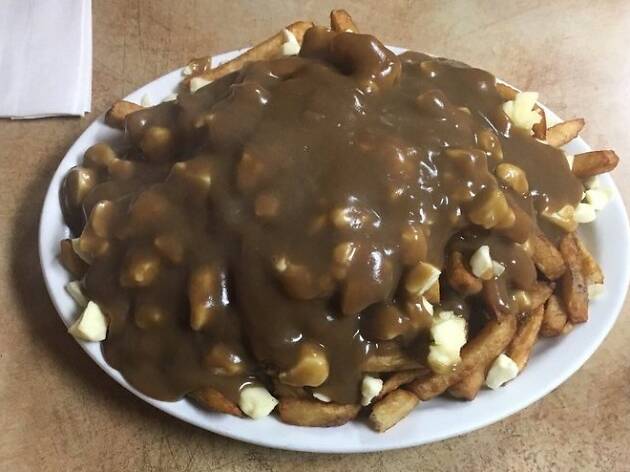 Photograph: Courtesy Yelp/Vera S.
1. Brown Sauce at Restaurant A.A.
Open every day of the week from 8 A.M. to 5 A.M., this low-key Saint-Henri institution has stood its ground despite the food scene that's quickly shifting around it. Some claim that A.A. serves the best poutine in town, with potatoes that are fried twice, a generous amount of squeaky cheese curds and a gravy (known as sauce brun here) that's made from scratch with veal bones and a slight hint of cinnamon. Given those late hours, it's highly recommended you roll in with a group and dig in to the largest size they've got. Trust us: It's ginormous.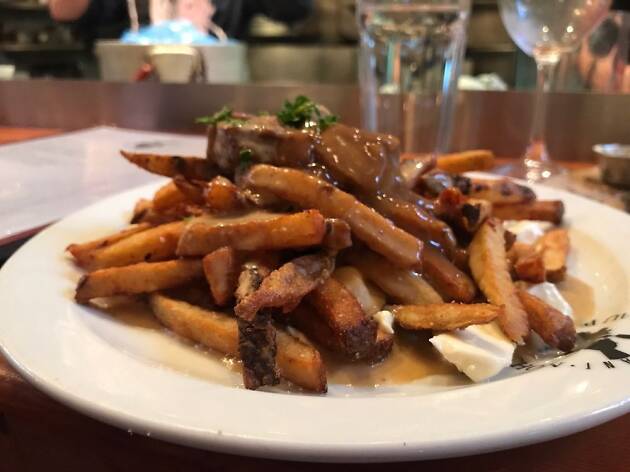 Photograph: Courtesy Yelp/Bryan A.
2. Foie Gras Poutine at Au Pied de Cochon
As is, this restaurant is one of Montreal's best and a leading destination for modern Québécois cuisine. Bonus points are due for their poutine. The bistro's owner and star chef Martin Picard is known for his extravagant use of foie gras in multiple dishes, so much so that they're deserving of a separate section on the menu. The elevated PDC poutine is topped with a generous amount of seared foie gras slices and homemade foie gras gravy that's so incomparably rich that you'll either immediately shy from it or be licking the plate clean.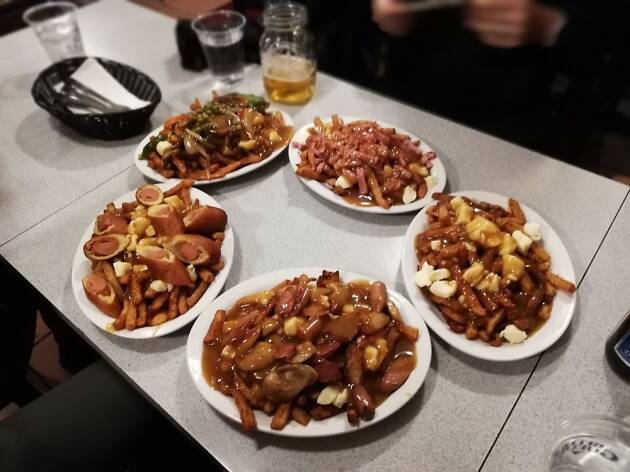 Photograph: Courtesy Yelp/Vicola A.
3. Tandoori at Chez Claudette
To love poutine like a local, you go to Chez Claudette—never mind those long lines at La Banquise. Open since 1982 and just as delicious, this Mile End institution has been a favorite for its wide range of poutine choices—nearly 50 in total—that were created in part by loyal customers contributing ideas. The place comes alive at night when late-night clients fill each and every seat to indulge in poutine topped with fish and chips, beef bourguignon, a slice of tourtière, or the chicken tandoori that's reportedly their most popular creation.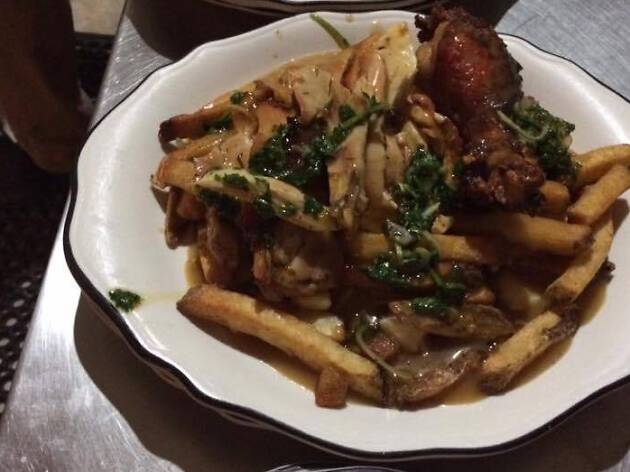 Photograph: Courtesy Le Coq de L'Est
4. Poutine du Coq at Le Coq de l'Est
Located way further east than one would normally venture to eat, rest assured that Le Coq de l'Est is definitely worth the trek. Opened by two Joe Beef and Au Pied de Cochon alumni, the restaurant serves all the rotisserie chicken classics with an added South Asian twist, inspred by the chef's Pakistani culinary heritage. Order the Poutine du Coq that comes with heaps of roasted chicken morsels, a fried drumstick and a combo of chicken-based gravy and tandoori sauce.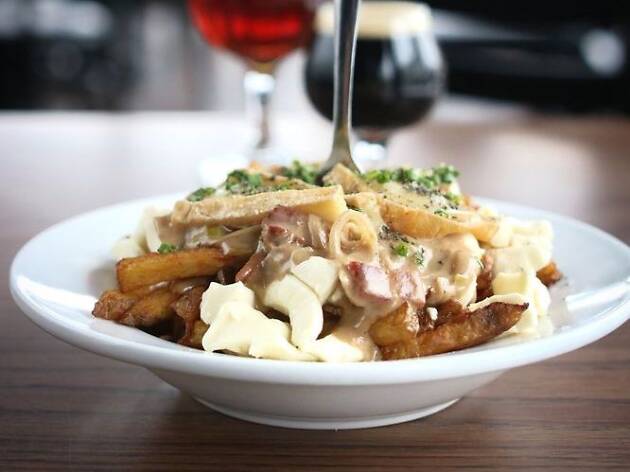 Photograph: Courtesy Yelp/Broue Pub Brouhaha
5. Poutiflette at Broue Pub Brouhaha
A good poutine's usually eaten once a couple rounds have been knocked back, but why not head to a bar that's serving one the best in town? This tavern serving up some of the better brews in town's got a poutine menu worth checking out, the best of which is the Poutiflette: You'll find fatty cubes of lardon, caramelized onions and fried leeks set atop crispy fries, cheesed up with curds and slices of raw milk Pied-de-Vent cheese from the Magdalen Islands, all finally doused in a rich cream sauce. It's twisted, it's rich, it's unforgettable.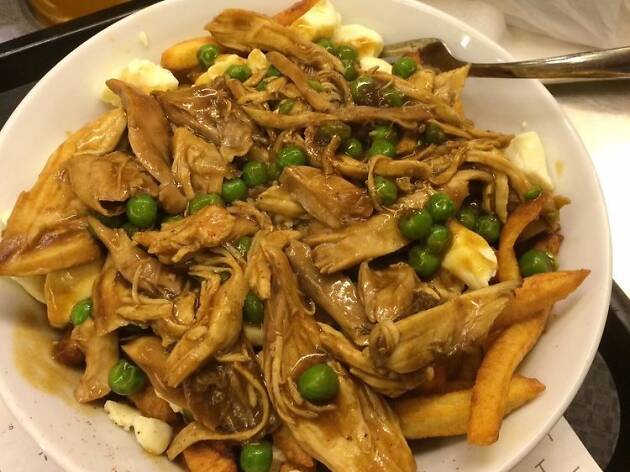 Photograph: Courtesy Yelp/Allan G.
6. Galvaude at Chez Tousignant
While it's designed like an old school casse-croûte snack bar, Chez Tousignant is a far cry from the fast food joints of yore. Everything here is homemade, from the burgers' potato buns to the 100% beef hot dogs. The same care goes into making the poutine with fries cut daily in-house and fried to the perfect consistency, topped with well-sourced curds and coated with a gravy—with a slightly herbaceous and peppery kick to it—that's made from scratch. The regular option's always reliable, but the Galvaude doubles down on deliciousness with its take on Quebec's hot chicken, mixing in chicken and peas.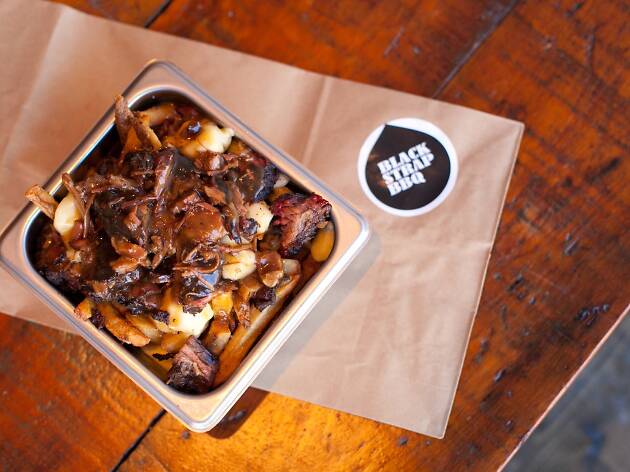 Photograph: Courtesy Blackstrap BBQ
7. Burnt Ends Poutine at Blackstrap BBQ
Verdun's Blackstrap BBQ is one of the few truly authentic southern-style barbecue restaurants in Montreal. Award-winning pitmaster Dylan Kier sources top quality meats that he seasons and cooks for hours in the restaurant's smokers. With fall-of-the-bone meats acting as the stars of this show, it's only fitting that some of those beauties crown their excellent poutines, our favourite being the Burnt Ends that's topped with crispy bits of smoked brisket.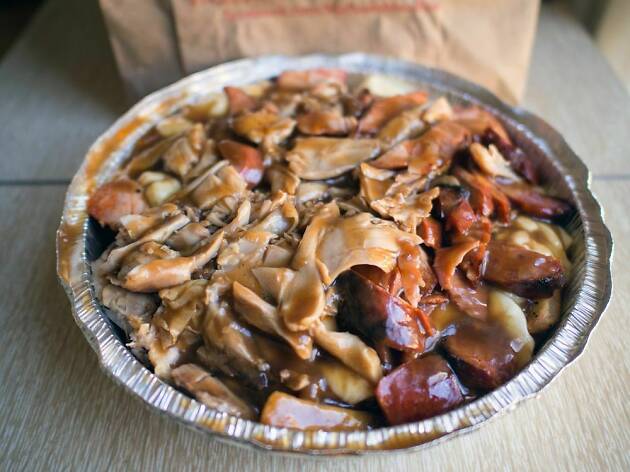 Photograph: Courtesy Yelp/Randy F.
8. Poutine at Ma Poule Mouillée
Plateau Mont-Royal's Ma Poule Mouillée is one of the most popular Portuguese chicken restaurants in the city. There's often a line out the door, but don't let that stand between you and one of the greatest poutines you'll ever dig into. The fresh fries are topped with regular cheese curds as well as São Jorge cheese, grilled chicken and chorizo sausage. A word to the wise: The 'regular' size can feed a family, so order wisely.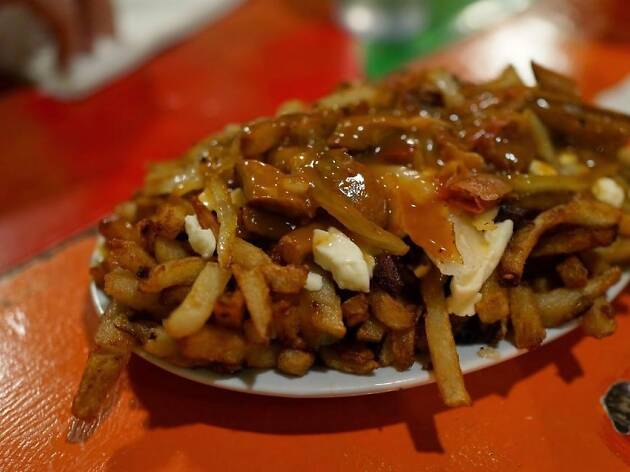 Photograph: Courtesy Yelp/Tommy S.
9. Poutine at La Banquise
The address that's probably the most referred-to poutine restaurant in Montreal, near-constant line-ups here are a testament to both its popularity and quality. The 24-hour restaurant buzzes day and night with throngs of diners hungry for their menu numbering in at over 30 different kinds of poutine. These range from the most classic cheese-and-gravy combinations to more eclectic creations such as La Taquise (guac and sour cream), La Paul Pogo (pogo, onions & bacon) or La Royale (pulled pork, apples & bacon). Heck, they even serve a vegan poutine, something not many restaurants in town dare think of.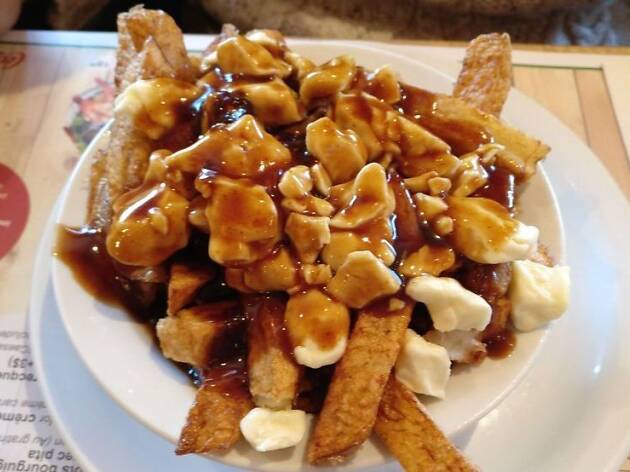 Photograph: Courtesy Yelp/Elizabeth S.
10. The Put-In at Greenspot
A true neighborhood landmark and institution, this classic Saint-Henri greasy spoon has been serving classic diner grub day after day since 1947. Some come through just to check out its original décor along with the charming (but non-functional) tabletop jukeboxes, but it's a crime to not eat the poutine here. The menu here goes beyond the usual by offering 25 different poutine choices, our favourite among which is the Put-in with chopped steak, onions and a dark gravy.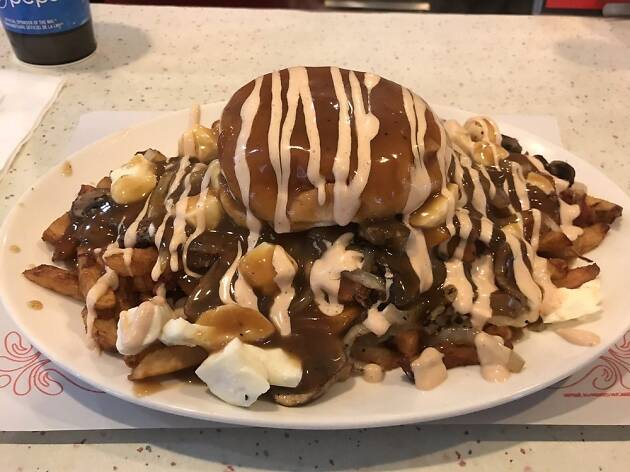 Photograph: Courtesy Yelp/Terry K.
11. Extreme Burger Poutine at Paulo & Suzanne
Open since 1980, Paulo & Suzanne is a 24-hour, 1950-inspired retro diner with an extensive poutine menu titled the "ultimates". The pepper sauce poutine is a great choice that's slightly spicier than the classic, but if you're looking to soak up those extra shots of tequila, we recommend the Extreme Burger Poutine. Delivering exactly what its name claims, it's a mushroom gravy poutine drenched in southwestern sauce and a cheeseburger as its centerpiece.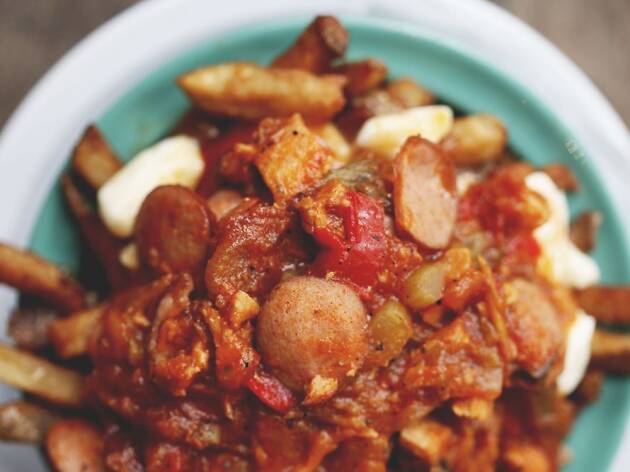 Photograph: Courtesy Yelp/Poutine Centrale
12. Les Extravagantes at Poutine Centrale
Poutine Centrale offers a more modern approach to the usual greasy spoon poutine spots. Here you'll find many of your traditional poutines from the most basic to more meaty versions. The menu counts a few vegetarian options including one topped with falafels and a tahini sauce, as well as some breakfast poutines for good measure. If you're feeling more adventurous, order Les Extavagantes which come with the likes of butter chicken, General Tao chicken or chicken fajita.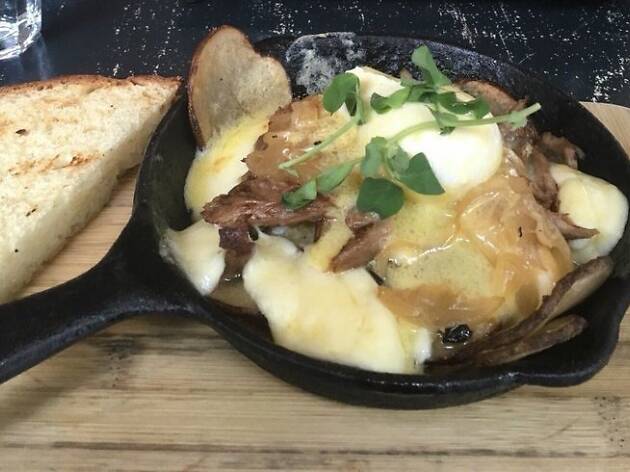 Photograph: Courtesy Yelp/Chiara Baldini B.
13. Breakfast Poutine at Arts Café
Every weekend, food lovers head to trendy Arts Café in Montreal's Mile End for classics such as the shakshuka, Eggs Benedict and the bread pudding. Granted, these are all great choices, but the brunch poutine with duck confit, a poached egg, caramelized onions, russet potatos, cheese curds and Hollandaise sauce is the absolute bomb. Really, it's the only choice that can truly soak up the preceding night's indiscretions.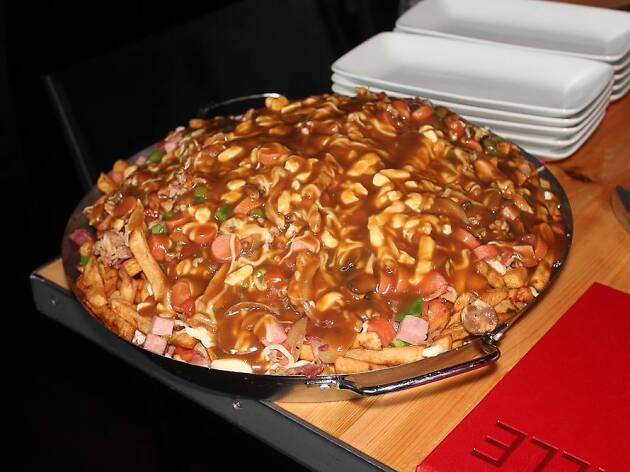 Photograph: Courtesy Poutineville
14. The Heart Attack at Poutineville
One of the things that sets this poutine purveyor apart is that customers can build their own with over 40 ingredients to choose from—that's including 11 different cheeses and 4 kinds of potatoes. The house creations are all a great choice as well with the Montrealer one standing out with smoked meat, sautéed mushrooms, Swiss cheese au gratin and a fried pickle. If you're especially hungry and backed by an army of hungry friends, order the Heart Attack: A 15-pound concoction of chicken, bacon, hot dogs, seasoned ground beef, ham, onions, green peppers, tomatoes, mushrooms and their signature gravy.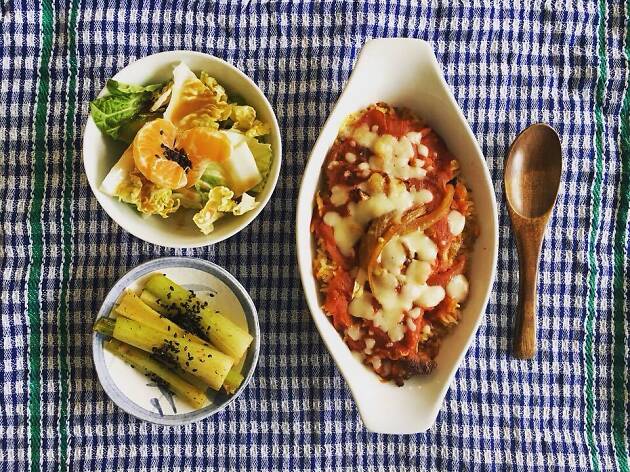 Photograph: Courtesy Jiep Jiep
15. Jiep Jiep Poutine at Jiep Jiep
A fusion Asian food counter located in Mile-Ex, Jiep Jiep is just about as up-and-coming of an address as the rest of its hip neighbourhood. The space is furnished with custom cement tables and vintage objects reminiscent of a Hong Kong restaurant. The rotating menu features daily specials hailing from different parts of Asia with a penchant for Korean cuisine. The Jiep Jiep poutine is an umamiesque mix of crispy roasted potatoes topped with cheese curds, dowsed with a homemade miso broth and sprinkled with scallions.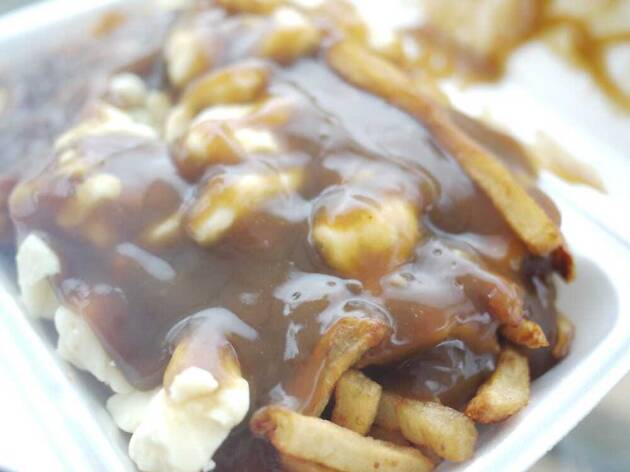 Photograph: Courtesy Yelp/Rana L.
16. Michigan with Onion at Gibeau Orange Julep
The enormous orange sphere that houses Gibeau Orange Julep has been a landmark on the Montreal skyline since 1966. Young and old flock to this landmark for a taste of its fast food fare with a side of nostalgia, and while many claim that the main attraction here is their famous Julep drink, there's plenty to be said about their poutine. While it doesn't include any fanfare or fancy toppings, it's honest and simple and delicious for what it is. Besides, no garnish can ever top the giant orange looming above—except maybe extra gravy and curds, or Michigan (see: meat) sauce with some fried onions.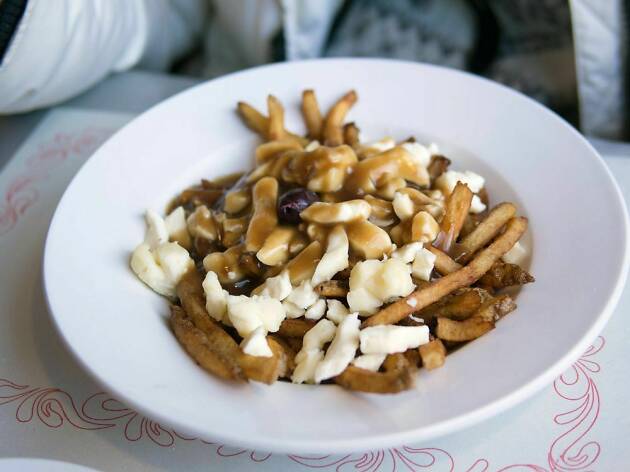 Photograph: Courtesy Yelp/Randy F.
17. Patatine at Patati Patata
This miniature and colorful greasy spoon has been a Plateau classic for the past 20 years and counting. With just over a dozen seats, this restaurant is known and loved for its well-executed fast food classics, the poutine being among them. Here you'll find the Quebecois classic a delectable heap of skinny fries and fresh cheese curds dowsed in a luscious vegetarian gravy. The patatine, a poutine with mushrooms, peppers and onions, is a favorite that feels just a smidge more healthy with its addition of veggies.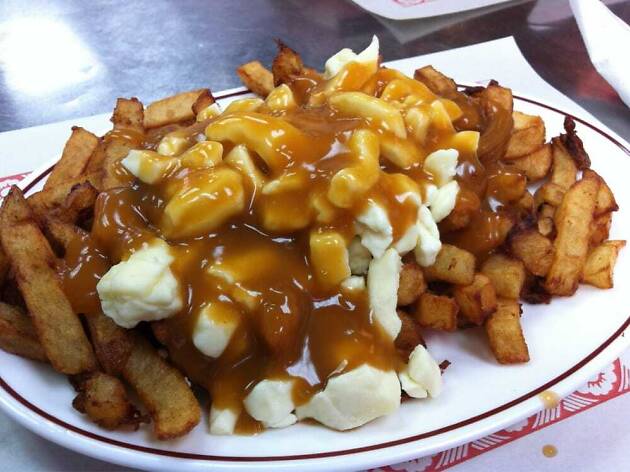 Photograph: Courtesy Yelp/Clare L.
18. Classic Poutine at Paul Patates
This restaurant's famous for two particular options: A homebrewed spruce beer made from a recipe that dates back to the 1900s, and its namesake way with potatoes. The family-run restaurant—distinctively decked out in blue and yellow checkers—has been a major fixture in Pointe Saint-Charles since 1958. The best seat in the house is at the bar, where you can enjoy the classic poutine with its slightly sweet fries and flavorful gravy. Their version's decidedly unfussy and straightforward, a prime example of classic casse-croûte fare.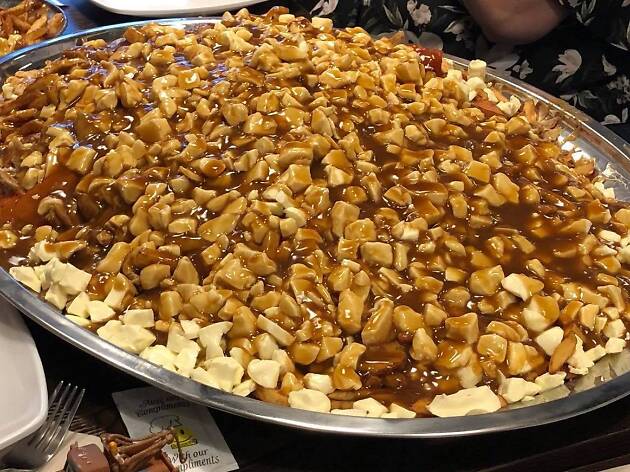 Photograph: Courtesy Barcelos
19. Méga Poutine at Barcelos
Although this Portuguese restaurant isn't officially located within the Montreal city limits, its poutine alone deserves a visit in order to experience the province's largest. We recommend you gather—at minimum—15 burly friends for two reasons: The first is to make the 45-minute journey south of Montreal to Mont-Saint-Hilaire worth the trip and its $175 price tag. The second? To overcome this massive pile of poutine that also includes chicken, pork and sausage as toppings; the whole thing weighs in at 25 pounds.
Keep the carb crawl going
If you're looking for the best bagels in Montreal, look no further than this list of the city's top bagel bakeries.
More iconic Montreal food
The best delis in Montreal are the vanguard and standard-bearers, carving up top cuts of smoked meat across town.