Heads up! We're working hard to be accurate – but these are unusual times, so please always check before heading out.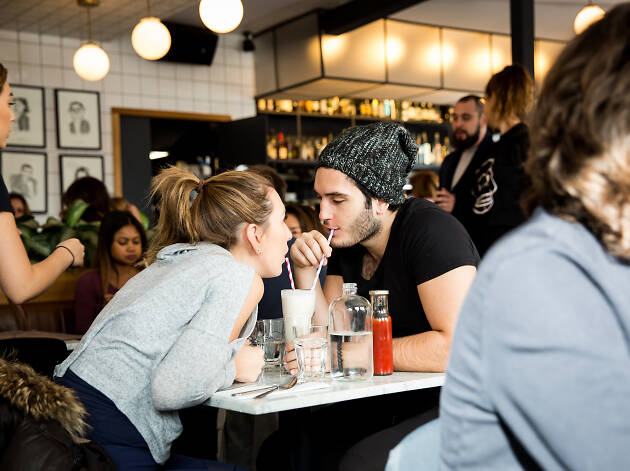 The most romantic restaurants in Montreal
From bubbly and oysters to tasting menus, here are the best romantic restaurants in Montreal for your next date night
The best romantic restaurants in Montreal come in all shapes and sizes. Some do brunch, while others doubly feature as the city's best bars enjoyed before or after one of Montreal's best festivals. Some offer a romantic history that take you and your date back to another place and time while others offer modern spaces and menus that inspire romance. Your choice ultimately depends who you're sharing the meal with, the occasion and—if it matters—who's paying the bill. Be it a first date or anniversary, these spots have everything.
RECOMMENDED: Full guide to the best restaurants in Montreal
Best romantic restaurants in Montreal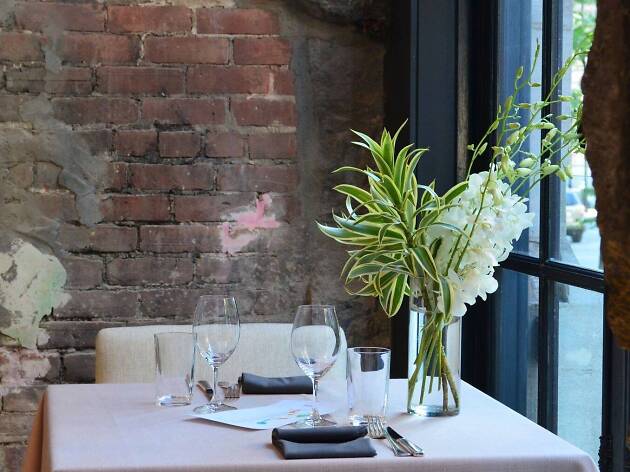 Photograph: Courtesy Restaurant Pastel
This brightly-lit, high-ceilinged Old Montreal address brings with it attentive service and inventive menus that act as—at minimum—as conversation pieces worth a Michelin star that will make any couple feel pampered and well tended to. Both the tasting menus and à la carte options are worthwhile options, and after the last dregs of a glass are knocked back and the last drop of sauce is lifted from your plate by a finger, commemorate the night by signing the chalk wall on your way out.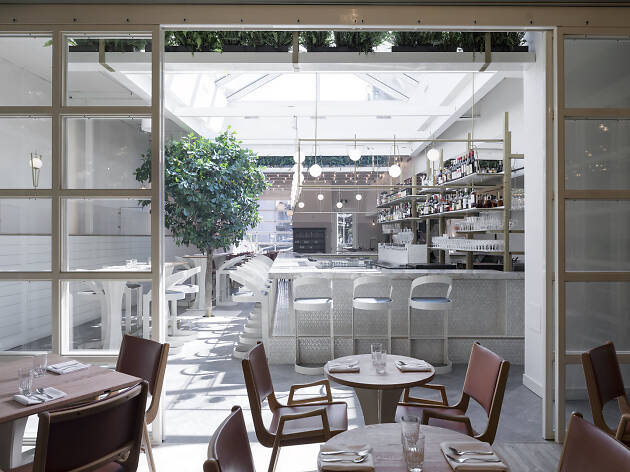 Photograph: Perles et Paddock
Romantic restaurants are all about the food and the ambiance, but an oft-neglected aspect is the ability to communicate. After all, what's the point of a dinner date if you can't hear the person across the table from you? The owners of Perles et Paddock designed their space with that in mind, and it checks all the requisite boxes of stellar food and beverages. Beautiful by day or by night, and the booze options are unparalleled.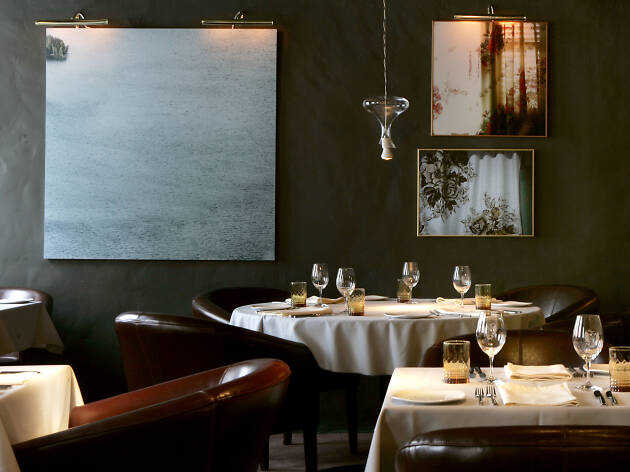 Photograph: Nicolas Ruel
3. Le Club Chasse et Pêche
Sometimes you want to splurge and treat the one you love to the best of the best, and when that moment strikes, there's no better option than this Old Montreal institution and testament to the city's fine dining capabilities. One of the most reliable high-end experiences available, you can leave the wining and dining to the expert service's guidance while you focus your attention on the one you're sharing the evening with.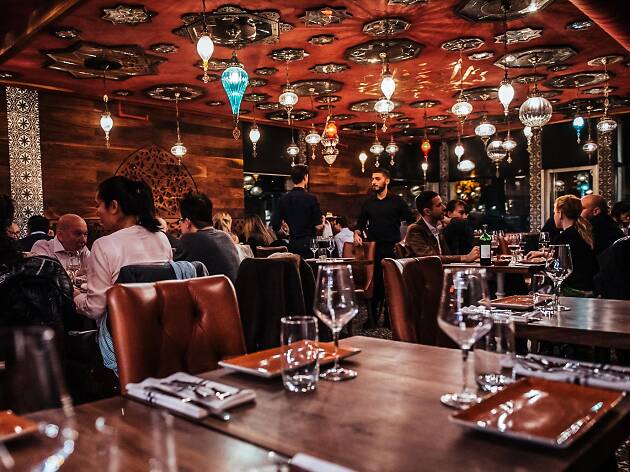 Photograph: Vesia Photography
This opulent spot on Van Horne serves Syrian food with a modern flare, introducing Montrealers to the region's cuisine in an oh-so-approachable way. From hot and cold mezzes, to charcoal grilled kabob and more, there's no leaving hungry and a bit of everything to keep both partners happy. With a cuisine that's meant to be shared, it's perfectly fit for date night. Enjoy luxuriating in the deep reds and candlelight of this one.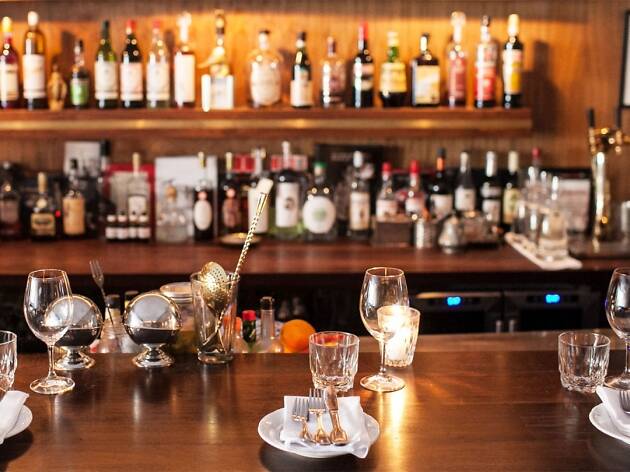 Photograph: Nora Gray
If Lady and the Tramp are any indication, pasta is an inherently romantic meal, but expect more than basic spaghetti and meatballs at Nora Gray. Think dishes like braised whelk fusilli or nettle gnudi with a comprehensive wine list to boot. What might feel cramped for groups is perfect for pairs who can grab a small table for two and sip cocktails as they choose which plates to share.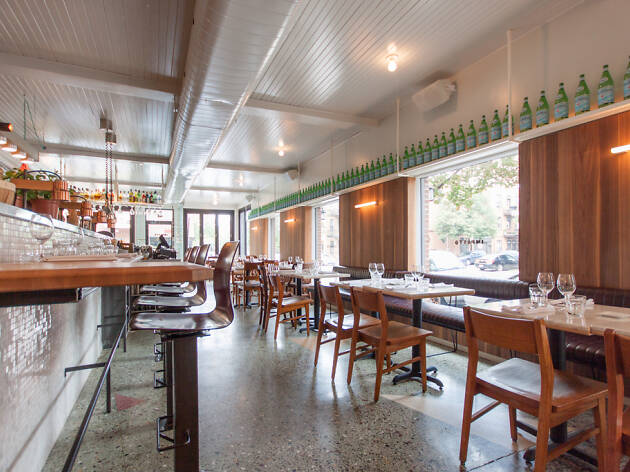 Photograph: Julie Perreault
Short of traveling to Italy, Chef Michele Forgione's pasta is some of the best you can find and is always made fresh each and every day. At Impasto, look for dishes like squid ink linguini with confit salmon, or opt for their 4-course tasting for $65. Tables are in high demand, so reservations are recommended to help your romantic evening go as smoothly as possible. Trust servers to take you and your date for a trip with their wine pairings as well.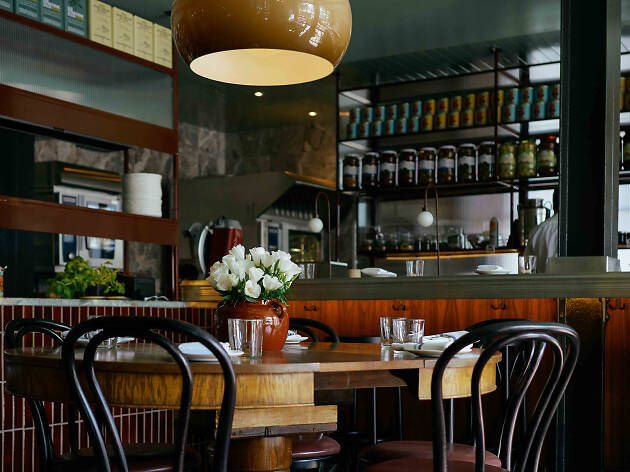 Photograph: Mickaël A. Bandassak
Saddle up at Un Po' Di Piu's gorgeous bar with your love and plan to stay awhile. Their menu of antipasti is eminently snackable, and with an array of Negronis to choose from, it's hard to say no to another bite. Nothing makes a date go more smoothly than when the food is consistently on point. They also do brunch if weekend morning dates are more your thing.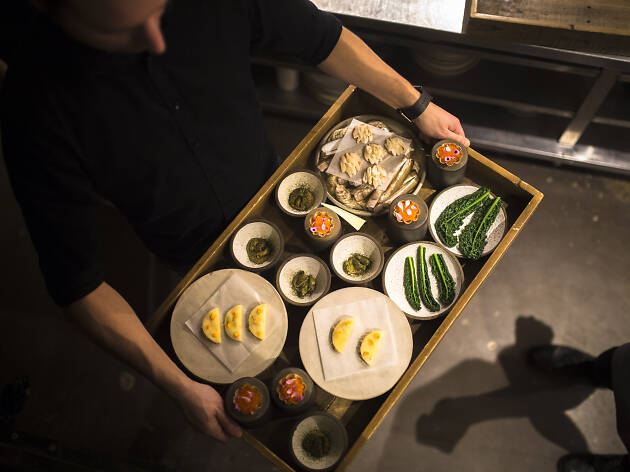 Photograph: Frédérique Ménard-Aubin/Montreal en Lumière
8. Le Mousso / Le Petit Mousso
When you're looking to impress and money is no object, Le Mousso's multi-course tasting menu isn't a meal as much as it is an experience. With multiple tasting menus to choose from that can go as long as 13 courses, prepare to be wooed by plates just big enough to be satisfying, but still small enough to have you wanting more. Don't want to go all out? Le Petit Mousso next door offers an à la carte menu that features the same dishes without the commitment (or price tag) of a 3-hour meal.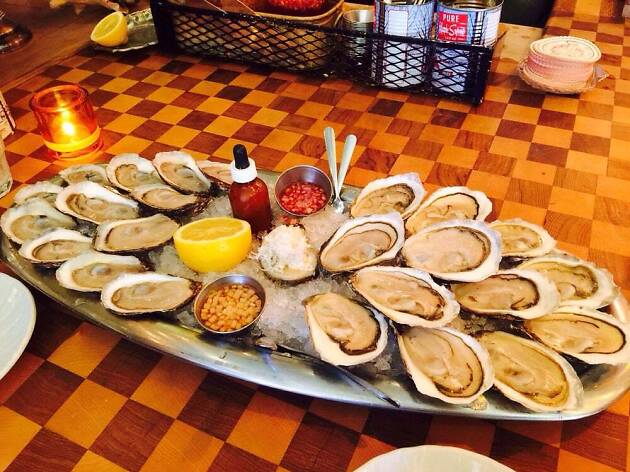 Photograph: Courtesy Yelp/Tiffany M.
Oysters might be the ultimate aphrodisiac, and Majestique offers them in spades. In addition to romance on the half-shell, check out the other options for fresh seafood and shellfish, as well as their critically acclaimed footlong hot dog made with local Gaspor pork. How one opts to share that meaty masterpiece is up for debate; maybe start at opposite ends and meet in the middle. Puns here are totally intended.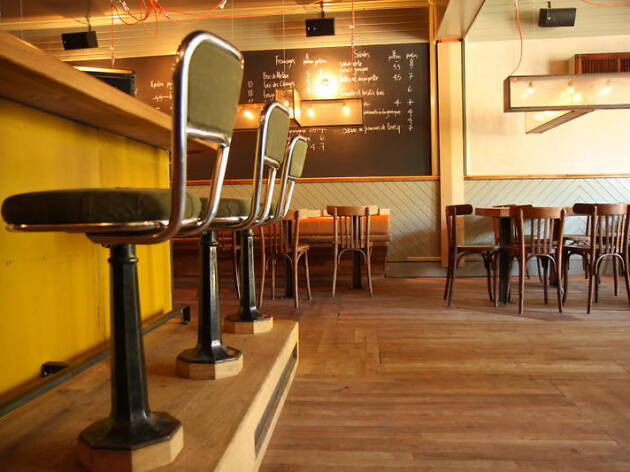 Photograph: Buvette Chez Simone
For a fun date spot that's less of a commitment than a multi-course dinner, there's Buvette Chez Simone. This bustling wine bar on Parc is usually packed for their 5 à 7, but battling the crowds is worth it to enjoy their thorough selection of wines by the glass at very reasonable prices. You can stay late if the date's going well, and if it isn't? At least you don't need to awkwardly wait to polish off the rest of a bottle and bail early.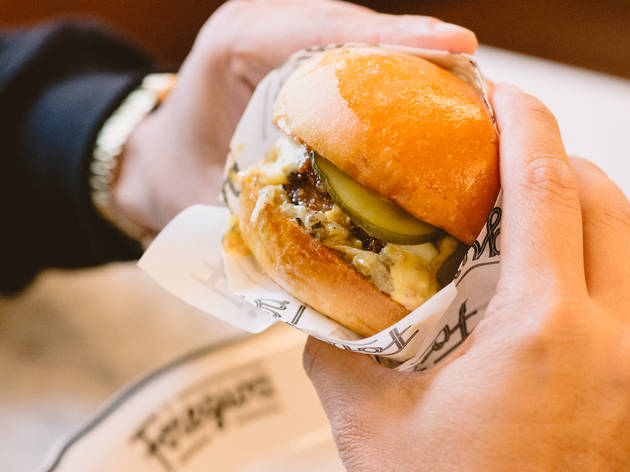 Photograph: Elizabeth Gartside
Ever think there's a bunch of unnecessary pomp and pretensions with poured wine by candlelight and wonder why booze and burgers can't be good enough? No problem, this upscaled diner will meet you halfway and then some: Knock back a couple cocktails either here or in the speakeasy Atwater Cocktail Club next door before ordering up and splitting dishes from across the menu, from luxuriant burgers to milkshakes and slices of pie.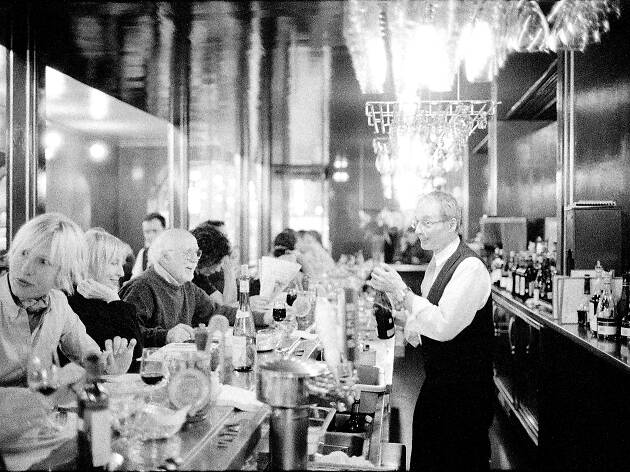 Photograph: André Cornellier
Paris might be known as the city of love, but you can thankfully bypass the plane tickets while still experiencing the romance at a classic French bistro like L'Express. Steak tartare, escargot, and their infamous mushroom ravioli are all top choices here, and perfect for sharing too. This place stays open late too, so wine and dine until it's time to hit the sheets.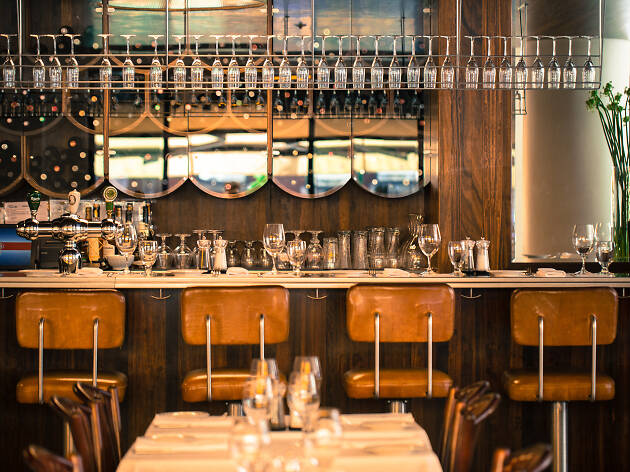 Photograph: Jimmy Hamelin
This Laurier institution might get forgotten about in favour of newer and hipper offerings, but bistro staples like moules-frites and foie gras torchon never go out of style. While their regular menu prices itself in special occasion territory, their after-10 p.m. menu gets you an appetizer and main for only $28, making it easy to feel the love. The menu and ambiance of this address is perfect for solidifying the French connection for a sultry date night.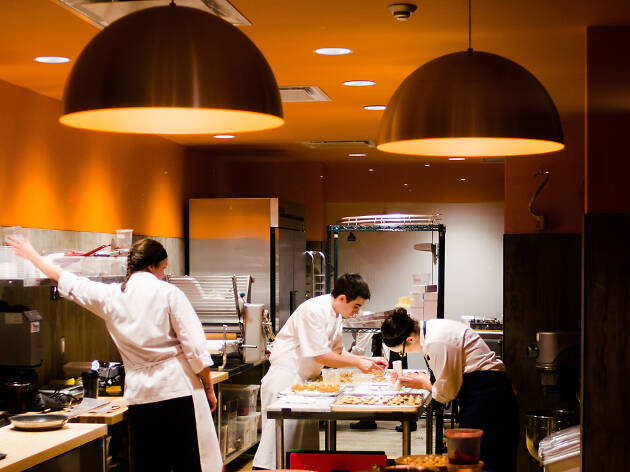 Photograph: Mickaël A. Bandassak
Aside from the endearing fact that Patrice Pâtissier is run by adorable husband and wife team, Patrice Demers and Marie-Josée Beaudoin, this Little Burgundy pastry shop is where love blooms over shared bites of finessed canelé and lemon tarts. They also offer pastry and wine classes for couples looking to share in gastronomic ventures together, and their brunch services are good way to follow up a night out for drinks.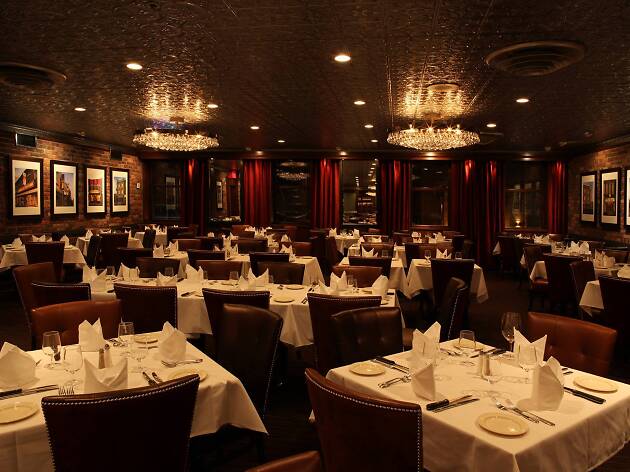 Photograph: Stephane Cocke
For those who equate a romantic meal with a warm, dimly lit room at a classic steakhouse, Moishes is the restaurant of choice. Established in 1938, it has a long history of romancing customers with its carnivorous offerings. If splurging isn't the cards for you, their menu after 9 p.m. features an appetizer and main course, plus coffee or tea, for only $29. Or you can go for the latter and spend the difference on some popped corks.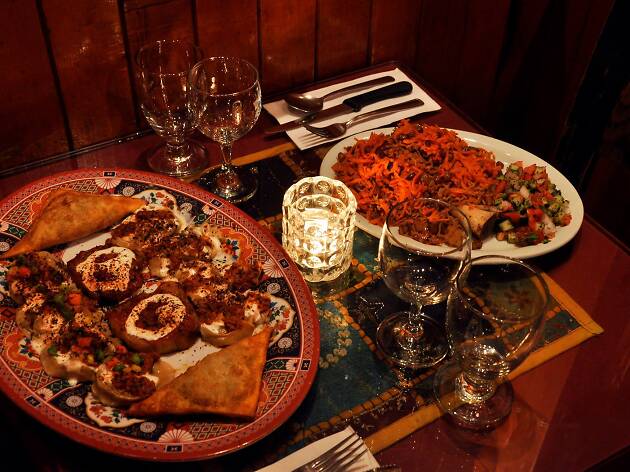 Photograph: Courtesy Khyber Pass
Located in a cavernous space on Duluth, this BYOB restaurants serves up hearty Afghani fare, including some of the best braised lamb shank you can find in the city. Perfect for a casual date night or special occasion, dishes are best enjoyed together and washed down with a generous glass of wine. There are dépanneurs and SAQ outlets located within walking distance, so enjoy picking out your bottle for the evening together.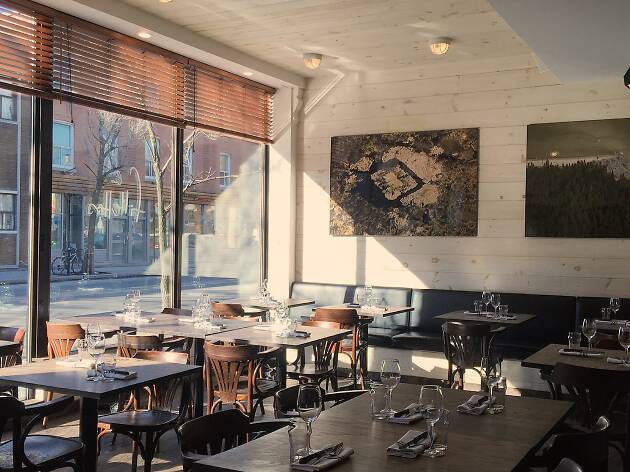 Photograph: Courtesy Les Fillettes
For a romantic meal without pretensions, look to this neighbourhood bistro. Named after small quarter-litre bottles of wine, the beverage list here is unsurprisingly fantastic and the food matches all expectations set by the drinks. It's a solid bet for putting away your phone, pouring out glass by glass, and simply enjoying one another's company as the hours melt away.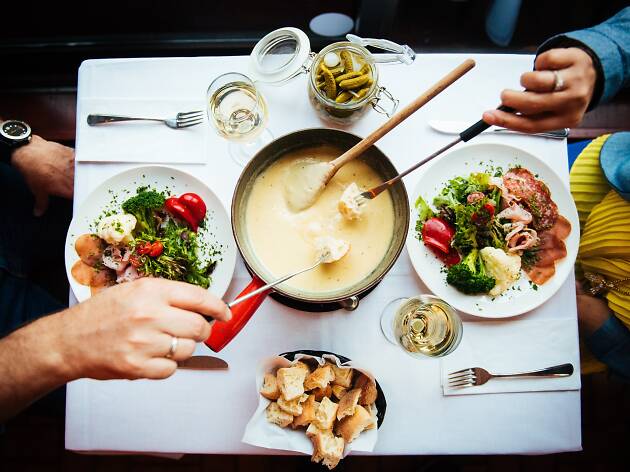 Photograph: Restaurant La Raclette
Cheese and romance go hand in hand, right? Right. That makes La Raclette the ideal spot to share in their namesake dish, or a bubbling pot of cheese fondue with the person sitting across the table from you. It's BYOB as well, so you can optimize the wine and cheese pairings of your choosing. Make the most of your evening and enjoy picking out a couple bottles of sauvignon blanc or pinot gris beforehand.
Looking for more date ideas?
Here's your list of essentials for the best things to do in Montreal, from fantastic attractions to cultural powerhouses.