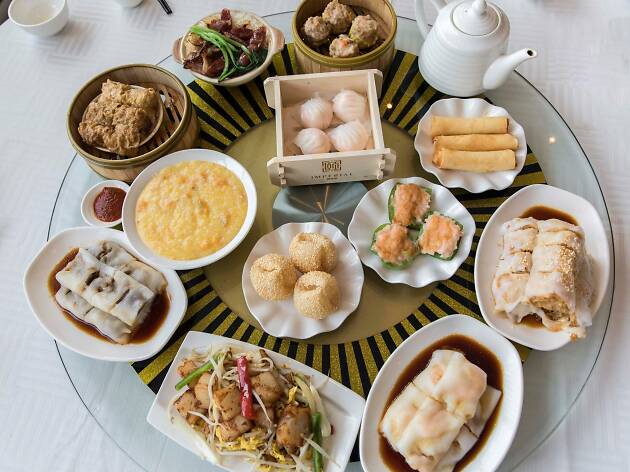 The best dim sum in Montreal you need to feast on
Find the best restaurants for dim sum here, from steamers brimming with dumplings to plates of noodles and egg rolls
When it comes to the best brunch in Montreal, dim sum is essential. If you're tired of eating salty bacon and hollandaise-soaked Eggs Benedict, why not look to the Chinatown for some inspiration? Montreal is home to some wonderful Chinese food, including the classic cart service method of dim sum. Staff push trolleys piled high with steamer baskets full of dumplings, plates of fried noodles and flaky, golden-yellow custard tarts for you to pick as they pass by. Here's where you'll find the best dim sum spots in Montreal.
RECOMMENDED: Find more of the best restaurants in Montreal
Best dim sum in Montreal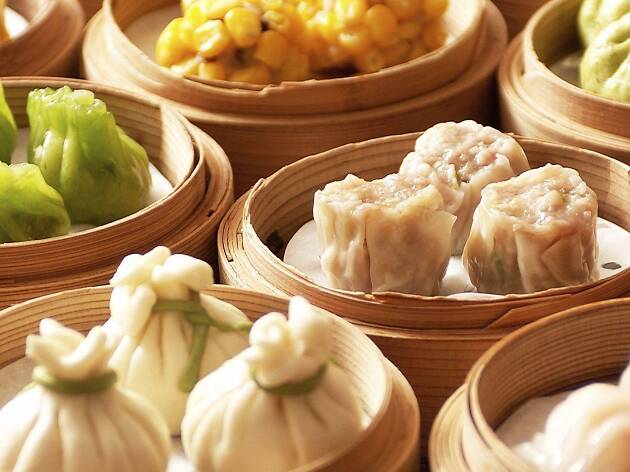 Photograph: Courtesy Restaurant Impérial
Located inside the Swatow Plaza, this dim sum spot blends old and new seamlessly. With a decor much more polished and modern than any other spot in Chinatown, Imperial certainly stands out; the menu, however, remains steadfastly classic. Imperial's refinement in the dining room extends to the kitchen with some of the highest levels of execution of any of the restaurants on this list, although the prices are a bit higher too. For a comforting classic, get the congee with roast pork or a preserved egg and don't miss the shrimp stuffed eggplant.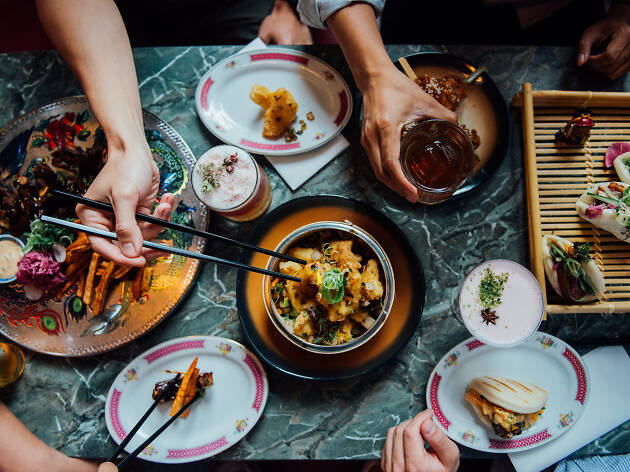 Photograph: Two Food Photographers
The crown jewel of Laval's Centropolis amusement complex is high-end dim sum brasserie Miss Wong. The incredibly lavish 300-seat restaurant is stunning, with design styles that combine aesthetics from the Ming Dynasty, to Blade Runner, to Isle of Dogs. Expect cross-cultural cuisine like General Tao chicken in duck gravy or beef carpaccio with ponzu and parmesan, but there's also a fair share of classics as well. Dine like a Triad kingpin or a Shanghai business mogul in this 18+ Asian speakeasy and dim sum parlour.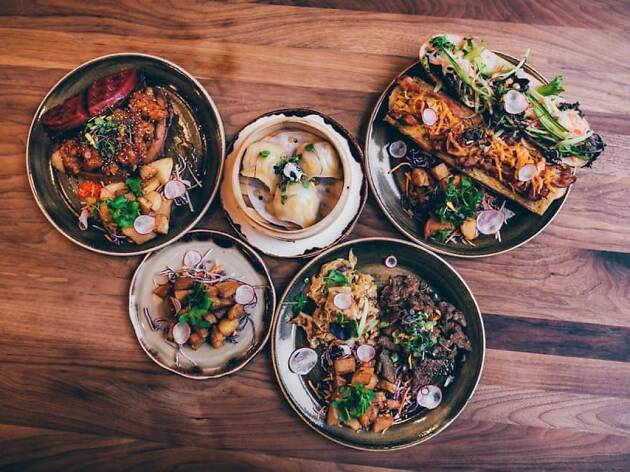 Photograph: Courtesy Jiao Dim Sum Bar
Forget what you know about dim sum when you enter Jiao. Part bar, part dim sum counter and part lounge for Hong Kong socialites, Jiao offers a reinvented and upscale pan-Asian take on dim sum. Try the matcha Har Gao or—if you've got the budget—a Louis XIII Remy Martin-infused dumpling priced at a lofty $100 a pop. For a mix of Montreal cocktail culture and delicious dumplings, Jiao strikes the perfect balance. Who says you can't have dim sum at 2 in the morning?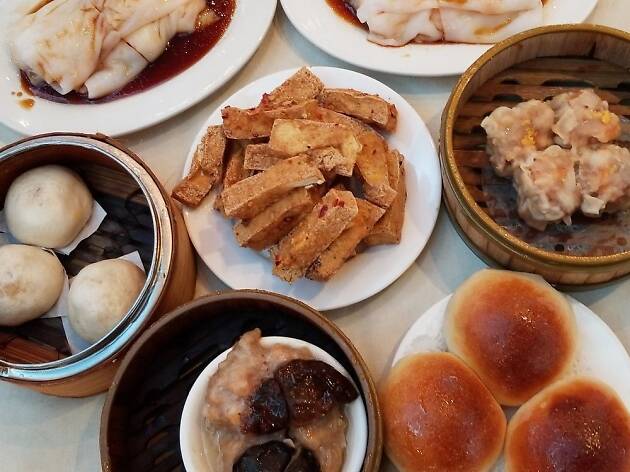 Photograph: Courtesy Yelp/Jennifer M.
This 800-seat restaurant is a bit more elegant than others with its decor of deep red carpets and curtains and ornate golden dragons affixed to the walls. Expect friendly and personal service, even during the Sunday morning rush. Its kitchen excels in all the dim sum classics, but can also prepare a mean BBQ pork or glazed duck dish if you're looking for something more substantial. As a bonus, dim sum is served every day from 8:30 AM until close.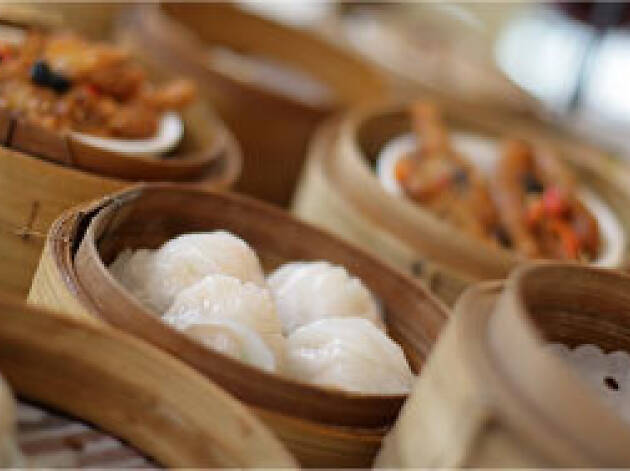 Photograph: Courtesy Kim Fung
5. Restaurant ChinaTown Kim Fung
Often considered the city's best, this is the quintessential dim sum parlour. Enter through a non-descript Place Du Quartier mall entrance on Saint Urbain Street and make your way upstairs to its giant, bustling dining room. Expect all the greatest hits like steamed ginger squid, fried turnip cake and har gao plus a few specialties like a fried crab claw. On weekends the place can get quite busy, so expect a 20-minute wait to be seated. This is for those looking for the full experience: Curt waiters, a bustling room, cart service and excellent food. It's one of the greats for a reason.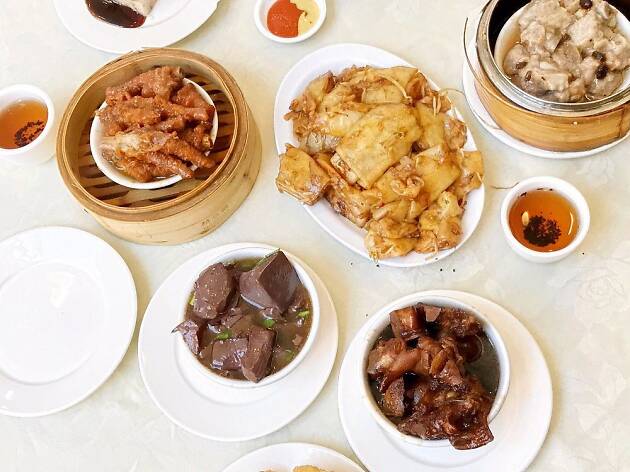 Photograph: Courtesy Yelp/Meimei Z.
6. Restaurant La Maison Kam Fung
Originally opened on Clark in 1994, Montreal mainstay Kam Fung has taken up new residence in Brossard as of 2009. Even with 500 seats, you can still expect to find a line out the door on busy weekends. As specialists in Cantonese cuisine, Kam Fung serves up some of the finest Shaomai in town, but leave room for the lobster and ginger, sticky rice—and if you're up for it—some fried chicken feet.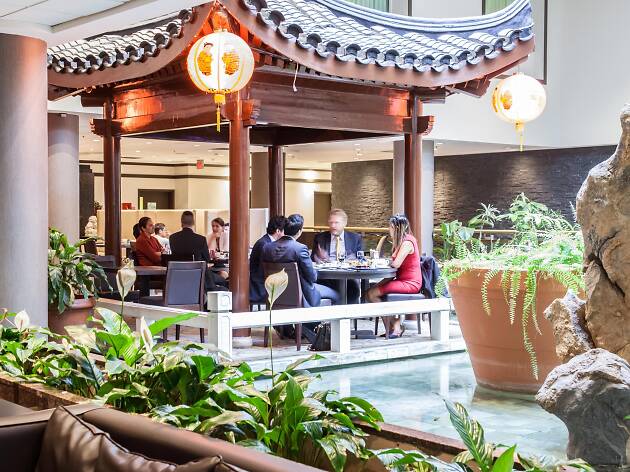 Photograph: Tourisme Montreal/Marie Deschene
Chez Chine is the hidden gem on the list. Located inside of Chinatown's pagoda-topped Holiday Inn, it's one of the most spectacular restaurants in its area. The food is traditional and delicious, with a large koi pond framed with beautiful lacquered wood surroundings that vie to steal the show. Escape the crowds and dine by the water in one of Chinatown's best-kept secrets.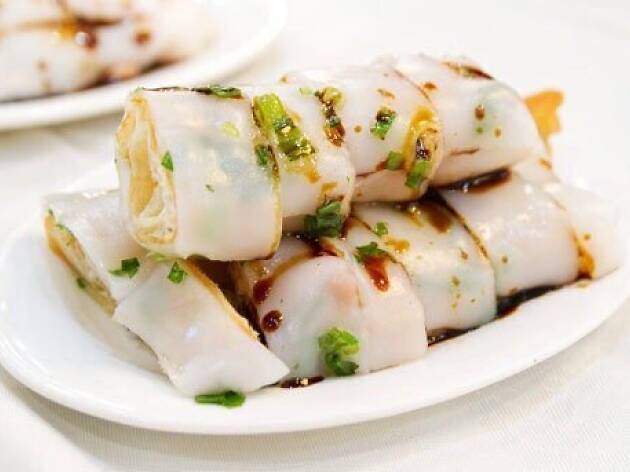 Photograph: Courtesy Yelp/Cat W.
8. Foo Lam Restaurant Maison
Take a trip up north to Ahuntsic-Cartierville for a taste of Chinatown but without the hassle of downtown. The dumplings here are as good as any but go for the squid in black bean sauce and the honeycomb tripe. Pro-tip: Order a big bowl of rice and a roast duck as the centrepiece of the table and work your dim sum dishes around it.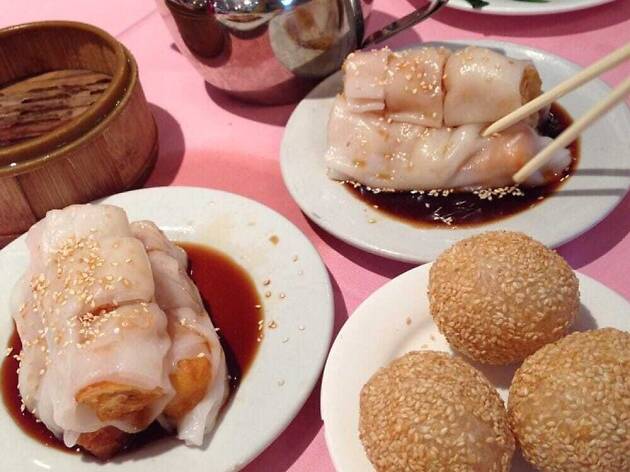 Photograph: Courtesy Yelp/Xena W.
For a tried and true experience in Saint-Laurent, this restaurant reigns above the others. A favourite in the neighbourhood for good reason, it's been serving customers for years from its original location in Chinatown until now in St. Laurent. The lotus-wrapped sticky rice is a crowd favourite, as are the xiao long bao dumplings, but it's the generous portions of fried noodles, hard to find pineapple buns and fluffy steamed BBQ pork buns that have crowds coming back again and again.
Where to find the best Chinese food in Montreal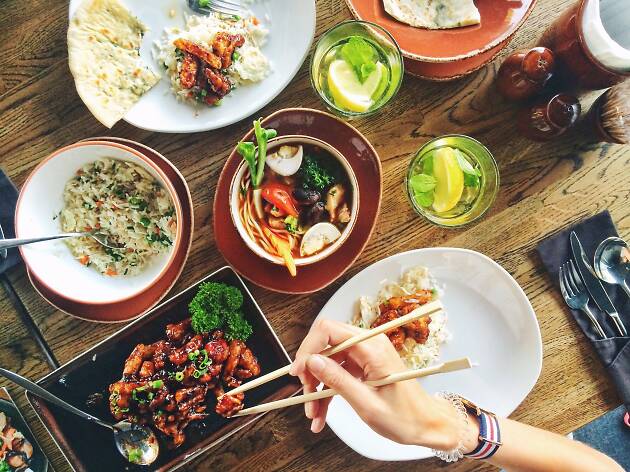 Montreal's best Chinese restaurants express each regional cuisine through casual spots and Lazy Susan-topped tablecloths.