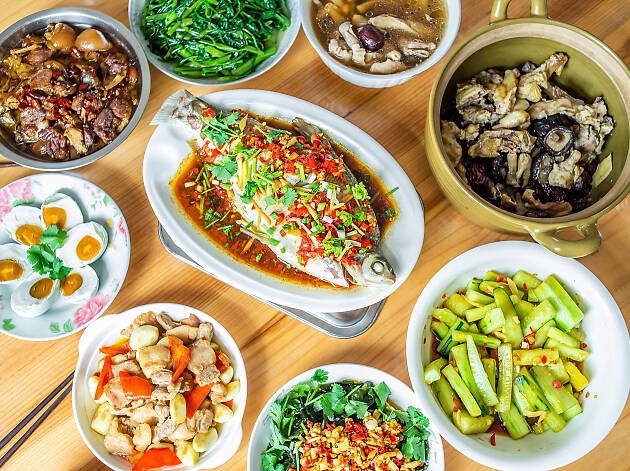 The best Chinese restaurants in Montreal
Montreal's best Chinese restaurants express each regional cuisine through casual spots and Lazy Susan-topped tablecloths
When it comes to Chinese food, we can hold our own; heck, visiting Chinatown's one of the best things to do in Montreal. Chinese restaurants in Montreal tend to lean towards more westernized varieties, but there are regional specialties to discover in neighbourhoods across the city from the expected (Chinatown) to the slightly less expected (Côte-des-Neiges), to the pleasantly surprising (Brossard and Verdun). The best dim sum and dumplings, respectively, are a discussion for another day: Here, we're talking dining destinations that excel with a full spectrum of deliciousness.
RECOMMENDED: Full guide to the best restaurants in Montreal
Best Chinese restaurants in Montreal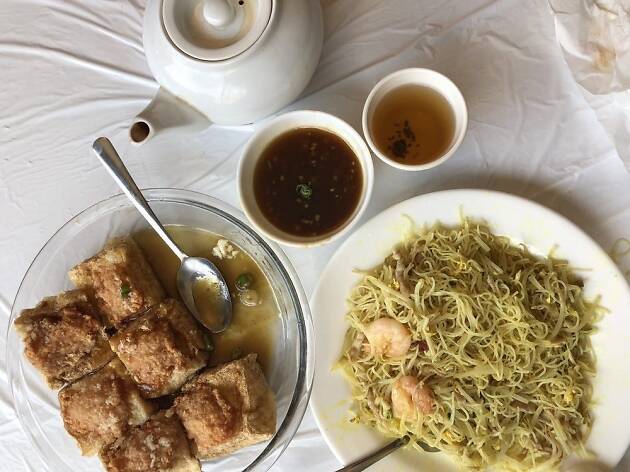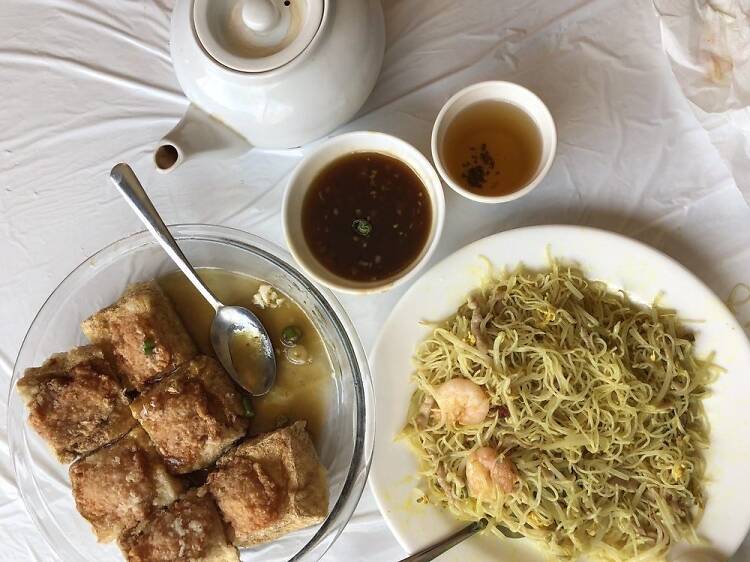 Photograph: Courtesy Yelp/Weich Y.
Walk up a steep set of indoor stairs at this de la Gauchetière address and you'll find yourself stepping into what's surprisingly one of Chinatown's lesser-known restaurants—maybe because it's exactly the kind of place you may want to keep for yourself. Tables can be tough to secure and reservations are recommended, unless a 45-minute wait standing in the abovementioned stairway sounds appealing to you. But once you've experienced their razor clams dressed in garlic-soy-sesame sauce, or their steamed chicken with jellyfish, you'll understand what the hype is all about. Just don't tell more than 2-3 people about it: Club rules.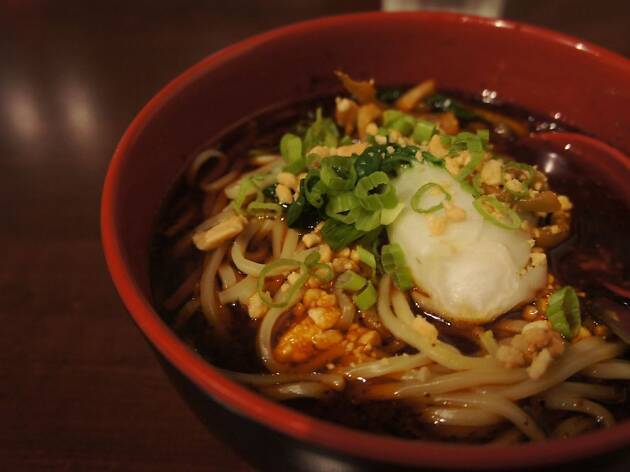 Photograph: Courtesy Yelp/Jonny M.
This quaint Szechuan and Taiwanese spot on Monkland has been bringing heat to NDG since owner Andy Su opened the place in 2014. An alum of the popular Cuisine Szechuan on Guy, Su knows what this city likes and exceeds expectations. Everything on the menu is good, with several items being numbingly spicy. A few are absolute musts though, like their stir fried green beans with chili, the lamb ribs and their dan dan noodles.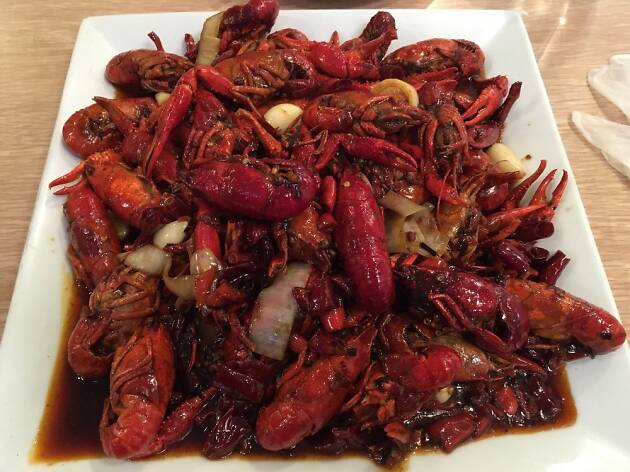 Photograph: Courtesy Yelp/Ivy L.
The environs at this downtown favourite may leave something to be desired, but we'd have it no other way. People flock here for spice, and lots of it. No matter what you order, you'll probably want whatever the next table over is having: Every dish that comes out of the kitchen looks good. Order a platter of crawfish, go for the vinegary kelp and cucumber salad and just try not to order anything that sounds like something you could get at chain restaurants; you're smarter than that, right?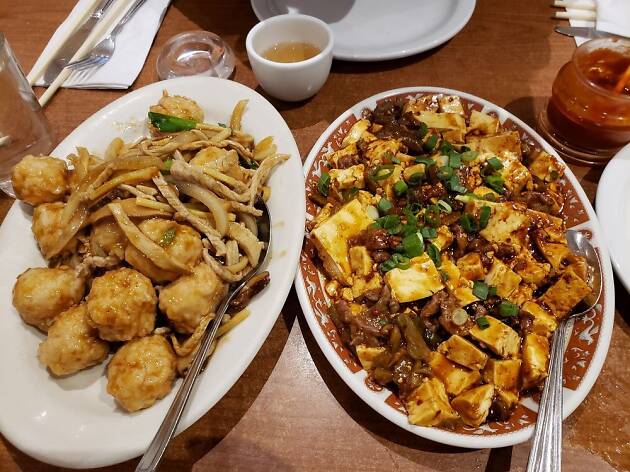 Photograph: Courtesy Yelp/Annabelle N.
Restaurant followings don't come more devout than that of Kam Shing. Whether you frequent the Van Horne location or you're loyal to the Côte-des-Neiges one—there has always been a heated debate as to which is better—it's one of the city's better options for Cantonese food. Their chop suey won ton soup is arguably Montreal's best, and everything else pretty much fits the bill for greasy Americanized Chinese food goodness.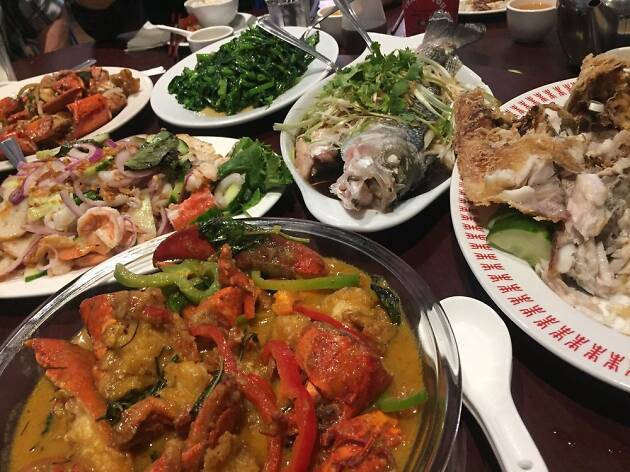 Photograph: Courtesy Yelp/Khun Visith K.
Situated on a busy corner of Saint-Michel Boulevard, the menu at Kim Hour covers a lot of ground, from Cambodian to Thai, Singaporean and Chinese. It's BYOB, which makes it great option if you have a bottle at home that can stand up to hot beef ragu and salt and pepper squid. Whatever you do, don't skip the fried chicken.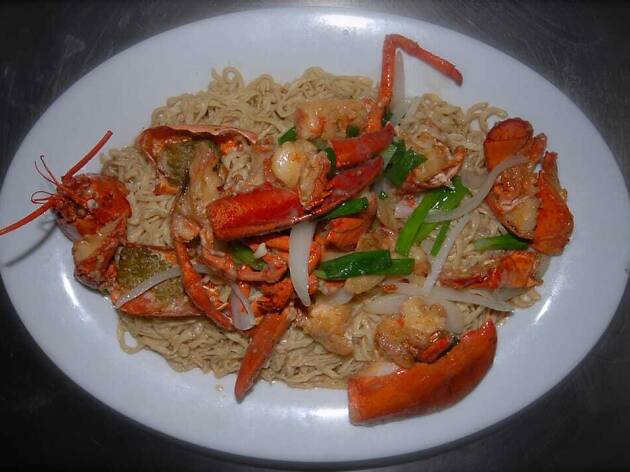 Photograph: Courtesy Yelp/Globeater M.
A long beloved post-bar option in Chinatown, purple neon lights and a colourful late-night crowd make Mon Nan a reliably entertaining option. For those looking to satisfy a craving for Cantonese during more respectable hours, it's still a good choice for shrimp toast, roasted pork and a perfectly steamed Dungeness crab.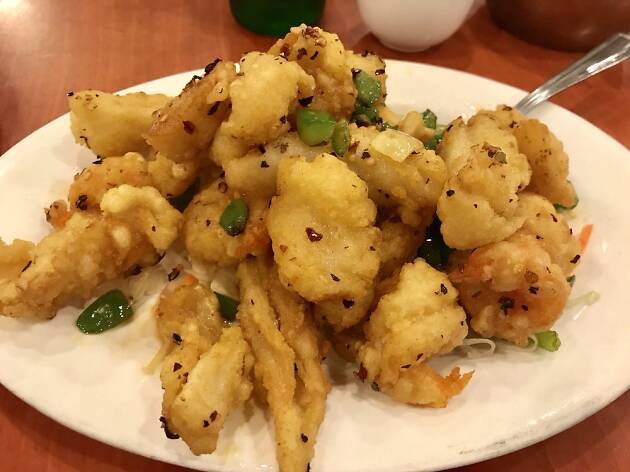 Photograph: Courtesy Yelp/Hector L.
A Montreal establishment since 1989, this de la Gauchetière Street gem deals equally in the expected and the unexpected: Peanut butter dumplings and sweet and sour pork on the one hand, snails in black bean sauce and giant steamed oysters on the other. A well-oiled machine and veteran of the Chinese dining scene, they're open every day from 11:30am until 3am.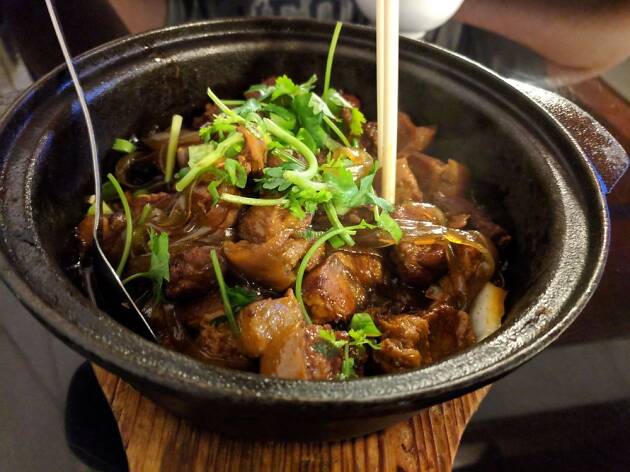 Photograph: Courtesy Yelp/Yangyang J.
A five-alarm fire forced this local favourite out of its Côte-des-Neiges location in early 2018, but good news: They're back with new digs on Saint-Mathieu near the Concordia campus. Szechuan cuisine is the reason you're ordering here, from fish in spicy chili oil to hot pot and mapo tofu.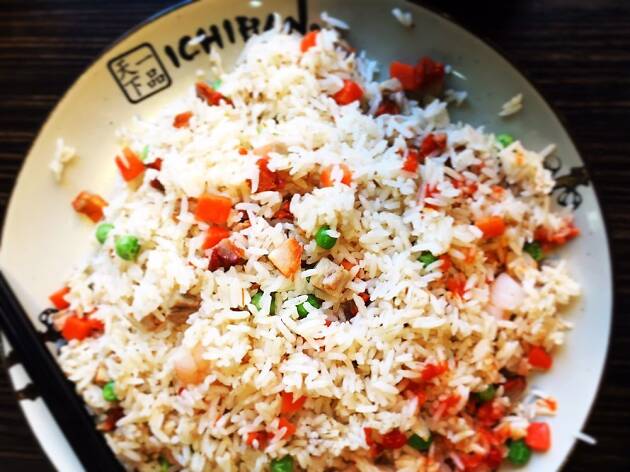 Photograph: Courtesy Yelp/Tania P.
The décor may say Japanese but make no mistake: KanBai is 100% Chinese, with heavy influence from the Szechuan and Hunan provinces. Dishes like cumin lamb and spicy fish with dried chilis and peppercorns have been favourites at this Chinatown restaurant since they opened on Clarke Street back in 2011.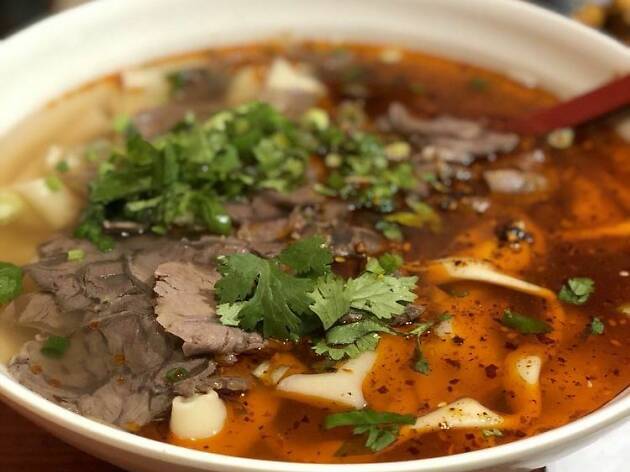 Photograph: Courtesy Yelp/Christine T.
Come for the noodles, stay for the noodle-pulling show. Located in Swatow Plaza on St-Laurent, just above popular Asian grocery store Marché G&D, this place always seems to be busy and we can understand why. It's hard to pop into the supermarket for some gai lan without also saying yes to a bowl of hand-pulled noodles on the way out, or to walk by their window-front noodle-pulling station without being completely mesmerised.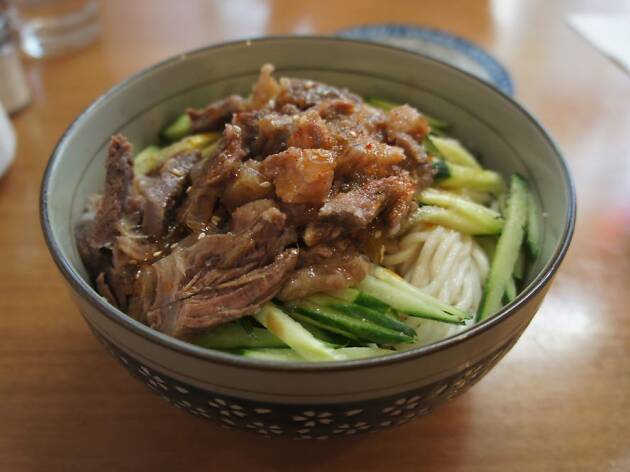 Photograph: Courtesy Yelp/Jonny M.
Located in a stretch of town that's become known as Chinatown West, this casual spot on St-Mathieu specializes in northern Chinese food. The noodles are hand-pulled, dumplings homemade and Chinese pancakes worth the trip alone. In the summer, few things are as satisfying as their chili oil-drenched cold noodles with cucumber.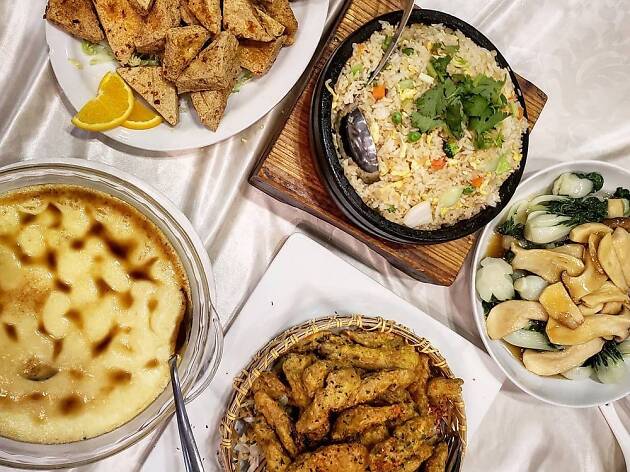 Photograph: Courtesy Yelp/Helena U.
Brossard isn't home to an endless supply of restaurants worth the trip over the bridge from Montreal, but Papa Jackie is just that. The bad news: We're not the only ones who hold this opinion, so tables can be tough to come by. Reserve ahead of time and bring a big group to share all that steamed chicken, fried lobster and Cantonese chow mein with. Order off their menu of rotating items written on a separate whiteboard for the realer deals in Chinese cuisine mastery.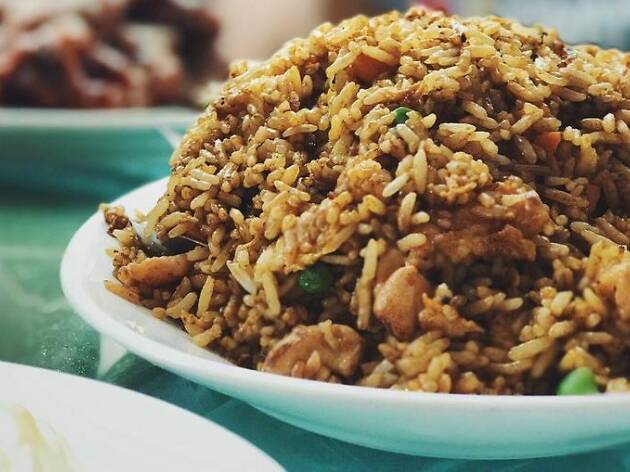 Photograph: Courtesy Yelp/Maulin P.
Open until 3:30am every night, La Maison VIP has long reigned as one of Chinatown's top options for late-night eats. You can count on the fundamentals of Westernized Chinese food here: shrimp and lobster sauce, beef and broccoli, chicken fried rice and the like. Visit them for the lunch specials, and any association you might've made between 'Chinese food' and 'cheap' will be redefined.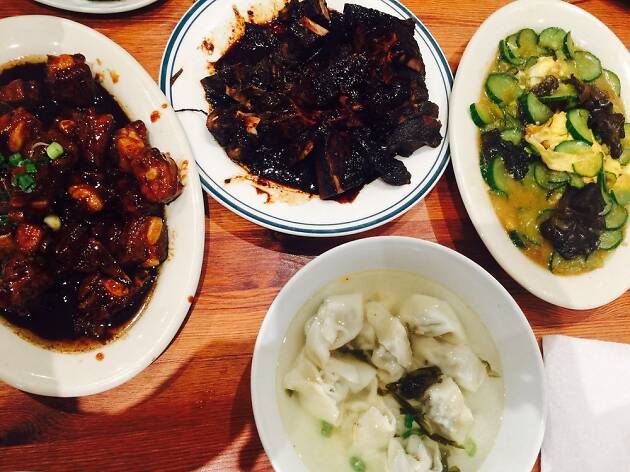 Photograph: Courtesy Yelp/卫洋
If you've never had Nanjing-style Chinese food before—think bold, often sweet flavours and plenty of colour—Hao Hao on de l'Eglise in Verdun is a great place to try it out. Cucumbers sautéed with wood ear mushrooms may sound bizarre but is a must-order, as are their seasonal stir-fried blue crabs. One of those holes in the wall you won't forget.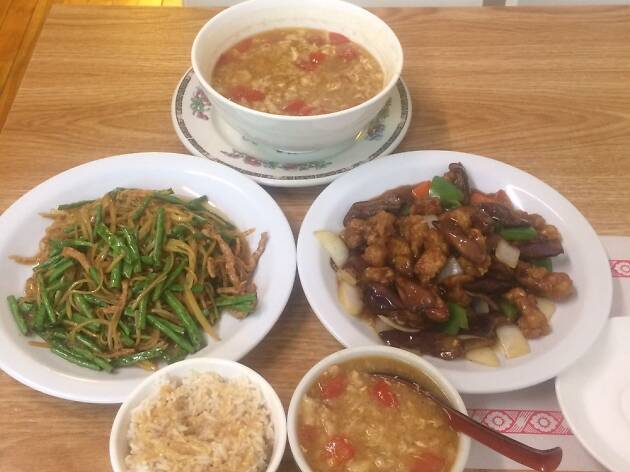 Photograph: Courtesy Yelp/Alice L.
This Szechuan spot is a favourite for residents of Verdun for its perfectly crispy onion pancakes, Dong-bei style noodles and cumin beef, among other spice-packed dishes on their extensive menu. The ambiance is nothing to write home about but, luckily, the food is.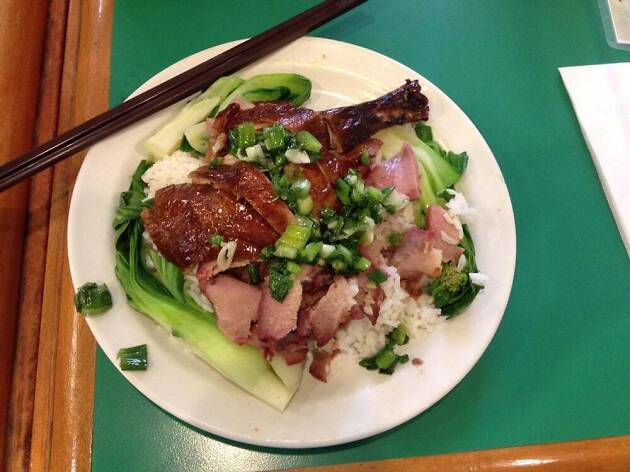 Photograph: Courtesy Yelp/Juan C.
Unbelievably cheap, this ground floor restaurant's menu items barely break $10 for any given dish, especially during the lunch hours when there's specials galore. You can scan the menu for your favourite Cantonese classics, but really, you come here for the BBQ duck and char siu pork. Take them on rice or in a bowl of broth with wonton noodles—we recommend the rice plates that include a savory minced mix of ginger, garlic and scallion on top—and you'll quicky realize why few can get enough of this place.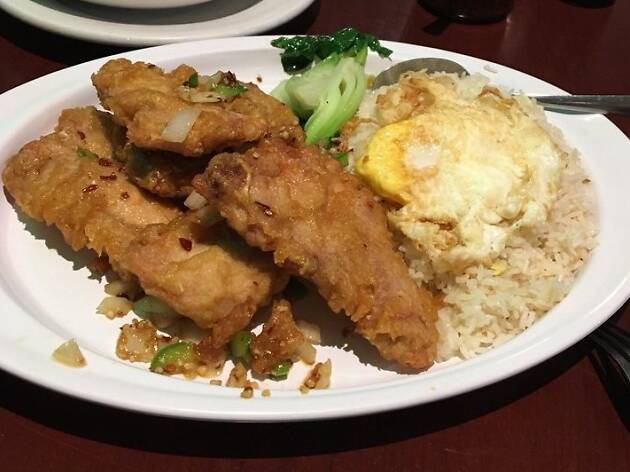 Photograph: Courtesy Yelp/Sheryl L.
Maybe the name might throw you off in the scrum of signage on Chinatown's strip of Saint-Laurent Boulevard, or maybe it's their off-kilter upstairs location, but trust us on this one. Go once for the salt and pepper pork chops—served with a mound of buttery rice, bok choy and a fried egg—from their menu of chef specials, and you'll be coming back to try everything else on that list. It's all good, and bonus: It's amazingly cheap.
How about some Chinese brunch?
Montreal is home to some wonderful Chinese food, including the classic cart service method of dim sum. Find the best restaurants for dim sum here, from steamers brimming with dumplings to plates of noodles and egg rolls.
Best selling Time Out Offers