Heads up! We're working hard to be accurate – but these are unusual times, so please always check before heading out.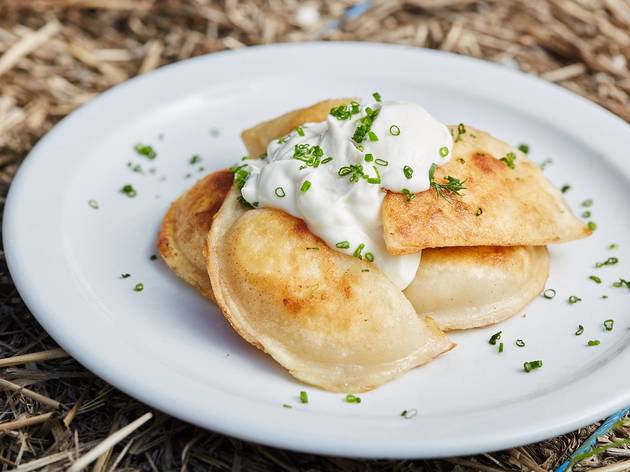 The 35 best cheap eats in Montreal
Grab snacks for a song and full feasts at a fraction with the best cheap eats in Montreal, where a lower price doesn't mean lower quality
UPDATE, October 29 2020: It's more important than ever to stay updated on the budget-friendly options found among the best cheap eats in Montreal, so we've dived back into our original article to bring readers even more bangs for their bucks. Times are tough right now, but with a little elbow grease and worn-down shoe soles, we've done the research—waistlines be damned—to bring the city we love the ultimate selection of where to eat for $10 and under before taxes.
Montrealers have an ongoing love affair with their city's coupling low cost of living alongside its high quality of life, and the best cheap eats in Montreal are among the strongest supporting arguments for that. It's a daily gift to hit up just about any corner of the island and find food that's equal parts fulfilling and frugal, from Italian restaurants and Chinese restaurants to some of the best poutine and bagels in Montreal. We can't promise any of these ain't popular though, so enjoy the line-ups at these popular student haunts and local legends.
RECOMMENDED: Full guide to the best restaurants in Montreal
Cheap eats at Time Out Market Montréal
Eating quality doesn't mean you need to pay a pretty penny. If you're looking for cheap eats that wouldn't skimp on quality in the slightest, then you'll need the best chefs in the city. Downtown in the Eaton Centre, Time Out Market Montréal has orders of karaage from Marusan, imperial and spring rolls from Le Red Tiger, malangra accras and plantains from Paul Toussaint, and Caesar salads and veal meatballs from Il Miglio—and each of those dishes mentioned are under $10!
Best cheap eats in Montreal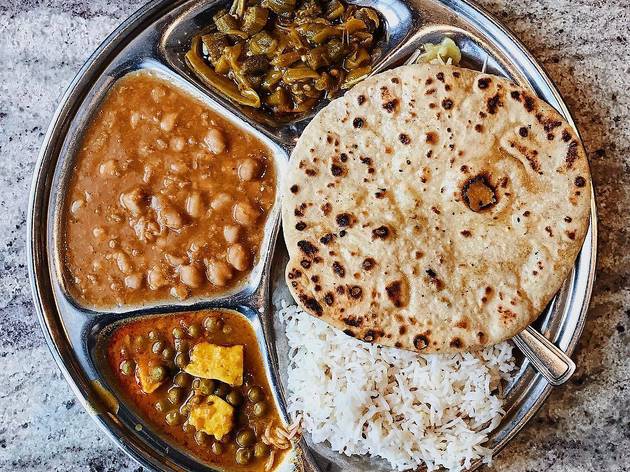 Photograph: @emilyeisen / Instagram
1. The $7.50 thali plates at Pushap
There are many, many Indian restaurants in Montreal selling bang-on thali—rounded platters of food—fit for any time of day. Few compare in price to Pushap, however. Their simple yet delicious choices of either chickpea or lentil curry and fried or baked bread, plus rice and salad, all goes for a beautiful song here. It's the most substaintial option on the menu here for a single dish, but if thali isn't your thing, no worries: Everything here is cheap and delicious, brimming in spices, and under $10.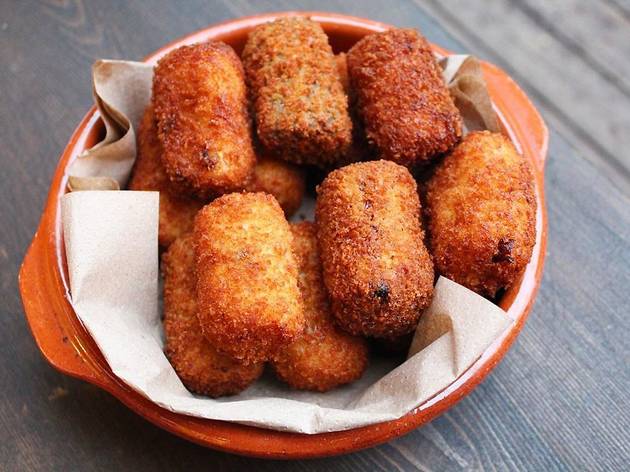 Photograph: JP Karwacki
2. The $2 croquettes at La Croqueteria
A small shop specializing in Spanish croquetas in the Plateau-Mile End, La Croqueteria keeps things keep by serving up single croquettes at $2 a pop, but the chef here doubles down on the concept by making over three dozen varieties (and that includes sweet options) all the same price, allowing for some delicious mixing and matching. From smoked meat and tomato-basil to boudin or garlic shrimp, they're all crispy and delicious bites that sit heavy in the stomach despite their small size. Bonus: You'll be eating at Canada's first-ever croqueteria!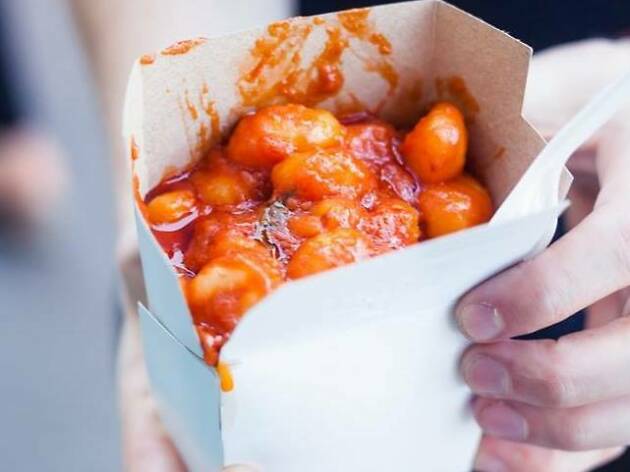 Photograph: Courtesy Drogheria Fine
3. The $5 gnocchi at Drogheria Fine
There's only one option here, and it's all you need: Soft gnocchi coated in a homey red sauce and piled into a Chinese take-out container, with a handful of pecorino Romano for buck extra and shakes of red pepper flakes for a spicier touch. The result is a meal straight from nonna's books that sticks to the ribs and hugs you tight. That's what the Calabrian family here has always done and will do, along with selling jars of highly coveted tomato sauce and imported olive oil.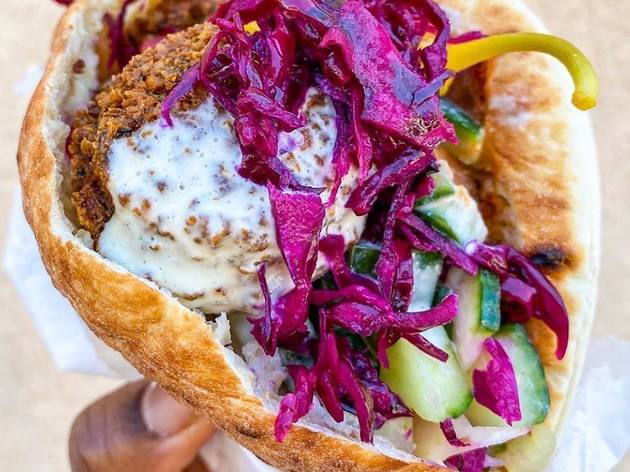 Photograph: @kissmytongs / Instagram
4. The $6.89 falafel pita at Falafel St. Jacques
Ronen Baruch and Saleh Seh's Mediterranean fare is the foundation which built this neighbourhood institution worth the ride out to the edge of Lachine. We've got mad love for theor equally cheap sabich with its runny egg and roasted egglplant and meatless takes on shawarma and shishtaouk by using shiitake in lieu of chicken, but the namesake falafel—crunchy chickpea balls, veg and sauce stuffed until brimming in a warm and fluffy pita bread—is our current favourite here. Never mind the time it'll take for a central islander to get out, this place's food makes it a home away from home.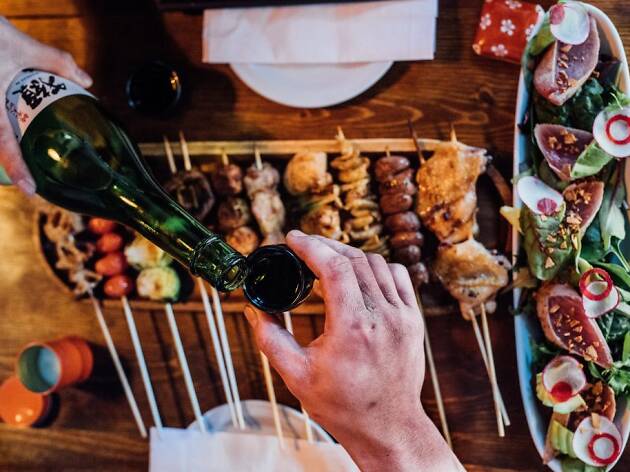 Photograph: Alison Slattery
5. The $3 yakitori at Otto Yakitori
Otto Yakitori can be credited with single-handedly introducing the city of Montreal to Japanese yakitori, single skewers that feature different parts of the chicken, and we're talking all parts of the chicken—from skin to hearts to oysters. Normally you'd drop into this restaurant to order up tons of these sticks, but if you need to keep it cheap, you can do that: Just drop in for a few sticks—we recommend the thigh and green onoin brushed in a dark soy—and you'll be good for an afternoon.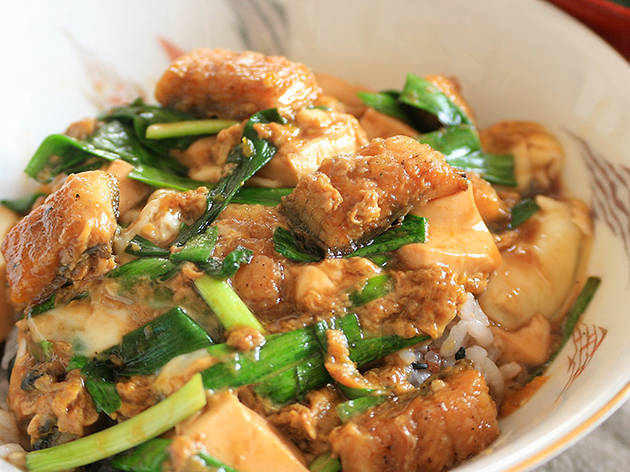 Photograph: Japote / japote.ca
6. The $7.50 curry and donburi bowls at Japote
Hidden away in the food court below the Scotia Tower downtown, the team at this basement Japanese counter are equal parts easy to miss while not worth missing out on. Squeeze into its long lines during their restrictive Monday-Friday lunch hours and order any one of their made-to-order donburi bowls or Japanese curry, from beef and chicken to the fancier grilled eel option. The price we've listed is for a large portion, so go for something smaller and spend your change on an equally cheap miso soup, bento box or croquettes.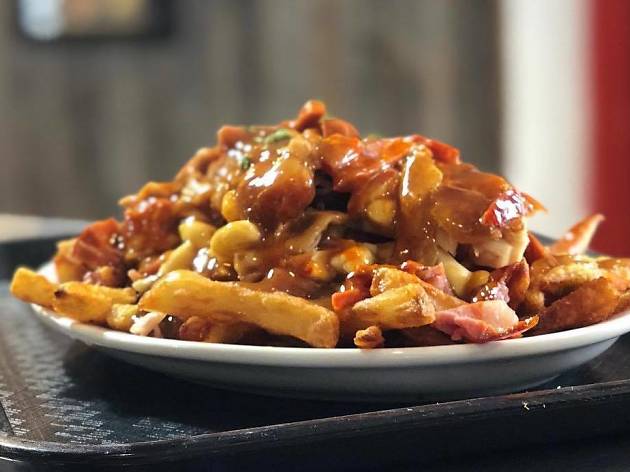 Photograph: Ma Poule Mouillée / @MaPouleMouillee
7. The $10 poutine at Ma Poule Mouillée
When it comes to the Portuguese chicken wars that have been silently raging in the Plateau (ok, that might be an exaggeration, but bear with us), Ma Poule Mouillée is a steady contender for the king of charcoal-fired birds. Among all of what they offer, the Ma Poule Mouillée poutine with São Jorge cheese and grilled chorizo is a mouthwateringly good dish, and best of all, the 'small' that goes for $10 is a massive portion. We don't know what they do to make that gravy so good, but even if they actually added crack, we'd eat that any day of the week.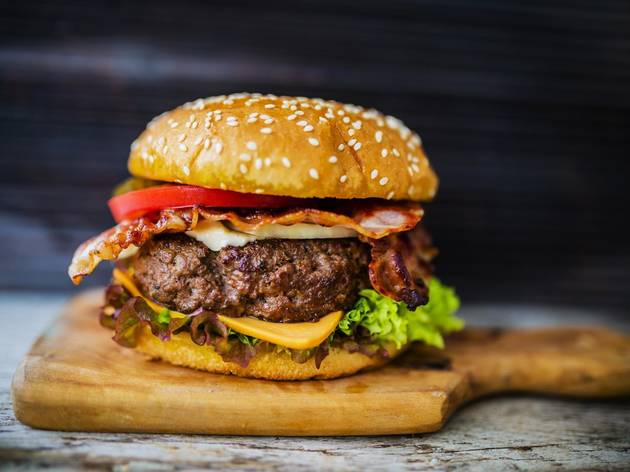 Photograph: Picks / picksrestaurant.com
8. The $7.50 double burger at Picks
Build-your-own-burger spots have never been so delicious or cheap, and that's just the cost of a double burger. What makes these burgers a step up—hell, two or three steps up—from your average fast food joint is because of the patties. Made from an exceptional marinated beef recipe, they get sandwiched between buns that are glazed on the outside and crisp on the inside (they won't tell us where they get them from) and it makes for a irreplicable package. While the cheese will only put you back an extra 65 cents, the basics of sauces, tomato, lettuce, pickles, onions and slaw are on the house.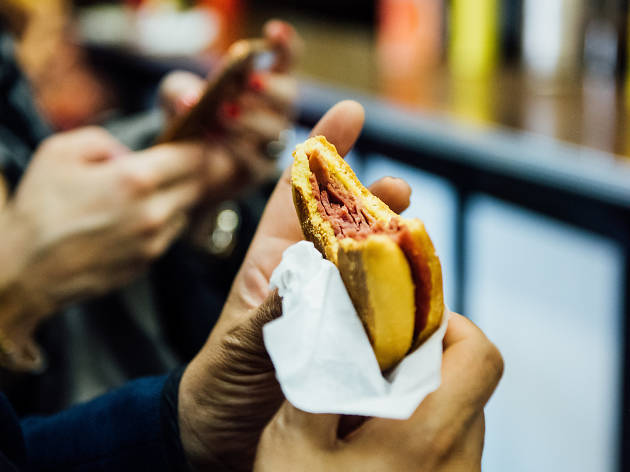 Photograph: Alison Slattery
9. The $4.74 Wilensky Special at Wilensky's Light Lunch
The Wilensky family behind this iconic deli is so sure about their 86-year-old sandwich recipe, they'll charge you extra if you order it sans mustard. Let the noshing begin: Saddle up at the lunch counter for the special, an all-beef salami and bologna sandwich served on a pressed Kaiser roll that's lined with mustard. The price you're seeing here is the with-cheese options, a mere 50 cents extra, and that gets you a choice of either a Kraft single or a slice of Swiss; worth it for the extra flavour factor.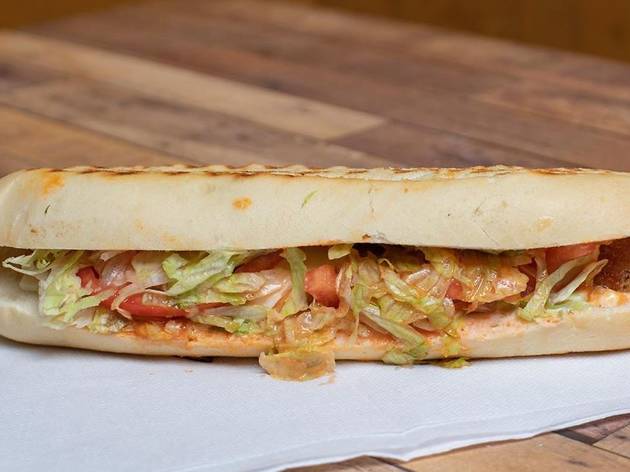 Photograph: @foodgallery_13 / Instagram
10. The $6.75 paninis from Joe's Panini
They're a saving grace for downtown sandwiches on the cheap for students looking for studyin' fuel, and that goes double for when they've been out all night and looking for a snack after pounding back rounds of beer nearby on Crescent. Joe's keeps things consistent, making as many as 18 different kinds of paninis for takeout for all preferences, from the Philly Cheese Steak to the BLT and tuna options. Best of all, they've always kept it cheap, and you could easily sub (no pun intended) out your grocery bill for three square meals here a day for a week and still save cash.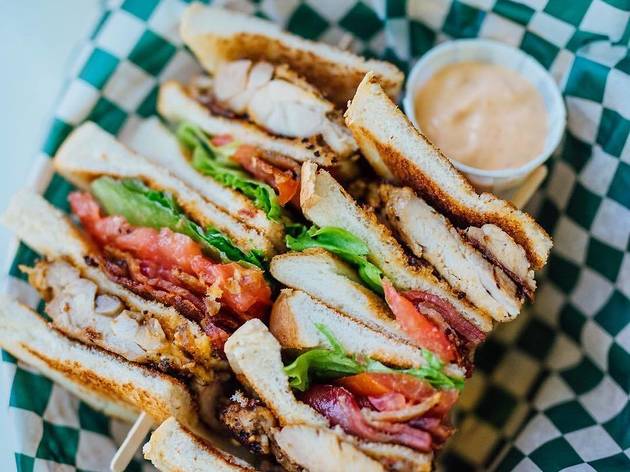 Photograph: Two Food Photographers
11. The $10 sandwiches at Dépanneur Le Pick-Up
Sandwiches, burgers, salads and breakfasts are the name of the game at this convenience store-turned-diner. Among those choices at bohemian-friendly prices is the pulled pork, a recipe more sweet than savory with BBQ sauce, pickles and chipotle mayo that's all fit between a halved Portuguese bread roll and topped with a colorful slaw and hot peppers. There's also a veggie version that can additionally be made vegan. If that doesn't grab you, grab any one of their other sandwiches for a buck or two over the $10 mark, but it's always worth it.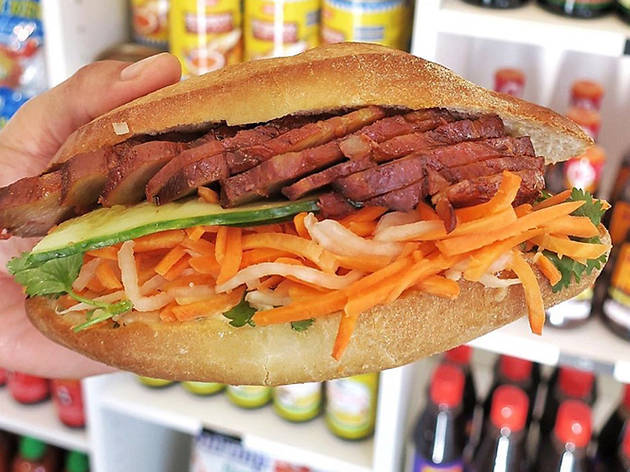 Photograph: Sandwicherie Sue / sandwicheriesue.com
12. The $9.75 char siu pork from Sandwicherie Sue
Found in several locations across the island, Sue has been making bahn mi sandwiches that knock the usual hangs you're used to out of the park. Every sandwich is worth a try—ginger or curry chicken and lemongrass tofu have received shout-outs before—but the classic char siu with Chinese five spice and topped with cucumber, daikon, carrot and cilantro is rich, filling and worth the trip. There's just something about their bread—a big 'n' fluffy take on typical baguette—that really makes it stand out.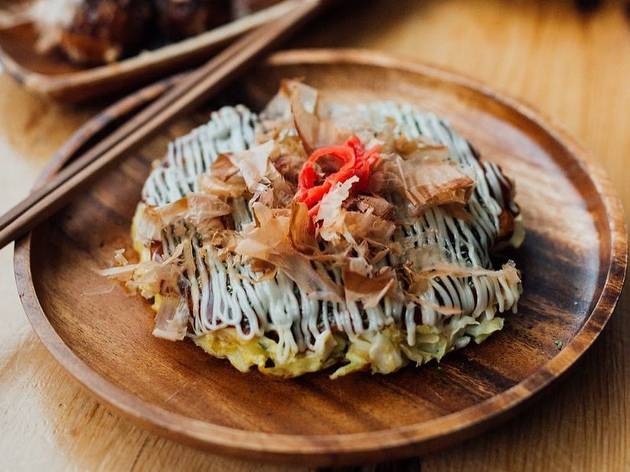 Photograph: Two Food Photographers
13. The $10 okonomiyaki at Noren
Japanese food need not be all contemplative omakase services or table-banging izakayas, and Noren's proof of that. Owners Élyse Garand and Hidenori Tsuda's café is a simple one, with weekly specials that constantly shift from udon and soba soups to generous donburi and chirashi bowls, plus everything in between that come in meal sets for $13. If you want to keep it cheap, the okonomiyaki is a rich seafood and veg pancake that's high on flavour, low on cost, and an all0around beautiful dish.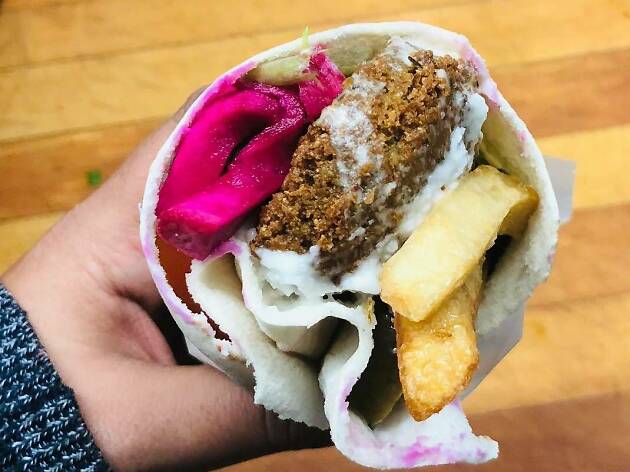 Photograph: Courtesy Nilufar
14. The $1.69 falafel sandwiches at Nilufar
The only thing more popular than Nilufar's bargain falafel pitas might be the woman behind the counter. Nilufar Al-Shourbaji, the restaurant's namesake and co-owner, is a Shaughnessy Village icon thanks to her benevolent presence and her vegan, halal, and budget-friendly Middle Eastern fare that's got students flocking there on the reg. For a savory twist on a Quebecois classic, order the "falafeltine," fries dressed with falafels, hot sauce, and Nilufar's popular tahini sauce. Heck, pick up a bunch of stuff—it's easy to put together a meal for under $10 here.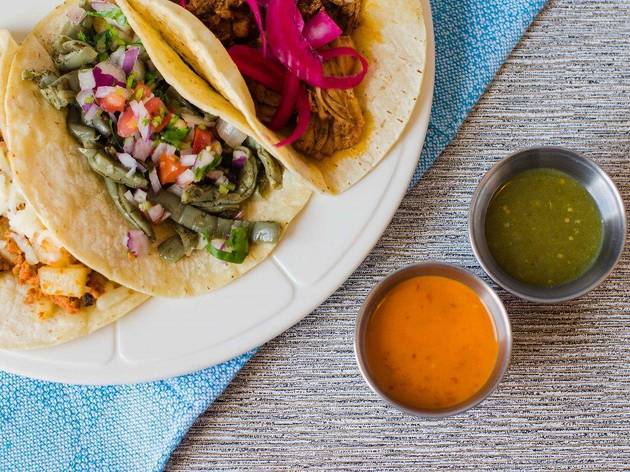 Photograph: Tacos Frida / tacosfridamtl.ca
15. The $8.85 taco trios at Tacos Frida
What began as a hole in the wall using little more than George Foreman grills has grown into a Oaxacan family institution in the neighbourhood of Saint-Henri. Their arrival heralded a renewed interest in tacos in Montreal, and they're proof that tacos on the cheap were not only in demand but could be irresistible. We can vouch for any one of Tacos Frida's nine taco varieties, and that being said, you really should just order three at a time and enjoy.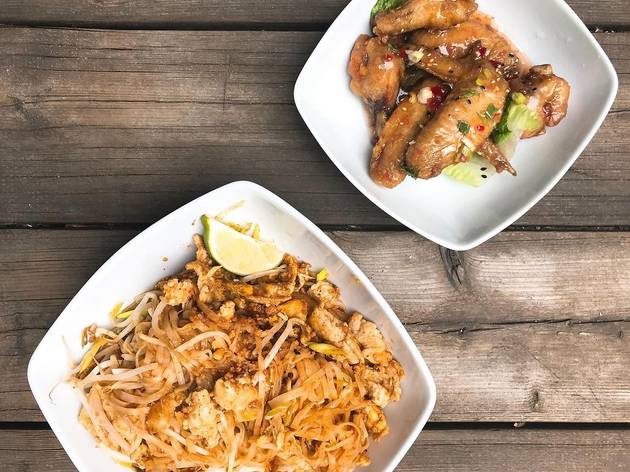 Photograph: Cuisine Bangkok / @tramieskitchen / Instagram
16. The $9 pad Thai from Cuisine Bangkok
From their original location in the Faubourg to their current spot farther downtown, Bangkok has kept their spicy and cheap menus consistent (minus a few hikes here and there), and that already makes them a winner in our books. Most of all, however, is that they make exceedingly cheap Thai food in the city, and they do it well. The biggest winner is their vegetable pad Thai that makes for a mountain of food that's—gasp—good for you. One trip's all it takes to hook an aspiring nosher.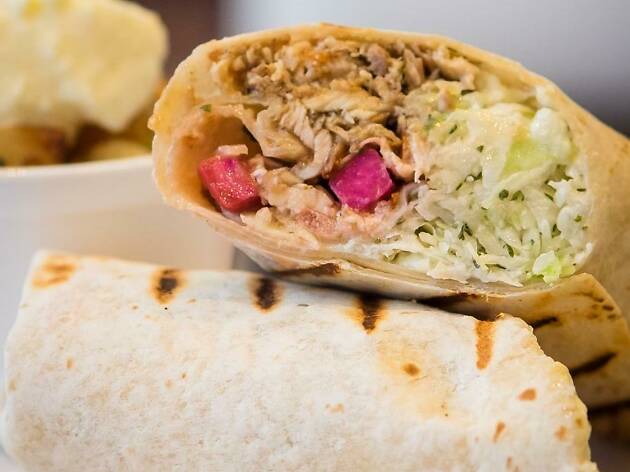 Photograph: Courtesy Boustan
17. The $6.75 creation at Boustan
Earning its street cred by selling damn fine shawarmas every day and (late) night, this shawarma shop makes some of the best chicken and beef wraps in the city despite their massive increase in locations on and off the island. Above all, it's the jampacked Creation that you should order, a one-with-everything sandwich that tops beef with tahini and garlic sauces, every vegetable they can provide and a spoonful of garlic potatoes wrapped up tight in a pita and baked.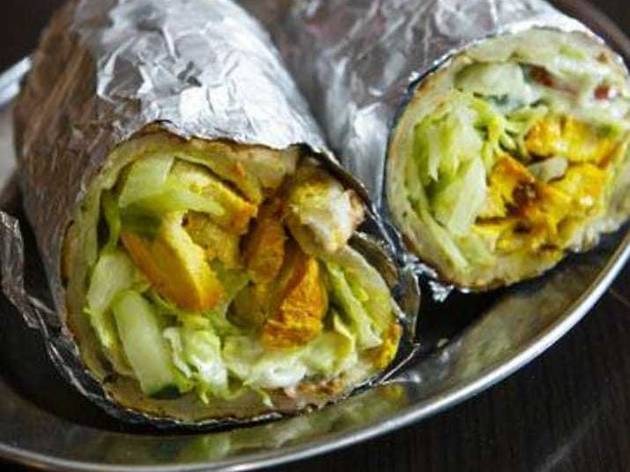 Photograph: Thali Cuisine Indienne / @thali514 / Instagram
18. The $7.50 alu paneer naan wraps at Thali
Like the name implies, this Indian counter service restaurant makes a point of thalis being their go-to dish, but a closer look at the menu reveals something else worthwhile: Naan wraps of spicy kebabs of savory meat—or chicken, or our favourite with slices of paneer and potatoes—covered in raita and iceberg lettuce. It's a burrito-like choice that, frankly, we don't understand why it isn't more of a thing anywhere else.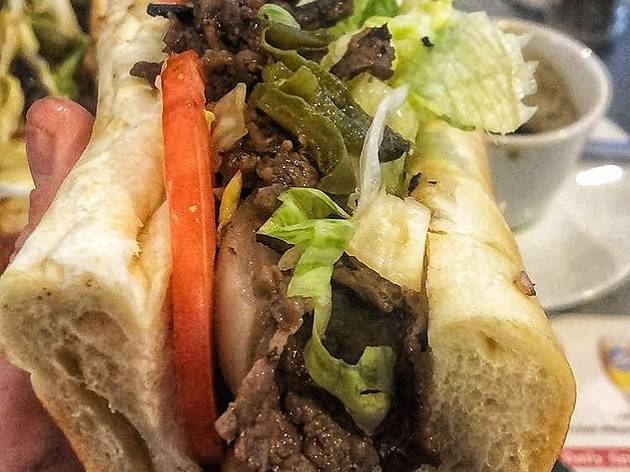 Photograph: @i_love_mtl / Instagram
19. The $9.25 supreme at Momesso's
An NDG-based institution that's been running for over 35 years, neighbours love it and farflung locals fall in love with a single bite. You can grab subs here for even cheaper than the above-listed price, but we like to go all out on the 6-inch supreme, a miz of sausage, steak, pepper, tomato, lettuce, onion, mushroom, cheese & hot sauce. It's a study in the classic Quebec submarine style where they like to lay on the fresh topping on top, making the whole dish this try-to-fit-it-in-your-mouth challenge, and if that's not a sign it makes for a filling meal, we don't know what is.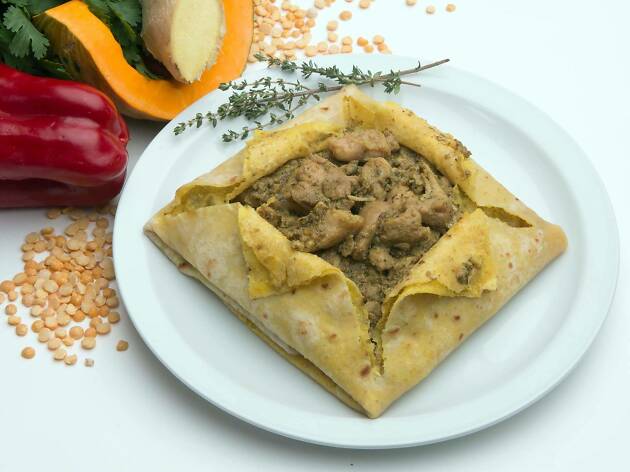 Photograph: Studio Zoomtech
20. The $7.95 chickpea roti at Caribbean Curry House
Locals have known for decades that if you want some of the best the Caribbean has to offer in this city, you come here for the roti, packed to the brim with aromatic curries and stewed meats. Among the cheapest options is the chickpea curry option, filled to brim until it's practically bursting. One is more than enough to keep you satisfied, and if you like your cheap eats spicy, this is definitely the place for you: They'll pack in as much heat as you like.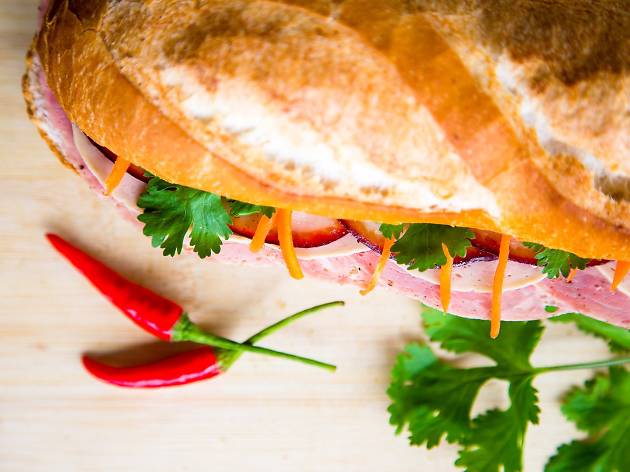 Photograph: Marché Hung Phat
21. The $6 bahn mi at Marché Hung Phat
Find fresh foot-long baguettes filled with pork liver pâté or grilled chicken, a house mayo, cilantro and pickled daikon and carrot here, and don't let anyone tell you they know a better place. This Vietnamese grocer and sandwich shop based in Villeray is the leader of the pack in town, and if that's not proof enough, remember that folks from outside of town—as far away as Vermont and Nunavut, they say—will order in and have them shipped out by the box. Lucky you, you have easy access to them right here in the 514.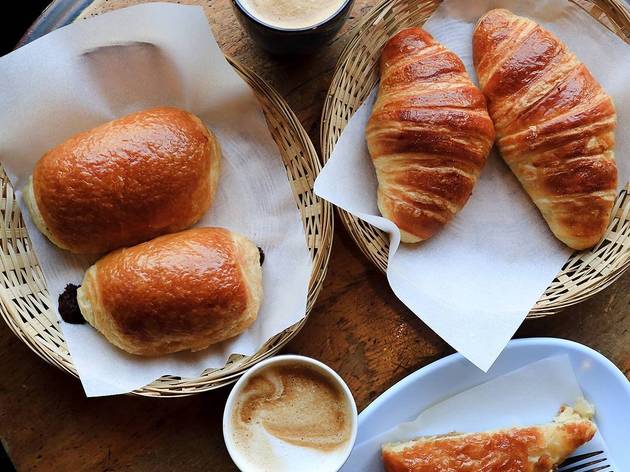 Photograph: @anthony_farino / Instagram
22. The $2.18 kouign-amann at Pâtisserie Au Kouign-Amann
One of the finest French pastry shops in Montreal, Nicholas Henri's traditional Breton cake is a stack of blissful bites encapsulated within layer after layer of butter and dough that's coated on all side with with caramelized sugar. One bite immediately gives newcomers and returning Montrealers the idea of buying up a whole pie of the stuff. "Vive la France"? More like "Vive la Bretagne, Vive les Bretons"! (Pro tip: Their croissants are also a serious competitor in both price and quality; you can grab one and still keep the price tag under $10)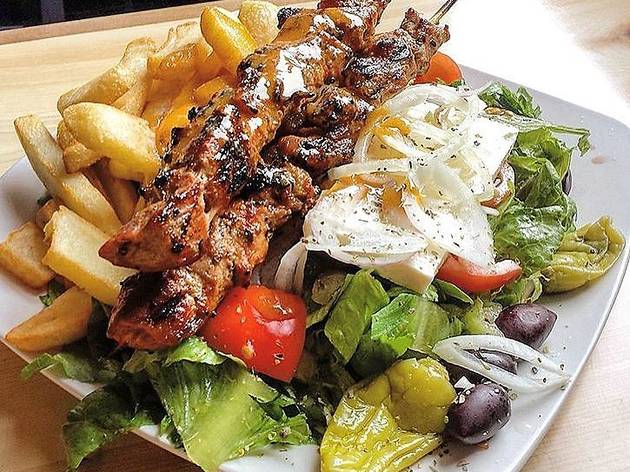 Photograph: @tastemontreal / Instagram
23. The $6.25 gyros at Marven's
Folks looking for Greektown delights will argue that Tripolis, Panama or Village Grec have they goods they need for garlicky tzatziki and meat wraps with tomato, lettuce, red onion and a dusting of Greek oregano. Our money's on Marven's, where a princely sum gets your hands on a mouth-watering gyro that's doing it right. There's just something about their spice blend that we've got a preference for, and we won't apologize for that; the souvlaki option (pictured) gets even cheaper by a buck, and if you're bringing a friend, pool your resources and buy up a plate of grilled quail for under $20.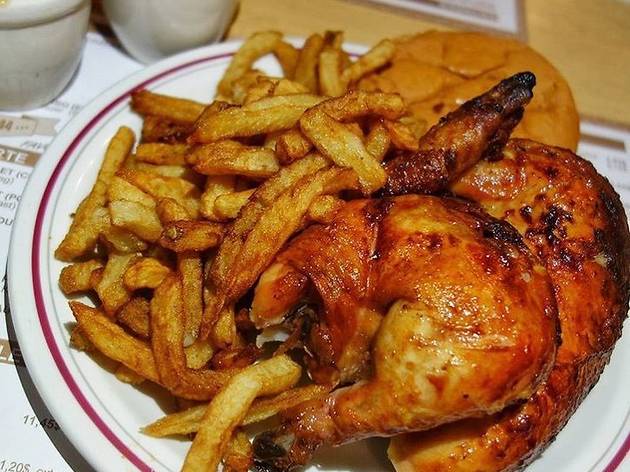 Photograph: @mijunepak / Instagram
24. The $7.05 chicken leg platter at Chalet Bar-B-Q
The adapted rotisserie chicken tradition in Quebec gets no more down-to-earth and delicious than this spot in NDG. What began in 1944 continues to deliver to this very day: A cut of chicken—leg or breast—comes with a heap of fries, brown gravy on the side, a toasted roll and a cup of slaw. It was an old standby back in the day, and it's a standby now in—apart from the quality—they've kept their prices ridiculously low while keeping portions consistently big.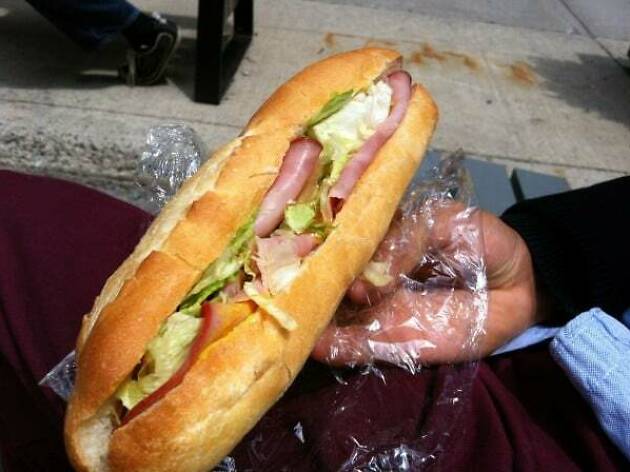 Photograph: Courtesy Yelp/Sean B.
25. The $5 sandwiches at Super Sandwich
Banh mi elements meet the North American cold cut sandwich tradition at this lunch counter located inside of a dépanneur in the bottom commercial floor of Le Cartier Tower downtown. A warm baguette is lined with mustard, mayo, shredded iceberg lettuce, tomato and a sizeable range of different meats that reach from bologna and roast beef to smoked chicken and crab meat. They're so popular that they make up over 70% of this dépanneur's sales.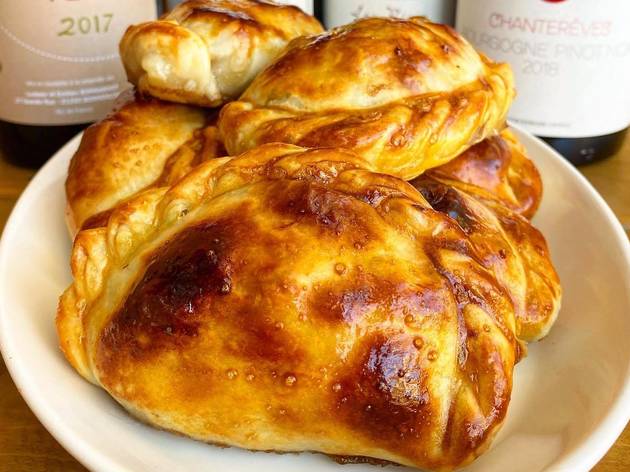 Photograph: Restaurant Beba / @RestaurantBeba / Facebook
26. The $9 empanadas at Beba
Chef Ari Schor's been cooking from his Argentinian roots at Beba, the Verdun-based restaurant he runs with his brother Pablo. While it's mostly looked to for some reasonably-priced but higher-end dining, they're regularly doing pairs of empanadas on the cheaper that are easy to grab and go while displaying some wonderful artistry. Glazed on the outside but still soft to chew, the cheese pull is delightful on their spinach options, and the restaurant's current beef bourignon empanadas are a hearty cold season option we'll eat any fall or winter day.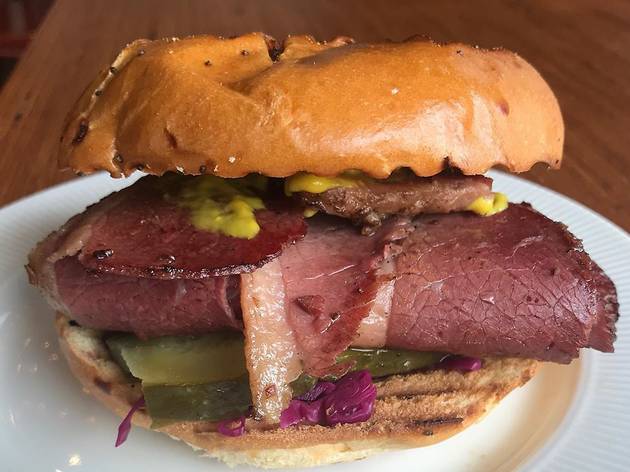 Photograph @pablo_provisions1268 / Instagram
27. The $10 cubano at Boucherie Provisions
What's better than a chef-driven butchery shop? One that's selling amazing sandwiches daily. Their cubano reigns above all, a classic combination of sliced meat, Swiss cheese, pickles and mustard pressed between two slices of bread that's a constant on their menu. Spiked with their own pickles to boot, it's all the more reassuring when considering how they're sourcing, slicing and dicing their own cuts. Feel free to throw down a couple bucks more to upgrade to options like their brisket sandwich and keep your (likely) repeated visits in the future fresh, but the cubano is reason enough to go back again and again.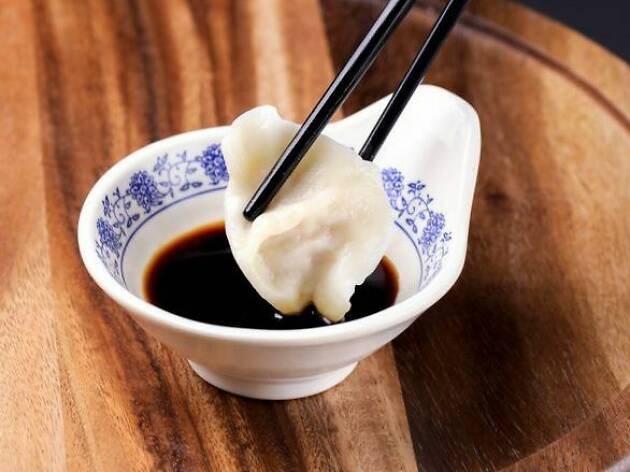 Photograph: Courtesy Yelp/Qing Hua Chinatown
28. The $8 pork and coriander dumplings at Qing Hua
A jiaozi standard both in Chinatown and beyond, the dumplings here come by the steamer-full and are made to order. Perfect for plucking one at a time, biting slightly at the edge and sucking out the broth before popping them in your mouth whole. Order them fried for a buck and a half more, and mix 'n' match flavours for only 50 cents more. Our favourite's the pork and coriander, of which you'll get a big plate of 15. It's one of those cheap eats in town that's light on the stomach while still being filling.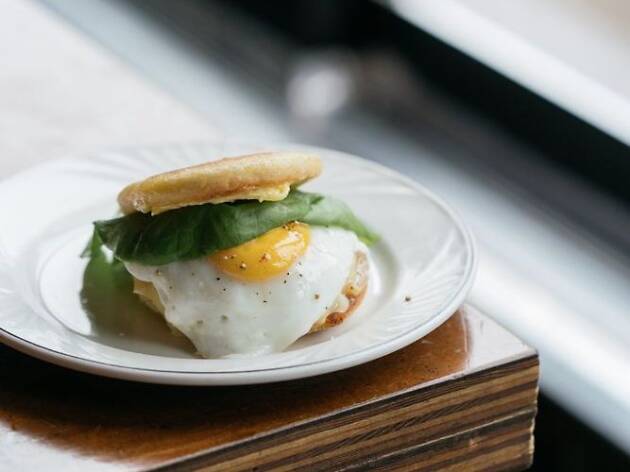 Photograph: Courtesy Yelp/Larrys
29. The $10 sandwiches at Larrys
Fast food joints got a lot of cred for making breakfast menus available all day long, but absolutely none hold a candle to what Larrys is packing. Among their $10 sandwiches, a lot of heads turn to their combination of egg, Lincolnshire sausage, cheese and Boston lettuce on an English muffin—some say it's the best of its kind in the city. The porchetta, ham and salmon options don't get enough love from the public and media folk like us though, and they should be strongly considered when you're dropping in for takeout.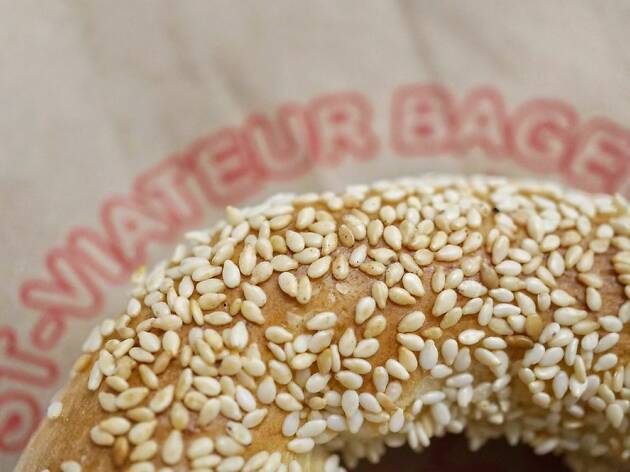 Photograph: Courtesy Yelp/Min C.
30. The $4.75 bag of classics at St-Viateur Bagel
It's not technically a meal per se, but screw it, everyone does it: Drop in to order a half-dozen bag of poppy seed, sesame seed or plain bagels (mix 'n' match if you want!) that are fresh out of the oven and just chow down, right out of the bag. The quality and price of this bagel bakery that helped put Montreal-style bagels on the map will be demonstrated with just one chewy, sweet bite.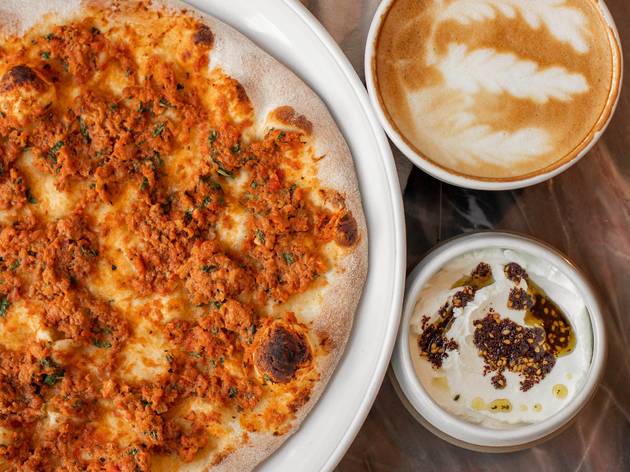 Photograph: Cult MTL
31. The $6.50 lahem bi ajin manakish at Chez Téta
Most Montrealers would likely think of the small chain Al-Taib when looking for their manakish, but this Lebanese café that's new to the Plateau is knocking the Middle Eastern snack staple out of the park. Using a 1.5-tonne oven they've sourced straight from Lebanon, they're doing the traditional dish more than justice by making it street food style and street food prices. We love one of the priciest ones the most which is covered in ground meat, but you can easily buy two of their za'taar or cheese options for under $10 as well. Whatever you pick, it's delicious and filling AND cheap.
Keep it cheap in the city
Maximize your dime and time with the best cheap things to do in Montreal, from arts and culture to food and drink. Here's our list of our favourite ways to spend time in Montreal without spending too much of your hard-earned cash.
Here's your list of essentials for the best things to do in Montreal, from fantastic attractions to cultural powerhouses.