Heads up! We're working hard to be accurate – but these are unusual times, so please always check before heading out.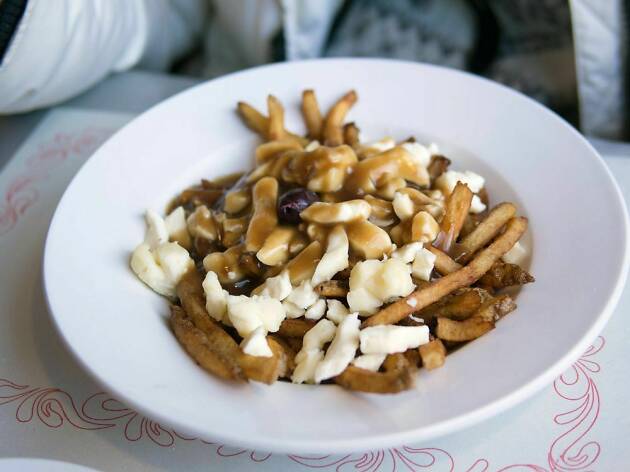 The best cheap eats in Montreal
Fine foods for a fraction and meals at a steal, these are the best cheap eats excelling at both price point and flavour
If there's any proof of this city's low cost of living while providing a high quality of life, look to Montreal's best restaurants with the cheapest food. There are tons of spots to grab a bite, but are they worth the wait or your wallet? We've scoured the streets for a wide variety of the most frugal fare to keep you both fueled up during the day and ready to hit the best bars by night, whether it's a popular student haunt or a local legend. Truth be told, eating cheap's one of the top things to do in Montreal.
Best cheap eats in Montreal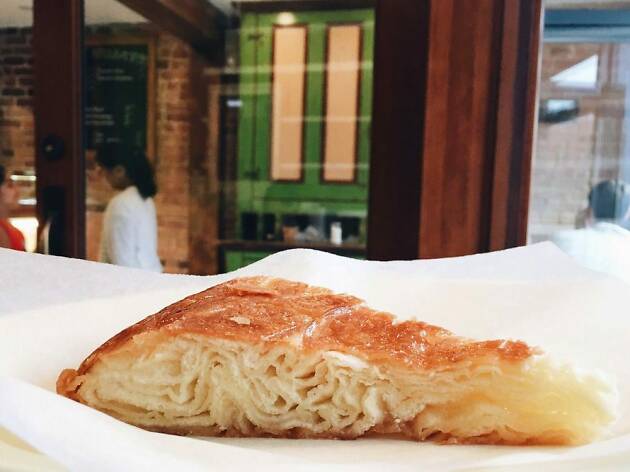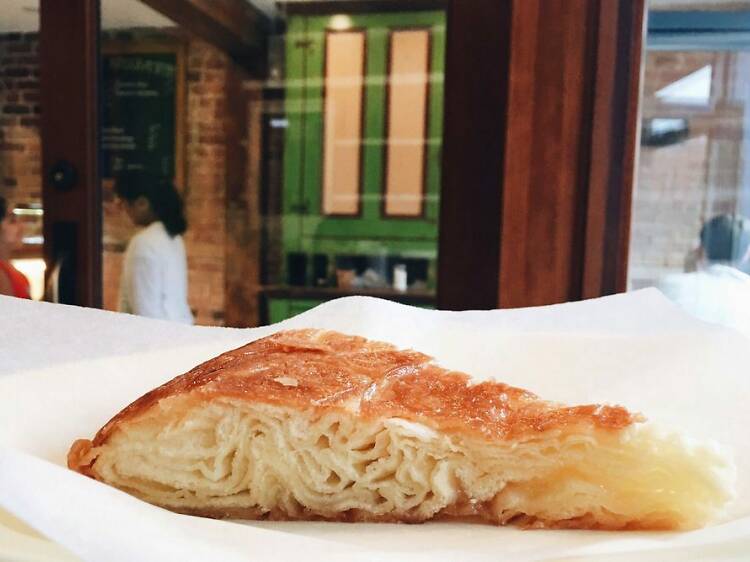 Photograph: Courtesy Yelp/Echo Z.
1. Kouign-amann and croissants at Pâtisserie Au Kouign-Amann
One of the finest French pastry shops in Montreal, Nicholas Henri's namesake traditional Breton cake is a stack of blissful bites with repeated layers of butter and dough, topped with caramelized sugar. Their croissants too give most others a serious competitor in both price and quality. "Vive la France"? More like "Vive la Bretagne, Vive les Bretons"! $2.18 and $1.45, respectively.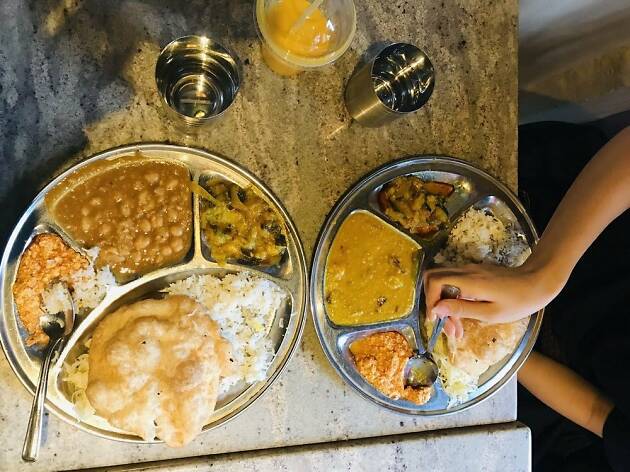 Photograph: Courtesy Yelp/Yao W.
2. Thali combo plates at Pushap
There are many, many Indian restaurants selling bang-on thali, rounded platters of food fit for any time of day. Few compare in price to Pushap, however; a choice of chickpea or lentil curry, rice, salad, and naan either baked or fried with two additional curries goes for a beautiful song here. If thali isn't your thing, no worries: Everything here is cheap and delicious, brimming in spices. $7.50.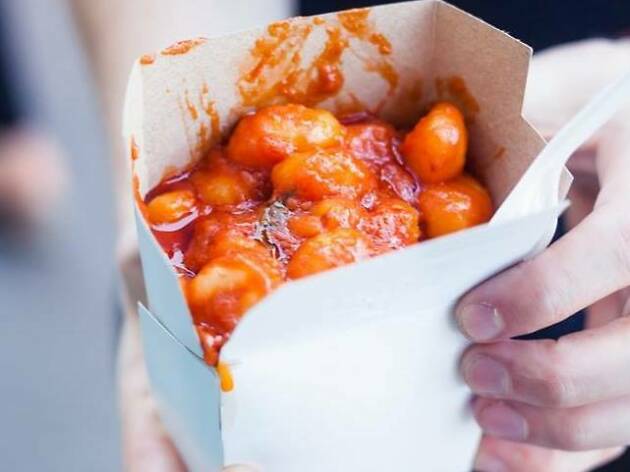 Photograph: Courtesy Drogheria Fine
3. Gnocchi at Drogheria Fine
There's only one option here, and it's all you need: Soft gnocchi coated in a homey red sauce, piled into a Chinese take-out container, with a handful of pecorino romano for buck extra and shakes of red pepper flakes for a spicier touch. The result is a meal straight from nonna's books that sticks to the ribs and hugs you tight. $5.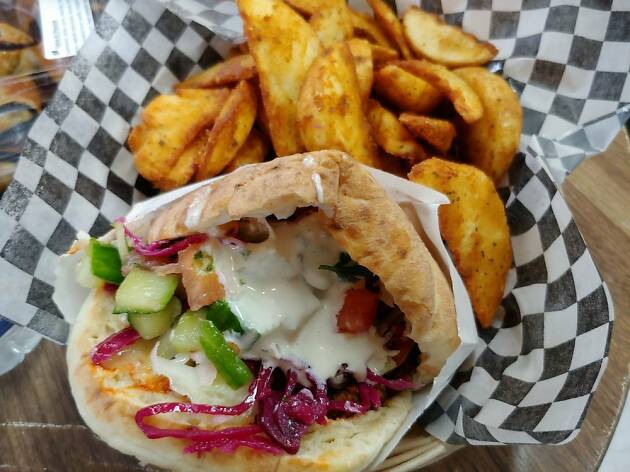 Photograph: Courtesy Yelp/Steff D.
4. Pita sandwiches at Falafel St. Jacques
Ronen Baruch and Saleh Seh's Mediterranean fare is the foundation which built this neighbourhood institution worth the ride out to the edge of Lachine. Be it the crunchy chickpea falafel, or their meatless takes on shawarma and shishtaouk by using shiitake in lieu of chicken, everything gets stuffed until brimming in a warm and fluffy pita bread. A home away from home. $5.99 to $7.99.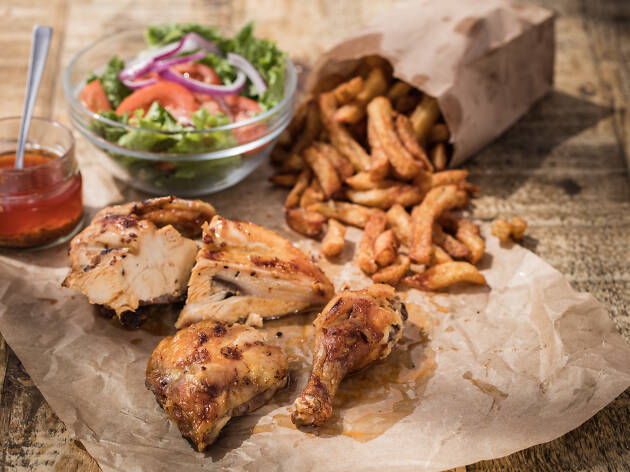 Photograph: Courtesy Romados
5. Half chicken at Romados
Hot off the charcoal, slathered in piri piri and slapped into a styrofoam container with seasoned fries and a simple salad given a light vinegar drizzle: That's Romados' chicken, and it's never failed us. Succulent meat that comes cheap but far from skimping on quality, this is a local legend in the saga that is Montreal-Portuguese chicken. $9.85.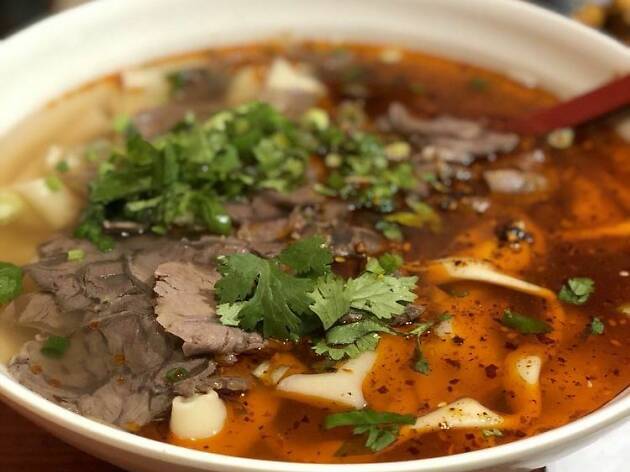 Photograph: Courtesy Yelp/Christine T.
6. Beef Lanzhou Noodle Special at Nouilles de Lan Zhou
You could stand at the window of this lamian Chinatown resto watching the masters pulling, twisting, and folding noodles for hours, but we suggest you go inside. You can build your own soup here too, with the choice between flat and round noodles, meat or veggie, and spicy or non-spicy broth. Portions dramatically outsize the prices, so a small bowl might be enough for you to noodle on. $7.99 (small) to $11.99 (large).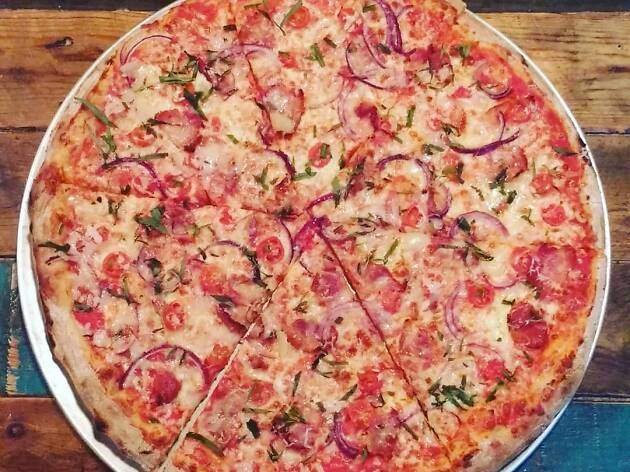 Photograph: Courtesy Pizza Bouquet
7. Slice of 'za from Pizza Bouquet
Montreal had little in the way of New York-style pizza for the longest time, making Pizza Bouquet's pop-up style establishment in the back of Notre Dame des Quilles bar all the more welcome. Seven varieties of pie and counting are available by the slice, and from the tangy sauce to the crispy crust to the oozing cheese, it's everything we'd want to pair with a cool pint. $3.50 each.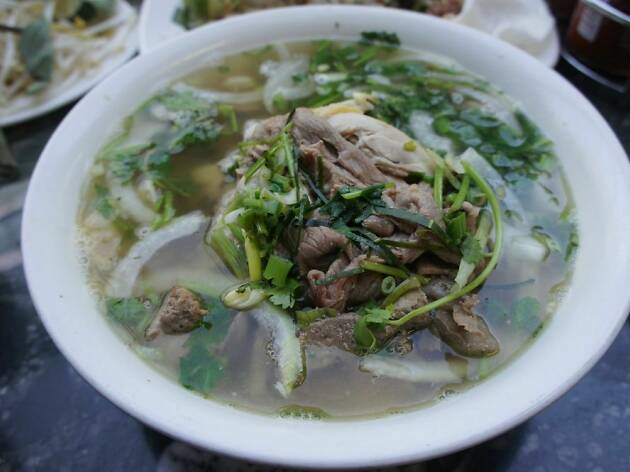 Photograph: Courtesy Yelp/Jonny M.
8. Chicken and beef noodle soups at Pho Tay Ho
Long known to Montrealers as the preeminent place to grab a huge, piping hot bowl of pho, the soup slung at this address often sees a full dining room on any day of the week. The rare and well-done flanks of beef, beef balls, grilled chicken and fragrant chicken offals—with prerequisite bean sprouts, lime wedges, and sprigs of Thai basil—all form options that easily freshen and revivify the soul. $9 to $11.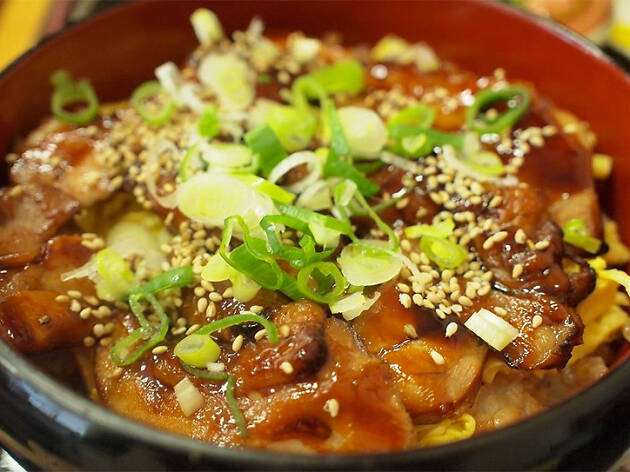 Photograph: Courtesy Japote
9. Curry and donburi bowls at Japote
Like the last gem standing in every food court ever, the team at this Japanese counter in the basement of Downtown's Scotia Tower are at once easy to miss while not worth missing out on. Squeeze into its long lines during their restrictive Monday-Friday lunch hours and order any one of their made-to-order donburi bowls or Japanese curry. Spend your change on an equally cheap miso soup, bento boxes or croquettes. $3.91 (small) to $7.83 (large).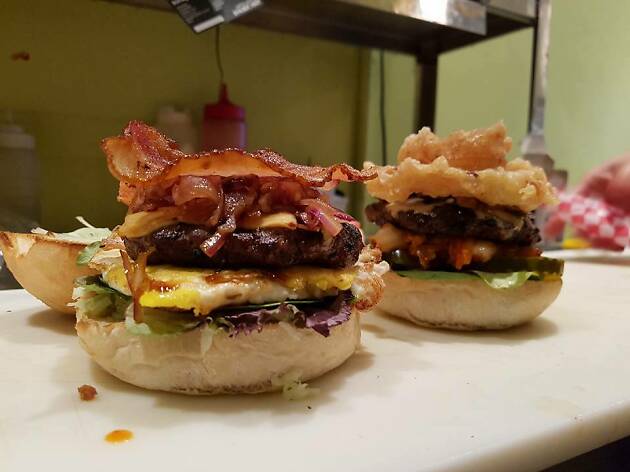 Photograph: Courtesy Picks Burger
10. Double burgers at Picks Burger
Build-your-own-burger spots have never been so delicious or cheap, and that's just the cost of a double burger. The patties here are of an exceptional marinated beef recipe, while the buns—glazed on the outside, crisp on the inside—complete them. While the cheese will only put you back an extra 65 cents, the basics of sauces, tomato, lettuce, pickles, onions and slaw are on the house. $6.96.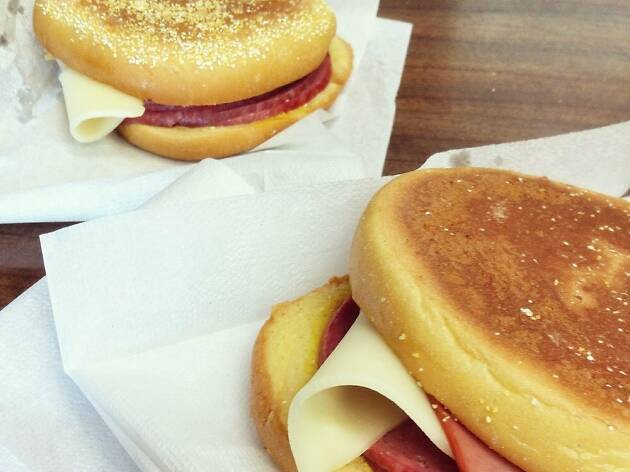 Photograph: Courtesy Yelp/Issan Z.
11. Wilensky Special at Wilensky's Light Lunch
The Wilensky family behind this iconic deli is so sure about their 86-year-old sandwich recipe, they'll charge you extra if you order it sans mustard. Let the noshing begin: Saddle up at the lunch counter for the special, an all-beef salami and bologna sandwich served on a pressed Kaiser roll that's lined with mustard. Simple and effective to the point of erudition. $4.17, $4.67 with cheese.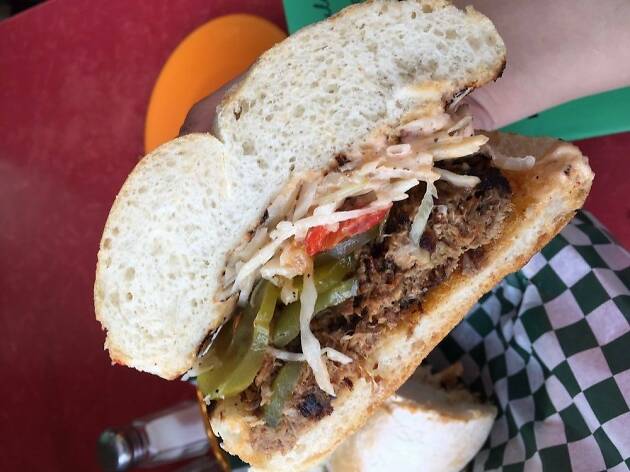 Photograph: Courtesy Yelp/Katie Z.
12. Pulled pork sandwich at Dépanneur Le Pick-Up
Sandwiches, burgers, salads and breakfasts are the name of the game at this convenience store-turned-diner. Among those choices at bohemian-friendly prices is the pulled pork, a recipe more sweet than savory, fit between a halved Portuguese bread roll and topped with a colorful slaw. If that doesn't grab you, grab any one of their other sandwiches. It's all good here. $9.50.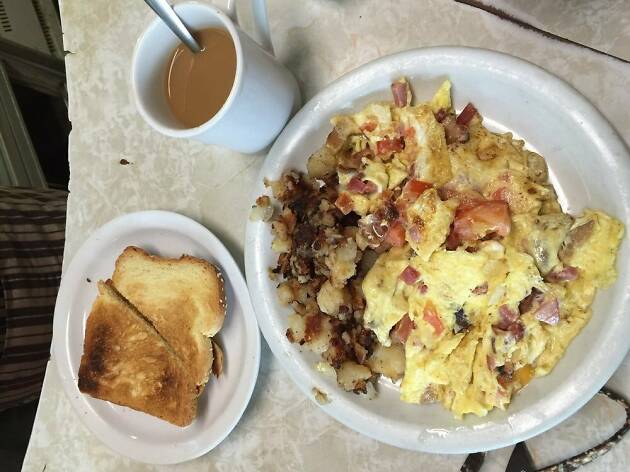 Photograph: Courtesy Yelp/Katie Z.
13. Mish-mash omelette at Cosmo's
The founder of this diner Tony Koulakis (RIP) was first immortalized in Montrealer's minds with a documentary entitled 'King of Grease'. That's perfectly in keeping with this tiny diner's style: Their three-egg omelettes filled with diced tomato, onion, cheese, bacon, sausage and salami, plus a variety of toast, coffee and their patented potatoes fried in sizzling margarine until crispy and gooey are all artery-clogging goodness at its best. $12.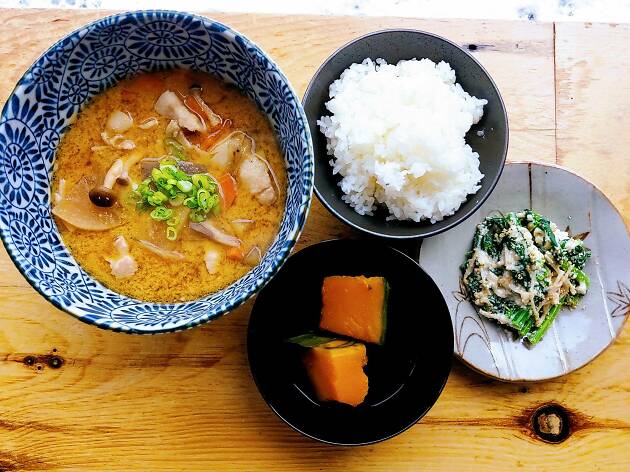 Photograph: Courtesy Noren
14. Weekly specials at Noren
Japanese food need not be all contemplative omakase services or table-banging izakayas, and Noren's proof of that. Owners Élyse Garand and Hidenori Tsuda's café is a simple one, with weekly specials that constantly shift from udon and soba soups to generous donburi and chirashi bowls, plus everything in between. High on flavour, low on cost and really, it's just beautiful food. $9.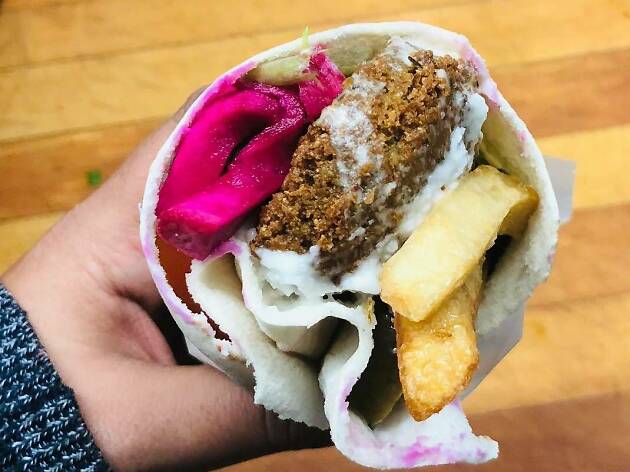 Photograph: Courtesy Nilufar
15. Falafel pitas at Nilufar
The only thing more popular than Nilufar's bargain falafel pitas might be the woman behind the counter. Nilufar Al-Shourbaji, the restaurant's namesake and co-owner, is a Shaughnessy Village icon thanks to her benevolent presence and her vegan, halal, and budget-friendly Middle Eastern fare. For a savory twist on a Quebecois classic, order the "falafeltine," fries dressed with falafels, hot sauce, and Nilufar's popular tahini sauce. $1.69 each.
Photograph: Courtesy Chez Bong
16. Spicy noodle with seafood and pork at Chez Bong
Not to be confused with Chez Bong on Mackay Street, this Korean outlier in Chinatown easily takes a top five spot for soups in the area. The jjigae, bulgogi and bibimbap are all good, but this jjamppong with fiery red broth, long noodles and hunks of both surf and turf is its real claim to fame. That's the good news; the better news is nothing on the menu gets more expensive than this. $14.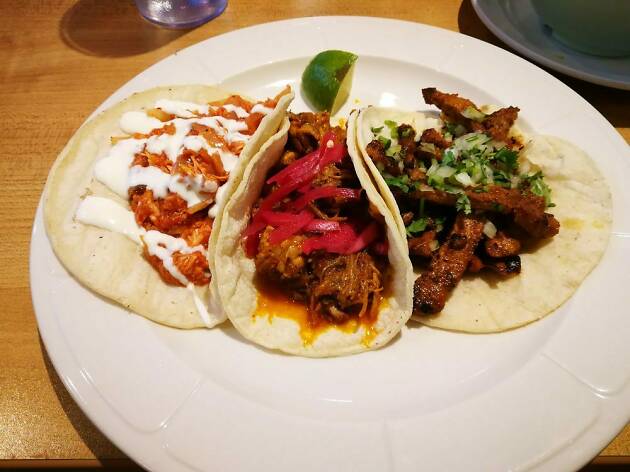 Photograph: Courtesy Yelp/Aimee H.
What began as a hole in the wall using little more than George Foreman grills has grown into a Oaxacan family institution, heralding that tacos on the cheap were not only in demand but could be irresistible. We can vouch for any one of Tacos Frida's nine taco varieties, and that being said, you really should just order one of each and enjoy. $2.50 each, $3 for pastor and pescado.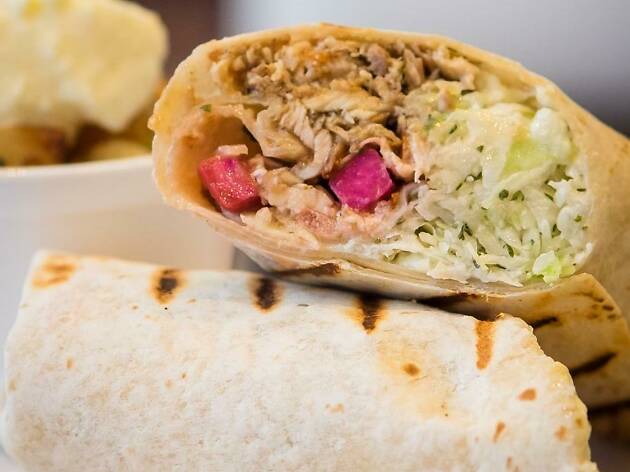 Photograph: Courtesy Boustan
18. Creation sandwich trio at Boustan
Earning its street cred by selling damn fine shawarmas every day and (late) night, this shawarma shop makes some of the best chicken and beef wraps in the city. Above all, it's the jampacked Creation that you should order, a one-with-everything sandwich that tops beef with tahini and garlic sauces, every vegetable they can provide and a spoonful of garlic potatoes wrapped up tight in a pita and baked. $9.99.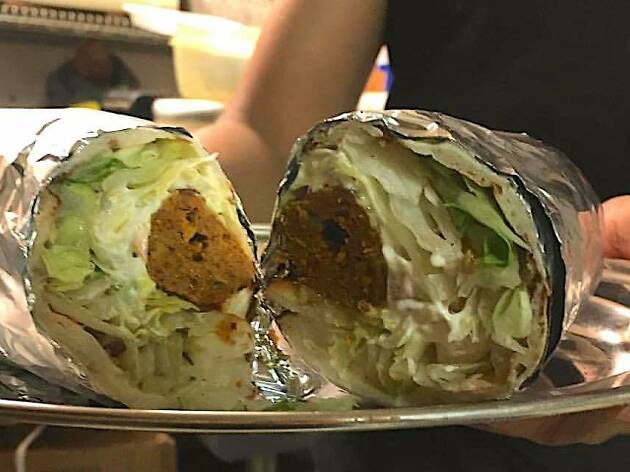 Photograph: Courtesy Thali Cuisine Indienne
19. Kebab naan wraps at Thali Cuisine Indienne
Like the name implies, this Indian counter service restaurant makes a point of thalis being their go-to dish, but a closer look at the menu reveals something else worthwhile: Spicy kebabs of savory meat—or chicken, or slices of paneer—covered in raita and wrapped in a naan. It's a burrito-like choice that, frankly, we don't understand why it isn't more of a thing anywhere else. $6.50.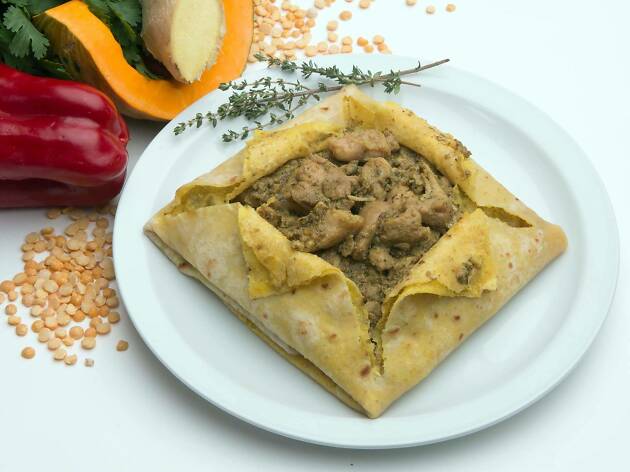 Photograph: Studio Zoomtech
20. Goat roti at Caribbean Curry House
Locals have known for decades that if you want some of the best the Caribbean has to offer in this city, you come here for the roti, packed to the brim with aromatic curries and stewed meats. One is more than enough to keep you satisfied, and if you like your cheap eats spicy, this is definitely the place for you. This place packs in as much heat as you like. $8.25.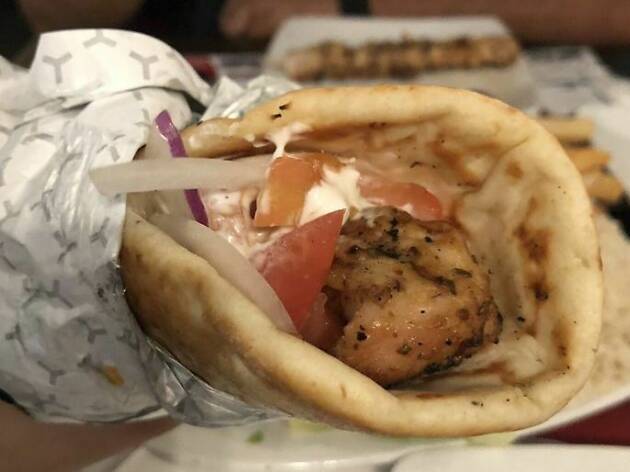 Photograph: Courtesy Yelp/Stephanie C.
21. Gyro platters at Restaurant Marven's
Folks looking for Greektown delights will argue that Tripolis, Panama or Village Grec have they goods they need for garlicky tzatziki and meat wraps with tomato, lettuce, red onion and a dusting of Greek oregano. Our money's on Marven's, where a princely sum gets you two mouth-watering gyros, a Greek or Caesar salad, and rice or fries. For the same price, their succulent roasted quail plates are pretty great too. $12.25 for 1, $15 for 2.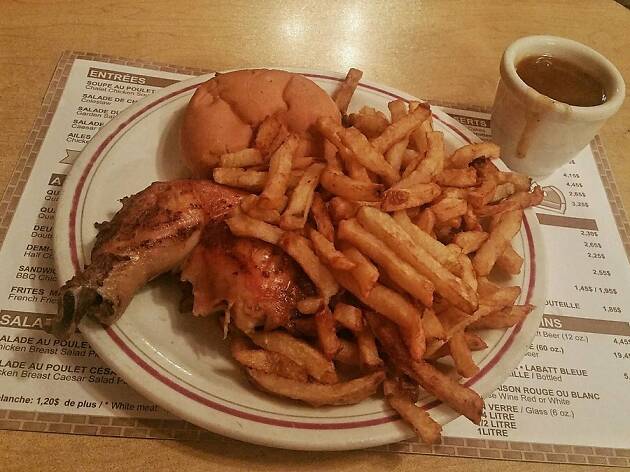 Photograph: Courtesy Yelp/Stephanie C.
22. Quarter chicken at Chalet Bar-B-Q
The adapted rotisserie chicken tradition in Quebec gets no more down-to-earth and delicious than this spot in NDG. What began in 1944 continues to deliver to this very day: A cut of chicken—leg or breast—comes with a heap of fries, brown gravy on the side, a toasted roll and a cup of slaw. It was an old standby back in the day, and it's a standby now. $6.85 for dark meat, $7.95 for white.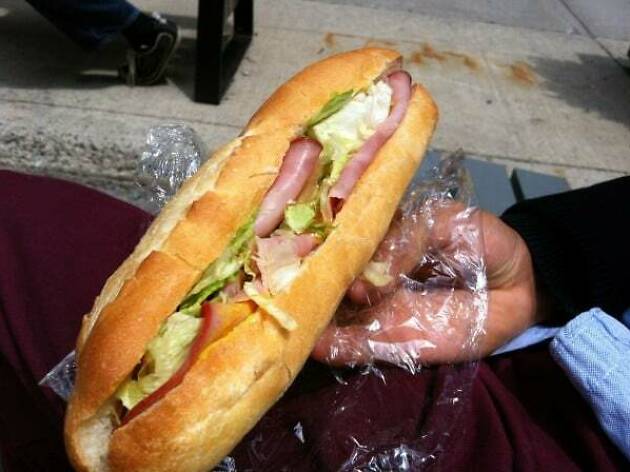 Photograph: Courtesy Yelp/Sean B.
23. Sandwiches at Super Sandwich
Banh mi elements meet the North American cold cut sandwich tradition at this lunch counter located inside of a dépanneur in the bottom commercial floor of Le Cartier Tower. A warm baguette is lined with mustard, mayo, shredded iceberg lettuce, tomato and a sizeable range of different meats that reach from bologna and roast beef to smoked chicken and crab meat. They're so popular that they make up over 70% of this dépanneur's sales. $2.75 to $4.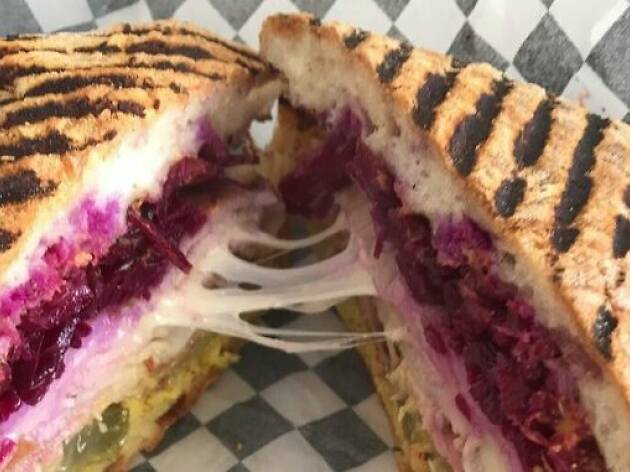 Photograph: Courtesy Yelp/Mike D.
24. Cubanos at Boucherie Provisions
What's better than a chef-driven butchery shop? One that's selling amazing sandwiches daily. That classic combination of sliced meat, Swiss cheese, pickles and mustard pressed between two slices of bread is a constant on their menu. Spiked with their own pickles to boot, it's all the more reassuring when considering how they're sourcing, slicing and dicing their own cuts. $8.50.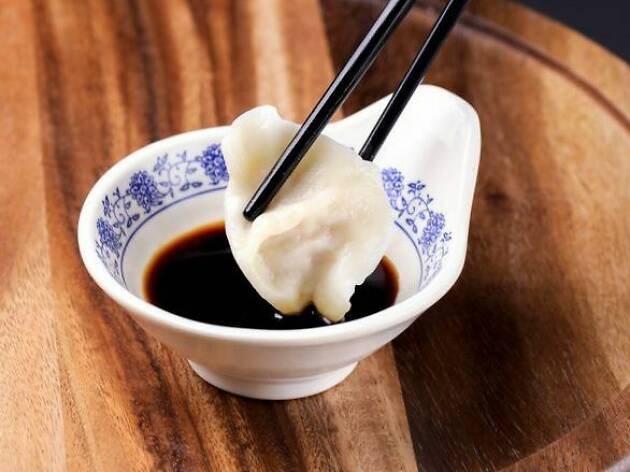 Photograph: Courtesy Yelp/Qing Hua Chinatown
25. Dumplings at Qing Hua
A jiaozi standard both in Chinatown and beyond, the dumplings here come by the steamer-full and are made to order. Perfect for plucking one at a time, biting slightly at the edge and sucking out the broth before popping them in your mouth whole. Order them fried for a buck and a half more, and mix 'n' match flavours for only 50 cents more. Our favourite's the lamb and coriander. $7.99 to $12.99 for 15 steamed.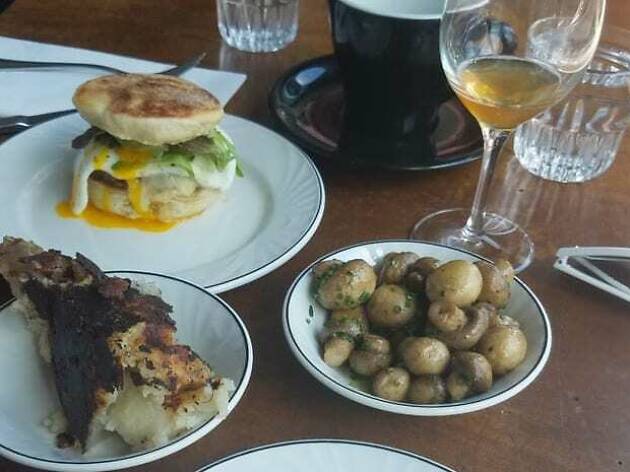 Photograph: Courtesy Yelp/Jaime K.
26. Breakfast sandwich at Larrys
Fast food joints got a lot of cred for making breakfast menus available all day long, but absolutely none hold a candle to what Larrys is packing. The sandwich, a combination of egg, sausage, cheese and Boston lettuce on an English muffin is the best of its kind in the city. Even better, pair it up with a bowl of fried button mushrooms or bubble and squeak on the side for a marginal mark-up. $9.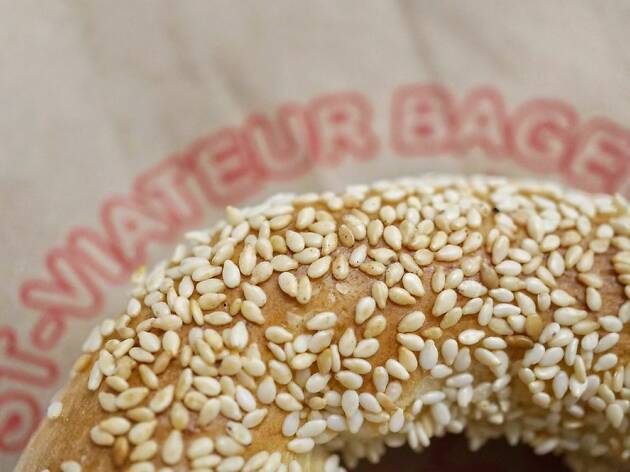 Photograph: Courtesy Yelp/Min C.
27. Bag of six classic bagels at St-Viateur Bagel
It's not technically a meal per se, but screw it, everyone does it: Drop in to order a half-dozen poppy seed, sesame seed or plain bagels fresh out of the oven and just chow down, right out of the bag. The quality and price of this bagel bakery that helped put Montreal-style bagels on the map will be demonstrated with one chewy, sweet bite. $4.75.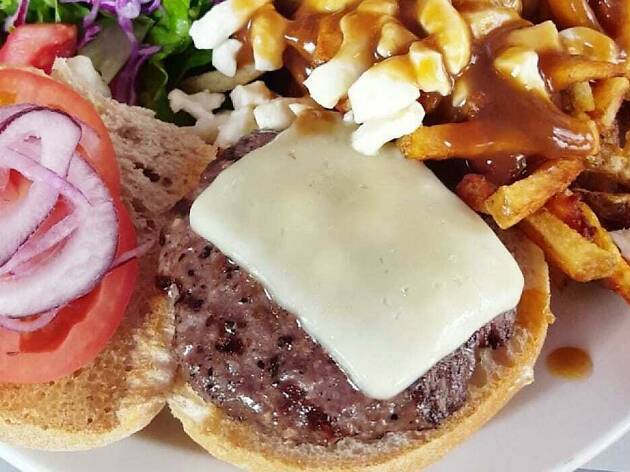 Photograph: Courtesy Yelp/Justin M.
28. Poutine and burgers at Patati Patata
The string-cut fry poutines and slider-style burgers this corner diner pumps out at breakneck speed are both delicious and overwhelmingly popular. Either squash yourself into a spot at the counter and order up a pitcher of beer with the money you saved, or order it to go and eat in the park in seasons warmer than winter. $6.95 and $3.25, respectively.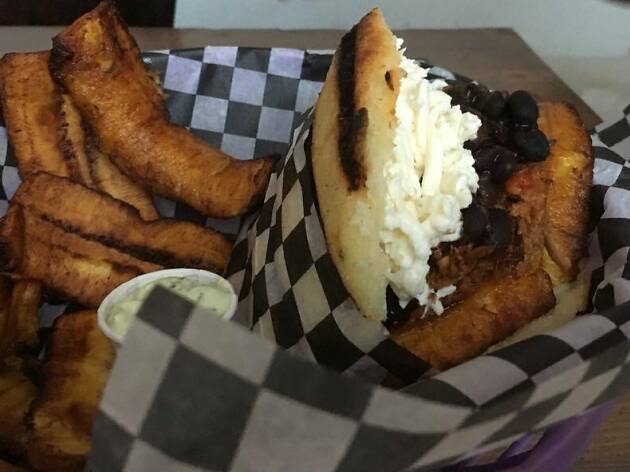 Photograph: Courtesy Yelp/Pat M.
29. Arepas at Cacique Grill
Venezuelan eats don't have nearly the kind of rep they should in Montreal, but arepa joints like this one are changing that. The sandwiches here are thick corn flour buns stuffed with meat and topped with a mound of queso, hearty foodstuffs that are rich and saucy on the inside, crunchy on the outside. Pro-tip: Ask for your arepa to be deep-fried. $7 to $9.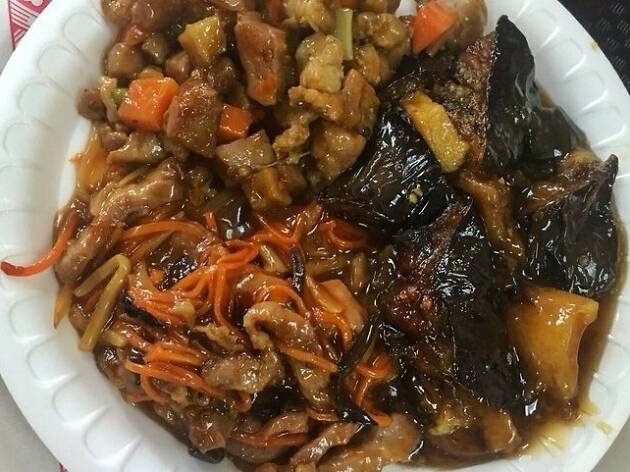 Photograph: Courtesy Yelp/Tram L.
30. Three-choice plates at Shi Tang
Look to Chinatown West, where student-friendly eats are found in spades, primarily catering to the population of Concordia University. This address, however, has one of the best bangs for your buck: A choice of three dishes from their steam table like stewed eggplant or pork with carrot and mushroom are served with non-stop rice and tea. For a lighter meal, ask for a couple of their wonderfully filling baos. $9.25.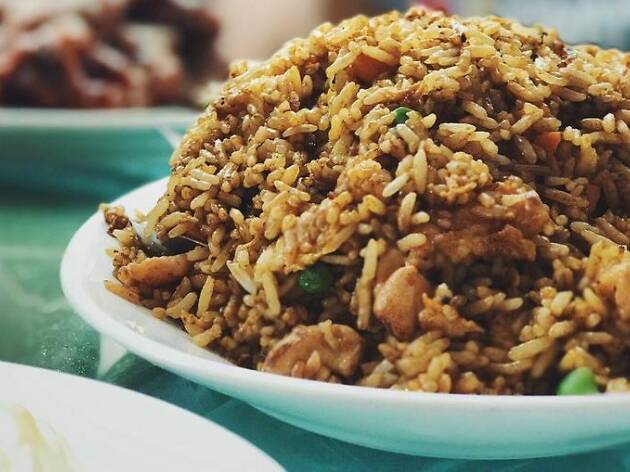 Photograph: Courtesy Yelp/Maulin P.
31. Lunch specials at Maison VIP
Chinese food can be synonymous with being cheap and delicious, but not always this cheap or this delicious: Lunchtimes services here offer a small selection of the Chinese-American classics we know and love—General Tao chicken, beef and broccoli—alongside a mound of rice with orange slices and fortune cookies for dessert. Just remember to return the favour with a generous tip, Montreal. $5.
Keep it cheap in the city
Maximize your dime and time with the best cheap things to do in Montreal, from arts and culture to food and drink. Here's our list of our favourite ways to spend time in Montreal without spending too much of your hard-earned cash.
Here's your list of essentials for the best things to do in Montreal, from fantastic attractions to cultural powerhouses.