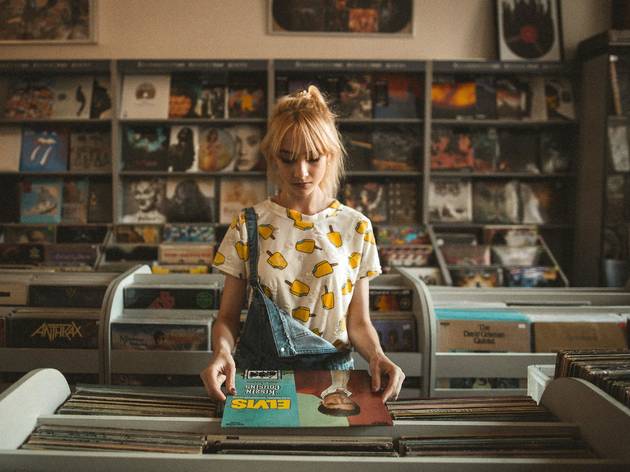 The best record stores in Montreal with choice vinyls, CDs, tapes and more
Take your collection to the next level with new releases and hidden treasures from the best record stores in Montreal
Any self-respecting music lover knows where the best record stores in Montreal can be found, and those in the know like to keep their collections on point by checking them out regularly. This city is one of the more important music meccas on this big blue marble of ours, so it follows that our town should be home to more than a few great record stores—and it is, with selections that are only rivalled by the curators of vintage goods from the best thrift stores in Montreal (coincidentally also an occasional good source of records). Whether you're looking for new things, old things, or things in between (or just, like, concert tickets), Montreal's got you covered from Mile-Ex to the Mile-End and the Plateau—even out west in sleepy No Damn Good (Notre-Dame-de-Grace).
RECOMMENDED: Full guide to the best things to do in Montreal
Here's where to find the best record stores in Montreal
Perhaps Montreal's best-located and easily one of its best-loved record shops, Atom Heart, holding court at the corner of Sherbrooke St. East and St. Denis, is a wonderful and welcoming place to buy records and concert tickets. Music fans of all stripes are sure to be satisfied by the selection here, but it's worth mentioning that Atom Heart is and has always been a destination for fans of electronic music and the product(s) of "emerging" scenes—and for good reason.
You'll never mistake Aux 33 Tours for Moe's Tavern, because there ain't no dank here. Rather, this polished and lovely spot on Mont-Royal E. boasts an expert staff and is a go-to for serious record collectors. With over 50,000 items in the store, it's where you get the new stuff, it's where you get the rare stuff, and, you'd think where you get the rare new stuff—including hard-to-find Japanese pressings. If you live in the Plateau, it's likely where you buy your concert tickets, too. And, if you're in the market for a turntable, you could do worse.
Montrealers of a certain age will always consider Cheap Thrills the G.O.A.T. — and they're (we're) probably right. Since 1971, Cheap Thrills has been the little shop that could, selling books, tapes, CDs, records, concert tickets, and other ephemera. Its location on Metcalfe, what with its crooked and wonky stairs and charming offbeat regulars, is so fucking charming that even lends stuffy old McGill University a bit of street cred. Hit it up next chance you get for both traditional, usual fare as well as oddball, leftfield stuff (including, for obvious reasons, Alien8 material).
That ugly little stretch of St. Denis between Pine and Roy (let's be honest, it's between Sherbrooke and Roy) is only redeemed by Beatnick, which one supposes will exist long after the rapture, somehow. And, because of its location, you can usually find both tourists and locals alike rubbing elbows thumbing through and/or otherwise perusing the selection of new and used music that runs the gamut—but not in a weirdly populist way.
Since 1987, L'Oblique, spitting distance from Mont-Royal metro, has been a mainstay of the Plateau and one of the most underappreciated record stores in town. Selling a wide variety of vinyl, CDs, and equipment, it's got a kind of enduring High Fidelity charm (the good stuff, not the snob stuff—or at least not too much of it) that doesn't seem to rust. If you're strolling on Mont-Royal (or, well, Rivard) on a weekend, stopping in is a must, because part of this place's vibe isn't just that everyone is welcome. It's that everyone kind of fits.
If you're a music fan and live in Mile-End, Mile-Ex, or Little Italy, chances are you make a regular stop in at Death of Vinyl to dig through the stacks. And, if you've done this, chances are you've missed a meal (or two) due to the endlessness of said stacks and the excellent listening stations. With gear, books, and posters also for sale, and an expert staff, this place is the one the musicians shop at—for good reason. We're not ones to play favourites, but if we were…
Vulture capitalism in the form of real estate speculation has reduced Mile End to, well, something less than its glorious former self, but as long as Phonopolis, Sonorama, and La Rama (we'll get to them) exist, Bernard St. West will be a special place. Phonopolis, perhaps more than streetmates Sonorama and La Rama (not to knock those places), is thought of as a champion of the local scene, which is no surprise since Jordan Robson-Cramer of Magic Weapon, Miracle Fortress, and Sunset Rubdown runs the place. NB: the province recently levied some fines on Phonopolis, Sonorama, and other local record stores for running afoul of some poorly written and wildly misapplied law, so they need your business more than ever. But even if they didn't, most anyone could find more than a few reasons to drop some ducats at Phonopolis.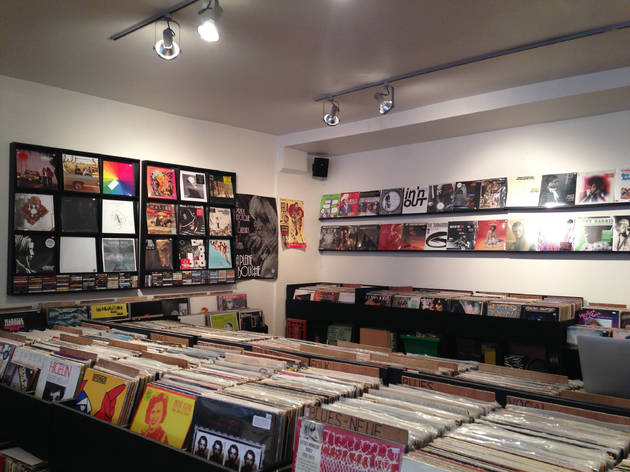 Photograph: Sonorama / sonoramadisques.com
In their own words, Sonorama specializes in "rock, jazz, soul, funk, disco, francophone, and world" music. In ours, it specializes in being the place you'll invariably find something that you've never heard of, or at least never found anywhere else. Like Phonopolis, Sonorama was the victim of recent foray into ridiculousness by our pearl-clutching provincial government, which tried to fine them for (checks notes) existing after 5pm, but given that Bernard W. is, like, known for its record shops, we're confident the local government will give the fun police some version of the boot.
Everyone knows a place, whether it's a cafe or a diner or a restaurant, where your experience varies — and that's part of the charm. Paul's Boutique, a colourful and eclectic welcome reminder of a bygone kind of Montreal, is kind of like that, and we don't mean this in a bad way. Record shops are peculiar creatures, as alive as the people who frequent them, and the Boutique is, against all odds, still breathing after all these years.
If you're a crate-digger out west in NDG, you're probably a regular at Encore, a cute little family-run shop that, since 2004, has ensured that you don't have to head en ville to thumb through a selection of great music (and books) with friendly and helpful staff in the wings waiting to help you out and/or buy your wares. In some bygone age or era, a bookshop or record store was an important anchor in the community. Encore has become that, and more, and, with staples of the neighbourhoods like D.A.D.'S Bagels and la Maison Verte going bye-bye, its existence feels even more important.
Another gem on Bernard, La Rama is perhaps the city's best record store for dance music devotees (and DJs, natch), a bona fide community hub and place for both conversation and discovery. It's like something out of a movie, this, an organism that grew out of Kris Guilty's passion and perseverance (and, like, stubbornness) and which somehow infects patrons with the same, day after day. Like Phonopolis and Sonorama, La Rama was also made a target by our new provincial government, whose flying monkeys were recently seen stealing candy from children and kicking dogs, but we've heard tell the local government is stepping in to do something about the situation.