Heads up! We're working hard to be accurate – but these are unusual times, so please always check before heading out.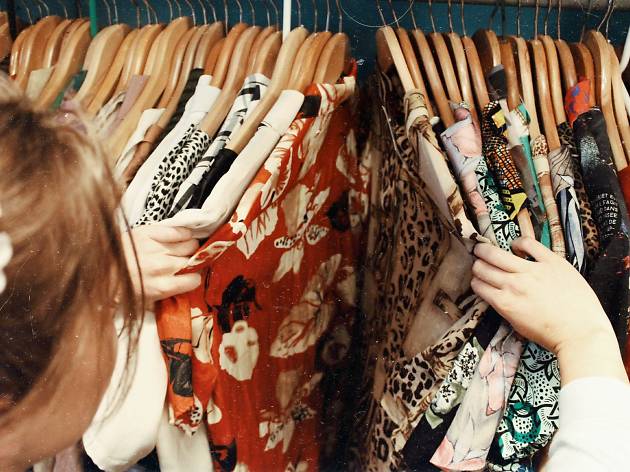 The best thrift stores in Montreal for fantastic vintage finds
Spend a day checking out the best thrift stores in Montreal and you'll only find the top of the shops for vintage threads and more.
There's something particularly satisfying about a good secondhand find in the best thrift stores in Montreal, after digging through the shoulder pads and flared Levi's to find the diamond in the rough. Great vintage and secondhand shops are part of the best shopping in Montreal and one of those essential cheap things to do in Montreal to have a good time; it's where fashion fiends get deals that rival the best flea markets in town (and a nice alternative to the best malls in the city). Find that perfect piece to bring together an outfit—or just inject your wardrobe with some class and cool—by checking out these independently owned secondhand shops, from the Plateau and Mile End to Westmount and St-Henri.
RECOMMENDED: Full guide to the best things to do in Montreal
Where to find the best thrift stores in Montreal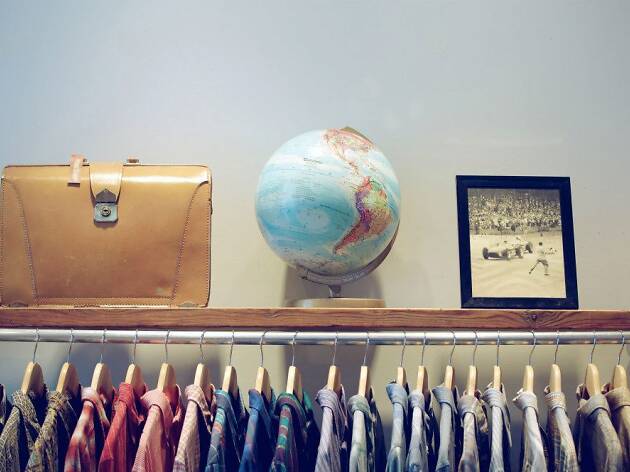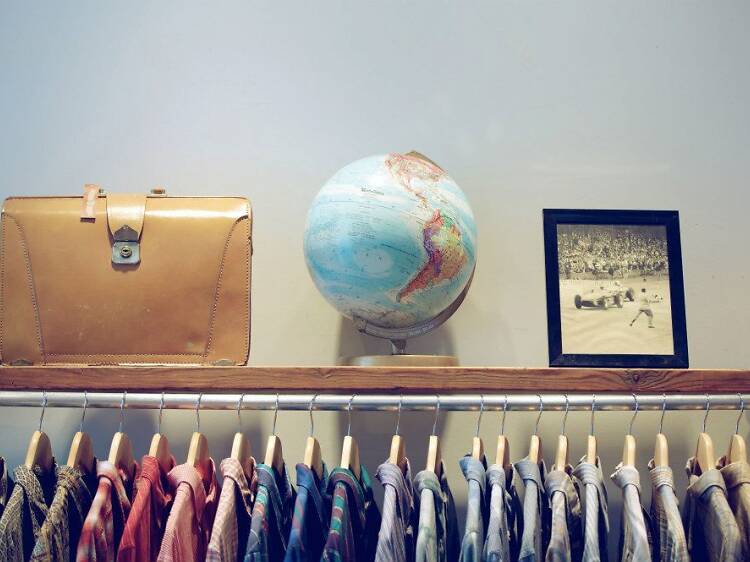 Photograph: Citizen Vintage
One of the city's most well-loved vintage stores, this secondhand institution aims to provide a sustainable alternative to fast fashion. By recycling and upcycling vintage pieces and materials, this shop creates totally unique pieces that fit current fashion trends without being environmentally harmful. Their artist selections, where local illustrators design unique threads, are always worth checking out (a Celine Dion crewneck, anyone?). The original location is based on Saint-Laurent Boulevard in Mile End, but there's a Plateau outpost as well on the same street.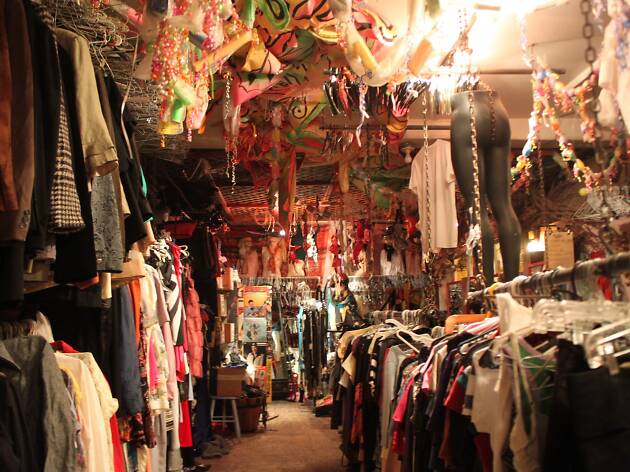 Photograph: Eva B
Step into the grunge fairytale of Eva B. where antique mannequins, chandeliers and twinkling Christmas lights set the stage for shopping. The alternative vintage shop also touts a bistro/bar and a stage for events and performances. Gabriel Croteau opened the store in 1987, and while it was never meant to be a vintage store, it has amassed a fanbase that ranges from local hipsters and students to celebrities for its cheeky design, all the way down to its exterior, which looks more like an abandoned building than a cult vintage shop.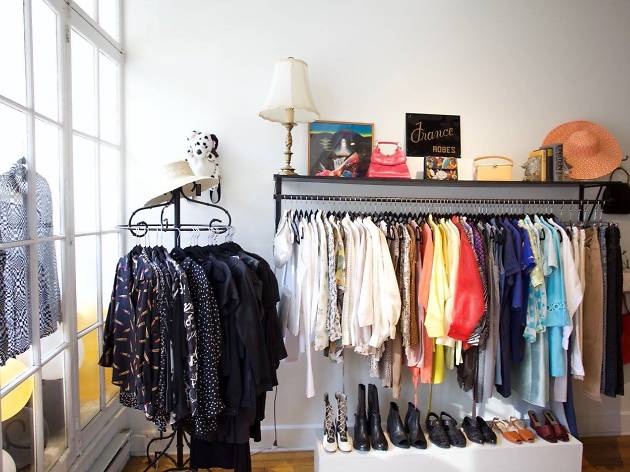 Photograph: Ruse Boutique / @ruseboutique
High fashion junkies and hypebeasts will particularly benefit from a trip to Ruse Boutique. Here, shoppers will find a curated selection of luxury consignment and contemporary fashions at affordable price tickets—think Gucci, Chanel and Louis Vuitton alongside Comme des Garçons, Supreme and Kenzo. The stock changes weekly (you can preview a lot of the latest on Instagram) and items sell fast, sometimes before they even hit the sales floor.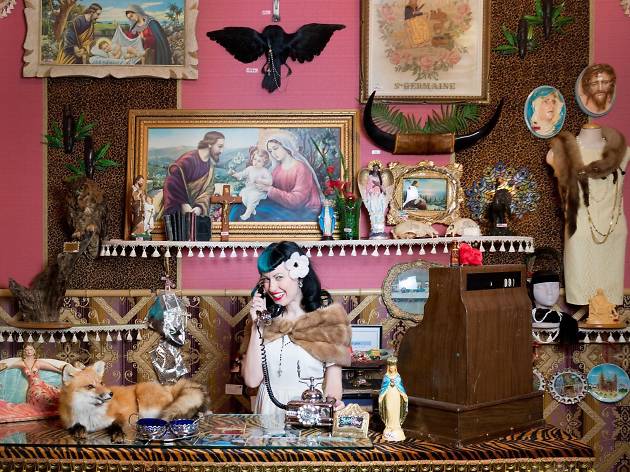 Photograph: Kitsch 'n' Swell / @boutiquekitschnswell
A hot pink facade marks the entrance of this funky emporium in the Plateau. At the intersection of retro culture and vintage fashion, this shop places emphasis on 1950s styles by way of quirky gifts, kitsch furniture and antiques, and retro-style garments -- from poodle skirts to tiki tees. It's one of those few places you can dive into selections of clothing but find yourself walking out with a few trinkets for home décor as well.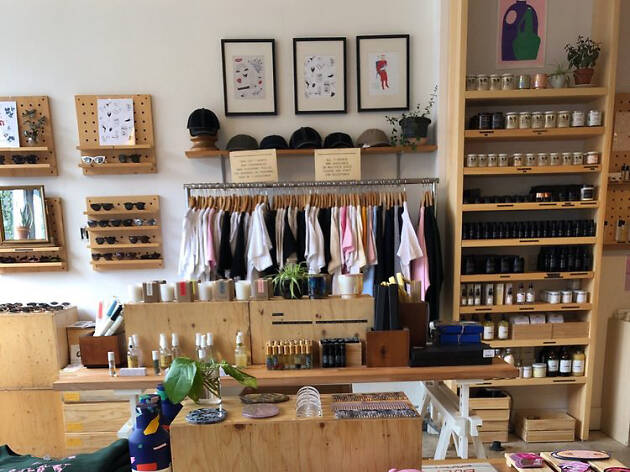 Photograph: Courtesy Yelp/Amanda H.
This well-loved vintage clothing and independent design shop in the Mile End is home to one of the largest collections of artist pins and patches in the city. The hyper-curated shop also stocks various independent Montreal gifts, trinkets and apothecary products along with a pared down selection of retro clothing, all with an emphasis on vintage bomber jackets, sweaters, and button down flannels.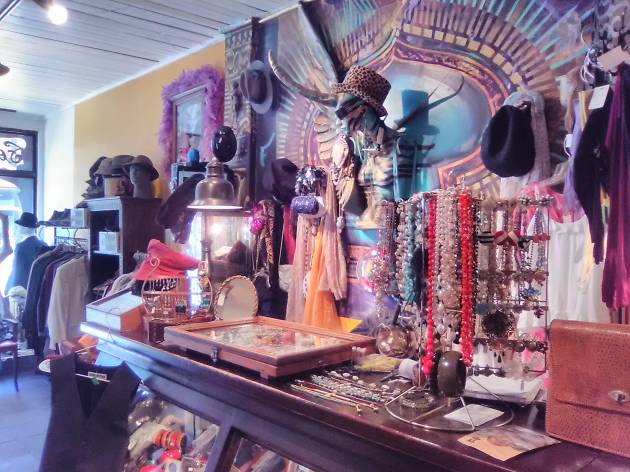 Photograph: Les Folles Alliées
Owned by creative Isabelle Spellemecker, this funky emporium is synonymous with fantasy and folie, touting clothes and accessories for both men and women that range from the 1870s all the way to the 1980s. You'll find everything from designer footwear to costume wear for cinema and theatre. Given that wide time frame their selection covers, this is one of those places we love to go costume shopping at when there's a party to prepare for in a pinch.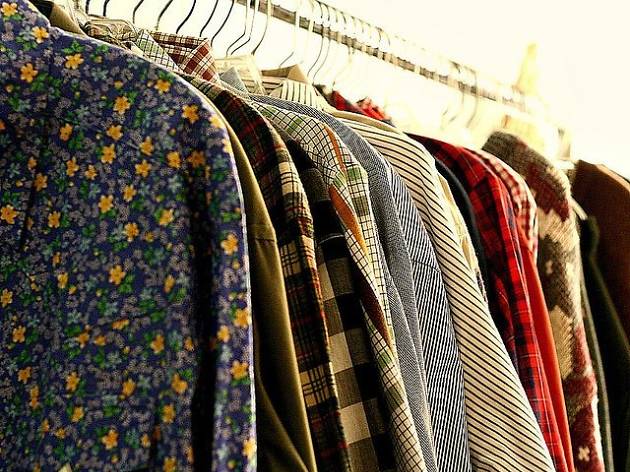 Photograph: Courtesy Local 23
The younger sister of Mile End boutique Annex Vintage, this clothing exchange has been selling vintage and gently used modern fashions since 1993. The store is packed with a ton of carefully curated and highly sought after 90's items, like thick tortoise shell hair barrettes, nylon backpacks and chunky Mary Jane heels.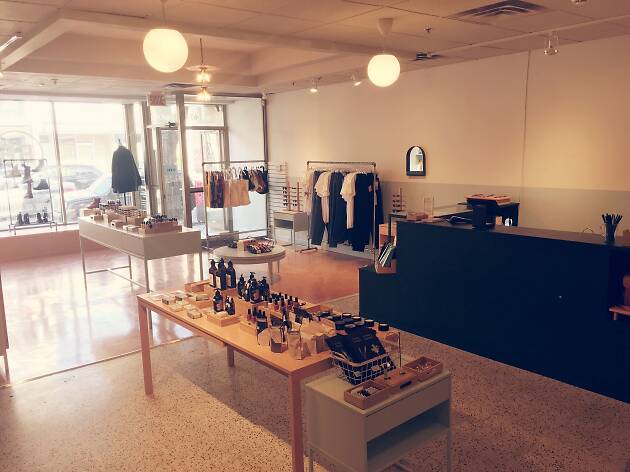 Photograph: Empire Exchange
Montreal's first and only clothing Buy-Sell-Trade store, this innovative shop offers either store credit or cash for men's and women's vintage and modern clothing, footwear and accessories. Credits can be used at both Empire Exchange locations, as well as its sister stores Local 23 and Annex Vintage. Indeed, those who like to change their wardrobe frequently—but who hate the idea of fast fashion—will appreciate this sustainable vintage program.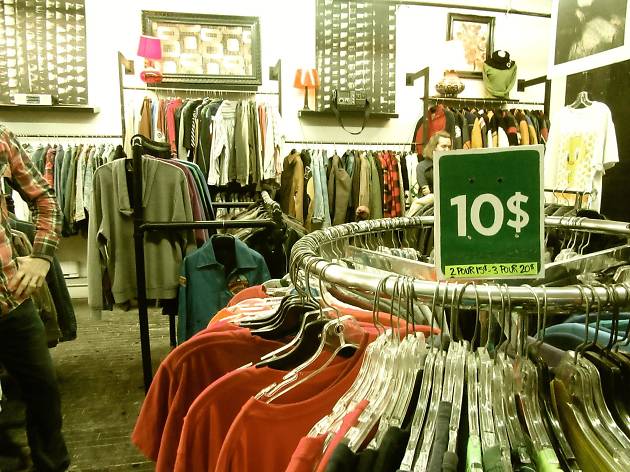 Photograph: Cul-De-Sac / @Culdesac.MTL
Cul-De-Sac is carefully stocked with both vintage and secondhand clothes for both men and women. Vintage pieces range from cozy grandpa-style sweaters, 80's puffer coats, and military jackets to delicate leather handbags, jewelry and even funky home furnishings. Despite the careful curation of the shop, it's not pretentious in the slightest; you can rely on this place for comfy pre-worn jeans as much as you can for ugly Christmas sweaters.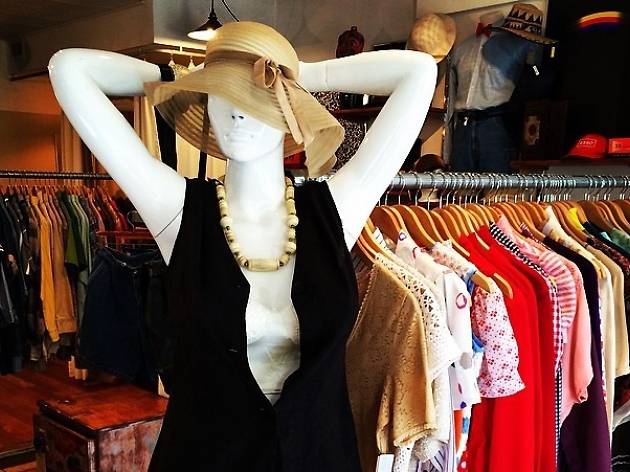 Photograph: LNF Shop / @lnfshopmtl
This highly curated selection of vintage and designer pieces will especially appeal to 90's kids, hypebeasts, and self-proclaimed Mile End fuckbois. Zeroing in on current trends in street style, the Park Avenue establishment touts one-of-a-kind fashions and home furnishings, as well as highly sought-after accessories, from new and gently used Supreme and Nike to heavily distressed Polo Ralph Lauren tees and Fubu.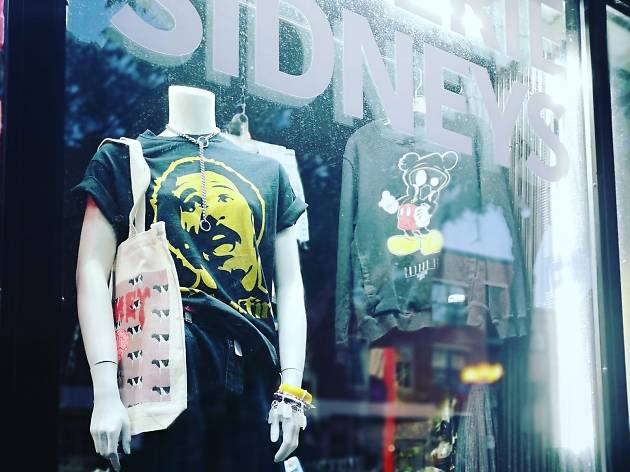 Photograph: Sidney's Friperie
A well-loved Saint Henri newcomer, this cozy shop stocks vintage fashion—from high end designers to everyday wears—with a heightened emphasis on distressed denim as well as gently used boots, shoes and accessories. There's also a casual cafe that serves basic snacks and takeaway items including grilled cheese, smoked salmon bagels, and drip coffee.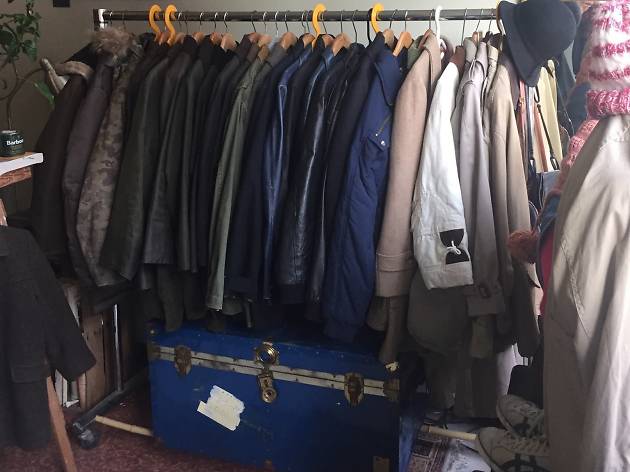 Photograph: Mervmatsui / @mervmatsui
This quaint boutique in Outremont offers a curated selection of secondhand menswear, from workwear and military jackets to streetwear, 90's denim and cozy sweaters. Despite being highly curated, the charming vintage shop is priced fairly, with most garments running comfortably under $100. If you don't find what you're looking for, the owner will happily jot down your request and go hunting for you.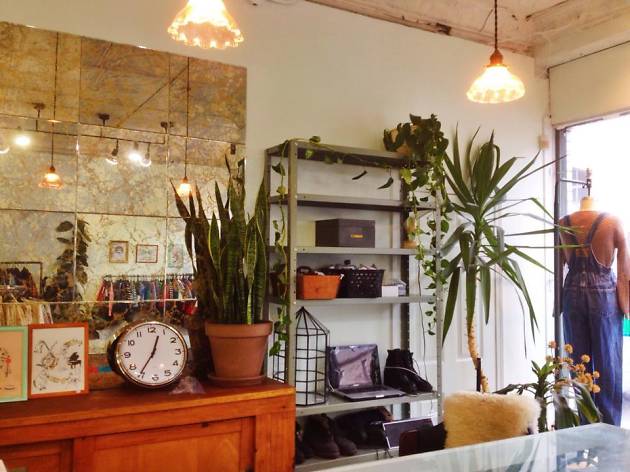 Photograph: Ex-Voto / @exvotoboutique
Vintage store Ex-Voto offers a good range of vintage and new clothes, jewelry, decorative items and plants from local and international artists and artisans. The zero-waste shop is the perfect place to pick up a unique gift; with trinkets ranging from hand blown glass straws and ceramics to screen printed tees and cosmetics. Ex-Voto also freezes and washes every used and vintage garment to ensure the shop is free from any unwanted creatures, smells and stains.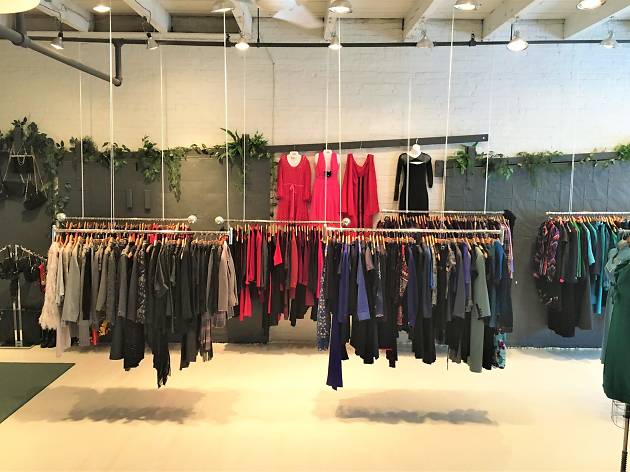 Photograph: ERA Vintage Wear / @ERAVINTAGEWEAR
If you're on the fence about going vintage but don't want to contribute to the fast fashion industry, look no further than this refurbished vintage destination. Here, they look to what runway designers are revisiting from years past and find the original styles. Vintage offerings range from the 1920s all the way up to the 90s, with an emphasis on sustainability and giving back; one percent of their profits go toward fighting cancer through Pink Ribbon.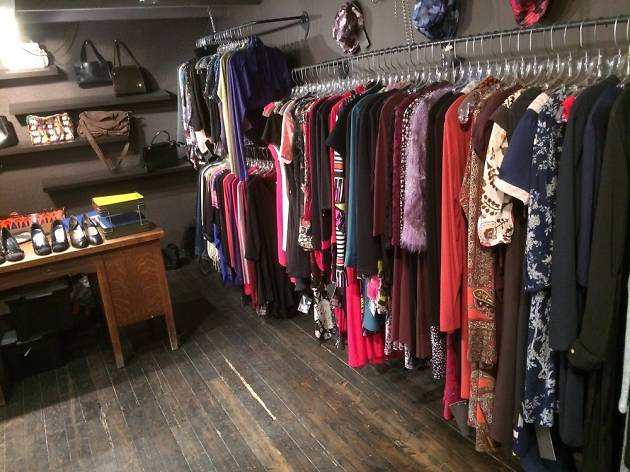 Photograph: Courtesy Yelp/Sandra L.
Scandale Boutique is carefully stocked with gently used vintage womenswear, mostly of Québec designer Georges Lévesque. Operated by Marie-Josée Gagnon since 1977, the two-storey vintage emporium feels more like a funky museum than a high-end fashion boutique. While the prices are a tad steep for vintage garments, you're paying for craftsmanship.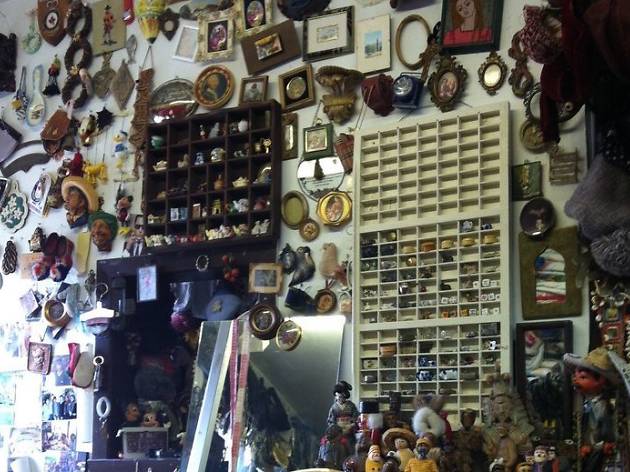 Photograph: Courtesy Yelp/Ava B.
Blink and you'll miss this unassuming boutique on a residential stretch of Parc Ex. The small secondhand shop, located in a three-story townhouse, is packed with endless antique and vintage collections—from fur coats and trenchcoats to lamps, perfume bottles, cameras, lingerie and other vintage tchotchkes.
More great shopping options in Montreal
If you're in search of one stop curio shops, check out Montreal's best flea markets for choice vintage and antique finds.
It's a 'til-you-drop affair with the best places to go shopping in Montreal for clothes, shoes, jewelry and more.
You won't be window shopping after you pay a visit to the retail on offer at any one of the best malls in Montreal.