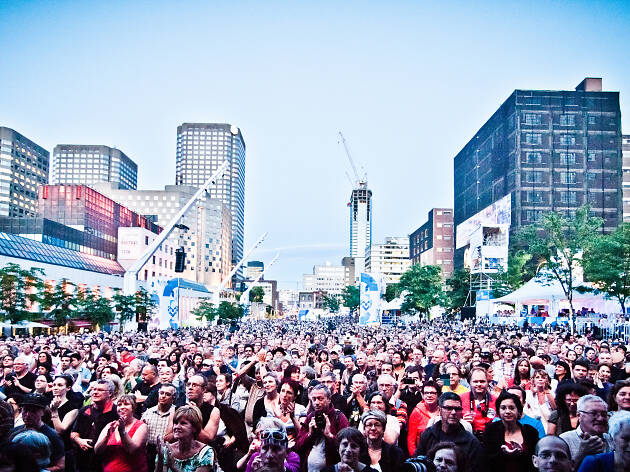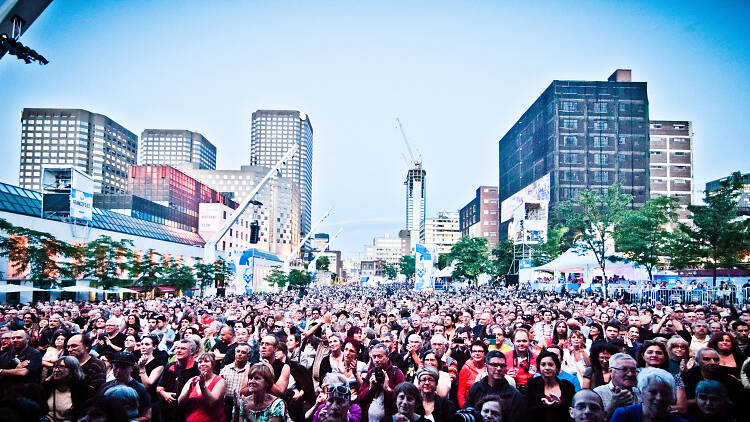 The best events and festivals in Montreal
Boredom isn't an option in Montreal when looking at all of the city's parties and festivities happening year after year
Sun or snow, Montreal is a happening city with tons of things to do. In addition to its reputation as being a party town with lively nightlife, the city is insanely busy with festivals and events no matter the time of year. Thanks in part to Expo 67, the International and Universal Exposition, in the swinging sixties, sites like Quartier des Spectacles and Parc Jean-Drapeau were designed to receive a heavy rotation of world-class festivals. There's never a dull moment if you bone up on what's happening with our list of the best annual events and festivals this city provides.
Best events in Montreal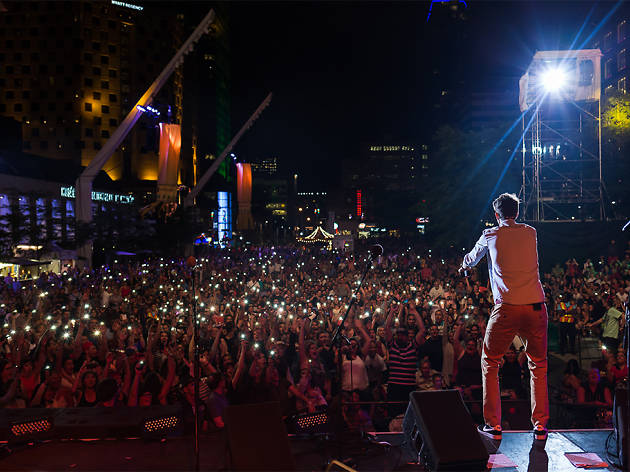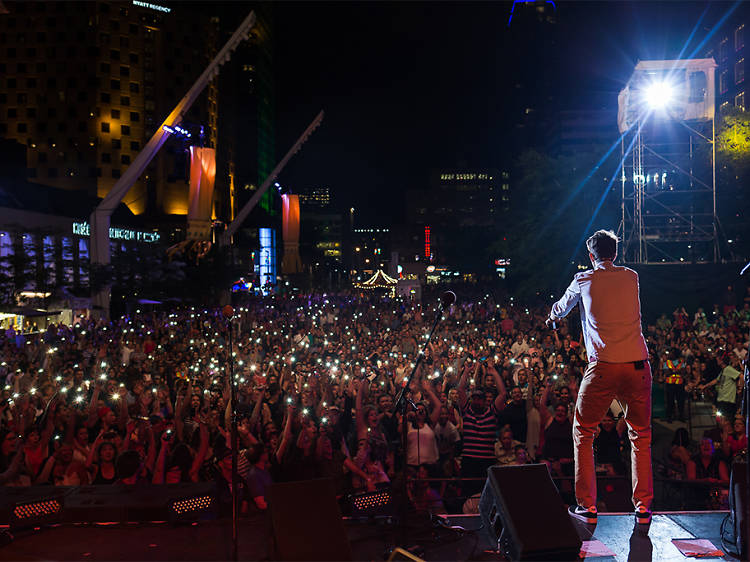 Photograph: Courtesy Just For Laughs
1. Just for Laughs Festival
For two weeks every July, Montreal becomes the funny capital of the world as it hosts the world's largest international comedy fest. Hosted by some of biggest names in the business, the JFL Galas showcase a who's who of the comedy world. To get a sneak peek at up-and-comers, head to JFL ComedyPRO, the scouting grounds for industry execs and casting agents looking for the next Kumail Nanjiani or Michelle Wolf.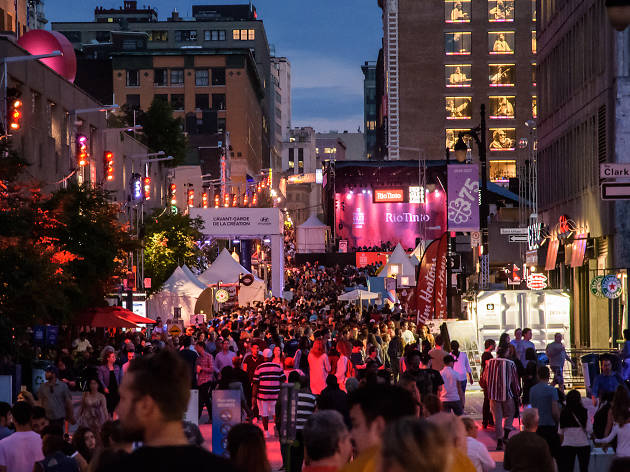 Photograph: Courtesy CC/Flickr/Caribb
2. Montreal International Jazz Festival
Playing to a crowd of more than two million visitors, the world's largest celebration of jazz takes over Quartier des Spectacles every summer. Nab tickets for gigs in iconic downtown venues or grab a beer and chill in Place des Festivals where a heavy rotation of crooners and bands play free open-air shows. No worries if jazz isn't your thing, as organizers always include a mix of mainstream headliners alongside the hottest names in the genre.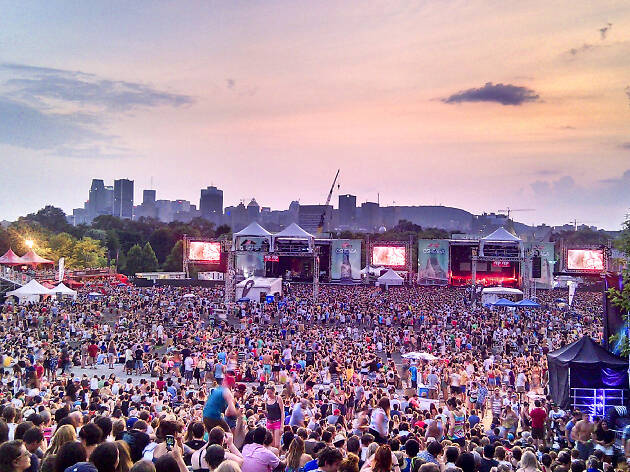 Photograph: Courtesy CC/Flickr/Nick Broten
This outdoor music festival is Montreal's answer to Coachella, Lollapalooza and Glastonbury wrapped into one three-day August weekend. Thanks to a perennially stacked lineup of chart-topping indie and hip-hop acts, weekend passes sell out quick. Splurging on the Gold Pass puts you closer to the main stage, but its real selling point is access to shorter bathroom and food queues. Word to the wise: Use the metro to get in and out.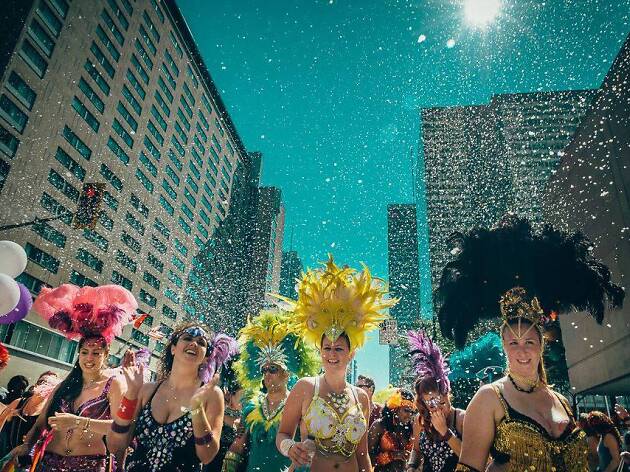 Photograph: Charles Lynn
4. Fierté Montréal / Montréal Pride
In little more than a decade, this collection of festivities celebrating Montreal's LGBTQ communities has become one of the city's grandest celebrations. More than 2 million people converge in and around the Gay Village for a full two weeks of cultural activities festooned with rainbows and crowned by the intensely festive Pride Parade, the gatherings of Community Day and the Aires Libres Book Fair.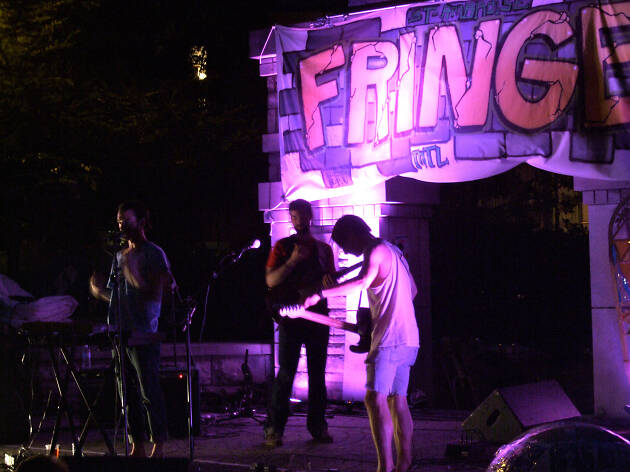 Photograph: Courtesy CC/Flickr/Andrew Kaszowski
5. St-Ambroise Montreal Fringe Festival
With more than 800 performances crammed into 20 days, get your vaudeville, stand-up and theater kicks at this late-spring Plateau drama fest. Start by heading to Fringe Park (Parc Des Ameriques in costume) and nab a three-show pass; pick your shows (bonus points if they're at the legendary Café Cleopatra, MainLine or Wiggle Room); seek out #FringeMenu restos along St. Laurent; scope out a Fringe-After-Dark all-night party. Repeat.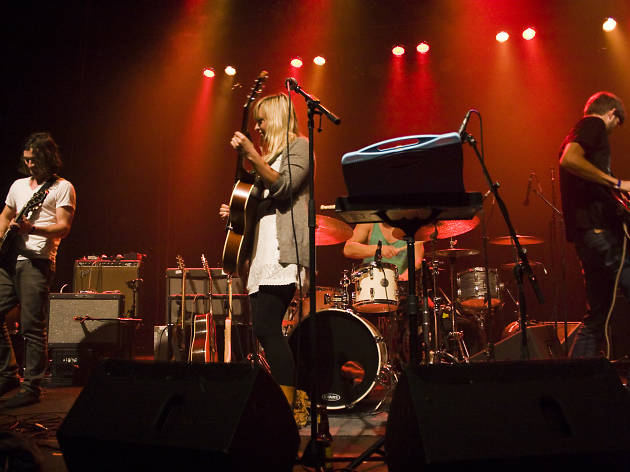 Photograph: Courtesy CC/Flickr/Ming Wu
Think pop-rock, not bubblegum pop, for this autumn hipster festival of all things indie, from music and art to fashion and film. Held mainly in Mile End and on its fringes, POP gives concertgoers the rare chance to catch bands like Arcade Fire, Grimes and St. Vincent in more intimate venues. Make sure to set aside some time (and some cash) for Puces Pop, an artisanal craft fair filled with local and visiting artisans of every category.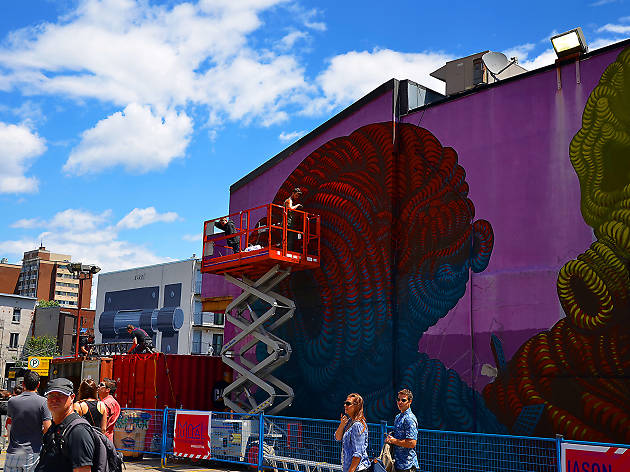 Photograph: Courtesy CC/Flickr/Rich MacDowell
This international urban art block party transforms The Main into an open-air museum for eleven days every summer. Street art enthusiasts can track the progress of three- to nine-story murals painted live by world-class artists, while aficionados can take advantage of two-hour guided tours that explore the fest's new and past works. Come for the live art and stay for the Grill St. Laurent BBQ competition and after parties.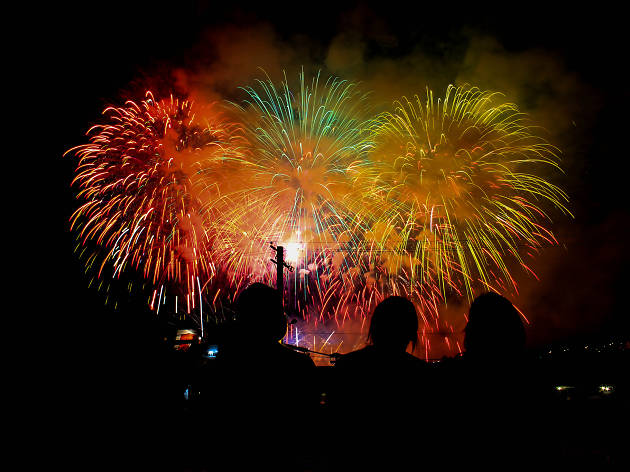 Photograph: Courtesy CC/Flickr/Eric Brisson
8. International des Feux Loto-Québec
Between July and August, countries from around the world compete to be crowned champions of the International Fireworks Competition. On the Wednesday and Saturday evenings the fireworks are held, the Jacques Cartier Bridge turns pedestrian, making it a great spot for a landmark view of the pyrotechnics. To hear the explosions timed to musical crescendos, the grandstands at La Ronde amusement park are the best bet. You'll need tickets, but they'll get you admission to the rest of the park, too.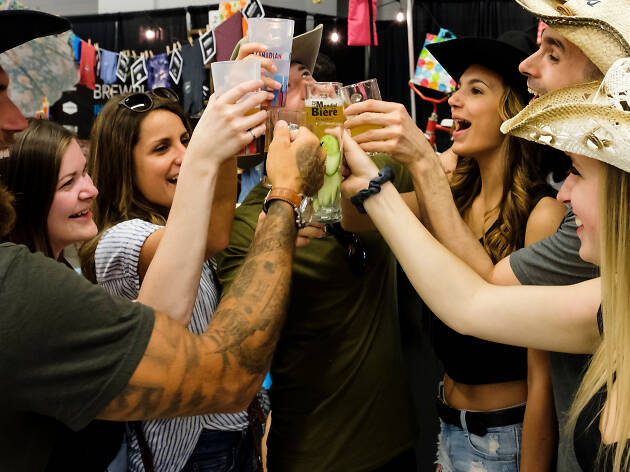 Photograph: Courtesy Mondial de la bière
Canadians are known for their love of beer, but that love's felt no more strongly than at this international beer festival which has spurred similar festivals in Europe and South America. Lasting four days, this event's both a gathering of sudsy greats and a gateway to discovering new brews from around the world. It only grows with every annual edition, so there's more than enough food, fun and foam to go around.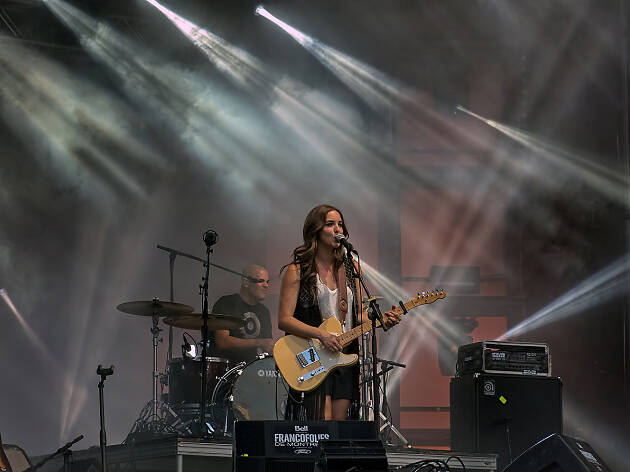 Photograph: Courtesy CC/Flickr/Szoki Adams
10. Les Francos de Montréal / Les FrancoFolies
For three decades and counting, the Quartier des Spectacles' summer-long festivities are kicked off by Les FrancoFolies, the world's focal point for francophone musicians and performers both local and international. Attended by more than a million spectators, the scope of this celebration includes every style of music being observed at both its large open-air concerts and in venues across the city. Any act here is a solid bet.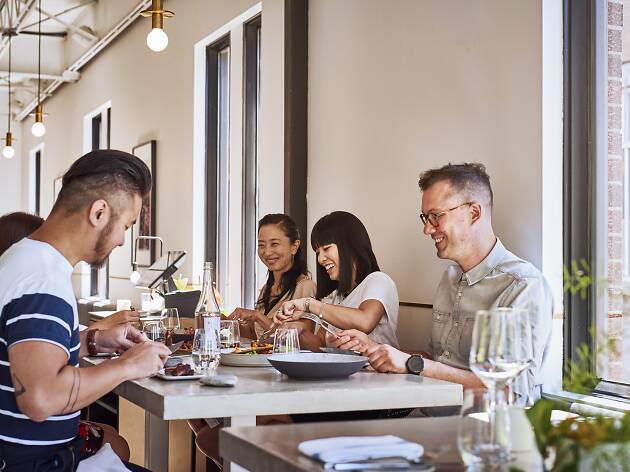 Photograph: Daphné Caron
There are more annual food festivals in this city than you can shake a stick at, but few are as star-studded as this culinary extravaganza. Over ten days, locals and tourists are invited to nab tables at some of the city's best restaurants and enjoy table d'hôtes for a fraction of the price. With dozens of addresses to pick from, it's one of the best ways to kick off the frigid winter season: With a full stomach.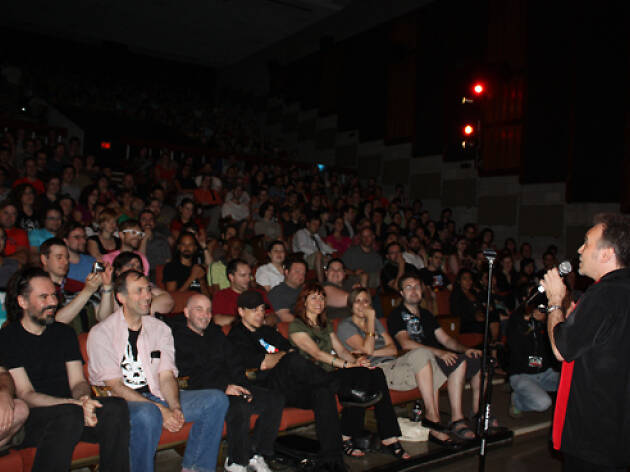 Photograph: Courtesy CC/Flickr/Montréal Festimania
12. Fantasia Film Festival
What better place to geek out, laugh your head off or be terrified by unsettling horror than this genre film festival? Founded in 1996, this event—the largest of its kind in North America—now sees hundreds of screenings of feature-length and short films, boasting as many A-list titles as it does obscure and cult varieties, plus a program of special guests that's included Mark Hamill, Guillermo del Toro, John Carpenter and a hundred more.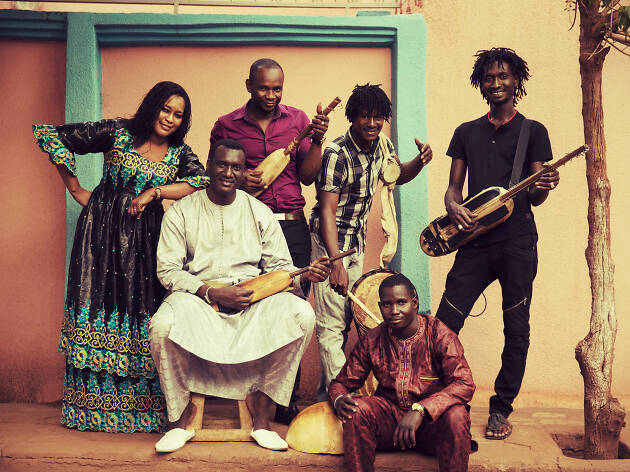 Photograph: Thomas Dorn
13. Festival International Nuits d'Afrique de Montréal
It was celebrating African, Caribbean and Latin American music as cool long before it was as ubiquitously cool as it is today. This music festival founded in 1987 is two weeks jampacked with concerts, venue performances, workshops and activities spread out across the city, and is so popular that its organization hosts many more shows throughout the year. By far one of the best events to both dance away the night and chill out to.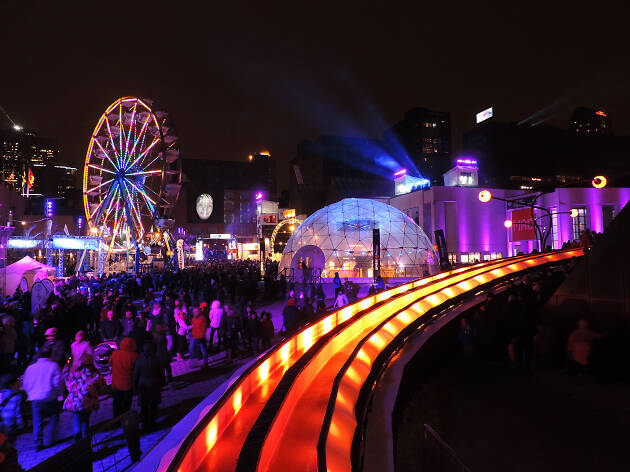 Photograph: Courtesy CC/Flickr/art_inthecity
Every February and March, this series of events illuminates Places des Festivals with a winter wonderland, complete with Ferris wheel, 600-foot zip line, illuminart, performances and culinary highlights. The highlight of the winter festival is Nuit Blanche, an overnight art crawl of some 200 (mostly free) events across the city.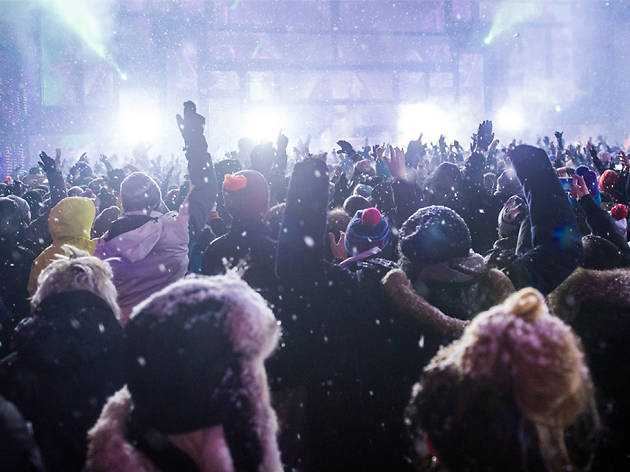 Photograph: Courtesy CC/Flickr/Centre d'histoire de Montréal
Kick off the new year with the coldest electronic music festival in the world, held every January on back-to-back weekends in Montreal's Old Port. World renowned DJs heat things up on the dance floor, but it can get frigid waiting in line so buy tickets in advance to spare yourself the frostbite. Have a retro ski getup from the '80s? Bust it out. There are often prizes given away for the coolest outfits.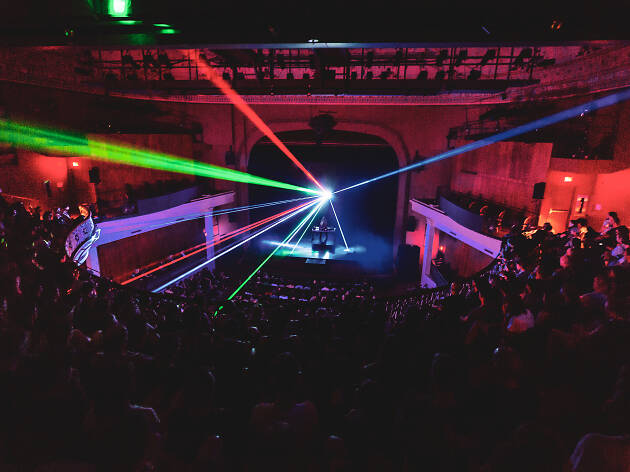 Photograph: Bruno Destombes
Any hardcore fan of digital music and audio-visual art would easily find a home at this Montreal-based meeting ground for an international jet set of artists. While its notoriety has spread beyond the city to South America, Asia and Europe and created a music label, Montreal still sees an annual celebration on its behald of some of the most thought-provoking, trippy and visionary work you'll find all year.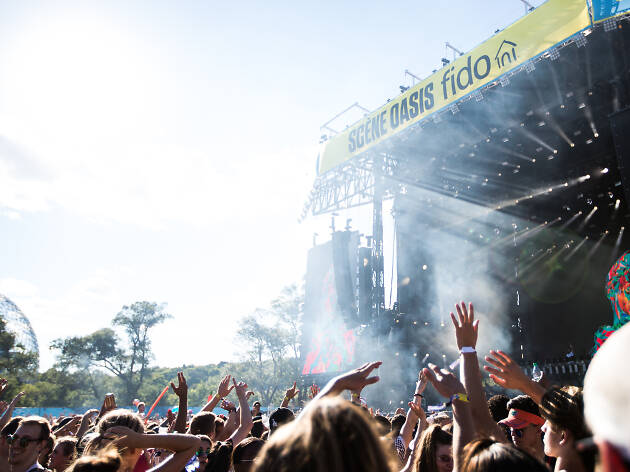 Photograph: Pierre Bourgault
To some, EDM is an acquired taste. To fans, it's a religion, and this festival is its church. Once the stages get going here, they simply don't stop until the last note of the last song is played. It's a weekend-long rave with top-of-the-line performers that only gains more and more weight with each passing year. Sweat out the last prime month of summer in Montreal with this one.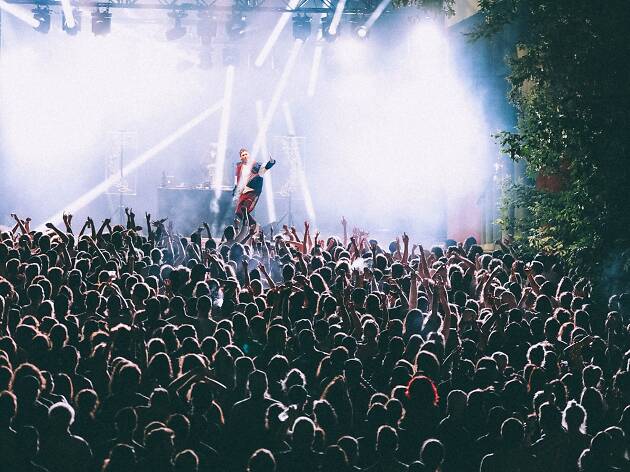 Photograph: André Rainville (@villedepluie)
In order to get some good exposure to local Montreal music and comedy scenes, look no further than this short but mighty festival under the Rosemont-Van Horne overpass. It's by far the youngest festival in the city at the moment, but that hasn't stopped it from being immediately successful. Booking artists both big and small for its intimate location, this is just about as au naturel as it gets.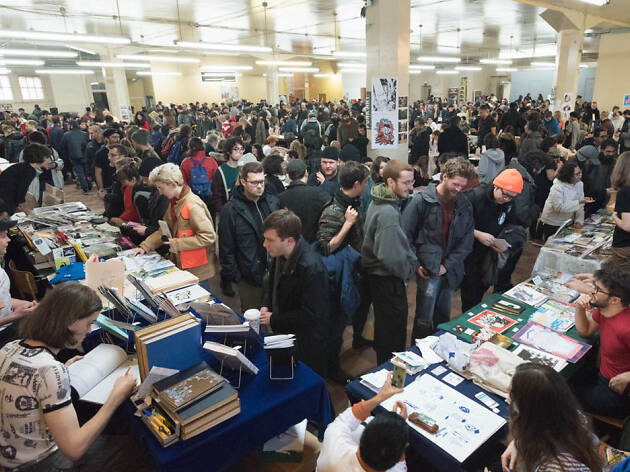 Photograph: Christina Love
The largest press fair in Canada, this gathering of hundreds of vendors and creators is where you go to get intimate exposure to the coolest small presses, artists, authors and publishers out there today. It's a veritable art gallery that offers a perpetually unique exposure with every passing kiosk as you move through its crowds. Enter empty-handed and leave with a tote bag brimming with great artistry on the cheap.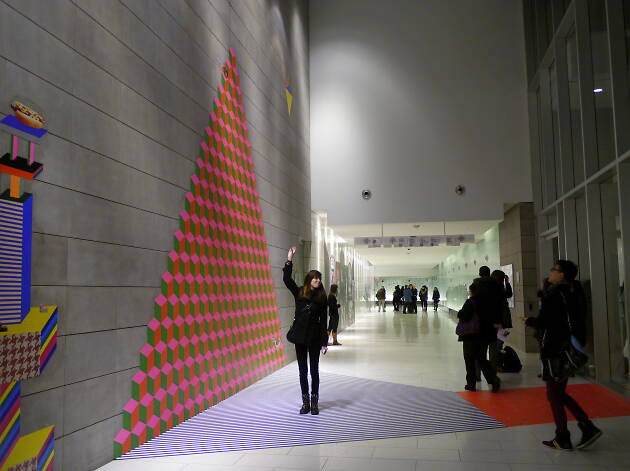 Photograph: Courtesy CC/Flickr/art_inthecity
Closer to the end of winter when Montrealers are still traversing the Underground City, this art festival in March brings the works found in galleries to them by setting up exhibitions throughout the city's underbelly. In addition to the installations set up throughout Montreal's network below street level, there's a full program of art shows to check out as well. Explore at your leisure, whether it's in the evenings or during a daily commute.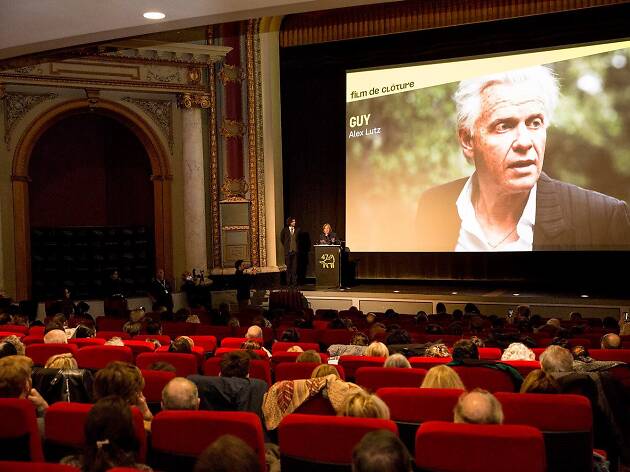 Photograph: Maryse Boyce/FNC
21. Festival du Nouveau Cinéma
One of the annual events that helps to solidify Montreal as an undeniably 'it' place for independent creators, this prestigious festival for indie cinema is a font of the niche, the strange, the captivating and the inspirational. Covering short and feature films both in fiction and non-fiction, this event's seen names both huge and blossoming and is a great place to discover new avenues of cinematic possibilities.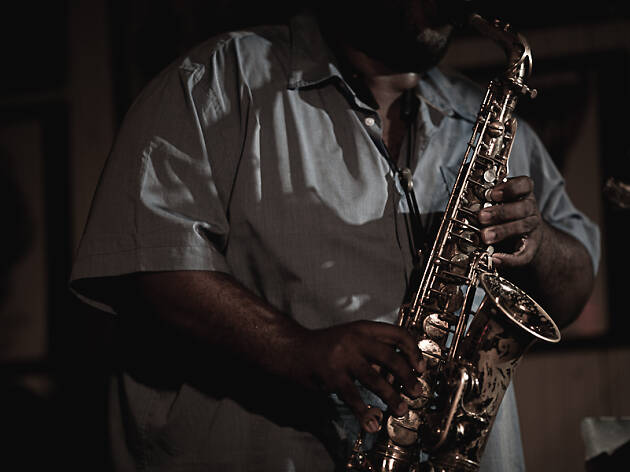 Photograph: Courtesy CC/Flickr/Thien
Following a mandate of promoting artists who aren't normally found in Montreal's performance venues, this three-week festival focuses on disseminating what's avant-garde and experimental in music today. In its rich tapestry of a program that blends folk, jazz, noise and sound art together, high-profile acts are constantly rubbing shoulders with the up-and-coming to create a fantastic—and at times educational—experience.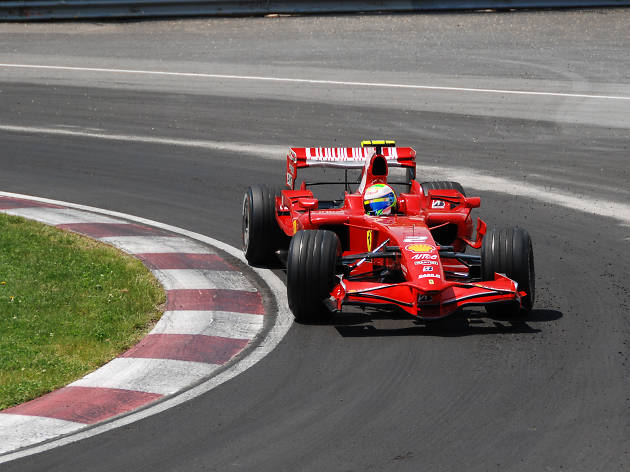 Photograph: Courtesy CC/Flickr/Chris_inTO
The F1 Canadian Grand Prix is the only Grand Prix north of the border, and one of only two in North America. Racers burn rubber every June on Parc Jean-Drapeau' Gilles Villeneuve circuit. After watching laps trackside, spectators can unload cash either at the Montreal Casino, the downtown party on Crescent Street or head to the car show in Petite Italie.
Your ultimate guide to Montreal
Here's your list of essentials for the best things to do in Montreal, from fantastic attractions to cultural powerhouses.
Need to know where to drink in Montreal?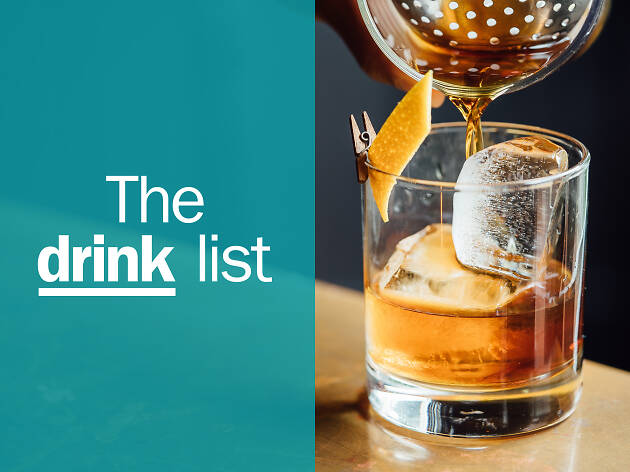 Whether it's wine, mixology or perfect pints you're after, use this list to find the best bars of Montreal.
Best selling Time Out Offers