Heads up! We're working hard to be accurate – but these are unusual times, so please always check before heading out.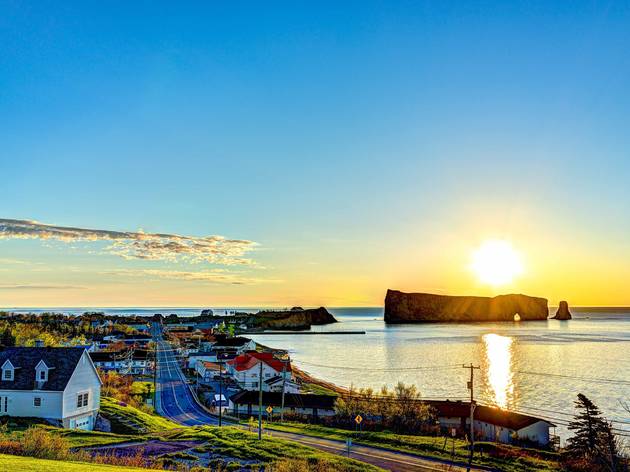 Get out of the city with the best scenic drives from Montreal
Experience mountains, beaches, vineyards, orchards and more on the open road with the best scenic drives from Montreal
From long stretches across rolling farmlands to twists and turns around the Laurentian shield, the best scenic drives that begin in Montreal offer views unlike any other in the country. These are among the best long and sprawling tours of Quebec's landscapes that make for some of the best weekend getaways and day trips from Montreal, and each can (and should) be part of cross-country tours. Better yet, there are plenty of spots to enjoy the best hiking near Montreal and tours of vineyards with the Wine Route of Brome-Missisquoi or orchards and cidermakers in Montérégie.
Skip on committing another horror story to memory about roads riddled with potholes, traffic jams and the city's endless construction with a full tank of gas and an open road with these tried and true recommendations.
RECOMMENDED: Full guide to the best things to do in Montreal
Discover the best scenic routes to take from Montreal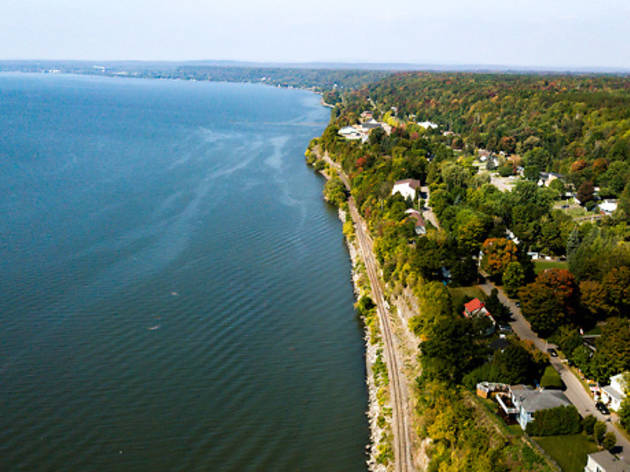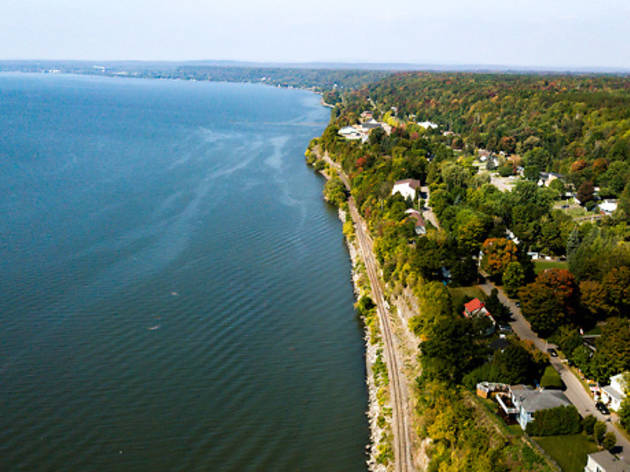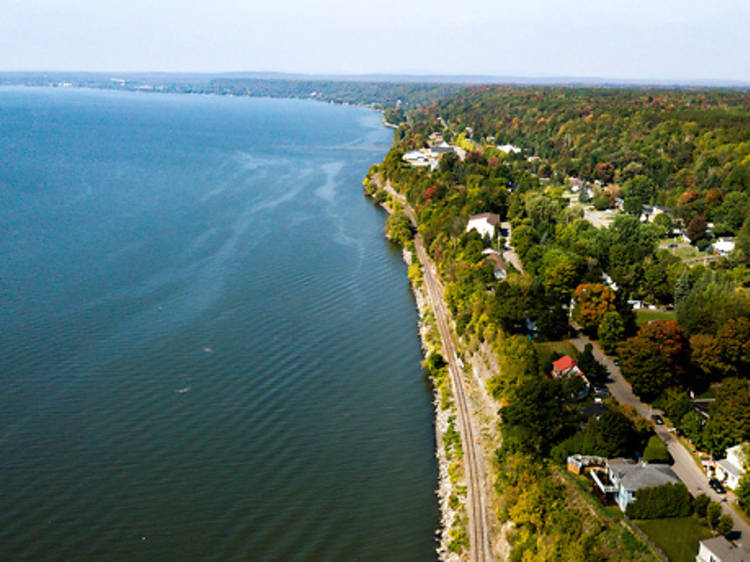 Photograph: Chemin du Roy / lecheminduroy.com
Few travels taken along the northern side of the Saint-Lawrence River get as historically scenic as this one. While navigation apps will generally send everyone along the Autoroute 40, but following Route 138 instead takes you along a road that dates back to 1737, one that was constructed to connect the two biggest settlements of New France: Montreal and Quebec City. Starting on the old cobblestones of Old Montreal and ending on the cobblestones of Old Quebec, there's a lot of heritage sites to visit in between (the Quebec Folk Culture Museum and the Old Prison of Trois-Rivières come to mind), as well as rolling countryside views for a breath of fresh air. It's good for all seasons, as summertime trips yield agritourism at farms and vineyards while winter trips have ice fishing and can end with Winterlude in the province's capital.
284 kilometers, 1 to 2 days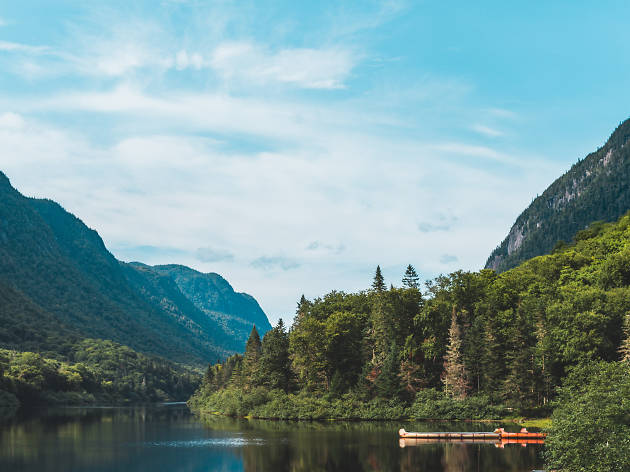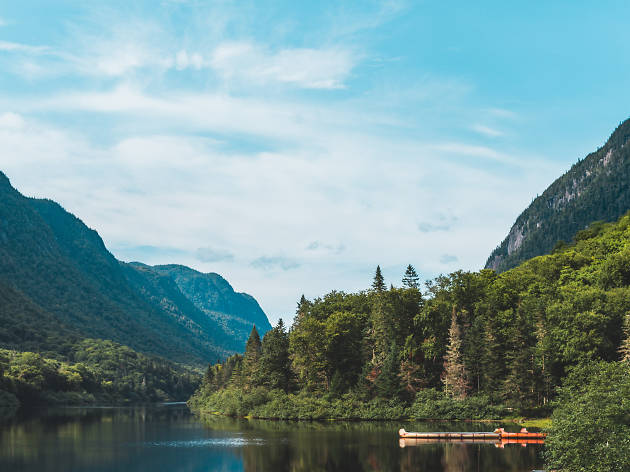 Photograph: Alice Triquet
2. The Laurentian Shield's Mountains and Lakes
Heading north from the city usually means trips to Mont-Tremblant for a lot of Montrealers looking to enjoy chalets and resorts all year round, but a turn to the west after you leave Montreal's metropolitan area takes you into the forests, lakes and mountains of the Laurentians. This route is a tweaked version of the automotive journalist Jim Leggett's, one that goes an extra mile and then some towards the lake-locked town of Saint-Donat-de-Montcalm (good for case-croûte break for some fresh fries) with an optional turn-off towards the Mont-Tremblant National Park. It's a two-lane drive with a lot of twist and turns for those that let to let their engine go on the open road as you enjoy the greenery and water of the area passing by.
364 kimoeters, 5 hours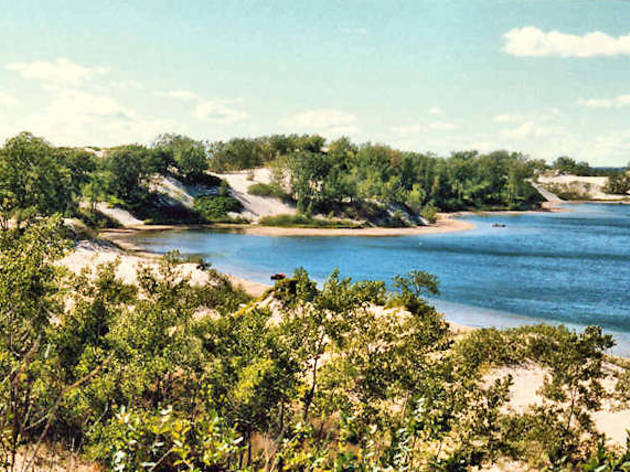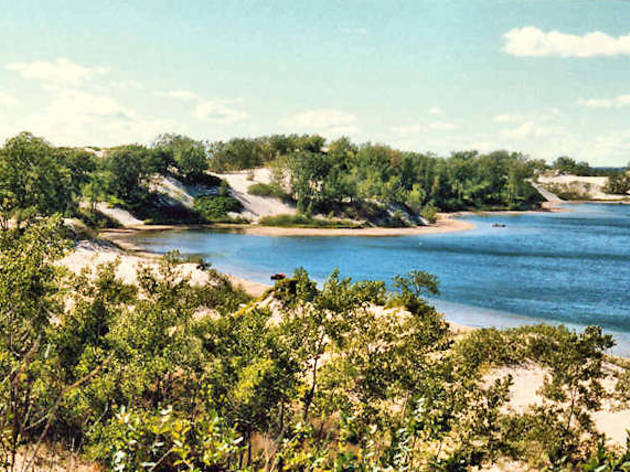 Photograph: Prince Edward County Tourism / prince-edward-county.com
3. Prince Edward County via the Thousand Islands Parkway
Located on an island on the northern shores of Lake Ontario, Prince Edward County provides a perfect summer getaway experience worth a full day's trip. You could get there faster if you took the 401, but where's the fun in that? Staying off the highway gives you access to a lot of rolling farmland, calm lakes, forested scenery, and historic areas like Upper Canada Village along the Saint-Lawrence River towards Ontario. Best of all, this path takes you down the Thousand Islands Parkway, regarded to be some of the best scenic drives in near the city. Once you hit Prince Edward proper, following routes 13, 7, or 12 from the town takes the trip towards sandy beaches to lounge at—especially if you've picked up some supplies from one of the area's 40 vineyards, its craft breweries and/or snacks from farmers markets back in town. If you really want to have some fun—and if you're pressed for time to get back the same day—go ahead and take the 401 back as you blast some tunes and put the pedal to the metal.
386 kilometers, 6 hours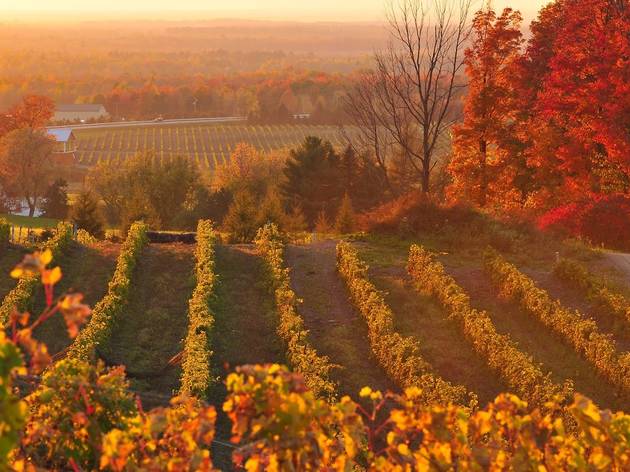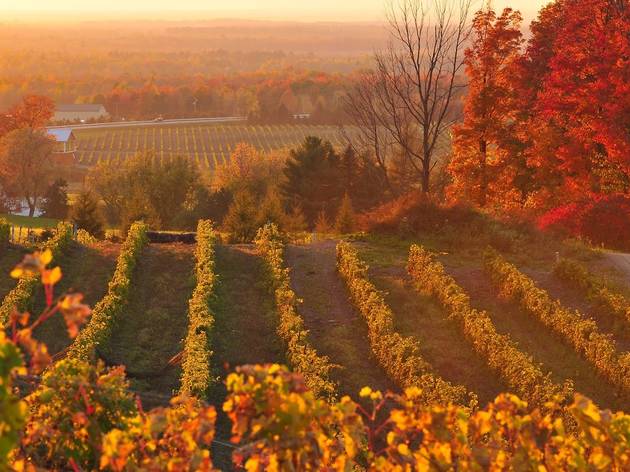 Photograph: Jean-François Bergeron
4. Brome-Missisquoi's Wine Route
It's more a network of four routes throughout the Brome-Missisquoi region that, when combined, gives travelers the chance to visit upwards of 20 vineyards, nearly two dozen restaurants and one of the best opportunities to dive into the wine the province produces (many of which are small-batch, so you won't be finding them at the SAQ). The best time to visit any one of the four routes is from June 24 to Thanksgiving weekend (just before mid-October), but especially towards the end to enjoy the beginning of the fall equinox's shifting colours and the harvest season that runs from mid-September to mid-October. We recommend taking 'La Balade' after taking Autoroute 10 from Montreal, which ends in Freighlighsburg—the world's birthplace of ice cider from its father Christian Barthomeuf. Just be sure to plan a hike up Mont Sutton if time provides, or just dropping by Lac Brome's duck farm boutique on the way back to stock up on rillette, breasts and bacon; it's some of the best in the world.
110 to 138 kilometers, 1 to 2 days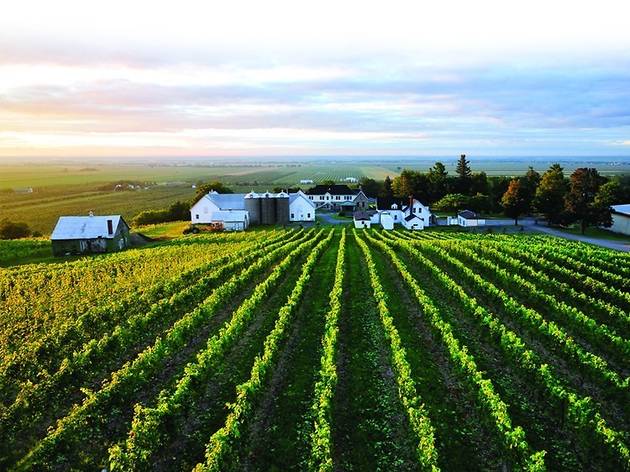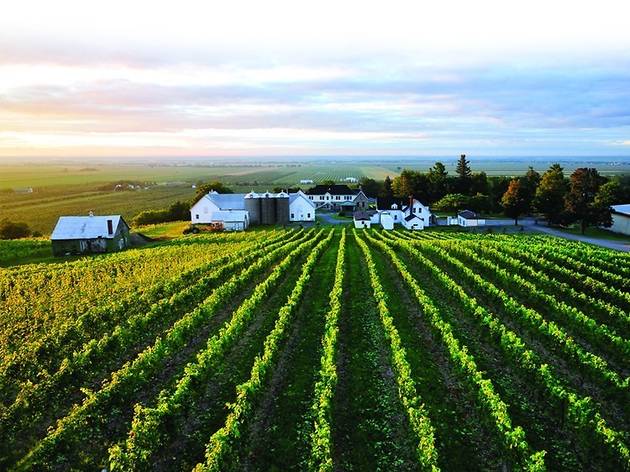 Photograph: Tourisme Montérégie
5. Montérégie's Cider Route
Heading out of the city towards the Richelieu River Valley and towards Chambly's National Historic Site by a Canal provides views of sweeping farmland that you can only get a good view of from off the highway. This particular area through Montérégie is features orchards, maple farms, plus a vineyard or two are you drive through the beaten paths of the region. Most notable of all is the Cider Route beginning in Rougemont off Route 112 and dipping southward along the Richelieu River and westward to Hemmingford along the US-Canada border; ice ciders, sparkling cider, apple must, and brandy can be picked up along the way from boutiques (or stopovers for tours can be planned in advance) while you enjoy sweeping landscapes from the comfort of your seat. When the sun sets over the pastures and trees? That's relaxing. We've included a route back along Route 138 just in case you want the needle on the speedometer to climb a bit.
242 kilometers, 4.5 hours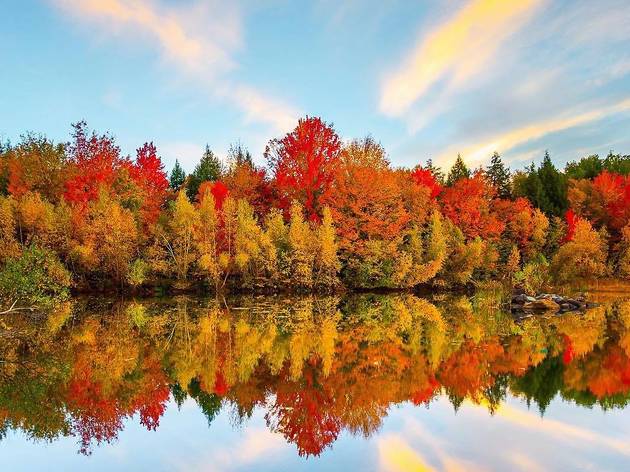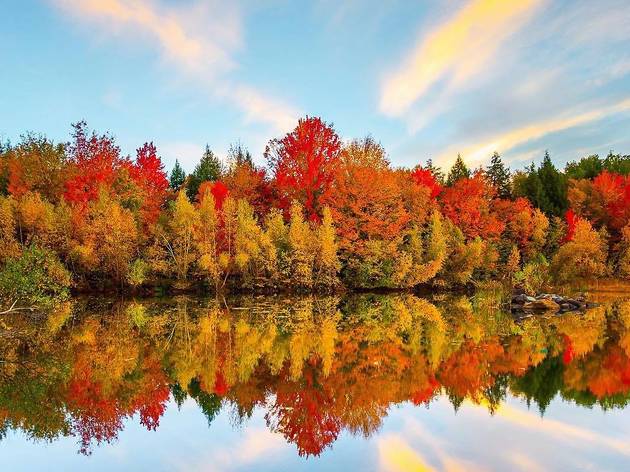 Photograph: @calsnape / Instagram
6. Eastern Townships Circuit to Rawdon
It's one of the longer drives you can take, but it's worth it: Using Mont-Mégantic as the first waypoint out of Montreal—which in itself can offer some supreme hiking—this trip takes a scenic route through the Eastern Townships with towns like Magog that's followed by passing by Mont-Orford National Park. After that, heading north takes you to the Chaudière-Appalaches region and Beauce's rivers and valleys before going further ahead for scenic views of Quebec City from the Terrasse de Lévis (if you want to make a trip of it, stop in the city overnight and detour to Montmorency Falls). Finally, our route follows the Chemin du Roy back before veering through the farmland around Rawdon for a break and smelling the tall cedar trees around the town. After that, you're homeward bound!
774 kilometers, 9 hours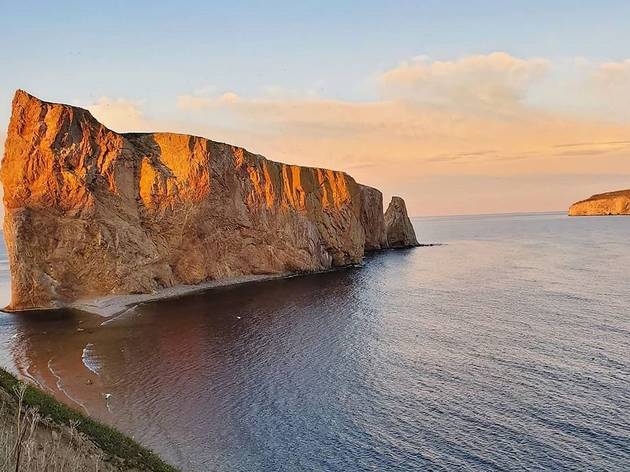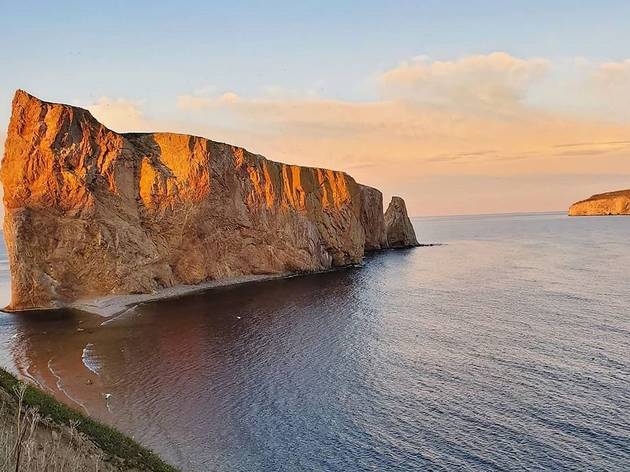 Photograph: @cestdelafauteadan / Instagram
7. The Bas-Saint-Laurent – Gaspésie Tour
Starting in Montreal and following the Saint-Lawrence River, this drive takes motorists through a range of landscapes and seascapes that include wildlife reserves, gardens, provincial parks, vineyards, villages and more. On the surface, it's simple: Once the Jacques Cartier bridge is crossed away from the island, follow Route 132 the whole way up and around the Gaspé Peninsula. There is, however, so much more to it than that: Riding along the seaway up to the Atlantic takes travelers through a huge amount of places worthy of a pitstop, like whale-watching in the Saguenay–St. Lawrence Marine Park, detouring through Parc national du Bic before dining at chef Colombe St-Pierre's famous local terroir restaurant Chez Saint-Pierre, taking in the view at places like Chaleur Bay and Percé Rock, hiking Mt. Albert or Mt. Jacques-Cartier to spot caribou, and getting a taste for some real Acadian culture.
­ 1,235 kilometres; 7 to 10 days
More trips to take from Montreal
Hit the road, take a hike, visit small-town gems or bask in some big city glory with the best day trips from Montreal.
Get the lowdown on exploring the forested grandeur of Canada by using this guide to the best hiking near Montreal.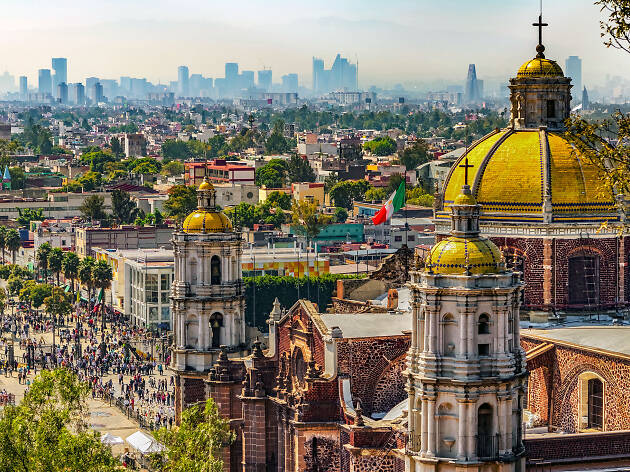 We surveyed 34,000 city-dwellers to rank the best cities in the world right now. Ready?