Heads up! We're working hard to be accurate – but these are unusual times, so please always check before heading out.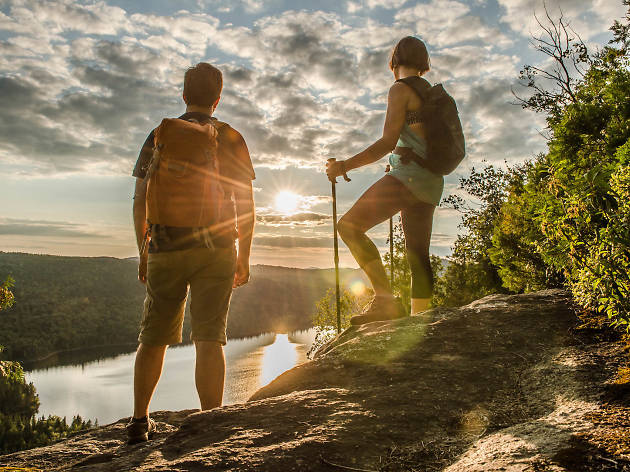 Where you'll find the best hiking near Montreal
Get the lowdown on exploring the forested grandeur of Canada by using this guide to the best hiking near Montreal
From cocktail bars and the best terrasses to frequenting festivals and endless Montreal attractions, this city is full of amazing stuff to explore, but sometimes even the most diehard urbanite needs a break from the hustle and bustle. For those occasions, there are a number of gorgeous options for hiking near Montreal that will allow you to get back to nature and take a breather from it all. Use those muscles you've gained from stepping over construction holes and dodging traffic cones for one of these local and not-too-distant hikes, which can all be found within a three-hour drive of the city.
RECOMMENDED: Full guide to the best things to do in Montreal
Where to find the best hiking near Montreal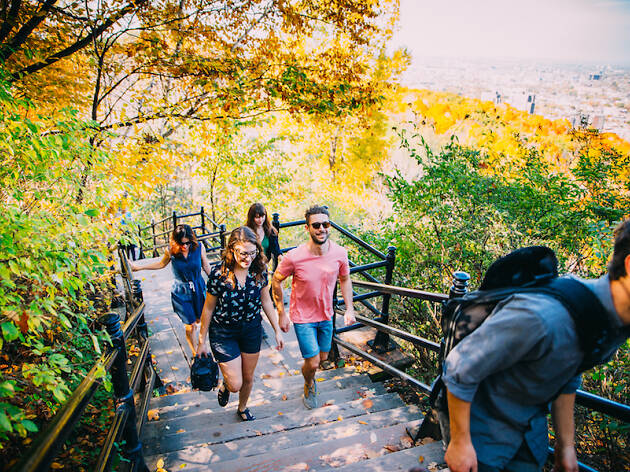 Photograph: Fitz & Follwell Co.
No car? No problem. Take to the trail at this Montreal attraction which is perhaps more of a walk than a hike, but which—with its ample trees, decent incline and stunning view of the city—will still get you sweating. This arboreal oasis is beautiful at all times of the year, and the well-maintained path means you don't have to worry too much about your winter hiking gear being up to snuff. While there are paths that wind in every which way, you also have the option of off-roading it if you want a real rugged experience.
Drive time from Montreal: What drive time?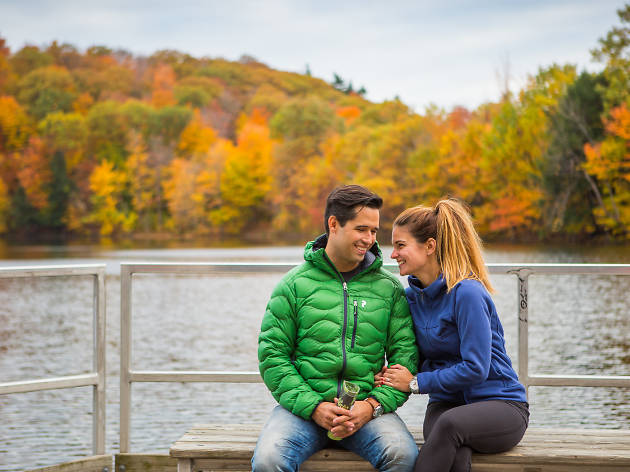 Photograph: Mathieu Dupuis
2. Mont-Saint-Bruno National Park
You needn't go very far out of Montreal to experience the rugged Canada wilderness in all its glory. Less than 30 minutes from the downtown core, this national park offers 27-km of hiking trails around the its five lakes, the longest of which is two hours. Visit this pet-friendly park in autumn for gorgeous views of the changing leaves with the whole family in tow; with the exception of the more rustic Le Montérégien hike, all of the trails are beginner-friendly.
Drive time from Montreal: 30 minutes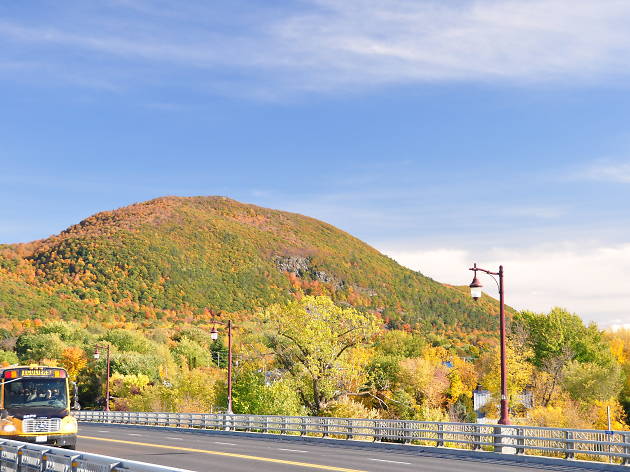 Photograph: Courtesy Flickr/CC/abdallahh
Just outside of Montreal, Mont Saint-Hilaire nature reserve is another great local spot for those who like their hikes to be more scenic than strenuous, with relatively easy, straightforward trails open all year round. The picturesque lakeside mountain is home to several trails that bring hikers to four summits, all of which offer beautiful views.
Drive time from Montreal: 1 hour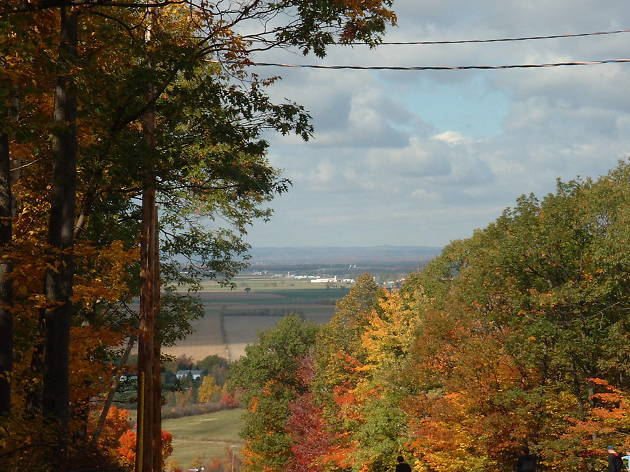 Photograph: Courtesy Flickr/CC/zalgon
4. L'Escapade (Mont Rigaud)
This popular skiing destination is a must-visit spot for winter and summer adventurers alike. In addition to its ski hill, Mont Rigaud also has a recreational park called L'Escapade which offers 27 kilometers of hiking trails. If that doesn't keep you busy enough, strap on a pair of cross-country skis or snowshoes in the winter or hop on your bike in the summer and enjoy one of the many other activities on offer.
Drive time from Montreal: 1.5 hours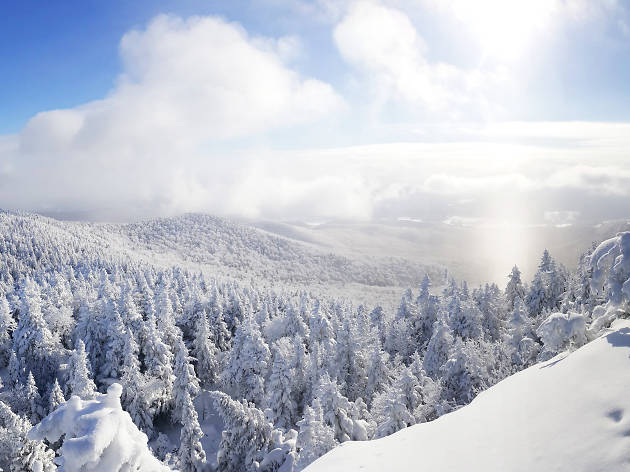 Photograph: On The Edge Hiking
5. Parc D'environnement naturel de Sutton
The Eastern Townships are full of beautiful scenery, and this rustic spot—with its two lakes, two ponds and many kilometers of trails—is no exception. Trails range from 2.4 km to nearly 14 km, and they're full of some of the best wild beauty the region has to offer that includes a waterfall, breathtaking summit views and—Canada, eh?—lots and lots of maple trees.
Drive time from Montreal: 2 hours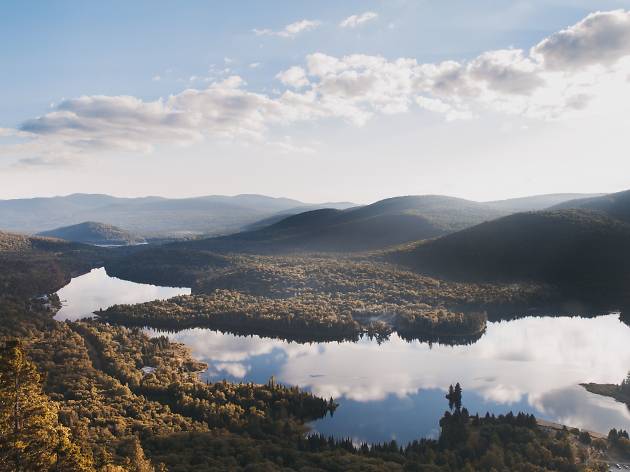 Photograph: Jamshed Khedri
Mont Tremblant is famous around the world for its skiing, but locals know there's a lot more to the mountain than its ski slopes. Choose from 11 trails that cater to all fitness levels, from easy, pet-friendly strolls to strenuous climbs. Nestled among the beautiful and fun-filled Laurentians, Mont Tremblant is beautiful year-round, but perhaps most of all in autumn when the summit offers 360-degree views of leaves changing colour to vibrant oranges, reds and yellows.
Drive time from Montreal: 2.5 hours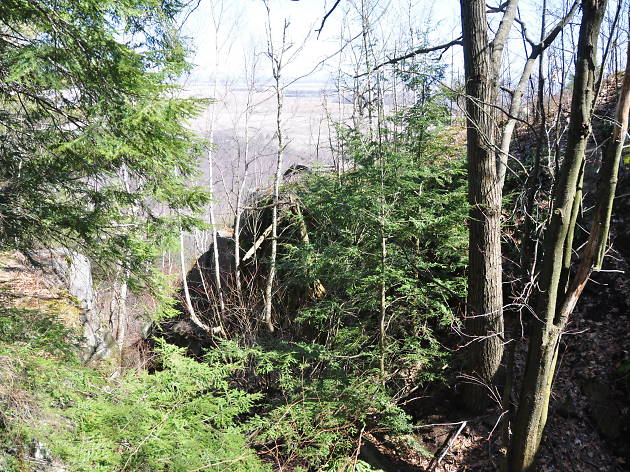 Photograph: Courtesy Flickr/CC/abdallahh
This mountain in southern Quebec may not feel all that far from the city, but its quick and straightforward trail offers views that say otherwise. Differing itself from the typical rolling-hills-and-maple-groves on display from other summits on this list, Mont Saint-Grégoire is surrounded by sprawling fields, looking out over vast wide-open spaces and mountains further afield. On a clear day, you'll see Montreal visible in the distance, so it's good for getting some perspective on the city as well.
Drive time from Montreal: 1 hour 20 minutes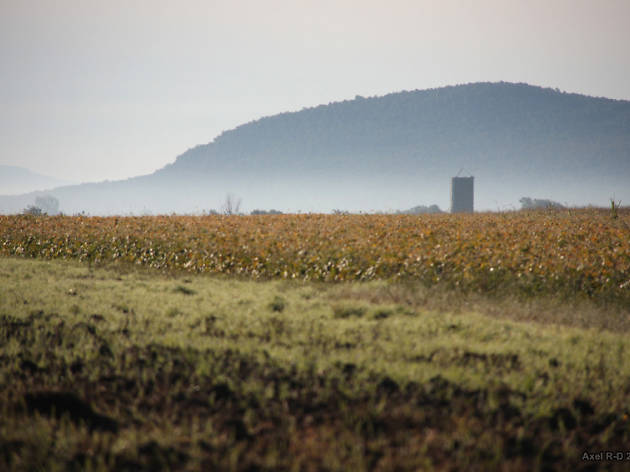 Photograph: Courtesy Flickr/CC/Axel Drainville
Less than an hour and half from Montreal in the beautiful Montérégie region, Mont Rougemont is home to a short, privately-owned trail that rewards hikers with a spectacular scene at the mountain's summit. Because it isn't maintained by the government, some may find Mont Rougemont's trail harder to follow, but the view from the top is worth it if you're willing to give it a shot.
Drive time from Montreal: 1 hour 20 minutes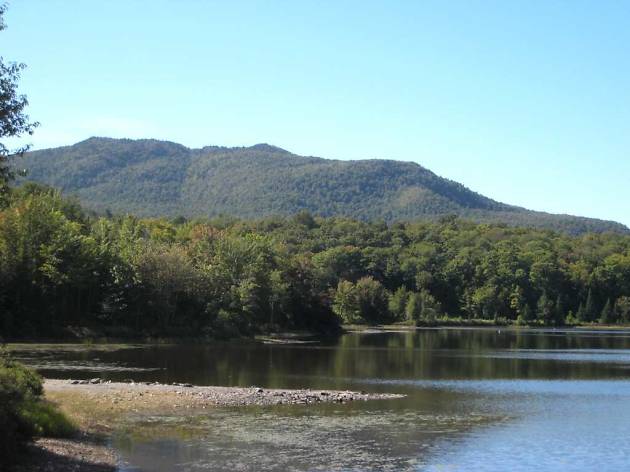 Photograph: Courtesy Flickr/CC/BrotherM
9. Mont-Orford National Park
Another Eastern Townships gem, Mont-Orford is a recreation junkie's dream, with activities ranging from hiking and rock climbing to skiing and mountain biking, all available to those with daily or season passes. The park is home to a range of flora and fauna, including deer, heron and lots of sugar maple trees. Mont-Orford's network of trails spans over 80km, with routes available for all levels; the most hardcore hikers (or those who have read Into the Wild one too many times) may wish to utilize the more challenging trails.
Drive time from Montreal: 2 hours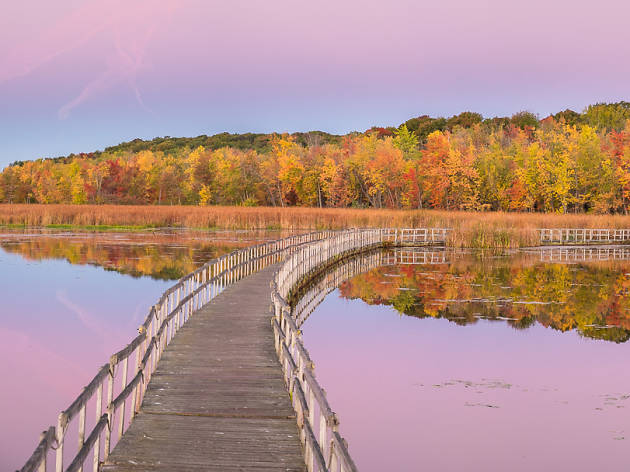 Photograph: Courtesy Flickr/CC/Denis Grenier
Oka's maples and wetlands are on beautiful display in the park's five hiking trails which range from a quick 25 minutes to a 4.5-hour, nearly 12km-long route. The difficult summit hike offers two hours of quality cardio (and quality views), with the plus of cooling down at Oka's peaceful, sandy areas that are part of the best Montreal beaches. If you're into working up a sweat on the trails with the daylong trip, this is your jam.
Drive time from Montreal: 1 hour 20 minutes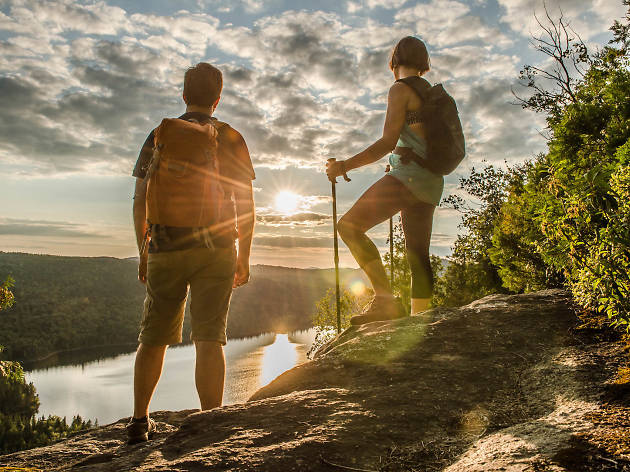 Photograph: Jimmy Vigneux
11. Sept-Chutes Regional Park
If you're willing to make a day trip out of your hike, drive the two hours and change from Montreal to Sept-Chutes ("Seven Waterfalls," for you anglos) to witness the absolutely incredible views here. All 12km of the park's trails are surrounded by stunning scenery, but the pièce de résistance is probably the Mont Brassard trail which takes hikers to a must-see-it-to-believe-it lake view.
Drive time from Montreal: 2 hours 15 minutes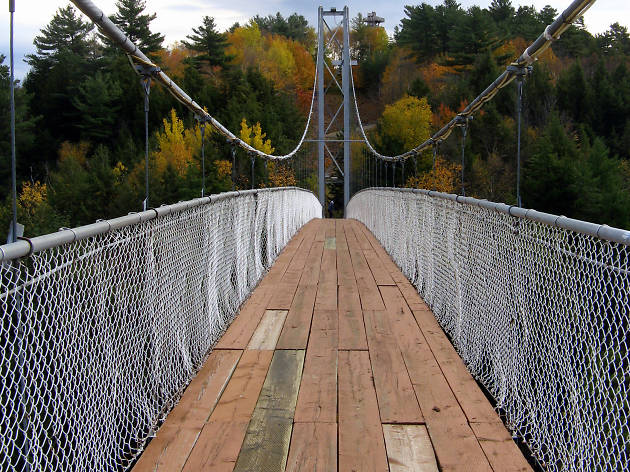 Photograph: Courtesy Flickr/CC/Sarah
12. Parc de la Gorge de Coaticook
Located two hours and change from Montreal near the Vermont border, this beautiful wilderness playground is home to three hiking trails, plus a range of other summer and winter activities—that's including a nighttime multimedia forest light show, Foresta Lumina. If you're only going to do one hike, choose the gorge-ous (sorry not sorry) "Sentier de la Gorge" trail; it takes you over the park's famed suspended footbridge, the longest of its kind in North America.
Drive time from Montreal: 2 hours 20 minutes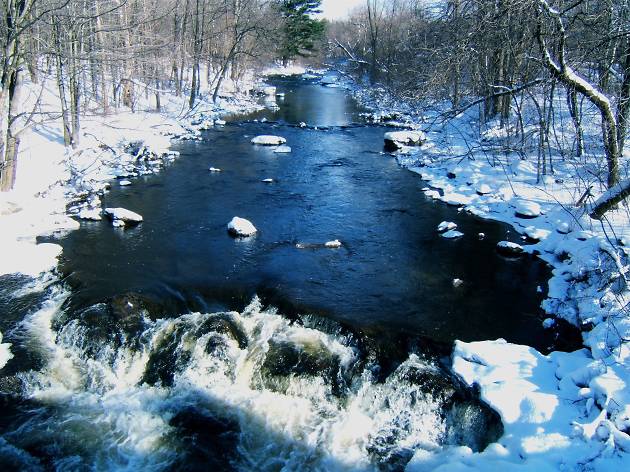 Photograph: Courtesy Flickr/CC/marcel lemieux
13. Yamaska National Park
Just shy of two hours from Montreal, Yamaska's wetlands and thick groves of various tree species make it a haven for relaxing summer recreational activities. The walking trails at Yamaska vary in length but are all quite easy and suitable for hikers of all ages and abilities—perfect for those times you want the view without the exertion, and especially perfect for getting the family out of the house.
Drive time from Montreal: 1 hour 45 minutes
Exploring in and around Montreal
Hit the road, take a hike, visit small-town gems or bask in some big city glory with the best day trips from Montreal.