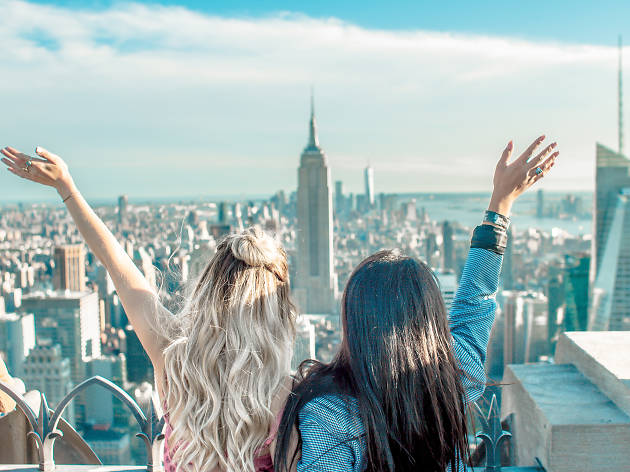 The 15 best weekend getaways from Montreal
It's crazy what a 48-hour escape from the city can do—time to hit the road with our curated guide to the best weekend getaways from Montreal
Sometimes all you need are some suggestions for weekend getaways from Montreal to get excited about getting away, resting and relaxing before the work week rolls around again. Next time the travel bug bites, consult our curated guide to short but full-bodied bouts of travel, each of which are just close enough to visit during the weekend but far enough away to offer a refreshing change of scenery. Whether you want a restful seaside escape, go skiing or hiking near Montreal, or take a food-fuelled trip to a neighbouring city, here are the options that are all totally doable by car. If you need something a bit less time-intensive, there are always the best day trips from Montreal or just kicking back in some Montreal parks.
RECOMMENDED: Full guide to the best things to do in Montreal
The best weekend getaways from Montreal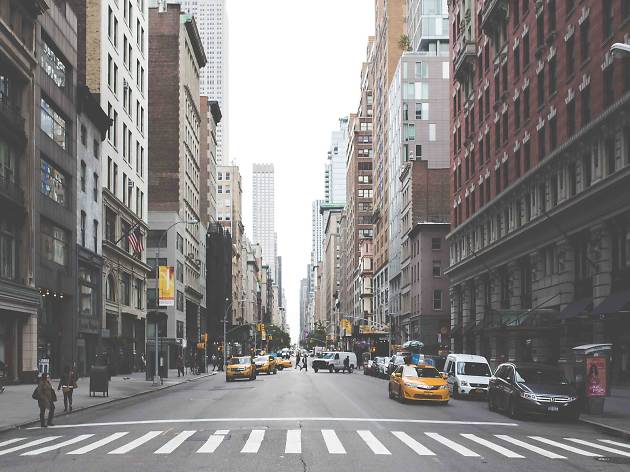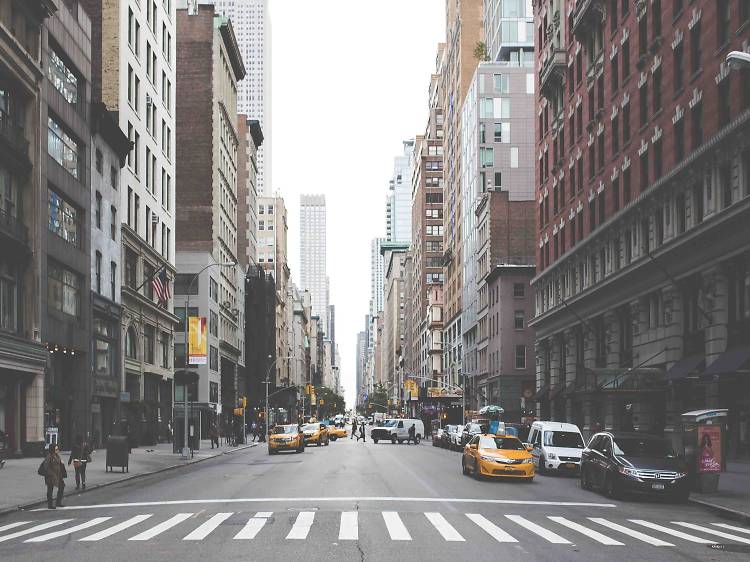 Photograph: Jon Flobrant
6.5 hours from Montreal
Whether you're team Montreal bagel or New York bagel, it's impossible not to have a great time during a whirlwind getaway here. Park the car, drop your bags and prepare to pick up your pace—you have a lot of ground to cover.
Do this: There's so much going on in New York City that it's impossible to fit everything into one weekend. We recommend eating your way through it, starting with breakfast at Wyckoff Starr Coffee Shop, lunch at Ivan Ramen, and a late dinner and drinks at Roberta's or the reservation-free and Michelin-starred Gramercy Tavern. Oh, and don't forget to check out their Time Out Market!
Stay here: If you're dead set on staying in Manhattan, consider dropping your bags at POD 39. The suites are extremely small, but they're clean, well-located and affordable. Be sure to check out the charming rooftop terrasse, which boasts great views of the Manhattan skyline.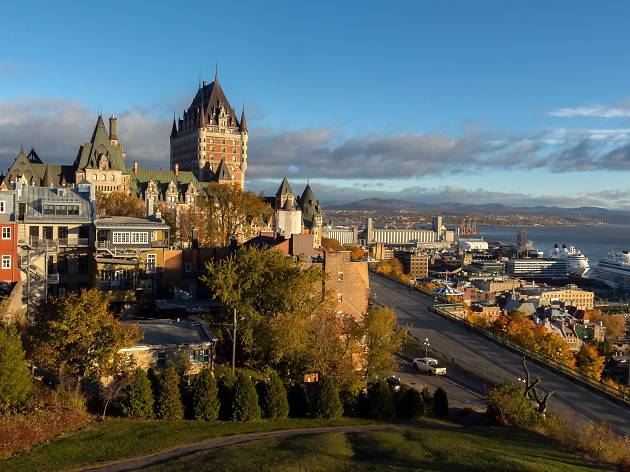 Photograph: Rich Martello
3 hours from Montreal
Quebec City is steeped with history and things to see. Not only is it the oldest city in Canada, it's also packed with great terraces and a budding local food scene.
Do this: Take a walk through charming Old Quebec. The popular tourist destination is worth weaving through crowds of out-of-towners for a look at its 17th-century architecture, cobblestone streets, and Citadelle de Québec constructed in the 1800s.
Stay here: Fairmont Le Chateau Frontenac, originally built in 1893, overlooks Old Quebec's Upper Town. The National Historic Site includes 611 suites, including the Celine Dion Heritage Suite and the Trudeau-Trudeau Suite, named after the two Canadian Prime Ministers.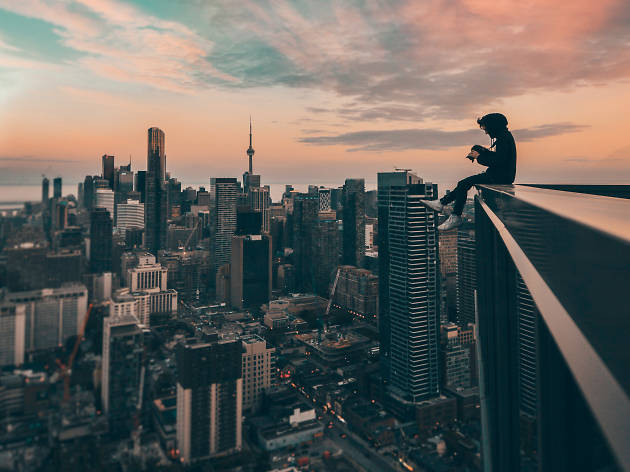 Photograph: Yeshi Kangrang
6 hours from Montreal
Aside from the Raptors, Blue Jays, and Maple Leafs that have found a happy home in their city, Toronto is a great spot to indulge in art and multicultural cuisine. Park the car (the city can provide inexpensive permits) and spend the weekend walking or riding trams around the city and getting lost in its side streets while making room for your next meal.
Do this: Toronto is home to a handful of renowned museums and galleries and, thankfully, they're all within a few blocks of each other. Spend the day getting cultured at the Royal Ontario Museum (ROM) before continuing on to the Art Gallery of Ontario (AGO), home to world class works of art.
Stay here: The Drake Hotel (no, not that Drake), is conveniently located on Queen Street West, and doubles down as being among some of the best dining options in the city. The property hosts frequent cultural events and has become known as a community hub for foodies and creatives. If Toronto had a Soho House, this'd be it.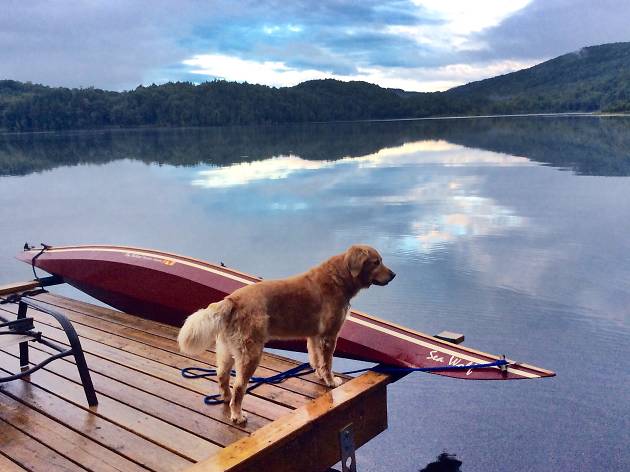 Photograph: Courtesy CC/Flickr/Guy Mayer
1.5 hours from Montreal
Located at the eastern edge of Quebec's Outaouais region, the country village is but a quick drive from Montreal and offers a forget-your-troubles escape from the city.
Do this: With over 12 kilometers of lakes, meadows and forests, Parc Omega is home to a plethora of local fauna and flora. Expect to see beaver, elk, black bears, bison and more at the drive-through park.
Stay here: Round out the nature-fuelled trip with a relaxing stay at Fairmont Le Chateau Montebello. The sprawling resort and spa offers 210 rustic rooms (including six deluxe suites), as well as plenty of year-round activities for families, couples, and solo travelers.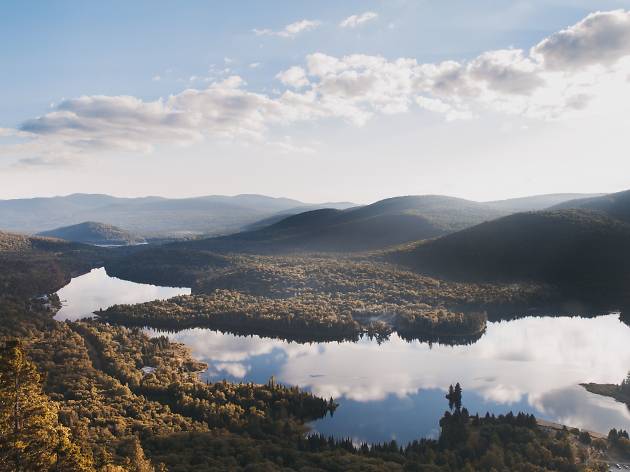 Photograph: Jamshed Khedri
5. Mont Tremblant, Quebec
1.5 hours from Montreal
Mont Tremblant has become a destination for local Quebecers and out of province visitors alike—and for good reason. The mountain town offers year-round ski resorts, cycling and hiking trails, and numerous lakes for canoeing and swimming.
Do this: Head to Mont Tremblant Resort and cut your teeth with some cross country skiing. This ski resort in the Laurentian Mountains is open and powdered from November to April. During the off season, head to the beach of Lac Tremblant for beach volleyball, tennis and water sports.
Stay here: Lodge de la Montagne straddles Mont Tremblant and the beach of Lac Tremblant in the heart of the charming pedestrian village.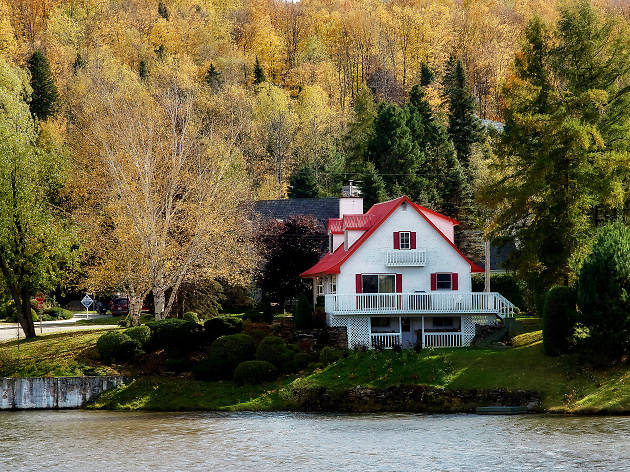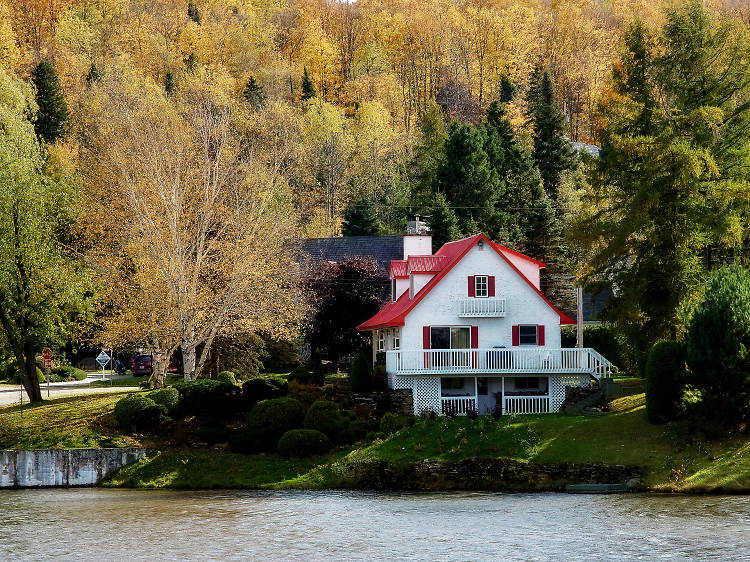 Photograph: Courtesy Flickr/CC/Artur Staszewski
1 hour from Montreal
Tucked into the Laurentians, Saint Sauveur is a considerably quieter option for anyone looking to escape to the mountains for the weekend. The charming resort town is popular come wintertime among skiers due to its proximity to the mountains.
Do this: For a bit of romance, spend the weekend at Le Spa du Manoir Saint Sauveur. The indoor-outdoor nature-inspired spa experience includes a dry sauna, various hot tubs and various yoga and meditation classes that can be followed with massage treatments.
Stay here: After a relaxing Nordic spa experience, retreat back to your room at Manoir Saint Sauveur. The spa there—screw it, you deserve two spa treatments—also includes 250 rustic guest room and suites to keep the relaxation going all weekend long.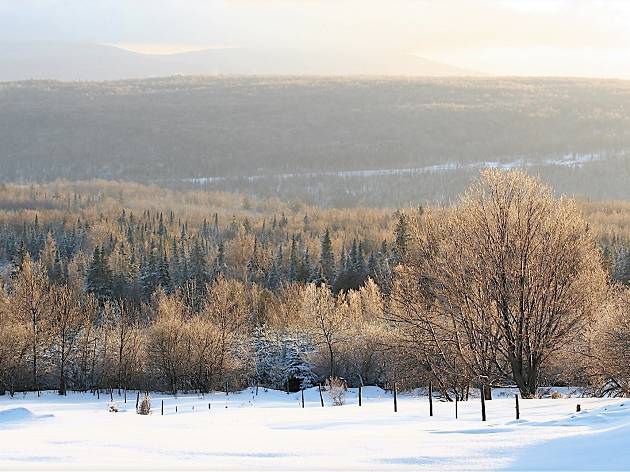 Photograph: Courtesy CC/Flickr/Guy Mayer
7. Eastern Townships, Quebec
2 hours from Montreal
The Eastern Townships is known for its spas, wildlife and charming small towns. It has become somewhat of a sanctuary for winemakers and brewers with over a dozen wineries and microbreweries peppered throughout the region.
Do this: Head to Lennoxville, a small town just outside of Sherbrooke, and enjoy a pint at Le Lion Pub. Established in 1986, it is Quebec's first ever microbrewery and has since become a mainstay for students and young professionals alike. Enjoy guzzling some history.
Stay here: The charming, country-style suites at Hovey Manor has attracted everyone from Canadian author Louise Penny to the Clintons. North Hatley's five-star gem is ranked among the top 50 hotels in the world due to its gastronomic standard and proximity to the shores of Lake Massawippi.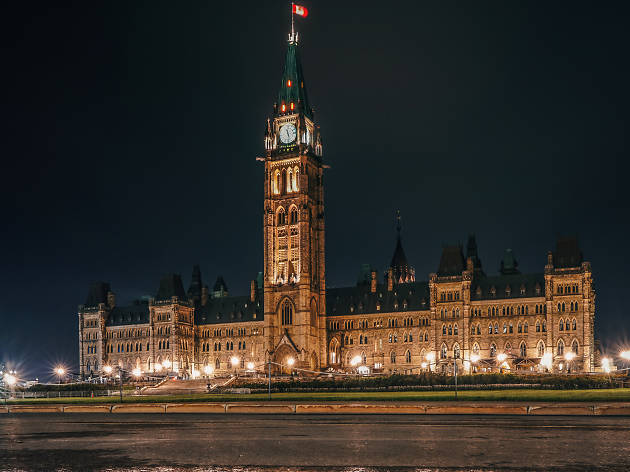 Photograph: Christopher Austin
2.5 hours from Montreal
Ottawa may bring to mind cabinet ministers and parliament buildings, but Canada's capital city has a lot to offer outside of political intrigue. Expect a strong food and drink scene, bohemian markets and a considerably large Chinatown with some of the best dim sum in the country.
Do this: Start the day at the Byward Market, a central hub of farmer's markets, artisanal goods and eateries like micro pubs and cafés. For dinner, book a table at Beckta Wine Bar, a charming bar and restaurant serving upscale Canadian fare in a 140-year-old heritage house.
Stay here: In a city of big-name hotels and suites, ARC The.Hotel is one of Ottawa's only boutique hotels. The sophisticated property is located in the heart of downtown, so you won't have to touch the car all weekend. If you want something more chic, the Fairmont Château Laurier here knocks it out of the park with its central location and superb services.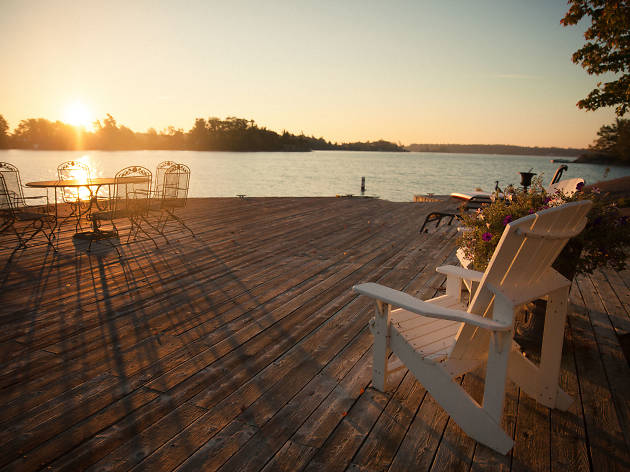 Photograph: Courtesy Flickr/CC/Chris Ford
9. Thousand Islands, Ontario
3.5 hours from Montreal
It ain't just a salad dressing. In fact, it's a group of more than 1800 islands grouped together along the United States-Canada border on the Saint-Lawrence River. While it used to be a fashionable retreat for Canada's elite, these days it's a popular destination for families and nature enthusiasts.
Do this: Spend the weekend on the water with Gananoque Boat Line. The two-to-three hour cruise will take you by the Boldt Castle, mansions, and natural wonders of The Thousand Islands while taking in the history of the river—who doesn't like stories of shipwrecks and lost marine vessels?
Stay here: Gananoque Inn & Spa, which dates all the way back to 1896, sits on the banks of the Saint-Lawrence River and is a 4-minute walk from the Gananoque Boat Line. The main property includes just 29 rooms, each of which boasts unique views of the water and surrounding flora.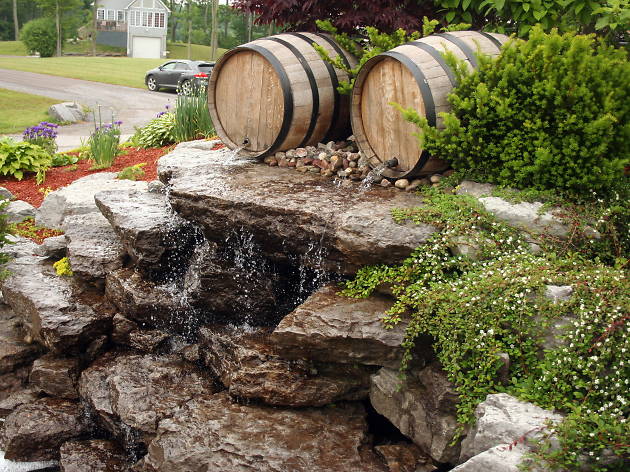 Photograph: Courtesy Flickr/CC/Robert Taylor
10. Prince Edward County, Ontario
4 hours from Montreal
While Montreal is a great city for wine aficionados, a trip to Prince Edward County is a must for anyone who loves to sip and savour red, white, rosé and everything in between. Lake Ontario and the surrounding Sandbanks has become a hub for Ontario winemakers due to its relatively grape-friendly limestone-rich terroir.
Do this: Prince Edward County is home to over fifty wineries and vineyards—many of which offer tours and tastings daily. Bring a bike or rent one from your hotel, and spend the day cycling through the vineyards. Popular vineyards include Sandbanks Estate and TerraCello.
Stay here: While the region is swimming with quaint inns and motels, consider dropping your bags at the June Motel. The wine-focused property, once a dated roadside motel, feels more like stepping into a Palm Springs retreat than a highway flophouse in Ontario, and includes charming activities and amenities like Detox/Retox yoga and well-equipped in-room wine bars… Sorry, did we mention there'd be wine?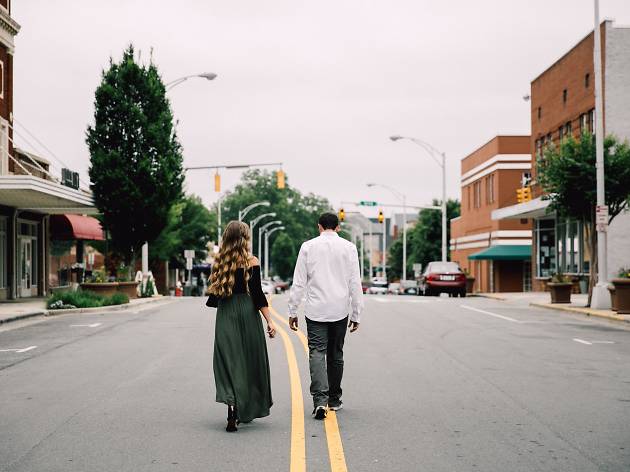 Photograph: Emma Frances Logan
2 hours from Montreal
A weekend in Burlington is really all you need to 1) fall in love with the city and 2) see pretty much everything it has to offer. The largest city in Vermont is surprisingly tiny with less than 50000 residents, but the emphasis on slow living and sustainable cuisine is enough to charm the most hardened of city folk.
Do this: After exploring the charming boutiques and restaurants on Church Street, make your way to Splash at the Boathouse, a floating seafood restaurant and bar positioned right on Burlington Bay. The easygoing patio is an ideal spot to enjoy a few beers while watching the sun sink below the skyline.
Stay here: Lang House on Main Street, just a few blocks from the downtown core, is a true New England countryside retreat right in the middle of the city. The romantic bed and breakfast dates back to 1881, when it was a stately private family home.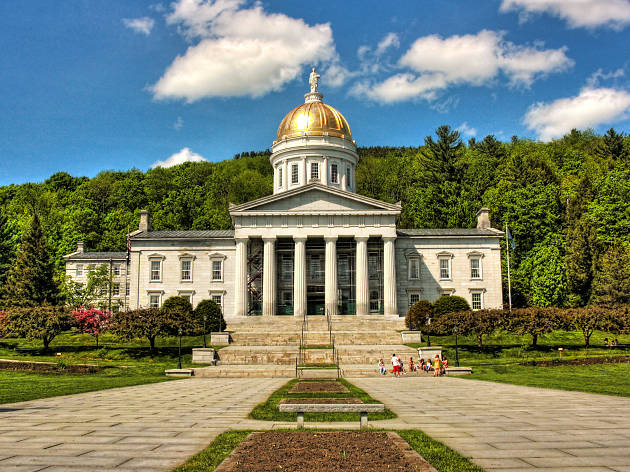 Photograph: Courtesy Flickr/CC/Daniel Mennerich
2.5 hours from Montreal
The capital city of Vermont is a nature lover's dream with endless camping, hiking, and exploring to be had. The population numbers in at just under 8000, and that makes for a perfectly secluded escape from the city.
Do this: Go for a hike along the Camel's Hump, Vermont's 12th largest mountain. The hiking trail will take you from Montpelier to Duxbury and boasts jaw-dropping views of mountains alongside surrounding fauna and flora.
Stay here: After a day well spent in the great outdoors, check into The Stowehof. Although it's a bit of a drive from Montpelier proper, it's worth the commute; the hotel and spa is surrounded by 26 acres of mountain vistas and boasts a cozy outdoor fire pit, a huge outdoor pool, and onsite restaurants serving up locally-sourced fare and craft beer.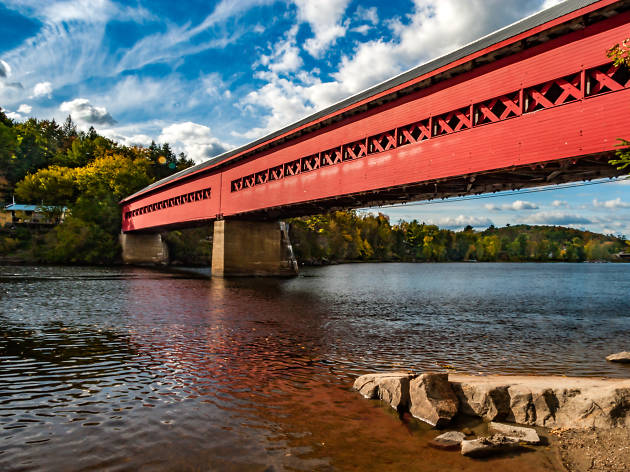 Photograph: Courtesy Flickr/CC/Michel Rathwell
2.5 hours from Montreal
Just north of Ottawa you'll find Wakefield, one of the many villages of the Municipality La Pêche in the Outaouais region. Thrill seekers flock to the region for two things: Skiing and bungee jumping.
Do this: If you're feeling particularly brave, make your way to Great Canadian Bungee, the highest bungee jump in North America. The 200-foot water dip bungee jump is set over a spring-fed lagoon and is certainly not for the faint of heart.
Stay here: Consider checking into Wakefield Mill Hotel and Spa. Built in 1838 on a spot which overlooks the Gatineau River, the property was originally a flour mill but has since been restored as a sophisticated spa and hotel.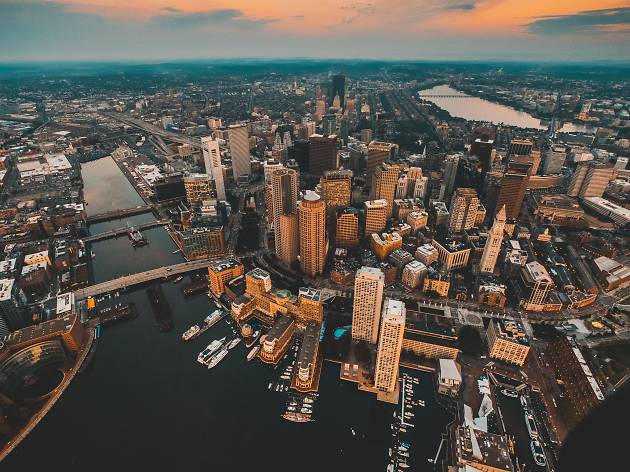 Photograph: Osman Rana
14. Boston, Massachusetts
5 hrs from Montreal
Founded in 1630, Boston is one of the oldest cities in the U.S. and its rich history is apparent in every cobblestoned street and historic landmark building.
Do this: Start the day by making your way through the charming Charles Street shops before strolling over to the Boston Commons. There, you'll find uncharacteristically friendly squirrels, swans and other local fauna. Then, continue through to Back Bay Fens, home to several great art museums and galleries.
Stay here: Check into the Liberty Hotel. Built in 1851, the luxury property was once a prison and housed the likes of Malcolm X and the Boston Strangler. If that's not enough, ask the concierge to point you to where artifacts and quirks from its former prison days are kept throughout its halls and lobby.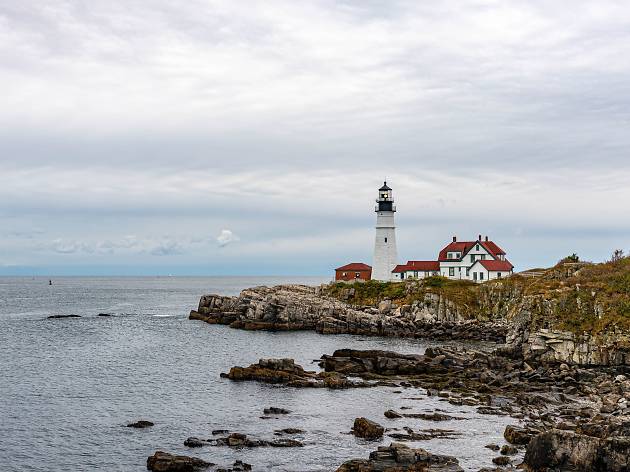 Photograph: Stephen Walker
5.5 hours from Montreal
In search of a seaside escape? Look no further than Portland, Maine. Set on a peninsula in Casco Bay, the charming city is packed with lighthouses, fresh seafood restaurants, beaches, and everything else you'd expect from a coastal town.
Do this: Take advantage of the proximity to the Atlantic Ocean and spend the weekend channeling your inner beach bum. Some of the best beaches include Crescent Beach State Park and Willard Beach, both of which are less than half an hour from the downtown core.
Stay here: Set in a former newspaper publishing house, The Press Hotel incorporates many of its former elements into the modern-day design and ethos, from the block-print wooden sculptures to the charming newspaper print wallpaper.
More great ideas for trips
Hit the road, take a hike, visit small-town gems or bask in some big city glory with the best day trips from Montreal.
Get the lowdown on exploring the forested grandeur of Canada by using this guide to the best hiking near Montreal.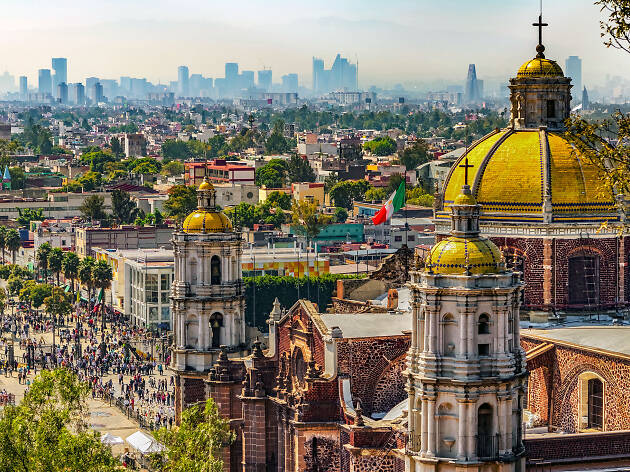 We surveyed 34,000 city-dwellers to rank the best cities in the world right now. Ready?