Events at Time Out Market Montréal, February 2020
Make the most of your night out on the town by checking out the events happening at Time Out Market Montréal this month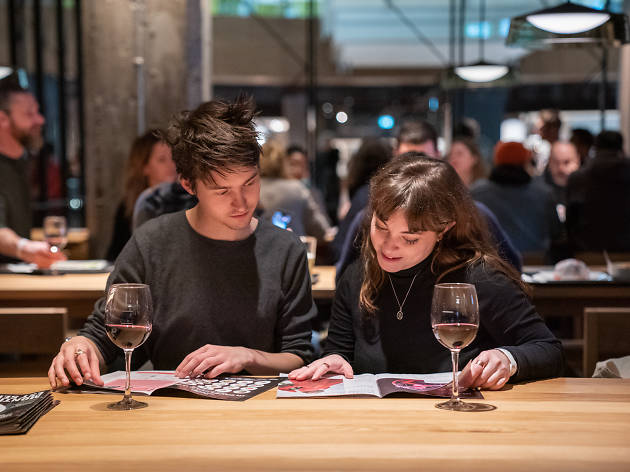 We're know you're a tough city, Montreal. A little bit of winter weather in February's not going to keep you from going out and having fun, that's why we're not going to second-guess filling the month with tons of awesome events at Time Out Market Montréal. Come on out any day of the week for a fantastic breakfast, lunch or dinner (or brunch) from any one of our 16 eateries and demo kitchen, but stay for the shows and extravaganzas planned throughout the month. Read on for a chronological list of everything you need to check out.
RECOMMENDED: Full guide to Time Out Market Montréal
What's happening at the market this month?
When is it: Every Saturday and Sunday, from 11am to 3pm
Why go: February marks the first full month of weekend brunch services we've got on the menu at the market. Each of the 16 stellar restaurants representing the best of the city are serving up absolutely delectable delights based on the specialty—chilaquiles from Grumman '78, panettone French toast from Hof SuCrée, classic Japanese teishoku platters from Marusan, and much more—that you can dive into again, again and again. The Time Out Bar's also serving up some sexy cocktails like micheladas and mimosas to make it a boozy one, so gather the brunch squad and we'll see you there.
2
Photograph: DJ Le Obelix / soundcloud.com/leobelixx
DJ Le Obelix Plays Time Out Bar
When is it: February 1st, 6pm to midnight
Why go: Come grab a drink at Time Out Bar and groove to the Montreal-based Haitian DJ and record producer Le Obelix. Spreading the love with a diverse mix of artistic and musical influences, it'll be Good Vibes Only once he starts to spin his Afro-centric mixes. A little something-something to warm you up at the start of February.
3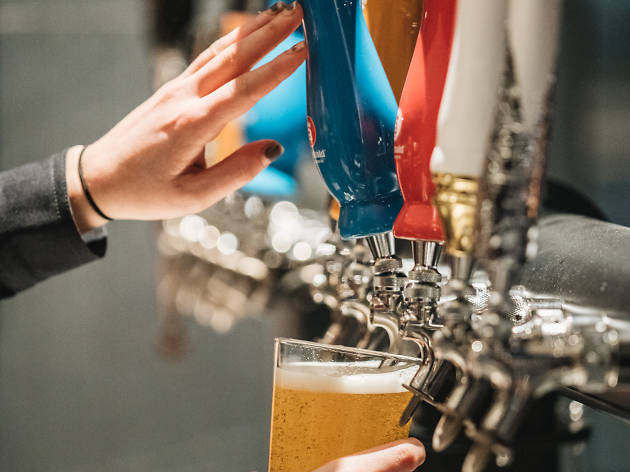 Photograph: JF Galipeau
Superbowl at Time Out Market Montréal!
When is it: February 2nd, from 6pm to close
Why go: Getting pumped for Super Bowl LIV? We are. That's why we're doing a football takeover of our huge screen at the Time Out Bar from 6pm onward with a range of drink specials to take advantage of. Whether you plan on cheering for the Kansas City Chiefs or the San Francisco 49ers, you can grab yourself some snacks from one of the eateries. On the menu...
Il Miglio has got fried calamari served with 'nduja mayo
Le Club Chasse et Pêche is serving spicy crab cakes with a pickled vegetables salad
Grumman' 78 has got mega nachos to dig into
Foxy is doing some superb chicken wings
Time Out Bar is doing 2 for 1 beers as well!
We also recommend grabbing stacked burgers from Burger T!, a snack platter from Laurent Godbout at the Demo Kitchen or a pizza from Moleskine. Order up a couple rounds of cocktails, a flight of beers or a bottle of chilled wine and enjoy one of the world's biggest sporting spectacles from the comfort of a temple to Montreal gastronomy.
4
Photograph: Petar Milošević
Ooh là là! The Opening of Le Pont des Amours
When is it: February 7th until February 29th
Why go: With Valentine's Day approaching fast, we thought something we're sure has crossed many of your minds: Why only have one day to commemorate love? That's why we're setting up our own Pont des Amours complete with Padlocks of Love, based on the famous French Pont des Arts bridge where—as legend has it—if you click on a lock with your loved one, you'll be together forever. Discover it for yourself at the market by clicking on a padlock and partaking in our contest: Snap a picture, post and tag it with #timeoutmarketmontreal with your love story, and we'll be sharing our favourites. The best part? We're gifting them certificates to Time Out Market Montréal!
5
Photograph: Courtesy DJ James Watts
DJ James Watts Plays Time Out Bar
When is it: February 8th and 29th, 6pm to midnight
Why go: Actor, singer, dancer, director, writer, cinematographer, comedian… and disc jockey. If you've ever wondered who's behind getting people up and dancing at the punk rock dance party at Bar de Courcelle or the Plateau's Last Disco in Montreal disco dance party, it's because of DJ James Watts. This masterful musicalized melody mixer will be taking his unique brand of crowd-pleasing mixes to the market with minimal mixing made modern, maintaining a mellow mood for your meaningful, merry and moving meal (and/or drink).
6
Photograph: Courtesy Marta Cikojevic
DJ Marta Cikojevic Plays Time Out Bar
When is it: February 14th and 15th, 6pm to midnight
Why go: Maybe you might've heard of TOPS, the homegrown weirdo-pop band (and if you haven't, search for 'Way to Be Loved - TOPS' on YouTube and get back to us). Marta Cikojevic's the latest member of that group, joining as the fifth member of the band to accompany the group on a spring Europe tour. We're stoked to be having her act as DJ on not one but TWO nights at Time Out Bar, where her killer taste in tunes are guaranteed to get you dancing until we need to close up shop.
7
Time Out Market Montréal Enters the Twilight Zone
When: February 22, 6pm to midnight (kitchens close at 11pm)
Why go: As part of Montréal en Lumière's Nuit Gourmande event, Time Out Market Montréal will be bending space and time to bring you a one-night-only experience that twists and intertwines the identities of our curated eateries: Each restaurant will serve a delectable dish inspired by another restaurant, where the best Montreal chefs craft dishes inspired by the best chefs in city to create a fusion between philosophies, flavors, and cultures. On the menu...
Grumman '78 inspired by Marusan
Paul Toussaint inspired by Charles-Antoine Crête and Cheryl Johnson
Le Red Tiger inspired by Burger T!
Moleskine inspired by Romados
Le Club Chasse et Pêche inspired by Il Miglio
Il Miglio inspired by Le Club Chasse et Pêche
Marusan inspired by Moleskine
Charles-Antoine Crête and Cheryl Johnson inspired by Demo Kitchen (Laurent Godbout)
Montréal Plaza Deli inspired by Hof SuCrée
Foxy inspired by Grumman '78
Olive et Gourmando inspired by Dalla Rose
Hof SuCrée inspired by Paul Toussaint
Romados inspired by Foxy
Foodchain inspired by Montréal Plaza Deli
Burger T! inspired by Olive et Gourmando
Dalla Rose inspired by Le Red Tiger
Demo Kitchen (Laurent Godbout) inspired by Foodchain
Discover Time Out Market: The best of the city under one roof
Time Out Market Montréal is made up of some of the city's best food, drink and culture—here's why you should go.