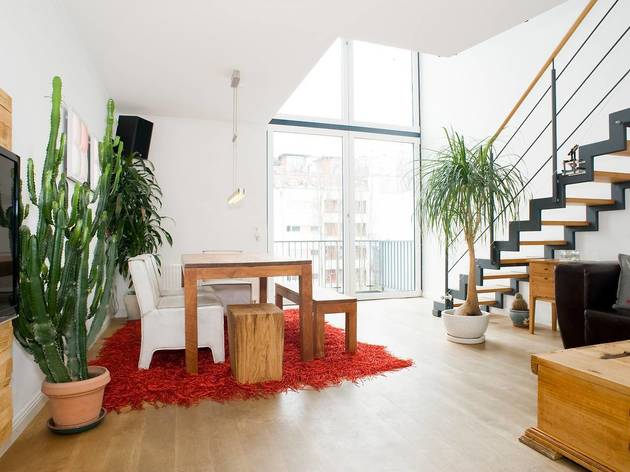 The best Airbnbs in Munich
Looking for a roof over your head in the Bavarian capital? Check out our list of the city's hottest properties
Not as cosmopolitan as Berlin (and way less boisterous than Hamburg), Munich is often unjustly disregarded as a worthwhile destination. Which is just flat out wrong, since Germany's third-biggest city has a lot going for it, and no, not just the yearly Oktoberfest (although that looks like a right laugh). In fact, the city is filled with lovely parks, beautiful riverside walks, remarkable attractions, a highly reputable art scene and, at Christmas, charming markets aplenty.
If you're hunting for an affordable place to stay, an Airbnb property is likely a better choice than a hotel or B&B. Lucky for you, we've done the hard work for you and rounded up some of the best Airbnbs Munich has to offer. Passports, packed.
Note: please check the latest travel guidance before booking your trip
The best Munich Airbnbs
Airy two-bed apartment in Schwabing
This modern apartment is a decent size, located in Schwabing, an area that was once Munich's bohemian quarter (but is regarded as much more chic now). There is an open-plan living area, contemporary bathroom, tram links right outside and views of the general neighbourhood that'll make your visit here more than worthwhile... whatever window you're gazing out of.
Image ©Airbnb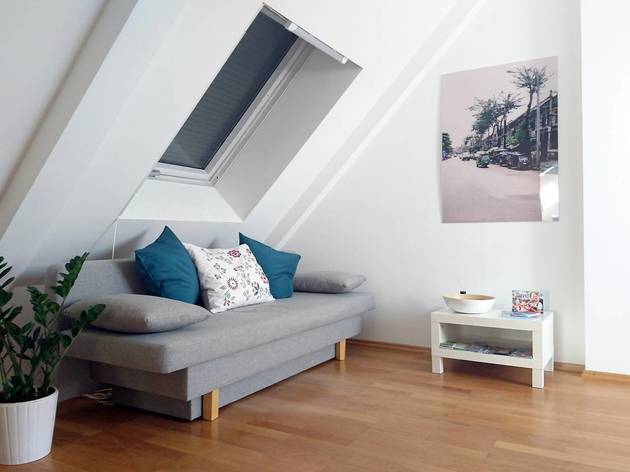 Top-floor apartment in Schwabing
This high-altitude apartment isn't far from Luitpoldpark, a pretty little 33-acre park that features a monument to World War II made up the rubble of bombed buildings. There are plenty of excellent cafés and restaurants nearby, so you won't be short of places to eat. Good thing too, because sightseeing will have you more than peckish by the time the day's out.
Image ©Airbnb
Homely apartment in Aldstadt
German properties more often than not have sleek, if sometimes clinical, decor. So if you want to stay in a place that has more of a homey feel, then this place makes for a top choice. It's found in Munich's Old Town, a district filled with meandering lanes, churches and medieval squares: a real piece of history. With space enough for two, gorgeous parquet flooring and a peaceful location, this Airbnb is perfect for a serene getaway.
Image ©Airbnb
One-bed apartment in a three-star hotel
Another property in Maxvorstadt – and one whose main selling point is the fact that it's hidden away in a rather charming little hotel. (Check out the restaurant – you won't even have to make your own dinner). Another plus is that you can use all of the hotel's amenities and parking spaces are available – if you're bringing your wagon.
Image ©Airbnb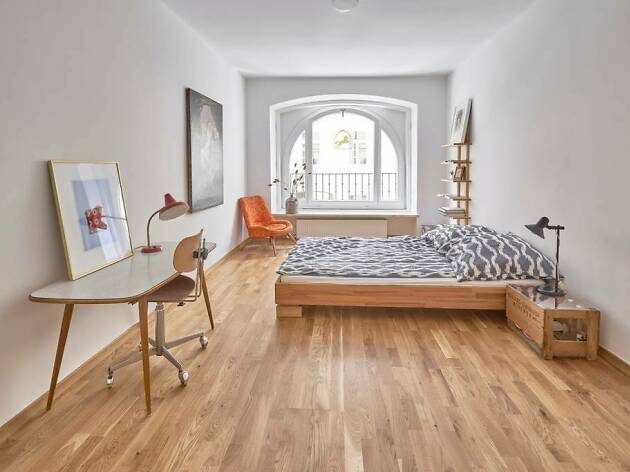 Eight-person-capacity art loft near Marienplatz
Although this loft is slap bang in the centre of Munich, it offers a bit of peace and quiet away from all that. In fact, not only does the apartment look stylish, but it's also situated above an art gallery. There are four bedrooms, six beds and contemporary decor. Plus, since this space is at the top of the building, with a roof terrace, light floods in. Bring on the AM.
Image ©Airbnb
This bright and breezy one-bed property is a good one for those who have culture on their to-do list: it's located in Maxvorstadt, a district north of the town centre that's filled with galleries, museums and other institutions. It's also where several universities are based, so expect lots of cafés and bars that are popular with students, too.
Image ©Airbnb
Inviting apartment near the train station
Travelling into Munich by train? No worries: there are plenty of Airbnb properties dotted around the Hauptbahnhof. This one's a little further afield, but we included it as it's so nicely decorated and furnished with lots of lovely houseplants. Art lovers, take note: it isn't far from either of the much-respected Pinakothek galleries.
Image ©Airbnb
Fresh apartment by Englischer Garten
Not only is this apartment undeniably wallet-friendly, it's trendy, too. The property sleeps two guests, has all of the useful amenities that you could need on a short break and a fantastic view of Englischer Garten. It's also located within close range of some must-visit Oktoberfest spots, including Chinese Tower (which has a great beer garden) and P1 (club).
Image ©Airbnb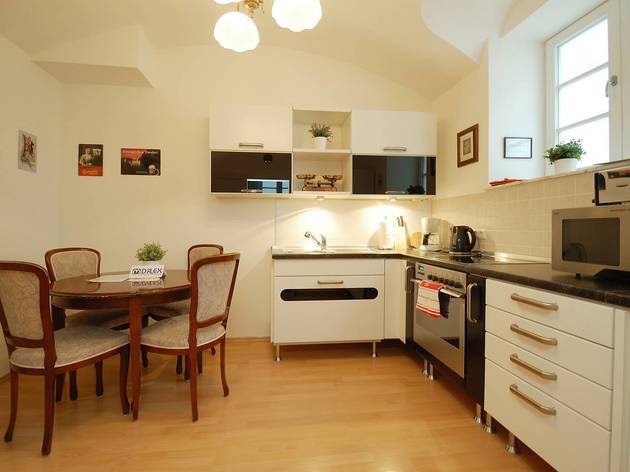 Family-friendly apartment in Bogenhausen
With two bedrooms, one of which contains three separate beds, this place is suitable for any large families visiting Munich. It's located in an art nouveau building in Bogenhausen, an area just east of the river filled with similarly picturesque buildings. On a budget? No probs – this Airbnb comes at fraction of the cost of a hotel, so you'll have plenty of cash left for currywurst.
Image ©Airbnb
Elegant duplex near Oktoberfest
This two-floor apartment in Maxvorstadt is very close to the Oktoberfest site, so it's a good one to consider if you're in town for the annual beer festival. The light coming in from those double-floor windows might have you squinting in the morning when you're hungover – but it makes for a bright, elegant, inviting property.
Image ©Airbnb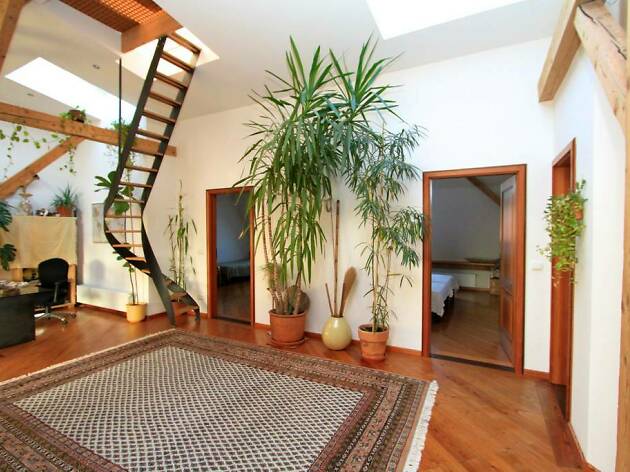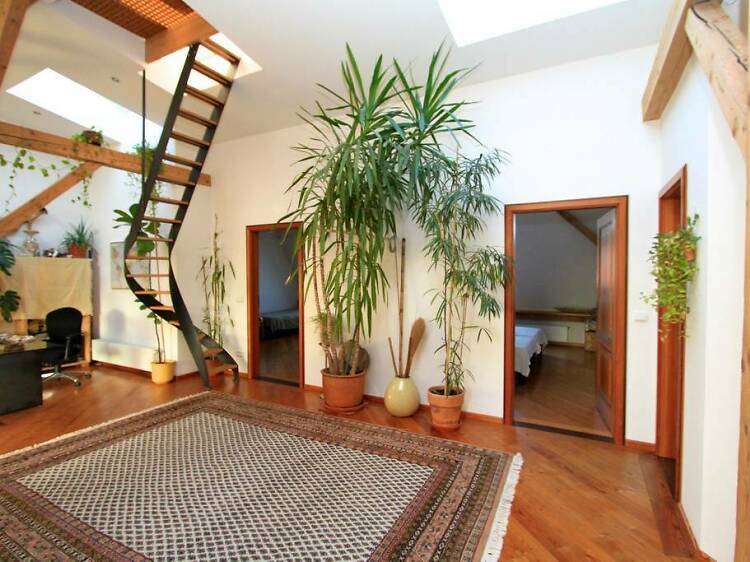 Upscale attic in the heart of Munich
You can find way more than the average hotel on Airbnb, and this apartment proves that spectacularly. It's bright, airy and full to the brim with plants; enough to make any green-fingered holidaymaker drool. Besides that, the spot looks unusual, with wooden features protruding from each corner like an indoor treehouse. The loft sleeps six guests and is only a short distance away from Oktoberfest, the Transport Museum and Fair Park.
Image ©Airbnb
Check out Munich's best hotels
Check out the best hotels in Bavaria's capital, from sleek design-forward hotels to boutique stays and historic venues