The best Airbnbs in Munich
Looking for a roof over your head in the Bavarian capital? Check out our list of the city's hottest properties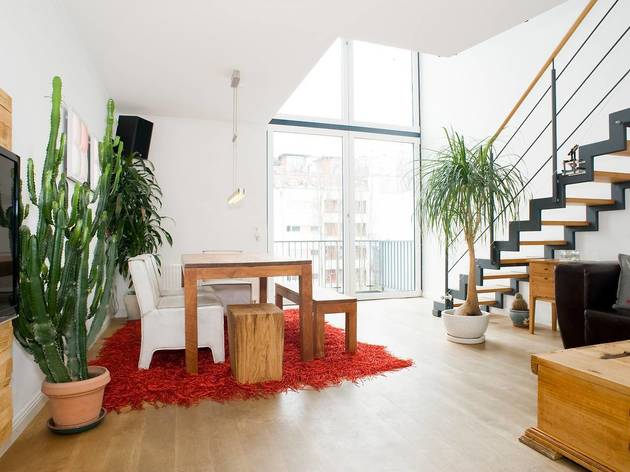 Not as cosmopolitan as Berlin, and a damned sight less raucous than Hamburg, Munich is often unfairly overlooked as a worthwhile destination. Which is a real shame, since Germany's third-biggest city has a lot going for it – and no, not just the yearly Oktoberfest. It's filled with pretty parks, elegant riverside walks, awesome attractions, a highly respectable art scene and, at Christmas, charming markets galore. And if you're look for affordable accomodation, an Airbnb property could well be a better choice than a hotel or B&B. We've rounded up the best Airbnbs Munich has to offer – take a look below!
The best Munich Airbnbs
This bright and breezy one-bed property is a good one for those who have culture on their to-do list: it's located Maxvorstadt, a district north of the town centre that's filled with galleries, museums and other institutions. It's also where several universities are based, so expect lots of cafés and bars that are popular with students, too.
Image ©Airbnb
One-bed apartment with loggia
Another property in Maxvorstadt – and one whose main selling point is the loggia area where visitors can sit back and enjoy the sunshine. (Check out the cute painting of the bloke on the scooter, too!) A pull-out bed in the living area means up to four guests can stay here.
Image ©Airbnb
Airy four-bed studio in Schwabing
This studio apartment is located at the very top of an apartment in Schwabing, an area that was once Munich's bohemian quarter, but is rather more chic these days. It might be bit of a slog getting up to this seventh-floor property (luckily there's an elevator) but the views of the genteel neighbourhood make it more than worthwhile, whatever window you're gazing out of.
Image ©Airbnb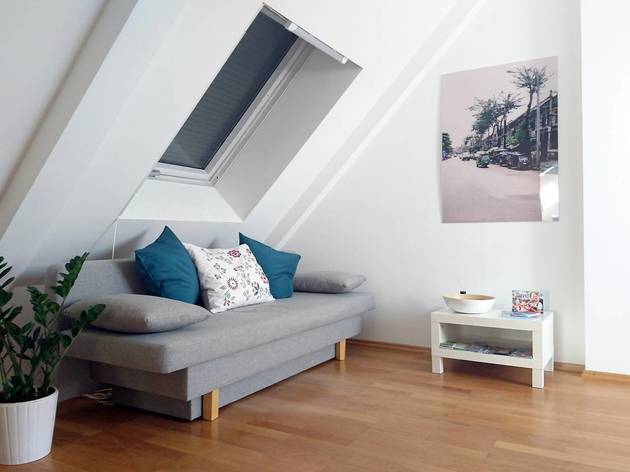 Top-floor apartment in Schwabing
This high-altitude apartment isn't far from Luitpoldpark, a pretty little 33-acre park that features a monument to World War Two made up the rubble of bombed buildings. There are plenty of excellent cafés and restaurants nearby, so you won't be short of places to eat. Good thing too, because sightseeing will have you more than peckish by the time the days out.
Image ©Airbnb
Homely apartment in Aldstadt
Germany properties more often than not have slick, if sometimes clinical decor. So if you want to stay in a place that has a more cosy and lived-in feel, then this place makes for a great choice. It's located in Munich's Old Town, a district filled with winding lanes, churches and medieval squares: a real slice of history. With space enough for two, beautiful parquet flooring and a quiet location, this Airbnb is perfect for a peaceful getaway.
Image ©Airbnb
Six-capacity loft near Marienplatz
Although this loft is slap bang in the centre of Munich, it offers a bit of peace and quiet away from all that. Being at the top of the building, with a roof terrace, floods of light gets in. There are two double bedrooms (one with an en suite) and a gallery space where two extra sleepers could potentially fit. The finish is all to the highest spec to boot.
Image ©Airbnb
Inviting apartment near the train station
Travelling into Munich by train? No worries: there are plenty of Airbnb properties dotted around the Hauptbahnhof. This one's a little further afield, but we included it as it's so nicely decorated and furnished with lots of lovely houseplants. Art-lovers, take note: it isn't far from either of the much-respected Pinakothek galleries.
Image ©Airbnb
Upscale apartment by Englischer Garten
Frequent Airbnb users will know that a hell of a lot of hosts describe their properties as 'luxury' – to varying degrees of accuracy. But we think this one truly earns its description: it's spacious, opulent and filled with high-end furniture and original works of art. And yes, you'll spending a little more – but spread across four guests, and it's still incredibly good value.
Image ©Airbnb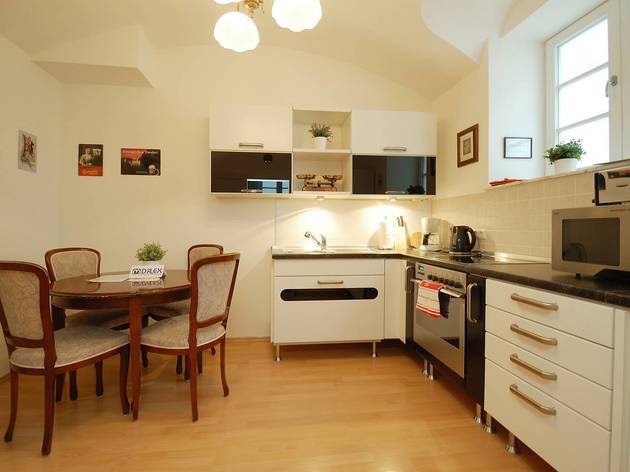 Family-friendly apartment in Bogenhausen
With two bedrooms, and one containing three separate beds, this place is suitable for any large families visiting Munich. It's located in an Art Nouveau building in Bogenhausen, an area just east of the river filled with similarly picturesque buildings. On a budget? No probs - this Airbnb comes at fraction of the cost of a hotel, so you'll have plenty of cash left for currywurst.
Image ©Airbnb
Elegant duplex near Oktoberfest
This two-floor apartment in Maxvorstadt is very close to the Oktoberfest site, so is a good one to consider if you are in town for the annual beer festival. The light coming in from those double-floor windows might have you squinting in the morning when you're hungover – but it makes for a bright, elegant, inviting property.
Image ©Airbnb
Two-bed penthouse in Haidhausen
Okay, here's one if you're willing to push the boat out. This two-bed penthouse is in the Haidhausen area, once working-class but now rather chi-chi – as this place attests to. From the timber-beamed ceilings to the spacious balcony, this is Munich at its most luxuriös. While the price may look a little daunting at first, divide the cost between four guests and things start looking a little more attractive.
Image ©Airbnb
Check out Munich's best hotels
Check out the best hotels in Bavaria's capital, from sleek design-forward hotels to boutique stays and historic venues
More to explore