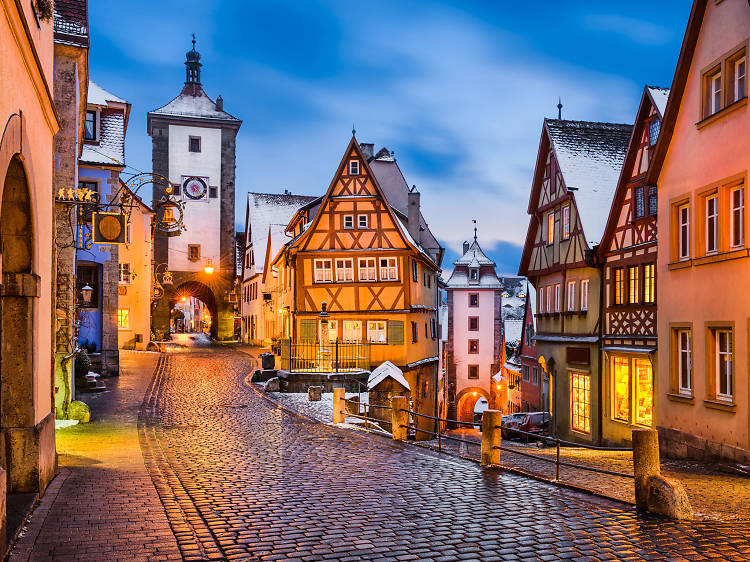 Photograph: Shutterstock
Altstadt
Visit the place where history, culture and shopping collide in Munich: the Altstadt. Any trip to the Old Town will reveal the city's grand past, owing to impressive buildings and their accompanying squares. Like Marienplatz, for instance, the central square is shadowed by the towering neo-Gothic town hall. Or Odeonsplatz to the north, which is flanked by the immaculately landscaped Hofgarten and the 19th-century revival architecture of the Bayerische Staatskanzlei (Bavarian state government office). Another marvel worth noting is the brilliantly ornate Residenz, which once housed the Bavarian royal family and hosted performances from Mozart. Not to mention all the shops, restaurants, bars and other attractions on offer.
STAY
For a spacious, modern, effortlessly stylish stay, head to Hotel Louis, which also has an in-house Japanese restaurant. To save your pennies for sightseeing, try Mercure's simple, clean and affordable central Altstadt outpost.
EAT
Kick off the day at Munich's most famous food market, Viktualienmarkt. Take a steady stroll around the stalls selling fresh and local produce, with specialities including bread, speck, Schweinshaxe (ham hock) and mushrooms foraged nearby. You'll also find Tian, a high-quality vegetarian restaurant. And if you want to feel like a royal, head to Brenner in the former stables of a royal palace.
DO
If our teaser about the Altstadt's miraculous architecture wasn't enough to whet your appetite earlier, let us elaborate. The buildings in the Old Town take in a wide range of periods and styles, from the Gothic, domed Frauenkirche to the largest Renaissance church north of the Alps (Michaelkirche). There's also history in bounds, so venture down to Marienplatz, where you can see sites that played a key role in the failed attempt of the Munich Putsch of 1923 – Hitler's attempted coup. Plus, on the northern end of Marienplatz is the Glockenspiel in the town hall, a cuckoo clock dating to 1908. With two or three shows daily (depending on the season), this clock depicts the city's history in 43 bells and 32 life-sized figures.
If you only do one thing...
Clamber to the top of St Peter's for breathtaking views across Altstadt. But be warned: there are 299 steps to conquer.