Heads up! We're working hard to be accurate – but these are unusual times, so please always check before heading out.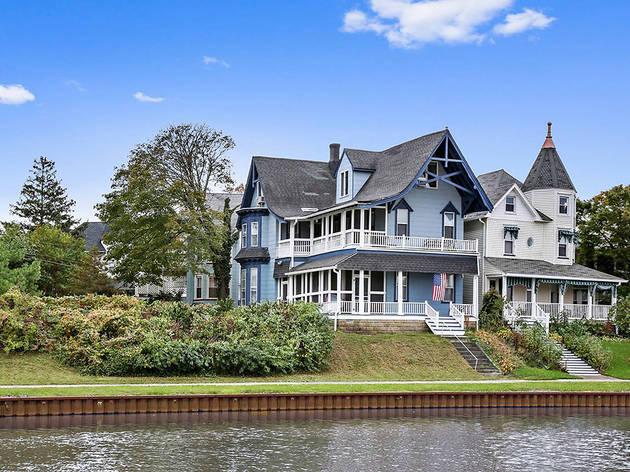 14 amazing Jersey Shore Airbnb rentals
Get your fill of sand and sun during a stay at one of these awesome Jersey Shore Airbnb rentals
When the best beaches in NJ are calling your name, book one of these Jersey Shore Airbnb rentals and hightail it out of town for the weekend. As far as summer getaways from NYC go, it doesn't get much more convenient than the Shore. Soak up the sun while staying in one of these gorgeous beach houses, from beautifully restored historic homes to adorably kitschy cottages. Whether you want to vacation in Cape May, Asbury Park or Seaside Heights, you're sure to find accommodations that fit your budget and style on this list. Pack a bag of summer essentials and you're ready for warm-weather fun!
RECOMMENDED: Full guide to the best hotels in New Jersey
Jersey Shore Airbnb rentals
Photograph: Courtesy Airbnb
1. Historic Cape Cod in Wildwood, NJ
Fifties charm is everywhere in this two-bedroom duplex apartment: Natural pine woodwork accents liven up the master bedroom, pale peach walls add a sense of whimsy to the front porch and the checkered floors in the kitchen are cute as a button. From $135 per night
Photograph: Courtesy Airbnb
2. Cozy Belmar Apartment in Belmar, NJ
Both the interior and exterior of this one-bedroom apartment are enviable. Inside, vaulted ceilings let in plenty of natural light and a boho decorating scheme creates a beachy vibe. Outside, a private balcony offers views of the beach, while a spacious backyard features an outdoor shower that you can use to rinse off the sand. From $225 per night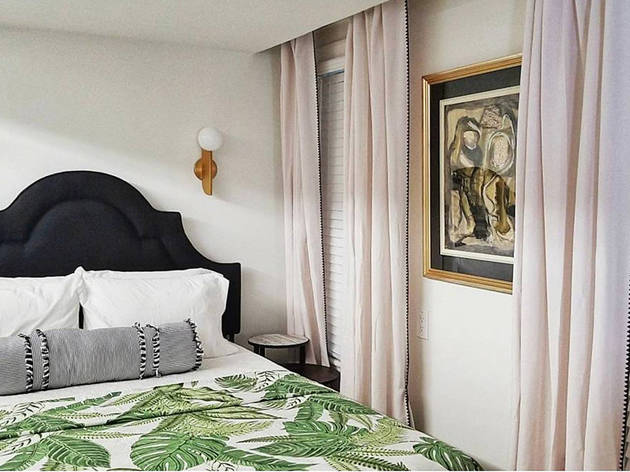 Photograph: Courtesy Airbnb
3. Luxury Seaside Studio in Neptune Township, NJ
Not far from Ocean Grove or Asbury Park, this quaint studio is serving some seriously stylish vibes. Between the palm print bedspread, funky geometric rug and mid-century modern furniture, it's safe to say that this apartment is Instagram-friendly. From $95 per night
Photograph: Courtesy Airbnb
4. 121 Auburn Road in Beach Haven, NJ
The best part of this house is undoubtedly the view: It overlooks a lagoon full of local boats and docks. You could easily pass a summer afternoon on the sunny second-floor deck. Barnegat Lighthouse State Park is also quite close! From $94 per night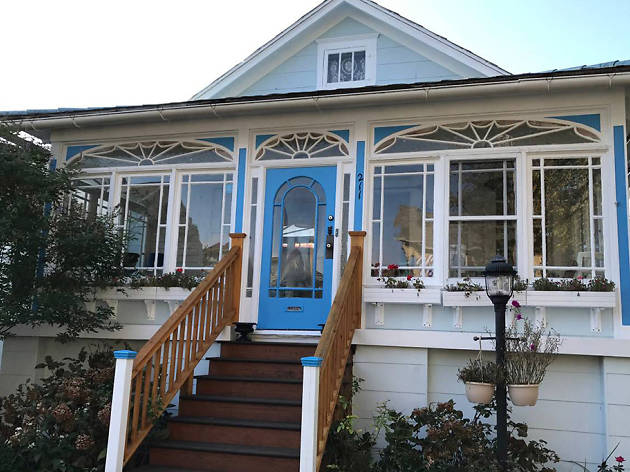 Photograph: Courtesy Airbnb
5. Cape May Beach Getaway in Cape May, NJ
This sweet Victorian still has plenty of old-fashioned charm, but luckily has been retrofitted with central air conditioning and an updated kitchen. It's also easily walkable from the beach—if you leave the windows open at night, you can fall asleep to the sound of the waves crashing on the sand. From $200 per night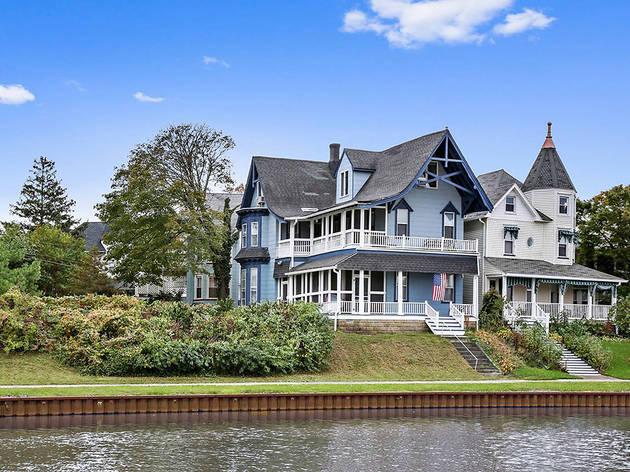 Photograph: Courtesy Airbnb
6. Beautiful Lakefront Victorian with Balcony City Views in Ocean Grove, NJ
A big family or group of friends might want to rent out this massive Victorian overlooking the lake that sleeps as many as 10 people. Multiple decks offer plenty of outdoor space for evening cocktails or card games. From $195 per night
Photograph: Courtesy Airbnb
7. Love in a Mist Cottage in Stone Harbor, NJ
This adorable little cottage is just a few blocks away from the beach, local restaurants and lots of shops, so you won't run out of things to do during your stay. Vintage art, rustic furnishings and nautical-themed knick-knacks give the interiors a shabby-chic vibe. From $169 per night
Photograph: Courtesy Airbnb
8. Charming Carriage House in Asbury Park, NJ
Just three blocks from the beach and boardwalk in Asbury Park, this cute carriage house has plenty of vintage charm. Unlike other beach rentals, it's also quite spacious: Five people would fit quite comfortably in the three bedrooms. From $400 per night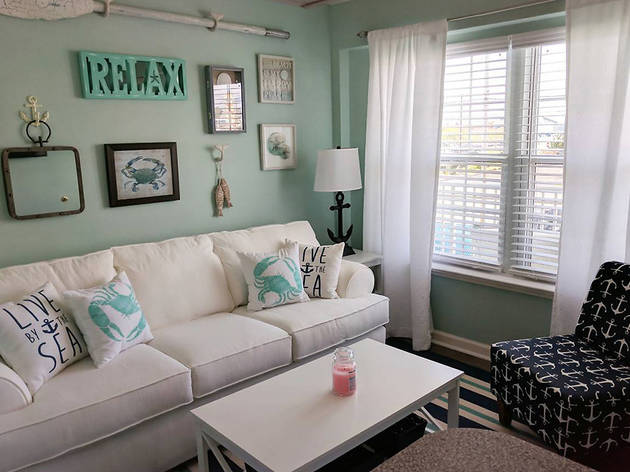 Photograph: Courtesy Airbnb
9. Newly Remodeled Bright, Beachy Condo in Wildwood, NJ
Not only is this Wildwood condo within walking distance of the boardwalk, but it also has a pool. Yep, you read that right! The sun deck, fire pit and sea-themed decor sweeten the deal. From $175 per night
Photograph: Courtesy Airbnb
10. One Bedroom Unit in Cape May, NJ
If you prefer classic elegance over kitschy seashell decor, you might like the one-bedroom Parlor Suite in the stately Columbia House. With stained glass windows, an oversized mahogany headboard and a velvet empire couch, this suite feels seriously luxe. From $225 per night
Photograph: Courtesy Airbnb
11. House on 16th Street in Avalon, NJ
Weathered wood planks line the walls in this Avalon home, giving it a rustic feel. Big groups would be right at home here: Though it only has three bedrooms, there are actually six beds that allow up to eight people to sleep comfortably. From $415 per night
Photograph: Courtesy Airbnb
12. Near Beach Town and Tennis in Spring Lake, NJ
This bright white four-bedroom home comes with everything you need to enjoy the nearby beach, including paddleboards, wetsuits, surfboards and a four-person surrey bike. When you're not at the beach, there's plenty of room to hang out in the verdant backyard filled with Adirondack chairs. From $499 per night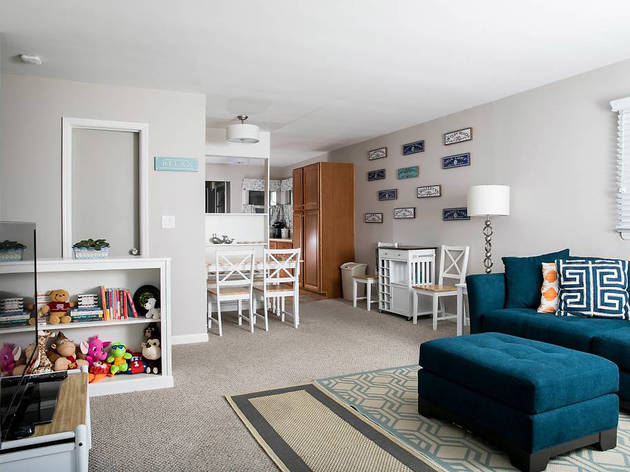 Photograph: Courtesy Airbnb
13. Stylish Four Bedroom in Point Pleasant Beach, NJ
Traveling with little ones in tow? You might want to rent this four-bedroom home in family-oriented Point Pleasant Beach. It's full of kid-friendly touches, from a shelf full of board games and stuffed animals to bunk beds that littles will love. From $158 per night
Photograph: Courtesy Airbnb
14. Gorgeous Two-Bedroom Cottage in Seaside Heights, NJ
Though you likely recognize this Jersey Shore town as the location of MTV's iconic reality TV show, this two-bedroom home is a big step up from bungalow where Snooki, the Situation and the rest of the gang crashed. The color scheme of sandy neutrals and pale blues feel calm and refined, though you're not far from the craziness of the boardwalk. From $175 per night
Explore more of New Jersey