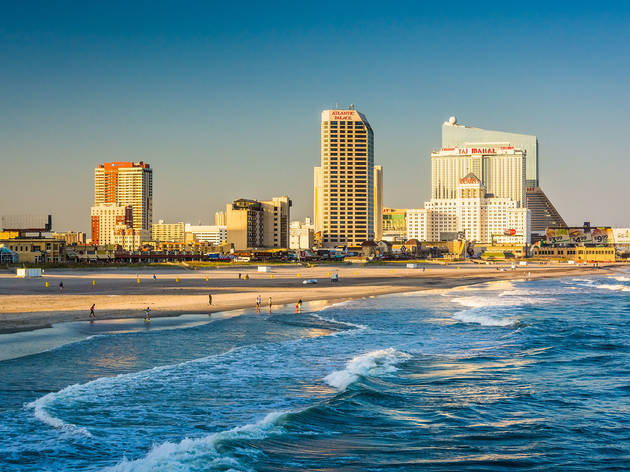 The 15 best beaches in New Jersey
From pristine white-sand beaches to surf spots and attraction-packed boardwalks, here are the best beaches in New Jersey
In some places, beach towns all run together. Sky. Water. Sand. Check. Not so at the Jersey Shore. From retro swimming spots dotted with hotels, bars and restaurants to hidden beaches tucked just out of sight, the state's best swimming destinations are big on personality and great things to do, kind of like Jersey itself. The coastal scene has legit beach cred. Case in point: The very first boardwalk in the United States graced Atlantic City's oceanfront way back in the summer of 1870. In that sense, our collective idea of the American seaside experience has its origins here. Your mission: Swim. Sun worship. Repeat. Then on to the next. There are enough beach experiences here to fill a vacation…or a season.
Best beaches in New Jersey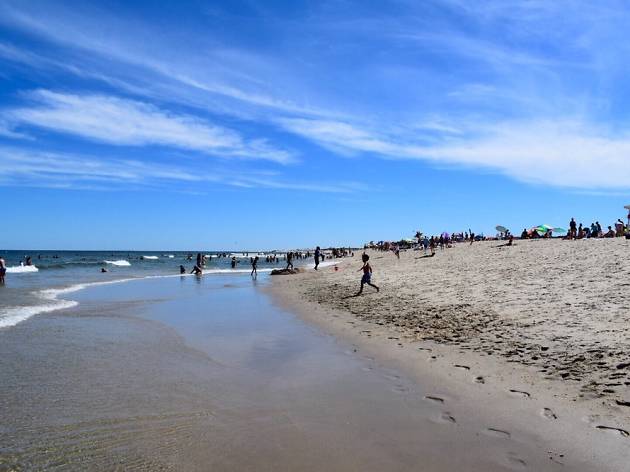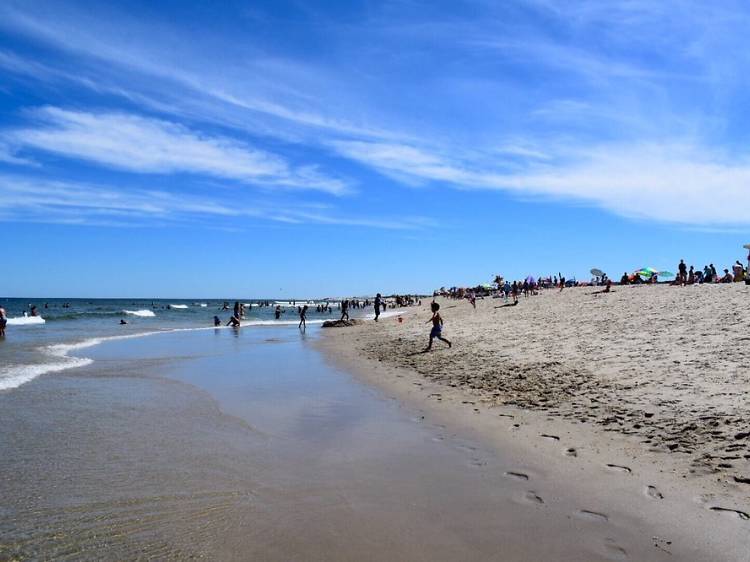 Photograph: Courtesy Yelp/Andrea G.
What is it? If variety's the spice of summer, this is an oceanside wonderland. Part of the National Park Service's Gateway National Recreation Area, Sandy Hook offers a range of beach experiences—including one for the tan-line averse. Gunnison Beach is the only nude beach in the state.
Why go? When you tire of swimming, ride bikes, explore the ruins of Fort Hancock, watch for migrating seabirds or head to the peninsula's tip for NYC skyline views.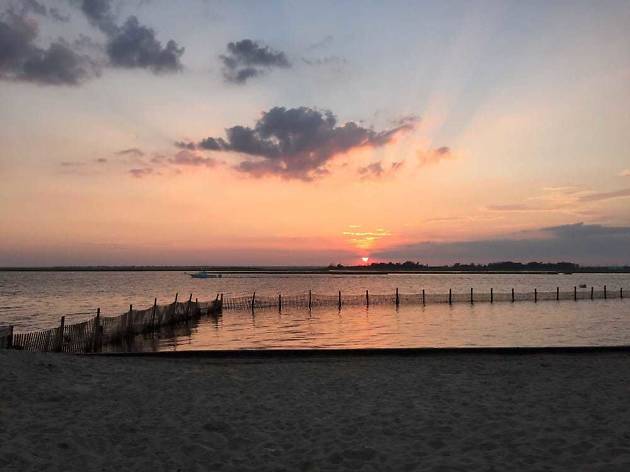 Photograph: Courtesy Yelp/Marilen R.
What is it? LBI is a choose-your-own adventure destination. Head north to Barnegat Light to climb Old Barney lighthouse, then hop rocks along the Jetty Walk for wall-to-wall ocean and bay views and tidal pool wonders. Or veer South to Holgate for waves. In between, 18 miles of beaches beckon.
Why go? New energy is remixing life off the beach, from beach yoga and craft brews from Ship Bottom Brewery to creative eats.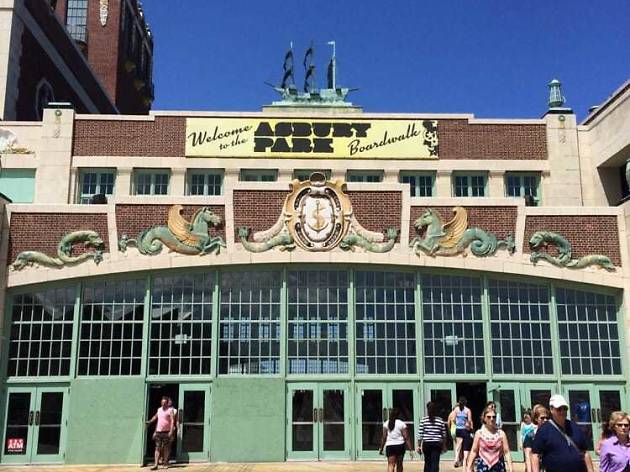 Photograph: Courtesy Yelp/Mike C.
What is it? Befitting this cool-kid city by the sea, the Asbury beach scene blends R&R with an indie vibe. Show up early to claim sand but leave time to explore the boards. Your agenda: Sip craft coffee from High Voltage. Lunch on Korean tacos from MOGO served from a shipping container. Then kick back and take in the scene. Watch for Friday bonfires on the beach.
Why go? Come one. Come all. You won't find a more inclusive beach in Jersey.
Photograph: Courtesy Yelp/Tyler L.
4. Sunset Beach, Lower Township
What is it? This beach is a gem, (almost) literally. Rocked into shape as they roll down the Delaware River, the quartz stones known as Cape May Diamonds mimic the real thing. They're popular with bayside beachgoers, who scan the shoreline for their telltale glint. The other attraction? Stunning sunsets over a river vista.
Why go? As the sun drops, remains of the mostly sunken USS Atlantis, a WWI-era concrete ship, make for an Instaworthy silhouette.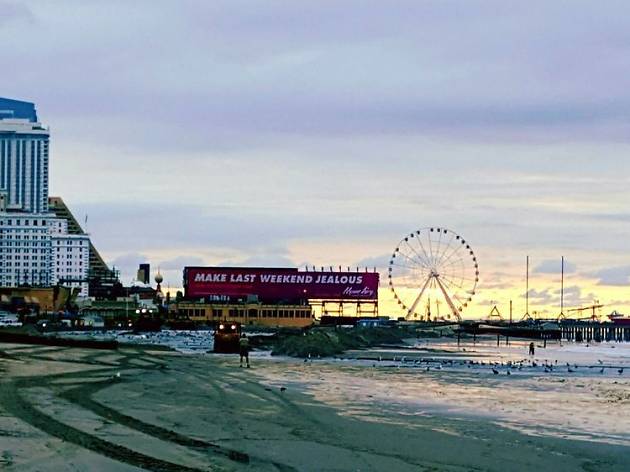 Photograph: Courtesy Yelp/Jim D.
What is it? Here's one way to lose your shirt in AC that won't bring regret. Even as the casinos ebb and flow, the beach remains a draw—especially with the 2017 opening of the Wheel at Steel Pier. At 227 feet high, its gondolas offer endless views over land and sea, and of the groundbreaking boardwalk that changed America's idea of what the shore could be.
Why go? Beyond swimming and gaming, AC has an amazing Vietnamese food scene.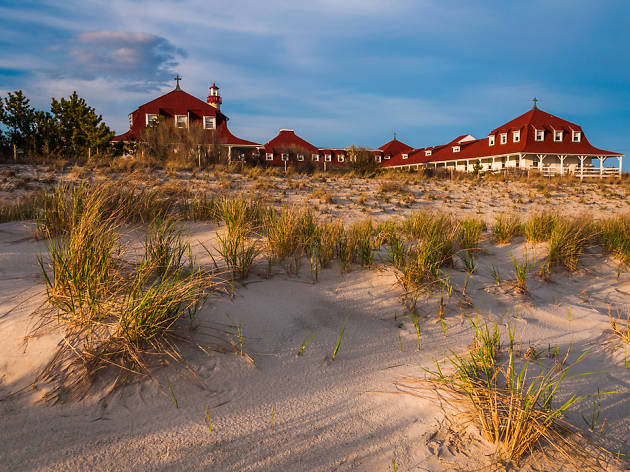 Photograph: Shutterstock
What is it? A beach day here has the feel of time-traveling, right down to the gingerbread Victorians that hearken to this seaside resort's prior heyday. To sunbathe like the other half does, stay at glitzy Congress Hall and take advantage of their luxe beach service, featuring candy-striped loungers, umbrellas and beach tents.
Why go? A blend of history and relaxation sets Cape May apart, down to the horse-drawn carriage rides through town.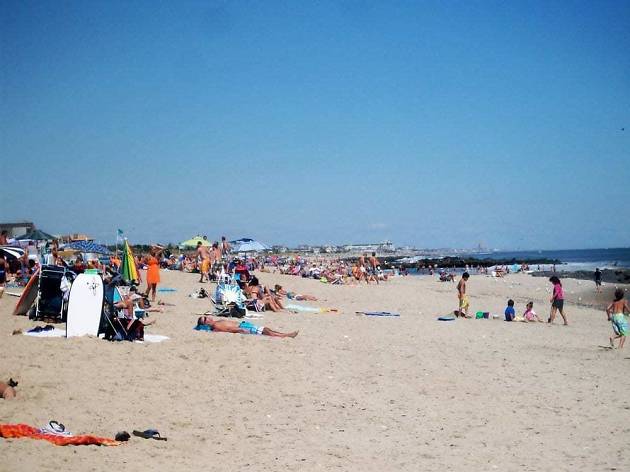 Photograph: Courtesy Yelp/AI F.
What is it? Experienced Jersey surfers head to Inlet Beach, where breaks roll off of the jetties. Some deem this one of the best surf spots on the East Coast. Fair warning: that means it can get crowded, so beginners may want to build skills elsewhere. The good news: Fall marks Jersey's prime surf season, with hurricanes common offshore.
Why go? It may not be the tropics, but it's local.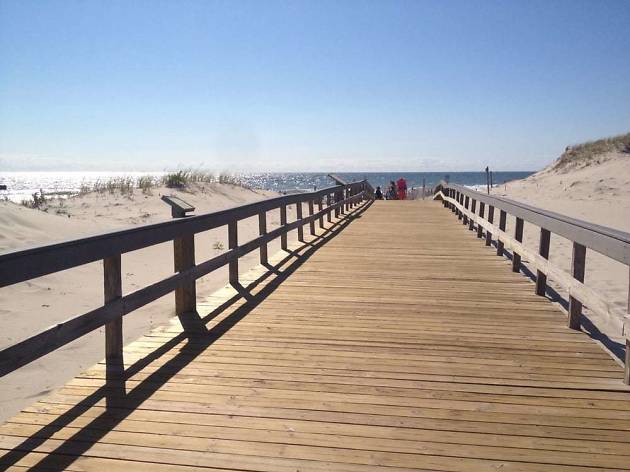 Photograph: Courtesy Yelp/Kamini K.
8. Island Beach State Park
What is it? You may know this spot for a now infamous helicopter photo of New Jersey's former governor lounging beachside during a state shutdown. Cast it aside. This undeveloped park is all about communing with nature and imagining what the coast was like before we got here.
Why go? Nature-lovers can join walking and kayak tours that reveal a fascinating ecology on water and land. Sandy trails are meditative—just be sure to pack bug spray.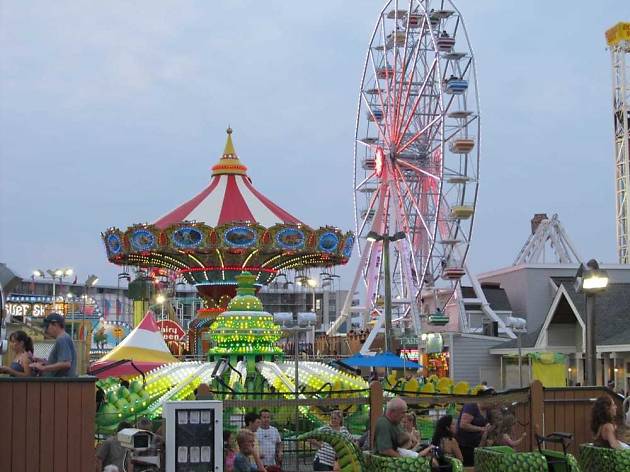 Photograph: Courtesy Yelp/Pinky and The B.
What is it? If you take your SPF with a side of nostalgia, Ocean City is for you. Touted as "America's Greatest Family Resort" (which boardwalk speakers remind you on a 20-minute cycle) this busy beach is family friendly to the extreme. Firstly, it's a dry town. It's also packed with amusements and big on whimsy. During August's Weird Week, folks compete in events like taffy sculpting.
Why go? Sometimes, old-fashioned fun is good for the soul.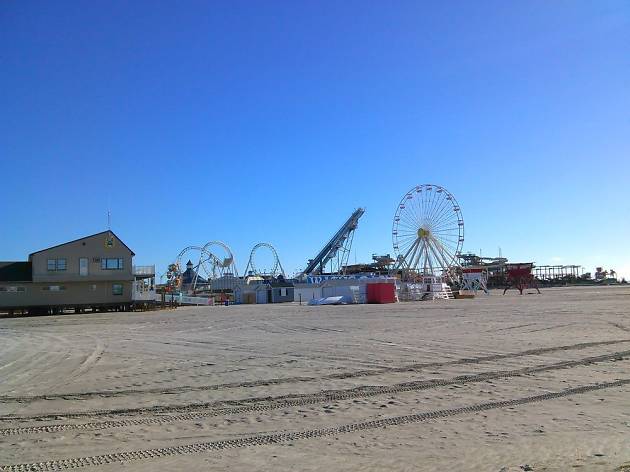 Photograph: Courtesy Yelp/Carlo D.
What is it? Hikers will appreciate one of Wildwood's distinct seaside attributes: a long, long walk from the attraction-packed boards to the white-sand beach. (Cover those feet for the trek.) That means there's plenty of room to carve space in the sand. Watch for kitschy competitions, from cornhole to sandcastle-building.
Why go? Wildwood's beaches are free, no badge required, and you can bring your pup to the designated dog beach. Look for the larger-than-life red fire hydrant.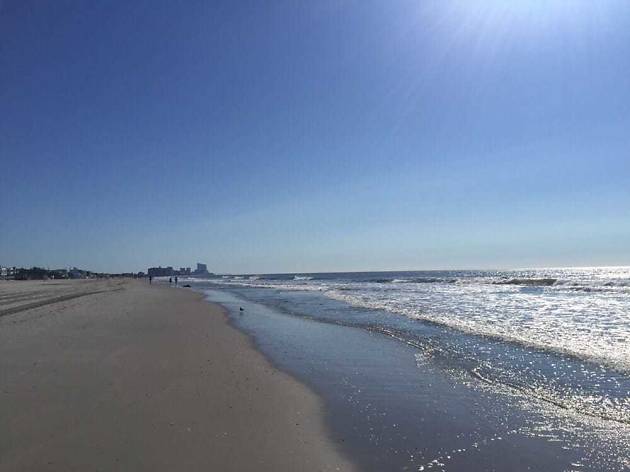 Photograph: Courtesy Yelp/Alfred G.
What is it? Though it's close to Atlantic City, Margate offers a taste of the local's beach scene. Ironic, given that the town is home to roadside attraction Lucy the Elephant, a six-story pachyderm "born" in 1881 that looks out to sea.
Why go? Stripped down and focused on the water, this is the Jersey Shore as those who live here know and love it. Be sure to visit the bayside of town for dinner and drinks over the water.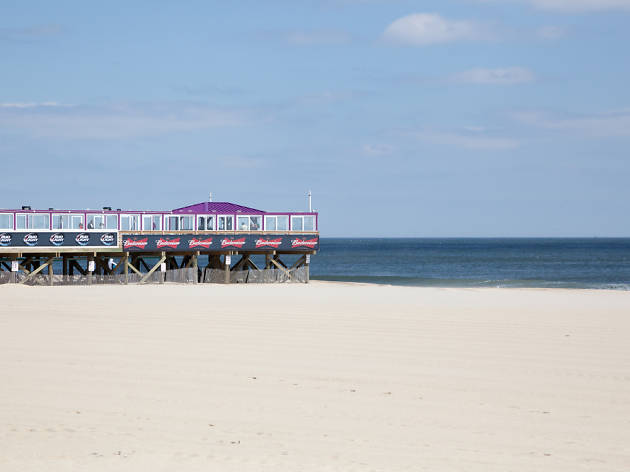 Photograph: Shutterstock
What is it? Point Pleasant Beach is like a microcosm of the Jersey Shore: blending two miles of sand with boardwalk attractions, beach bars and an energetic crowd. Whether you want to lay on a blanket and watch the waves or engage in an epic round of mini-golf, you're covered. If you like raucous, Martell's Tiki Bar brings your beach outing from day to night.
Why go? After a swim, you can commune with the fish at Jenkinson's Aquarium.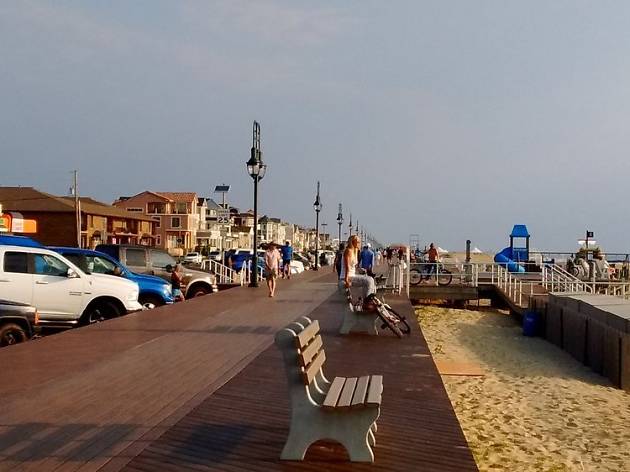 Photograph: Courtesy Yelp/David H.
What is it? Consider this the extrovert's beach. You'll know you're in the right place when you attempt to park, which can feel like a video game. Yet there's a reason Belmar's popular: a draw for young singles, it's increasingly family friendly, with playgrounds galore.
Why go? Known for party boats and a club scene anchored by D'Jais, Belmar still has laid-back charm. Find it at eateries like Hoagitos (home of the wee sub) and its local brewery, Beach Haus.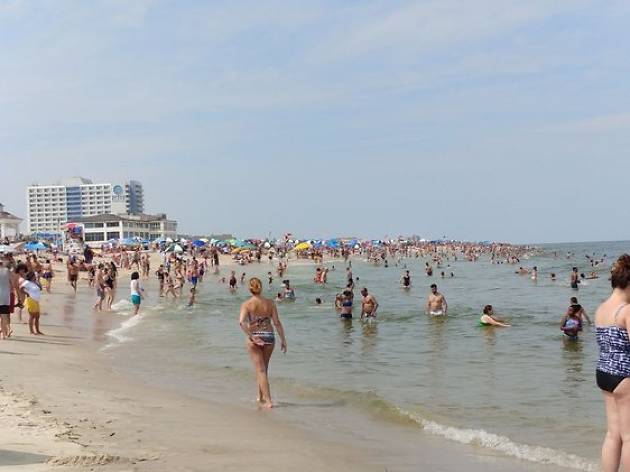 Photograph: Courtesy Yelp/Taiyyab Z.
What is it? Though it has changed post Superstorm Sandy, its string of black jetties buried, Long Branch is vibrant with a mix of locals and New Yorkers who come for the day.
Why go? Nostalgic types swim at bucolic Seven Presidents Park, named for the string of American leaders who vacationed here during the seaside town's Victorian heyday. A Long Branch fan since 1869, President Grant declared this the nation's "summer capital." Who are we to argue?
Photograph: Courtesy Yelp/Diana N.
What is it? Popularized by the MTV reality series that shall not be named—let's call it Garden State Beach—Seaside offers grit alongside kitsch. Boardwalk touts lure passersby as go-kart riders squeal. A 60s-era sky ride glides above the boards offering 360° views. Meanwhile, the waves roll in and out with the tide. Bring cash for your beach pass.
Why go? Sometimes cheesy is fun. Speaking of, be sure to get a boardwalk slice at Maruca's Tomato Pies.
More of the best in New Jersey
This state's huge—and dare we say, underrated—cities are home to fabulous hotels and restaurants, vibrant art scenes, deep forests with twisting trails, the beach, world-class museums and heritage sites that tell the state's story while maintaining a modern heartbeat.
From affordable neighborhood joints to high-end temples recognized on the national scene, New Jersey's restaurants reflect its ranking as one of the most culturally and socioeconomically diverse states in the nation.
With options including Airstream trailers, safari tents, carriage houses or modern luxury with top-notch restaurant attached, it could be very hard to choose from our pick of the best places to stay, but, the cool thing about Jersey? It's easy to mix it up, so you don't have to choose.
Best selling Time Out Offers