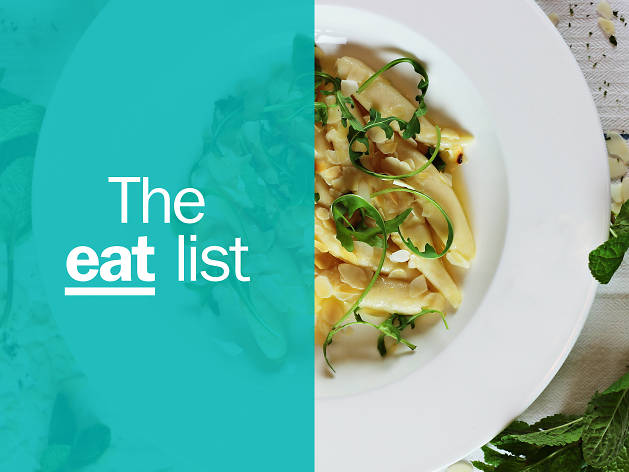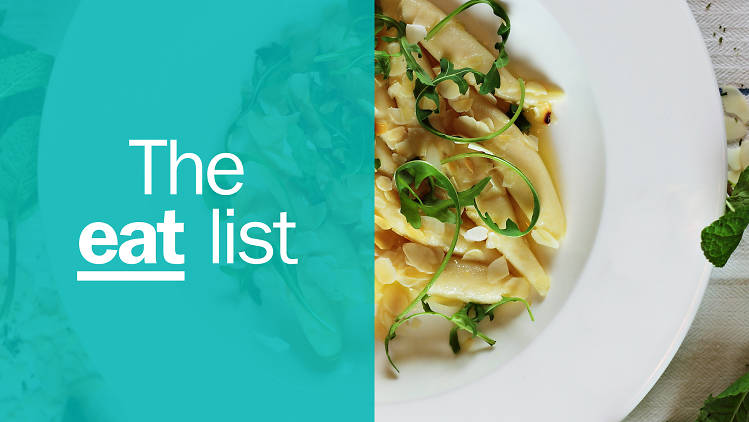 The 15 best restaurants in New Jersey
From old-school purists to the new guard, chefs at the best restaurants in New Jersey merge a local and global perspective
You can tell a lot about New Jersey by the polarity of its nicknames. The Garden State. Dirty Jerz. But want to know a little secret? Both are a badge of pride. Locals know that this densely packed state has a ton of great things to do, not least of which is gorging on amazing food. Sure, New York and Philly are in Jersey's backyard, and locals are happy to take advantage of that. But there's no need to cross a bridge to find incredible meals. Book a hotel—and some world-class dining experiences—right here in Jersey.
From affordable neighborhood joints to high-end temples recognized on the national scene, New Jersey's restaurants reflect its ranking as one of the most culturally and socioeconomically diverse states in the nation. So, dust off any preconception that it's all diners and pizza parlors—though they're here, and amazing. In New Jersey, there are a million ways to feast.
Best restaurants in New Jersey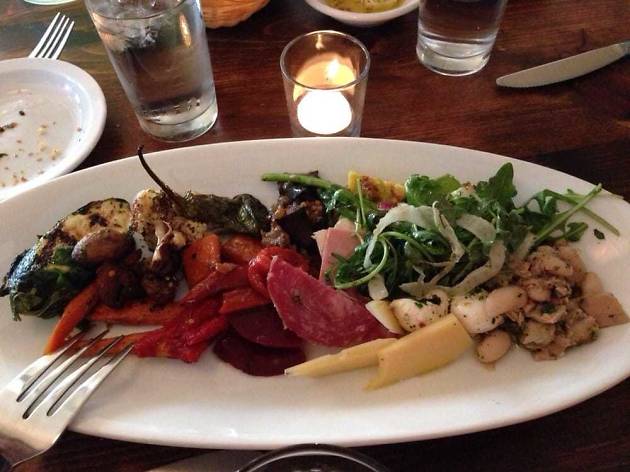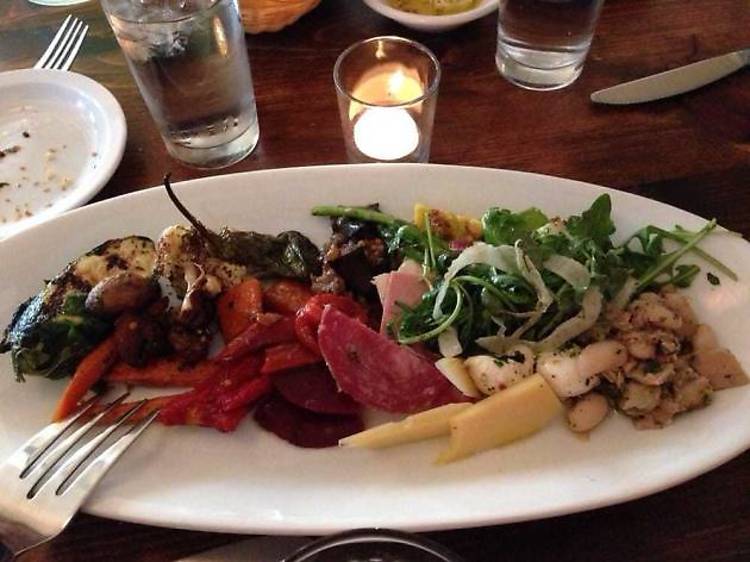 Photograph: Courtesy Yelp/Kathleen D.
Where: Collingswood
NJ is a red sauce and mozzarella kind of state, with Italian-American restaurants dotting every street corner. At Chef Joey Baldino's Zeppoli, however, Sicily is the muse. With just 35 seats, this spare-yet-warm space skips white-tablecloths and pretense. All the better to savor the magic emerging from the open kitchen: panzanella with Sicilian anchovies, classic spaghetti vognole, stewed rabbit perfumed with oregano and rosemary. The Sicilian Fisherman's stew is haunting.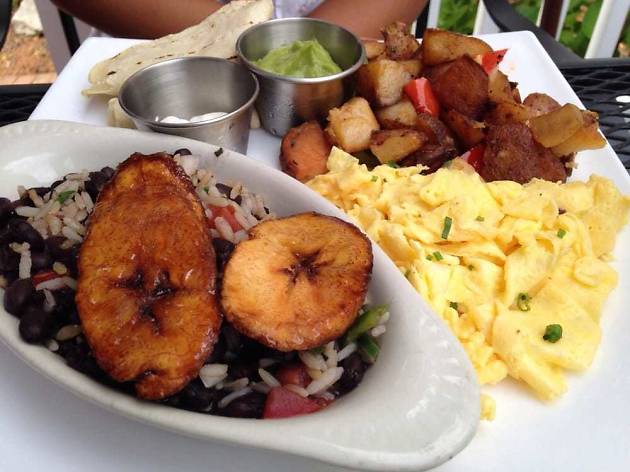 Photograph: Courtesy Yelp/Joseph L.
Where: Cape May Point
As far south in Jersey as you can get, the Red Store can be summed up in a word: personal. Chef Lucas Manteca checks those local, seasonal boxes, but his true inspiration is his own: his Argentinean roots. By day, the space is a general store and brunch spot, albeit one with killer empanadas the in-the-know crowd packs for the beach. During weekend supper clubs, the lights are dimmed, and multi-course meals evoke Manteca's journey.
Photograph: Courtesy Yelp/Diana S.
3. Pancho's Mexican Taqueria
Where: Atlantic City
If hype from chefs David Chang and Michael Solomonov doesn't get you to Pancho's Mexican Taqueria, let it be this: tender, melting lengua tacos that rival any in the state. If beef tongue's not your jam, you'll find pollo (chicken), saudero (brisket), chivo (goat) and the rest. Space is tight, and languages swirl amid the hum from a buzzing cooler of Jarritos and pops from the grill. The magic ingredient? A waiting bowl of masa harina—tortillas here are made to order.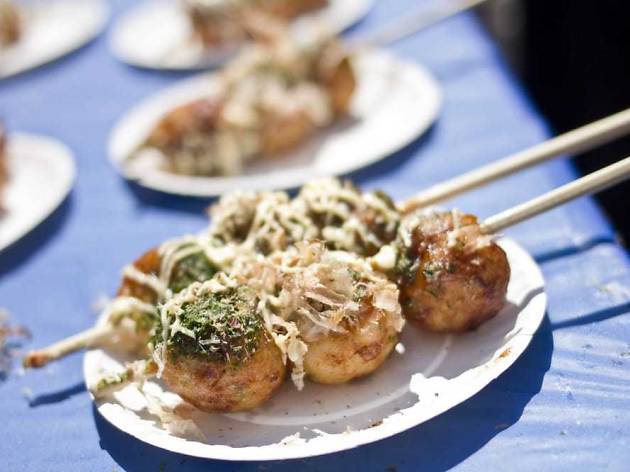 Photograph: Courtesy Yelp/Lori L.
Where: Edgewater
The only East Coast location of this chain of Japanese markets draws hungry shoppers. From sake to soba, the Mitsuwa Marketplace is legit, but the real draw is a food court with more than a dozen vendors. Start with eel or Spam onigiri (rice balls) from Omusubi Gonbei or slurp spicy miso ramen from Santouka. Save room for Matcha Love by Ito En soft serve. Lines thread on weekends but go fast. Bring cash.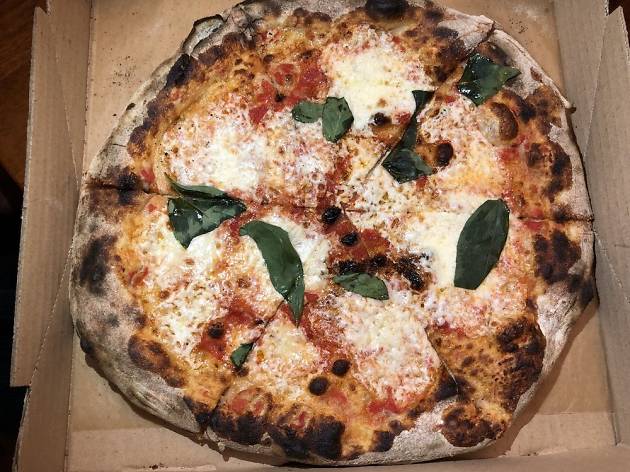 Photograph: Courtesy Yelp/Jerry L.
5. Razza Pizza Artigianale
Where: Jersey City
Utter the phrase "best pizza" in Jersey and know this: those are fighting words. From thin, Trenton-style pies to foldable boardwalk pizza, everyone has their favorite. Yet talk to the rising guard in food, and Dan Richer's name inevitably comes up. The Jersey native hones his craft in a 1,200-square-foot space dubbed Razza Pizza Artigianale, guided by a seasonal perspective that's earned him multiple James Beard nominations. It may seem weird to order bread before pizza. Do it anyway.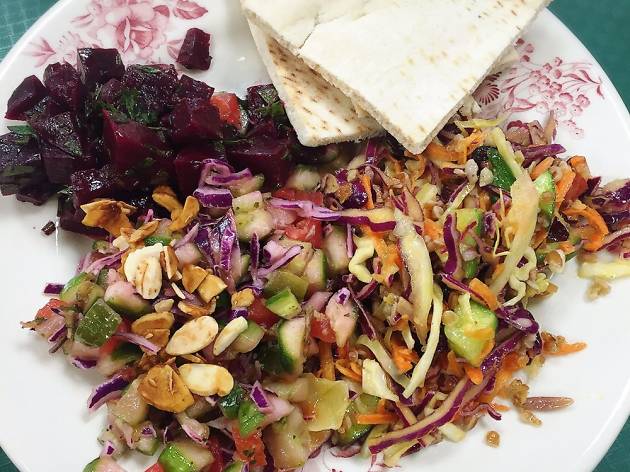 Photograph: Courtesy Yelp/Farrah F.
Where: Highland Park
For the best international lunch in the state, head to church—or at least the converted sewing room of this interdenominational congregation. Each day, cooks from around the world serve dishes that evoke home at Global Grace Café, from Chef Najla's Syrian shakshuka and fattoush to Indonesian chicken curry and Congolese beans and rice. Proceeds from the operation support immigrant and refugee initiatives in the local community.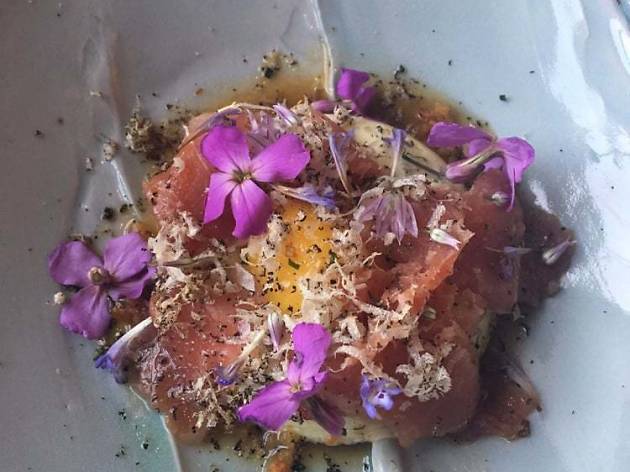 Photograph: Courtesy Yelp/Kaitie R.
Where: Princeton
For one blow-out meal, head to Elements. Chef Scott Anderson's food is modernist and technical, yet sensitive, too. Evolving seasonally, dishes emerge synchronized from an open kitchen. This is a game of focus and skill, with surf clam, black cod and smoked quail eggs cooked to evoke something essential about them—and about the chef. If laid-back yet refined is more your style, head downstairs to sister restaurant Mistral, which serves small plates and killer cocktails.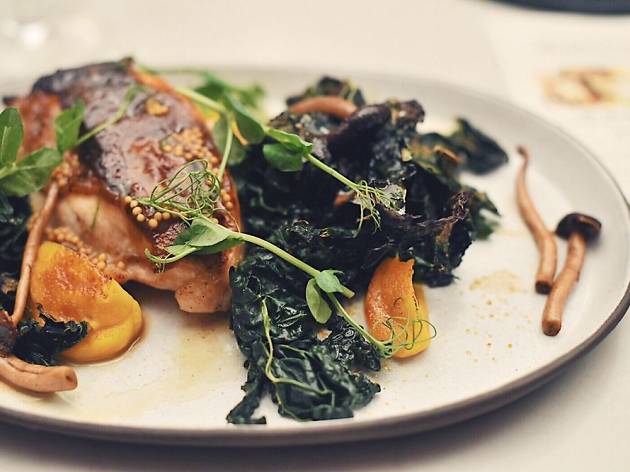 Photograph: Courtesy Yelp/Neilly R.
Where: Old Bridge
David Viana is a rising star, and a frequent featured chef at Manhattan's James Beard House of late. Here's why: for as artistic as his food is, flavor is paramount. During weekend supper clubs, Viana feeds eyes and bellies with dishes like spring pea tart with mascarpone and steak tartare with chimichurri. Weekdays, Heirloom Kitchen converts into an indie cooking school. It says something when a kitchen is willing to share its secrets.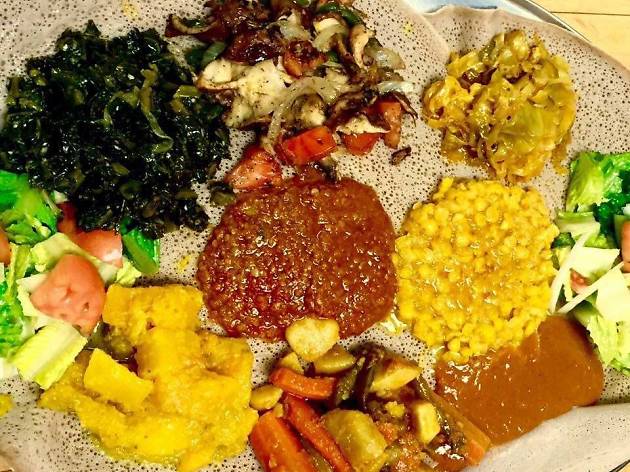 Photograph: Courtesy Yelp/Muller G.
Where: Long Branch
If food is love, Ada's Latin Flavor proves it. When cooking has heart, it doesn't matter where it comes from. But if you want the backstory: Ethiopian immigrant Adanech (Ada) Asghedom purchased a Dominican restaurant at the Jersey shore. Rather than overhauling the menu, she embraced it, while introducing Ethiopian cuisine. The result is a friendly, unique spot where you can savor a side order of mofongo or pastelon with your doro wat and injera.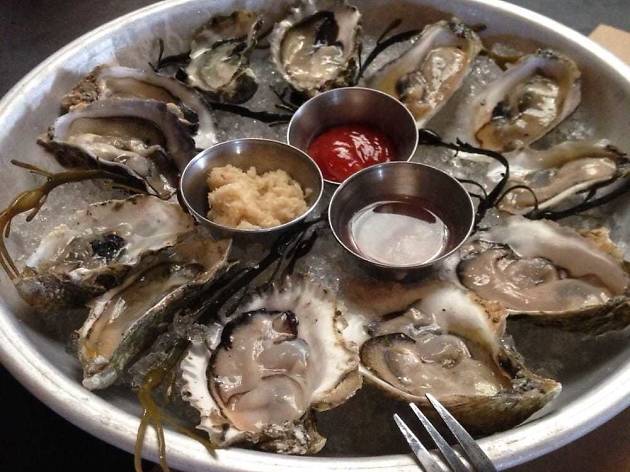 Photograph: Courtesy Yelp/Monika D.
Where: Manahawkin
Situated alongside a salt marsh, where sunlight glints off the water and reeds sway, the Old Causeway evokes the landscape it celebrates. Here, the seafood is local, and the craft beer game is strong without getting overly esoteric. Perhaps that's why people flock here. Order a dozen local oysters, sip a Jetty Hop Rock IPA and gaze out the windows as the light changes; then get the oyster po' boy as your main.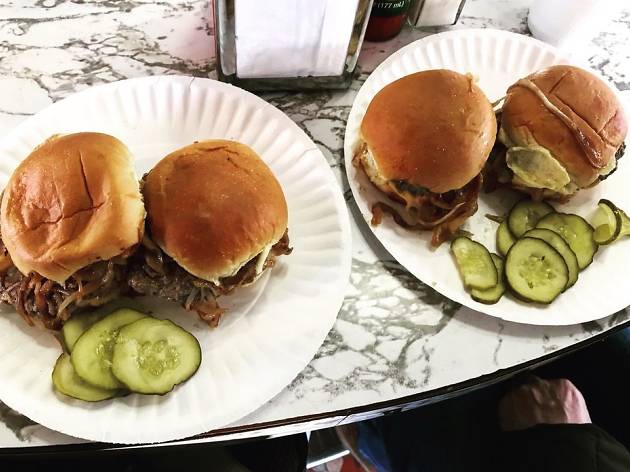 Photograph: Courtesy Yelp/Rachel L.
Where: Hackensack
One could spend an eternity exploring Jersey's diners—but they're not the only old-school game in town. At White Manna, the menu is as diminutive as the red-and-chrome shoebox of a space, circa 1939. Fair warning: there may be a line out the door, but who cares? Caramelized onions smashed into fresh beef on a slider-sized potato roll with cheese is as classic as it gets. Ask for extra pickles.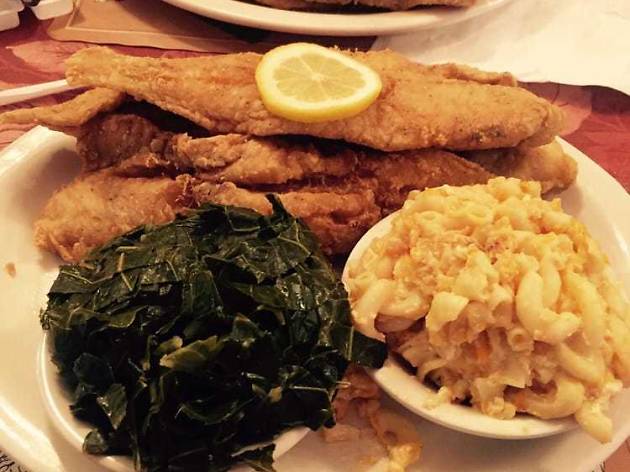 Photograph: Courtesy Yelp/Trap S.
Where: Camden
If there's one thing Jersey, it's soul. And when it comes to soul food, a beloved spot in Camden draws raves for its loving homecooked renditions of collard greens, smothered pork chops, fried catfish and southern veggies. In a pastel-hued dining room with banquet chairs, Chef Corinne Bradley-Powers creates a come-one, come-all vibe. Though if you come to Corrine's Place on Sunday, prepare to wait.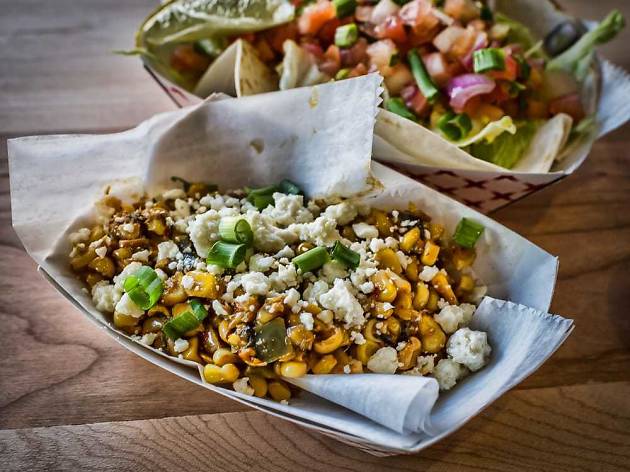 Photograph: Courtesy Yelp/Jazz F.
13. MOGO Korean Fusion Tacos
Where: Asbury Park
At MOGO, Sam Chung and Jason Devino offer a choose-your-own-adventure taco situation. You can order to-go from the converted shipping container on the Asbury Park boardwalk or sit down at their sister space on Cookman Avenue. Whatever you do, order the spicy Jae Yook Bokkeum (pork) and bulgogi tacos with a side of kimchi fried rice. For extra spice, ask for the Asian pear hot sauce.
Photograph: Courtesy Yelp/Sonia C.
Where: Newark
In Newark's Ironbound, Iberian food sings. This family-run spot located off the main drag specializes in the cuisine of Galicia, a fishing village in the north of Spain. Casa D'Paco is a regular's kind of place, where easy sophistication meets a deep menu of hot and cold tapas. Come with friends, order the house sangria and let the team guide you. The pulpo a Galega (octopus) arrives tender and bright with peppery olive oil.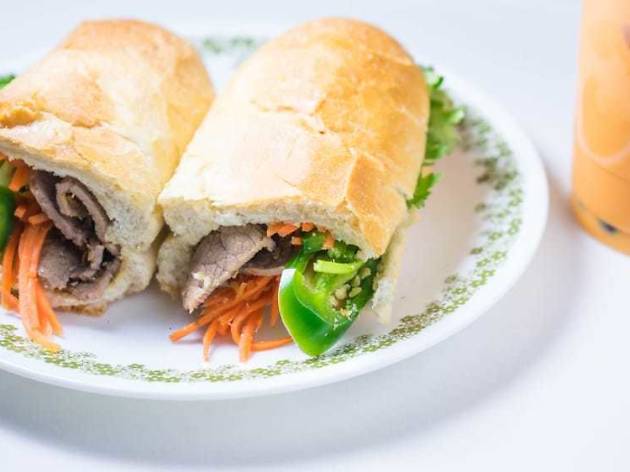 Photograph: Courtesy Yelp/Max W.
Where: Edison
It's all counter service at this strip-mall destination for bánh mì. No matter; when the sandwiches are this good, there's no need for distraction. Whether you go traditional, with ham and Vietnamese bologna, or opt for lemongrass beef, the sandwiches satisfy. If you're still hungry, some of the state's best South Asian food can be found on nearby Oak Tree Lane.
More of the best in New Jersey
Being the country's most densely populated state definitely has its advantages. When you tire of one vibe, just hop in the car, load up the GPS and give your itinerary a remix.
With options including Airstream trailers, safari tents, carriage houses or modern luxury with top-notch restaurant attached, it could be very hard to choose from our pick of the best places to stay, but, the cool thing about Jersey? It's easy to mix it up, so you don't have to choose.
Best selling Time Out Offers