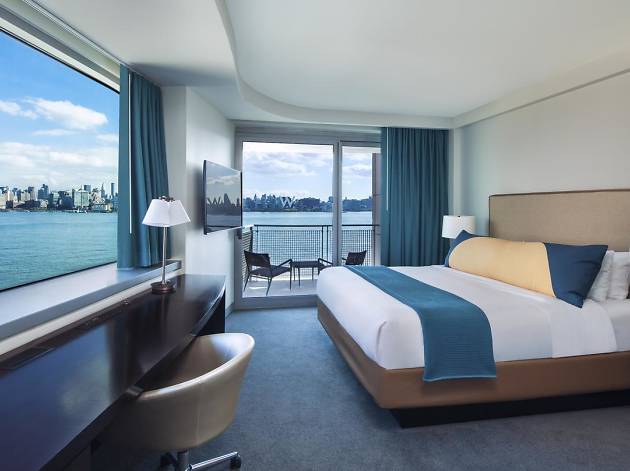 The 15 best hotels in New Jersey
Get some R&R at the best hotels in New Jersey, from reliable chains to hip boutique and five-star hotels
In this compact yet wildly diverse state, indecisive travelers can bring their most varied vacation fantasies to life with a multitude of things to do. Mountain-top adventure trips? Check. Lounge-by-the-sea days? Double check. From urban jaunts with rooftop bars to Instagram-worthy beach haunts, New Jersey packs it all in—and its best hotels have a strong sense of place.
Maybe it's a stylish farm tucked away in the verdant northwest, where the Delaware River creates a painted kind of light. Maybe it's a city hotel with the best Manhattan views this side of…well, Manhattan. Or perhaps it's all about escaping to the sea for a digital detox and locking your cellphone in the hotel vault. With options including Airstream trailers, safari tents, carriage houses or modern luxury with top-notch restaurant attached, it could be very hard to choose from our pick of the best places to stay, but, the cool thing about Jersey? It's easy to mix it up, so you don't have to choose.
Best hotels in New Jersey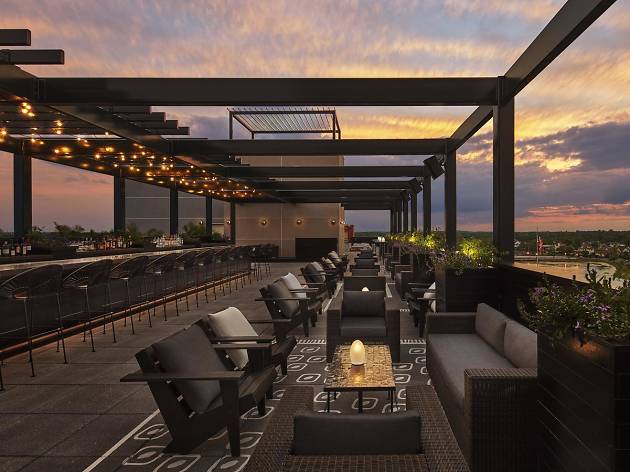 Photograph: Courtesy Booking.com
The Asbury has earned world's best cred. Here's why: beyond the mod fixtures, it narrates the city. Retro photos over dreamy pillow-tops and bunks evoke history. But the heyday it illuminates is now. Hit the Soundbooth lobby bar, where locals queue for cocktails like the Manhattan Transfer. (Brooklynites flock here, too.) Then wander. From drag karaoke and DJ sets to films at the rooftop cinema draped in AstroTurf, The Asbury has the city's pulse. Case in point: its 2018 reopening of the city's beloved bowling alley-slash-concert hall, Asbury Lanes.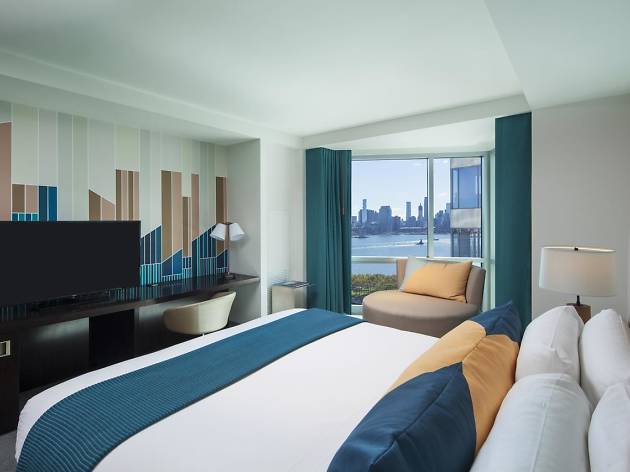 Photograph: Courtesy Booking.com
Looking for skyline views? They don't get better. The W is as sexy as its prime vantage point over Manhattan—and that's not the only reason to stay. Gaze up from a leather club chair at lamps that evoke illuminated skyscrapers in the Living Room lounge. Tuck into coastal cuisine at Halifax, where Chef Seadon Shouse harvests his own sea salt. Then bed down in a grown-up room where you can lather with Bliss bath products and order 24-hour room-service. Ahh.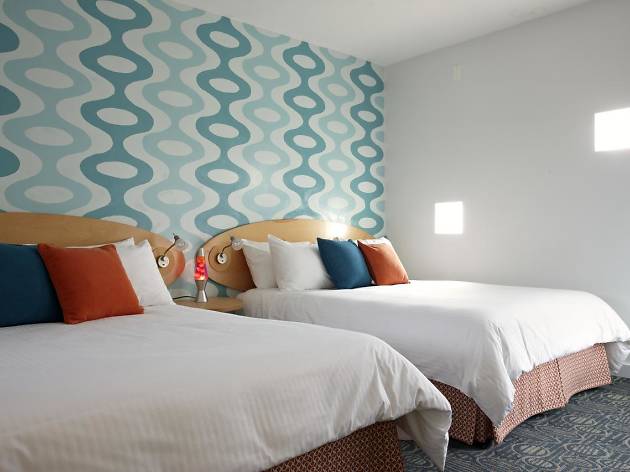 Photograph: Courtesy Booking.com
Crave vintage Americana and creature comforts? Peering over the boomerang pool and hot tub, flanked by (fake) palms, it's easy to think you've time-traveled back to Wildwood circa 1950. Yet this remix of the 1950s Wingate Motel adds modern touches: free wi-fi and beach cruisers, soft beds that lure sweet dreams by lava-lamp light. In a city packed with mid-century stays, the Starluxe refreshes the genre yet maintains the spirit of the great American road trip era. True connoisseurs should book one of the Airstream trailers.
Photograph: Courtesy Booking.com
Talk in Newark is all about its renaissance, evoked in this stylish boutique. From the shell of the First National State Bank building, circa 1912, it merges a sleek aesthetic with details that evoke an industrial heyday. A century back, the corner on which it resides was one of the world's busiest. These days, it still hums, placing you equidistant to new-school eateries on Halsey Street, including Marcus Samuelsson's Marcus B&P, and Iberian classics in the Ironbound. Before heading out, soak in city views at the seasonal rooftop bar.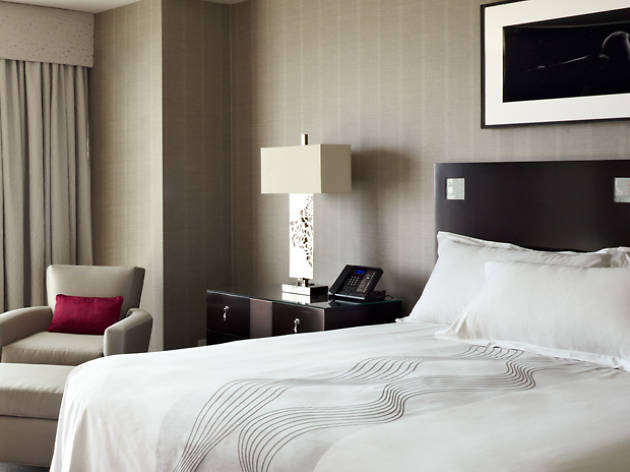 Photograph: Courtesy The Water Club by Borgata
Atlantic City is in transition, but with casino openings like the Hard Rock slated for 2018, there's buzz. For a hotel to get lost in, head to the Water Club by Borgata. The heated pool complex feels like a sanctuary, loungers draped in aqua towels. Same goes for the Immersion Spa. Perched 32 floors up, a floor-to-ceiling ocean vista amps the relaxation factor. Rooms are five-star luxe, with rain dome showers and Lather toiletries. At the main hotel, find eats from celebrity chefs including Michael Symon and Bobby Flay.
Photograph: Courtesy Booking.com
Smack in the center of the action in this sweetheart artist's town, this diminutive 1850s inn evokes Lambertville's creative current. Think exposed beams. A smart collection of art (there's a gallery on the first floor). Luxe fittings in the rooms. Plenty of folks come to town to antique and vintage hunt. For a true sense of place, however, explore locals' hangouts north and south of the main drag. Free snacks and coffee in the common room fuel your exploration.
Photograph: Courtesy Yelp/Michael B.
7. Holly Shores Camping Resort
Camping with glam has officially reached Jersey. At this activity-packed resort on Cape May, you can stay in a safari tent or live out your tiny house dreams. From there, choose your own adventure. Splash in the pool and hot tub. Hit the arcade. Throw down in a poolside karaoke battle. Then head back to your site and watch the stars sparkle as you trade stories around the fire pit. Themed weekends cover everything from zombies to pizza. It is Jersey, after all.
Photograph: Courtesy Tullamore Farms
This may be a working farm, but it's effortlessly chic—so much so that The Telegraph did a fashion shoot here – in a winning way; guests are charmed by the farm-to-bedroom vibe at Tullamore, the farm-fresh eggs and the vinyl collection. Outside, sheep and cows graze. Perched on the porch swing, it's easy to let the world fade, though the Delaware and Raritan Canal towpath beckons and artsy downtown Stockton is a short hike away. The experience illuminates why this is called the Garden State.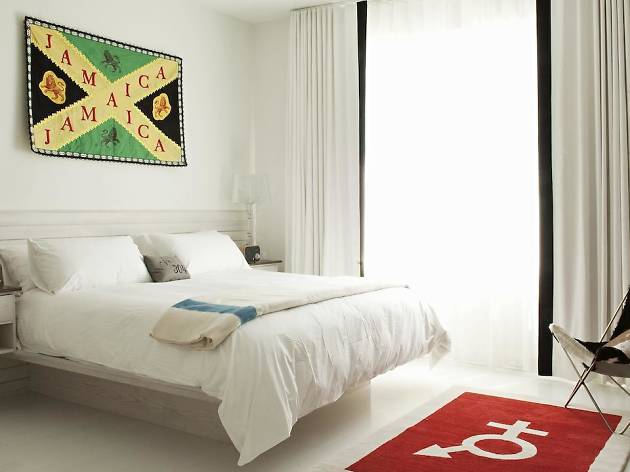 Photograph: Courtesy Booking.com
On the boutique bucket list for New Jersey are these stylish digs in shouting distance of the beach at Long Branch. Cool white interiors juxtapose bold details and driftwood details fall well short of twee. Designed by Robert and Cortney Novogratz, it feels expensive here, but in a surf-chic way. Foosball and cocktails in the lobby bar keeps the energy airy. Perks include electric fireplaces, Bluetooth sound systems and discounted entry to the Le Club Avenue beach club nearby.
Photograph: Courtesy Booking.com
High on style, this Asbury Park bed and breakfast hangs its hat on being doily-free. That doesn't mean it lacks character, including its namesake host, whose former life as a San Francisco fashion designer is on display. Expect a mix of vintage and modern pieces with bright pops of color. On Saturdays, Mikell hosts breezy evening porch parties with snacks, booze and chitchat. Breakfast is ample, coffee is strong and local intel is generous. Adjacent overnight options include a carriage house and apartments with Hollywood names. Judy Garland, anyone?
Photograph: Courtesy Yelp/Dana M.
Here's the thing about this Hamburg hotel: it's not cheap, and it has a bit of a camp for grown-ups feel. (There are kids running around, too.) Yet its heated swim-out pool complex is glorious when the weather gets cool, making it a great base for Mountain Creek skiers. Rooms are more than adequate, but with activities ranging from horseback riding and archery to yoga and mixology classes, you may not spend much time there. The Appalachian Trail threads through nearby, and the Biosophere Pool Complex at sister resort Grand Cascades also stuns.
Photograph: Courtesy Booking.com
Known as The Shell, this oceanfront resort at Beach Haven draws locals for tiki drinks sipped poolside to a live band. Rebuilt after Superstorm Sandy leveled the first floor, the upgraded hotel sits on the sand, offering endless views and a party vibe. For a small fee, you can bring along your pup, which makes strolling through town that much more fun. Scan the menu at the on-site restaurants for local seafood, including east coast oysters, local steamed clams and cheesy crab dip.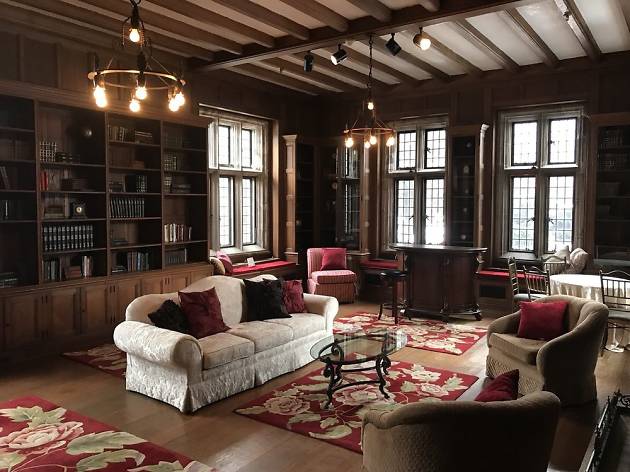 Photograph: Courtesy Yelp/Jc G.
13. Castle at Skylands Manor
If you meant to go to Windsor but ended up in Jersey, this century-old hotel in Ringwood may serve as consolation. Anachronistic though it may be, it evokes Gothic-tinged fantasies, timbered exteriors and all. Bonus: It's situated within a 100-acre botanical garden, set off by stone verandas and walking trails. While the experience is not luxe, it's certainly unique, and the castle is yours to explore. Book an east-facing room to watch sunrise through the leaded windows. Unsurprisingly, this is a popular wedding venue.
Photograph: Courtesy The National Hotel
Built in 1851 and a stone's skip from the Delaware River, this Frenchtown inn has lived many lives. Once a Victorian stagecoach stop (and rumored brothel), it has been reincarnated by the D'Costa family. Their love affair with the building makes sense when you set eyes on the carved oak bar, where townies mix with travelers. Order a Manhattan here, or head to the basement Rathskeller and sip by a wood-burning stove. Then bed down in one of ten rooms and watch for Flo, the resident ghost as you drift off.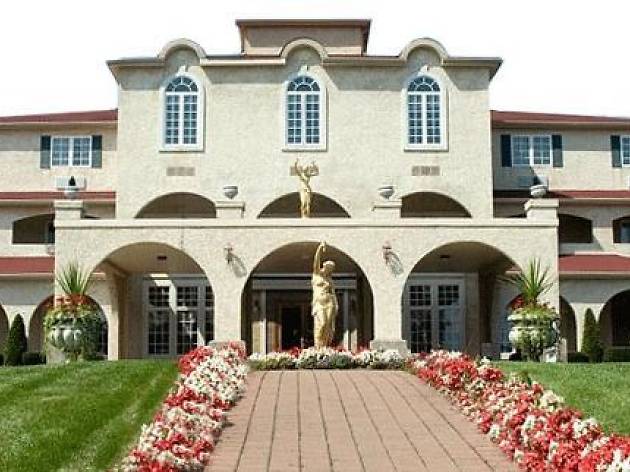 Photograph: Courtesy Booking.com
15. Tuscany House Hotel at Renault Winery
Squint your eyes and you may think you're in a Florentine villa, not South Jersey's Harbor City. The old-world theme makes sense, however: the hotel is sister to one of the oldest continuously operating wineries in the United States. Despite the Tuscan theme, its roots are French. The original vines were planted by a vintner from Rheims in 1864. Overnight packages allow you to sip and sample, and there's a golf course on site. While the rooms can be heavy on damask and the fixtures are…antique…it's part of the charm.
more of the best in New Jersey
Here's the thing about New Jersey. Within an hour's drive from your hotel, you can find yourself just about anywhere. The state's huge—and dare we say, underrated—cities are home to fabulous restaurants, vibrant art scenes, deep forests, beaches and more.
From affordable neighborhood joints to high-end temples recognized on the national scene, New Jersey's restaurants reflect its ranking as one of the most culturally and socioeconomically diverse states in the nation.