The best scary movies for kids
These are the best scary movies for kids, including picks for tykes, tweens and teens
Eeek! Our lineup of fantastic scary movies for kids will make you shriek! Grab the popcorn and pizza and buckle up for a wild ride, because we went on a mission to round up the coolest scary movies to thrill and—on occasion—totally disgust—your kids, tweens and teens. Some of the picks on our list, like Monsters, Inc., provide milder ups and downs for the sprouts, while other flicks, like The Shining and It, are best-suited to your scare-obsessed older kids (though we can't guarantee these movies won't haunt them for the forseeble future). That's part of the fun, right?
For even more movie-marathoning fun, explore our guides to the best family movies on netflix, the coolest Halloween movies for kids and even our guide to the best movies for toddlers.
The best scary movies for kids
Photograph: Courtesy Disney
Best for: Little Kids
A surefire win (with teeny, tiny scares) for the youngest movie buffs, this classic Disney Pixar film was an extremely memorable leap in animation technology and remains a heartwarming 'spooky' story for your littles. Monsters Sully (John Goodman) and Mike (Billy Crystal) work together at Monsters, Inc., a power company in a Monsters-only world. The power company is fueled by the screams of human children (collected by monsters who go into the human world to scare them). When one of Mike and Sully's nightly haunts fails terribly and brings a small child into their world, they must work together to make things right (and ultimately save 'Boo' from even more terrible creatures). Rated G.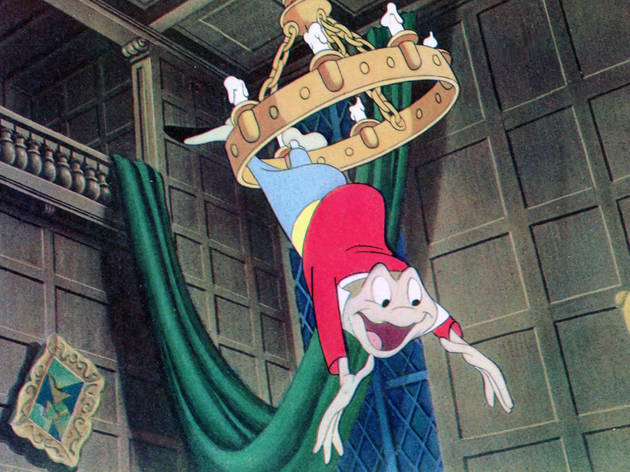 Photograph: WALT DISNEY PICTURES/Ronald Grant Archive/Mary Evans/Everett Collection
The Adventures of Ichabod and Mr. Toad
Best for: Little Kids
Washington Irving's grisly tale of Sleepy Hollow becomes more palatable for the kiddies in this cartoon, the second of two featurettes. Following The Wind in the Willows adaptation is the story of bumptious schoolmaster Ichabod Crane and his nemesis the Headless Horseman. It's a trite, chocolate-box picture of colonial days—until the Horseman shows up for one of those nightmare sequences with which Uncle Walt so relished terrifying his young audience. Rated G.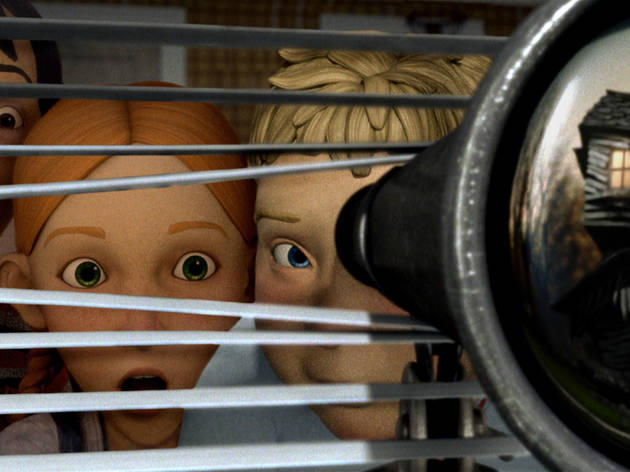 Photograph: Courtesy Sony Pictures Imageworks
Best for: Little Kids and Kids
An unlikely group of neighborhood kids team up against their neighbor's house when they realize—after plenty of spying and strange incidents—that it's actually a monster and has a life of its own. Can the kids erase the Monster House forever—or will they learn that there are deeper secrets at play? Rated PG.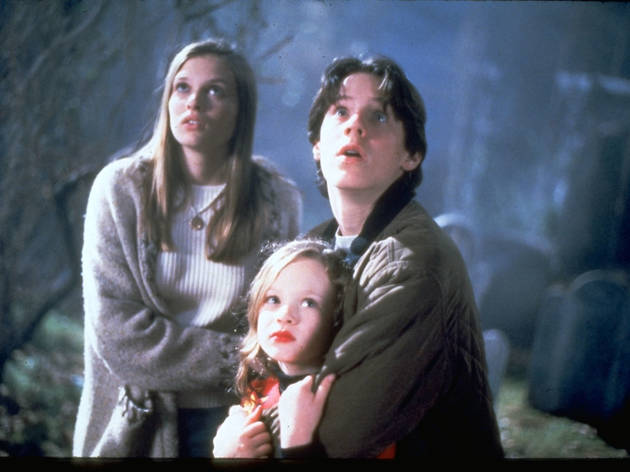 Photograph: Courtesy Disney
Best for: Little Kids and Kids
What makes a better Halloween movie than three evil witches? Head to the 1600s, where Sanderson sisters (Bette Midler, Sarah Jessica Parker, Kathy Najimy) cast a spell that killed a little girl and turned her brother into an immortal black cat. Then, fast forward to the'90s and meet Max Dennison, who just moved from Los Angeles to Salem, Massachusetts with his parents and his little sister. He'll do anything to impress his cute neighbor, Allison, who just so happens to have access to the old Sanderson House. He even lights the Black Flame Candle, which as legend has it, will bring back the Sanderson sisters—and does! But hey, who believes in all that hocus pocus, anyway? Rated PG.
Photograph: Courtesy Laika Inc./Universal Pictures
Best for: Kids
Young Coraline's new house is old, and her parents are busy. What's a girl to do? When boredom strikes, she decides to explore what's behind a hidden door (and finds an alternate universe that's strangely everything she'd ever hoped for). But is it too good to be true? You'll need to watch to find out. Rated PG.
Photograph: Courtesy TriStar Pictures/Labyrinth
Best for: Kids
This one's for all the kids who've wished their siblings would disappear. In Labyrinth, teenage Sarah wishes exactly that—and the Goblin King (David Bowie) happily honors her request! Sarah only has until midnight to save her baby brother from a castle in the middle of a labyrinth, or else he'll become a goblin forever. The Jim Henson-directed film is a winner for any kid who loves magic, thrills and elaborate costumes. Rated PG.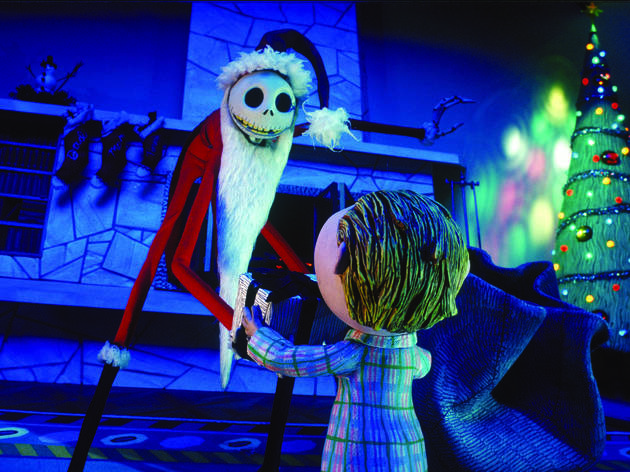 Photograph: Courtesy Disney Enterprises Inc.
The Nightmare Before Christmas
Best for: Kids
What to do when you're the Pumpkin King but totally over Halloween? While most folks don't have this problem, Jack Skellington definitely finds the grass greener on the other side. After stumbling into Christmas Town, he's inspired to show the world it's best Christmas ever—even if it means kidnapping Santa himself. While his (mostly?) well-intentioned plan is backed with utmost passion, it turns out that the residents of Halloween Town can't exactly master the art of making toys the average kid would like (cue evil wooden ducks and carnivorous wreaths). Rated PG.
Courtesy Channel 5 Broadcasting
Best for: Tweens
Guilty as charged: We love Tim Burton. Beetlejuice is one of our favorites for many reasons, including young goth Winona Rider, putrescent Michael Keaton, over-the-top masks and costumes and a creative storyline (That waiting room? That attic? Come on!). When a couple gets killed in a tragic car accident and returns to Earth to haunt their own house, a horrible family moves in—and there's only one ghost that can help. Don't forget to scream Beetlejuice, Beetlejuice, Beetlejuice! Rated PG (from the '80s).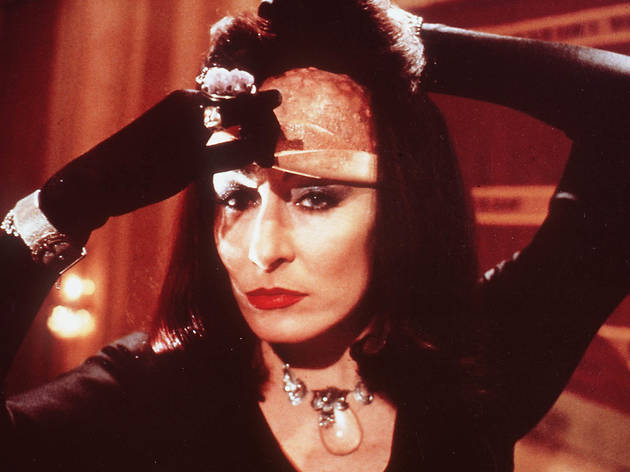 Courtesy Warner Brothers International Television
Best for: Tweens
A witch convention is certainly not the first thing you expect to come across while staying at a hotel in England with your grandmother. Unfortunately, little Luke's curiosity gets the better of him, and he's caught spying on their evil gathering. It's up to Luke and his Grandmother to fight back against the witches, but it's just a hair more difficult now that Luke has been turned into a mouse. Rated PG.
Photograph: Courtesy Warner Bros. Pictures
Best for: Tweens
We love Tim Burton, and the Corpse Bride is no exception. Victor accidentally proposes to a corpse (while practicing a proposal to his true love) and ends up engaged to a very enthusiastic dead girl. He tries to get things back in order, learning a lot about the underworld, the real world and himself in the process. There are a lot of loveable characters at play, so it's hard to pick someone to support, but overall this heartwarming (and sort of sad) tale captures our heart.
Courtesy Channel 5 Broadcasting
Best for: Tweens and Teens
Three spirit-obsessed scientists are canned from their jobs at NYU, but they don't let that get 'em down; instead, they put their talents to good use. Using their passion for the occult as a driving force, they start a ghost-extermination company to help New Yorkers handle some very real ghost troubles. Their work doesn't come without its skeptics, though...one even wrongly jails them for fraud! Ultimately the unlikely team helps to save the city from an ancient god. Be warned: It's not quite rated for the current day, and Ghostbusters is really only appropriate for tweens and older. Rated PG (from the '80s).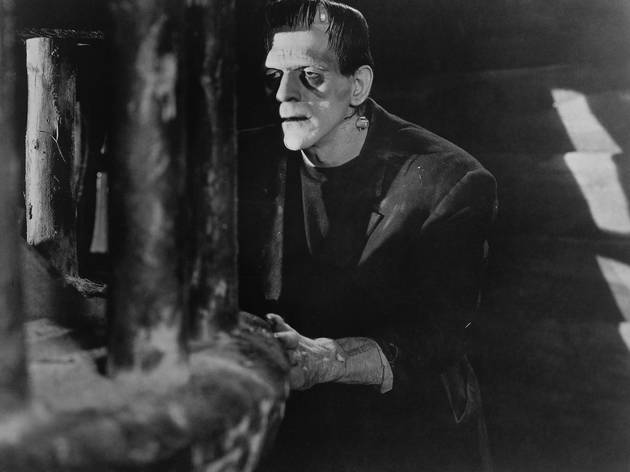 Courtesy Universal Pictures
Best for: Tweens and Teens
Dr. Henry Frankenstein will stop at nothing to create life by alternative means, even if it involves assembling body parts of the deceased to build a new person from scratch. He gets his wish, but things certainly don't go as planned, and the creature causes a lot of trouble when it escapes. NR.
Best for: Tweens and Teens
Love a good ghost story? Nicole Kidman and her two children (both of whom are photosensitive) must stay in their darkened home to avoid the light, but suddenly strange things begin to happen. She must defend her home from spirit intruders—and things may not be as they seem. PG-13.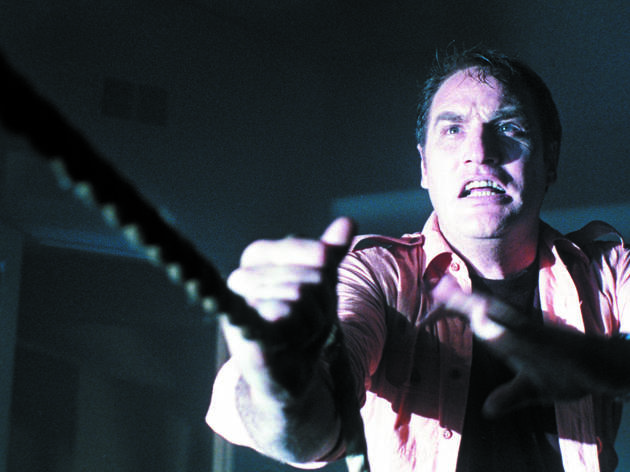 Courtesy MGM/UA Entertainment Co./Poltergeist
Best for: Tweens and Teens
Let's get one thing straight: This movie still scares us. Between a supernatural child abduction, evil clown dolls, moving furniture and a crackling TV set, it's jam-packed with the heebie jeebies. Also, you can't unsee those skeletons in the pool. Basically, the moral of the story is to not build any houses on an ancient burial ground. Seriously...don't do that. But do watch this movie with your tweens and teens, because it's amazing. Rated PG (from the '80s).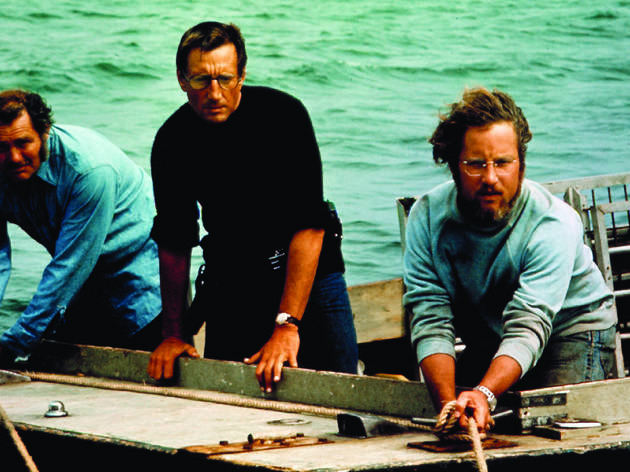 Courtesy Universal Pictures
Best for: Teens
Steven Spielberg's hair-raising New England-based flick Jaws centers on a small town, corrupt politicians, a shark attack and a ship captain who's determined to catch the epic beast: a vicious great white shark! Your teens won't be able to look away from drama aboard the ship. Disclaimer: Most great white sharks do not want to eat you. Rated PG (from the mid '70s).
Best for: Teens
As with many of the movies on our list, there was nothing quite like this one when it came out in the late '70s (its successor Aliens was pretty great too). It leads with suspense and lots of shiny teeth rather than blood and guts, though there are a few scenes where folks meet a pretty unfortunate demise. Sit back, relax and enjoy the chaos of a starship's crew encountering some very unusual organisms and attempting to escape alive. Rated R.
Best for: Teens
Sure, the 2017 remake delivered some valid scares, but the new film doesn't hold a candle to Stephen King's It (1990), where a group of now-adults (former childhood best friends) must return to their hometown to fight the omnipresent evil clown Pennywise (Tim Curry). Tweens and teens will dig the underdog story, as well as the terrifying villain and (while dated, still cool) special effects. TV-14.
Courtesy Warner Bros.
Best for: Teens
When a young girl becomes possessed by a very determined demon, a young priest steps in to try and exorcise it. The Exorcist remains one of the most iconic horror flicks of all time, complete with vomit, gore, possession and pretty fantastic stage makeup. Is it scary? Yes. Is it, at times, totally horrifying? Yes. We will say that there is a very crude (and hard to forget) scene involving a crucifix, though this is edited out of some versions. This is not a movie for children, but for teens and adults. Rated R.

Courtesy Warner Bros.
Best for: Teens
What happens when a recovering alcoholic takes a job as a caretaker in a haunted, remote mountain hotel (with no one but his wife and gifted son for company during the year's darkest winter months?). Well, you can probably guess: Nothing good. Your teens will be mesmerized by the quiet suspense of the Overlook Hotel, as well as the film's creepy characters and telekinetic young protagonist. Rated R.
Night of the Living Dead (1968)
Best for: Teens
One word: Zombies! Can the (living) inhabitants of a farmhouse defend themselves from an army of flesh-eating corpses? We. Shall. See. This low-budget film offers some creative gore and nods to the political environment of the late '60s. NR.