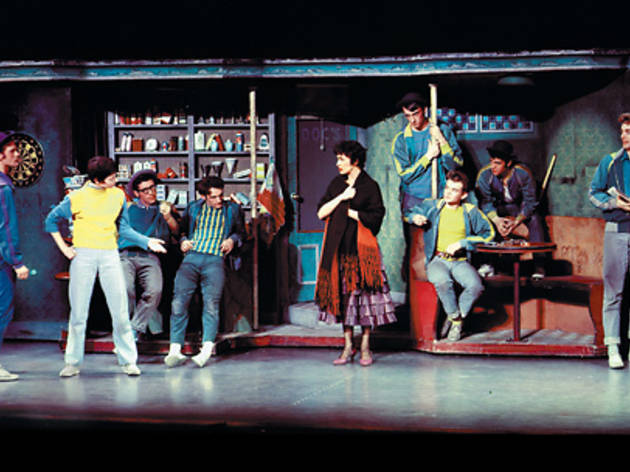 Best Broadway cast albums for kids
Got High School Musical burnout? These CDs show how the big kids do it.
Annie
This 1977 comic-strip musical about a Depression-era moppet and her megarich sugar daddy makes every little girl dream of being an orphan—at least for an hour or two. The snappy score is a surefire cure for the hard-knock blues, and its New Deal--friendly, Hoover-be-damned message is newly relevant in today's economy.
Annie Get Your Gun
Irving Berlin hit the bull's-eye with this 1946 tale of the squabbling romance between sharpshooters Annie Oakley and Frank Butler. Ethel Merman starred in the original cast, making a hearty meal out of numbers like "There's No Business Like Show Business" and the flirtatiously one-upping "Anything You Can Do."
Anything Goes
Cole Porter's nautical romp, with its sexy allusions and sextuple rhymes, may have seemed naughty in 1934, but today it sounds awfully nice. The recording of the 1987 Lincoln Center revival is the one to get, if just to hear the amazing Patti LuPone blast the roof off "Blow, Gabriel, Blow."
Guys and Dolls
Hapless gangsters, helpless molls and hopeless Salvation Army do-gooders roam the streets of Damon Runyon's cartoon New York in this 1950 classic, which overflows with brilliant songs by Frank Loesser, from the adorably plaintive "Adelaide's Lament" to the suave "Luck Be a Lady."
Hairspray
Big girls don't cry—they get even—in this candy-coated 2002 fable (adapted from the 1988 John Waters film), about a chubby high-schooler who fights for love, racial equality and a regular spot on a Baltimore dance show. The unique Harvey Fierstein, who sounds like a duck gargling gravel, divinely plays her softie of a mother.
Joseph and the Amazing Technicolor Dreamcoat
Before Andrew Lloyd Webber and Tim Rice wrote Jesus Christ Superstar, they penned this much kid-friendlier Bible musical, a brightly hued patchwork of catchy melodies in a wide variety of styles, none of them traditionally liturgical.
Little Shop of Horrors
A man-eating plant and a sadistic dentist are the principal bogeymen in this deliciously tongue-in-cheek 1982 horror show—sweetly flavored with doo-wop and blood—by Howard Ashman and Alan Menken, who went on to write The Little Mermaid and Beauty and the Beast.
The Pajama Game
The title sounds frisky, but this 1954 musical is actually about life and love in a night-wear factory. Songs like "Hey There" and "Steam Heat" make it the most entertaining musical about unionized labor that Broadway is ever likely to offer.
Pippin
Bob Fosse's staging of this 1972 Stephen Schwartz musical gave it a slick erotic veneer—but the cast recording strips away the trappings to reveal a poignant coming-of-age story about a lost young prince and the anything-but-simple joys of self-discovery.
West Side Story
More than 50 years after the Broadway debut of this gang-war update of Romeo and Juliet, the Jets are still cool and the Sharks still have teeth—thanks to Leonard Bernstein's magnificent music, as well as lyrics by a young Stephen Sondheim that show glimmers of his future greatness.