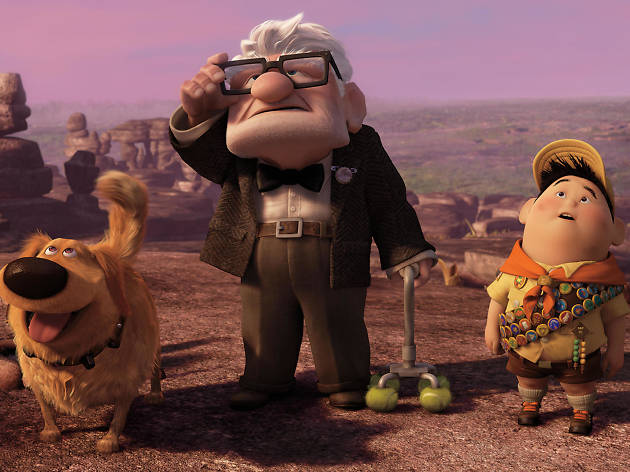 The best movies for toddlers for your next night in
Grab some popcorn and get cozy. The best movies for toddlers will keep the family plenty entertained!
Keeping little ones entertained is no easy feat, but we're here to guide you through the ups and downs. Check out our roundup of the best movies for toddlers—they're guaranteed to captivate your rambunctious youngsters for an hour or two. Chances are, kiddies won't be in a rush for family movie night to end.
From classic films to beloved animated titles, this list has a little something for everyone (and we promise adults will swoon over the selections, too). Next time you're stuck inside during a rainy night, or if you're determined to banish the "I'm bored" phrase from your home, turn on one of the best movies for toddlers, but don't hog the popcorn.
Looking to watch a fun flick? Check out these free summer movies for NYC families or spend the night watching one of the best Disney princess movies. You're going to need sweets, so stop by one of NYC's best ice cream shops and grab a pint or two on your way home.
Best movies for toddlers
Photograph: Courtesy Disney
All kiddos should be so lucky as to have a nanny like Mary Poppins. This whimsical Disney tale follows the Banks children as they journey alongside their new caregiver who is nothing short of magical, and we assure you this heartwarming classic will never go out of style. $10, amazon.com
2. The Many Adventures of Winnie the Pooh
Who can resist Pooh and his crew? Join our beloved bear as he moseys along the Hundred Acre Wood with the likes of Piglet, Tigger and other furry friends in this 1977 classic. As much as we adore the animated flick, we're equally as anxious about the 2018 live-action release of Christopher Robin, Pooh's best (human) friend we encounter some 30 years later. $10, amazon.com
Photograph: Courtesy Disney/Pixar
Our love for the Pixar-animated film soars as high as Carl Fredricksen's balloons. When the grumpy old-timer decides to tie thousands of balloons to his home, he soon discovers (to his dismay) a stowaway in the form of a Boy Scout uniform-clad kiddo named Russell. $12, amazon.com
4. Thomas and Friends: Journey Beyond Sodor 
If we could replace the MTA with our favorite locomotive, chances are New Yorkers would really enjoy their commutes. In this animated movie, Thomas and his crew leave the Island of Sodor in search of their buddy James, proving the importance of strong friendships. $15, amazon.com
Photograph: Courtesy Disney
For those who are insecure about one of their features, look no further than Disney's favorite elephant, who learns just how special is gigantic, floppy ears really are. Let's face it—a flying elephant is pretty cool! $10, amazon.com
Who doesn't love getting cozy at the end of a long day? We can't blame Elmo when he goes on a quest to the icky Grouchland to retreieve his blanket—it's an essential piece when you require some r&r. We're with ya, Elmo! $8, amazon.com
Photograph: Courtesy Disney
We'll never let go of this Disney princess movie. Viewers everywhere fell in love with Anna and Elsa as they endure a never-ending winter (Snow Queen Elsa never let the cold bother her, anyway). We explored the ups and downs of sisterhood and belted out a few jams along the way. When Idina Menzel voices the main character, you can't help but sing along. $15, amazon.com
Photograph: Courtesy Universal Studios
This film trio of fun-loving animated goodness is irresistible. When a nefarious villain stumbles upon three orphan girls, his plans to steal the moon are put on hold for the new little ladies in his life who are determined to call him dad.
9. Minnie: Helping Hearts
Minnie is everyone's favorite female mouse, and they can't help but tag along on her many adventures. Though this movie is a selection of various show episodes, it's perfect for the little one who might need a break half-way through the screening. $10, amazon.com
Photograph: Courtesy Disney
It's not every day you come across a little boy who was raised by animals. Hang out with Mowgli as he stumbles upon the wonders of Monkey City while in search of the missing bracelet he received from his friend, Kitty. But what happens when Mowgli isn't the only one to discover Monkey City's treasures? $13, amazon.com
11. Peppa Pig: Sandcastles
Snort out loud with the most popular pig in town. Peppa's beach adventures in this hour-long film—which covers a variety of different episodes—works well for the younger crowd who has trouble sitting still. $3, amazon.com
Photograph: Courtesy Disney/Pixar
When this Pixar movie raced into theaters, it left its tire tracks on our automotive-loving hearts. Though Lightning McQueen meant to head to the Piston Cup Championship in the franchise's first film, we're grateful he loses his way and meets the likes of Doc Hudson, Mater and Sally.
Barbie keeps busy, and her list of films are as high as the heels of her shoes. Barbie has been a princess, a mermaid, a spy, a rock star and everything in between. Choose your own adventure with her long repertoire featuring Barbie: A Fairy Secret, Barbie in Rock n' Royals and much more.
Photograph: Courtesy Disney
Our love for Buzz and Woody soars to infinity and beyond. Drama ensues when little Andy replaces his beloved cowboy Woody with the space captain Buzz Lightyear, especially these toys come to life when Andy leaves the room.
15. Chitty Chitty Bang Bang
This British musical will forever reign supreme on our list of best movies for kids. Truly Scrumptious can't resist Caractacus Potts and his two kids...or his family's wacky car, and we can't resist this classic. $14, amazon.com
More fun for kids